OWE Results & Review: 5/7/2018
So apparently the Future Stars of Wrestling Twitch channel will be showcasing Oriental Wrestling Entertainment. I wasn't aware of this until the magical Chairshot Publisher Greg DeMarco brought it to my attention.
They even went as far as to add English commentary, though admittedly, it was comical at times. Not because it was bad, but because of the translated names or what OWE provided to them.
You can watch here: https://www.twitch.tv/videos/268315459
The show opens with karate and dancing performances. We see young guys come out, do some things with the coiling dragon staff, chain whip and that's when the Tech N9ne hits and they go into a small entertainment number. It's different, but the crowd seems receptive and dancing or singing performances do seem to be a common place before large events in many Asian countries.
Match Card & Results
CIMA def. T-Hawk – *** 1/4
Wang Jin & Monk Zhao Yilong def. Jack Manly & Remy Marcel (Whirlwind Gentlemen) – ***
Clutch & Sugar (Real Money Brothers) def. Achilles Ben & Little Guan Yu – ** 1/2
8 Man Tag – Damian Drake, Duan Yingnan, Spyder Warrior & Sun Chaoqun def. Duan Dihang, Mao Chengxiang, Ren Yuhang & Xiong Zhiyu – * 1/2
Yang Hao & Lu Ye def. Fan Qiuyang & Wulijimuren ( Mongolian Wolf Clan) w/ Wild Wolf Logan – * 1/4
3 Way Tag – Floater Jingjia & 'Scorpion 2X' Liu Xinxi def. Rocket G Sharp / Jake Cafe & Wild Wolf Fan Logan / Mr Cool – **
Thoughts
So I believe this is only the second OWE event, and it's already leaps and bounds above most newer promotions. The production level of this show is pretty huge also, a lot of laser light displays, solid sound and animation on the tron to accompany the entrances. So when it comes to how it looks, the show is visually stunning for what most of us may have expected.
As for the show on a whole, it had it's ups and downs. They tried to run an angle that Achilles Ben and Little Guan Yu were attacked before the match as a way to protect them through the loss. From what commentary said, Ben is a heavy favorite to be their first champion, so you need to protect him a little. Ring work depended on the match, and as you can see from the ratings, matches that weren't supported by FSW veterans, weren't as smooth.
The main event did a lot to get over Mr Cool and Floating King as high flying, impressive young stars. Much of the transitioning seems to be rooted in Shaolin style Kung Fu. The way they flow between moves and twist during high spots were very reminiscent to a Kung Fu movie. So even if you dislike the "flippy floppy" style, this looks less like gymnastics and more like a Jet Li movie.
Zhao Yilong also known as @MonkOWE just got his own Twitter!

Re-watch tonight's show here: https://t.co/NayCBls4EA@MrLARIATO @ORIENTALWRESTL1 @NuclearConvoy #OWE pic.twitter.com/4kxyLmY2SI

— ORIENTAL WRESTLING ENTERTAINMENT (@ORIENTALWRESTL1) May 26, 2018
Depending on how often FSW works with OWE, I'll definitely try to keep an eye out for the product. Personally 'The Monk' Zhao Yilong and Mr Cool impressed me the most. Should be a fun promotion.
Mr. COOL showing off just how "Cool" he is!

Watch us on @Twitch: https://t.co/Kot8XCGqqN @MrLARIATO @fswvegas @dragongate_pro @ORIENTALWRESTL1 @supercima1115 #OWE #FSW #FSWVegas #DragonGate pic.twitter.com/54STflcHz1

— ORIENTAL WRESTLING ENTERTAINMENT (@ORIENTALWRESTL1) May 26, 2018
---
Always Use Your Head and visit the official Pro Wrestling Tees store for The Chairshot All t-shirt proceeds help support the advancement of your favorite hard-hitting wrestling website, The Chairshot!

---
(NOAH) POST MATCH INTERVIEWS – 31ST JULY 2018, YOKOHAMA RADIANT HALL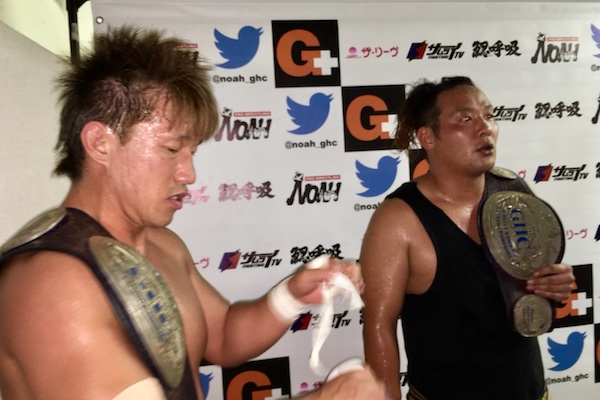 MINORU TANAKA & HI69
TANAKA: We are the 34th GHC Junior Tag Champions and that equals the strongest NOAH junior tag team, that said, the league has ended inconclusively. But everyone, the story will end in Korakuen in three days time. We saw it earlier. I don't know exactly who will be the winner, but we will watch it on the monitor like fans. I am looking forward to it, defending the belt against them.
HI69: I think that is true, I thought that getting the win would be natural, so I am disapointed with the results, but the team who wins the league will aim for the belt, that is true of all of us…we will show the GHC Heavyweight fight to all the NOAH fans.
TANAKA: The story of the worthless champions is over now. It is a story that belongs to the past, and it doesn't matter. Understand?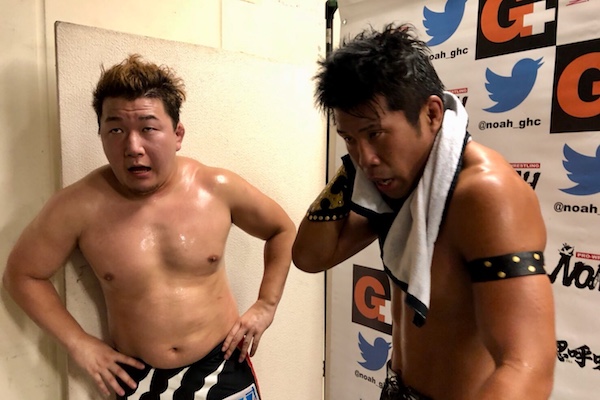 THE BACKBREAKERS (HITOSHI KUMANO AND HAJIME OHARA)
Q: You have taken a big step towards the finals?
KUMANO: We have aimed to win since the beginning. Ohara has tried hard in spite of the injury, and today we took it. The final will be taken by The Backbreakers. If anyone can win, it will be us.
OHARA: So far I've been disappointed, as I have lost a lot. I will not give up, and will take the big step towards winning the title at Korakuen. Kawasaki! Kawasaki will be the title match! I have big ambitions. This year it will be for the Backbreakers, so Mui Bien today too!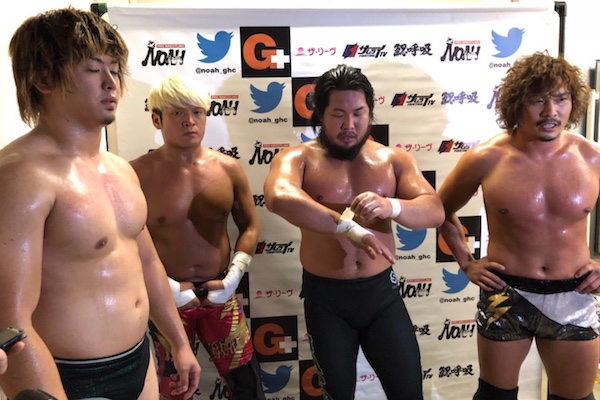 SUPER NEW GENERATION ARMY (KAITO KIYOMIYA, KENOH, MASA KITAMIYA, KATSUHIKO NAKAJIMA)
Q: A victory today, but still nothing to say?
Go Shiozaki silently touches the reporters chest and leaves.
KITAMIYA: Losing the belt does not change what you do. There is always someone in front of you, the belt is a target, people will keep biting at it…putting the belt on does not change.
NAKAJIMA: Although the belt might have been taken over there, we have just started, don't forget…we are the ones who take the iniative.
KITAMIYA: If you are a champion, then be strong like a champion. Do you think you have unarmed us without the belt? It is not enough.
Q: Kenoh, Kiyomiya, what your thoughts on the generation struggle so far?
KENOH: I think its funny that those old men have three belts. Like Nakajima said, this has only just begun and I will take back the belt and end this generation struggle.
KIYOMIYA basically says that you have nothing to fear when a team rides on momentum.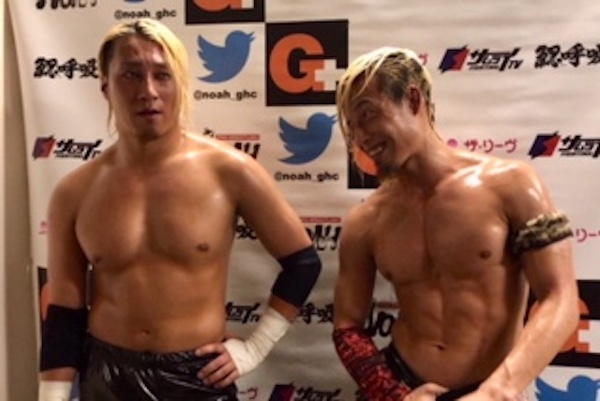 YO-HEY & HAYATA
YO-HEY: Finally! Finally! We got our ticket to the finals! But! Frankly 10%, 20%….no, I'm glad about 747%. However, YO-HEY will be in tune for the final match at Korakuen Hall. We will knock the Backbreaking people down with twisting bodies. We will raise the atmosphere, and get a ticket for our second consecutive title! We are satisfied with such a team for the final! This team will go into the final and defeat the opponents! HAYATA & YO-HEY will win two consecutive times…our….I want to eat pumpkin.
HAYATA decides he is leaving. YO-HEY won't let him
YO-HEY: I want to eat pumpkin…one word…bride…I was impressed by the two moonsaults…
HAYATA walking off as YO-HEY clings to him: Same!
YO-HEY: Same!
---
Always Use Your Head and visit the official Pro Wrestling Tees store for The Chairshot All t-shirt proceeds help support the advancement of your favorite hard-hitting wrestling website, The Chairshot!

---
(NOAH) POST MATCH PROMOS – 28TH JULY 2018, KORAKUEN HALL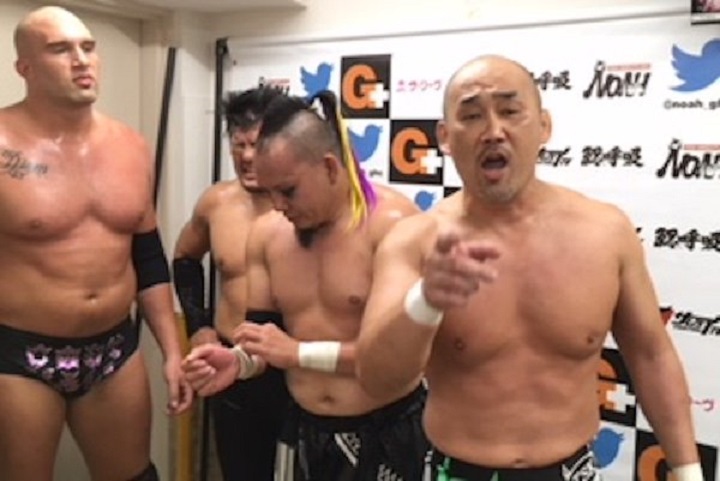 "THE HOOLIGANS" (Mitsuya Nagai, KAZMA SAKAMOTO, Maybach Taniguchi & Cody Hall)
Q: What is the origin of the team name?
KAZMA: You know soccer don't you? Football hooligans fucking rampage. At NOAH we are going to fucking rampage. That's the meaning.
NAGAI wants to know how long the Chinese athletes think they can continue to fight with them
KAZMA: Even though NOAH and Eastern Heroes have a business alliance, why are we their opponents? I guess its some kind of conspiracy. Oh well, we will teach them the true nature of pro-wrestling. We will go to China next time, and anywhere in China, we will teach you wrestling!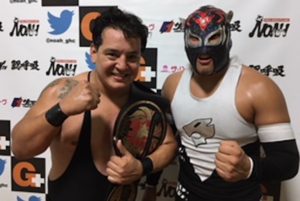 RICKY MARVIN AND EL HIJO DEL PANTERA
Q: Are you excited, you hoped for a third victory?
MARVIN: Yes! From now on it is real! We will show them! I came back from Mexico for this reason!
PANTERA: Thank you! Next it is Hi69 and Minoru Tanaka!
MARVIN: You guys! Do your best!
PANTERA: Team Mexico! Number One!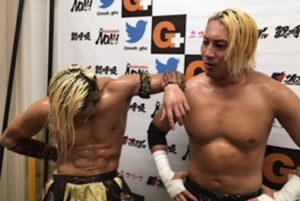 YO-HEY & HAYATA
YO-HEY: My waist…ah. The wife cut in…but another two seconds and it would be too late, I would have tapped out…after all, it is the best wife. Aside from that, Hajime Ohara did not take the Headache well. I caught that guy and was able to win. ♪ Now we have six points. If I think about it, had we lost today I would have lost my dream of two consecutive victories.
Then YO-HEY noticed HAYATA (who had been completely ignoring him) watching the two new trainees making their announcement for their debut.
YO-HEY: If you are interested in the trainees speech, the wife can have the last word.
HAYATA: Same!
YO-HEY: Winning two consecutive matches, also the same!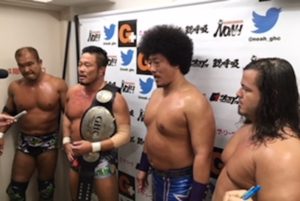 MASATO TANAKA, TAKASHI SUGIURA, MOHAMMED YONE & QUIET STORM
SUGIURA: The members of this group have nothing to fear from those young guys.
Q: You had a fierce competition with Shiozaki. Your chest is swollen from the chops?
Sugiura says that he is going to drive the elbow into his face.
Q: Will you exceed the momentum today?
SUGIURA: What do you think?
Q: What is the opinion on Sugiura from the others?
TANAKA: He looks good, especially when watching Shiozaki and Sugiura from the corner, it makes me feel a hot burn. Two matches. So intense.
YONE: The younger team do not have such a reassuring team to assemble. The wall is too high for them. What do you think Quiet Storm?
QUIET STORM: C'mon, C'mon, C'mon. Anytime! Anywhere!
Q: Blind spots?
SUGIURA: No. For Shiozaki and the younger generation, be scared when we are aligned.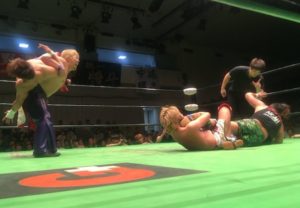 IKUTO HIDAKA & TAKUYA SUGAWARA
HIDAKA: Hey champions! Did you see it? This is what we meant, like when Mr. Yoshiaki Fujiwara, came to the dojo and said "no matter who is the champion, even in sumo, even in rock-paper-scissors, you cannot lose to them". You assholes have no excuse, so just give us the belts.
SUGAWARA: 4 wins, 8 points, we are at the top. I said it earlier by August 5th is not just NOAH's anniversary, it is Hidaka's 46th birthday. 46…does he look it? He looks quite good.
HIDAKA: Stop it!
SUGAWARA: Lets hope Team ZERO-1 gets the victory, and we can have Hidaka's birthday party in the ring at Korakuen.
HIDAKA: How old will NOAH be?
SUGAWARA: 18
HIDAKA: On my 46th birthday
SUGAWARA: This one is going to be beautiful!
HIDAKA: Hey! Stop messing around
SUGAWARA: Anyway, the next is RATELS. ZERO-1 can take the win.
HIDAKA: YO-HEY is a young pupil of my teacher, FUNAKI. I'm sorry, but I will not go easy on him, we have to finish the series.
SUGAWARA: Alright, lets see how tough this can be.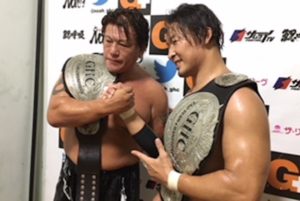 NAOMICHI MARUFUJI AND AKITOSHI SAITO
Q: You have not had a belt for a long time*, what are your thoughts?
SAITO: I haven't really noticed the difference. My ambition now is also a bit different because I am thinking about Noah. There is something I want to say to the young guys. Today I was caught, even if the genius beside me does not care, and even if I fell and collapsed, I turned that into a tactic to take advantage, because that kind of compassion is there. That's it, that's how you raise a promotion I think. If you understand this, I think you will know strength.
Q: Marufuji-san, how do you feel seeing Saito like this?
MARUFUJI: In recent years, Saito has been taking small steps. Now he has shown his real strength, look at what has happened. The customer also knew this, and of course he is a former champion of a different generation. In terms of generation, I am lower than him, but now I am going to fight in the same place like this and with all my strength. I will do my best to support him, and in the 20th anniversary of my debut, thanks to Saito, I was able to win this belt, thank you.
SAITO: No way. I trust you from the bottom of my heart and chosen you for my partner. You and I have a different bond, we have been together since the beginning of NOAH and we know it.
Q: What about future defenses?
MARUFUJI: The young guys…I guess they will challenge. It would be strange if they didn't. Of course it is inevitable that the same generation may also do the same. Nakajima and Kitamiya, you can do it once again, anyone can. It is our style that we will do it with anyone. Do you understand? Who do you think my partner is, assholes?
SAITO: Saito!
Link to original article from Noah.co.jp (in Japanese)
========================================================================
*2012 when Saito partnered with Go Shiozaki
---
Always Use Your Head and visit the official Pro Wrestling Tees store for The Chairshot All t-shirt proceeds help support the advancement of your favorite hard-hitting wrestling website, The Chairshot!

---
Wrestle-1 Tour 2018 Outbreak Part 2 Results & Review (6/22/2018)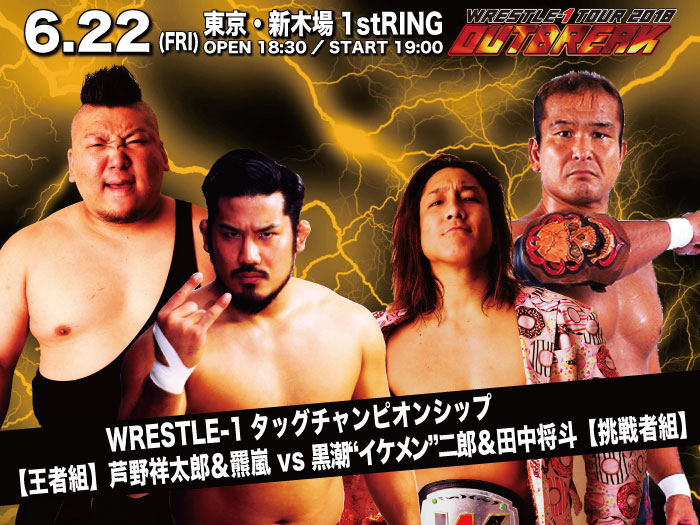 Welcome back to Wrestle-1 and last time we covered them, a lot has happened with CIMA and OWE invading Wrestle-1 to shake the company up, as they will be fighting each other in a series of matches during the show and Manabu would also retain his championship in the process.
Our main event tonight is for the W-1 Tag Team Championships since Jiro and Masato would defeat Ashino at the previous show as they look to have the match tonight. Will W-1 be able to drive OWE away on their first night or will they show that they're here to stay? Let us…dive right in.
Singles Match
Takanori Ito vs. Takumi Baba
Review: We open up the show with a regular exhibition match between Takanori Ito as he takes on Takumi Baba. This one was really nothing to write home about because this was more of an average squash type match with one guy controlling the majority of the match in a short amount of time and eventually Takumi would get some offense in the match for about a brief moment and ended after he would hit a Dropkick off the top rope and Ito would turn it around with a few kicks to the chest and would call for the German Suplex Hold for the win after about five minutes. Ito reminds me a bit of Kevin Owens and I think I said that before since he pretty much has the same attire as him, same body type and is quick, but doesn't have the full intensity like Kevin does, but he does have potential to be a top guy in W-1.
Recommended: Skippable.
Six Man Tag Team Match
Ganseki Tanaka, Koji Doi & Tsugutaka Sato vs. Masayuki Kono, MAZADA & NOSAWA Rongai
Review: Time for a six-man tag match involving someone that is responsible for the invasion of CIMA and OWE, NOSAWA and he got exactly what he wanted so let's see if he's right later on tonight, but now he has to focus on his match against Ganseki, Koji, and Tsugutaka. With another old vs new style tag team match, it's what you expect with Koji getting the early shine in the match and would lose it once Ganseki came in to take in the heat of everything from NOSAWA, MAZADA, and Kono as all three of them would just give him a beating without giving him any chance to tag in anyone else, which is how it should be when it comes to tag team matches. Eventually, Koji would get back in the ring for the hot tag and would clean house with his powerhouse style and would tag in Sato to try and put it away, but NOSAWA would hit a Shining Wizard on Sato, followed by a Lariat from MAZADA and Kono would hit a Chokeslam to try and win it, but Koji would break the pin just in time. NOSAWA and MAZADA would fight the illegal guys on the outside of the ring as Kono would hit a Chokebomb for a two count and then would hit his Running Knee as the young guys would lose once again.
Recommended: It was an average match, so this one is up to you
Tag Team Match
Alejandro & El Hijo del Pantera vs. Kenichiro Arai & Yusuke Kodama
Review: On our last show, Kodama would defeat Seiki to become the new Cruiserweight Champion and was then challenged by Pantera to be the next contender for the belt as we have no match date for it just yet, we got a tag match with Pantera partnering up with Alejandro while Kodama would team up with Kenichiro Arai. We get our preview early as Pantera and Kodama would start the match off with Pantera being all quick in the ring and even ran the middle ropes for a bit before the two locked up and Pantera is just too quick for him with his cat-like reflexes, no pun intended. Kodama would throw Pantera to the ropes and he just flips outside on his own as he landed on the entrance ramp before going in to do a Springboard Dropkick to make him go outside of the ring as Kenichiro would run in only to be tripped down as Alejandro would hit him with a Crossbody to make him go outside now and it looks like they're both about to do a Suicide Dive, but they psyche them out as they are still in the ring taunting them.
Alejandro gets tagged in now and looks to do a Splash to the corner as Kodama would move out of the way and kick Pantera down before going back to the ring to tag in Kenichiro as he now begins to work on Alejandro's arm and that seems to be the key focus for Kenichiro and Kodama when they kept tagging each other back and forth while still working on his arm to injure it more until Kenichiro came back in the ring to do more damage as Alejandro would hit a Hurricanrana to get him down as he makes the hot tag to Pantera. Pantera would hit the both of them with a Tilt-a-Whirl Backbreaker and would go to the ropes to do a Springboard Frontflip onto Kenichiro and before he could do anything, Kenichiro would tag in Kodoma when he wasn't looking and hits Pantera with an elbow while Kodoma hits a Diving Crossbody for a two count. The two start punching each other back and forth until Kodoma would rake his eyes and went to throw him into the ropes, Pantera would hit a Springboard Headbutt and top it off with a Dropkick before he made his way to tag in Alejandro who hits a Dropkick off the ropes and Pantera would hit a Drop Toehold to make Kodoma land between the ropes so they would hit a Double 619 and a Double Dropkick as Alejandro goes for the pin, Kenichiro would break the count. Alejandro and Pantera would hit the ropes again but Kenichiro would pull Pantera out of the ring, giving Kodama an opening to attack Alejandro with a Fisherman Buster and then he hits his Mad Splash to get the victory.
Recommended: Solid match, worth watching.
Singles Match
CIMA vs. Jun Tonsho
Review: It is now time for Strong Hearts vs. Wrestle-1 to begin as we have our first match with the leader, CIMA to take on Jun Tonsho, who has been pretty impressive during the last couple of times that I've seen him wrestle and should be an interesting bout. Soon as CIMA got into the ring, Jun would start to Dropkick him right away and start going after him so CIMA doesn't get a chance to fight back and it's a smart move on his part to try and take him down quickly and does with a few more Dropkicks and once he attempted to go for the Dragon Suplex, CIMA would fight it off and hits a Dropkick of his own. CIMA would first hit a Fisherman Buster for a two count and he quickly picks him up for a DDT and then goes to the ropes to hit his Meteora for the quick victory as he defeats Jun in less than two minutes. Strong Hearts has one point on the scoreboard while W-1 has zero.
Recommended: For a match being two minutes, it was pretty entertaining. Worth a viewing I say, especially if you're interested in this feud.
Tag Team Match
Kaz Hayashi & Seiki Yoshioka vs. Dezmond Xavier & Zachary Wentz
Review: After pretty much CIMA getting the quick work done on Jun, our next match is a tag team match as we have Kaz Hayashi leading this one with former Cruiserweight Champion, Seiki Yoshioka as they take on two of Strong Hearts members, Dezmond Xavier and Zachary Wentz and I'm excited for Zachary as he's been one of the breakout stars for me in 2018 and I can't wait to see him shine more tonight. Zachary and Seiki start the match off with first some basic chain wrestling as Zach would turn it around into an Armbar to try and make him tap, but Seiki would have his foot on the rope to break the hold. Seiki would start ducking Zach's strikes and attempts to go for a Baseball Slide as Zach jumped over him and ran to the ropes to do a Springboard Corkscrew to knock the former champion down and once Saiki got back up, Zach would tag in his partner Dezmond. as Seiki backed up to tag in Kaz.
Dezmond would outsmart Kaz with his strikes and jabs whenever Kaz would try to throw or hit him as Dezmond kept on turning it around and threw him into the corner only to be thrown over, which Zach would tag himself in the second Dezmond hits the apron and would kick Kaz in the back of the head and jump over the ropes to kick his chest in and soon as Dezmond rolled off him, Zach would jump over Dezmond to hit the Bronco Buster and impressive teamwork right here. Seiki would attack Zach for a bit and Kaz would Dropkick his leg to knock him down as he now begins to work the leg a bit until he went for a Handspring Enziguri only for Zach to duck and hit the same move but with a Dropkick as he connected and hurts his knee in the process before tagging in Dezmond.
Dezmond would Dropkick Kaz on the back of his head to make him roll out of the ring and went to go for a dive, but gets punched in the face instead as Zach would jump over the ropes to land on top of Kaz. Seiki would try to attack Dezmond and gets thrown to the ropes and he does an Asai Moonsault to the outside only for Dezmond to do a cartwheel into a Moonsault to the outside as well as the place goes crazy. Dezmond get Kaz back in the ring and goes for a 450 Splash to only land on his feet since Kaz moved and would hit Kaz with a jab to the midsection as both him and Zach would hit a combination of strikes where Zach ends it with a Double Stomp while Dezmond goes for the cover and Kaz kicks out. Seiki and Zach get tagged in and Seiki would look like to put it away as he hits the Headscirssor Slam and tops it off with a Roundhouse Kick to go for the cover but Dezmond breaks the count and gets Kaz out of the ring. Seiki went to go for the victory as Zach had him in a short-arm hold as Dezmond hits Seiki would a Superkick and Zach turns him around for a knee strike as Zach went to go for his Standing Moonsault by Seiki's feet, Dezmond would push him mid-air to make him land on Seiki for the win. Strong Hearts now has the lead 2-0.
Recommended: Great match and I'll even post the video of the match on here so you can see it for yourselves.
Six Man Tag Team Match
Andy Wu, Manabu Soya & Shuji Kondo vs. El Lindaman, Gao Jingjia & T-Hawk
Review: This will be the last match in the Strong Hearts vs W-1 matches for the evening as it is not a six-man tag match with our Wrestle-1 Champion, Manabu Soya leading the team with Andy Wu and Shuji Kondo as they take on T-Hawk who leads the team with El Lindaman and Chinese star, Gao Jinjia. Can Strong Hearts get a clean sweep or will Wrestle-1 finally get a victory here?
This is my first time seeing Gao in action here and I gotta admit that while he's a little bit green and needs more work, he's very athletic and can definitely move in the ring here, I hope to see more growth from him in these matches. Lindaman is someone I wasn't fully sold on in Dragon Gate and I still cannot get into the guy here since he's just mediocre at best in my opinion. T-Hawk is someone I felt like he wasn't ready for the big spotlight when he won the King of Gate last year and once he teamed up with Eita, he started to slowly get better in the ring and with his character work, and now seeing him here made me think that it would be a good place to start if he does get involved with major storylines with W-1 depending on how long the feud will go on for, but I do believe that Manabu will eventually fight at least CIMA or T-Hawk for the championship depending on the direction they go with it. The match was solid with mostly Kondo and Wu doing the work in the matches while Strong Hearts relied heavily on the heel tactics and greater numbers against one person. When Manabu was in the ring, he really played his strengths into the match to show that the company was his house and he's not going to let another promotion come in here and try to take it from him or the others in Wrestle-1. One move I did love was that Gao jumped onto Lindaman's back and hits a 450 Splash off his back and onto Andy Wu, I don't think I really see that happening and thought it looked awesome. T-Hawk and Andy are in the ring now and it looked like Wu would get the one win Wrestle-1 needed over Strong Hearts, but Hawk would hit his Black Tiger Bomb and get the three count.
That's right, Strong Hearts was able to get a clean sweep over Wrestle-1 by winning all three of their matches tonight. The two teams would continue to brawl in the ring after the match while T-Hawk was getting confrontational with Manabu hinting that they would eventually fight each other again soon. W-1 would eventually leave the ring during the brawl and T-Hawk declared that they will all return for the Korakuen Hall show on July 18th. Though he stated that this time around that STRONG HEARTS will announce their matches/teams with W-1 being given the chance to follow.
Recommended: Solid six-man tag match, worth a viewing.
WRESTLE-1 Tag Team Title Match
Kumaarashi & Shotaro Ashino (c) vs. Jiro "Ikeman" Kuroshio & Masato Tanaka
Review: At the last show, Jiro would get the surprise victory over Ashino with the Ikeman Flash and Jiro stated that he and Masato would challenge for the belts at the next show with his partner this time since Kuma was busy that night taking on Manabu for the Wrestle-1 Championship and then lost. Both Ashino and Kuma would need to win this match here to redeem their losses or will Jiro pull the upset once again with Masato and have a second belt in his collection since he's still the Wrestle-1 Result Champion?
Yes, Masato is still rocking Jiro's jacket and wearing it while he wrestles in this match, I just love how he can be a heel in a few places while being the babyface in other companies like this one. I love whenever Jiro and Ashino work together in the ring since they have such great chemistry together with Ashino's ability mixed up with Jiro's charisma gives us unique matches together. I liked how Ashino would tackle Jiro down and would just kip-up right away and do it a couple of times even when Ashino would rake his eyes and throw him down to the ground and Jiro would just find a way to mess with Ashino, it's the small types of interactions mixed with their chemistry that I just enjoy. Kudos to Kuma for showing off his power and throwing Jiro around like a rag doll and he sold that once he hits the turnbuckle post on the outside, even when Kuma tried to throw him into the ring, Jiro would bounce off the ropes to fall back down to the outside and it made Kuma look great here. Masato getting the hot tag and in the match and starts exploding in the ring and he continues to show that he can still be at the top of his game for a man his age, it must be that ancient Japanese secret that I don't know about and need to figure out. Ashino would lock the Ankle Lock on Jiro and would make sure he wouldn't let go of the hold so he could make him tap out this time instead of giving him any type of advantage to escape and pull another upset like he did at the previous show and while Jiro was able to escape, Kuma would be ready to do a Diving Senton onto him off the second rope to add more damage to his body and Masato would hit Ashino  with a Brainbuster off the top rope as Jiro hits his Moonsault Press to go for the win, but Kuma broke the count. Ashino isn't done yet with Jiro as he worked him more with some stiff European Uppercuts and a T-Bone Suplex to go for a two count and would reapply the Ankle Lock once more to see if he could get him to tap out once more and he still fails to do so, and Masato would catch Ashino off guard with a running knee to the face and Jiro would hit not one, but two Moonsault Presses to double tap him and pins him for the win as we have new Tag Team Champions!
Seeing the title change hands rather quickly did throw me off guard, but at the same time, I think it made sense since Ashino is too good for the tag titles and needs to focus on getting his Wrestle-1 Championship back, maybe Kuma can find a different partner from his faction to go for the belts. But congrats to Jiro for now holding two championships in the promotion and if he can win the Grand Prix, he'll have a chance to win three belts if he can also defeat Manabu, but again he has to win the Grand Prix first.
Recommended: Very fun match and all four of these men delivered for a great main event. Give it a watch.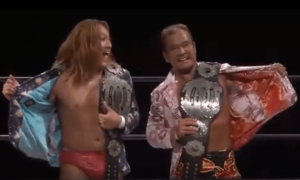 Overall: I was amazed that Wrestle-1 was able to pull off two great shows back to back and they added new elements to their storylines and rivalries to make me wanna watch more of them frequently if they were able to upload shows in time instead of almost a month in between. Next up is the Wrestle-1 Grand Prix which takes place on the July 1st show and will have the semi-final and finals taking place on July 18th (my birthday), and the winner of that match will fight for the Wrestle-1 Championship on their big show in September 2nd. The entrants to this match are Jiro "Ikemen" Kuroshio, Masayuki Kono, Kaz Hayashi, Shotaro Ashino, Shuji Kondo, Koji Doi, Takanori Ito, and Kumaarashi. I'm gonna go with Jiro making lightning strike twice and win it back to back, but don't be surprised if Ashino wins the match to set up the rematch between him and Manabu.
Favorite Match: Kaz Hayashi & Seiki Yoshioka vs. Dezmond Xavier & Zachary Wentz
Least Favorite Match: Takanori Ito vs. Takumi Baba
Score: 8/10
See you all next time!
---
Always Use Your Head and visit the official Pro Wrestling Tees store for The Chairshot All t-shirt proceeds help support the advancement of your favorite hard-hitting wrestling website, The Chairshot!

---