OWE Results & Review: 5/7/2018
So apparently the Future Stars of Wrestling Twitch channel will be showcasing Oriental Wrestling Entertainment. I wasn't aware of this until the magical Chairshot Publisher Greg DeMarco brought it to my attention.
They even went as far as to add English commentary, though admittedly, it was comical at times. Not because it was bad, but because of the translated names or what OWE provided to them.
You can watch here: https://www.twitch.tv/videos/268315459
The show opens with karate and dancing performances. We see young guys come out, do some things with the coiling dragon staff, chain whip and that's when the Tech N9ne hits and they go into a small entertainment number. It's different, but the crowd seems receptive and dancing or singing performances do seem to be a common place before large events in many Asian countries.
Match Card & Results
CIMA def. T-Hawk – *** 1/4
Wang Jin & Monk Zhao Yilong def. Jack Manly & Remy Marcel (Whirlwind Gentlemen) – ***
Clutch & Sugar (Real Money Brothers) def. Achilles Ben & Little Guan Yu – ** 1/2
8 Man Tag – Damian Drake, Duan Yingnan, Spyder Warrior & Sun Chaoqun def. Duan Dihang, Mao Chengxiang, Ren Yuhang & Xiong Zhiyu – * 1/2
Yang Hao & Lu Ye def. Fan Qiuyang & Wulijimuren ( Mongolian Wolf Clan) w/ Wild Wolf Logan – * 1/4
3 Way Tag – Floater Jingjia & 'Scorpion 2X' Liu Xinxi def. Rocket G Sharp / Jake Cafe & Wild Wolf Fan Logan / Mr Cool – **
Thoughts
So I believe this is only the second OWE event, and it's already leaps and bounds above most newer promotions. The production level of this show is pretty huge also, a lot of laser light displays, solid sound and animation on the tron to accompany the entrances. So when it comes to how it looks, the show is visually stunning for what most of us may have expected.
As for the show on a whole, it had it's ups and downs. They tried to run an angle that Achilles Ben and Little Guan Yu were attacked before the match as a way to protect them through the loss. From what commentary said, Ben is a heavy favorite to be their first champion, so you need to protect him a little. Ring work depended on the match, and as you can see from the ratings, matches that weren't supported by FSW veterans, weren't as smooth.
The main event did a lot to get over Mr Cool and Floating King as high flying, impressive young stars. Much of the transitioning seems to be rooted in Shaolin style Kung Fu. The way they flow between moves and twist during high spots were very reminiscent to a Kung Fu movie. So even if you dislike the "flippy floppy" style, this looks less like gymnastics and more like a Jet Li movie.
Zhao Yilong also known as @MonkOWE just got his own Twitter!

Re-watch tonight's show here: https://t.co/NayCBls4EA@MrLARIATO @ORIENTALWRESTL1 @NuclearConvoy #OWE pic.twitter.com/4kxyLmY2SI

— ORIENTAL WRESTLING ENTERTAINMENT (@ORIENTALWRESTL1) May 26, 2018
Depending on how often FSW works with OWE, I'll definitely try to keep an eye out for the product. Personally 'The Monk' Zhao Yilong and Mr Cool impressed me the most. Should be a fun promotion.
Mr. COOL showing off just how "Cool" he is!

Watch us on @Twitch: https://t.co/Kot8XCGqqN @MrLARIATO @fswvegas @dragongate_pro @ORIENTALWRESTL1 @supercima1115 #OWE #FSW #FSWVegas #DragonGate pic.twitter.com/54STflcHz1

— ORIENTAL WRESTLING ENTERTAINMENT (@ORIENTALWRESTL1) May 26, 2018
Andrew's AJPW Champion Carnival Results & Match Ratings: 4.11.2021
Day 3 of the Champion Carnival had video on demand issues, so it wasn't uploaded until the 12th. Hopefully Day 3 continues the positive momentum the first two days have already created!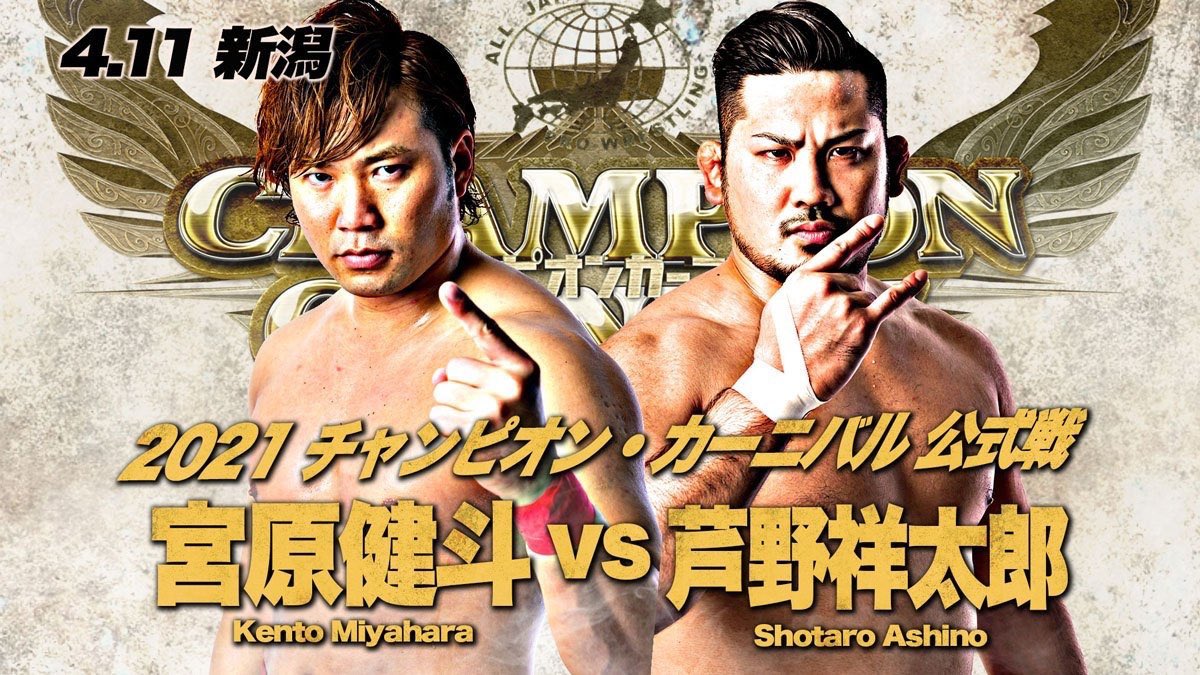 Day 3 of the Champion Carnival had video on demand issues, so it wasn't uploaded until the 12th. Hopefully Day 3 continues the positive momentum the first two days have already created!
Hard to say I wasn't a little annoyed the VOD took so long to post, but better late than never; especially when the next event isn't until the 17th.
Anyway though! Zeus looks to topple the current Triple Crown champion and continue his undefeated Carnival streak and Ashino has to do something to get off the bubble; but Kento is a big ask. We could be looking at a quick favorite to win as well as the walking dead.
Let's hope nothing too drastic happens! Check it out!
Match Ratings:
Jake Lee vs Koji Doi: Jake wins via D4C @8:10 – **
Shuji Ishikawa vs Yuma Aoyagi: Ishikawa wins via Single Leg Cradle @11:13 – ***
Kento Miyahara vs Shotaro Ashino: Ashino wins via Grapevine Ankle Lock @12:11 – *** ½
Zeus vs Suwama: Zeus wins via Jackhammer @19:52 – *** ¾
Results:
Jake Lee vs Koji Doi
Total Eclipse inner faction fighting! Since Jake is the leader, he starts off in typical heel leader fashion telling Koji to lie down and eat the pin. Koji lies down; Jake drapes himself in a cocky cover, so Koji goes for the crucifix at the 2 count. Jake snaps up and he looks shocked that Koji went against an order, but then we get to a match.
Koji does a solid job keeping Jake off balance with power attacks, Shoulder Tackles and an interesting Football Tackle with the lift and slam. Jake eats a decent amount of offense, including a few short arm Lariats, before he starts stabilizing with Knee Lifts and Yakuza Kicks.
Lucky for Jake, even though Koji countered the D4C once, after Giant Killing, Koji wasn't countering anything. Jake hits D4C and gets his second win of the tournament! Not a flashy match honestly felt a little silly at points with how quiet and echoed the arena made the match feel. Hopefully the setting doesn't continue to plague the atmosphere of the matches.
Shuji Ishikawa vs Yuma Aoyagi
Now this was decent, though the hollow quiet atmosphere of venue is really detracting from the matches. Yuma was trying to find openings, but Shuji continued to run him over and abuse him with power early. And it was during these slower spots, the deafening silence of the venue made for weird watching.
Even though Shuji hit a Scoop Slam into the corner of the arpon, multiple Tsunamis and a flashing Scoop Fire/Thunder Driver, Yuma stayed resilient. Yuma nearly made the bigger man tap in End Game, but Shuji was able to find the ropes. Yuma hits an O'Connor Roll into the Japanese Leg Clutch, Shuji manages to get out of that, goes for a Tsunami, Yuma slides and tries to scoop Shuji for a Roll-Up, but at two Shuji manages to reverse the Roll-Up, grab a single leg and keep Yuma down for a three count!
Even though I have yet to be convinced by Yuma, the fact he got a finish that still made him look strong while putting up a good fight against a decorated opponent like Ishikawa; that says a lot about his potential rise on the card.
Kento Miyahara vs Shotaro Ashino
Ashino is in the unenviable position of last place after two days. With a 0-2 record, he really REALLY needs this…and he of course has Kento as his roadblock. They've traded wins in the past, and come off as rivals who don't really like one another.
The match starts quick with Ashino shooting the half, grabbing a leg and searching for the Ankle Lock early. Kento fights out, but Kento is surprised and Ashino stays on him. Ashino pulls Kento to the ring post and wraps Kento's left leg against the post a few times. Kento fires and Snake Eyes lands Ashino into the corner of the apron.  This gives Kento plenty of time to walk off the early ankle damage and play into his cocky arrogance, all while messing with the referee and his opponent.
Whenever Ashino managed to get back in the ring, he was greeted by Blackouts to the front and back of his head. It wasn't really until Kento went for the Shutdown Suplex, that Ashino hit a second wind. Both men trade German Suplexes, Ashino continues with a Deadlift Overhead suplex and he starts building momentum back.
He teases a German from the apron to the floor, but Kento blocks, fights off and Piledrives Ashino instead. Kento fires off Blackouts as Ashino once again barely beats the count out, but after landing his ninth Blackout of the fight, Ashino grabs the left leg, rolls through and goes for the Ankle Lock. Kento tries to fight off, but Ashino refuses to let go, readjusting, rolling through, pulling Kento back into the center away from the ropes; eventually dropping down into the Grapevine. Kento has no other option but to submit!
Ashino finally gets on the board, and Kento joins him in the 1-2 portion of the standings! I wonder how much the ankle will play into the rest of Kento's carnival.
Zeus vs Suwama
Last year during Zeus' carnival winning run, he had a match with Suwama which resulted in Suwama sustaining an arm injury. Thanks to this knowledge, and the sting of a failed challenge when Suwama recovered, Zeus came out attacking the arm and trying to replicate some of his success from last year.
The beauty in Zeus' arm attacks, is not only were the Key Lock and Arm Bars effective to play on the old injury, they also inhibited Suwama from executing the Last Ride Powerbomb. Zeus' attack really did great, as well as giving him the power advantage against someone who can usually match him in that department. Zeus lifted out of Boston Crabs, met Suwama head on with Biceps Explosions and even broke out the Frog Splash a few times.
In a nice reference, Suwama was able to fight out of the Arm Trap Facelock this time, but Zeus had too much of an advantage. Zeus peppered in Chokeslams, Lariats, another Frog Splash and eventually ended the match with an impactful Jackhammer. This was a solid struggle throughout, injured only by the awkward venue setting.
Who will be the first person to hang a Carnival loss on Zeus since 2019?
Overall Score: 6.75/10
While there wasn't really a lot to complain about in terms of action, I really hated the venue. With the Japanese crowd rules of not being able to scream and having to just clap or stomp, it was very noticeably irritating in this event.  Slower moments felt empty and stupid, almost back to the empty Quarantine times, which definitely impact smaller events and smaller companies.
Aside from that, we got a lot of really great finishes. Ashino finally getting on the scoreboard AND over Kento is great. Zeus continuing his streak from last year, Jake well…doing Jake things and Shuji looking strong as a current title holder should. Otani and Sato were missed a little today, but let's check out the standings!
 Standings:
Zeus: 3-0 – (6 Points)
Shuji Ishikawa: 2-1 – (4 Points)
Jake Lee: 2-1 – (4 Points)
Shinjiro Otani: 1-1 – (2 Points)
Kohei Sato: 1-1 – (2 Points)
Shotaro Ashino: 1-2 – (2 Points)
Kento Miyahara: 1-2 – (2 Points)
Suwama: 1-2 – (2 Points)
Koji Doi: 1-2 – (2 Points)
Yuma Aoyagi: 1-2 – (2 Points)
Andrew's AJPW Champion Carnival Results & Match Ratings: 4.10.2021
Day 2 of my fill in stint covering the AJPW Champion Carnival! Can Suwama get in the winner's column? Can the Ace Kento get on the board? Does anyone pull away so early?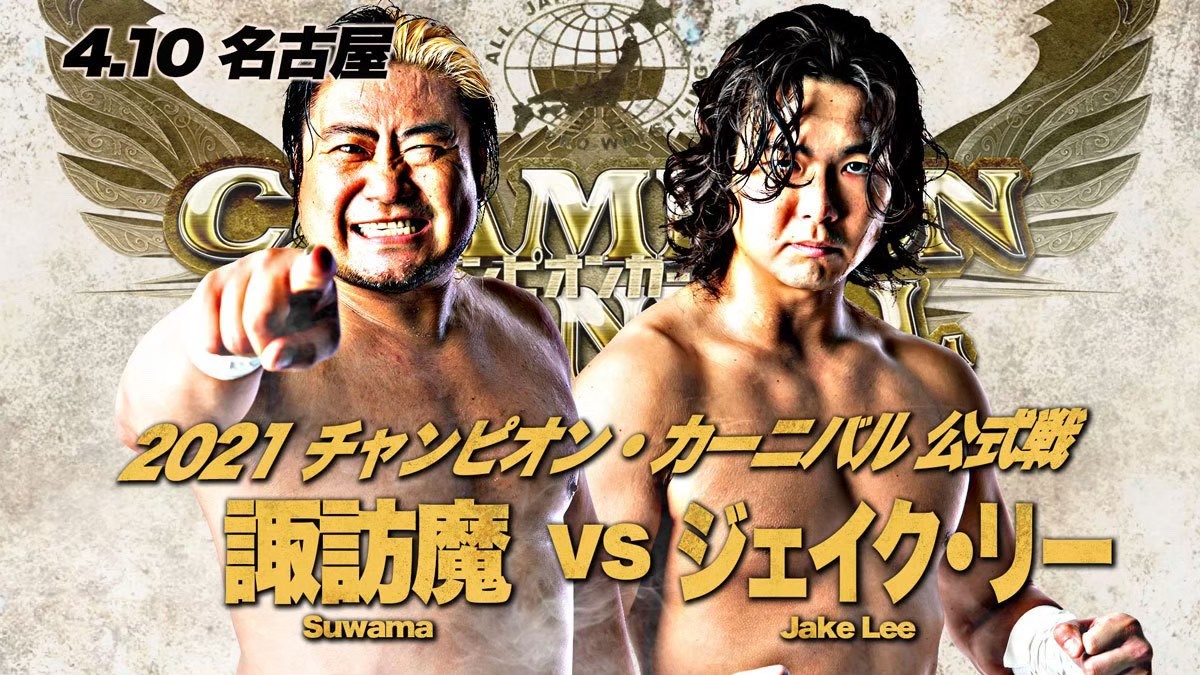 Day 2 of my fill in stint covering the AJPW Champion Carnival! Can Suwama get in the winner's column? Can the Ace Kento get on the board? Does anyone pull away so early?
Given the fact the incumbent champion lost his first round, the ace lost and there were a few main event players that picked up hard fought wins but don't have an easy day today, this should be interesting. What kind of tournament are we looking at?
Since the tournament is 1 block, each person gets 9 matches, similar to the G1. So using G1 logic, 2 losses puts you on the bubble of being out, and 3 losses is basically death with the exception of weird breakers or fun rock/paper/scissors situations.
So for everyone's sake, let's hope we end up at mostly parity to continue to keep everyone alive for most of this single block tournament!
Ratings:
Yuma Aoyagi vs Shotaro Ashino: Aoyagi wins via End Game @9:22 – ** ¾
Kohei Sato vs Koji Doi: Doi wins via Murder Lariat @4:52 – * ½
Shuj Ishikawa vs Zeus: Zeus wins via Arm Trap Facelock @10:41 – *** ½
Shinjiro Otani vs Kento Miyahara: Kento wins via Blackout @13:23 – *** ¾
Jake Lee vs Suwama: Suwama wins via Last Ride Powerbomb @18:23 – ****
Results:
Yuma Aoyagi vs Shotaro Ashino
So very similarly to the match against Otani, Aoyagi starts slow. The match begins with a handshake, then he gets driven to the ropes, Ashino slides under his legs during the break to trip him up and starts working over the leg. An early Stretch Muffler indicates that Ashino is most likely aiming to win with the Ankle Lock.
Aoyagi was on the move and constantly clawing for an opening. A few strikes and early knockdown give Aoyagi hope as he goes for End Game, but Ashino powers up and slams him into the corner. Ashino controls most of the tempo until we get a German Suplex trade off spot. Aoyagi ends up taking the worst of it, and Ashino goes for the Ankle Lock.
While in the Ankle Lock, Aoyagi tries to roll through 3 times, but Ashino moves with the roll and holds the move in place. Right before Aoyagi looks like he's going to tap, he adjusts, grabs Ashino's head for the Small Package; Ashino manages to kick out. But before Ashino can really re-orient himself, Aoyagi slaps on the full version of End Game. Ashino tries to fight through, but succumbs.
Ashino with two big losses almost writes him out already. Hopefully he makes a small run to suspend disbelief for a little bit and this isn't his swan song from AJPW.
Kohei Sato vs Koji Doi
Doi comes out of a loss to a major player, Shuji Ishikawa, of current AJPW and Sato avenged his loss to the current Triple Crown Champion Suwama. So at face value, one should think this is a perfect time for Sato to gather some momentum to make sure he gets another shot at the title.
Contrary to logic, this match was interesting. Doi starts off with a quick flurry and picks Sato up into a Torture Rack. Sato eventually fights out and then we get a chop battle, which Sato is notoriously bad at and throws some of the lamest looking chops. Granted, even though he was losing the chops, apparently a well-placed Forearm rocked Doi enough to have Doi selling the forearm for nearly the rest of the match.
Referee Nikkan Lee gets up to seven before Doi starts responding enough to be on the receiving end of a Soccer Ball Kick from Sato. Sato senses the match is over, picks Doi up real cocky for a Brainbuster, but it gets countered into a Brainbuster of Doi's own! A short range lariat rocks Sato afterward and then off the ropes for Murder Lariat! Sato is stacked up, Doi covers and Doi gets the win!
Well we look to be in an interesting starting spot so far. Who would've figured Koji Doi would have more points than Shotaro Ashino…ever. Also for clarity, the low rating is because the match was so abrupt. It wasn't inherently bad, just not really anything to sink teeth into beyond an upset win.
Shuj Ishikawa vs Zeus
There is history with these two, most notable in my head is during Zeus' only Triple Crown championship reign, Shuji was his first and only defense. So Zeus looks to continue momentum this year, possibly running back the undefeated record of last year; while Shuji is trying to protect his position and title as Gaora TV champion.
This goes the way most of their previous meetings have, where Shuji tries to overpower Zeus. Because even though Zeus is a bodybuilder, he's a bit on the short side (5'10"). So with Shuji standing about 6 inches taller and not being of a slight build, Shuji loves to buckle Zeus and play the power struggle. Tests of Strength, Shoulder Tackles, Lariat battles, it's all great power wrestler spots.
Shuji does however start to catch Zeus. So after a chagrining Lariat into the corner, the middle rope Mushroom Stomp and a few Tsunamis; it looks like Shuji is setting up to win with a Fire/Thunder Driver – but Zeus slips out the back! Zeus locks in the Arm Trap Facelock, and Shuji is dead to rights. Stuck in the middle, twisted about in the move, it only takes a few moments before Shuji is forced to tap and Zeus moves on with 4 points!
Shinjiro Otani vs Kento Miyahara
Dueling boots start the match, which Kento bails after being on the losing end of the exchange. Otani decides to remind him that recovering on the apron isn't safe, so he charges and lands the Bootwash through the bottom rope sending Kento flying. As the match plays out on the outside, Kento regains his swagger, talks smack to referee Wada and does his "headbutts around the ring" spot.
After rocking Otani, Kento gets cocky, poses back in the ring and the smug Kento from his previous Triple Crown champion days starts making a return. He gives Otani too much space though, charges the corner, and takes a Drop Toe Hold into the bottom turnbuckle, and then Otani revs up the old kicking boot across Kento's face for a few Bootwashes.
From this point, both men's stubbornness comes out in spades. Kento gets a little cocky, Otani catches him on the corner, they fight back and Otani refuses to fall before hitting Kento with a Superplex. Then we go into a strike exchange where both are just wailing on one another. Otani manages to rock Kento and then catch him with a Dragon Suplex for a near fall.
Moving quickly, Otani hits Spiral Bomb, but again only two. So he tries a Dragon Suplex again, but Kento fights out. Kento hits a Blackout to the back of Otani's head, and now they are throwing haymakers. Kento catches Otani with another Blackout, but Otani returns the favor with one of those Hashimoto Overhand Chops that put down Aoyagi yesterday! Otani goes for another, but Kento Blackouts the chop. The clash leaves Otani in more pain, another Blackout and Otani powers out of the pinfall at 1, but is scrambling and stumbling around, unable to find his feet. Kento hits one more point blank Blackout, and picks up his first points of the 2021 Carnival!
Jake Lee vs Suwama
So watching this second tournament match for Jake, I've come to realize what I'm referring to him as during this Total Eclipse gimmick. He is very much "Light Yagami" Jake Lee. He's cackling when he accomplishes something, unbridled frustration and nearly schizophrenic reactions do really scream Death Note crazy Light.
This match was interesting since early on Suwama didn't really know what to make of Jake, and Jake tried the same stuff he pulled on Ashino, where he was a little awkward, took advantage of situations and tried to bait Suwama into bad spots. The difference is, Suwama is a veteran and Triple Crown champion; so even though Jake got a few early shots, Suwama eventually forced him back into old habits.
Jake was forced to wrestle, hitting interesting flying kick and knee variations, pulled out the old Kitchen Sink and put in a lot more effort than the first match. Suwama managed to stay resilient and push our new Total Eclipse Death Note wielder. This match was built more around Jake coming into his new persona, and yet still not being able to get passed certain old hurdles.
Suwama absorbed a lot, hit some short range lariats, his Double Chop comeback, and the spinning chop. Jake hits the back of the head Giant Killing, attempts D4C, but Suwama blocks. Jake keeps the pressure up, attempts and old Giant Killing/Knee Lift, but Suwama catches the leg, lifts him into a Last Ride, and puts him away!
Suwama finally gets on the bored, and Jake is left stunned and seething. Which plays perfect for Jake to win the Carnival and earn his Suwama shot, and prove his evolution then.
Overall Score: 7.5/10
So this ended a little stronger over all than day 1, but both days so far have been a fun start. The mixture of upsets and oddly abrupt matches are perfect for a tournament even if they don't rank high. In the larger picture of things it's nice to see that a competitive match can end in less than 5 minutes without comedy tactics.
Seeing how Jake took the loss to Suwama gives me hope for this anime antagonist character. I'm honestly a little surprised that the whole tournament is knotted up except for Zeus at the 2-0 and Ashino at 0-2. I really did not think Ashino would be the slow kid in the pool right now. But I suppose since he was just betrayed he's still finding his footing. Like I alluded to before, it would be nice if he's just getting broken down to be built back up and not just putting people over on his way out.
Now since the only unique records are first and last, the rest of the tournament isn't hard to figure out, but here are the standings! Solid first 2 days so far!
Standings:
Zeus: 2-0 – (4 Points)
Shuji Ishikawa: 1-1 – (2 Points)
Shinjiro Otani: 1-1 – (2 Points)
Kohei Sato: 1-1 – (2 Points)
Jake Lee: 1-1 – (2 Points)
Kento Miyahara: 1-1 – (2 Points)
Suwama: 1-1 – (2 Points)
Koji Doi: 1-1 – (2 Points)
Yuma Aoyagi: 1-1 – (2 Points)
Shotaro Ashino: 0-2 – (0 Points)