Please Bring CM Punk Back To WWE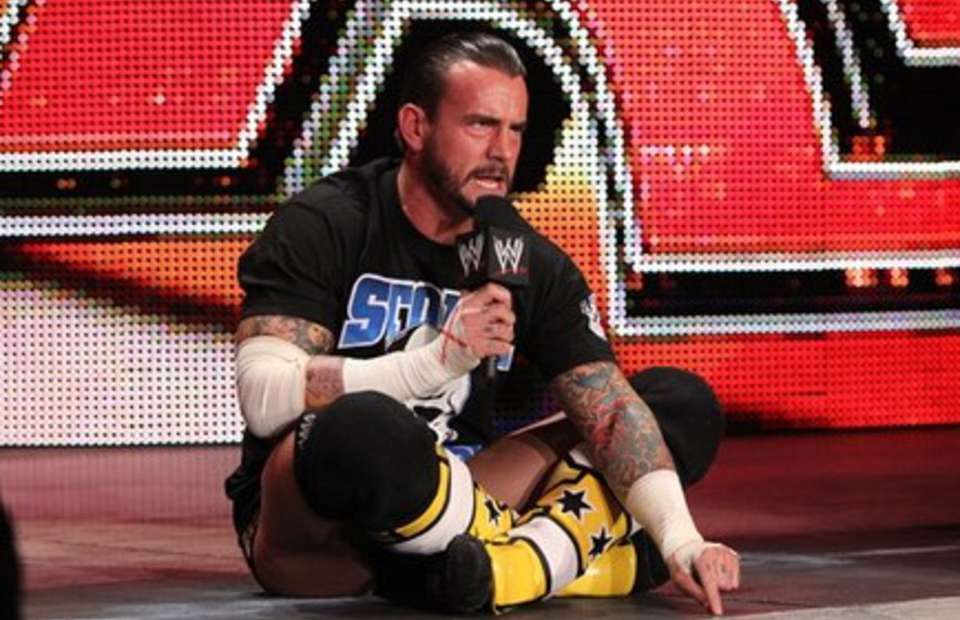 Following UFC President Dana White's comments following CM Punk and a second straight loss in the octagon, it would appear the former WWE champion's career in MMA is over.
That's a 0-2 record that wasn't even close to being successful. I give Punk all the respect in the world for trying to make a second career in another highly-charged sport that honestly he had no chance at succeeding. Now, will there be a reconciliation between the "Second City Saint" and WWE? Can Punk, who has complained about the company that made him a household name for suspect medical practices, tuck his tail between his legs and slide up to the bar next to Vince McMahon and ask to have his seat at the adult table once again?
"It probably should be a wrap," White said of Punk's MMA career per Brett Okamoto of ESPN.com. "The guy is 39 years old. I love the guy. He's the nicest guy in the world. We gave him two shots, and he had a lot of heart tonight in this fight. And I think he should call it a wrap."
What White wants, he usually gets. He wanted Punk for the name recognition, the chance to show he could take someone with Phil Brooks' heart and turn him into a true fighter. The performer failed miserably at it but has earned the respect of many who probably echo the sentiments White expressed following the loss to Mike Jackson at UFC 225 on Saturday night at the United Center.
CM Punk is no Brock Lesnar, who has been a heavyweight champion in both genres. Ronda Rousey owned the women's division until two devastating losses. Ken Shamrock was successful on both levels. Bobby Lashley has been in the octagon as well. Dan Severn proved to lay the groundwork for everyone after him.
Now, Punk is a footnote in a failed attempt to prove he can handle the real workings of fighting without the theatrical scripted nature of a wrestling ring. Wrestling fans have to wonder if coming back to the McMahon circus would be the right move and if not, could he follow the same path as Cody Rhodes – making himself an international success through ROH, TNA, and NJPW?
Punk was a success on the independent circuit before he made his way to Stamford, CT. It could work again – in time.
Right now, WWE is teetering on the brink of something big from its new deal with Fox Sports and a change in format for the SmackDown Live brand. Monday Night Raw, with its forgotten champion in Lesnar and its dissolution of the main event picture, could use the shot of adrenaline someone like Punk could bring to the company and the hoard of fans who still chant his name at live events.
As Okamoto wrote, Before Saturday's bout, Punk told ESPN he intended to continue his career regardless of what happened against Jackson. White had different ideas after the fight. If Punk left UFC, it would be without fanfare, more like a whisper in the wind.  
If he comes back to WWE, the fans will come. They will come in droves. Like Daniel Bryan, they will cheer loudly in his honor. His wife, AJ Lee could be part of the reunion as well, adding another card to a stacked deck in WWE's women's division. I'm salivating at the possibilities. I would love to see Punk and AJ Styles. A confrontation with Shinsuke Nakamura and possibly a shot at Roman Reigns with a heel turn part of the script.
WWE should pick up the phone and test the waters a bit. Vince McMahon himself should be the voice on the other end of the conversation. Whatever it takes, make this happen. Bring Punk back to where he belongs and erase the stain his UFC career has left on Punk's resume. Everything is fair in love and wrestling. This time, the two who had a past relationship must kiss and make up. Not just for WWE's need for ratings and more balance on its roster, but to help ease the pain Punk feels by being miscast as a fighter when he is really a performer.
(NOAH) WEEKLY NEWSLETTER VOL.35~ 19TH MAY 2019
Hisame brings us updates on all our NOAH favourites! RATEL'S, AXIZ and Kongoh! Also a nice update on YO-HEY's unique state of mind.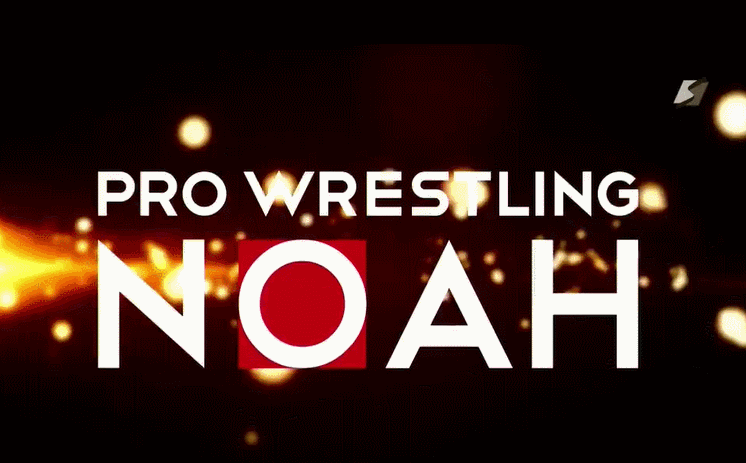 Hisame brings us updates on all our NOAH favourites! RATEL'S, AXIZ and Kongoh! Also a nice update on YO-HEY's unique state of mind.
CURRENT TOUR RECAP
"Under blue skies" NOAH held an event on the 18th May, which was only two events, and was held for their new sponsors, and 500 people on the roof of the Sekichu store in Saitama.
Sekichu are a hardware store who seem to specialize in home cleaning products, they also seem to have some kind of association with both All Japan and DDT too, and Jun Akiyama was there on the day wrapped against the spring cold in a Sekichu jacket.
The day was "non canon" and featured only ten wrestlers (plus the injured Naomichi Marufuji who was on commentary and gave autographs), everything was lighthearted with Go Shiozaki wearing a Sekichu company logo box on his head, and Taniguchi apologizing for knocking down a company display (which he was thrown into by Shiozaki). At the end of the event the fans got the chance to pose with the wrestlers, and it seems that the mascots did the same, and AXIZ also leaned on Hitoshi Kumano and almost squished him.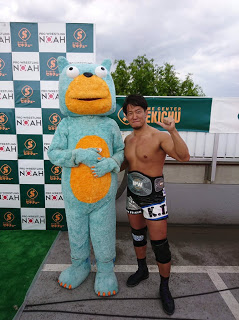 On seeing Daisuke Harada posing with one, IPW'S Ben Basden said "@IPWUK do you really want this representing your company? Fly him over to England already, he clearly has nothing better to do."
The next day, the 19th in Gunma, was when the real events of the show happened, especially on the junior front involving RATELS and their enemies Stinger.
YO-HEY had said that he would be making an announcement in Gunma, and he stepped into the ring to do it after the match (which Stinger had lost via a lariat from Tadasuke on Junta Miyawaki). YO-HEY told Yoshinari Ogawa and Kotaro Suzuki that for Global Junior Tag League, he would indeed be teaming with HAYATA and going for the third consecutive win, but he would be doing this as a member of Stinger. Getting the win in any league, equals a challenge for the belt, but while normally this would mean either another team and another team alone getting it, in this situation it would mean the belt would be half Stingers, and half RATELS. Ogawa didn't like this, and he and Kotaro attacked YO-HEY, stamping on his chest after Ogawa had knocked him down with an elbow.
HAYATA ran to the ring and threw himself over YO-HEY to protect him, and as he was pulled off of him, Daisuke Harada and Tadasuke ran in for the assist, the four of them did their tandem kick and threw Stinger out of the ring.
Afterwards, RATELS helped YO-HEY up.
Daisuke Harada asked the crowd what YO-HEY was? Was he RATELS? Or was he Stinger?
The crowd had no hesitation in unanimously saying that he was RATELS.
YO-HEY removed his Stinger t-shirt, and the four of them did their handshake, before Tadasuke carried a grinning YO-HEY from the ring on his back (I think YO-HEY'S lungs were probably a little overworked after the exertion), and Harada welcomed him home…although he did say that despite the fact that the four of them were going to start again from scratch, YO-HEY should not think that he was going to go easy on him.
YO-HEY later posted on Twitter that RATELS had forgiven him for his betrayal, and were kind.
"I'm home".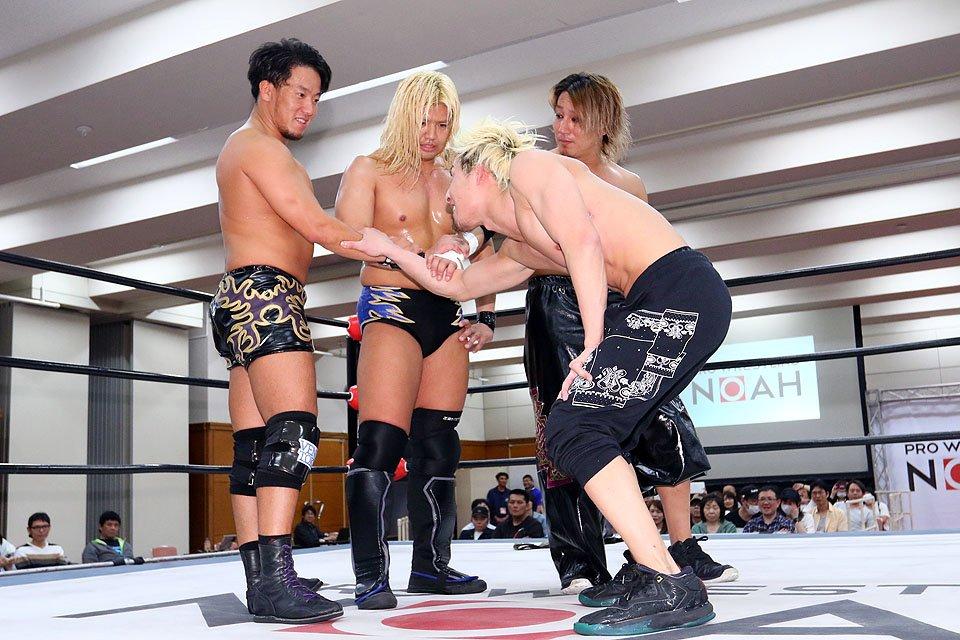 So, now Stinger are a man down and both teams stand at four against two, it will be interesting to see if Naomichi Marufuji joins Stinger. After all, he is feuding with Daisuke Harada, Yoshinari Ogawa and Kotaro Suzuki are old friends (and heels), and in NOAH the line between the interaction in matches and units between juniors and heavyweights is one that is often crossed. 
Elsewhere, Kongoh got another win when the four of them (Kenoh, Masa Kitamiya, Atsushi Kotoge and Yoshiki Inamura) defeated the team of Kaito Kiyomiya, Shuehi Taniguchi, Minoru Tanaka and Akitoshi Saito, with Kitamiya evening the score against Taniguchi with the Saito Suplex. Naturally,
Kenoh started screaming afterwards about the usual things.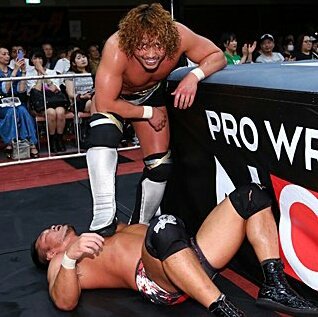 Katsuhiko Nakajima had another one of his classic beating up on Takashi Sugiura with a smug look on his face pictures taken. Nakajima, unfortunately, has failed to realize that this all spurs Sugiura to revenge, which is usually taken in a brutal way in title matches.
Global Junior Tag League starts on the 28th May 2019 at Korakuen Hall.
EVENT RECAPS
Post match promos – Esupowaru Isanuma, Saitama
18th May 2019 – Sekuchi Ageo Store Event
19th May 2019 – YAMADA Green Dome, Maebashi, Gunma
NEWS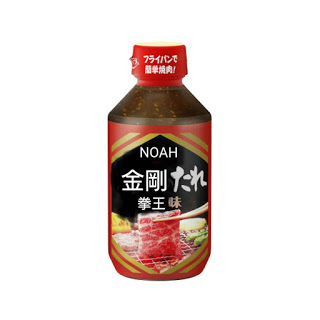 "KONGOH SAUCE"
Two of the NOAH seniors, Naomichi Marufuji and Takashi Sugiura in particular, are baiting Kenoh. As you know Sugiura called the name "Kongoh" tacky, with Kenoh calling him a "stupid old man".
Marufuji, however, seems to have gone a step further to wind him up, after reading an article in "Puroresu Weekly" and photoshopping a bottle of brown sauce which he labelled as the flavor of Kenoh's gut.
Kenoh said he was looking forward to kicking Marufuji (who thought he was a funny guy) on his return on the 28th, Marufuji said sarcastically for
Kenoh to be gentle.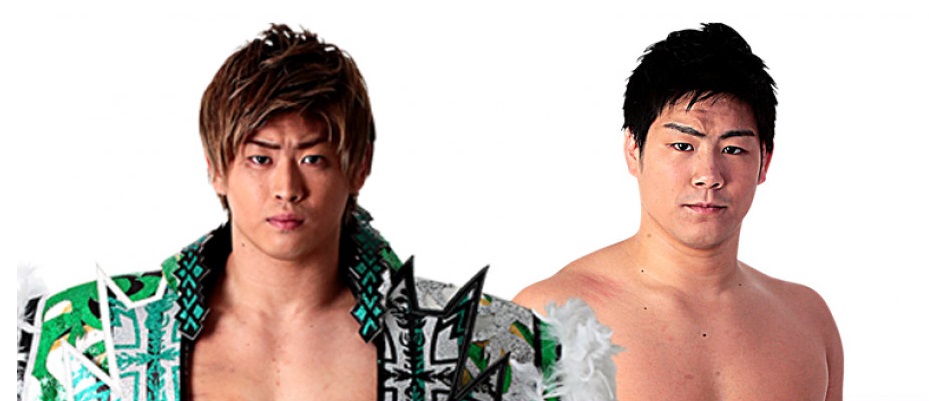 BIRTHDAY PARTIES
Takashi Sugiura will celebrate his 50th birthday on May 31st, NOAH had announced plans to have a fan birthday party for him on the 25th, but not given any further details, and the announcement appears to have vanished from the site.
Kaito Kiyomiya will turn 23 on July 17th with Junta Miyawaki turning 22 on June 14th, NOAH will hold a fan party for them on the 13th July, details to be announced.
Naomichi Marufuji will turn 40 this year in September, so no doubt NOAH will also announce a fan party for him.
CURRENT CHAMPIONS
TOUR TIDBITS
~ YO-HEY signed autographs from both himself and his lung.
~ Daisuke Harada has sworn that he will have a main event for a title match
~ Naomichi Marufuji has been bed bound due to his injury, and spent a lot of time (in between Twitter posts and hospital visits) watching Dragonball Z. He said he watched about twenty episodes.
~ Akitoshi Saito was interviewed on his thoughts of Global Junior Tag League, a league which naturally he is not part of. Heavyweights have never been asked their picks and opinions for it before, so it could be a good way for the Juniors & the Heavyweights to go to war, especially as the juniors were not asked for their opinion over Global Tag League.
~ Kaito Kiyomiya said in an interview that when the twelve year old him heard that Mitsuharu Misawa had died, he cried throughout the day.
~ As part of his rehabilitation, YO-HEY says he has been taking walks in the park.
BROADCASTS
The first night of Global Junior League will be broadcast live on G+ on May 28th 2019 at 6.30pm JST.
The 9th June show (the Misawa Memorial from Korakuen Hall, Tokyo and the second to last night of Global Junior Tag League) will be broadcast by G+ on Thursday 13th at 8pm JST.
LINKS
Global Junior Tag League mini interview: Hitoshi Kumano 
Global Junior Tag League mini interview: Hi69 & Minoru Tanaka 
Global Junior Tag League mini interview: Hajime Ohara
Global Junior Tag League mini interview with Akitoshi Saito
Katsuhiko Nakajima interview on the late Silver King
Ten years after Misawa's death in Hiroshima, champion Kaito Kiyomiya "looks at a new scenery"
Champ talk with Katsuhiko Nakajima 
PICTURE CREDITS: Daisuke Harada, Noah GHC, PKDK, Naomichi Marufuji 
Newsletter written by Hisame
Good, Bad and Ugly Money In the Bank (2019)
Money In the Bank is here.  The main purpose of MITB is about steering the ship in important directions and starting some bigger and hopefully better things.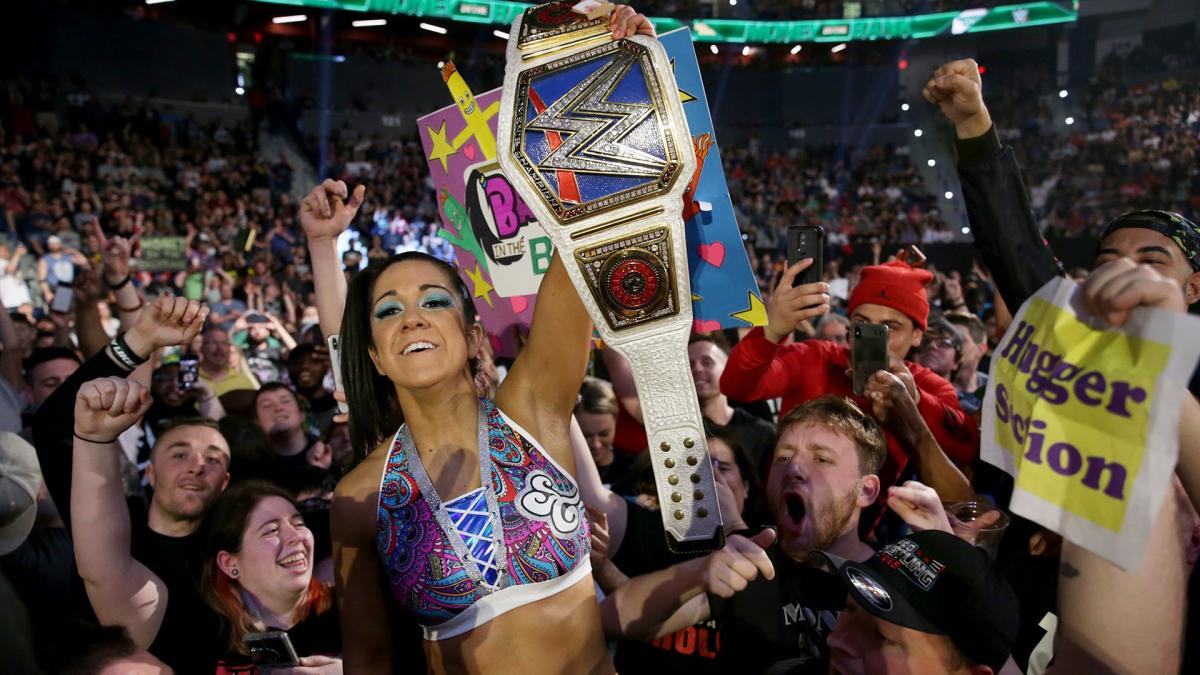 Money In the Bank is here.  The main purpose of MITB is about steering the ship in important directions and starting some bigger and hopefully better things. 
We expect a lot and are in the end disappointed, however we continue to ride along happily. 
It's showtime, let's get to the action. 
GOOD
Women's MITB: Nikki Cross, Naomi, Natalya, Dana Brooke, Bayley, Ember Moon, Mandy Rose, Carmella
Hell of an opening match!  This got my attention.  Nikki Cross was just fantastic, chaotically destroying everyone early on.  Ladders hurt, and these ladies are going to feel this for a few days.  Mella exited with a hurt knee from a ladder at the hands of Mandy Rose and seemed out of the match.  Bodies everywhere, crashing ladders and completely crazy, Mandy Rose emerged from the pack.  Carmella returned and got some licks in to Mandy Rose for the earlier assault.  Sonya Deville finally came into it and did everything but grab the briefcase and hand it to Mandy Rose.  A hero emerged as the mighty Bayley scrambled up the ladder, took down Rose and Deville and got the prestigious Money In the Bank Briefcase!  This hugger is happy!  Great ending!     
United States Championship- Samoa Joe (c) v Rey Mysterio
Samoa Joe is a vicious animal.  He just tried to dismantle the smaller foe.  Rey Mysterio always puts up a fight and this match was no different.  A bloody Samoa Joe turned up the heat but Mysterio hit a hurricanranna and got a very controversial 3 count for his first US Title Victory!  Obviously by the view and Joe's shoulder up I expect a controversy storyline added to this from the result, but awesome to see Mysterio win US Title.  Great athlete and legend to represent that title.  Samoa Joe just destroyed Mysterio after the match in a fit of rage.  This hot feud is going nowhere anytime soon and just took an extremely violent turn. 
Cruiserweight Championship- Tony Nese (c) v Ariya Daivari
This match has a lot of potential, and with the placement of the match not on the preshow and after the Miz/Shane cage match, it may finally get some attention.  Tony Nese is criminally Good and it showed tonight.  He just knows what he is doing and seemingly can work anyone.  As expected Nese just shined in this match.  It was a very typical match you would see at any 205 Live show but doesn't take away from the fact it was Good.  Nese Retains!
WWE Raw Women's Championship- Becky Lynch(c) v Lacey Evans
They did everything right.  We have an interesting feud with Good heat and buildup with characters who can work.  Man vs Woman and a lot of feel this match had it all.  A little Lynch and a lot of Lacey we saw a ton of action in this one.  Lacey Evans scratched and clawed doing everything she could to take the strap from Lynch.  After it looked like Lacey had Becky Lynch in a deep roll up, the ref didn't count and Becky Lynch reversed into a disarmer for the hard fought victory.  Even with the bizarre, rushed finish, good match.  Unexpectedly, out comes the Queen for Match Number 2. 
WWE SmackDown Live Women's Championship Becky Lynch(c) v Charlotte Flair
Apparently no rest of the wicked.  Becky Lynch loves a Good challenge and went right back in to fight.  And fight they did, back and forth these two rivals beat the hell out of each other.  Becky Lynch looked to have the count out, but Lacey Evans decked her behind the Ref's back, giving Charlotte just enough time to recover and become the SmackDown Women's Champion.  Lynch beside herself attacked Evans for retribution but Charlotte aided Lacey overpowering Lynch.  Lynch was done, completely beaten down and had nothing left.  Bayley's music hits briefcase in hand and cleans out the ring, but it was Charlotte again taking full control. 
Bayley sidestepped another attack and sent Charlotte into the turnbuckle.  Bayley did the best thing she could do here, she cashed in the briefcase.  Bayley off the top hit a huge Elbow drop Winning the SmackDown Live Women's Championship!  This is a Great ending with a Great superstar getting the belt!  Congrats Bayley!  This run will be amazing! 
Roman Reigns v Elias
Right before the match Elias got in a guitar attack on his opponent backstage before heading to the ring.  Elias set up and performed on another guitar for the masses.  Roman recovered and made his way out with fury as Elias was leaving hitting a Superman punch.  Reigns made quick work of the stunned heel leaving Elias flat in the ring for a 3 count.  The Big Dog Wins decisively!     
WWE Universal Championship- Seth Rollins(c) v AJ Styles
Surprised a bit that this was before the MITB match as it is a Championship Match.  This had the makings of a classic with little chance to fail.  This was a great wrestling match with two high caliber talents feeding off each other.  This match had it all, it was stiff, physical and exciting.  It delivered on all levels.  We saw some outrageous reversals and combos.  Deft defying stunts and high risk. This was special and a true Championship Match.  Styles had it won multiple times, tasting Gold, however it was finally a well times stomp by Seth Rollins for the final 3 count.  Rollins Retains in a huge match!  Great showing from two of the best.  As it was both appropriate and needed, a handshake and mutual respect ended the standoff.
Lucha House Party vs.???
Lars Sullivan must hate LHP based on his public sentiments.  I won't say I'm disappointed as I had a "what the hell is Lucha House Party doing out here" on my face.  Lars Sullivan crushed LHP and showed his dominance.  Lars literally busted his own head open and just mangled all three luchas.  This was weird but brutal.  I like it.    
WWE Championship- Kofi Kingston(c) v Kevin Owens
As expected this match had a great feel to it, and great momentum going in.  It has been entertaining so the match had a lot of potential.  This was very physical and personal.  These guys put it all out there.  Owens made sure that we all knew this wouldn't be quick or easy for the Champ.  Just as Owens had it won, Kofi woke up and took it to the vicious Canadian.  K.O. again came out ahead.  K.O. again took Kofi to the limit nearly defeating him with a series of offense.  It was a well-placed trouble in paradise by Kingston, right on the money for the victory retaining the WWE Championship!  This was a solid fight, and a great title defense.    
Men's MITB: Ricochet, Drew McIntyre, Baron Corbin, Finn Balor, Ali, Andrade, Sami Zane and Randy Orton
This match is chalked full of talent and pontential.  My pick was Drew McIntyre but Andrade was my second.  What a sick match we have.  Sami Zane is out due to getting destroyed and hung up backstage earlier in the night.  Randy Orton emerged early taking out all opponents and going for the quick win.  However the floodgates opened and craziness ensued.  As expected once again this was intense, physical and violent.  Everyone just put it all on the line.  The bar kept getting raised higher as the match went on, each man leaving a trail of bodies  It could have been won by anyone, which is the way it should be.  Ali atop the ladder about to end the match, out comes Brock Lesnar.  What in the hell is going on?  Lesnar sets up the ladder and grabs the Money In the Bank.  Who can do anything about it?  No one.  Brock Lesnar is your Money In the Bank Winner.  This is just out of control.  This was a phenomenal match and a shocking finish.   How is this going to play out?  I can't wait to watch! 
BAD
Non-Title Match- Daniel Bryan & Rowan(c) v The Usos
Considering the light crowd before the main show, the volume was turned up and the crowd was hot.  Great placement of this match on the Kickoff Show.  The pace of the match was surprisingly slow and safe.  It had a "house show" feel and that is not a Good thing.  Nothing looked sloppy or Bad but just safe.  Daniel Bryan was the standout if any as always looking sharp in the ring.  Jimmy Uso also rallied coming in on the hot tag taking keeping Rowan at bay.  However Rowan hit a devastating double suplex.  Uso's hit a double Uso splash on Daniel Bryan for the non-title victory.  Again the placement was Good, but it was very textbook, predictable and a little flat.  Non-title match on a PPV is crap too.  All of this puts this firmly in the Bad column.    
Shane McMahon v The Miz (Steel Cage Match)
Heel Shane is Money but if you read the pre-show GBU, I have Ugly hopes for this match.  For the most part it was not Good.  The strikes were weak, Shane just basically kept trying to get out.  Shane really worked hard out there and it showed, the result just wasn't great.  Miz beat down McMahon with a chair, over and over beating him down.  Miz had Shane beat with a skull crushing finale but after Shane put his foot on the rope, the Ref broke up the count.  Shane persisted and after being thrown from the top of the cage and lifelessly falling to the canvas, Miz hit a splash.  McMahon would kick out and keep fighting.  In a classic move, Shane slipped out of his shirt while being stopped at the top of the cage and landed on the floor in victory.  It's really crazy what Shane McMahon does out there considering who he is.  This match had some Good moments but the Bad outweighed the Good.  Hopefully this feud is over. 
UGLY- Sorry, your services weren't needed.
FINAL
Good- 10
Bad- 2
Ugly- 0
OVERALL- Good show!  We had a lot of action, some great things to take on in the storylines, and of course Bayley got her Gold.  This was a successful Pay Per View and Money in the Bank with big players and events that will shape the story as we move forward.  Major success!
With a huge Super-Showdown coming up, and Money In the Bank in the books expect the story and weekly shows to be jam packed with special guest, huge surprises and a lot action.  Professional wrestling is ripe, and don't forget the major events coming up with AEW!  What a time to be in this business.  Have a great night, hope you enjoyed the Money In the Bank!  Catch you on the next Good, Bad and Ugly featured on thechairshot.com.