Retro Raw: RAW #1 [January 11 1993]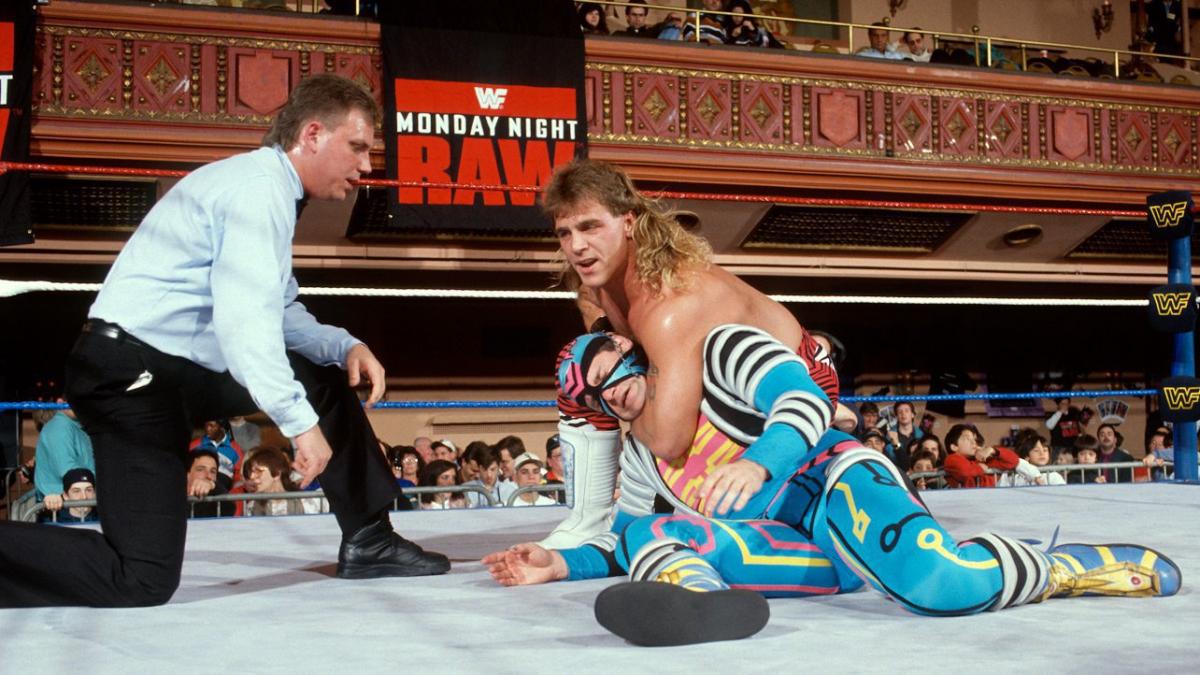 Welcome everyone to the place where we used to put the 'Flashback Friday' into Flashback Friday. Hottest Matches last week proved to be just that and has burnt out the circuits in my time machine (go with me) meaning we can no longer leap from show to show and pay per view to pay per view.
What it means is we have to take the long way home. What it means, and I'm guessing you've got there by reading the title of this, is we are going to cover Raw. Yes people we are going to put the 'Monday' into Monday Night Raw as we go back 25 years and over 1300 episodes and start at the very begining.
RAW #1 [January 11 1993]
Sean Mooney is outside the Manhattan Centre and he welcomes us to Raw. Bobby Heenan tries to get into the building for his usual comentary role but Mooney tells him he's been replaced. Heenan seemes angered by this, which does raise the point that Mooney seems OK with being outside, but I digress.
Following the opening credits we are welcomed to Raw (again) this time by our commentary team of Vince McMahon, Randy Savage and Rob Bartlett (no, I've no idea who he is either and after watching it don't want to) they give us a run down of the matches we'll see tonight before we head into the first ever Raw match.
Yokozuna vs Koko B Ware
Bartlet runs through a series of fat jokes and Vince suggests Yokozuna has eaten Koko's parrot, all before the first move of the match which is a Collar and Elbow Tie-up which ends when Yokozuna pushes Koko halfway across the ring and into the corner upside down. A second Collar and Elbow Tie-up ends the same way. Koko bounces off the ropes with a Shoulder Block but runs right into Yokozuna and it is Koko that ends in a heap on the ground. Again. A second Koko Shoulder Block ends the same way. Two Dropkicks stagger Yokozuna but they don't knock him down. Koko flies at Yokozuna with a Clothesline but Yokozuna steps out of the way and Koko lands on the ropes and is bounced backwards landing on the canvas where Yokozuna drops on him with a huge Legdrop before following up with a huge Avalanche and ends it with a Banzai Drop. There it is people, first match in Raw history and it was not a classic. That said, Yokozuna looked like an unstoppable monster which was the whole point of the match.
Winner: Yokozuna
An ad airs for the Royal Rumble that airs in a couple of weeks. Don't worry, when we get there I'll slip the results in to keep everyone up to speed.
A woman with huge hair and a bathing suit wanders around the ring with a 'Monday Night Raw' sign. You would NEVER see that happen in 2018.
A pre-tape promo airs with Bobby Heenan. He talks about Narcissus. He tells Mr Perfect that Narcissus is beyond perfection, anatomically perfect and physically and mentally superior beyond imagination. Heenan says that Narcissus is so beyond perfect it's like he's from another galaxy. Heenan tells us we will see Narcissus at the Royal Rumble.
Rick Steiner & Scott Steiner vs Executioner One & Executioner Two
Ah enhancement talent. We have covered these a couple of times back on 'Leaping Through The Network' and we are going to encounter a LOT of them here on 'Retro Raw'. My plan is to get some of them a small level of notoriety as we go. The Executioners are Barry Hardy (no relation to Matt or Jeff) and the second most famous enhancement talent of all time, Duane Gill (for the record, I'm counting Barry Horowitz as number one. We'll see him as we go on. Don't agree with my #1, tweet me!)
Scott turns a Collar and Elbow Tie-up into a Back Elbow that knocks Ex 1 down and Doink is in the crowd. Scott shoots Ex 1 off the ropes and hits him with a Tilt-a-whirl Sidewalk Slam, an Elbow Drop and a Snapmare before tagging Rick. Rick hits a Knee to the gut and a Right Hand that knocks Ex 1 down. Ex 1 manages to hit Rick with a Right Hand and whips Rick off the ropes but Rick reverses it and sends EX 1 face first into the ropes. Rick shoots EX 1 off the ropes and knocks him down with a Clothesline before draping him over his shoulder and ramming Ex 1 chest first into the corner. Ex 1 recovers at ringside with Ex 2, Scott Steiner comes over and cracks their heads together with a Double Noggin Knocker and throws EX 2 into the ring. Ex 2 shoots Rick off the ropes and attempts to leapfrog him but Rick catches him and Powerslams Ex 2. Scott tags in and hits Ex 2 with an overhead Belly To Belly Suplex. Scott throws Ex 2 into his corner and he tags Ex 1 back in. Scott grabs Ex 1 and hits him with a Double Underhook Powerbomb before lifting Ex 1 onto his shoulders allowing Rick to climb to the top turnbuckle and hits what I call (and will do so in future matches) a Doomsday Bulldog. Scott makes the cover and he gets the win.
Winners: Rick Steiner & Scott Steiner
Outside the arena, Rob Bartlett's aunt is trying to get inside to see her nephew. Turns out it's just Bobby Heenan in drag.
Vince McMahon is in the ring. He announces for an in-ring interview, Razor Ramon. Vince asks if he is ready to challenge Bret Hart in two weeks at the Royal Rumble. Razor says he was born ready. Razor says it took Bret Hart eight and a half years to reach the top of WWE, but it only took Razor eight and a half months. Vince asks Razor why he attacked Owen Hart on Mania on Saturday morning, Razor says it was fun and there is nothing that Bret Hart can do about it. Another thing that Bret can't do anything about, according to Razor, is stop Razor from taking the WWE Title at the Royal Rumble.
Shawn Michaels vs Max Moon [Intercontinental Title]
Match starts with a Collar and Elbow Tie-up that Shawn turns into an Arm Drag. Shawn turns another Collar and Elbow into a Headlock then a Hammerlock that Moon quickly turns into one of his own before he eats a Back Elbow from Shawn in the face. Shawn bounces of the ropes but Moon ducks him and leapfrogs him. Moon catches a boot from Shawn before spinning him round and lifting Shawn for an Atomic Drop that Shawn manages to roll out of. Moon slips behind Shawn and pushes him off the ropes for an O'Connor Roll but Shawn grabs the ropes and only Moon goes rolling backwards. Shawn charges at Moon who ducks and leapfrogs Shawn again before Hip tossing Shawn over his head before Hiptossing Shawn again when he gets to his feet and hitting Shawn with a Bodyslam that sends Shawn retreating into the corner. Shawn hits a knee to the gut to get out of a Collar And Elbow. Shawn whips Moon off the ropes but Moon ducks a Back Elbow and ducks a charging Shawn before grabbing Shawn for an Armbar in mid air!!
We come back from the ads as Shawn pushes Moon into the corner, he whips Moon into the opposite corner but Moon moves out the way of a charging Shawn and Shawn goes shoulder first into the corner. Moon attempts an Arm Wringer but Shawn punches Moon in the face before ramming Moon's face into the buckle and whips Moon into the opposite corner. Moon attempts to leap over a charging Shawn but he gets caught and Shawn drops him, Snake Eyes style' onto the ropes. Shawn chokes Moon before whipping him off the ropes and Dropkicking the rebounding Moon. Shawn shoots Moon off the ropes again but Moon catches Shawn with a quick Roll Up that gets a two count. Shawn catches Moon in a Headlock and hits him with a Left Hand and rams his head into the corner before whipping Moon into the opposite corner so hard it knocks him off his feet. Shawn hits Moon with a series of rights and a Headbutt.
Shawn tries for a Bodyslam that is countered into a Small Package that gets Moon a two count. Shawn whips Moon off the ropes and catches him with a Back Elbow that gets Shawn a two count. Shawn applies a Reverse Chinlock that slows things down for a bit. Moon hits a couple of elbows to Shawn's gut to get himself out of the hold before catching Shawn as he attempts a Dropkick and Slingshots Shawn over the top rope and out of the ring. Moon then gets onto the apron and (it's the best I have to describe this cleanly) Flying Teabags Shawn on the outside. Moon rolls Shawn back into the ring and hits an Uppercut, an Irish Whip and a Spin Kick into the corner before lifting Shawn onto his shoulders where a Rolling Kenton gets Moon a two count. Moon hits a Bodyslam but misses a sommersault Legdrop allowing Shawn to Superkick him and hit a Teardrop Suplex for the three.
Winner: Shawn Michaels [still Intercontinental Champion]
An ad airs for Mania, a Saturday morning show that airs at 10 am.
We cut to Mean Gene with the Royal Rumble Report. It's a rundown of all the anounced matches for the PPV. Over then next few years we will get a lot of [insert PPV name] Reports. One matches at the upcoming Rumble is Shawn Michaels vs Marty Jannetty for the Intercontinental Title so we cut to a pre-taped Shawn Michaels. Shawn says that Marty doesn't deserve a title shot but as Shawn is 'Mr Cool' he's giving Marty a shot anyway. A pre tape with Marty Jannetty where he tells us that he will get everything he wants at the Rumble: He will get the Intercontinental Title as well as ending Shawn's career.
Announced so far or the Royal Rumble Match is Ric Flair, Tatanka, Irwin R Schyster, Bob Backlund, Jerry Lawler, Mr Perfect, Ted DiBiase, Crush, Rick Martel, Yokozuna, Randy Savage, Papa Shango, Earthquake, The Berzerker, The Undertaker, Carlos Colon, Tenryu, El Matador, Typhoon, Samu, Fatu and Jim Duggan. Also Bret Hart vs Razor Ramon for the WWE Title has been announced for the Rumble
Outside with Sean Mooney and Rob Bartlett's uncle….no wait, It's Bobby Heenan in a wig and a fake beard.
We see a ticket hotline number to get tickets for Raw. Usually on the WWE Network we get a 'number no longer active' over phone numbers. This one doesn't. Interesting.
Kamala split from Harvey Whippleman and Kim Chee in a segment that looks a bit odd in 2018. A black man (Kamala) is chastised by two white guys (Whippleman & Kim Chee) until a second black guy (Slick) runs in to break it up. Whippleman punches Slick knocking him down and this angers Kamala and he chases Whippleman and Kim Chee away.
The Undertaker vs Damian Demento
Demento hits a series of Right Hands before whipping Undertaker off the ropes but he bends too far for a Back Drop and Undertaker rams his face into the canvas before ramming Demento's head into the corner. Undertaker then climbs to the top rope and hits Demento with Old School (which wasn't called Old Shool in 1993 granted but I'm writing this in 2018 so tough). Undertaker rams Demento's head into the corner again before choking him. Undertaker Irish Whips Demento into the corner and charges but Demento gets a foot up to block him before climbing to the second turnbuckle and hitting Undertaker with an Axe Handle and drops Undertaker with a running Shoulder Block but Undertaker sits right back up. Vince McMahon is discussing "Bret Hart" as Undertaker hits an almost botched Flying Clothesline before a Tombstone finishes it for Demento.
Winner: The Undertaker
Vince advertises a Cage Match for next week between Woody Allen against Mia Farrow. Topical joke, I think they may have been divorcing at the time.
Vince McMahon is with Doink. Vince tells Doink that Crush has warned him about making kids cry. Doink says if kids don't have a sense of humour it's their problem. Crush comes to the ring and says if Doink keeps pulling pranks on children and making them cry, Crush will put Doink's legs and arms in plaster. Doink sprays him with a water pistol.
Outside the building, Sean Mooney tells Bobby Heenan that he's just gotten word that Bobby can get in the building. The show fades to black.
Post Show: This is interesting as it is so long ago and it's the very first one. But the commentary is bad. Rob Bartlet spent the entire Shawn vs Moon match doing a really bad (and probably offensive) impression of Mike Tyson to the point that the other two sped more time dealing with him than calling the show. The matches are OK but they are TV level and we are going to get a lot more enhancement talent on Raw for the next few years and the matches won't be great as a result.
Match of The Night: Shawn Michaels vs Max Moon. It wasn't anything special but it was the best of what we had.
MVP: Max Moon. I thought he had a decent match and looked on Shawn's level. Even if it was just for one night.
With that I am done. No more leaping, no more votes. Just moving on to Episode #2 of Raw next week. IN the meantime I can be found on Twitter @Callaweasy2220 where I live tweet my way through Raw, Smackdown, NXT and, when there is one on, PPV as well as randomly posting screen shots of what I'm watching if ever I'm bored. If you want to talk about Wrestling, Dr Who, Batman or my style of review writing. I'll be back with episode 2 so until then #UseYourHead and ALWAYS have an Angle.
"Not a Chance of you doing the thing to me again"
---
Always Use Your Head and visit the official Pro Wrestling Tees store for The Chairshot All t-shirt proceeds help support the advancement of your favorite hard-hitting wrestling website, The Chairshot!

---
Chairshot Classics: WCW Beach Blast '93 – A Day At The Beach, A Night For Revenge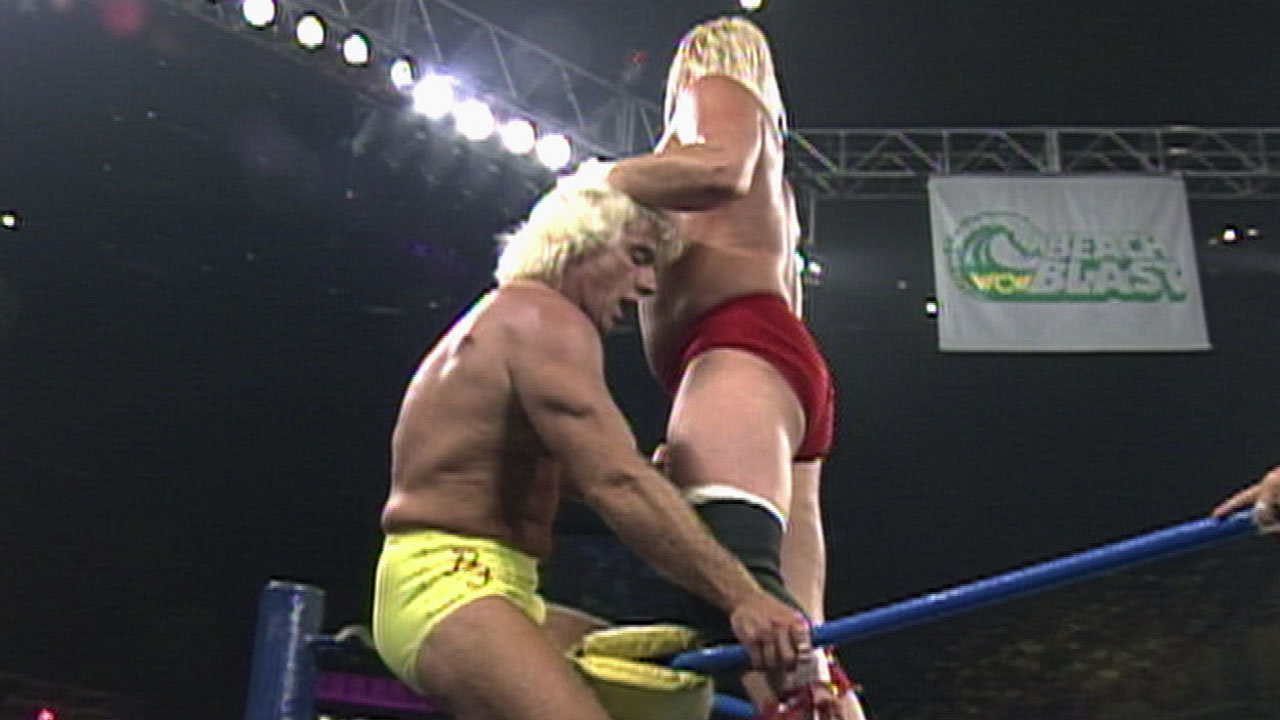 Open: Eric Bischoff & Missy Hyatt open the show. They discuss title matches including the Iron Man match for the United States Championship, and Ric Flair pursuing the NWA title once again. Jesse Ventura is running late to be at ringside as he's hanging out at a tiki bar with some ladies.
Match #1 for the WCW World Television Championship: WCW World Television Champion 'Mr. Wonderful' Paul Orndorff vs. 'All-American' Ron Simmons
Simmons gets the crowd riled up as some chant "Paula". Orndorff is irate. Simmons knocks him off the apron and goes on the attack on the floor. He rolls Orndorff back in the ring, kicks in the gut and knocks him down with a right. He sends Orndorff for a back elbow and follows it with a drop kick. A lateral press for two and Orndorff rolls out. The crowd gets on his case some more. He slowly steps back in. They feel each other out, drop toe hold from Mr. Wonderful but Simmons moves from the elbow.
Simmons grabs a wristlock and works over the arm.Simmons converts into a hammerlock, broken up with an elbow. Orndorff keeps striking with elbows and rights. Irish whip and Simmons moves out of the way. The All American goes back on offense and grabs an arm bar. They hit the ropes, Orndorff ducks a clothesline and jumps on Simmons' back with a sleeper. He shoves the former world champion into the corner and scores with a belly to back suplex. Orndorff heads up top and Simmons dodges the knee. Ron works over the knee that he just landed on, stomping it down on the mat from behind. More kicks to the inside of the knee and Simmons uses the bottom rope for more leverage. Simmons locks in a figure four but Orndorff was too close to the ropes.
Orndorff rolls outside and baits Simmons. He pulls the challenger out to the floor and ambushes him. Simmons rolls back in and Orndorff is still on the attack, grabbing a reverse chinlock. Simmons works to his feet, breaks the hold and lands a shoulder tackle. Orndorff comes right back with a high knee lift, and he drops that knee across Simmons' jaw. Front face lock by the champ, Simmons scores some body shots, breaking the hold. Irish whip but Orndorff gets his foot up. Lateral press and Simmons kicks out. Orndorff goes back to the reverse chin lock, the crowd cheers Simmons on. Simmons tries fighting from his knees, Orndorff measures him with rights.
Reverse whip to the ropes and Simmons scores with a powerslam and gets a two count. Orndorff with a shot to the throat, he sends Simmons to the ropes, a backbody drop is reversed with a sunset flip and the champ kicks out. Orndorff sends him again but Simmons stops short of a dropkick. Simmons sends Orndorff for a big clothesline, sends him again for a back elbow and Orndorff again kicks out. Front facelock and a snap suplex by Simmons but Orndorff is too close to the ropes. Orndorff changes momentum with a thumb to the eye, he sets Simmons up for a piledriver and it's reversed with a backdrop over the top rope, prompting a DQ.
Winner and STILL WCW World Television Champ: 'Mr. Wonderful' Paul Orndorff (Disqualification)
After The Bell: Simmons doesn't realize he's been disqualified and sets up Orndorff for a top rope shoulder tackle. The ref explains what happens and Orndorff tries to blindside Simmons with the belt. The challenger ducks and turns the fate on the champ. He poses with the belt as Orndorff retreats.
EA's Take: It's been a while since I've seen Ron on a PPV. He was hot leading into his 1992 championship win, but his reign was somewhat underwhelming and then he got hurt. Great to see the fans give him a good response, but part of it was the fact that Orndorff was getting great heat as the injury really derailed all the momentum Simmons had prior.
Match #2: Marcus Alexander Bagwell & 2 Cold Scorpio vs. Tex Slazenger & Shanghai Pierce
Pierce and Bagwell start us out and lock up quickly, Pierce with position in the corner. He breaks it off and the crowd boos at his taunting. Collar and elbow, side headlock by Bagwell, they hit the ropes and collide twice with shoulder blocks. They go for a third time, Bagwell with a baseball slide under Pierce's legs, he ducks a clothesline and lands a cross body. Slazenger charges in, Scorpio helps his partner and they double team the big man face first on the mat. Scorpio tries to elevate over the top rope and it prompts an all out brawl on the entrance ramp. The Texan team bails to the floor and the babyfaces hold the ring.
Slazenger is tagged in to face Bagwell, he taunts Scorpio and they oblige with a tag. Scorpio dances and Slazenger doesn't like it. Collar and elbow tie up, Slazenger with the side headlock into the ropes. Slazenger wins with a shoulder tackle. Scorpio hits the ropes and he is hit with a huge back drop. Slazenger sits him on the top rope. Scorpio blocks strikes and scores with a big cross body. He follows with a drop kick and an arm drag, and holds on with an arm bar. Bagwell is tagged back in for a double team hip toss. He latches on with a wrist lock and Tex fights out with forearms. Pierce is tagged back in, he's caught with a drop toe hold.
They hit the ropes, Pierce with a shoulder tackle. Bagwell leapfrogs him twice and scores with an arm drag, hanging onto the wrist. Pierce with a forearm and a scoop slam. Tag is made to Slazenger and he's met with an arm drag. Bagwell with a suplex and a two count. They hit the ropes and Pierce cheapshots Bagwell from behind. Slazenger takes advantage, elbows the skull and brings Bagwell down, going into the hammerlock. Pierce is tagged in and picks up where his partner left off. Quick tag back to Slazenger who stomps away. The fans rally for Bagwell who is head butted. They hit the ropes and Bagwell leaps with a sunset flip.
Slazenger kicks out and hits a vicious clothesline. Scorpio saves his partner from the pin. Pierce is back in and stays in control. He throws Bagwell into his corner and runs a distraction to get a double team. Snapmare into the reverse chinlock by Pierce on Bagwell. He's held on the mat and Slazenger helps his partner get extra leverage. Bagwell works to his feet, breaks the hold with elbows he he's caught with kick to the gut and a side saulto suplex. Lateral press and Scorpio makes the save again. Tag is made to Slazenger and he holds the hammerlock. They work back to their feet and Slazenger still has the arm bar.
Shots to the midsection by Bagwell but he's brought down with a drop toe hold and a tag is made back to Pierce who drops a big elbow. Scoop slam by Pierce but Bagwell dodges the elbow drop. Tag is made to Tex and he cuts off Bagwell from his tag attempt. He lifts Bagwell on his shoulder, lands a shoulder breaker and Pierce is tagged in who drops the elbow. Cocky cover and Bagwell kicks out. Forearm to the back and Bagwell meets the turnbuckle. Irish whip and Bagwell moves out of the way. Marcus crawls under Pierce's legs and he makes the hot tag to Scorpio. 2 Cold with quick strikes and a back elbow. Side kick to a charging Slazenger.
He whips Pierce into the corner and scores with a superkick. He heads for the top rope and lands a big splash. Slazenger saves the cover, Bagwell comes in to deal with Tex. They whip the heels into one another, Slazenger is drop kicked out of the ring. Double Irish whip to Pierce, Bagwell ducks a clothesline and hits a belly to back suplex. Scorpio heads for the top and lands a 450 splash for the win.
Winners: Marcus Alexander Bagwell & 2 Cold Scorpio (Scorpio/450 Splash)
EA's Take: Fans would better know Pierce and Slazenger as the Godwinn's of the WWF in a few more years, but this might be some of the better in-ring work we will see out of the big bruisers. This team of Scorpio and Bagwell is a lot of fun, but this match could have used a little more 2 Cold in my opinion as he's by far the most entertaining of the four at this time.
In the Arena: Missy Hyatt is joined by Paul Orndorff and someone they simply call The Equalizer. She knows a lot of people who want to take his TV title, but Mr. Wonderful explains why he's the John Wayne of professional wrestling. He plays by the rules, and when things get tough he can handle it. Ron Simmons should be punished for tossing him over the top rope. Simmons can keep coming, but he's going to keep on choking just like Florida State. A guy like Ricky Steamboat is too old to come after his title, they call him the old man by the sea.
Match #3: Erik Watts vs. Lord Steven Regal w/Sir William Dundee
Watts comes in for a tie up and Regal struts away. They bluff once again and they finally attempt a lock up, Regal maneuvers out of the way. Finally a collar and elbow, Regal grabs a modified arm bar, moves it into the wrist lock. Watts reverses it on him and Regal dances around. Regal somersaults out and hits a monkey flip but Watts keeps hold of the wrist. Regal gets position for a snapmare and moves into an arm bar.  Regal ducks a kick to the head, Watts flips over and kicks Regal off of him.
Watts with a backdrop and he stays right on the arm. He drives the knee in. Regal jumps to his feet, reverses out of the hold with a wristlock takedown. Lateral press and Watts kicks out. Regal holds his wrists to the mat, Watts tries to bridge out, Regal jumps on top of him but Watts somersaults backwords and holds the wrists strong. Regal counters out of it with a top wristlock, driving Watts down to the mat. Test of strength on the mat, Watts makes it to his feet. Regal flips him over for a pin, quickly countered. Collar and elbow tie up, hammerlock by Watts. Regal moves him in corner, breaks the hold with an elbow and takes him down with a drop toe hold.
Watts spins out of a front face lock and scores with a hip toss. He holds Regal on the mat with the arm bar. He works into a standing hammerlock, Regal reverses with a backdrop but Watts hangs on for a sunset flip. Regal goes into an ankle submission. He lifts Watts for European uppercuts and forearm shots. Snapmare takedown, he moves the knee pad off but Watts dodges it. Whip to the ropes and Watts takes the legs out from under him. He sets up for the STF, locks it in but Sir William Dundee hits him in the face from the floor. Regal blindsides him with a schoolboy and we have our winner.
Winner: Lord Steven Regal (Schoolboy)
EA's Take: A welcome to WCW PPV's to one of the most underrated talents in professional wrestling history. I say that acknowledging he won his share of belts and that he continues on as the General Manager of NXT, but Regal was brilliant in the ring. The little things make all the difference in professional wrestling and Regal's crisp technical skills, believable selling, facial expressions and mannerisms were always great from him. One of the competitors you couldn't really appreciate until you're older and have a better understanding of everything. Also, how is Erik Watts still employed?
---
Always Use Your Head and visit the official Pro Wrestling Tees store for The Chairshot All t-shirt proceeds help support the advancement of your favorite hard-hitting wrestling website, The Chairshot!

---
Chairshot Classics: WWF King Of The Ring 1994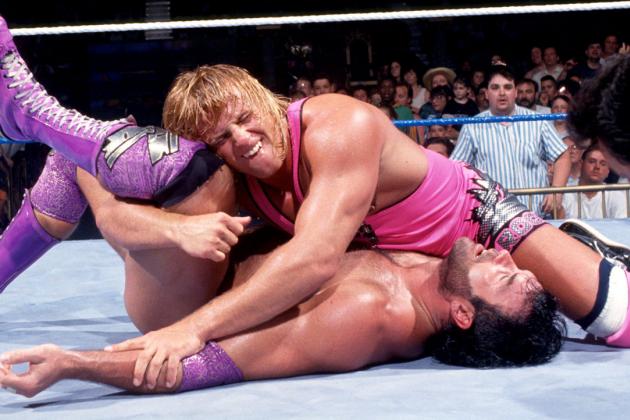 Despite all the controversy, WWE Crown Jewel is moving forward as planned on November 2nd and not only will the event feature the in-ring return of Shawn Michaels when D-Generation X meets The Brothers Of Destruction, but also the World Cup tournament. So today, we're looking back at another past WWE tournament with the 1994 King Of The Ring! Following Bret Hart's King Of The Ring win last year, his brother Owen looks to claim the throne for himself and step out on his own. However, the likes of Razor Ramon, Bam Bam Bigelow, Jeff Jarrett and The 1-2-3 Kid all have their sights set on the crown. Let's jump into the action!
Open: Earlier in the day as the camera crews were setting up around the tournament bracket board, Jeff Jarrett showed up to do some premature advancing of his name. Owen Hart would walk in to correct him, followed by Bam Bam Bigelow and Irwin R. Schyster. Todd Pettengill then voices over highlights showcasing tonight's card, including the first round tournament matches, our WWF Title match and Roddy Piper vs. Jerry Lawler.
In The Arena: Bill Dunn asks the crowd to please rise, as Ricky Medlocke of the band Blackfoot sings our National Anthem.
Match #1 – King Of The Ring Quarterfinals: Bam Bam Bigelow w/Luna Vachon vs. Razor Ramon
Luna has some words for The Bad Guy and he tosses his toothpick in her face, Bam Bam ambushes him from behind as the bell rings, clobbering him down to the mat. He sends Ramon to the ropes for a shoulder block, whips him back in for another, plants him with a body slam, drops a headbutt and follows with a big leg drop. Bigelow to the top turnbuckle for the Diving Headbutt, Razor rolls out of harm's way, scores with big right hands, irish whip to the corner is reversed and The Bad Guy hits the turnbuckles hard.
The Beast from the East looks to send him back across, Ramon reverses, follows in and slides under the legs to the outside, trips Bam Bam up and yanks him in an unforgiving position into the ring post. The Bad Guy climbs back in, comes off the 2nd rope with a bulldog for a near fall, starts to target the left leg with elbow drops and grabs a heel hold. Bigelow kicks him away, goes for a kick that gets caught, tries to bring his other foot around for an enzuigiri, Ramon ducks it and then staggers him with a clothesline. He goes to the ropes for another and can't bring Bam Bam down, tries once more, The Beast from the East side-steps it and uses the momentum to dump Razor over the top to the floor.
Bam Bam goes out and hits a couple of rights before rolling Ramon back in, clubs him in the back, loud "Razor" chants and Bigelow puts the boots to him for a count of 2. He clocks Razor with an enzuigiri for another 2 count, drives headbutts into the lower back, then powers him into a torture rack. The referee checks the arm, Ramon doesn't let it drop on the third attempt, Bigelow can't hold him up anymore, flips him over to his feet for a side headlock and The Bad Guy counters with a back suplex. Both guys stagger to their feet, Ramon blocks right hands and returns fire, irish whip to the corner is reversed, Bam Bam charges in and The Bad Guy side-steps out of the way.
He delivers a body slam, lifts him up to prop him on the top turnbuckle, Bigelow with a big back elbow to avoid it, then plants Razor with a body slam of his own. He scales the corner to go for the Bam Bamsault, Ramon pops to his feet, plants him into the canvas, stacks The Beast from the East up and gets a 3 count.
Winner: Razor Ramon (Bam Bamsault Counter)
EA's Take: This has nothing to do with the match, but I need to address it right off the bat…why on Earth is Art Donovan on commentary tonight? Just awful. Anyways, good to open the night and tournament with this one as Razor is  over and Bam Bam was one of the best heels in the company. Honestly, either of these guys would have been excellent choices to win the whole thing. In case you're wondering, after retaining his Intercontinental Title at WrestleMania against Shawn Michaels, Ramon would lose it just a few short weeks later to The Heartbreak Kid's bodyguard, Diesel.
Backstage: Todd Pettengill is standing at the King Of The Ring board with Irwin R. Schyster & Mabel with Oscar, opponents in our next tournament match. IRS informs Mabel he's not worried about him and then next up will be Razor Ramon, then says he hopes 1-2-3 Kid makes it to the finals before walking off. Mabel thinks Schyster needs to stop thinking about Razor and be concerned with him, then states if he meets Ramon then he will learn who the real Bad Guy is.
Match #2 – King Of The Ring Quarterfinals: Irwin R. Schyster vs. Mabel w/Oscar
IRS tries to attack from behind after the bell, Mabel drives him head-first into the top turnbuckle over and over, levels him with a clothesline, then plants The Tax Man with a body slam. He hooks Schyster for a delayed vertical suplex, grabs a wristlock for clubbing blows to the back, brings him back to the canvas with a modified fireman's carry takeover, then drops a massive elbow to the chest. Mabel shoots Irwin to the corner and follows him in for a splash, IRS side-steps it, delivers a knee to the back to send the big man to the outside and takes himself a breather in the ring.
Mabel rolls back into the squared circle, Schyster meets him with right hands, sends him off to the ropes and drops him with the Write-Off followed by multiple elbow drops for a count of 2. He attempts to pick Mabel up for a body slam, can't lift the weight, Mabel counters to a small package for a quick 2 count and IRS swiftly starts putting the boots to him before slapping on a rear chinlock. The big man powers up to a standing position, backs Irwin into the turnbuckles to break the hold, hammers him with big punches, shoots him to the ropes and elevates him with a big back body drop.
Mabel runs him over with a clothesline, shoots Schyster back to the ropes for a high back elbow, then back in again for a sidewalk slam, nearly putting the match away. He drives IRS into the mat with another body slam, climbs to the 2nd rope, Irwin quickly shakes the ropes forcing Mabel to lose his balance, he crashes down to the canvas, Schyster with a cover using the ropes for leverage and he gets the win.
Winner: Irwin R. Schyster (Pinfall)
EA's Take: Ho-hum, pretty basic stuff here to get IRS to advance and meet Razor Ramon is the semi-finals. The company was trying out Mabel as a singles competitor for the first time as they still were enamored by Superstars of enormous size, but it wouldn't last past the summer and he'd slide back into tag team action with Mo.
Video: Earlier in the day, Mr. Fuji & Jim Cornette were prepping Yokozuna & Crush for their match-up for the WWF Tag Team Titles tonight. Cornette says Fuji has his boys well prepared to take the championships tonight, Fuji stating he wants The Headshrinkers to be squashed and for his guys to walk out as the new champs.
Match #3 – King Of The Ring Quarterfinals: Tatanka vs. 'The Rocket' Owen Hart
Owen steps into the ring after his entrance and Tatanka immediately meets him with right hands, the bell sounds and The Native American whips him back and forth into the turnbuckles, elevates him with a back body drop and gains a quick 2 count. He executes a vertical suplex for another count of 2, The Rocket goes to the eyes to stop the onslaught, slows things down with a standing side headlock, The Native American pushes him off to the ropes and gets knocked down by a shoulder block.
Hart goes back to the ropes, Tatanka drops down, leapfrogs over and catches him with a hip toss, shoots him back to the ropes for a Japanese arm drag, then grabs a side headlock of his own. Owen shoves him off to the ropes, Tatanka with a big shoulder knockdown, goes back to the ropes, The Rocket drops down and uses the momentum to toss him over the top to the floor. The Native American back to his feet, sweeps Owen's legs from the outside and drags him under the bottom rope, connects with a series of overhand chops, Hart returns fire and whips him shoulder-first into the ring post before rolling back inside.
We go backstage where IRS & Razor Ramon are involved in a shoving match, WWF officials having to step in between them as Tatanka pulls himself back into the ring in the arena. Owen drops him on the 2nd rope and chokes away, hits the ropes and drops all his weight onto the back with a seated senton, then rakes Tatanka's face on the top rope. He plants The Native American with a gutwrench suplex, heads upstairs for a dropkick, hooks the leg and gains a near fall before grabbing a rear chinlock. Tatanka fights up to his feet, hits the ropes and ducks under a clothesline, The Rocket slaps on a sleeper hold and The Native American starts to fade down to the canvas.
The referee checks the arm, Tatanka shows some life on the third attempt, battles his way up, Owen clocks him with fists, drives him head-first into the top turnbuckle over and over, but it has little affect and The Native American goes into his war dance. He pummels The Rocket with knife-edge chops and punches, makes a cover for a count of 2, irish whip to the corner is reversed, Owen follows him in and runs into a boot to the jaw. The Native American spikes him with a DDT for a near fall, plants him with a body slam, heads to the top rope for an overhand chop, but still can't get a 3 count.
Tatanka sends Hart to the corner and charges in behind, The Rocket looks to hop up and over, gets caught on The Native American's shoulders, but Tatanka gets frustrated after another 2 count. He argues with the official about the count, catches Owen trying to sneak up from behind, irish whip to the ropes is reversed by The Rocket for a back body drop, Tatanka goes for a sunset flip, Hart drops down on top, hooks the legs and advances.
Winner: 'The Rocket' Owen Hart (Sunset Flip Counter)
EA's Take: Another bit of a "ho-hum" contest, but much better than the previous IRS/Mabel match. Owen is really on fire as a heel following his win over Bret at WrestleMania, a quarterfinals loss here would have made no sense whatsoever, no matter how over Tatanka was at the time.
---
Always Use Your Head and visit the official Pro Wrestling Tees store for The Chairshot All t-shirt proceeds help support the advancement of your favorite hard-hitting wrestling website, The Chairshot!

---
Chairshot Classics: WCW Monday Nitro Episode 19 (1/8/96)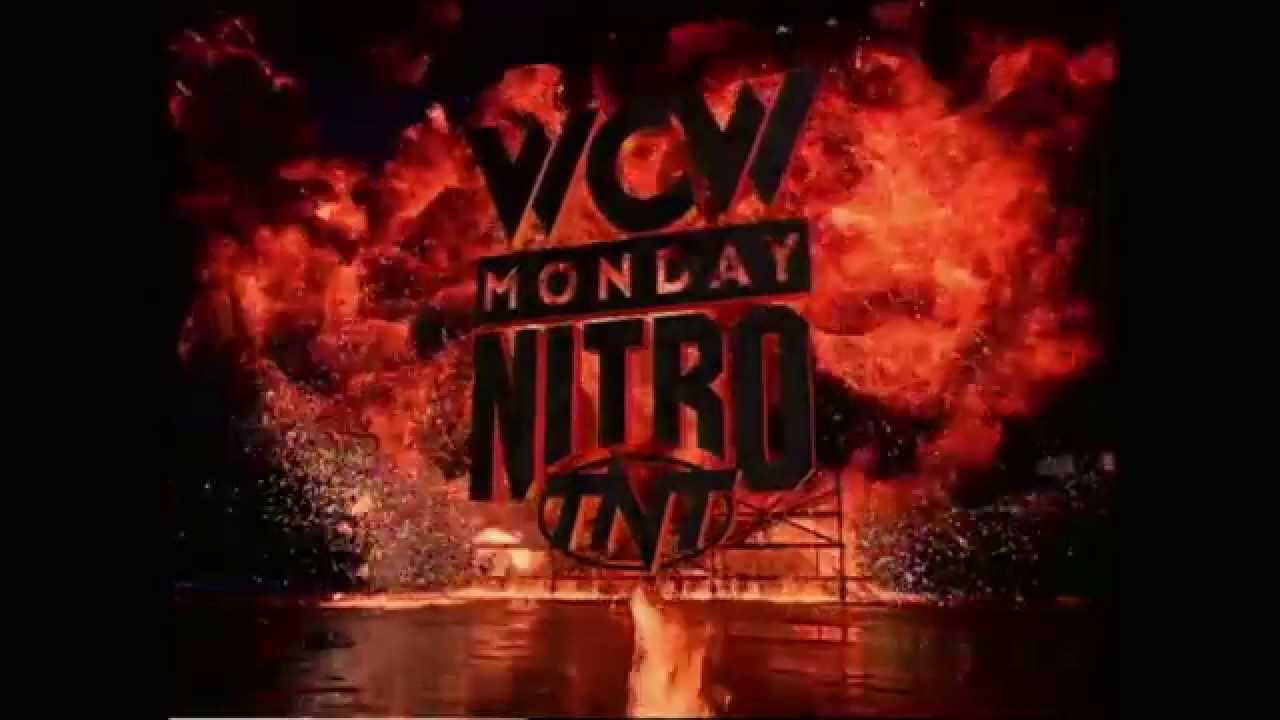 From the North Charleston Coliseum, in Charleston, South Carolina, comes WCW Monday Nitro! Set up from the last episode, we have Hulk Hogan teaming with Randy Savage to take on Ric Flair and Arn Anderson. The other advertised matches are very intriguing as Lord Steven Regal battles Eddie Guerrero and Sting faces Diamond Dallas Page. A solid sounding lineup, especially those under card matches. Let's see how it plays out!
Chris Benoit vs Alex Wright
Wright comes out to a sizable reaction, he definitely was a fan favorite. Benoit jumps him quickly and hits a solid snap suplex and back elbow. Wright tries to come back but takes a beautiful bridging northern lights suplex for a near fall. Benoit throws Wright outside and distracts the referee while Pillman at ringside chokes Alex for a bit. Wright sends Benoit over the top rope and Heenan asks if that's a DQ? Was that still illegal at this point? Alex hits Chris with a big cross body from the top rope to the outside. Wright sinks in a deep boston crab before transitioning into an STF before Benoit gets out. Pillman trips Wright, but Wright launches himself over the top to drop him. Coming back into the ring, Benoit gets the upper hand with knees to the midsection. Benoit hooks and drops a dragon suplex with a bridge to pick up the pinfall. Fun little match here, lots of fun back and forth action.
Winner: Chris Benoit via pinfall
Lord Steven Regal vs Eddie Guerrero
Great chain wrestling to start this matchup, they go back and forth, trading holds and counters. Eddie counters a double arm suplex with an arm drag before a nearfall exchange is ended when Regal pokes Guerrero's eyes. Regal takes control with a big European uppercut and several more strikes before hitting a nice reverse suplex, a move that is very underutilized in my opinion. Eddie reverses a pinning attempt for a nearfall before eating a big back elbow from Regal. Regal is in control with strikes and out of nowhere, Eddie drops Regal with a backslide and picks up the shocking win. This was a very fun match, but I would have liked something twice as long.
Winner: Eddie Guerrero
Mean Gene is on the ramp with Sting and Lex Luger. Sting asks Lex about Starrcade why he pulled Sting down before he could get back into the ring, costing Sting a chance at the title. Lex claimed he got hurt and was reaching for help and asked Sting to give him a chance at redemption as a tag team against the Blue Bloods at Clash of the Champions. Sting agrees and it is set.
Sting vs Diamond Dallas Page
DDP gets Sting with the cigar in the eye to start the match and gains the upper hand. Sting counters with a double axe handle, a dropkick that sends DDP out of the ring followed by a cross body over the top rope. Strange spot where Sting goes for a leapfrog and initially it looked like Sting came up too early, but he sold like a low blow. No DQ, but DDP is in control with a belly to back suplex and swinging neckbreaker. DDP grounds Sting with a rear chin lock and plants his feet on the ropes but denies it to referee, Nick Patrick. Sting tries to counter out with a top wrist lock but DDP gets a handful of hair to drag him back down to the mat. Sting fights out with a facebuster and some big strikes before hitting a reverse atomic drop and big dropkick to send DDP into the corner. Sting hits the Stinger Splash but can't get the Scorpion Death Lock in. DDP hits another neckbreaker and a thumb to the eyes out of a pinfall attempt. Sting counters a kick and locks on the Scorpion Death Lock and DDP taps out. This was another fun match with two great guys in the ring.
Winner: Sting via submission
Ric Flair and Arn Anderson vs Randy Savage and Hulk Hogan
Flair and Hogan start us off, and Hogan gets his hits in, a big boot, some clotheslines and bodyslams to both Flair and Anderson. Arn is tagged in and in comes Savage as well. Anderson tries to suplex Savage out of the ring, but Savage counters it, sending him to the outside with a big boot from Hogan. Savage hits a double axe handle from the top rope to the outside of the ring and one to the inside. Arn tags in Flair who tries to go to the top rope, but Hogan sends him off the top. Hogan and Savage lock on figure 4 leg locks but the Horsemen get out. Anderson sends Savage outside and into the guardrail before feeding him back in to Flair. Flair hits a big belly to back suplex and tags in Anderson. Flair is back in and hits a shin breaker and attempts the figure 4, but Savage rolls him up a couple of times for near falls. Flair comes back with a couple of vicious sounding chops. Savage gets the hot tag to Hogan and he's in on fire. Back body drops, and clotheslines with a double clothesline to send them both outside. Anderson back and and hits a big spinebuster, but Hogan no sells it, Hulks up, big boot, leg drop, pinfall. Pillman and Benoit come down and fights with the Dungeon of Doom. The Giant comes in and gives chokelsams to both Hogan and Savage. Hogan barely got up in the air for it, looked kinda sad. The show goes off the air after that exchange.
Winner: Hogan and Savage via pinfall
So, we had a pretty fun show here with some good matches. Stories are still being made clear as we work towards Clash of the Champions. It'll be interesting to see how the next few months play out as we are going to get into some intriguing angles.
---
Always Use Your Head and visit the official Pro Wrestling Tees store for The Chairshot All t-shirt proceeds help support the advancement of your favorite hard-hitting wrestling website, The Chairshot!

---