RAW WARS: Riott Squad Without a Cause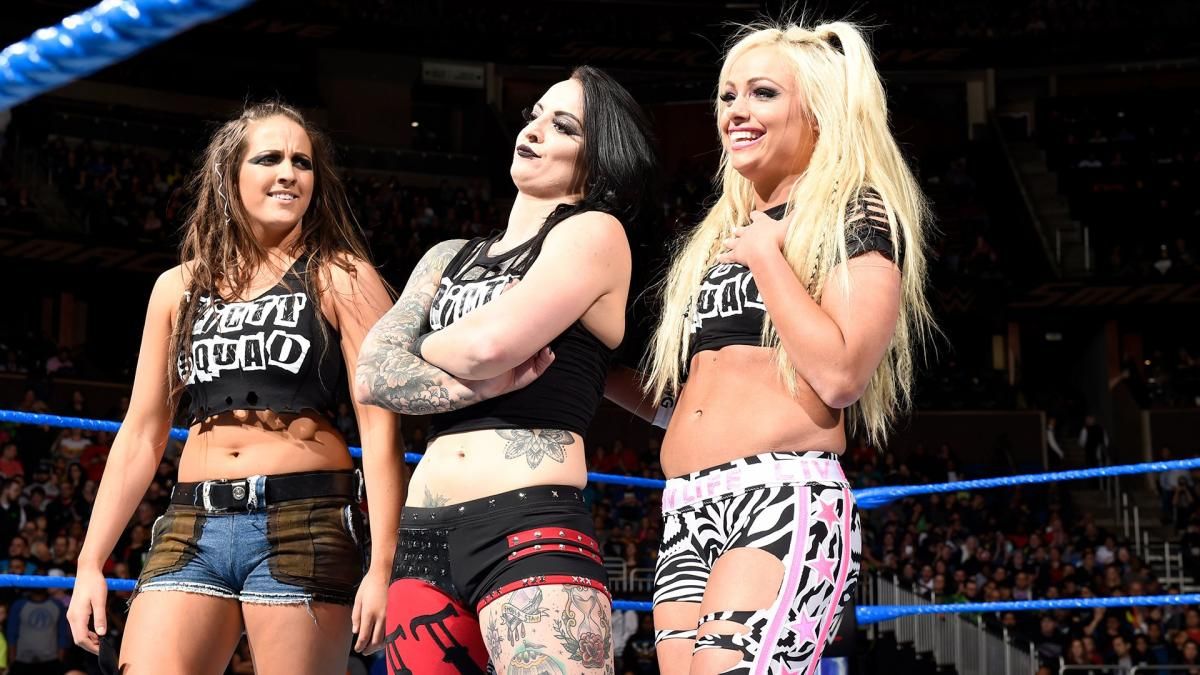 That poor, innocent laptop. Another casualty caused by The Riott Squad on their weekly tear through the backstage area. On the 18 June episode of RAW, Sarah Logan smashed a laptop to pieces and then Ruby Riott smeared the letter R on a nearby mirror. Just cruel. The three rogue women remind me of another group of three that also likes to destroy property and bully people: Jimbo, Dolph, and Kearney from The Simpsons. These three cause ruckus wherever they go, whether it be Springfield Elementary or Ned Flanders' store The Leftorium.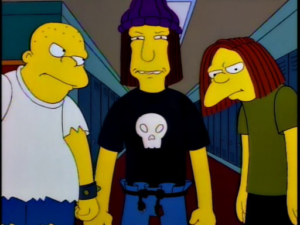 Springfield's Riott Squad
This comparison to the three Springfield thugs is not flattering for The Riott Squad, though. While Jimbo, Dolph, and Kearney are recurring characters in The Simpsons, they rarely feature as an integral part of an episode. And even then, we hardly ever learn anything of value about them. Especially not why they spend so much time with vandalism and bullying. We get glimpses of their past, but never of their plans for the future. There seems to be no rhyme nor reason to their violent behaviour. What are their ambitions? Are they actually trying to change the system or are they happy with the status quo?
Jimbo, Dolph, and Kearney on RAW
Ever since the Riott Squad came to RAW, they have been causing mischief on Monday nights. Cutting ties, emptying backpacks, using Bayley as a canvas. But to what end? What does all of this accomplish? Yes, the Riott Squad occasionally wins matches, but never when it counts. Not a single member of the group qualified for the Money in the Bank ladder match, despite numerous chances. Consequently, they did not feature on Sunday's pay-per-view.
Cause for Concern
There is potential in The Riott Squad, especially in Ruby Riott herself. Yet in order to get fans invested in the trio, the WWE should make their intentions clear. The three women need to cut promos, telling us why they vandalise the backstage area and what their next goal is. They need to focus on their motivations and ambitions, instead of giving interviews that focus entirely on the Bayley and Sasha situation.
Jimbo, Dolph, and Kearney never make their motivations or ambitions clear. This is why we do not care about them as much as we care about other characters on the show. If the WWE wants to make the most out of The Riott Squad, the company should not make the same mistake. If they do, the WWEs risks fans losing interest in the rioting squad without a cause.
***
What do you think? Leave a comment below or message me on Twitter @KirstinHerzog1. Always #UseYourHead.