Rude Awakening: Rick Rude From WWE Player To WCW Leading Man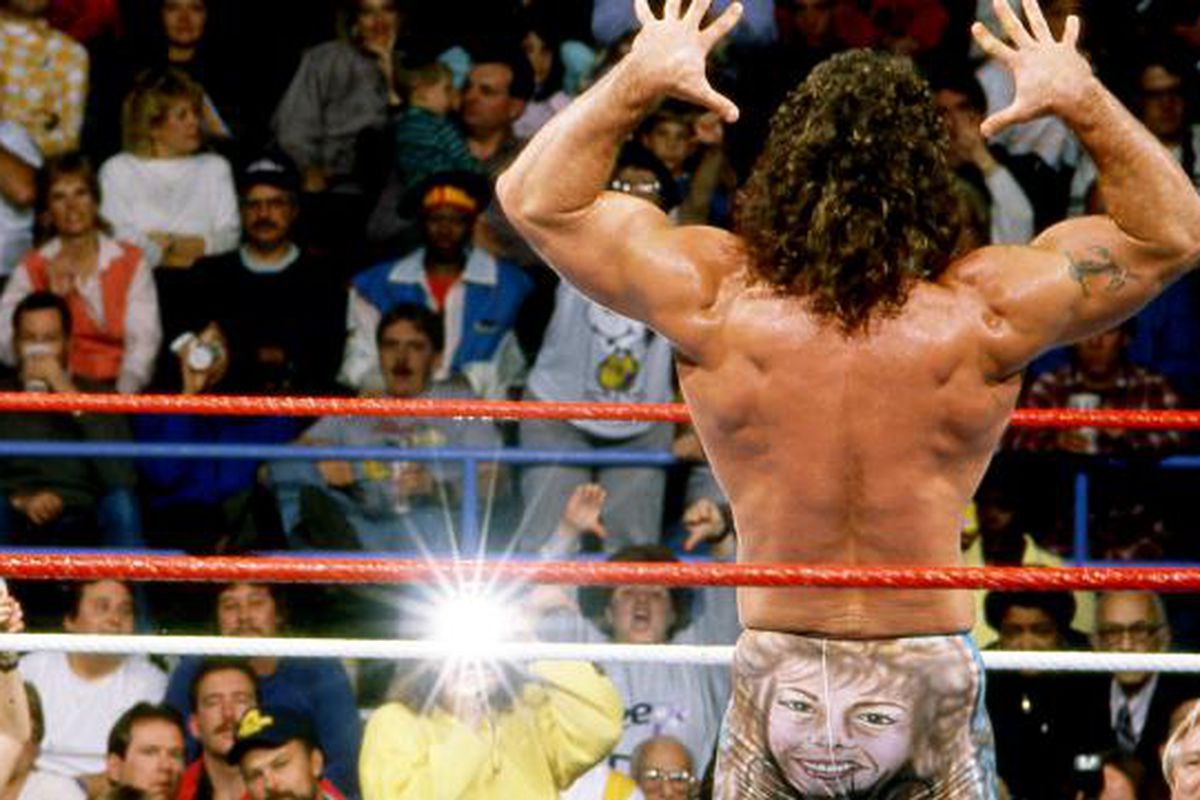 This article will discuss the wrestling career of the late Ravishing Rick Rude, focusing on the years when Rick Rude wrestled in the WWE from 1987 to 1990 and soon after in WCW from 1991 to 1994. The idea of this piece really captured my interest; it explores the types of success that Rick Rude found in these two contrasting promotions. I will not be covering any events before and after the '87-'94 timeline.
I was in my 'binge some old wrestling' moods the other day, so I pulled up the first Survivor Series from 1987 and skipped to the main event which featured Hulk Hogan, Bam Bam Bigelow, Don Muraco, Mr. Wonderful Paul Orndorff and Ken Patera against Andre the Giant, King Kong Bundy, Butch Reed, One Man Gang and Ravishing Rick Rude. While observing the talent in the main event, I began to think about the WWE's national expansion at that point and of the people that Vince McMahon headhunted from other organisations to join the WWE. Of the ten men that were headlining the '87 Survivor Series, Ravishing Rick Rude was the most recent to sign with the WWE. To be placed in a significant spot on the card with just having been in the company for four months is a big deal. Before joining the WWE, Rick Rude wrestled for NWA Jim Crockett Promotions where he was part of a successful tag team with Manny Fernandez. Known as the Awesome Twosome; Rude and Fernandez held the NWA Tag Team Titles for five months until Rude suddenly left the NWA for the WWE.
The way in which Rick Rude was brought onto WWE television was special; he was introduced as a member of the Heenan Family stable by his manager Bobby Heenan. Mr. Wonderful Paul Orndorff was a Heenan Family stablemate who shared similarities in personality and physique to Rude, though he was a bit older. As Heenan began to favour Rude over Orndorff, the two would end up feuding as Orndorff parted ways with the 'Family', this conflict concluded with Rude gaining the upper hand and Orndorff leaving the WWE shortly after.
At that time, I didn't think much of Rick Rude, it was difficult to see what Bobby Heenan appreciated about Rudes talent for notable reasons; I was a child and believed that the Ultimate Warrior and Hulk Hogan had better physiques; the WWE was in the midst of the big man era, so either most of the wrestlers had ripped bodies or they paled in comparison to the really big guys; another of Rudes stablemate Andre the Giant was the cornerstone of the Heenan Family and he was regarded as the biggest star in wrestling, standing at 7 feet and 4 inches. Rude and his stablemates stood out easily in a crowd, but their aura was usually overshadowed when Andre was inserted into the picture.
Rick Rude gained fame regardless of being overshadowed by Andre. Rude was known for his custom made tights, his gyrating, his post-match activities where he would select a woman from the crowd to be the recipient of a passionate 'rude awakening' kiss. In this era, Rudes wrestling ability was secondary to his antics, yet appreciated only by the colour commentary antagonist, Jesse Ventura. Perhaps if the protagonist on play by play had dropped the occasional endorsement, the young fans might have appreciated Rick Rudes wrestling skills. At first I thought that Rick Rude had a good career based on his three years in the WWE; his first major feud with Mr. Wonderful established Rick as the new 'bad boy'; the classic rivalry with Jake Roberts which Rude instigated when he unknowingly selected Jake's wife, Cheryl to receive a 'rude awakening'; winning the Intercontinental Title from the Ultimate Warrior at WrestleMania V and then resuming their war the following year as a never before focused Rick Rude aggressively pursued the Warrior for his WWE Championship. These are some awesome memories that could justify a deserving career, right? Well, I thought so, until years later when the internet through Youtube and other online means made it possible to gain access to a wealth of footage that we only read about in the magazines. I remember my first time watching wrestling online and going straight for the NWA/WCW stuff – like I was owed something.  If you are not a wrestling fan from New Zealand, understand this; we were deprived in the '90s. It was like being in the Walking Dead; the WWE was taken off our televisions in 1991, WWE PPVs arrived at the video shops months after they were broadcast in the US, the Apter magazines (also arriving months later) gave us hope that there were 'other communities'. It got better around 1997 when WWE and WCW were airing on television; nevertheless, the digital age allowed many fans from the 20th century to catch up.
I was clued onto Rick Rudes ventures after leaving the WWE and what he was doing in WCW. However, after watching videos and more videos of Rick Rude in WCW, the footage gave me a clear idea of how valuable Rude was to WCW and what it did for his career. His time with the WWE definitely established his fame, but it was his run with WCW that gave him a deserving career. If you don't watch wrestling at all and you're thinking "wrestling is fake, it's all a story", I suggest looking at it from this example: Andrew Lincoln is set to leave the Walking Dead series, there is an opportunity for a current cast member to take over the leading role. How confident are we that Norman Reedus will make a good lead? The viewers have only known the character, Darryl, to be an effective second in command. How can his character, Darryl lead when he barely speaks and only mumbles? Is Norman Reedus a good enough actor to pull it off? Assuming that Reedus does become the main star and if he (and the show) succeeds, then Norman Reedus may secure leading roles in future projects. You could apply this to Rick Rudes 'promotion' in WCW.
I had described the way Rick Rude was brought into the WWE as special, but the way that Rude was introduced onto WCW was "simply ravishing" (see what I did there?). Rick Rude debuted at the '91 Halloween Havoc pay-per-view under the mask of the WCW Phantom, a character that had been promoted to appear weeks prior to the event. There was not much known about the Phantom's presence until he got in the ring and demonstrated his skills. Jim Ross (who was WCW lead play by play announcer during this time period) commented on the Phantom size as being larger than his opponent Tom Zenk who stood at 6 foot, 2 inches. The Phantom's impressive display of aggression was greatly noted. I viewed the Masked Phantom as an opportunity for the fans to first recognise the wrestler's skills so that when Rick Rude did reveal himself, the people would realise his talent without the distraction of the Ravishing gimmick. His imposing manner and intensity were rarely highlighted in the WWE. The idea to put Rude under the mask was a genius move as it made wrestling skill a focal point.
In addition to being unmasked on pay-per-view, Rick Rudes appearance came with a manager and a 'Director of Covert Operations'; Paul E. Dangerously and Madusa! Following Rudes reveal, Dangerously announced that he enlisted Ravishing Rick Rude to eliminate Sting, the US Champion, and WCW's biggest star. This, of course, meant an immediate career push for Rude; with Ric Flair gone from WCW, the company needed a new villain, Rick Rude easily fulfilled that responsibility.  The month after Halloween Havoc, Rick Rude would win the US Title from Sting at the Clash of the Champions. This Rude/Sting match carried the COTC event, it served as a priority for the WCW product as the Word Title picture looked weak without a big name to challenge the champion, Lex Luger.
Rick Rude now has possession of the United States Championship; and four days later on WCW Saturday Night, Paul E. Dangerously introduces Ricks 'new family'; the Dangerously Alliance. Dangerously declares that the first phase of the Dangerous Alliance's hostile takeover is complete, and he introduces the first member – the cornerstone; Ravishing Rick Rude (who is escorted by Madusa); followed by Arn Anderson & Larry Zbysako, not far behind comes the break out star, the Television Champion 'Stunning' Steve Austin; rounded off with the inclusion of Bobby Eaton. This group was perfect for Rick Rude, he was backed by three reputable veterans and a rising star whose future would be realised later in his career. This fresh, new setting in WCW afforded Rick Rude the space to grow into a main eventer. What I noticed about the good guys in WCW was that most of them were young and blonde, and in some ways were portrayed as underdeveloped and inexperienced, in comparison to the villains who were manly veterans, Rick Rude was THE MAN of this group; tough, chiselled, no-nonsense, real and worldly. Rude possessed all of the qualities necessary to lead villain.
The United States Title also grew in prestige as the Alliance helped Rude fend off challenges from Sting, Ricky Steamboat, Dustin Rhodes and Ron Simmons. The WCW World Title in many cases looked secondary to the US as it was notably highlighted at special events: the majority of pre-match interviews at SuperBrawl II were based heavily around the Rude vs. Steamboat match, whereas the feel for the Sting/Lex Luger World Title main event came off as insignificant.
After a satisfying 14 month reign as US Champion, Rude went onto become a three-time WCW International Title; this was a championship that was shared between WCW and their partner New Japan Pro Wrestling.  The concept of this championship was to have it defended in WCW and NJPW. This gave Rick Rude another accolade with the opportunity to wrestle in a highly respected area like Japan. Rude began to conduct himself in a more 'leading' manner as he dressed in suits for interviews and press conferences, the presentation added a professional and subtle layer to his 'Ravishing' persona.
Unfortunately, due to injuries to the neck and then his back, Rude was stripped of his US title and again during his third International title reign.  Rudes back injury would lead him to retire from pro wrestling.  Prior to his injury, Rick Rude had just turned into a hero and was about to feud with Vader.  This would have been a really exciting time for Rude to transition into a good guy, and the reaction from the fans was obvious that they were ready to embrace the Ravishing One.  So here is a highlighted summary of Rick Rudes WCW accomplishments; Rick Rude held the United States Championship – the equivalent to the WWF's Intercontinental Championship. As opposed to his four-month reign as the IC Champion, Rude was the longest reigning US champion, a record that hasn't been surpassed to date (14 months), Rude was also a three-time International Champion, and the cornerstone of the incredible Dangerous Alliance, a stable consisting of the now who's who of pro wrestling.
To conclude, I believe that Rick Rude achieved a better run in WCW. WWE gave Rick Rude the exposure; the reach to be famous worldwide and a place in popular culture, this made him a valuable asset to WCW. However, it was Rick Rudes own merits that allowed him his accolades and sustain his standing in WCW. I very much doubt that Vince McMahon would have made Rick Rude a leading man had he stayed with the WWE.
https://twitter.com/Ite_Lemalu
AJ's Thoughts: Five Potential Returns
With Trips in charge and already starting to bring back some people that didn't work in Vince's picture, AJ got an idea. Who else could we see on the horizon radar?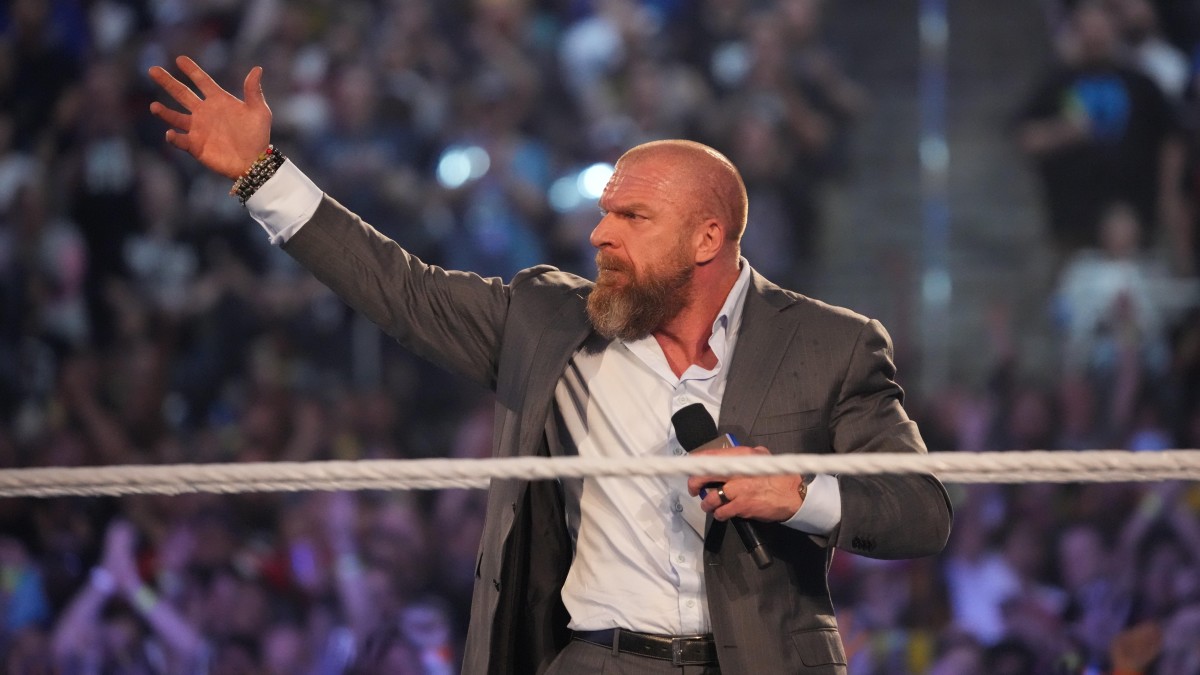 With Trips in charge and already starting to bring back some people that didn't work in Vince's picture, AJ got an idea. Who else could we see on the horizon radar?
With everything going on with WWE, the one thing we have all been hyped about are all of these returns. Dakota Kai made her return at SummerSlam alongside Io and Bayley and now on last SmackDown, Karrion Kross and Scarlett made their returns in a big way against Drew McIntyre and showed the Hourglass to The Bloodline.
With all of that, there have been things in the pipeline saying Triple H's foot isn't off the pedal so these are 5 returns from either NXT, main roster or even Try-Outs that I would love to see happen with the new regime.
1. Johnny Gargano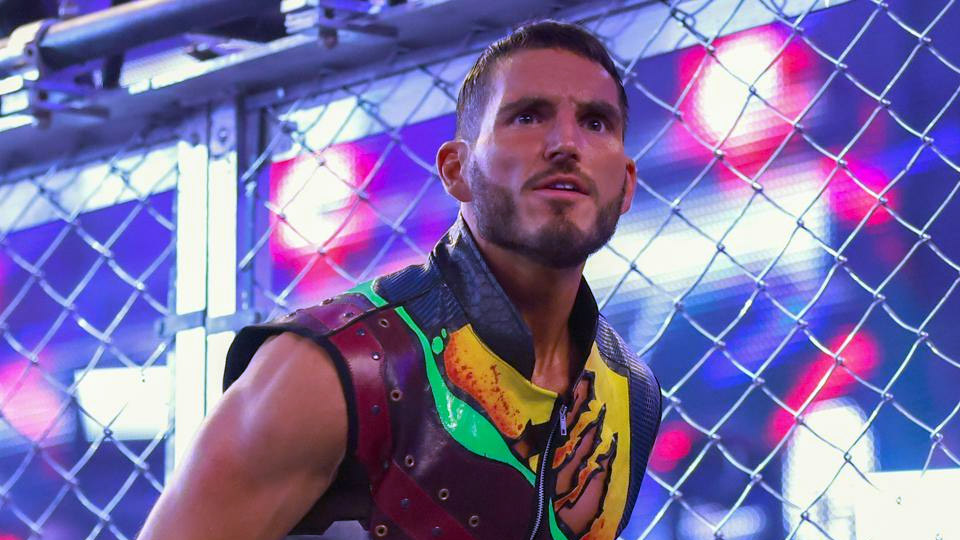 Now this is a name that people have been saying, "Maybe Impact or MLW" but, what about a return? Gargano didn't renew his contract, most likely to be with his family which is a valid and amazing reason, will never disrespect that. If he were to return, there would be a handful of great reasons. Maybe a singles run with the Intercontinental or United States but with Ciampa getting limelight in the main roster from RAW, what if we get a tag team reunion?
WWE is hurting for Tag Teams and what better than to scare off The Bloodline, loosen  the stranglehold of championships with some Do It Yourself action. DIY reunion could be amazing, especially with newer faces showing up to get championship aspirations like Kross and Ciampa. Want to break the hierarchy? Do It Yourself.
2. James Storm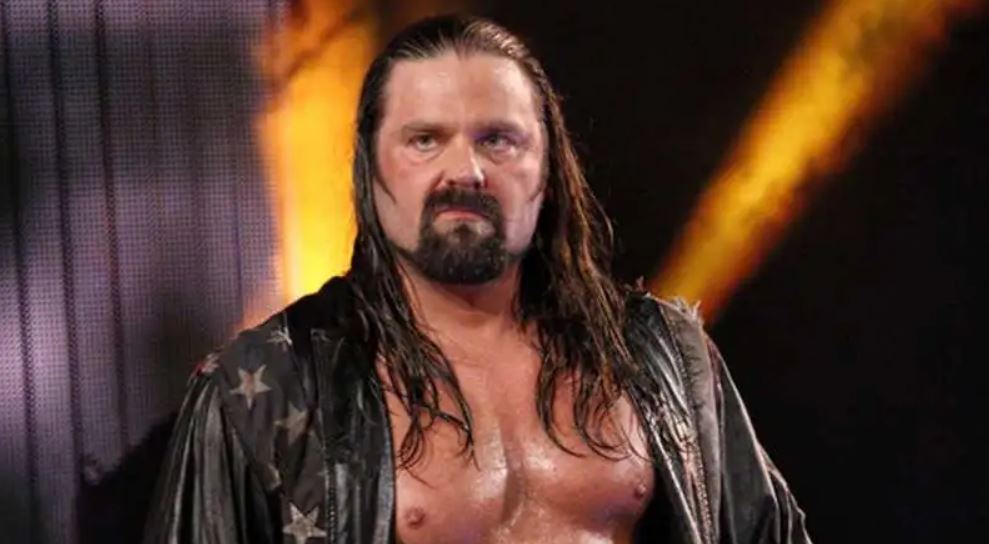 This one is a little bit weird and off. On one hand, who doesn't love the Tennessee Cowboy, Jimmy James Storm? On the other, he is 45 and getting some nagging injuries as of late. So why would I say Triple H should bring James Storm back and give him something for the main roster? One of the things I said for Gargano, we have a lack of something and The Usos might need to watch two things in the rearview.
Watch your Money and your Alcohol.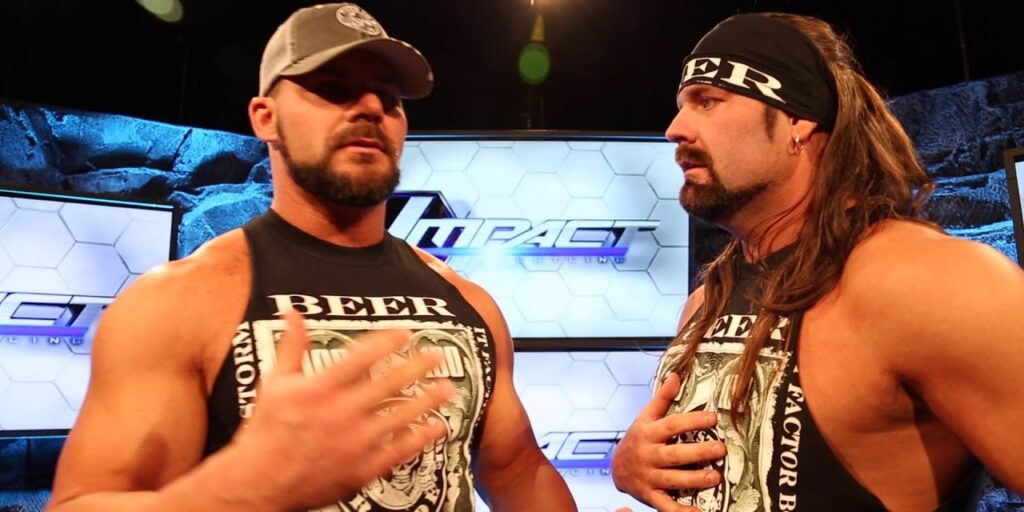 Beer Money showing up in WWE would be amazing in my personal opinion. The Bloodline jump Roode, someone in a hoodie or jacket comes up and jumps them to even the fight and as soon as one Uso remained in the ring, the figure goes down and the old stomping goes off and we hear "BEER…" and Roode looks around and gets hyped up and shouts, "…MONEY!"
3. Big Cass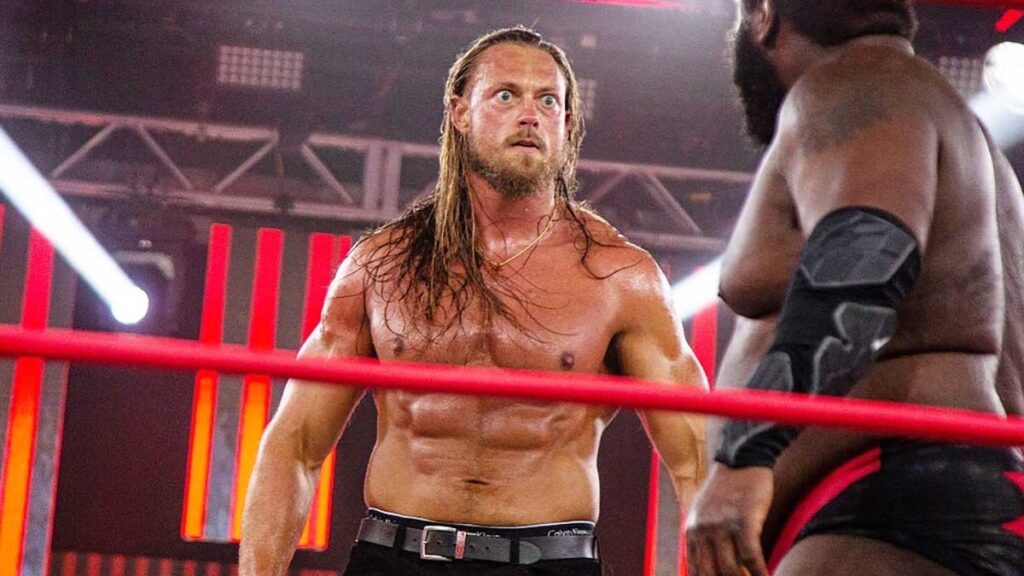 Since his departure from WWE, he has done something I have said since they split him off from Enzo. Take him through the Kevin Nash School of How To Big Man. ROH and Impact are great examples that he actually cleaned up and worked on what he has to do to be good in the ring. He can work the microphone, he can work the ring so we got a new big boy to take on the WWE once again.
Now I could have said Enzo and Cass to rejoin but, I'm sure the antics of Enzo will get Cass in deep water along with the fact that I already made two tag team predictions, we don't need another. Cass brings a lot to the table and was kind of unproven in WWE because he was just the big enforcer to the more charismatic Enzo. Give this man about six months in the ring and you have your next MASSIVE problem in the IC or US Championship scene or even more.
4. Bronson Reed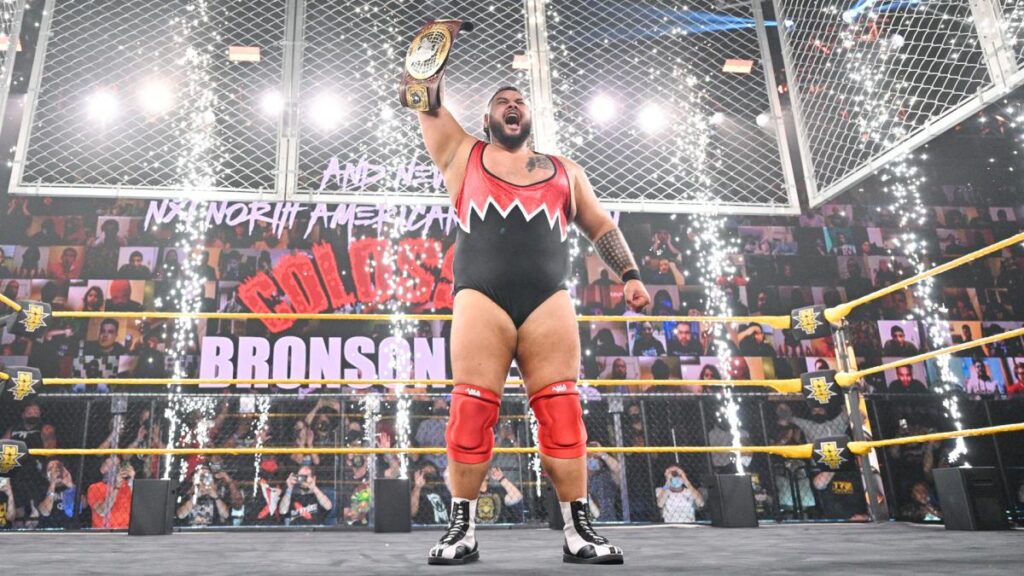 The big man from down under is a former NXT North American Champion. He looked to have a good push going with that championship but he got release. If you wonder where he went… he actually made a pit stop in Impact Wrestling as JONAH with the most fire theme song in recent history I swear… I will link the theme song and Trips… please. Get rights to this theme song. I will be a bigger Bronson Reed fan.
Bronson to me is the weird man in all of this but, I think with Triple H involved, he could get something going for him with a good singles champion run or a big threat to go through like a gatekeeper of sorts. Big boy with a great amount of athleticism? Can't really hate on that considering the last time we saw athletic bigger people were Keith Lee and… what was that one guy? Sherman Tank with a Ferrari Engine…?
5. Bray Wyatt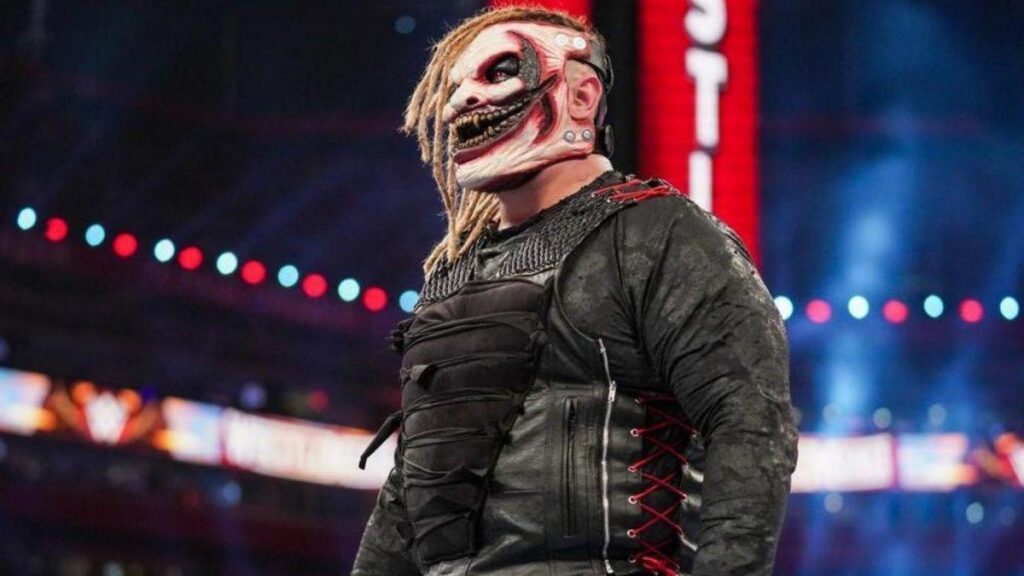 And the last one is the obvious one in all of this. Yes… we have Judgment Day as the somewhat supernatural dark group but we know the true successor of the supernatural and that is "The Eater of Worlds", "The Fiend" Bray Wyatt. This time around, I don't think we will get the Jekyl and Hyde, Mister Rogers gimmick. I believe this time around we get full darkness and mayhem. We get the darkness and the theory of reverting back to your prime.
To make a refresher… Miz went back to being the cocky narcissist after fighting The Fiend. Finn turned back to the Prince and much more. With guys like Edge returning, maybe we see the return of the Heel Ultimate Opportunist, maybe a Fiend fight with AJ Styles to get the TN-AJ perhaps. Possibilities are endless and with a great mind like Wyatt for character and execution, I think Hunter will pick up the phone and Let Him In.
– There are clearly others that I could say, or maybe even didn't think about, but hey, that's the Chairshot way of Always Using Your Head. Those are just five returns that could happen and hopefully you read this before RAW or SmackDown and who knows if I get any of these right, maybe I missed an obvious one or maybe we get a giant signing that nobody thought possible. Let me and all of Chairshot know!
King's Greatest Hits Of Jeff Hardy
As he battles his demons, Chris King looks at some more positive moments in Jeff Hardy's career!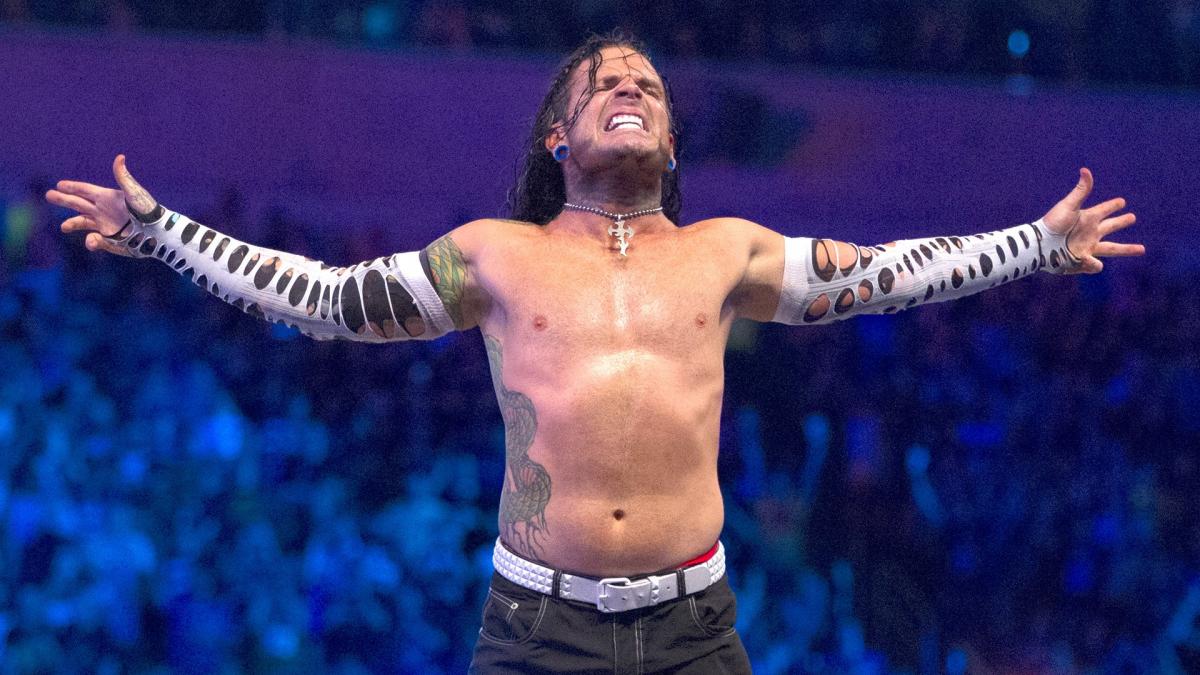 I'm sure by now you've heard the disturbing news that former WWE superstar and recent AEW signee Jeff Hardy, was arrested again for multiple charges including a DUI.  Hardy has had a hard and tragic road of recovery throughout the years in multiple wrestling promotions.
Not too long ago, Hardy walked out on WWE after they were rumored to have offered the former world champion to go to treatment for his substance abuse issues. Hardy refused and said that he was better but, as we saw the demons are still lurking and got the best of him again.
I have seen some nasty comments and even some distasteful memes about the AEW superstar and felt compelled to go against the grain. Instead of kicking a man when he's down, I'm going to put together a greatest hits for the "Charismatic Enigma."
Jeff Hardy & The TLC Match
Everyone can say that Shawn Michaels and Razor Ramon helped innovate the iconic ladder match and you are right, but Jeff Hardy and his death-defying stunts changed the concept of the match forever. The Hardy Boyz vs. The Dudley Boyz vs. Edge & Christian and their iconic TLC match should have their wing in the Hall of Fame. The risks all six superstars took for the adoration of the crowd could have ended all of their illustrious careers. In the words of Vince McMahon, It's such good shit!
Jeff Hardy Earns The Undertaker's Respect
On the July 1st, 2002 episode of Monday Night Raw, Hardy delivered the performance of a lifetime nearly winning the WWE Undisputed Championship from The Undertaker in an incredible ladder match. The young up-and-comer was faced with his greatest task yet, challenging for the most prestigious title in sports entertainment. Hardy showed that without a shadow of a doubt he deserved to be in the main event scene, but came within minutes of defeating Taker. At the time of the match, Hardy was still finding his footing as a singles competitor and earned the respect of the champion and legend.
Swanton Bomb From The Heavens
When I think of the daredevil Jeff Hardy, I can't help but think of this one crazy-as-hell stunt. At WWE One Night Stand 2008, Hardy faced off against the juggernaut Umaga in a falls count anywhere match. This match was so insane as both superstars fought into the parking lot. Hardy is one of the craziest and bravest superstars, hit a Swanton Bomb off a damn stage truck onto Umaga. It's one of the wildest things you'll ever see.
Hardy Wins The WWE Championship 
In 2008, Hardy finally made his way to the main event title picture alongside partner Triple H. HHH was Hardy's mentor in some sort of way which led to the daredevil achieving his lifelong dream of becoming WWE champion. At the 2008 Armageddon pay-per-view, Hardy would face HHH and longtime rival Edge in a triple-threat match for the title. In what was a great match between all three superstars, Hardy delivered a Swanton Bomb to Edge to win the illustrious championship.
Straight Edge Problems For Hardy
The following year, Hardy found himself in the way of young-up-and-comer CM Punk who is looking to make an example out of him. Punk had won the Money in the Bank briefcase for the second year in a row and took advantage of Hardy to win the world title. What started as mutual respect between both superstars changed drastically, when Punk started throwing jabs at Hardy for his drug and substance abuse real-life issues. Punk would form his infamous stable known as the Straight Edge Society. This is a very underrated feud and you should go back and watch it in its entirety. The promos are gold.
The Hardy Boyz Return To WWE
Both Matt and Jeff Hardy found success in multiple other wrestling promotions including Ring of Honor, and TNA during their time away from WWE. Both brothers were struggling with their vices and made poor life choices but straightened up their act over the years. In 2017, the Hardy Boyz would face longtime rivals The Young Bucks in ROH. The following night the adored tag team would make their incredible return to WWE at WrestleMania 33. Matt and Jeff would be named the final team in the Fatal 4-way ladder match for the Raw Tag Team Championships. The pop these two received was insane and very much deserved. They would go on to win the match and win the titles to capitalize on their momentum.
Jeffery Nero Hardy Makes AEW Debut
From 2017-to 2022 Jeff Hardy would find himself pigeonholed in the mid-card title picture. He would have feuds with a plethora of superstars including Samoa Joe, and Randy Orton. Orton and Hardy had a nasty Hell in a Cell match back in 2018. Earlier this year, Hardy was seen running around after the 24/7 Championship, which was disappointing to see. After being genuinely unhappy in WWE, Hardy would make his AEW debut on the March 9th episode of AEW Dynamite. Hardy would come to the aid of his brother and longtime partner.
This week news broke that Hardy had been arrested for multiple charges including a DUI. While it's easy to beat a man while he's down, how about we uplift and try to encourage him to get the help he needs.
As a longtime wrestling fan, I have the utmost respect for Hardy and wish him the best of luck in his battle with addiction.