Stardom Gold Star Results & Review (5/23/2018)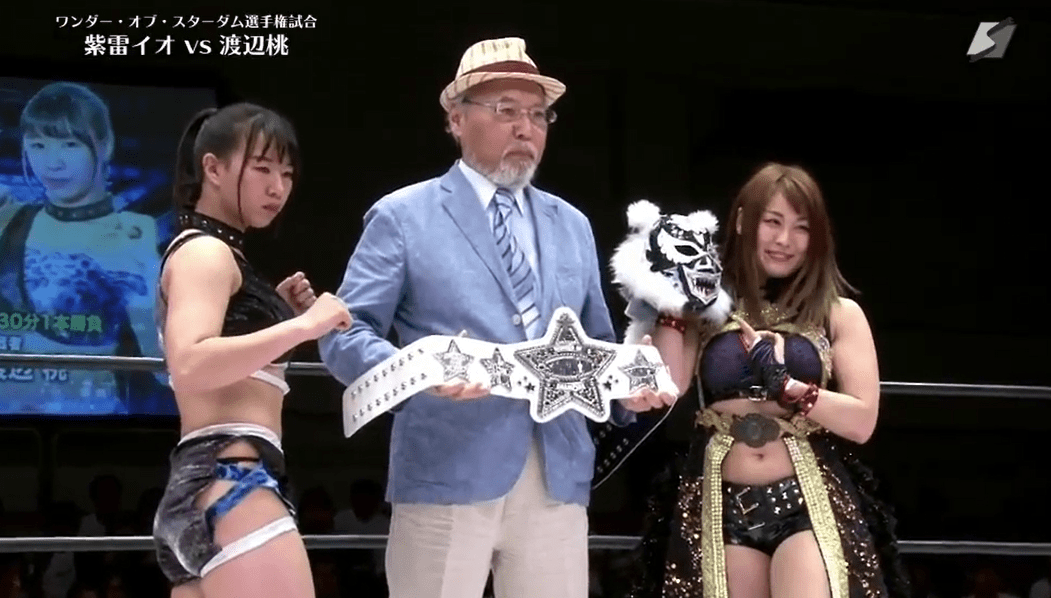 Welcome back to Stardom as the last time we were here, Io Shirai defeated Kagetsu to set a new record with the Wonder of Stardom Championship.  It was her tenth title defense and it adds another record to strengthen her legacy in the company.
Her next challenger is the winner of this year's Cinderella Tournament and fellow Queen's Quest member, Momo Watanabe. Will Io still retain her championship to keep her reign going or will Momo finally come out of her shell and get a big win in her career? Let's not waste time and…dive right in.
Six Man Tag Team Match
Candy Floss, Hanan & Starlight Kid vs. Kaori Yoneyama, Leo Onozaki & Ruaka
Review: We get Team Jungle starting off the show with Kaori leading the team with our younger girls, Leo and Ruaka as they fight fellow STARS members, Starlight Kid lead by Hanan and Candy Floss. On the May 6th show, Starlight had her second successful defense of the Future of Stardom Championship against Ruaka in an average match, but now it looks like her next title defense will be against AZM at a future date.
Team Jungle would start off by doing their pose on top of Hanan while the other two held her arms in place, but STARS would get payback and have all three members between the ropes and stood on top of them to do their STARS taunt. The match was okay at best with Starlight and Kaori being the better two of the match and that's very weird for me to say, but Kaori has been used quite frequently and well ever since the draft happened and I can't be mad at that while Starlight Kid is great as always in the ring. Team Jungle picked up the win by rolling up Hanan even though she tripped mid-roll up.
Recommended: Average, but not mandatory.
Singles Match
Martina vs. Zoe Lucas
Review: We get Martina in singles action this time…I can hardly hold my excitement on this one. But, she takes on Zoe Lucas who is known to be a freelancer and is no stranger to Stardom as she has done a few shows for them last year and earlier this year also. In the pre-match interview, Zoe would talk about how she always wanted to fight Martina and how she was one of the biggest names in the UK scene, but I still don't see it and I'm sorry for that, but she just doesn't impress me at all.
Soon as the bell rings, Martina would just roll around the ring for being drunk until she falls down and has another beer while Sumire calls for a timeout. I get that the crowd loves her due to her character and making them laugh, but I don't know what it is for her to not have me fully back her up and if you somehow like her, more power to you. I will give her credit though that she can throw a mean forearm when she wants to. The match was sloppy and Martina would throw Zoe over her shoulders, but it looked like Zoe didn't jump in time and almost landed horribly if Martina didn't help guide her, so I will give her points on that one. There was also a moment where Zoe did a Scissor Kick variation and Martina would fall down a bit early before Zoe would even touch her. Anyway, Martina would hit the Codebreaker from the second rope to get the pin.
Recommended: Skip it.
Tag Team Match
Jungle Kyona & Natsuko Tora vs. AZM & Konami
Review: We get more Team Jungle action, but we now know they changed their name to JAN or Jungle Assault Nation, which sounds so much better, and this time, they'll be taking on two members of Queen's Quest, AZM and Konami as it looks like these two will be paired up in tag team action for the time being. AZM would taunt Jungle and Momo by saying she wanted to fight the fat one in which both of them leave the arena, then AZM told them she wanted to fight the cute one instead, which then made both of them come back in the ring and cause a fun little argument between the two as both AZM and Konami took advantage of that to attack them.
I don't know what it is with Team Jungle, they have been stepping up quite a lot lately and specially Kyona since she's been showing more of herself this year and I'm glad for it because I talked about before how underrated she is in the ring, but the gimmick she has can only get her so far. It seems like both Konami and AZM were doing a mean girls thing with bullying the two members of Jungle and I like that side of them since it just gives them more character for themselves in their matches. The match was fun and did its purpose as Natsuko would get the surprise pinfall over AZM.
Natsu is winding up… only to get crushed by @junglekyona! #StardomWorld 🌟 #スターダム

➡️ https://t.co/jniqaHHrua pic.twitter.com/FyDc3BvlAr

— TDE Wrestling (@totaldivaseps) May 30, 2018
Recommended: I thought it was fun and worth a viewing.
Best Two Out Of Three Falls Eight Woman Tag Team Match
Mayu Iwatani, Saki Kashima, Shiki Shibusawa & Tam Nakano vs. Hana Kimura, Hazuki, Kagetsu & Natsu Sumire
Review: No pre-main event involving STARS and Queen's Quest? Why I haven't seen that in eons. Joking aside, We got Oedo Tai taking on STARS in a Two out of Three Falls match in an eight-woman tag match with four of their top females of each faction. A win by STARS could possibly give two of the members a future shot at the Goddesses of Stardom Championship, but if Oedo Tai wins this match then it could maybe lead Kagetsu to future opportunities, so this could definitely benefit either unit. Oedo Tai came out with a little toy puppy with Hazuki walking it, it was adorable and guess because of Nao Yamaguchi being injured.
.@0929_hazuki and @SMR_sptmber_luv prepare for the match by spending some quality time with Oedo Pupper. #StardomWorld 🌟 #スターダム

➡️ https://t.co/jniqaHHrua pic.twitter.com/rAhRkFe9JI

— TDE Wrestling (@totaldivaseps) June 2, 2018
The two teams would brawl to the outside with Mayu and Kagetsu fighting till they reached the top of the stairs in the crowd and I thought Kagetsu was gonna try to hang her off of the balcony again, but this time she kicked Mayu causing her to roll down the steps kinda like how Hiromu did when he fought Taiji Ishimori in the Super Junior Final (Which you should totally check out if you didn't).
.@doranyanpa and @hanadayo0903 bring havoc with them everywhere they go. #StardomWorld 🌟 #スターダム

➡️ https://t.co/jniqaHHrua pic.twitter.com/UBzBrwYuxR

— TDE Wrestling (@totaldivaseps) June 2, 2018
Sumire and Shiki appear to be starting off the match once they got back into the ring and Sumire, of course, does her little antics with the flogger to whip her opponent while the referee wasn't looking until the end of the beating. Tam would get a chance into the ring as she applies the Dragon Sleeper on Sumire until Kagetsu tries to break it up only to get caught by Tam so she can hit her with a DDT while giving Sumire a Reverse DDT at the same time, that was awesome. Kagetsu and Mayu would eventually get in the ring, and things start to pick up between with the back and forth fast paced action, Mayu hitting her Springboard Armdrag and would quickly go into a Slingblade to top it off. Mayu and Tam would work together for a moment with Tam kicking Kagetsu which caused her to roll back into a Wheel Barrel and Mayu slams her down face first for a two count. Hana would help come into the aide of Kagetsu to make her hit a Chokeslam on Mayu for only a two count. Hana would then hold Mayu up for a Suplex for Kagetsu to grab her from the top turnbuckle and hit a Powerbomb before going back up to the top rope again to hit her Oedo Coaster to give her team the first fall.
Kagetsu wouldn't have time to celebrate as Shiki would Dropkick her down until Hazuki and Sumire came in to try and help Kagetsu, but only for them to both get hit with a Bulldog. Kagetsu was by the corner as STARS would throw Mayu's unconscious body over to the corner to pretty much flop on Kagetsu before the other members would hit their own moves on her. Kagetsu would then try to hit a German on Mayu only for Hazuki to try and knee Mayu but misses and hits Kagetsu instead, giving Mayu him to hit a German Suplex hold for a two count. Kagetsu was gonna try to end it early, but Mayu would push Kagetsu off to make her eat Sumire's flogger by accident and hits another German. Mayu would then hit her Dragon Suplex Hold to get the win as they are now tied 1-1.
Their respective members would drag their unconscious bodies over to their corners so the two could rest up after that battle and tag someone else in as we get Hazuki and Tam starting it off for a moment and then things start going a bit chaotic with the reversals and kicks til Hazuki got the advantage to knock Tam down as she attempts to hit the Atomic Bombs Away only for her to miss and eat a Superkick by Mayu. The two would then attempt to kick her in the head, but Hazuki ducked to make them kick each other, but Mayu attempts a Superkick again for her to hit Tam by mistake and Mayu gets Dropkicked out as Saki is now tagged in. Saki and Hana would be the two fighting now as Hana applies a deadly Black Widow to try and make her tap out, but it won't last long as the hold breaks. Mayu had Hana up in the Gory Bomb position as Saki jumped off the rope to Bulldog her and nice teamwork by these two. Saki would then hit her Killswitch with Sumire breaking the pinfall just in time. Kagetsu held Saki up and gave Hana their sign for her to hit Saki with, but it backfires with her hitting Kagetsu as there has been a lot of miscommunication attacks in this match, but Saki would then roll Hana up to give STARS the win.
Recommended: Very entertaining match, worth a watch.
Wonder Of Stardom Title Match
Io Shirai (c) vs. Momo Watanabe
Review: We have arrived at our main event of the evening as Io is set to defend her Wonder of Stardom Championship for the eleventh time as she now sets to defend against Momo Watanabe as this was the request Momo made when she won the 2018 Cinderella Tournament. They have fought for the championship before, but Io came out on top as Momo would then look to prove herself that she can defeat her, which is why she was determined to win the previous tournament and wants to not only defeat Io but take her championship away from her in the process. Can she do it again or will lightning strike twice with Io being on top as usual? We shall see.
The crowd is pretty even as they both chanted both of their names while the two would start to chain wrestle for a bit and Io uses her veteran experience to outsmart Momo during the match as she should since she is better and smarter than her in the ring, so it makes sense for her to control the majority of the match. Io would, however, throw Momo into the turnbuckle only for Momo to jump up and Dropkick Io into the corner with Momo running towards her with another Dropkick.
One small opening is all it takes for @shirai_io to take control! #StardomWorld 🌟 #スターダム

➡️ https://t.co/jniqaHHrua pic.twitter.com/8by7KhVqv0

— TDE Wrestling (@totaldivaseps) June 2, 2018
Momo would attempt to hit her Cradle Piledriver on the ring apron, but Io crossed her legs on her arms to make sure she lost her grip on her which was smart thinking by the champ and she would top it off to hit a German Suplex on the ring apron to give herself control of the match once more. I'm loving the story here with Io establishing her dominance as not only the champion but as the leader of Stardom in general as she wasn't ready to give up that crown fully just yet. Momo would eventually get this boost of adrenaline and kick Io in the head, give her a Running Cradle Piledriver, and topped it off with the Tequila Sunrise, but Io would slowly kick out at two and it wasn't enough to put her away. Io would ruin Momo's comeback with her signature palm strikes and delivers a Tombstone Piledriver onto Momo as she now looks to end it quickly with her Moonsault Press, but she would miss and get hit with the Somato for a two count again! Momo went to go for another cradle only for Io to reverse it and attempt to hit the Last Ride, but Momo would counter with another Somato and it looked amazing to see and try to find that clip or GIF so you can see for yourself. Momo hits another Tequila Sunrise as Io would weakly kick out at two again, but Momo isn't done since she stayed on Io hit one more Tequila Sunrise, but she would clutch her wrist this time and soon as she hits it, it was a three count and we have a new Wonder of Stardom Champion!
The Wonder of Stardom title is on the line! It's Io Shirai vs Momo Watanabe on Stardom World now! https://t.co/q8dHnF58vW pic.twitter.com/VE4gW7SeUw

— We Are Stardom (@we_are_stardom) June 2, 2018
This is how you help elevate someone right here, you get a well-established wrestler like Io to carry one of their bigger titles next to the World of Stardom Championship, give it much needed prestige, and then when the time is right you put someone over worthy of it and that woman was Momo tonight. After Io lost the title, there have been rumors about her future until it was confirmed a few days later that Io Shirai has signed with the WWE and this was gonna be her last appearance in Stardom as the champion as she would pass the torch to one who has a bright future in Stardom and it was the right call. As I said before, Momo has come a long way for the past couple of years that she's been with the company and her hard work paid off here with the biggest wins in her career this year and it's well earned. What will be next for Stardom once Io leaves the company, well if you go to one of my previous articles, I try to tackle down some possible people that will lead Stardom as the new top woman in the company. This match though had an incredible story and I love these passing of the torch type ordeals if done right and it most certainly delivered at the end result for sure.
Recommended: Highly recommended.
Overall: A couple of weak matches in the beginning, but the last two matches make the show worth watching and we saw one seed planted for Stardom's future and now we must see how things go here as the Io Shirai farewell tour will begin soon as she leaves on June 16th.
Favorite Match: Io Shirai vs. Momo Watanabe
Least Favorite Match: Martina vs. Zoe Lucas
Score: 7.5/10
See you all next time!
(NOAH) WEEKLY NEWSLETTER VOL.43 ~ 14TH JULY 2019
Global Junior Tag League has started! Hisame let's us know what's going on in Pro Wrestling NOAH!

Global Junior Tag League has started! Hisame let's us know what's going on in Pro Wrestling NOAH!
CURRENT TOUR RECAP
After a long break in which it was thought that due to the silence coming from the roster, they had all gone on a short summer break, NOAH returned on the 12th July to hold a show in Tokorozawa.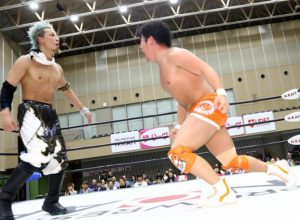 In Global Junior Tag League, YO-HEY defeated Junta Miyawaki (although he did praise him afterwards in a rambling promo), and Chris Ridgeway defeated fellow STINGER, Kotaro Suzuki by making him tap.
Minoru Tanaka vs Daisuke Harada for Global Junior League, was the main event of the evening, and what a match it was. They pulled everything out of every drawer they had, Tanaka worked on Harada's knee, while Harada worked on the neck. The match went to a thirty minute draw, and both spoke afterwards about it. Minoru Tanaka says that he won today, and he will win the league. He also mentioned that he wants to see more junior matches main event shows.
Daisuke Harada said that he would not let "that stranger" win, and he would challenge for the belt again, whether the fans liked it or not.
Takashi Sugiura and Hajime Ohara took on Masao Inoue and Kinya Okada, and there was the usual amusing Inoue\Sugiura interplay. Earlier in the evening, joining in with Marufuji not remembering Kenoh's name, and vice versa, Takashi Sugiura joined in, but changed it so that he couldn't remember Masao Inoue's name. Inoue is a sufferer of gout, and naturally Sugiura targeted his foot by keeping him in the ankle lock after Kinya Okada had tapped, and then when his arms were lifted in victory, he continued stamping on Inoue's foot.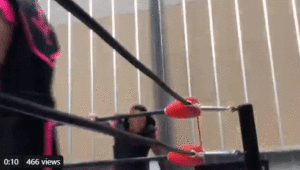 Speaking of Marufuji and Kenoh, Kenoh (when the team of Marufuji, Yoshinari Ogawa, Hiroshi Yamato and Keisuke Ishii took on Kongoh), timed it just right when Marufuji bounced into the ring, landed and turned so that he was there waiting for him, and they both got in each others face. Inamura was chopped to ribbons.
As Go Shiozaki was still absent (he will return to the ring on the 15th), Katsuhiko Nakajima came to the ring carrying both of the tag belts. As he said at the match signing which took place on the 13th June, he was preparing more for the GHC Heavyweight than the singles, and so he started the match off against Kaito Kiyomiya. However, it wasn't Nakajima who took the win, but Kaito Kiyomiya with the Tiger Suplex on Hi69.
EVENT RECAPS
Tokorozawa City Gymnasium, Sub Arena (12th July 2019)
Post match promos – 12th July 2019

Current Global Junior League Scores (as of July 14th 2019)
BLOCK A
Minoru Tanaka 5
Daisuke Harada 3
Yoshinari Ogawa 2
Tadasuke 2
YO-HEY 2
Junta Miyawaki 0
BLOCK B
HAYATA 4
Chris Ridgeway 4
Hajime Ohara 2
Hitoshi Kumano 2
Kotaro Suzuki 0
Hi69 0
NEWS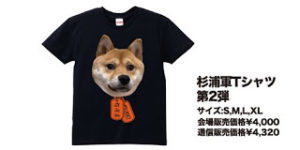 In keeping in the theme of using pets on merchandise (a silhouette of one of Hitoshi Kumano's little French Bulldog appeared on the back of one of his t-shirts, and Akitoshi Saito had a cat t-shirt) continued when NOAH put the head of Takashi Sugiura's beloved Shiba Inu on a t-shirt, complete with dog tags which read "company dog". Naturally, this was a shot at Kongoh (in specific Kenoh, as he is the only one who speaks), who are currently feuding with The Sugiura Army, and the use of the phrase "Company dog" (i.e. someone who does his masters bidding unquestionably, comes goes, fetches, wags tail etc).
The t-shirt will be released on the 15th July at Korakuen Hall, with mail order to follow (a white version is also available).
NAOMICHI MARUFUJI'S COMIC STRIP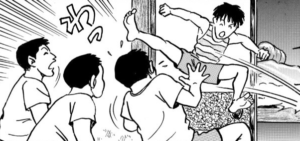 Naomichi Marufuji has started illustrating a comic for "Weekly Pro". The comic is a condensed version of his autobiography, "Heir To The Ark", and starts off with his childhood growing up in Saitama with three older brothers, and wrestling with them which inspired his love of the sport. The comic starts off with two of his brothers arguing about who they are going to be, then they tell little Marufuji that they feel sorry for him, as being the youngest and the smallest, he is going to get it from them (which he did in reality), and Marufuji fighting back by saying that Tiger Mask (Mitsuharu Misawa) is strong.
You can find an ongoing translation on my blog.
TAKAYAMANIA

The main event for TAKAYAMANIA EMPIRE 2 will be Hideki Suzuki and Minoru Suzuki vs Naomichi Marufuji and Masato Tanaka. Event will be held on Monday, August 26 2019 at Korakuen Hall.
Broadcast most likely will be through ABEMA (a Japanese PPV subscription channel, only available to those in Japan).
CURRENT CHAMPIONS
TOUR TIDBITS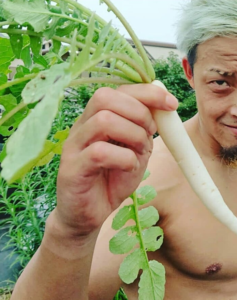 ~ HAYATA'S garden has produced Daikon. YO-HEY celebrated by putting it in his mouth.
~ NOAH held a joint fan birthday party for Kaito Kiyomiya and Junta Miyawaki. Miyawaki turned 22 in June, with Kiyomiya turning 23 this month.
~ Naomichi Marufuji says he has a new gown for Korakuen Hall on the 15th June
~ YO-HEY made a summer vacation to see his family in rural Yabu. One of his young nieces asked him if he was married to HAYATA.
BROADCASTS
NOAH's big Kawasaki Kultz event (and the GHC Heavyweight title, plus the final night of Global Junior League 2019) will air on the 2nd August on G+ at 12.30am JST
NOAH will be broadcast live on Sunday 4th August at 11.30am JST on G+
GIF OF THE WEEK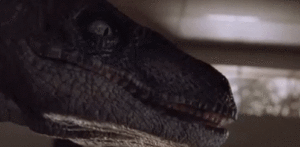 LINKS
GHC Heavyweight tag & single championship signing

Picture credit: Noah GHC, PKDK, YO-HEY
GIF credit: Noah GHC
Andrew's G1 Climax 29 Ratings & Analysis: Night 3 A Block
A Block second matches! Do Okada and KENTA keep momentum? Do Tanahashi or Ibushi get on the score board?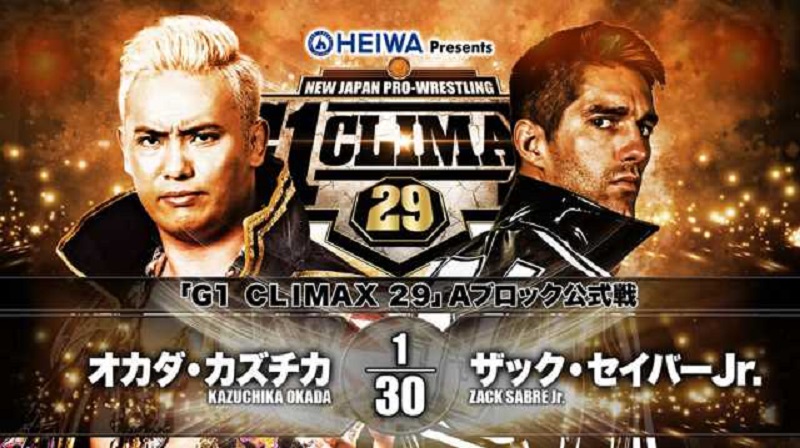 A Block second matches! Do Okada and KENTA keep momentum? Do Tanahashi or Ibushi get on the score board?
So we've got the irresistible force/immovable object match with Fale and Archer! Who is the dominant big man?
Plus there's of course the bigger names that have yet to get points, like, Ospreay, Tanahashi and Ibushi. It's early on, but still a few surprising early wrinkles.
Ratings:
Tomoaki Honma, Yuya Uemura & Hirooki Goto vs Yota Tsuji, Toa Henare & Juice Robinson: Toa Henare wins via Uranage @6:30 – **
Jeff Cobb & Ren Narita vs Jon Moxley & Shota Umino: Cobb wins via Tour of the Islands @4:55 – ** 1/4
Yujiro Takahashi, Chase Owens & Jay White vs YOSHI-HASHI, Tomohiro Ishii & Toru Yano: Yano wins via Brenda Roll Up @9:20 – ** 1/2
Yoshinobu Kanemaru, Minoru Suzuki & Taichi vs Tetsuya Naito, Shingo Takagi & BUSHI: Suzuki wins via Gotch Style Piledriver @8:35 – ***
Block A: Bad Luck Fale vs Lance Archer: Archer wins via EBD Claw Hold @10:10 – ***
Block A: SANADA vs Will Ospreay: Ospreay wins via Storm Breaker @17:10 – ****
Block A: Kazuchika Okada vs Zack Sabre Jr: Okada wins via Rainmaker @12:05 – **** 1/4
Block A: EVIL vs Kota Ibushi: EVIL wins via Everything is Evil @19:10 – *** 1/2
Block A: KENTA vs Hiroshi Tanahashi: KENTA wins via Go 2 Sleep @18:35 – *** 3/4
Analysis:
Basic undercard tag with not a ton going on with the competitors about to face each other in the next block night. The Young Lions started off hot trying to cut their teeth on one another, and then Uemura eats the pin as to protect everyone who's already established on the main roster.
This was quick, but Shota and Moxley have a little bit of tag team chemistry as the pulled off a Hart Attack, and generally looked to work well together. Moxley was relegated to taking out Narita and then getting tied up once Cobb took control of the match. Another very simple match, but not bad.
So White and Ishii had very good interactions, YOSHI took most of the beatings and Chase ate the pinfall. But generally speaking this was fun. It was also nice to see Yujiro since he's been M.I.A. due to injuries off and on the last few years. We need our Tokyo Pimp.
Naito and Taichi continued their feud through the better portion of this match. Taichi had Naito reeling at numerous moments but Naito eventually got enough space to start the LIJ tags. So the whole story of Suzuki-Gun versus LIJ, Naito versus Taichi, just a lot of stories continued to grow here. Nice story telling.
Lots of power moves and both men trying to position themselves as the Alpha. Fale had an early advantage especially thanks to Jado and Marty Asami not feeling like tossing out DQs like candy. Both men had a few close calls with signatures, but after countering the Bad Luck Fall Archer hits a Pounce and builds his momentum. A chokeslam and Everybody Dies Claw later, Archer gets his second win.
Well now, this went back and forth quite a bit. SANADA proved his athleticism, Ospreay proved that he can hang with heavyweights and it was close the whole time. The only really awful spot was Ospreay slipping out of the Paradise Lock. There's a gimmick there, and we don't need the allure of it to be cheapened for a dumb flip spot. Aside from that worthless moment, the match was really wrestled well and SANADA had a few attempts at victory. SANADA's constant desire to use the Moonsault still proves to be his downfall. He really needs a new move.
Okada has the amazing ability to wrestler his opponent's style of match. Sabre stretched him and tried to break him, but Okada fended off every attempt. We saw numerous counters, submissions and great wrestling. Okada's Rolling Rainmaker to set up the traditional Rainmaker is always a fun transition. Awesome match.
Well I guess this was the palate cleanser before the main event. This match was slow, plodding and EVIL did the worst Scorpion Deathlock I've ever seen. And I mean worse that 50+ year old Sting when he'd basically fall over. Like it was a Scorpion Hot Garbage Lock. But once Ibushi hit his second life bar, the match picked up a little, but it wasn't close to a great match. It was fine, but a major step down from the previous two matches.
This main event told a solid story of KENTA proving himself against the Ace and stepping into the place of Katsuyori Shibata. The match was deliberately paced but there were some noticeable hiccups. A match that basically took about a decade to happen because of how NOAH and NJPW were run, lived up to a first time meeting. If we saw this match before KENTA left for the WWE in 2014, I feel it would've been much harder hitting and more of a classic puroresu match. This wasn't bad by any regard, but it was carried by the story and hampered a little by the fact that both men are older and adjusting to injuries.
Overall Score: 7.5/10
The block matches were on average a little better than the first Block A night, but the energy felt down a little. Undercard served it's purpose well and all the matches that were expected to be bangers, delivered fairly well on the expectation. KENTA with the hot start is a little concerning for me though. Historically, freelancers have good showings but don't win the tournament.
Judging from early positioning it feels like either Okada or Goto are being positioned for the win, but with all the new faces…this is definitely harder to call. Adds to the fun, doesn't it?
Block A Standings:
Kazuchika Okada: 2-0 (4 Points)
Lance Archer: 2-0 (4 Points)
KENTA: 2-0 (4 Points)
SANADA: 1-1 (2 Points)
EVIL: 1-1 (2 Points)
Will Ospreay: 1-1 (2 Points)
Bad Luck Fale: 1-1 (2 Points)
Zack Sabre Jr: 0-2 (2 Points)
Hiroshi Tanahashi: 0-2 (0 Points)
Kota Ibushi: 0-2 (0 Points)