Stardom Gold Star Results & Review (5/23/2018)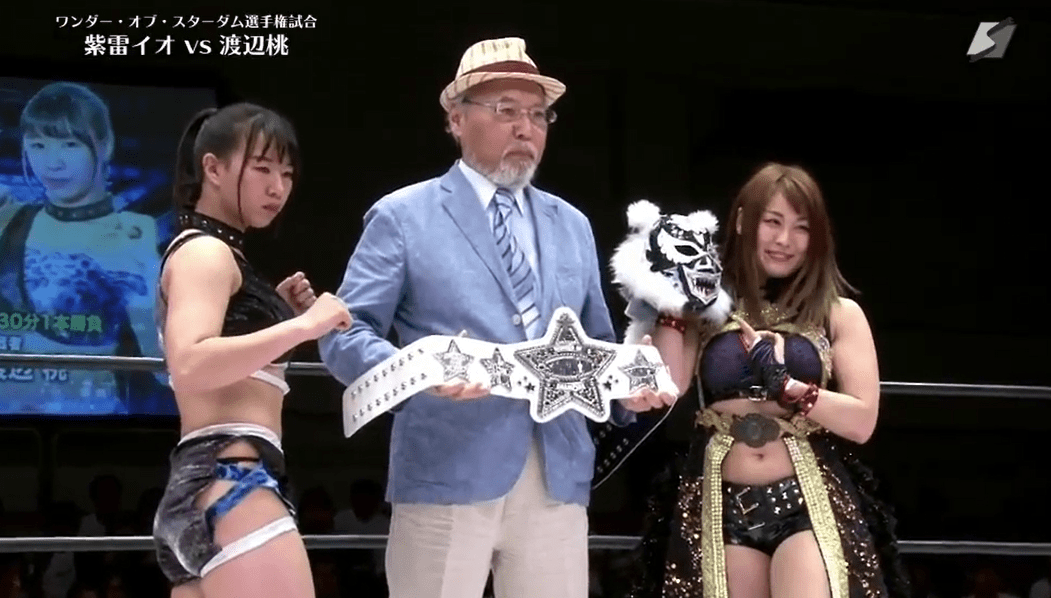 Welcome back to Stardom as the last time we were here, Io Shirai defeated Kagetsu to set a new record with the Wonder of Stardom Championship.  It was her tenth title defense and it adds another record to strengthen her legacy in the company.
Her next challenger is the winner of this year's Cinderella Tournament and fellow Queen's Quest member, Momo Watanabe. Will Io still retain her championship to keep her reign going or will Momo finally come out of her shell and get a big win in her career? Let's not waste time and…dive right in.
Six Man Tag Team Match
Candy Floss, Hanan & Starlight Kid vs. Kaori Yoneyama, Leo Onozaki & Ruaka
Review: We get Team Jungle starting off the show with Kaori leading the team with our younger girls, Leo and Ruaka as they fight fellow STARS members, Starlight Kid lead by Hanan and Candy Floss. On the May 6th show, Starlight had her second successful defense of the Future of Stardom Championship against Ruaka in an average match, but now it looks like her next title defense will be against AZM at a future date.
Team Jungle would start off by doing their pose on top of Hanan while the other two held her arms in place, but STARS would get payback and have all three members between the ropes and stood on top of them to do their STARS taunt. The match was okay at best with Starlight and Kaori being the better two of the match and that's very weird for me to say, but Kaori has been used quite frequently and well ever since the draft happened and I can't be mad at that while Starlight Kid is great as always in the ring. Team Jungle picked up the win by rolling up Hanan even though she tripped mid-roll up.
Recommended: Average, but not mandatory.
Singles Match
Martina vs. Zoe Lucas
Review: We get Martina in singles action this time…I can hardly hold my excitement on this one. But, she takes on Zoe Lucas who is known to be a freelancer and is no stranger to Stardom as she has done a few shows for them last year and earlier this year also. In the pre-match interview, Zoe would talk about how she always wanted to fight Martina and how she was one of the biggest names in the UK scene, but I still don't see it and I'm sorry for that, but she just doesn't impress me at all.
Soon as the bell rings, Martina would just roll around the ring for being drunk until she falls down and has another beer while Sumire calls for a timeout. I get that the crowd loves her due to her character and making them laugh, but I don't know what it is for her to not have me fully back her up and if you somehow like her, more power to you. I will give her credit though that she can throw a mean forearm when she wants to. The match was sloppy and Martina would throw Zoe over her shoulders, but it looked like Zoe didn't jump in time and almost landed horribly if Martina didn't help guide her, so I will give her points on that one. There was also a moment where Zoe did a Scissor Kick variation and Martina would fall down a bit early before Zoe would even touch her. Anyway, Martina would hit the Codebreaker from the second rope to get the pin.
Recommended: Skip it.
Tag Team Match
Jungle Kyona & Natsuko Tora vs. AZM & Konami
Review: We get more Team Jungle action, but we now know they changed their name to JAN or Jungle Assault Nation, which sounds so much better, and this time, they'll be taking on two members of Queen's Quest, AZM and Konami as it looks like these two will be paired up in tag team action for the time being. AZM would taunt Jungle and Momo by saying she wanted to fight the fat one in which both of them leave the arena, then AZM told them she wanted to fight the cute one instead, which then made both of them come back in the ring and cause a fun little argument between the two as both AZM and Konami took advantage of that to attack them.
I don't know what it is with Team Jungle, they have been stepping up quite a lot lately and specially Kyona since she's been showing more of herself this year and I'm glad for it because I talked about before how underrated she is in the ring, but the gimmick she has can only get her so far. It seems like both Konami and AZM were doing a mean girls thing with bullying the two members of Jungle and I like that side of them since it just gives them more character for themselves in their matches. The match was fun and did its purpose as Natsuko would get the surprise pinfall over AZM.
Natsu is winding up… only to get crushed by @junglekyona! #StardomWorld 🌟 #スターダム

➡️ https://t.co/jniqaHHrua pic.twitter.com/FyDc3BvlAr

— TDE Wrestling (@totaldivaseps) May 30, 2018
Recommended: I thought it was fun and worth a viewing.
Best Two Out Of Three Falls Eight Woman Tag Team Match
Mayu Iwatani, Saki Kashima, Shiki Shibusawa & Tam Nakano vs. Hana Kimura, Hazuki, Kagetsu & Natsu Sumire
Review: No pre-main event involving STARS and Queen's Quest? Why I haven't seen that in eons. Joking aside, We got Oedo Tai taking on STARS in a Two out of Three Falls match in an eight-woman tag match with four of their top females of each faction. A win by STARS could possibly give two of the members a future shot at the Goddesses of Stardom Championship, but if Oedo Tai wins this match then it could maybe lead Kagetsu to future opportunities, so this could definitely benefit either unit. Oedo Tai came out with a little toy puppy with Hazuki walking it, it was adorable and guess because of Nao Yamaguchi being injured.
.@0929_hazuki and @SMR_sptmber_luv prepare for the match by spending some quality time with Oedo Pupper. #StardomWorld 🌟 #スターダム

➡️ https://t.co/jniqaHHrua pic.twitter.com/rAhRkFe9JI

— TDE Wrestling (@totaldivaseps) June 2, 2018
The two teams would brawl to the outside with Mayu and Kagetsu fighting till they reached the top of the stairs in the crowd and I thought Kagetsu was gonna try to hang her off of the balcony again, but this time she kicked Mayu causing her to roll down the steps kinda like how Hiromu did when he fought Taiji Ishimori in the Super Junior Final (Which you should totally check out if you didn't).
.@doranyanpa and @hanadayo0903 bring havoc with them everywhere they go. #StardomWorld 🌟 #スターダム

➡️ https://t.co/jniqaHHrua pic.twitter.com/UBzBrwYuxR

— TDE Wrestling (@totaldivaseps) June 2, 2018
Sumire and Shiki appear to be starting off the match once they got back into the ring and Sumire, of course, does her little antics with the flogger to whip her opponent while the referee wasn't looking until the end of the beating. Tam would get a chance into the ring as she applies the Dragon Sleeper on Sumire until Kagetsu tries to break it up only to get caught by Tam so she can hit her with a DDT while giving Sumire a Reverse DDT at the same time, that was awesome. Kagetsu and Mayu would eventually get in the ring, and things start to pick up between with the back and forth fast paced action, Mayu hitting her Springboard Armdrag and would quickly go into a Slingblade to top it off. Mayu and Tam would work together for a moment with Tam kicking Kagetsu which caused her to roll back into a Wheel Barrel and Mayu slams her down face first for a two count. Hana would help come into the aide of Kagetsu to make her hit a Chokeslam on Mayu for only a two count. Hana would then hold Mayu up for a Suplex for Kagetsu to grab her from the top turnbuckle and hit a Powerbomb before going back up to the top rope again to hit her Oedo Coaster to give her team the first fall.
Kagetsu wouldn't have time to celebrate as Shiki would Dropkick her down until Hazuki and Sumire came in to try and help Kagetsu, but only for them to both get hit with a Bulldog. Kagetsu was by the corner as STARS would throw Mayu's unconscious body over to the corner to pretty much flop on Kagetsu before the other members would hit their own moves on her. Kagetsu would then try to hit a German on Mayu only for Hazuki to try and knee Mayu but misses and hits Kagetsu instead, giving Mayu him to hit a German Suplex hold for a two count. Kagetsu was gonna try to end it early, but Mayu would push Kagetsu off to make her eat Sumire's flogger by accident and hits another German. Mayu would then hit her Dragon Suplex Hold to get the win as they are now tied 1-1.
Their respective members would drag their unconscious bodies over to their corners so the two could rest up after that battle and tag someone else in as we get Hazuki and Tam starting it off for a moment and then things start going a bit chaotic with the reversals and kicks til Hazuki got the advantage to knock Tam down as she attempts to hit the Atomic Bombs Away only for her to miss and eat a Superkick by Mayu. The two would then attempt to kick her in the head, but Hazuki ducked to make them kick each other, but Mayu attempts a Superkick again for her to hit Tam by mistake and Mayu gets Dropkicked out as Saki is now tagged in. Saki and Hana would be the two fighting now as Hana applies a deadly Black Widow to try and make her tap out, but it won't last long as the hold breaks. Mayu had Hana up in the Gory Bomb position as Saki jumped off the rope to Bulldog her and nice teamwork by these two. Saki would then hit her Killswitch with Sumire breaking the pinfall just in time. Kagetsu held Saki up and gave Hana their sign for her to hit Saki with, but it backfires with her hitting Kagetsu as there has been a lot of miscommunication attacks in this match, but Saki would then roll Hana up to give STARS the win.
Recommended: Very entertaining match, worth a watch.
Wonder Of Stardom Title Match
Io Shirai (c) vs. Momo Watanabe
Review: We have arrived at our main event of the evening as Io is set to defend her Wonder of Stardom Championship for the eleventh time as she now sets to defend against Momo Watanabe as this was the request Momo made when she won the 2018 Cinderella Tournament. They have fought for the championship before, but Io came out on top as Momo would then look to prove herself that she can defeat her, which is why she was determined to win the previous tournament and wants to not only defeat Io but take her championship away from her in the process. Can she do it again or will lightning strike twice with Io being on top as usual? We shall see.
The crowd is pretty even as they both chanted both of their names while the two would start to chain wrestle for a bit and Io uses her veteran experience to outsmart Momo during the match as she should since she is better and smarter than her in the ring, so it makes sense for her to control the majority of the match. Io would, however, throw Momo into the turnbuckle only for Momo to jump up and Dropkick Io into the corner with Momo running towards her with another Dropkick.
One small opening is all it takes for @shirai_io to take control! #StardomWorld 🌟 #スターダム

➡️ https://t.co/jniqaHHrua pic.twitter.com/8by7KhVqv0

— TDE Wrestling (@totaldivaseps) June 2, 2018
Momo would attempt to hit her Cradle Piledriver on the ring apron, but Io crossed her legs on her arms to make sure she lost her grip on her which was smart thinking by the champ and she would top it off to hit a German Suplex on the ring apron to give herself control of the match once more. I'm loving the story here with Io establishing her dominance as not only the champion but as the leader of Stardom in general as she wasn't ready to give up that crown fully just yet. Momo would eventually get this boost of adrenaline and kick Io in the head, give her a Running Cradle Piledriver, and topped it off with the Tequila Sunrise, but Io would slowly kick out at two and it wasn't enough to put her away. Io would ruin Momo's comeback with her signature palm strikes and delivers a Tombstone Piledriver onto Momo as she now looks to end it quickly with her Moonsault Press, but she would miss and get hit with the Somato for a two count again! Momo went to go for another cradle only for Io to reverse it and attempt to hit the Last Ride, but Momo would counter with another Somato and it looked amazing to see and try to find that clip or GIF so you can see for yourself. Momo hits another Tequila Sunrise as Io would weakly kick out at two again, but Momo isn't done since she stayed on Io hit one more Tequila Sunrise, but she would clutch her wrist this time and soon as she hits it, it was a three count and we have a new Wonder of Stardom Champion!
The Wonder of Stardom title is on the line! It's Io Shirai vs Momo Watanabe on Stardom World now! https://t.co/q8dHnF58vW pic.twitter.com/VE4gW7SeUw

— We Are Stardom (@we_are_stardom) June 2, 2018
This is how you help elevate someone right here, you get a well-established wrestler like Io to carry one of their bigger titles next to the World of Stardom Championship, give it much needed prestige, and then when the time is right you put someone over worthy of it and that woman was Momo tonight. After Io lost the title, there have been rumors about her future until it was confirmed a few days later that Io Shirai has signed with the WWE and this was gonna be her last appearance in Stardom as the champion as she would pass the torch to one who has a bright future in Stardom and it was the right call. As I said before, Momo has come a long way for the past couple of years that she's been with the company and her hard work paid off here with the biggest wins in her career this year and it's well earned. What will be next for Stardom once Io leaves the company, well if you go to one of my previous articles, I try to tackle down some possible people that will lead Stardom as the new top woman in the company. This match though had an incredible story and I love these passing of the torch type ordeals if done right and it most certainly delivered at the end result for sure.
Recommended: Highly recommended.
Overall: A couple of weak matches in the beginning, but the last two matches make the show worth watching and we saw one seed planted for Stardom's future and now we must see how things go here as the Io Shirai farewell tour will begin soon as she leaves on June 16th.
Favorite Match: Io Shirai vs. Momo Watanabe
Least Favorite Match: Martina vs. Zoe Lucas
Score: 7.5/10
See you all next time!