Stardom Gold Star Results & Review (5/23/2018)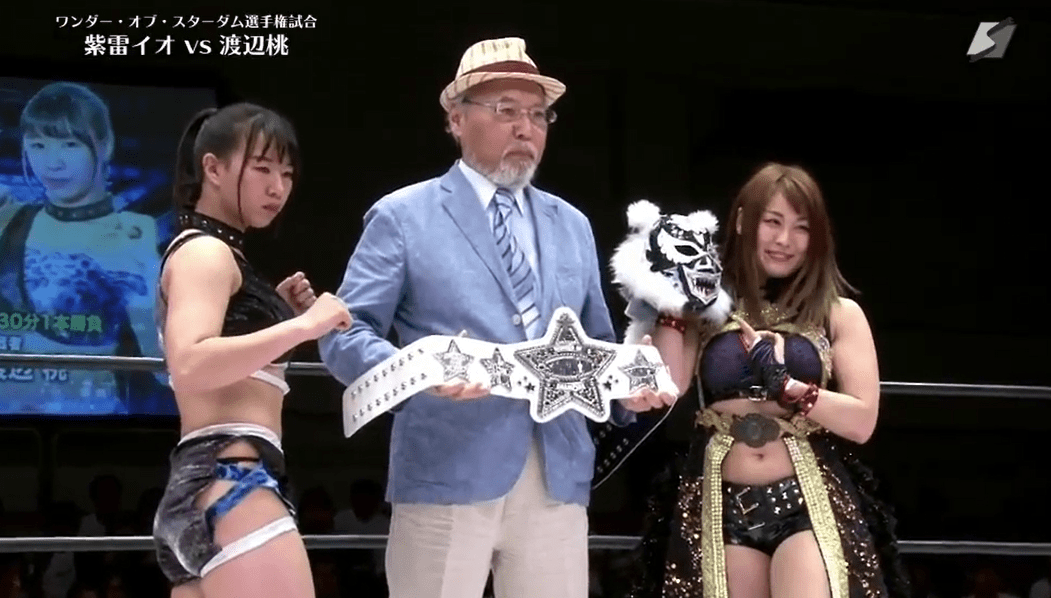 Welcome back to Stardom as the last time we were here, Io Shirai defeated Kagetsu to set a new record with the Wonder of Stardom Championship.  It was her tenth title defense and it adds another record to strengthen her legacy in the company.
Her next challenger is the winner of this year's Cinderella Tournament and fellow Queen's Quest member, Momo Watanabe. Will Io still retain her championship to keep her reign going or will Momo finally come out of her shell and get a big win in her career? Let's not waste time and…dive right in.
Six Man Tag Team Match
Candy Floss, Hanan & Starlight Kid vs. Kaori Yoneyama, Leo Onozaki & Ruaka
Review: We get Team Jungle starting off the show with Kaori leading the team with our younger girls, Leo and Ruaka as they fight fellow STARS members, Starlight Kid lead by Hanan and Candy Floss. On the May 6th show, Starlight had her second successful defense of the Future of Stardom Championship against Ruaka in an average match, but now it looks like her next title defense will be against AZM at a future date.
Team Jungle would start off by doing their pose on top of Hanan while the other two held her arms in place, but STARS would get payback and have all three members between the ropes and stood on top of them to do their STARS taunt. The match was okay at best with Starlight and Kaori being the better two of the match and that's very weird for me to say, but Kaori has been used quite frequently and well ever since the draft happened and I can't be mad at that while Starlight Kid is great as always in the ring. Team Jungle picked up the win by rolling up Hanan even though she tripped mid-roll up.
Recommended: Average, but not mandatory.
Singles Match
Martina vs. Zoe Lucas
Review: We get Martina in singles action this time…I can hardly hold my excitement on this one. But, she takes on Zoe Lucas who is known to be a freelancer and is no stranger to Stardom as she has done a few shows for them last year and earlier this year also. In the pre-match interview, Zoe would talk about how she always wanted to fight Martina and how she was one of the biggest names in the UK scene, but I still don't see it and I'm sorry for that, but she just doesn't impress me at all.
Soon as the bell rings, Martina would just roll around the ring for being drunk until she falls down and has another beer while Sumire calls for a timeout. I get that the crowd loves her due to her character and making them laugh, but I don't know what it is for her to not have me fully back her up and if you somehow like her, more power to you. I will give her credit though that she can throw a mean forearm when she wants to. The match was sloppy and Martina would throw Zoe over her shoulders, but it looked like Zoe didn't jump in time and almost landed horribly if Martina didn't help guide her, so I will give her points on that one. There was also a moment where Zoe did a Scissor Kick variation and Martina would fall down a bit early before Zoe would even touch her. Anyway, Martina would hit the Codebreaker from the second rope to get the pin.
Recommended: Skip it.
Tag Team Match
Jungle Kyona & Natsuko Tora vs. AZM & Konami
Review: We get more Team Jungle action, but we now know they changed their name to JAN or Jungle Assault Nation, which sounds so much better, and this time, they'll be taking on two members of Queen's Quest, AZM and Konami as it looks like these two will be paired up in tag team action for the time being. AZM would taunt Jungle and Momo by saying she wanted to fight the fat one in which both of them leave the arena, then AZM told them she wanted to fight the cute one instead, which then made both of them come back in the ring and cause a fun little argument between the two as both AZM and Konami took advantage of that to attack them.
I don't know what it is with Team Jungle, they have been stepping up quite a lot lately and specially Kyona since she's been showing more of herself this year and I'm glad for it because I talked about before how underrated she is in the ring, but the gimmick she has can only get her so far. It seems like both Konami and AZM were doing a mean girls thing with bullying the two members of Jungle and I like that side of them since it just gives them more character for themselves in their matches. The match was fun and did its purpose as Natsuko would get the surprise pinfall over AZM.
Natsu is winding up… only to get crushed by @junglekyona! #StardomWorld 🌟 #スターダム

➡️ https://t.co/jniqaHHrua pic.twitter.com/FyDc3BvlAr

— TDE Wrestling (@totaldivaseps) May 30, 2018
Recommended: I thought it was fun and worth a viewing.
Best Two Out Of Three Falls Eight Woman Tag Team Match
Mayu Iwatani, Saki Kashima, Shiki Shibusawa & Tam Nakano vs. Hana Kimura, Hazuki, Kagetsu & Natsu Sumire
Review: No pre-main event involving STARS and Queen's Quest? Why I haven't seen that in eons. Joking aside, We got Oedo Tai taking on STARS in a Two out of Three Falls match in an eight-woman tag match with four of their top females of each faction. A win by STARS could possibly give two of the members a future shot at the Goddesses of Stardom Championship, but if Oedo Tai wins this match then it could maybe lead Kagetsu to future opportunities, so this could definitely benefit either unit. Oedo Tai came out with a little toy puppy with Hazuki walking it, it was adorable and guess because of Nao Yamaguchi being injured.
.@0929_hazuki and @SMR_sptmber_luv prepare for the match by spending some quality time with Oedo Pupper. #StardomWorld 🌟 #スターダム

➡️ https://t.co/jniqaHHrua pic.twitter.com/rAhRkFe9JI

— TDE Wrestling (@totaldivaseps) June 2, 2018
The two teams would brawl to the outside with Mayu and Kagetsu fighting till they reached the top of the stairs in the crowd and I thought Kagetsu was gonna try to hang her off of the balcony again, but this time she kicked Mayu causing her to roll down the steps kinda like how Hiromu did when he fought Taiji Ishimori in the Super Junior Final (Which you should totally check out if you didn't).
.@doranyanpa and @hanadayo0903 bring havoc with them everywhere they go. #StardomWorld 🌟 #スターダム

➡️ https://t.co/jniqaHHrua pic.twitter.com/UBzBrwYuxR

— TDE Wrestling (@totaldivaseps) June 2, 2018
Sumire and Shiki appear to be starting off the match once they got back into the ring and Sumire, of course, does her little antics with the flogger to whip her opponent while the referee wasn't looking until the end of the beating. Tam would get a chance into the ring as she applies the Dragon Sleeper on Sumire until Kagetsu tries to break it up only to get caught by Tam so she can hit her with a DDT while giving Sumire a Reverse DDT at the same time, that was awesome. Kagetsu and Mayu would eventually get in the ring, and things start to pick up between with the back and forth fast paced action, Mayu hitting her Springboard Armdrag and would quickly go into a Slingblade to top it off. Mayu and Tam would work together for a moment with Tam kicking Kagetsu which caused her to roll back into a Wheel Barrel and Mayu slams her down face first for a two count. Hana would help come into the aide of Kagetsu to make her hit a Chokeslam on Mayu for only a two count. Hana would then hold Mayu up for a Suplex for Kagetsu to grab her from the top turnbuckle and hit a Powerbomb before going back up to the top rope again to hit her Oedo Coaster to give her team the first fall.
Kagetsu wouldn't have time to celebrate as Shiki would Dropkick her down until Hazuki and Sumire came in to try and help Kagetsu, but only for them to both get hit with a Bulldog. Kagetsu was by the corner as STARS would throw Mayu's unconscious body over to the corner to pretty much flop on Kagetsu before the other members would hit their own moves on her. Kagetsu would then try to hit a German on Mayu only for Hazuki to try and knee Mayu but misses and hits Kagetsu instead, giving Mayu him to hit a German Suplex hold for a two count. Kagetsu was gonna try to end it early, but Mayu would push Kagetsu off to make her eat Sumire's flogger by accident and hits another German. Mayu would then hit her Dragon Suplex Hold to get the win as they are now tied 1-1.
Their respective members would drag their unconscious bodies over to their corners so the two could rest up after that battle and tag someone else in as we get Hazuki and Tam starting it off for a moment and then things start going a bit chaotic with the reversals and kicks til Hazuki got the advantage to knock Tam down as she attempts to hit the Atomic Bombs Away only for her to miss and eat a Superkick by Mayu. The two would then attempt to kick her in the head, but Hazuki ducked to make them kick each other, but Mayu attempts a Superkick again for her to hit Tam by mistake and Mayu gets Dropkicked out as Saki is now tagged in. Saki and Hana would be the two fighting now as Hana applies a deadly Black Widow to try and make her tap out, but it won't last long as the hold breaks. Mayu had Hana up in the Gory Bomb position as Saki jumped off the rope to Bulldog her and nice teamwork by these two. Saki would then hit her Killswitch with Sumire breaking the pinfall just in time. Kagetsu held Saki up and gave Hana their sign for her to hit Saki with, but it backfires with her hitting Kagetsu as there has been a lot of miscommunication attacks in this match, but Saki would then roll Hana up to give STARS the win.
Recommended: Very entertaining match, worth a watch.
Wonder Of Stardom Title Match
Io Shirai (c) vs. Momo Watanabe
Review: We have arrived at our main event of the evening as Io is set to defend her Wonder of Stardom Championship for the eleventh time as she now sets to defend against Momo Watanabe as this was the request Momo made when she won the 2018 Cinderella Tournament. They have fought for the championship before, but Io came out on top as Momo would then look to prove herself that she can defeat her, which is why she was determined to win the previous tournament and wants to not only defeat Io but take her championship away from her in the process. Can she do it again or will lightning strike twice with Io being on top as usual? We shall see.
The crowd is pretty even as they both chanted both of their names while the two would start to chain wrestle for a bit and Io uses her veteran experience to outsmart Momo during the match as she should since she is better and smarter than her in the ring, so it makes sense for her to control the majority of the match. Io would, however, throw Momo into the turnbuckle only for Momo to jump up and Dropkick Io into the corner with Momo running towards her with another Dropkick.
One small opening is all it takes for @shirai_io to take control! #StardomWorld 🌟 #スターダム

➡️ https://t.co/jniqaHHrua pic.twitter.com/8by7KhVqv0

— TDE Wrestling (@totaldivaseps) June 2, 2018
Momo would attempt to hit her Cradle Piledriver on the ring apron, but Io crossed her legs on her arms to make sure she lost her grip on her which was smart thinking by the champ and she would top it off to hit a German Suplex on the ring apron to give herself control of the match once more. I'm loving the story here with Io establishing her dominance as not only the champion but as the leader of Stardom in general as she wasn't ready to give up that crown fully just yet. Momo would eventually get this boost of adrenaline and kick Io in the head, give her a Running Cradle Piledriver, and topped it off with the Tequila Sunrise, but Io would slowly kick out at two and it wasn't enough to put her away. Io would ruin Momo's comeback with her signature palm strikes and delivers a Tombstone Piledriver onto Momo as she now looks to end it quickly with her Moonsault Press, but she would miss and get hit with the Somato for a two count again! Momo went to go for another cradle only for Io to reverse it and attempt to hit the Last Ride, but Momo would counter with another Somato and it looked amazing to see and try to find that clip or GIF so you can see for yourself. Momo hits another Tequila Sunrise as Io would weakly kick out at two again, but Momo isn't done since she stayed on Io hit one more Tequila Sunrise, but she would clutch her wrist this time and soon as she hits it, it was a three count and we have a new Wonder of Stardom Champion!
The Wonder of Stardom title is on the line! It's Io Shirai vs Momo Watanabe on Stardom World now! https://t.co/q8dHnF58vW pic.twitter.com/VE4gW7SeUw

— We Are Stardom (@we_are_stardom) June 2, 2018
This is how you help elevate someone right here, you get a well-established wrestler like Io to carry one of their bigger titles next to the World of Stardom Championship, give it much needed prestige, and then when the time is right you put someone over worthy of it and that woman was Momo tonight. After Io lost the title, there have been rumors about her future until it was confirmed a few days later that Io Shirai has signed with the WWE and this was gonna be her last appearance in Stardom as the champion as she would pass the torch to one who has a bright future in Stardom and it was the right call. As I said before, Momo has come a long way for the past couple of years that she's been with the company and her hard work paid off here with the biggest wins in her career this year and it's well earned. What will be next for Stardom once Io leaves the company, well if you go to one of my previous articles, I try to tackle down some possible people that will lead Stardom as the new top woman in the company. This match though had an incredible story and I love these passing of the torch type ordeals if done right and it most certainly delivered at the end result for sure.
Recommended: Highly recommended.
Overall: A couple of weak matches in the beginning, but the last two matches make the show worth watching and we saw one seed planted for Stardom's future and now we must see how things go here as the Io Shirai farewell tour will begin soon as she leaves on June 16th.
Favorite Match: Io Shirai vs. Momo Watanabe
Least Favorite Match: Martina vs. Zoe Lucas
Score: 7.5/10
See you all next time!
---
Always Use Your Head and visit the official Pro Wrestling Tees store for The Chairshot All t-shirt proceeds help support the advancement of your favorite hard-hitting wrestling website, The Chairshot!

---
Stardom Grand Champion Carnival 2018 Night Show Results & Review (9/30/2018)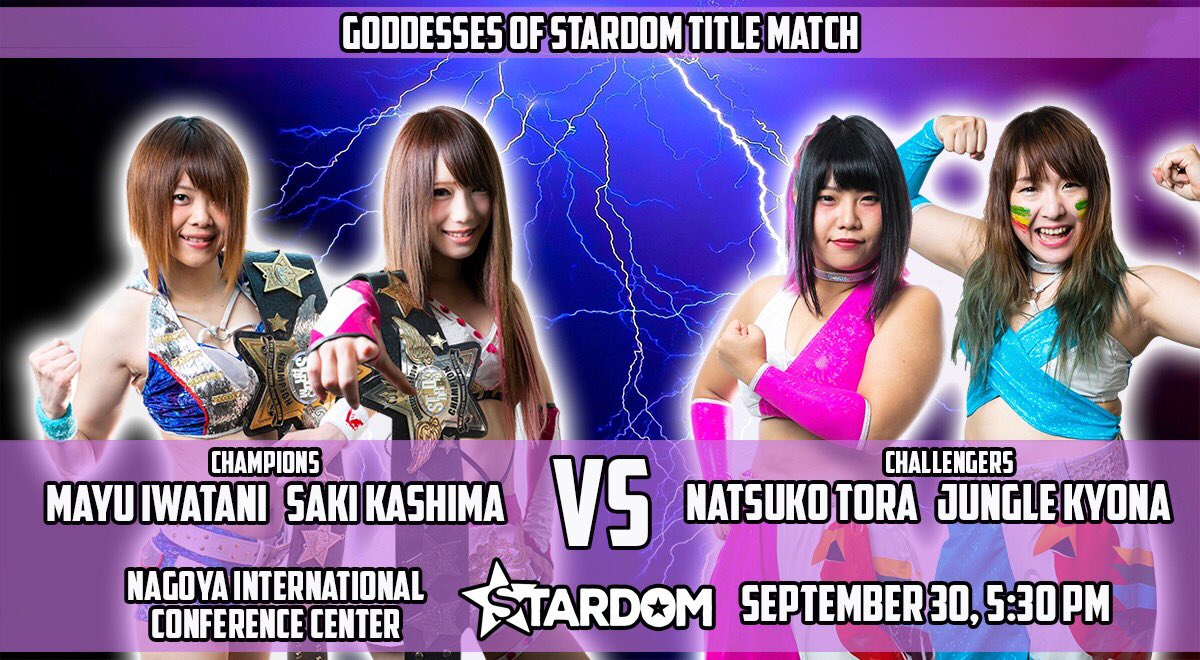 And we're back as we continue the Stardom Grand Champion Carnival with the night show now.
The afternoon show was pretty successful with a great main event and a title change with the Artist of Stardom Championship. We got another stacked card once again to end the day and let's see if they can go home strong.
Let's find out and…dive right in.
Tag Team Match
Hanan & Starlight Kid vs. Kaori Yoneyama & Leo Onozaki
Review: The majority of the show is tag matches and it looks like it has to do with getting their next tournament hyped up and I'll get to it at the end of the coverage. Our opening bout is Starlight Kid and Hanan teaming up this time instead of fighting each other as they take on Kaori Yoneyama and Leo Onozaki. Which one of these teams will come out on top?
I really don't know what happened at the beginning of the match and I'm actually afraid to ask myself, but what was up with Starlight's selling once the bell rang? Like she got hit once and just sold a different part of her body and even had her own arm wrapped around the rope by herself like someone did it that wasn't Kaori. Is John Cena secretly in Stardom as the invisible wrestler all along!? Luckily after that little episode, Starlight would wrestle normally like that little thing hasn't happened which is a good thing since you wanna keep the match rolling. The match was short and very basic with the four of them doing stuff to showcase their stuff in, but nothing memorable at all except for maybe Leo and Kaori doing a Double Cutter (I'm onto you, Leo!) Starlight and Hanan would get Kaori out of the ring as Starlight hits the Fisherman Buster on Leo and would do a Moonsault off the second rope as she gets the victory.
Rating: Tony Schiavone
Leo's Cutter Counter: 1 (You're making me look bad now.)
Tag Team Match
Kelly Klein & Rachael Ellering vs. Shiki Shibusawa & Tam Nakano
Review: First we had Kelly and Rachel fighting each other on opposite teams and now they're teaming up together this time and their opponents are STARS members, Shiki Shibusawa and one-third of the Artist of Stardom Champions, Tam Nakano. Will Kelly and Rachel get a victory or will STARS win?
I still don't know how to feel about Rachael Ellering just yet since you'll see her in different promotions where she'll be good and over here, you see her doing the exact opposite of that and don't like these mind games to decide how I feel about her. Kelly though did do pretty well in the team as she kept on showing how talented she is in the ring and how she works well with women of any size. As for the team of Tam and Shiki, I'm not sure if I can say it's a great team but they'll be teaming up for the Stardom tag tournament coming up and we might be able to see some progress with them as a tag team, hoping it goes well. The match though felt pretty underwhelming since it looks sloppy at some spots or just slow to make people lose interest in the match, which is a shame since most of them in the match are talented but it happens sadly. Shiki would hit Kelly with a Missile Dropkick from the top rope and then Tam kicks her in the gut for Shiki to roll her up and a two count. Rachael would get Tam out of the ring so it would be Kelly and Shiki alone as Kelly gives Shiki an Attitude Adjustment and pins her for the victory.
Rating: Tony Schiavone and a half
Queen's Quest Flag & Mask Tag Team Match
Hazuki & Natsu Sumire vs. AZM & Konami
Review: Natsu Sumire has been quite an annoyance to AZM and Queen's Quest lately ever since they had that match in September where they fought each other and Sumire won. Once she won, she would steal the Queen Quest Flag and she would later on also steal their mask. Now, AZM and Konami have a chance to get the mask and flag back from Oedo Tai as they take on Hazuki and Natsu Sumire. Will Queen's Quest get their stuff back or will Oedo Tai win?
Queen's Quest wasted no time attacking Oedo Tai as Hazuki is thrown to the outside as AZM and Konami beat down Sumire to while she was holding onto the flag to make Queen's Quest not steal it back from her as AZM slaps her in the face to make her go down. This has low-key been a guilty pleasure for me when it comes to rivalries of this year between AZM and Natsu Sumire since these two together has just been entertaining for the most part with them being childish to one another with the name calling and stealing stuff. While AZM and Sumire do the entertaining aspect of the match, Konami and Hazuki would deliver the wrestling part of the match to give us a good balance.
Hazuki would hit a Codebreaker to Konami while landing on AZM for a Senton at the same time and she would lay them on top of each other to apply the Crossface to the both of them and that looks awesome to see, love Hazuki. We still have a solid match with a mix of wrestling, entertainment, and storytelling which all four of these women delivered their part to give us something fun. AZM looked like she was about to get the win with the European Clutch but Hazuki would break it up just in time before the referee called for a three-count. AZM went to the top rope, but Sumire would grab the Queen's Quest flag and wrapped it around AZM to make her unable to see or move as she picked her up to hit the DDT and pins her for the victory, meaning Oedo Tai keeps the flag and mask.
Now on https://t.co/q8dHnF58vW, it's the Flag and Mask match! Natsu Sumire stole the Queen's Quest flag and AZM's mask, and they want revenge! pic.twitter.com/EWq9rag2Fk

— We Are Stardom (@we_are_stardom) October 6, 2018
Rating: Eric Bischoff and a quarter
Tag Team Match
Jamie Hayter & Kimber Lee vs. Momo Watanabe & Utami Hayashishita
Review: We got another tag match with Jamie Hayter given another chance to get revenge against Utami Hayashishita as she partners up with Kimber Lee to take on Utami and current Wonder of Stardom Champion, Momo Watanabe. As of right now, Utami still doesn't have a faction to align herself with but maybe she could join Queen's Quest if things go well here. Can Utami and Momo work well or will they fall short?
This match was another showcase for the Super Rookie since we all know what Momo Watanabe can do, we know about Kimber Lee, and Jamie Hayter does stuff, so this match was a good way for us to see more of Utami who will keep on progressing into the roster. Momo and Utami would do rather okay as a tag team here since it was mostly them doing stuff by themselves rather than working together in the match and that's kinda what Kimber and Jamie do as well since it didn't really feel like a tag team match, but it was still solid enough to get over. Utami had Kimber up for the Torture Rack and slams her down as Momo would quickly hit the Somato to get her down for a two count. Momo would hit another Somato and pick her up for the Package Driver and she would hit it and pin Kimber Lee for the victory.
After the match, Momo would grab the microphone and she would tell Utami that they worked well together and was wondering if she would like to team up with her for the Goddesses of Stardom Tag League which is coming up at their next show. Utami would accept her offer, but she lets her know that it doesn't mean she's apart of Queen' Quest and just wants to win with her. If it goes well and they do win the whole thing, then there's a good chance we might have Queen's Quest as her first home.
Rating: Eric Bischoff and a half
World Of Stardom Title Match
Kagetsu (c) vs. Nicole Savoy
Review: Our first title match of the night as Kagetsu defends her title against SHIMMER Champion, Nicole Savoy. Both of them have defended their titles at the afternoon show as Nicole retained against Konami and Kagetsu had a No Contest against Momo Watanabe. Nicole would challenge Kagetsu after her title match and Kagetsu wanted to give the people what they want and defend her title twice in one day. Is Kagetsu able to retain her title or will Nicole take advantage of the beating she took earlier?
Much like Nicole's last match that happened earlier on in the day, this one was just more technically sound and it worked to her favor since she would have the majority of the control in the match, despite Kagetsu getting some offense but not as technically superior to Nicole. I liked her match with Momo earlier on in the day better but this was still a very fun title defense and a great match for the style they did with this one to get people seemed interested in it. Kagetsu would make her little comeback in the match and hits a Suicide Dive to the outside. Kagetsu would get her back into the ring to hit a Springboard Dropkick and would start to work on her arms for a submission, but Nicole would turn it back around to out-wrestle her and even hits an Exploding Suplex. Nicole would apply the Rings of Saturn to try and make her tap but Kagetsu would fight out of it and Sunset Flips over her for a two count and Nicole would roll her back up as Kagetsu spits blue mist into her eyes to break the count. Kagetsu would slam her down and hits the Oedo Coaster to pin her down and retain the championship!
After the match, Kagetsu would grab the microphone to talk about Nicole and the match they just had had and soon as they were about to shake hands, Kagetsu would attack her and tell Nicole to get out of her ring. Now that she got that out of the way, she talked about her next prey and her next title defense due to Mayu Iwatani being busy with Momo Watanabe, meaning she'll be defending her title against former Oedo Tai member, Hana Kimura. October 23rd is gonna be an amazing show.
Now on https://t.co/q8dHnF58vW! Kagetsu puts the World of Stardom title on the line versus Nicole Savoy! pic.twitter.com/gqX3U33Pl5

— We Are Stardom (@we_are_stardom) October 7, 2018
Rating: Bruce Prichard
Goddesses Of Stardom Title Match
Mayu Iwatani & Saki Kashima (c) vs. Jungle Kyona & Natsuko Tora
Review: During the afternoon show, Mayu, Saki, and Tam would defeat Kyona, Natsuko, and Kaori for the Artists of Stardom Championships. For the night show, Kyona and Natsuko have a chance to get revenge as they take on Mayu and Saki for the Goddesses of Stardom Championship. Mayu right now has two belts with two more title matches coming soon, so she could be planning to go for any belt she can to be a multi-crown champion. Can Mayu pull that off with her and Saki or will JAN get revenge?
If we wanna go by out these units did as a whole during the year so far, I would actually have to put JAN up there for being pretty successful and I'm saying this because this team is normally seen as the butt of the group of units and not meant to be taken seriously over the years or even an official stable, but they really did turn themselves around after parting away from STARS during the draft. Kyona and Natsuko are the bread and butter of the group and took the negative into a positive with themselves and Kaori to recruit some of the newer wrestlers and they even won the Artists of Stardom titles together before losing it at the afternoon show and it's still progressed to show they could keep getting better if they stick to what it is they're doing.
I thought the match was very well done with both of these teams playing their strengths and acting like an actual tag team in these matches to show why they're that good as partners. Natsuko is someone who really stepped up her game in this match and while still not great, she can show some potential to have better matches like these and right now has to keep working with that. Mayu and Saki also showed why they were the Goddesses of Stardom Champions for as long as they were with them playing with each other's chemistry to make themselves show better as individuals and as a team. Jungle and Natsuko would go to the top rope to both hit a Splash onto their opponents as Saki kicked out of it while Natsuko would have Mayu outside of the ring, leaving Kyona and Saki in the ring so they could finish off this match. Kyona picked Saki up to go for the Jungle Bomb but Saki would reverse it into a Crucifix to get the pinfall on her but kicked out as well. Kyona would then grab Saki from behind to spin her around before dropping her and she falls on her for a Splash for the cover, and JAN wins the titles!
You can just see the tears and emotions from both Kyona and Natsuko when they hugged each other after winning the match. After the match, Kyona talked about how they lost the Artist titles earlier in the day and were able to win the Goddesses tonight as she thanked the fans for their support. Natsuko would talk about how the 5 Star Grand Prix was over and it was now time for the Goddesses of Stardom Tag Team League next as the winner will get a title shot against our new champions. Congrats to the both of you, hope you both have a good reign. It was time for Mayu to drop the belts anyway since she needs to get back into singles gold and I have no doubt Saki will have a new partner.
The Tag Team titles are on the line in Nagoya! Jungle Kyona & Natsuko Tora challenge Mayu Iwatani & Saki Kashima! Only on https://t.co/q8dHnF58vW! pic.twitter.com/wOXKnGckoD

— We Are Stardom (@we_are_stardom) October 8, 2018
Rating: Bruce Prichard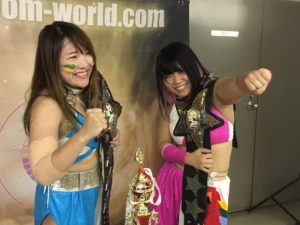 Overall: I thought the afternoon show was slightly better, but this one was still solid enough to get by with our last two matches being the better part of the show. As you're aware, Stardom is doing their Goddesses of Stardom Tag Team league coming up now actually and I decided that I will not be taking part of that one and give Stardom a little break except for the big titles matches like the October 23rd show and focus on AJPW for a little bit along with different shows until the tournament is over.
Favorite Match: Mayu Iwatani & Saki Kashima vs. Jungle Kyona & Natsuko Tora
Least Favorite Match: Hanan & Starlight Kid vs. Kaori Yoneyama & Leo Onozaki
Score: 7/10
---
Always Use Your Head and visit the official Pro Wrestling Tees store for The Chairshot All t-shirt proceeds help support the advancement of your favorite hard-hitting wrestling website, The Chairshot!

---
Stardom Grand Champion Carnival 2018 Afternoon Show Results & Review (9/30/2018)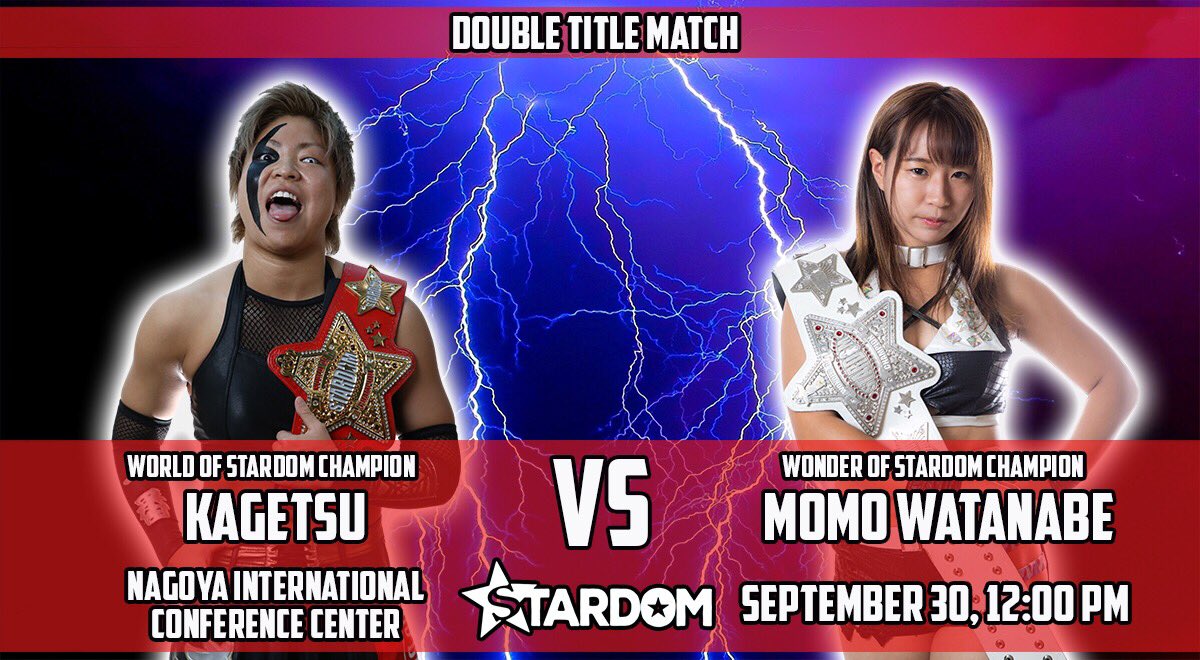 Now that the Five Star Grand Prix is over, it's time to go back to covering the full shows once again.
I wanna thank Andrew for helping me out with the tournament since he's always a pleasure to work it, wouldn't turn down to help him in a heartbeat. Also, congrats to Mayu for winning the tournament and I'm looking forward to the future title match. Our next show is the Grand Champion Carnival and they had both an afternoon and night show and will be covering both of them separately. We have a big show for the afternoon with most of them being titles matches and I can't wait to get to it.
So let's not waste any time and…dive right in.
Three Way Match
AZM vs. Shiki Shibusawa vs. Leo Onozaki
Review: Our opening match is a three-way battle between our future of Stardom division wrestlers with AZM taking on Shiki Shibusawa and Leo Onozaki. I missed doing the Leo Cutter Counter and I can't wait to bring it back for this one and let's see if she does more than two for this one. Which of these three ladies will win the match?
Saki Kashima wasn't the only that changed her attire recently as Shiki Shibusawa also appears to have a makeover with her attire and I gotta say that it looks much better than her previous outfit, good for her. Not gonna lie, for a three-way match that was less than five minutes, this was probably one of the better ones compared to the few we had this year since most of it was very smooth with the exception of whenever Leo did stuff which wasn't a lot since it was mostly AZM and Shiki doing the work in the match. Shiki keeps on improving for me and is slowly winning me over with her ability while AZM is still proving she's one of the best on the roster for someone her age. Shiki would go to pin Leo and AZM hits a Double Stomp once Shiki moved out of the way so she would land on Leo. Shiki would have AZM out of the ring to have Leo all to herself as she hits two Bulldogs and a Missle Dropkick for the win. Could she be a possible contender for the Future of Stardom Championship?
Now on https://t.co/q8dHnF58vW from yesterday's daytime show in Nagoya, it's the opening match 3 Way Battle! pic.twitter.com/Tn5a957UXc

— We Are Stardom (@we_are_stardom) October 1, 2018
Rating: Tony Schiavone and three quarters
Leo's Cutter Counter: 1 (I bring you back and this is how you repay me!?)
Tag Team Match
Hazuki & Kelly Klein vs. Kimber Lee & Rachel Ellering
Review: Our next match is a tag match with Hazuki teaming up with Kelly Klein and I'm guessing Natsu Sumire isn't at the show and since Kagetsu is in the main event, she's the only active Oedo Tai member that doesn't have a match, so they gave her Kelly since they may as well use her to finish this tour. Their opponents for the show are Kimber Lee and Rachel Ellering, who was probably the worst one out of the whole Grand Prix due to having poor lackluster matches while she did better at the MYC, funny how that works. Which of these teams will win?
Not sure what exactly to say about this match since it pretty much feels like a showcase Hazuki match than a tag match and that's what they would pretty much do. Not that I mind since more of Hazuki is good enough for me, but not really a lot of tag teaming going on in the match or we really don't get to see much of Kelly Klein in the match except for a minute and when she breaks up the pin near the end. Rachel wasn't in the match much either and when she was, she did pretty average in my opinion while Kimber was in the match mostly with Hazuki who didn't do too bad either, but the match was all about Hazuki.
Hazuki keeps on showing her consistency in the ring and is still in my top 5 for Stardom, I really hope she gets a big payoff coming soon since she definitely has earned something ever since she made her change going with Oedo Tai. Kimber would have Hazuki in a Sidewalk position while Rachel takes her down with a Neckbreaker as Kelly breaks the count. Kimber Lee would go for the Swanton Bomb, but Hazuki moves out of the way and does the Hazukistral for the win.
Rating: Tony Schiavone and a half
Future of Stardom Title Match
Starlight Kid (c) vs. Hanan
Review: Our first title match of the day as Starlight Kid is set to defend her Future of Stardom Championship and it's been a while since she last defended the title, so it's nice to see it getting some time. We find out that the opponent chosen for her in this match is Hanan, who defeated Natsu Sumire in one of the recent shows and I guess that's what made her have this title match today. Can Starlight have another successful defense under her belt or will we crown a new champion?
So how did Hanan do in her first title match? Right now, it looks like she's not ready to be in that type of position as of right now, but I think she'll do just fine if she keeps at it since she really isn't bad at all and has improved other the past few months. I really do like how Hanan uses her judo mixed in with her wrestling to give her a bit of something unique to her ability and does them very well too. The first half started off rather slow and sloppy, but they did pick up once both of these women got into the groove better in the match. Hanan would keep doing her STO's on Starlight and would attempt to pin her multiple times only for Starlight to barely kick out and even did a Northern Lights Suplex with a very beautiful bridge to top it off. Starlight would make a comeback with a Diving Body Press and a Fisherman Suplex for a two count. Starlight would go to the second rope and would do a Moonsault onto Hanan to get the victory and a fourth successful title defense.
So who will be Starlights next challenger? Shiki? AZM again due to their last match being a draw? Or will we have a new competitor? Only time will tell with what they give us next. Good job, Hanan and I'm sure you'll get another opportunity soon.
The Future of Stardom Title is on the line as Starlight Kid defends against Hanan! It's in Nagoya, and it's on https://t.co/q8dHnF58vW now! pic.twitter.com/tZvd7HL2cw

— We Are Stardom (@we_are_stardom) October 1, 2018
Rating: Eric Bischoff
SHIMMER Title Match:
Nicole Savoy (c) vs. Konami
Review: It looks like Nicole Savoy is going to defend her SHIMMER Championship during this tour, which I'm okay with since they sometimes defend their titles in other companies and gives it more exposure. Nicole did really well in the tournament and made me wanna follow her a bit more from how impressive she was. She's now set to defend her title against Konami who has been on a roll lately with her deadly strikes and submissions that could come into play here. Will Nicole retain or will Konami take the title away from her?
This match is very ground based with the both of them being submission specialists and that was exactly how it needed to be with two of these women trying to outmaneuver the other one to see who can make who tap out first, so it requires skill and timing to get the victory in the match. It looked like Konami was able to get the first lead in the match and would start to deliver those kicks that can send even the toughest to their knees. Konami is another one that keeps on progressing this year and putting on great matches with her best still being against Kagetsu during the Grand Prix. Nicole has made me a fan during the whole tour and now I wanna follow her career to see how she does outside of Stardom since she actually is really well diverse for what she does with her technical ability.
Both of them would keep trying to get a submission hold locked in to try and make the other tap or Konami just using her kicks while Nicole would just try to catch her off guard. Konami went for the Black Widow but Nicole would move Konami into position to hit the Fallaway Slam and we get a kick out. Konami would try to go for her Triangle Lancer which Nicole rolled her up for the pin but gets reversed by Konami into another pin, but Nicole would kick out and apply the Rings of Saturn as she makes Konami tap-out and Nicole retains!
Rating: Eric Bischoff and a half
Singles Match
Jamie Hayter vs. Utami Hayashishita
Review: After losing at the finals of the tournament, Utami Hayashishita has made a name for herself with all of the people she fought in the tournament and has impressed a lot of views while still having a long way to go to prove she can be the future of the company. The Super Rookie is set to take on Jamie Hayter, who had a…average performance under my block and hoping we can see some improvement since it's not a tournament match. Will the Super Rookie pick up another win or will Jamie pull off an upset?
I really couldn't tell Jamie's role as to whether she was a face, heel, or just being there when she came to the Grand Prix tour last month and in this match, we get to see where she lies and that's a heel. Jamie would attempt a handshake with Utami and once she got it, she would kick her in the midsection and the crowd would boo Jamie heavily and we hardly get to see a crowd boo that loudly when it comes to stuff like that since Sumire would usually get cheered when she does it, but when it happened to Utami, you knew they cared and Jamie fed off of that.
The match was pretty much basic but it worked with who was involved in the match since Jamie normally is around that range while Utami is still working her way in to earn her stripes despite the great progress she has been making during this time. Utami would try to get Jamie up for the Torture Rack but Jamie knows better as she would fight her off so she wouldn't be able to lock it in. Utami would have Jamie in the Sleeper Hold to hold Jamie still long enough to pick her up for the Torture Rack and makes Jamie tap out to get another victory under her belt.
Rating: Eric Bischoff
Artist of Stardom Title Match
J.A.N (Jungle Kyona, Natsuko Tora, & Kaori Yoneyama) (c) vs. STARS (Mayu Iwatani, Tam Nakano, & Saki Kashima)
Review: Our next title match is Jungle Assault Nation defending their Artist of Stardom Championships against some members of STARS such as Tam Nakano, Saki Kashima, and Mayu Iwatani. We found out that later on that night, Mayu and Saki are set to defend their Goddesses of Stardom Championships against Jungle and Natsuko, so seeing how the outcome of this match plays out could affect what happens at the night show. Which one these teams will win?
The match started off a little bit clunky with the couple slip-ups and slow moments in the match to not give it that great of a start, but the match would start to get better as it slowly progresses going forward. We really didn't get to see Saki or Kaori do a lot in the match since it mostly focused on the other four in the bout, which is weird because you would wanna focus on all of your members in the match to give it that six-man tag feel instead of just a regular two on two bout. The better moments of the match were when Mayu and Kyona shared the ring together since they're the top females in the roster and I have a feeling that if Mayu does indeed in the title from Kagetsu, don't be surprised to see Kyona being one of or her first challenger.
The interactions between Tam and Natsuko was also very interesting to see since they did fight each other in the Grand Prix and just how these two go at each other makes it all the more exciting and while I don't know the exact reason they're like this to each other, but it's still nice to see that and I hope we get another singles match between them soon. JAN would do their Triple Splash onto Tam with all three members jumping one at a time off of the ropes from bottom to upper with Natsuko delivering the one off the top but Mayu would break the hold right before the three count. Saki and Mayu would get Kyona and Kaori outside of the ring with Mayu jumping off the top ropes and landing on them to leave them outside while Tam and Natsuko are in the ring alone.
Tam would hit Natsuko with the German Suplex and would kick out of it. Mayu and Saki would get back in the ring to help her out as they threw Mayu into Natsuko for her to hit the Dropkick into the corner and almost missing from how far they threw her. Tam would quickly get over to Natsuko so she could hit the Tiger Suplex and STARS would get the win as we have new Artists of Starom Champions! This is Tam's first title in Stardom and she shares that moment with both Mayu and Saki. Since the belt is three different colors, Mayu would of course get the light blue one, Saki gets the orange one, and Tam would get the pink one. Tam would go over to Natsuko to taunt her to let her know that she defeated her again. Please let them fight again. Congrats STARS on winning the titles and will JAN suffer the same fate against Mayu and Saki during the evening show and walk out empty-handed?
The Artist of Stardom titles are on the line as Jungle Assault Nation defend against STARS! You have to see this match, on https://t.co/q8dHnF58vW now! pic.twitter.com/mWBbilePYm

— We Are Stardom (@we_are_stardom) October 3, 2018
Rating: Eric Bischoff and three quarters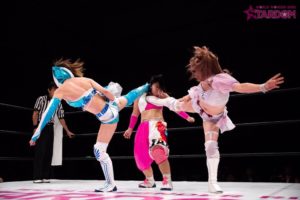 Double Title Match
Kagetsu (c) vs. Momo Watanabe (c)
Review: Our main event for this show is a title for title match with the World of Stardom Champion, Kagetsu defending her title against the Wonder of Stardom Champion, Momo Watanabe who is also defending her title in the match. It's a tough call since both of them can't afford to lose their title to one another right now but can also lead to different possible scenarios if one of them did win at the same time. This was one of the matches I was looking forward to when it got announced and it's time to see how Momo would do in the top spot. Which champion will come home with two titles?
I saw this match as another test for Momo to get her ready for the future and to see how she would do in the main event spot. I know she did main event shows before, but I mean for the World of Stardom Championship since this is her first time fighting for the title I believe and how did she do? Momo passed the test for sure and delivered us a great match against Kagetsu and this was hinted at since April when she won the Cinderella Tournament, and I'm glad she was able to have this match with both of them being champion. Momo still has more room to grow as a competitor but it really does show she indeed has a bright future in the company.
On Twitter, Stardom claimed this to be the match of the year for the company and is the match great? One of the better matches of the year for sure, but is it MOTY worthy? I will say it's in my Top 10 for Stardom this year but not their best match, you should still look it up since it's still a great bout. These women had the drive in this match when they kept going back and forth during the majority of the match whether it was mat grappling or just playing by their own arsenal and doing everything they can to get the others title. Kagetsu would even use the blue mist on Momo to get her down to hit the Oedo Coaster, but Momo would barely kick out of it to keep the match alive! The strikes these two in the match were incredibly stiff and you felt everything done to them from how hard they were hitting each other, even kicked each other in the head at the same time and both got up quickly before getting counted out. Momo also hits her Tequila Sunrise on Kagetsu and it looks like we have a new champion, but she also kicks out! Once Kagetsu kicked out of the movie, both of them were both out for the count and after twenty-two minutes of them fighting each other, the referee called for a Double Count-out and nobody loses their title.
What a way to end it and this was the right call for right now since both of these women didn't need to lose their title or win the other one and they handled it better than another time limit outcome, couldn't have asked for a better ending. After the match, Nicole Savoy would come out and challenge Kagetsu for the World of Stardom Championship later on at the night show which Kagetsu accepts since she wants to give the people what they want. Kagetsu would tell Momo that they have unfinished business and she says they'll both keep defending their titles and they will do this again. Speaking of unfinished business, Momo would call out Mayu Iwatani and challenge her to a match and would even put her Wonder of Stardom Championship on the line. Mayu said she already has a World of Stardom Championship match with Kagetsu soon, but doesn't mind fight her first and they'll do it on October 23rd.
It's the Double Title Match! Kagetsu and the World of Stardom title vs Momo Watanabe and the Wonder of Stardom title, winner take all! And it's only on https://t.co/q8dHnF58vW now! pic.twitter.com/84lSCYmL2f

— We Are Stardom (@we_are_stardom) October 4, 2018
Rating: Bruce Prichard and a quarter
Overall: I thought this was a really solid show with only one bad match in here while the rest was enjoyable. We also had a great main event to close off the show and enough hype to get the fans ready for their night show on the same day, which is something you don't wanna miss. Fun show, worth watching.
Favorite Match: Kagetsu vs. Momo Watanabe
Least Favorite Match: Hazuki & Kelly Klein vs. Kimber Lee & Rachel Ellering
Score: 8/10
---
Always Use Your Head and visit the official Pro Wrestling Tees store for The Chairshot All t-shirt proceeds help support the advancement of your favorite hard-hitting wrestling website, The Chairshot!

---
(NOAH) WEEKLY NEWSLETTER VOL.5 ~ 12TH OCTOBER 2018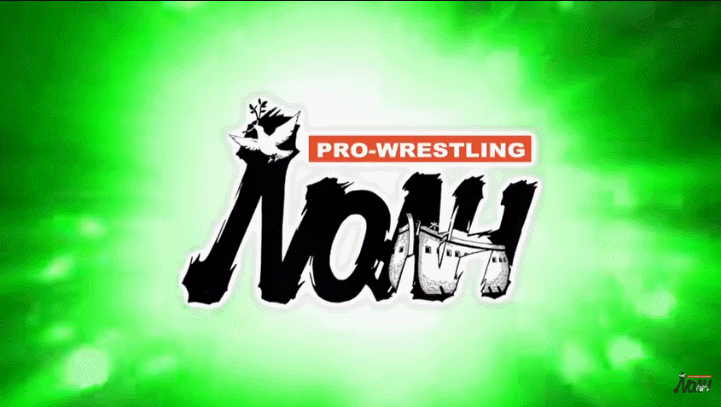 CURRENT TOUR RECAP
As Noah head towards the end of the year, Autumn Navigation began on October 7th in Gunma. I am afraid I don't have too much information about the first two shows.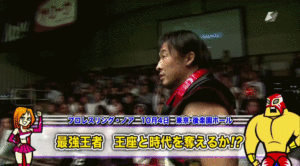 Naomichi Marufuji's feud (not so much Akitoshi Saito's) with Mitsuya Nagai and "The Hooligans" began in earnest. Marufuji came out with a weary expression like he had to deal with something that was tiresome (and to him it is, as he says that The Hooligans are not worthy of the title shot, although he's had to begrudgingly give them one), and this match was to prove just to be that as Nagai came out to "second".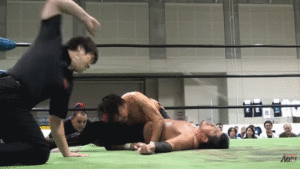 "Second" in this case being another word for "interfere", which he did by pulling the referee out of the ring when Marufuji went for the pin on Taniguchi. While the ref and Nagai argued, Cody Hall used the distraction to creep into the ring and ambush Marufuji with "The Hooligan" bomb, meaning that Taniguchi got the win when the ref got back in the ring.
Afterwards The Hooligans stood over Marufuji, Cody Hall & Taniguchi holding the heavyweight tag belts, and Taniguchi with his foot on him.
Marufuji said afterwards that he was irritated before, but he's angry now, and he's had enough. This wasn't enough, however, to stop The Hooligans from running over them again on the 11th October.
Noah have started the pre-matches for Global League; on the 11th October, Masa Kitamiya and Katsuhiko Nakajima faced off against each other after a long while. Nakajima, as ever, smirking when kicking someone, this time his tag partner.
NEWS
NOAH MERCHANDISE AVAILABLE IN EUROPE & USA
IPW have announced that they have become the official merchandise vendor for Noah for Europe, and I understand they also deliver to the USA. I am afraid for any other country, you would need to check directly with them. Shop can be accessed via the link above.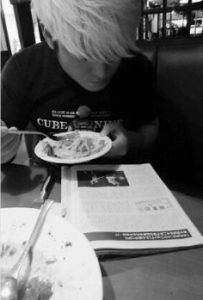 "COME AT ME YOU BASTARDS"
Kenoh's column this week is thought to be generally not too interesting (aside from maybe the end about appearing in a quiz show), but he does give some interesting insights into life in Noah and how wrestlers branching out into other programs beyond wrestling, can help a product.
Speaking of Kenoh, I read a very sweet story in an interview earlier this week.
When Kenoh was a tiny infant (about two or three), he used to stand at the window of the Nippon Kempo watching them practice until his mother removed him. Even when it snowed, he would stand at the window.
His mother later asked if he could see inside, and then enrolled him in the school.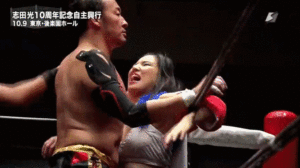 NAOMICHI MARUFUJI VS HIKARU SHIDA
For her tenth anniversary in wrestling, Hikaru Shida challenged Naomichi Marufuji to a rematch. They had last clashed on April 17th, and she had been knocked out within a few minutes (108 seconds to be precise). This time she managed to last eighteen minutes with him. He took knee attacks, and she took chops.
Marufuji won with the high knee, and said afterwards that "the match was fun, and with so much potential, I want you to be the top girl".".
WINTER NAVIGATION 2018 & EARLY DATES FOR JANUARY 2019
Noah have announced the dates for "Winter Navigation 2018", plus "Great Voyage in Yokohama Vol.2" and "NOAHFul Gift in Differ".
They have also announced dates for January 2019.
Last year NOAHFUL Gift was held in ShinKiba, this year it will be being held at Korakuen Hall. Although Noah have announced no plans for the format as of yet, it will most likely feature the flea market in which Noah sell their old ring wear to fans (in the old days they would also serve Dojo chanko) and the usual battle royal and comedy matches.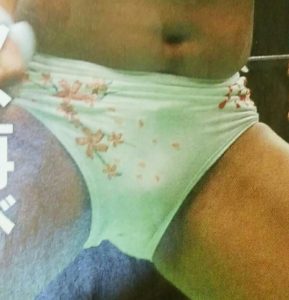 Genba Hirayanagi threatened to appear last year in some gnarly old pants when he heard there was a flea-market. Sugiura said no one would want them, and Marufuji told him that it was "called obstruction of business".
Thankfully Genba's questionable taste in clothes is not a recurring feature, but Akitoshi Saito in cosplay is. In past years we have seen a lounge singer (complete with frilled cuffs, cummerbund and a velvet suit), and a pigtailed joshi. 2017 saw him in a video which was played in installments throughout the evening flanked by Moose in a Burger King hat, Eddie Edwards in a Santa hat (both were trying not to laugh), and Saito in various stages of undress whilst wearing a wig and make-up.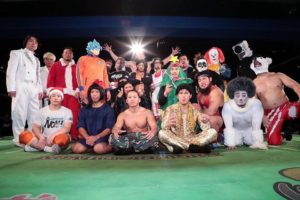 During the Battle Royale last year, everyone dressed up; well, almost everyone, as Kenoh appeared in an old karate outfit, and HAYATA came as himself in DOVE Pro. Other highlights included Takashi Sugiura being labelled a "vulgar and tasteless Santa" by Tokyo Sports, Hi69 was a "Panda" (his costume was purple tights and Panda face-paint, and according to Hajime Ohara he had gone out and bought his costume the night before, leading Sugi to point, laugh and say "that's not a Panda, that's a monster), Hajime Ohara as Kiki from "Kiki's Delivery Service" complete with satchel full of bakery goods, a Jiji on his shoulder, black wig with a bow and a broom, Hitoshi Kumano as a bear, Daisuke Harada as HAYATA (which HAYATA did not appreciate and glared at him afterwards) and of course the inevitable Mr. Koto (Atsushi Kotoge).
Needless to say its a fun show, and if you are going to be in Tokyo over Christmas\New Year, I not only envy you, I also highly recommend you go and see it. All grudges, rivalries and title matches are put aside, and the roster relax and have fun.
OUTSIDE PARTICIPATION
Naomichi Marufuji and Hi69 will miss Noah's event on the 18th November as they will be participating in Ryuku Dragon Pro in Okinawa
Kenoh will be appearing for KAIENTAI DOJO on Sunday October 28th, he will team with Tank Nagai against Yuri Asakawa & Kengo Mashimo.
Junta Miyawaki will make his second appearance for YOUNGDOMS (FREEDOMS sub brand) on the 5th November, he will team with Shunsuke Sayama vs Toru Sugiura and SUSUMU
GHC BELT NEWS
Current champions
GHC Heavyweight Champion: Takashi Sugiura
GHC Junior Champion: Daisuke Harada
GHC Heavyweight Tag Champions: Naomichi Marufuji & Akitoshi Saito
GHC Junior Tag Champions: Minoru Tanaka & Hi69
The GHC Heavyweight Championship currently has no challenger as Global League will begin in late October to determine the number one contender.
Daisuke Harada and Atsushi Kotoge will clash over the GHC Junior Championship on October 30th at Korakuen Hall (match signing to be held the same day)
Naomichi Marufuji & Akitoshi Saito will defend the GHC Heavyweight Tag Championship against "The Hooligans" (Maybach Taniguchi and Cody Hall) on Sunday October 14th in Kobe.
The GHC Junior Tag Championship has not been challenged for yet.
TOUR TIDBITS
Naomichi Marufuji was involved in a minor car accident this week when someone reversed into him, he is fine fortunately.
Noah released Halloween Revolutionary cloaks for kids which were sold on the 11th October, with the Revolutionary Hero on hand to sign them. Atsushi Kotoge has said that the manufacturing cost is too high to make them for adults.
Takashi Sugiura gave a defense match interview, in it he said he wants to be the first reigning champion in history to win Global League, and if that happens he will nominate his own opponent, which will be Masato Tanaka. They have fought against each other in the past, but they have never had a title match over a single belt.
Mitsuya Nagai called a lady in the crowd "you old bag" because she was mouthing off to him.
Mohammed Yone's disco ball for his entry has become a thing
People would like to see Atsushi Kotoge and Kaito Kiyomiya tag together and challenge for the belts
HAYATA has a new online diary, "HAYATAbot", I am afraid that to access it requires a paid subscription
Kenoh will finally get his wish for a singles match with Naomichi Marufuji on the 8th November at Korakuen Hall for Global League 2018.
Like Hi69 does, Atsushi Kotoge did a short question time with fans on Twitter, highlights included; Kotoge saying he doesn't drink at home, and Go Shiozaki asking what the capes were made of to which, Kotoge said playfully, "asshole, I'll go and look". He never actually answered Shiozaki's question.
Kenoh's friend, Masahiro-san (whom Kenoh has blocked, and who Masahiro-san calls "that asshole who blocked me"), posted a few candid pictures of when he stayed at Kenoh's home for the night on Twitter. Masahiro-san usually deletes them a few minutes after posting, but they were there long enough to ascertain Kenoh bought tourist fodder Union Jack boxer shorts when he visited London for Frontline Pro Wrestling.
Hajime Ohara is holding exercise classes in Kawasaki which are open to adults of every age and sex. The classes will be simple exercises in how to build, tone and maintain muscles and how to exercises with a water bottle.
KING SHAMLESS'S CORNER
None this week, he's managed to behave himself.
EVENT RECAPS
7TH OCTOBER 2018, NEW SUNPIA TAKASAKI, GUNMA
11TH OCTOBER 2018, OYAMA CITY CULTURAL CENTER SMALL HALL, OYAMA, TOCHIGI
LINKS
English language translation of Naomichi Marufuji's biography, "Heir to The Ark"
Takashi Sugiura's sixth defense interview
Akira Taue loved the "Talk Battle" with Toshiaki Kawada
Like what I do? Consider supporting me on Patreon 
---
Always Use Your Head and visit the official Pro Wrestling Tees store for The Chairshot All t-shirt proceeds help support the advancement of your favorite hard-hitting wrestling website, The Chairshot!

---