Stardom Queens Quest Produce: Golden Week Stars Results & Review (5/5/2018)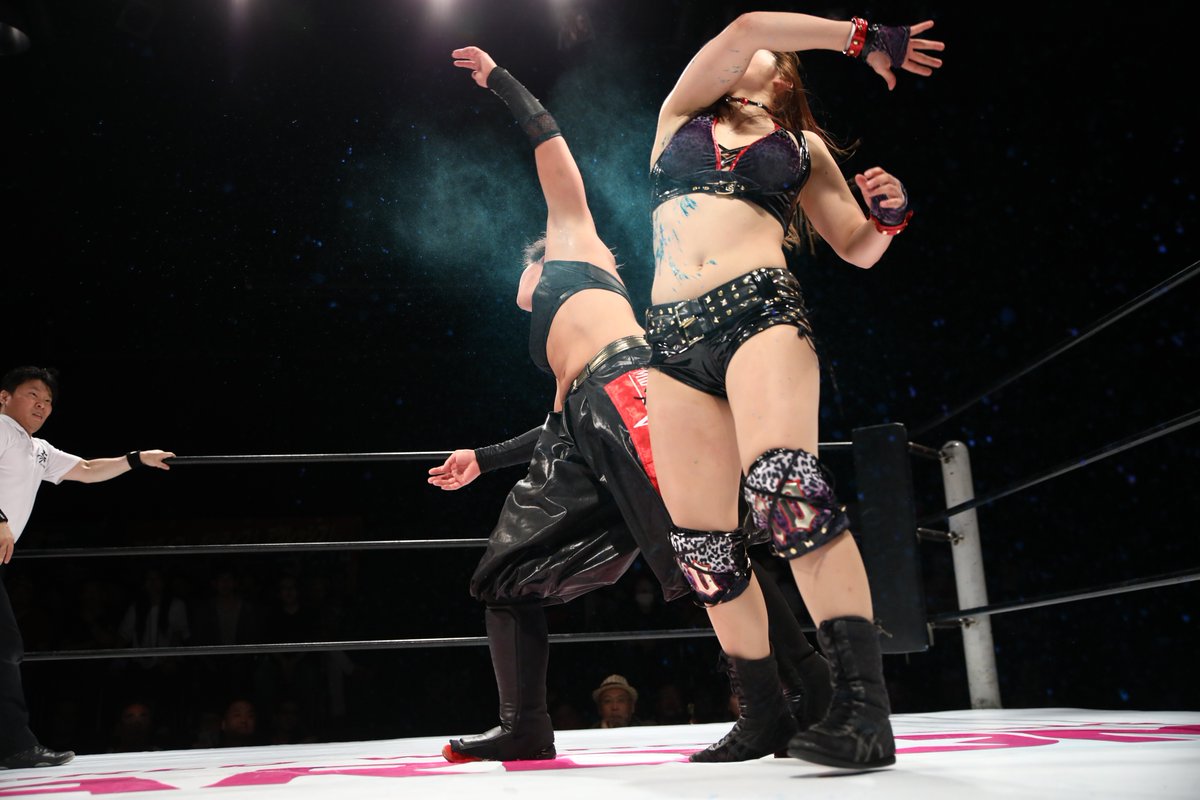 We are back with Stardom as the moment has finally arrived as this one is produced by Io and members of Queen's Quest while the previous one was produced by Oedo Tai and Kagetsu which I won't cover due to not much happening except for the unit dance battle and having other shows to cover this week.
Io is set to defend her Wonder of Stardom Championship against Kagetsu where we will see if Io will break another record in her books or will Kagetsu bring the title over to Oedo Tai. It should definitely be a battle and we'll see how it turns out as we…dive right in.
Three Way Match
Hanan vs. Kaori Yoneyama vs. Leo Onozaki
Review: Our first match is a three way match with Kaori taking on two people from the Future of Stardom division to get the crowd into it. The match unfortunately didn't leave anything memorable in here since there were times that it was just sloppy and forgettable. One spot I did like that soon as Leo hits Kaori with the Cutter, Hanan would pin Leo quickly for a two count. Leo would then try to roll Hanan up a couple of times and only had a two count as well. Leo would go for a Backslide as Kaori sat the both of them down in that position and rolled them both up to get the win.
Recommended: Skippable.
Six Man Tag Team Match
Mary Apache, Natsumi & Ruaka vs. Martina, Nao Yamaguchi & Natsu Sumire
Review: We now have Mary Apache leading a team of her daughter, Natsumi and Ruaka as they look to take on Oedo Tai lead by Sumire with her partners Nao and…Martina..ugh. It looked like Mary forgot her gear since it looks like she's wrestling in her sweat pants.
Mary and her team would all apply a submission onto each of Oedo Tai members until the referee told them to break it up so the match could start. There was a corner spot where Oedo Tai would all hit a move on Natsumi and would end when Martina grabbed her beer to drink to spit on her, but Natsumi ducks causing her to spit the beet on both Sumire and Nao. The match was better than I expected it to be, but wasn't great either since everyone did fairly decent and had some good spots in the match. Mary stole Martina's beer when she drank some to give her 'energy' which I still think it pretty stupid. Nao almost had the win on Mary when she reversed her Michinoku Driver, but Mary would make quick work of her and hits a stiff Lariat for the win.
Recommended: I mean yes and no, only if you like some of the people in here.
Six Man Tag Team Match
Jungle Kyona, Natsuko Tora & Shiki Shibusawa vs. Brandi Rhodes, Hana Kimura & Hazuki
Review: Oedo Tai are up again as the remaining members take on Team Jungle as they look to bounce back after the recent loss. Want to also point out that Brandi Rhodes has been injured before this tour and has been working this tour injured. I give her credit for sticking to her commitments, but I hope she didn't injured herself more in the process and I wish her a speedy recovery.
Oedo Tai did the whole entrance and dance without Kagetsu and it's just not the same while a bit decent. Hana would ignore Natsuko to pose off for the crowd a little bit before Natsuko attempts to mimic Hana which leads to her getting bitch smacked for it. Then Hana and Hazuki did a double team move together and I honestly wouldn't mind seeing the two pair up if Hana and Kagetsu weren't champions already, since I felt like they would work out well together while Kagetsu goes for the top titles solo. Brandi only got in the ring twice in this entire match and would use her only good arm to do a couple of strikes since her injury prevented her from doing more in the match as it makes her look sloppy, which isn't her fault. They had some good double teaming/combos from each team and the match was solid for what it was. Hana and Hazuki would team up on Shiki which involved Hana giving Shiki a Suplex and then Hazuki hits her Atomic Bombs Away to get the win for Oedo Tai.
Recommended: I think it's worth a viewing.
Ten Woman Tag Team Match
Candy Floss, Mayu Iwatani, Saki Kashima, Starlight Kid & Tam Nakano vs. AZM, Bea Priestley, Chardonnay, Konami & Momo Watanabe
Review: We get STARS and Queen's Quest going at it once again with QQ being lead by Mayu Iwatani and Queen's Quest being lead by our current Cinderella winner, Momo Watanabe who has a title match against the winner or our main event tonight.
I love when Starlight and AZM start us off in these matches because they're usually exciting to see with their fast pacing and the back and forth between these two females, but this one is a bit short lived with Tam getting tagged in. Tam definitely showed improvement after her Exploding Death Match over a month ago and I hope she keeps that momentum going to get better in the ring like how Saki Kashima has been lately ever since she returned. Starlight would hit a Moonsault on Chardonnay, AZM, and Momo with her laying on top of the other two which looked neat to see. I wouldn't mind a match between Bea and Mayu after the small little interaction they had and I've been giving Bea some space since she did much better in her matches against Hazuki and Momo in the Cinderella Tournament since she does in fact have room for growth. Momo was in the ring with Candy Floss as she was delivering stiff kicks to her to try and go for her Half Nelson Suplex, but Candy would avoid it to get kicked in the head again as Momo hits her Cradle for the pin giving Queen's Quest the victory while making Momo look good.
Now on https://t.co/q8dHnF58vW! STARS vs Queen's Quest in a 5 vs 5 tag team battle! Only on Stardom World! pic.twitter.com/CPOVsqn0NR

— We Are Stardom (@we_are_stardom) May 17, 2018
Recommended: Very solid match, watch it.
Costume Battle Royal
AZM vs. Bea Priestley vs. Candy Floss vs. Chardonnay vs. Hana Kimura vs. Hanan vs. Hazuki vs. Jungle Kyona vs. Kaori Yoneyama vs. Konami vs. Leo Onozaki vs. Martina vs. Mayu Iwatani vs. Momo Watanabe vs. Nao Yamaguchi vs. Natsuko Tora vs. Natsumi vs. Ruaka vs. Saki Kashima vs. Shiki Shibusawa vs. Starlight Kid vs. Tam Nakano
Review: We now have a cosplay battle royal where the participants of the match would dress up as another wrestler. We get quite a few good ones like Hanan dressing up as Saki Kashima, Momo as Io Shirai, Shiki as Mayu Iwatani, Candy as Natsu Sumire, Hazuki as Tam Nakano, Starlight Kid as AZM, Saki as Konami, Chardonnay as Martina (Who does it better than Martina), Konami as her old partner Hiromi Mimura and Mayu Iwatani as Kagetsu and she even comes out with the toy truck!
With the match going on like a regular battle royal, Mayu does her best Kagetsu impression to cut a promo outside of the ring telling them to have a three way battle and Mayu is great as Kagetsu as she matches her personality quite well. It's just a regular old battle royal with a ton of fun with these women dressing up as the other superstars just matching their personalities while getting eliminated. AZM dressed as Starlight would eliminate Starlight dressed as AZM and then flip her over to get her pinned also so they left the ring which now leads Mayu and Momo being the last two in the ring which can't be a coincidence since they're both dressed up as Io and Kagetsu which takes place right after this match. Anyway, Momo would attempt to do Io's Moonsault Press til she got pushed off to the apron and had Mayu flipped over so they were both on the apron with Momo hitting a very nice uppercut, making Mayu used this to grab the water to spit it in Momo's face and Chokeslam her out of the ring for the win.
It's a Battle Royal! But in this Battle Royal, a wrestler wears another wrestler's costume and becomes that wrestler! It's the Queen's Quest produced show, and it's only on Stardom World!https://t.co/q8dHnF58vW pic.twitter.com/iWOUEpf7g2

— We Are Stardom (@we_are_stardom) May 18, 2018
Recommended: This was very entertaining, tons of great costumes and callbacks. Definitely worth a watch.
Wonder Of Stardom Title Match
Io Shirai (c) vs. Kagetsu
Review: We have finally arrived at the moment we've been waiting for after having this hyped up for nearly two months. The challenge would be made around when Oedo Tai was still feuding with Tam Nakano to where she chose Io as her partner for the Exploding Death Match where Io would decline for the first time. A couple of shows later, Io would give in after Kagetsu convincing her to be apart of the match and history for Stardom since it was the first one in the company, but Io only agreed if she would give her a fair fight at a later date which Kagetsu said yes if the Wonder of Stardom Championship was up for grabs as well and Io would accept the conditions. Io and Tam would win the match and would face Kagetsu as agreed, but they didn't have an official date set until Kagetsu announced it after the Cinderella Tournament after Momo tried to challenge Io first. Io has already tied the record for most title defenses for this title and now for her to tie it, she would have to defeat Kagetsu here to break another record like she did with other titles. Can we do it or will Kagetsu find a way to take the belt off of her? Let's stop wasting time and see for ourselves.
Kagetsu stated that this is the fourth time that they fought one on one and she still hasn't beaten her in a match yet, so she looks to break that streak as she goes out there alone with her Oedo Tai members coming out with her. The match would go back and forth a little bit with Io still outsmarting her to get the early advantage until she went for a Suicide Dive only for her to get knocked down by Kagetsu before she could dive across, now the ball is in Kagetsu's court and starts to work on Io along with her legs since they were bandaged up for a few weeks which smart of her to take advantage of it. Io went to go for her back flip when she dodges only for her to fall down soon as she lands, making Kagetsu attack her right leg some more and I'm loving this aggressive side of her here and I hope she keeps that type of attitude when she does singles matches. Io would find momentum to go for a Missile Dropkick only for Kagetsu to roll up and attempt a kick on Io, but gets caught with a Dragon Screw to make Kagetsu roll to the outside and somehow Io finds a way to hit an Asai Moonsault.
The two would then go back and forth trying to hit their signature moves as they kept reversing or flipping out of them and then Io hits a Frankensteiner to only get a two count and Kagetsu kicking her leg again once she gets up so she could hit a Chokeslam, but Io reverses it for another Frankensteiner for another two count. This is where Io starts hitting her signature moves and Kagetsu attempts to spray blue mist into Io's eyes only for her to miss. Io went to go for her Moonsault Press and gets kicked down with Kagetsu hitting a Powerbomb for a two count. Io would attempt to go for the knees again, but Kagetsu pulled the referee in to have him take the hit which lead to Kagetsu delivering stiff kick after kick, even knocked her down to pull her back up so she could kick her again. Kagetsu then hits the Oedo Coaster and she had the win, but no referee to count it as another referee came in to count, but Io kicked out very weakly. Kagetsu would attempts another Oedo Coaster only for Io to put her knees up in the last second and she then goes all out on Kagetsu hitting the Shutdown German Suplex Hold, shades of Kento Miyahara. Io then hits her Moonsault Press on Kagetsu, but she's not done as she decides to double tap to hit one more to get the win as she sets a new record.
The Wonder of Stardom Title is on the line! It's Io Shirai vs Kagetsu, and it's on https://t.co/q8dHnF58vW now! pic.twitter.com/3PP9NyHCd9

— We Are Stardom (@we_are_stardom) May 19, 2018
This match was fantastic and probably Kagetsu's best match in a while as it showed that she can be a star in Stardom if they need someone for the top spot in the company as Io gave us another fantastic match and probably her best one of 2018 so far next to her match with Meiko Satomura. Io is now set to defend her Wonder of Stardom Championship against Momo Watanabe at the May 23rd show.
Recommended: Definite give it a watch, fantastic match.
Overall: This was a entertaining show despite the bad opener as the last three matches alone made it worth the viewing, specially the main event between Io and Kagetsu.
Favorite Match: Io Shirai vs. Kagetsu
Least Favorite Match: Hanan vs. Kaori Yoneyama vs. Leo Onozaki
Score: 7.5/10
See you all next time for Momo vs. Io!