Stardom Shining Stars Night Show Results & Review (5/27/2018)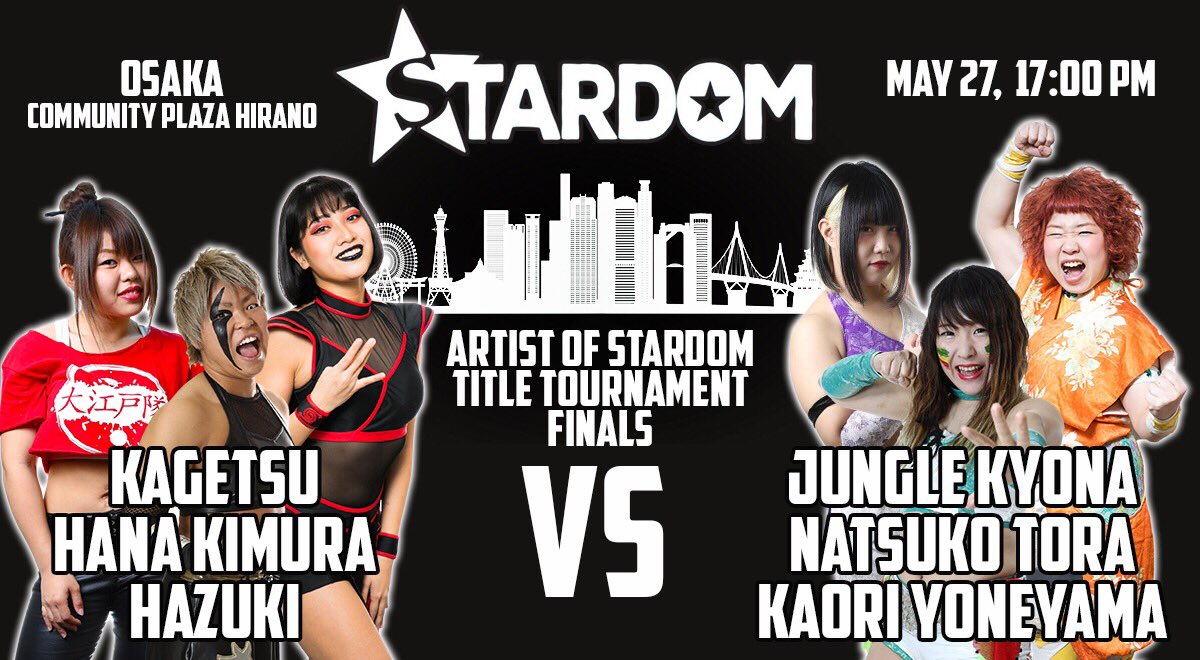 Now that we took care of the day show, it's not time to focus on the second show that happened at the very same day where our main event will crown new Artist of Stardom Champions, will it be JAN or will it be Oedo Tai?
Let's find out and…dive right in.
Singles Match
Leo Onozaki vs. Shiki Shibusawa
Review: Our opening it bout is between JAN and STARS with our two rookies fighting each other to start the show and let's see which one of these two come out on top. The match was very generic since it was mostly Shiki working on Leo's arm to try and maybe go for a submission, but she never really did any in the match or even finished it with one. Leo didn't do too much in the match herself despite her two cutters in a row once again, maybe one day we'll see more out of her. After five minutes, Shiki would win the match with a Missile Dropkick which is still a weird finisher for this day in age, but they're still new so can't fully fault them.
It's the night time show from Osaka on May 27! Shiki Shibusawa takes on Leo Onozaki, on https://t.co/ldX5O0lyXM now! pic.twitter.com/RImPgBzj9A

— We Are Stardom (@we_are_stardom) June 7, 2018
Recommended: This one was kinda skippable.
Singles Match
Candy Floss vs. Konami
Review: Konami in singles action again as she takes on Candy Floss and this one should be a good bout since I like Konami and Candy Floss can be good if given the right opponent, so hopefully they can here.
The two would look like they were about to go for a test of strength, but Candy would turn it around to give Konami a hug, playing a few mind games to go with her sweet personality, so don't let that charm fool you. For a five minute match, I didn't think this one was bad at all since they were solid with what they were doing as Candy would work on Konami's arms and Konami would work on Candy's legs and even do some submissions on her leg. One time it looked like she was rolling into a Calf Crusher, but she stopped halfway to make it a variation of a Figure Four and it looked pretty unique. Candy would almost have the win with her Straight Jacket Lungblower and would only get a two count. Konami would give her a Roundhouse Kick to knock Candy down and it looked like she was going for a pin, but she wrenches Candy's leg while pulling her arm to make her tap out.
Recommended: Fairly decent match, so up to you.
Tag Team Match
Martina & Natsu Sumire vs. Tam Nakano & Zoe Lucas
Review: We get Oedo Tai taking on STARS with Martina and Sumire teaming up to take on Tam and Zoe Lucas which I feel like I might be disappointed in this. According to the interview before the match, this is apparently Martina's last match in Japan and I honestly couldn't be happier to hear about that, but time to tough out this match.
Sumire and Tam would start this match off to try and do a test of strength until Martina would attack Tam from behind to try and do a double team on Tam, but Tam would hit them both with a cutter and tag in Zoe. Zoe would get attacked and Martina and Natsu would do their Oedo Tai post on the ropes with the other members as the two share a beer together to only spit it on Zoe's face. Sumire would do her Bronco Buster or well pretty much land on them and be grinding Zoe's face as Martina would do a Bronco Buster on Zoe as well while behind Sumire to do it as a double team, and then they would have both Zoe and Tam on opposite corners and hit a Bronco Buster on each of them. I'm not really crazy on both Martina and Zoe, but they actually did better than the other times I've seen them on their respected tours despite the match being average, it's not terrible either. Sumire would hit Tam with her flogger to give Martina an opening to hit her Codebreaker, but only for a two count. When Martina held Tam up to give Sumire another opening to whip her, she would miss and hit Martina in the face, giving Tam an opening to hit a Roundhouse on Martina for a two count and then she would hit it one more time for a three count. Martina is out of Stardom for a while and I'm sure she'll be back and hopefully better this time.
Now on https://t.co/q8dHnF58vW! Tam Nakano & Zoe Lucas team up to take on Natsu Sumire & Sesssion Moth Martina! pic.twitter.com/tzEkv3DXwO

— We Are Stardom (@we_are_stardom) June 8, 2018
Recommended: It wasn't terrible, so really up to you.
Six Man Tag Team Match
Mayu Iwatani, Saki Kashima & Starlight Kid vs. AZM, Io Shirai & Momo Watanabe
Review: We're back to having STARS taking on Queen's Quest in the pre-main event again with Mayu leading the team with Saki and Starlight while Io leads it with Momo and AZM. With Io confirming her departure with the company, she's looking to give it her all for the remainder of her tour until June 17th when she says goodbye, so expect some quality matches involving her until then like when she fought Starlight earlier.
Saki and AZM started the match off as they both went back and forth with their sequence with neither of them getting the full advantage as now Mayu and Momo are in the ring, but the same thing would happen with both of them not getting the actual advantage over the other, and then it would go over to Io and Starlight as they had a similar sequence from their earlier match and it looked like Starlight was gonna have the advantage again, but Io outsmarted her to drag her down as all three members of Queen's Quest would attack her and let AZM take over. The two are set for a rematch for the Future of Stardom Championship at the next show and AZM is showing Starlight that she means to take her title this time around. AZM would keep working on Starlight more until she finds an opening, hitting a DDT on AZM and makes the tag to Saki to give herself some time to recuperate, but AZM would knock Saki down to tag Io in so she could work on Saki for the time being, only for Saki to find a way to knock her down and tag Mayu in. The two wouldn't do too much as Io had Mayu in a Figure Four Leglock as the two would roll around to have Mayu try and reverse it, but it didn't work as the two would brawl a little bit while in the position and Io goes to tag in Momo. Mayu would first hit a Northern Lights Suplex for a two count and Momo would try to finish off Mayu also only to be saved by Saki, giving her an opening to hit a German Suplex for a two count. Momo would first hit her Cradle Piledriver and then a Somoto off the second rope and it looks like she's got it, but would only get a two count and Mayu would get an opening on her again to make Momo tag AZM in while Mayu tags in Starlight. The last few minutes focus on these two in the ring as they keep showing their intensity every time they work together in the ring. Starlight would first try to make her tap out with a Boston Crab which transitioned into her variation of the Walls of Jericho, but it wouldn't be enough as she now tried to cradle AZM to keep getting a two count and would reverse it to try and get a pin, but no. AZM would walk into a Superkick from Mayu in which Saki catches her for a Stunner, and then a Moonsault by Starlight to have another two count. Io would try to help AZM by going for an uppercut and accidentally hits AZM. Soon as AZM goes for a Crossbody, the bell rings meaning that they reached the time limit and it's not a draw. Wow, what a match.
Recommended: Definitely give it a watch, great match.
Artist Of Stardom Title Match
Jungle Kyona, Kaori Yoneyama & Natsuko Tora vs. Hana Kimura, Hazuki & Kagetsu
Review: In the pre-match interview, Oedo Tai would be asking the real questions before the match and that is who gets what color belt. For those that don't know, the Artist of Stardom titles all has a different color, one blue, one pink, and one orange. They all decide to go with the pink one and kinda hard since there's only one pink and they will decide after they win but first, they must move by bicycle…Charin charin! Charin charin! They brought back the Oedo pupper to walk around in the ring, it's so adorable!
.@hanadayo0903's take on @tmtmtmx's entrance is truly mesmerizing. #StardomWorld 🌟 #スターダム

➡️ https://t.co/jniqaHHrua pic.twitter.com/aUUvmUpf7s

— TDE Wrestling (@totaldivaseps) June 8, 2018
Kagetsu and Kyona would start the match off and would try to knock each other down with their strength with shoulder tackles and none of them would go down until Kyona would finally be the one to knock her down. JAN would try to do their jungle pose on Kagetsu, but Kyona would get dragged outside of the ring and it would lead to a brawl to the outside with Hana for some reason would also pulling on Tam's hair to throw her down, what did she do to you? Hazuki would also make sure her pupper would be on camera as she holds onto it while sitting on Kaori, adorable. Hazuki would Kyona would now be in the ring as Hazuki would work on the arm for a moment and would go for a Senton til Jungle moved out of the way to give Kaori the hot tag while Kagetsu is back in the ring. Kaori would show that she's got some moves with doing Armdrags and going high with a Dropkick and would tag Natsuko to try and finish Kagetsu off, but she would hit a nice little Dropkick from the top rope to throw Natsuko off and finally tag Hana into the match as she would start to kick Natsuko down for a bit, but she was able to fight Hana off and tag Kyona into the match. Hana would try to do the Black Widow on Kyona on her injured arm to try and make her tap out, but Kaori would break it up. Kagetsu and Hazuki would have both Kaori and Natsuko in a Hart Attack position as Hana would hit both of them with a Bulldog. JAN would do a triple team with Kyona first hitting the T-Bone Suplex on Hazuki off the top rope, Kaori then hits the Senton, Natsuko would hit a Splash, and then Kyona would hit a Frog Splash to go for the pin, but Hana breaks up the count. Kyona and Hazuki would keep going back and forth with stiff hits to each other and some close calls with roll-ups and hitting their impact moves, but these two wouldn't budge. Oedo Tai would try to help Hazuki, but Natsuko would Spear the two to knock them down and then help Kyona hit a Double Suplex for a two count, but Kyona would hit her Jungle Bomb and JAN are the new Artist of Stardom Champions!
After the match, Jungle Kyona would thank the fans for supporting them and even though they may be looked at as a joke when it comes to units, but they like to think they're cool and it looks like they are since they won the titles. This would be Momo's first tile in Stardom and her first one in her professional career and got emotional from how far she's come as a wrestler and hopes to keep the belts for a long time. JAN would have the fans do the Jungle Jungle! chant to end the show. No pink belts for Oedo Tai, but at least they ride by bicycle.
Recommended: Very entertaining match, worth a watch.
Oedo Dog's first opponent humiliation pose @hanadayo0903 @doranyanpa @0929_hazuki #OedoTai #大江戸隊 #StardomWorld #スターダム https://t.co/3QUIfWHzZD pic.twitter.com/gfInpjZaHA

— Oedo Tai Gifs (@OedoTaiGifs) June 14, 2018
Overall: Much like the show from earlier while it wasn't a great show, it was still solid enough to keep them entertained with the last two matches standing out. Got two big title matches coming up on the next show so be sure to stay tuned for that.
Favorite Match: Mayu Iwatani, Saki Kashima & Starlight Kid vs. AZM, Io Shirai & Momo Watanabe
Least Favorite Match: Leo Onozaki vs. Shiki Shibusawa
Score: 6.5/10