Chairshot Classics: Survivor Series 2001 – Winner Take All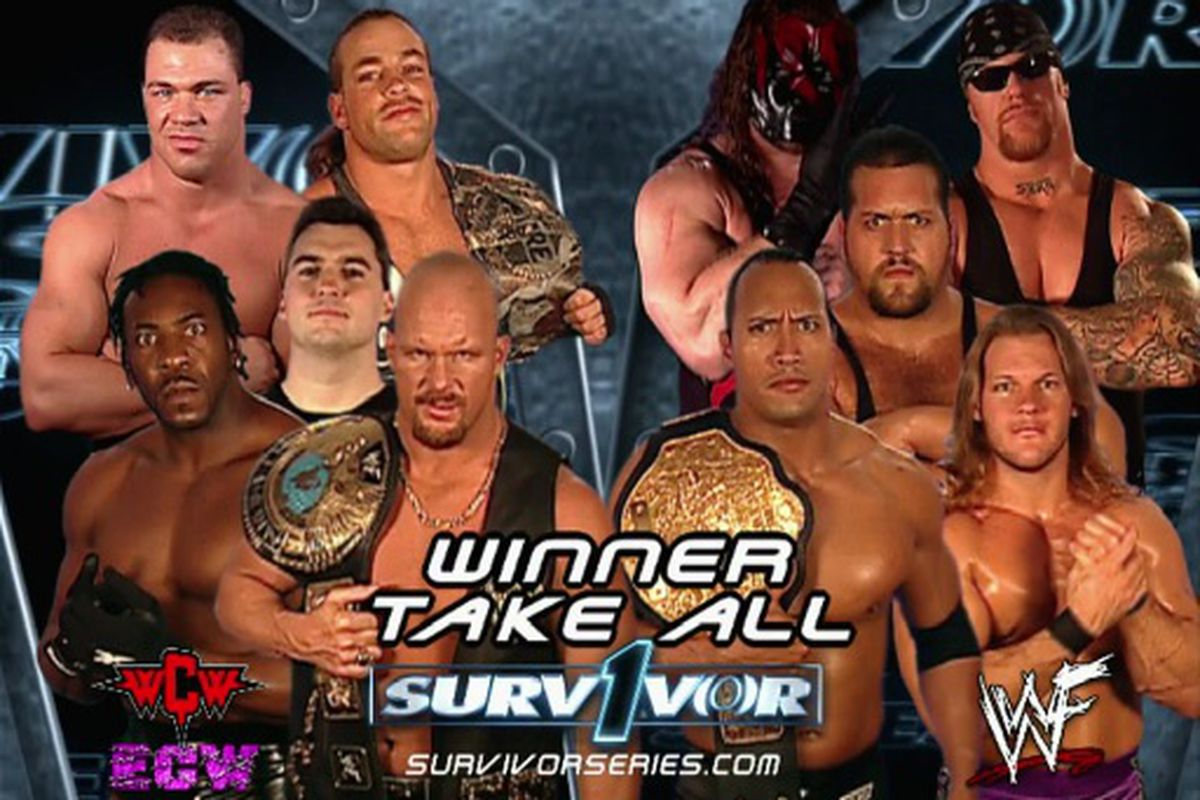 WCW Tag Team/WWE Tag Team Championship Unification Steel Cage Match: The Dudley Boys (Alliance) with Stacey Keibler vs The Hardy Boys (WWF)
 Dudleys get a huge pop, despite being heels. They are accompanied by Stacey Keibler, who will not get to do her trademark entrance due to the steel cage, much to the chagrin of most of the guys in the audience.
Hardys get a huge pop as always, but especially since they're from North Carolina. Finkel actually has to pause to let the pop die down a little before continuing.
These four guys have such great chemistry, it doesn't matter what the match is over, you know it's going to be a good match.
For some strange reason, we're having a traditional tag match in the steel cage, which I find kind of silly, but here we go.
I'm sure you won't be surprised that this is a really good match, even with the silliness of doing a regular tag match in a steel cage.  These teams know each other incredibly well, but the match isn't boring.
Things finally break down and we get an old fashioned free for all and our first escape attempt, made by the Hardys, which ends in D-Von taking a Twist of Fate off the top rope and Jeff getting a Bubba Bomb on the other side of the ring.
An attempt to flapjack Jeff into the wall of the cage almost backfires when Jeff tries to climb to the top of the cage, but Bubba keeps a hold of him and the Dudleys hit the Dudleyville Device.
After several minutes of Dudleys dominating, Matt makes a comeback and gets a near fall that ends with Bubba accidentally dropping an elbow on D-Von.
We get a weird near fall for the Hardys where it looks like Korderas counted three before the pin was broken up before Bubba came in.
The Dudleys re-assert their dominance and Bubba yells for Stacey to get the tables, though how they're going to get them into the cage is a mystery to me. Nick Patrick stops her, but Stacy basically flashes her butt at him and flirts, before taking his key to the padlock on the cage. While Korderas is yelling at Patrick, the table is introduced anyway. The Dudleys try to 3D Jeff through the table but Matt interferes and Jeff counters.
Matt escapes, but that leaves Jeff alone with two angry Dudleys. Jeff fights back and goes for the escape, but that daredevil side kicks in and he goes for the Swanton Bomb, D-Von moves and Jeff goes through the table. Bubba gets the pin and the Dudleys are the new champs.
Result: The Dudley Boys by pinfall.  The EMTs come out and Matt and Lita are in the cage. Jeff is out for the count, I think, though how the 'trained' pros are moving him doesn't look right to me (no neck or back brace, really?)
Comments: That was a great match.
WWF may have just spoiled the end of the show by announcing that RAW was going to be in Charlotte, NC, home of Jim Crockett Promotions for decades…and the adopted home of Ric Flair.
(if you remember the 2001 storyline post Survivor Series, you know what I'm talking about).
We go to WWF New York, where Mick Foley is living it up. JR asks Foley why he's in New York and not in North Carolina since he's the WWF commissioner. Foley says that it's a good question and the answer is: Vince told him to stay in New York. Foley says that he's having fun and running up a heck of a bill on Vince's tab, but his heart is in North Carolina. He also says that the commissionership is kind of a joke because he has to do what Vince wants. He adds that he's pulling for WWF, but IF WWF wins, he's going to fly to Charlotte and have a talk with Vince.
Backstage, Scotty 2 Hotty is running for the gorilla position when he's stopped by Test.  Test asks him if he's headed for the battle royal, Scotty affirms that and walks away, only to be hit from behind by Test, who beats Scotty to a pulp and leaves him in the hallway
Immunity Battle Royal: Winner Cannot Be Fired For One Year.
 No one is getting their own entrance, at least for the Alliance, including DDP.  There seems to be some dissention between Raven and Steven Richards, which is interesting if you know their history back in ECW.
The WWF guys are also not getting individual entrances and APA are leading the pack. The Human Block of Swiss, Albert, is there, though he doesn't get in the ring just yet and grabs his former partner, Test for a quick fight. Taz comes out, to everyone's surprise and starts fighting.
This is hard to keep up with, but it seems to be partisan right now. Someone did a run-in, but I can't tell who it was. It's started getting nasty as we get down to what looks like the final ten guys or so.
Taz talks trash to Heyman and gets eliminated by Billy Gunn. Taz isn't happy about that and goes for Heyman before the refs usher him out.  Bradshaw just Fall Away Slammed Billy Kidman out to the floor.  We're down to the Final Four: Bradshaw, Billy Gunn, Test, and Lance Storm.
 Results: Test by eliminating Billy Gunn.
Comments: This was a good match, not thrilled about the outcome, but the match was good.
Backstage, Shane and Booker T are talking about the upcoming match. Booker says that he trusts Shane, but he doesn't trust Austin. He points out Austin's motto 'DTA: Don't Trust Anybody'.
Shane says he understands what Booker is saying and that they both have a lot riding on tonight, but that Austin is the guy and that he trusts him and that the Alliance has to stick together.
(Could they be telegraphing that swerve any harder?)
Six Pack Challenge for Vacant WWF Women's Championship: Trish Stratus (WWF) vs Jacqueline (WWF) vs Lita (WWF) vs Ivory (Alliance) vs Jazz (Alliance) vs Mighty Molly (Alliance)
 Trish is out first to a great pop. Jacqueline gets a quiet pop. Lita gets an amazing pop.  Ivory gets a round of boos. Mighty Molly gets little reaction. Jazz gets no reaction, but she looks like a BAMF, in my opinion.
We start with Jazz going for Lita, and this match is on!
This match was going to be: Two women start out, the other four in the corners, anyone can tag in anyone, first pinfall wins. That lasts for a a couple of minutes, then it breaks down into a free for all.
All pretense of team spirit is out the window and all these ladies want to be women's champion.
Jazz tries to take Trish out, but Trish ducks and sends Jazz outside, leaving her alone with Ivory. Ivory goes for a slam, Trish counters, hits the Stratusfaction and we have a new Women's Champion.
Result: Trish Stratus by pinfall after hitting Ivory with the Stratusfaction. The crowd goes nuts for the new champ!
Comments: Even knowing how good Trish would become by the time she retired in 2006, I was still surprised by her win. Trish was not a very good, or experienced, wrestler at this point, though she'd been training down in OVW during a hiatus due to a sprained ankle during most of the Invasion storyline.
Vince gives his troops a…pep talk. He tells them that he has every confidence that Team WWF but he also knows that he could be looking at a group of losers (nice one, Vince). He also warns that the WWF would never forgive them if they lost to the Alliance. Vince basically tells them that they'd be done as professional wrestlers if they lost (pretty sure the Jarretts would snatch them up).
(Vince, we get the point, please shut up)
Vince cites all the greats that Team WWF is fighting for, including Rock's grandfather.
(the wrestlers look bored and I agree)
Team Alliance is heading out, no pep talk for them.
We get a recap of the events leading up to Survivor Series, including Taker putting the fear of God in Rock and Jericho.