The 3 Best & 2 Worst Money In The Bank Ladder Matches
Mishal takes a look back at the best–and worst–in the marquee match's history!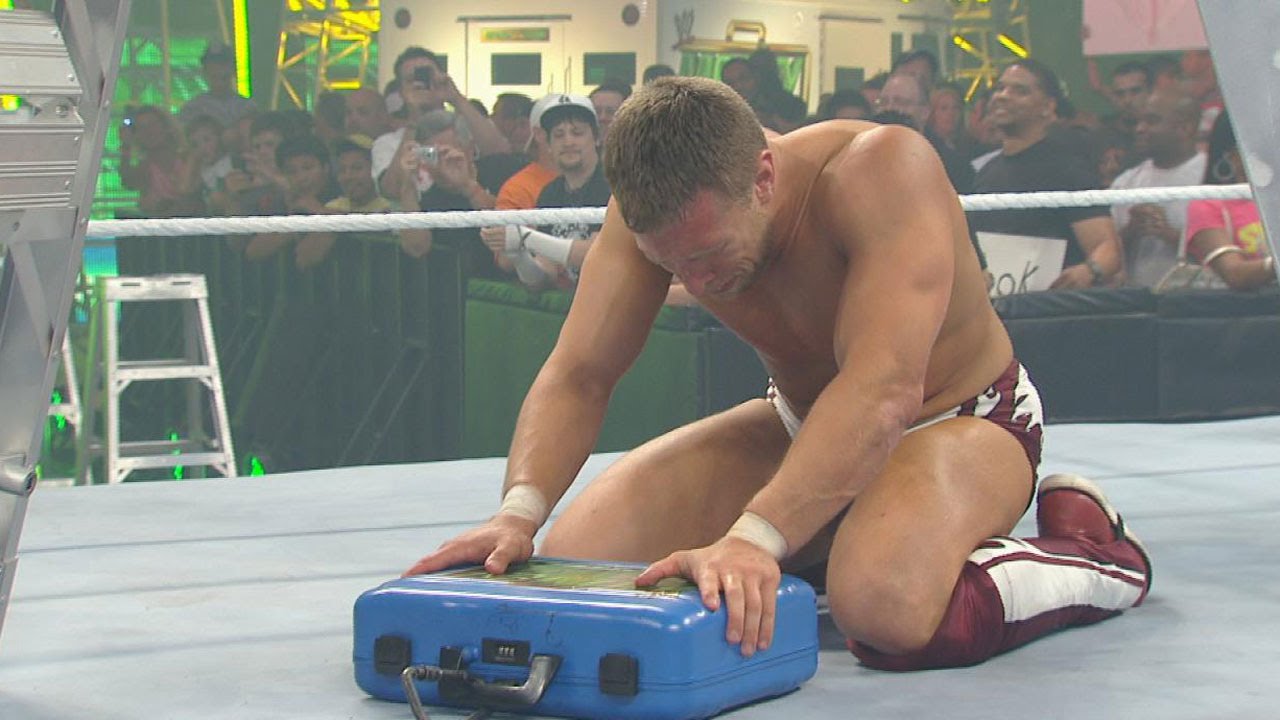 This Sunday we are treated to yet another WWE special, the 7th offering from the main roster this year and our final stop before the 'Biggest Party of the Summer' Summerslam rolls around in August.
In previous articles I've discussed the importance of Money in the Bank as the modern-day version of the King of the Ring tournament, an opportunity to shed light on the stars of today and build on future main eventers who can potentially carry the product into the foreseeable future. Aside from that Money in the Bank always provides some terrific action, high octane and filled with insanity that will get any WWE fan out of their seats.
However, like any form of entertainment, we have the good and the bad.
Money in the Bank has been filled with classic moments, such as CM Punk's historic victory over John Cena in 2011, Kane winning his 1st World Heavyweight Championship in 2010, RVD returning to the WWE in 2013 & Dean Ambrose claiming his 1st WWE Championship in 2016. The show however is obviously centred around the Money in the Bank ladder match itself, the topic of discussion for today.
Let's take a dive into the past and look at the 3 best, and the 3 worst Money in the Bank Ladder Matches in WWE history.
BEST: Money in the Bank Ladder Match, WrestleMania 21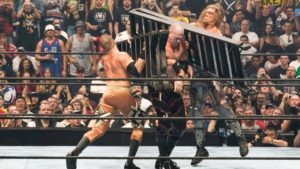 Participants: Chris Jericho, Kane, Shelton Benjamin, Edge (Winner), Chris Benoit & Christian
Little known fact, Chris Jericho came up with the concept of the Money in the Bank ladder match, is it any wonder it turned out as good as it did in 2005?
Having this match on the list may feel a little shoehorned due to its historic implications and being the first in a long line of these kinds of matches, but it is far more than being the first in a long series of wild matches.
This match presented an opportunity never seen before in the WWE landscape, the chance for a title change anytime, anyplace & anywhere imaginable to whomever claimed the briefcase above the ring. Champions were put on notice from the get-go and adding ladders to this chance of a lifetime only fuelled the anticipation for a match that had already established itself as a history making moment.
The participants here contain some of the WWE's all-time best, and the WWE's most underrated of the modern-era, with Shelton Benjamin being the standout here after a stunning performance that is exactly what you need to make a star under rules such as these. Ladder match veterans such as Edge, Christian & Chris Jericho were obvious fan favourites from the bell due to their experience in this match style, adding brutality and a severe sense of urgency which further pushed this match into classic territory.
While the mans name has been scratched from the face of WWE history however, it is worth noting the matches arguable highlight came in form of Chris Benoit's headbutt from the top of a ladder onto Kane, which remains one of my favourite Money in the Bank match moments to date.
Having Edge win this initial outing was the icing on the cake of the perfect booking the WWE had done with this match and when the initial cash-in occurred almost 10 months later the following year, all of this destruction was worth the moment that occurred.
WORST: Women's Money in the Bank Ladder Match, Money in the Bank 2017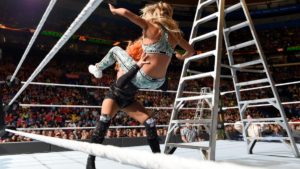 Competitors: Charlotte Flair, Becky Lynch, Tamina, Natalya & Carmella (Winner) w/James Elsworth
It's quite rare that WWE books the opening match of a major show so poorly that it utterly tanks the pacing for the rest of the show that follows it, and that happened with this bizarre moment in professional wrestling history.
In the midst of the women's revolution the WWE decided to present us with a match that was long overdue in most people's eyes, a Money in the Bank match for a shot at the SmackDown Women's Championship. Women by 2017 had risen to new heights in the business, main eventing shows, receiving prolonged build for their matches, gaining proper character development and were no longer treated as sex objects which was all reflected when this match was announced.
But then, the booking happened.
A first-time match such as this one has the potential to set the standard for any female competitor in the future, give them a bar to live up to and only grow further from there. Instead we got one of the most bizarrely booked matches in quite some time, one that instead of focusing on the women involved, came out with one striking result we will always remember: James Elsworth, a man, won the first ever women's Money in the Bank ladder match.
Now much like the male focused Money in the Bank matches, I have nothing against the opposite sex being involved at points to showcase their talents but at no point should that overstep its boundary. This match was hyped for the women, built for the women & was meant to increase the focus on women, all of which was thrown out the window in the matches closing moments. Elsworth, on behalf of Carmella, climbed the ladder and retrieved the briefcase granting her a championship match to the absolute shock of everyone in attendance.
Shock value is something wrestling should strive to create but in no way should it insult those who invest time in a division as important & lucrative as the women's division, and instead of giving momentum to a star in need of it, shy away from her and shine the light onto a ringside manager instead.
It's a shame this match ended how it did as well, because it was actually shaping out to be quite entertaining until the booking completely squandered any efforts the ladies had put on. Fortunately, we were granted a rematch to this contest 9 days later on an edition of SmackDown, where Carmella won her briefcase fair and square without the assistance of Elsworth, but the damage had already been done and sadly this is going to be the first thing that comes to the minds of wrestling fans when we think about this inaugural match.
BEST: Money in the Bank Ladder Match, WrestleMania XXIV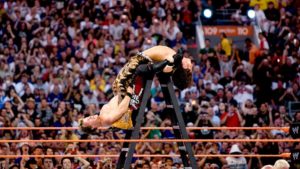 Competitors: CM Punk (Winner), MVP, Chris Jericho, John Morrison, Shelton Benjamin, Carlito & Mr.Kennedy
One of the more overlooked matches that I rarely see people discuss, and I have no clue as to why that is.
Wrestlemania XXIV is one of the best shows the WWE has ever put on, a magnificent spectacle filled with countless memories for fans to remember and failed to produce one match without a noteworthy event. It's highlights are generally relegated towards the retirement of Ric Flair, Floyd Mayweather knocking out the Big Show or The Undertaker recapturing his World Heavyweight Championship after almost a year, this shouldn't mean we forget a classic that took place 2nd on the shows main card.
This Money in the Bank ladder match was a beauty to sit through, providing all the thrills of the inaugural one 3 years prior to this, boasting star power with the likes of Chris Jericho once again present & the first of 2 victories for CM Punk, the only back-to-back winner of the match to date.
What made this match even more special was that there wasn't one sole standout, every single star had a moment to shine. John Morrison hit a moonsault to the outside while grasping a ladder, Matt Hardy returned to attack bitter rival MVP, Jericho hit a Codebreaker on Punk with the assistance of a ladder and Benjamin had a near death moment when he was plunged off the top of a ladder through another ladder placed across the ringside barricade. This match truly had countless moments to talk about.
The matches winner was also a fantastic decision on the part of WWE, giving CM Punk the moment that was stolen from him almost one year prior to this event at Wrestlemania 23. Not only did his victory receive a thunderous ovation but gave us a glimpse into the star the man would one day end up being down the line. Sadly, this victory wouldn't receive the best follow-up as the initial championship reign he achieved was fairly one-note and received nothing but a resounding 'meh' from those that watched it pan out.
Aftermath aside, this was more of what made Money in the Bank so special in the first place and is an overlooked match that deserves more attention.
WORST: Money in the Bank Ladder Match for the WWE World Heavyweight Championship, Money in the Bank 2014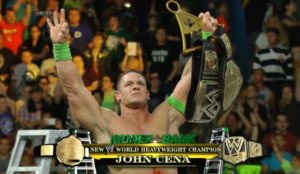 Competitors: Roman Reigns, John Cena (Winner), Kane, Randy Orton, Cesaro, Sheamus & Bray Wyatt
I never thought I'd live to see the day a Money in the Bank match actually came across as nothing but by the numbers, and that happened at the 2014 event in a match that actually had a lot of potential on paper.
Unlike previous editions of this match, the winner here would receive the prize of Daniel Bryan's vacated WWE World Heavyweight Championship as opposed to the traditional briefcase for a championship match down the line. With the stakes being set higher than ever, you'd expect this to be a potential classic and one that could provide more drama than even the general Money in the Bank match would.
None of this potential came to a head though, as we were instead treated to the most one-note ladder match in recent memory.
The talent was certainly here, a good blend of the veterans (Cena, Orton, Kane & Sheamus) and new blood (Reigns, Wyatt & Cesaro) but sadly there wasn't a single moment in this match where the audience in attendance or at home, thought the anybody but John Cena had a chance here. This came in part with the booking leading up to this match which positioned Cena at the forefront and left no credibility for any other competitor.
We had a few solid bursts of excitement, including a tease of the inevitable match between John Cena & Roman Reigns, aside from that nothing really seemed to pull the match out of 2nd gear. Anyone who saw the 2014 show also understood this match had to follow the classic that occurred earlier in the evening with the actual briefcase on the line, a match that stood head and shoulders above this one.
At the end of it, John 'Super' Cena unsurprisingly came out on top in typical fashion, defying the overwhelming odds placed in front of him and once again making it to the top of the mountain in the WWE.
Just to be clear, we have yet to have an actively awful Money in the Bank match thus far into its existence, but this one came the closest to being categorized as 'bad'. It was by no mean a disaster, just painfully uneventful aside from the crowning of a new champion.
BEST: Money in the Bank Ladder Match for a World Heavyweight Championship Contract, Money in the Bank 2011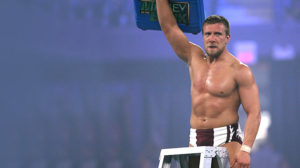 Competitors: Daniel Bryan (Winner), Sheamus, Sin Cara, Cody Rhodes, Kane, Justin Gabriel, Heath Slater & Wade Barrett
Very few wrestling shows provide the excitement, noise & incredible sequence of events that unfolded at the 2011 Money in the Bank event, and duplicating its success is yet to be seen since that faithful day in Chicago.
The 2011 epic is one I personally revisit frequently, boasting a stacked card from top to bottom, 4 classic headline matches & some of the best samples of storytelling a wrestling fan came come across in the 21st century. While most remember the evening for the classic CM Punk vs John Cena match that headlined the card, the opening contest deserves its rightful place in the history books as arguably the best Money in the Bank match to date.
In terms of line-up this card primarily showcased and gave way to the stars of tomorrow, the likes of Bryan, Rhodes, Gabriel & Slater all provided a fresh new face to the match itself while veterans such as Sheamus & Kane did their jobs of flattening the bodies in their path for the most part. Admittedly though we can't give the match full credit for just its in-ring action, which was superb, but also the raucous Chicago crowd who came to the arena with passion I wish every wrestling show had behind it.
Every single superstar in this match came across as a star because of the audience's investment, never seeming like simple 'mid-card players' and coming across as larger than we could have ever imagined. Daniel Bryan was the clear favourite here, due to this history on the independent scene in a city that is known for its history in that field and his ovation following the inevitable victory he achieved was a clear sign of how popular he would one day become.
The matches countless highlights are endless to list, but the most noteworthy moment (outside Bryan's victory) came in the form of a powerbomb from Sheamus on Sin Cara, who in turn was driven through the ladder setup at ringside, splitting it in two pieces and scaring countless fans to death. Moments like these make Money in the Bank what it is and remind us of the stakes it holds to those competing in it and was a reminder of how vital the match at hand was.
Obviously, these choices are subjective, but the 2011 Money in the Bank opening contest is a firm reminder of what a brilliant concept this match was back at its inception. This match accomplished phenomenal in-ring action, star making performances & the rise of one of the most popular figures in the industry today. Beautiful stuff all around.
---
Always Use Your Head and visit the official Pro Wrestling Tees store for The Chairshot All t-shirt proceeds help support the advancement of your favorite hard-hitting wrestling website, The Chairshot!

---
Jim Neidhart: Remembering The Anvil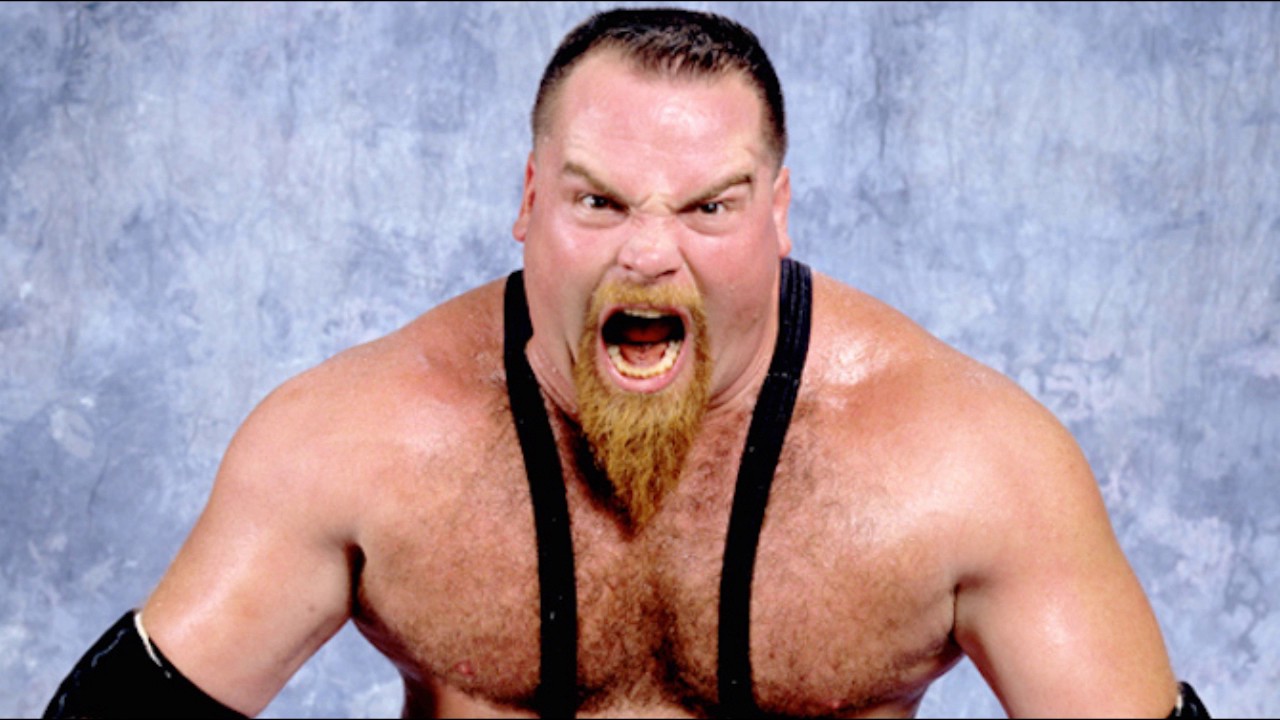 A piece of my childhood passed away.  Jim "The Anvil" Neidhart was known best as half of the 1980s tag team, the Hart Foundation.  Along with his tag team partner and brother-in-law, Bret Hart, the Hart Foundation were active between 1985 and 1991, and won the WWE Tag Team Titles in '87 and '90:  Then in 1997, the Hart Foundation was revived in the form of a stable. The group's line up consisted of family members and students of the Hart clan.
The Neidhart-Bret partnership mirrored a relationship between a big brother; protective over his younger sibling; this illustration became evident when the Harts switched from being villains to heroes, in 1988. An example of the brotherly relationship was demonstrated during their matches as Bret would take the brunt of their opponent's foul tactics while Jim; frustrated and concerned, waited reluctantly in his corner for Bret to escape their opponents and tag him in.
I believe that a lot of Hart Foundation's success and appeal is credited to Jim Neidhart's contributions. Bret was known as the cool member and 'technical wrestling' part of the team; Bret occupied the ring during most of their matches as Neidhart shouted moral support in the corner while waiting for his turn. When Bret was the recipient of their opponents' foul play, the fans depended on Neidhart as the 'big brother' to make the save.
Bret's appeal as the 'cool' guy was an element to the Hart Foundation's fan base; however, it was Neidhart's infectious and loud personality that transformed the Harts into an inclusive brand. The Hart Foundations interviews highlighted Neidhart's abilities to sell the group with his animated charisma. What Bret did for the team in the ring; Neidhart equaled while promoting the duo in their interviews.
RIP Jim "the Anvil" Neidhart
---
Always Use Your Head and visit the official Pro Wrestling Tees store for The Chairshot All t-shirt proceeds help support the advancement of your favorite hard-hitting wrestling website, The Chairshot!

---
Carmella: The Fabulous WWE Villain Fans Never Knew They Needed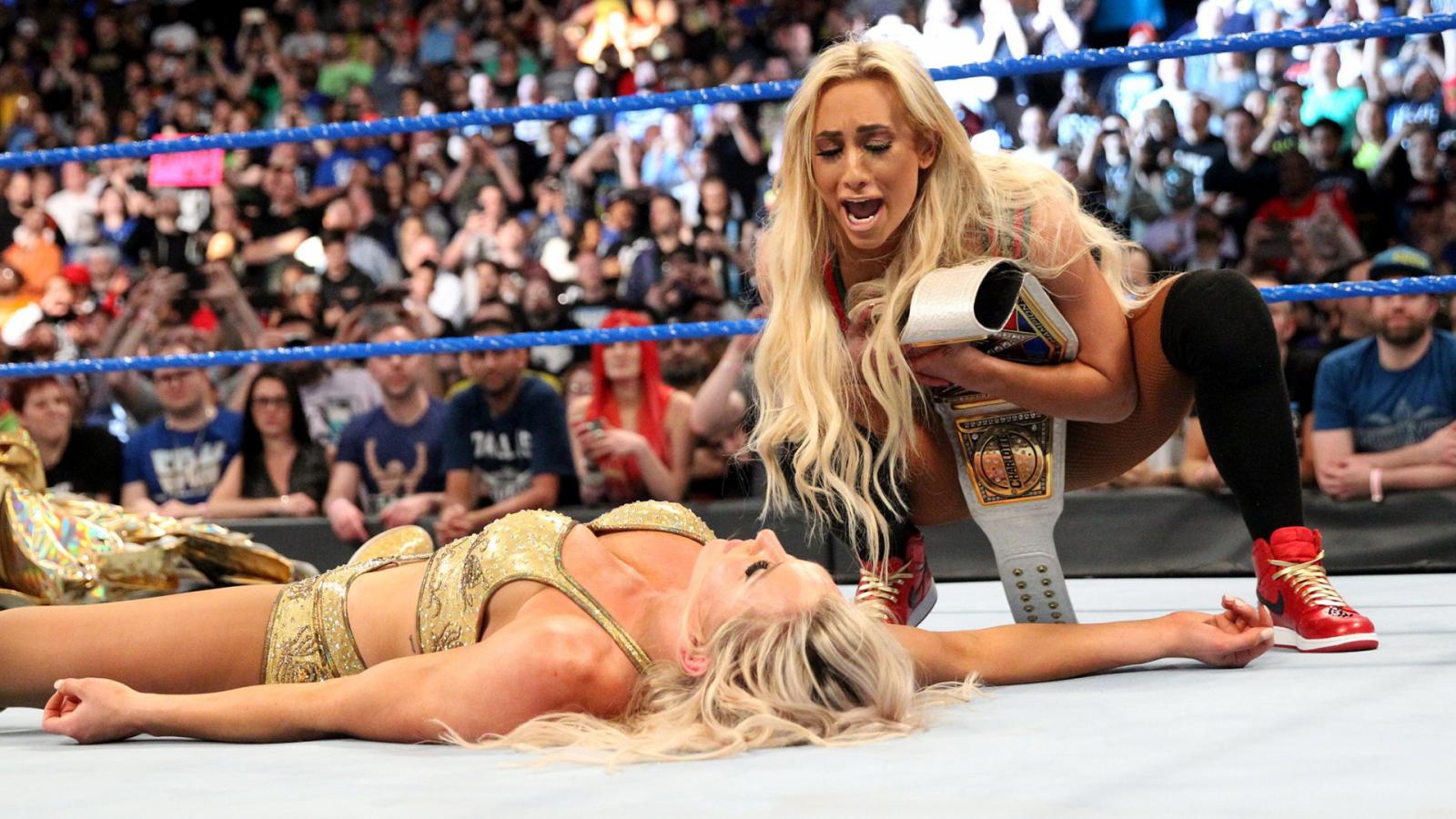 When one thinks of Carmella, it's understandable to hear the groans, complaints, and see the occasional eye roll whenever she is mentioned.  The current Smackdown Women's Champion thrives in controversy, to which that is how she captured the gold in the first place.  From the Women's Money in the Bank to now, it is well-known that Carmella will find any way to win, and now, keep the Championship around her waist.  Many fans don't like it, but that's okay.  They're not supposed to like it, after all.
The heat for Carmella is something rather special.  Long gone is the sidekick to Enzo Amore and Big Cass.  Carmella's opportunist-driven qualities are what have gotten her this far.  Aligning herself with James Ellsworth has been a catalyst for her career thus far; however Carmella's motive on Smackdown has been clear from the time she was drafted just two years ago.  As the final pick in that particular draft, Carmella has done quite well for herself when you look at her accomplishments on the surface.  It may not be the right way, but fans can't deny that it only adds to her notoriety.
In fact, Carmella just may have taken a page out of the book of the past Superstars and has executed those heel tactics to great success.  She isn't the best wrestler by any means, but some of the best heels the company has had were the exact same way.  Wrestlers such as Tully Blanchard, Wahoo McDaniel, Yokozuna, Big Show, and even Jinder Mahal are names that come to mind when it comes to such traits.  With that being said, Carmella's character on the main roster has always relied on the shady cheat tactics to get and stay ahead in the Smackdown Women's division.  From her wins against Charlotte Flair and Asuka, those factors heavily play into her storyline direction.
Carmella uses those wins to draw continuous heat, which helps her tremendously.  In addition, her conceit and mouthy attitude draws even more ire from fans who want to see her get beat down.  There is no guess that she is Smackdown's top female heel and with good reason given how her journey has been thus far.  There isn't anyone at this present time that has the advantage and opportunities Carmella has been able to use at her disposal.  Perhaps the IIconics are on their way there, but they have a long way to go to make any kind of long-term establishment.
Carmella may not be the most talented in the ring, but what she does with her character matters so much more.  Years from now, she will be one of those who fans reminisce about when talking about this era of WWE.  Yes, she's pissed us off, and yes, she gets on everyone's nerves.  But in this day and age, that is something to be recognized for, and that is why she is the Smackdown Women's Champion, and why she's grabbing the spotlight.  When Carmella does lose that Championship, it will be a great moment because it has been a long time coming.
---
Always Use Your Head and visit the official Pro Wrestling Tees store for The Chairshot All t-shirt proceeds help support the advancement of your favorite hard-hitting wrestling website, The Chairshot!

---
Top 5: 2018 Dream Matches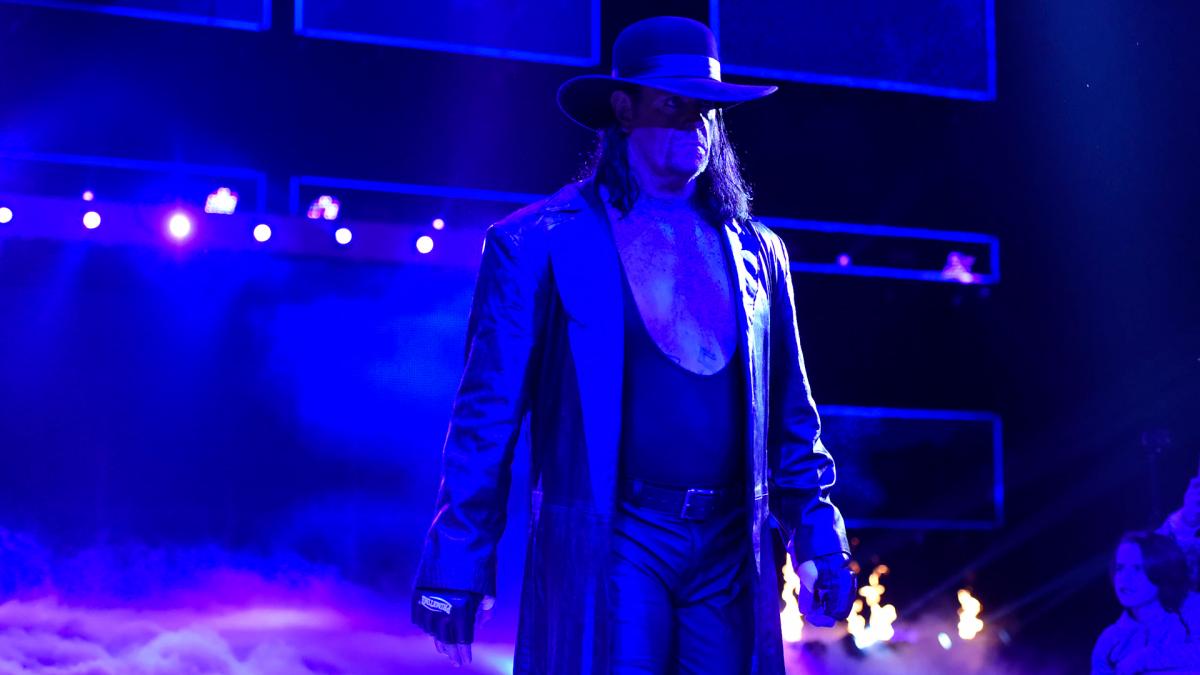 Some folks out there have been complaining about the All In card lacking that epic feel. I feel like these people would have complained no matter what Cody Rhodes and The Young Bucks booked on the show, but I have to admit that Cody vs. Nick Aldis isn't exactly something that I've been dying to see. Last week however, they announced a match between two of the most talked about wrestlers of the last few years that have never crossed paths.
Kenny Omega -VS- Pentagon

September 1st #ALLin pic.twitter.com/3ej5rn659z

— All In (@ALL_IN_2018) August 12, 2018
Kenny Omega is the Best Bout Machine and the talk of New Japan & the wrestling world. His status with that company is a constant topic of conversation, as everyone wonders when/if he'll make the jump to WWE. He's admitted it'll probably happen someday, but he has no reason to be displeased with where he is.
Pentagon Jr./Pentagon Dark/Penta el 0 M wrestles pretty much everywhere except Japan & WWE, it seems. Lucha Underground, Impact Wrestling, AAA, CMLL, they've all hosted Pentagon & his arm-breaking ways. There's been some WWE hype, but Penta doesn't seem the type to tie himself down to one company, or even one name.
Omega vs. Penta qualifies as a dream match in my eyes. We've seen Kenny tear it up on NJPW World. We've seen Pentagon do his thing in companies all across North America. It'll be interesting to see how it goes. In honor of this machup, I've put my thinking cap on and come up with some other matches I haven't seen before that I think would be fun.
These are the Top 5 2018 Dream Matches.
5. Dalton Castle vs. Velveteen Dream
I see a lot of Dream hype online during & just after every NXT Takeover. I don't hear a word about him any other time, but he's a talented performer with a certain charisma about him. His flamboyance is a key tool he uses to play mind games with his opponent. Some feel he could be the future of the business, but believe that WWE's main writing staff will be unable to use him properly.
Castle is a character that could only exist in its true form in Ring of Honor or a promotion on its level. TNA wanted him to have Girls when Boys were what made the entrance work. He overcame the barrier that flamboyant acts had previously faced in ROH by being as talented in the ring as he was on the microphone. Both of these guys get it done in every aspect of the game, and seeing them in a feud would be very interesting.
4. Charlotte Flair vs. Tessa Blanchard
Charlotte has stood on top of WWE's women's scene for a couple of years now, but another daughter of a Horseman is making her presence felt on television these days. Tessa has been in NXT rings before, but didn't cross paths with Charlotte before making her way to Impact Wrestling. The daughter of Tully and step-daughter of Magnum TA has made her desire for this match between two daughters of Jim Crockett Promotions legends well-known. One figures it has to happen someday.
I'm not sure that Ric & Tully ever faced off one on one. The one place I can think of that it could have happened would have been the Southwest territory while Tully was one of the top heels, but I'm not sure the NWA Champion toured there. Maybe Houston on a Paul Boesch card? Somebody should ask Mathew Sforcina.
3. LA Park vs. Dean Ambrose
LA Park is having a career renaissance in 2018. He's main eventing Arena Mexico shows for CMLL. He'll be in the TripleMania main event for AAA. This obviously never happens because CMLL & AAA don't trust each other (for good reason), but Park's viability with the lucha audience is such that both promotions are rolling with it. He'll also be appearing in MLW to work the likes of PCO. His matches, as they have been for the past couple of decades, have been wild.
Dean Ambrose hasn't done anything in 2018. He's been out with a torn tricep since December 2017. As we all know, Dean is the Lunatic Fringe & one of wrestling's craziest brawlers when he's healthy. Anybody that knows me knows that I love a good, out of control brawl. Matches where furniture is flying, foreign objects are in play & fans need to run for their lives are good times in my book. These two would probably get a promotion banned from a venue.
---
Always Use Your Head and visit the official Pro Wrestling Tees store for The Chairshot All t-shirt proceeds help support the advancement of your favorite hard-hitting wrestling website, The Chairshot!

---