The Book Club: Kofi Kingston as WWE Champion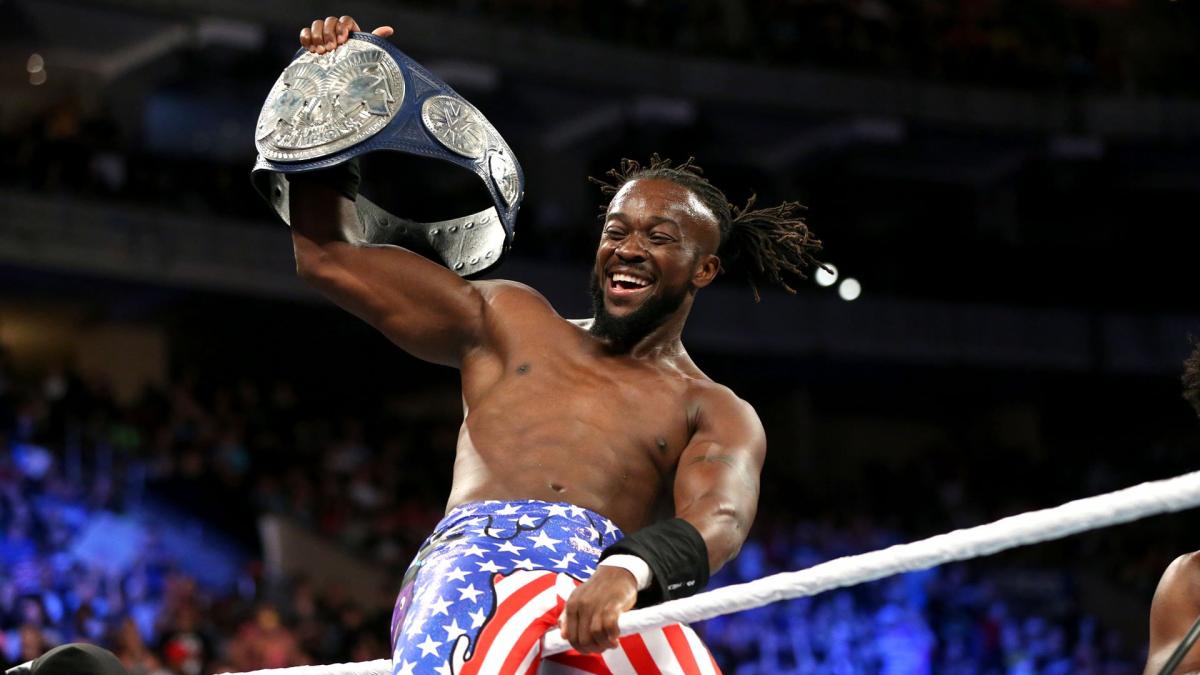 This is an idea I've had on my mind for awhile now.  Last Sunday, Money in the Bank confirmed what I already felt: Kofi Kingston should get a shot at the WWE Championship.
He's been stuck in the tag title scene for the past several years so you may forget everything he's accomplished in his career.  His resume speaks for itself.  Kofi is a 4x Intercontinental Champion, 3x United States Champion, and 7x Tag Team Champion (longest reigning).  He has also participated in 3 Elimination Chambers, 7 Money in the Bank ladder matches (tied for most all-time), and 11 Royal Rumbles (tied for fourth most).  Also, not many guys can claim they've hosted a Wrestlemania.
Out of those 21 marquee matches I just mentioned, his only victory came in an Elimination Chamber match for the tag belts in 2015.  He's been with WWE for over a decade but has never had a one-on-one world title match or feud.  His only two WWE Championship opportunities came in Elimination Chamber matches.
So what's the problem?  We never hear about Kofi having backstage heat or creating problems with management.   He's been one of the most consistently popular babyfaces in this generation of wrestling and is apart of one of the most successful factions in the company's history.  Kofi has a Hall of Fame caliber body of work as a singles wrestler but might even end up being inducted with The New Day.  How many other talents can say that besides Ric Flair and the Hardy's?  His body type can't be used as an excuse.  Guys like CM Punk, Rey Mysterio, Shawn Michaels, Daniel Bryan, and Jeff Hardy have held the top prize.  The New Day's feud with the Uso's was the hottest thing on Smackdown last year and Kingston consistently provides the highlight of every Royal Rumble match.
Last Sunday made me even more excited to write this article.  I was almost certain Big E was going to be the New Day's mystery entrant.  When Kofi was revealed as the guy, I thought the Chicago crowd was going to turn on him since it would be his 7th appearance in the match.  To my surprise, the opposite happened.  The snarkiest fans in wrestling known for their beach balls and "CM Punk" chants vocalized their support for Kingston multiple times during the match.  When I saw him standing in the ring with seven of the company's elite, it just looked like he belonged.
Even outside of the venue, I saw the collective support throughout the wrestling community.  The conversation of Kofi sparked on Twitter and the guys over at Cultaholic agreed that he deserved the briefcase.  Now we're left to hope those chants resonated with Vince.
Let's Book It
Since the Money in the Bank briefcase is living on Raw, AJ Styles might be WWE Champion for the foreseeable future unless the plans are to strap the rocket to Rusev.  That being said, my ideas revolve around Kofi and AJ.
Some parts of wrestling world still aren't convinced with Kingston at the top spot so the first step would be to establish him as a credible threat.  I've heard that Vince isn't a big fan of tournaments so a gauntlet match would be more ideal.  Unfortunately, that just occurred in this Tuesday's episode of Smackdown Live.  The silver lining is that Big E was the New Day member that failed to win so Kofi was spared a critical loss.  Whether it's a tournament, gauntlet match, or six-pack challenge, Kofi Kingston winning a big #1 Contender's opportunity against Smackdown's best needs to happen in the next 12 months.
Kofi is enjoyed by casual and hardcore fans alike.  The silliness of the pancakes and cereal entertains all ages and the older fans have been watching him for over 10 years.  New Day has been active for almost 4 years now and the fans still yell Big E's intro before the music hits.  The support and babyface appeal is there.  My next step would be to give AJ Styles some heel-ish tendencies.  The longer AJ's reign continues, the more confident he should get.  He should start to possess some of that likable cockiness that Kenny Omega and Braun Strowman share.  The chemistry of the feud will determine how much of a heel AJ becomes.
Another element to the feud could be the addition of Gallows and Anderson, AJ's old Bullet Club mates.  Gallows and Anderson are coming off their second failed attempt at the tag titles as newly-christened babyfaces so they could use some revamping.  Allowing them to wear face paint again and giving them more violent tendencies could give them their edge back.  Pairing them
back with AJ couldn't possibly hurt.  We've already seen The New Day have matches of the night on several pay-per-views with The Usos in 2017.  I wouldn't be surprised to see them recreate that magic with The Club's three veterans.  Whether it's in 6-man matches or bouts over the Smackdown tag belts, those series of matches could be special if given the right amount of time.
I genuinely think Kofi Kingston and AJ Styles would work really well together.  Imagine them headlining PPV's with 20+ minutes of time.  They're two of the best athletes in the company and they've done it all.  In the promos leading up, AJ could mock Kofi by saying it only took him a year with the company to win the WWE Title, whereas Kofi has been there for a decade without winning it.  When AJ says Smackdown Live is the house that he built, Kofi could retort by bringing up all the money New Day has brought the company with their merch and television appearances.  There would be no SD Live if Kofi didn't help man the ship for his whole career.
We've seen recently that Vince has been rewarding his veterans with grand-slam championships.  Seth Rollins, Randy Orton, Dolph Ziggler, and Jeff Hardy have all completed the feat in the last year.  Kofi Kingston should definitely be next.  Even Christian was given the World Heavyweight Championship at the end of his career.  Hopefully before Kofi decides to hang up the boots, the company he's given his life to gives him the main event storyline that's alluded him.  At the end of the day, I think we can all agree that Kofi definitely deserves it.