The Universal Title Means More to Brock Lesnar, than Brock Lesnar Means to the Universal Title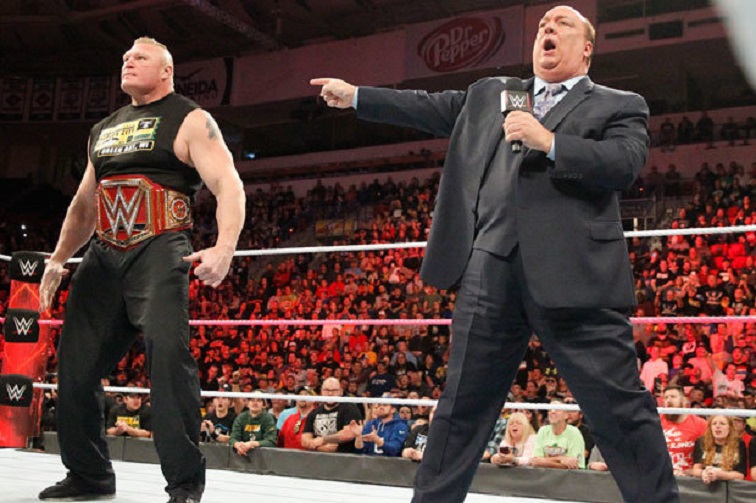 On June 9, Brock Lesnar will become the longest reigning champion of the modern era, having held the Universal Championship since WrestleMania 33 for 435 days. He will break the record of 434 days set by CM Punk during his WWE Title run from November 2011-January 2013.
Assuming that Lesnar probably won't even defend the title at the earliest, much less lose it, until SummerSlam, he is well on his way to putting considerable distance between himself and the Straight Edge Superstar. But in the end, how will this reign of The Beast be remembered? Not only in comparison to Punk, but in historical significance? If you ask me, Brock Lesnar may go down as the biggest name in wrestling history in which the title meant more to him than he did to the title.
If we were to debate the reigns of Punk and Lesnar, simple statistics would seem to make the case for Punk's reign being more significant. During Punk's 434-day title run, he defended the title a total of 141 times and appeared on 12 pay-per-views. By comparison, when Brock breaks that streak on June 9, he will have defended the Universal title a grand 10 times and appeared on 6 pay-per-views. However, the numbers here tell an even deeper story.
We are told that we live in an era of wrestling where the titles don't matter. Many times we have heard them referred to as "props" by writers and promoters, even as early as the Attitude Era in the late 90's by Vince Russo for example. But then why are we approaching a pay-per-view event in Money in the Bank that is designed entirely around fighting for a shot at the title? As much as we understand, now more than ever, that pro wrestling is a business, it is still based on traditional motivations. The purpose of being a wrestler is to be the best and be the champion. That's the prize for winning the game. If there wasn't anything to fight for, what would be the point? The championship DOES matter when it's done right by the title holder.
My case in point is CM Punk. Punk's title reign meant something because he made the title itself mean something. He held the championship for 434 days and did so while defending it regularly, putting on entertaining matches, and carrying the banner for the company. In those 434 days, there were 110 matches in which Punk retained the title. 110 opportunities in which the WWE said: "Punk is better than the other guy." And in doing so, the title gained prestige. Punk took pride in being the champion, and thus the fans took pride in the championship. You knew whoever finally did unseat Punk as champion, it was going to be a big deal. Punk made the title. And in turn, he made himself as well. Fans tuned in to see if he would finally lose the title (which should be the goal of all heel champions), but Punk also cemented himself as a legit superstar and someone that the fans would care about and continue to watch and take interest in even after he had dropped the strap. He was a made man.
Contrast that with Brock Lesnar and ask yourself this question: If Brock wasn't the Universal Champion, would he peak your interest anymore?
The novelty of seeing Brock Lesnar, a legit UFC champion and MMA fighter, run roughshod over beloved faces like John Cena is long gone. By this point, if you've seen one Lesnar match, you've seen them all for the last two years. Even intriguing matchups with the likes of Samoa Joe and Braun Strowman have gone pretty much to script. Lesnar fatigue has set in.
I would offer that the only reason most fans watch a Brock Lesnar match nowadays is only to see if/when he will drop the title and the WWE will move on from a "part-timer" as its flag bearer. If Brock wasn't the Universal Champion, who on the current roster could he have a match with that would really peak your interest and cause you to spend money to watch? Maybe Daniel Bryan? Seth Rollins? Pickings are surely slim at best. The Undertaker and Goldberg aren't walking through the door. The title makes Lesnar. It is the sole reason fans are invested in him and his role in the company and on RAW. Without the Universal Title around his waist, Brock Lesnar is not the draw he once was.
And therein lies another conundrum- if you believe that the Universal Title is what makes Lesnar interesting and a draw to viewers, and you are paying him the kind of money WWE is paying him, how do you take the title off of him? Why would you strip away the one thing that is keeping fans interested in him? Once he drops the belt, his days as a top box office "sure thing" might be over. Maybe the WWE foresaw this, and that explains why he is being paid per appearance. They can shelve him when they don't need him, and bring him back when they need a shot in the arm. Or maybe we are in for a much longer title run for Lesnar than we ever might have imagined. If Lesnar makes it past SummerSlam as champion, I think it may not be until WrestleMania 35 before we see the Beast conquered.
But remember, the title doesn't mean anything….
@KoreyGunz
@KYWrestleReport
Booking The Territory: Greg DeMarco's WWE NXT Stand & Deliver 2023
It's WrestleMania season, and that means it's the 2023 Stand & Deliver season for WWE NXT! Greg DeMarco builds the card for this now annual tradition!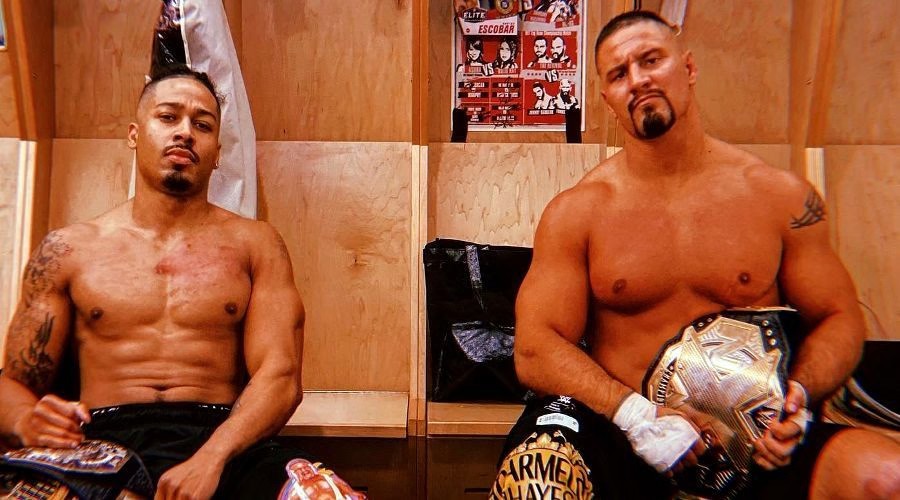 It's WrestleMania season, and that means it's the 2023 Stand & Deliver season for WWE NXT! Greg DeMarco builds the card for this now annual tradition!
With Vengeance Day in the rearview mirror, WWE NXT makes its march toward Stand & Deliver, their WrestleMania Weekend Premium Live Event! What's going to be on the card? I have no clue (well, I have some clues–they ARE telling two major stories right under our noses), but it's going to be damn fun to get there.
Several matches were set up at WWE NXT Vengeance Day this past Saturday night, and more match-ups will come to light.
NXT Championship: Bron Breakker (c) defends vs. Carmelo Hayes (with Trick Williams)
Let's go with obvious match #1: Melo challenging Bron. Vengeance Day ended with Bron Breakker standing tall, atop the steel cage, after defeating Grayson Waller. And who walks out? That's right–Carmelo Hayes. Melo has been can't miss since his debut as a babyface against Adam Cole, but Breakker has taken the top spot in NXT and held it for over a year now.
According to Cage Match, Breakker and Carmelo have crossed paths four times in NXT, one of them being on the same War Games team, and the rest being, at minimum, 2-on-2 tag team matches.
This is a money match, and Shawn Michaels knows it. It will be tempting to do so, but there is no reason to slap an unnecessary stipulation upon this showdown. Just book it, and let them do the rest.
Hollywood Backlot Brawl (or Hollywood Street Fight): Gigi Dolin vs. Jacy Jayne
It's time for Toxic Attraction to fully implode, and what better way to do this than a Street Fight at NXT's version of WrestleMania. Since we're in Hollywood, bringing back the ol' Backlot Brawl works for me, but that's just a Street Fight under a different name,
But that type of match also works well for Jacy Jayne and Gigi Dolin, who are very underrated brawlers (although, don't expect Gigi to repeat any prior viral moments in this one).
Six-Man Tag Team Match: Indus Sher & Jinder Mahal vs. The Creed Brothers & Roderick Strong
Given the set-up, this HAS to be where Roddy Strong returns, right?
RIGHT?
While the man who took Roderick out–Damon Kemp–is currently just finding his way back onto NXT television, Brutus & Julius Creed find themselves outnumbered in this feud. It's the perfect scenario for Roderick Strong to come back–and Diamond Mine would be stronger than ever.
NXT Women's Tag Team Championship: Fallon Henley & Kiana James (c) vs. Ivy Nile & Tatum Paxley vs. Kayden Carter & Katana Chance
Nile and Paxley could find their way here by winning the Dusty Classic, which will probably start-up here soon. Carter & Chance also makes sense in this spot–and it could be their swan song before heading to the main roster (as a team).
This is also the perfect time to blow the roof off the Kiana James/Fallon Henley/Brooks Jensen/Josh Briggs story. That likely leads to the victory for Nile & Paxley, who both capture their first championships in NXT.
NXT Women's Championship: Roxanne Perez (c) defends vs. Zoey Stark
Shawn Michaels loves him some Zoey Stark. She can go in the ring, but she's not electric in any way. And for the love of God, keep the microphone out of her hands. but Roxanne Perez has the Midas Touch, turning everything to gold. This would be a fantastic match, one that would see both women excel.
Ladder Match for the NXT North American Championship: Wes Lee (c) vs. Axiom vs. Nathan Frazier vs. Charlie Dempsey vs. Channing "Stacks" Lorenzo vs. Apollo Crews
It seems like a Ladder Match is tradition on these shows, and this one works quite well for me. You can also mix in a little Tyler Bate, or possibly Tony D'Angelo and DIJAK. If you don't go the Jinder/Indus Sher vs. Creeds/Roddy route, you could put Julius in here.
Why Stacks? Because I assume Tony D will be busy with DIJAK in some shape or fashion.
Why Apollo? Obviously the Dabba-Kato program is happening, but I don't think that's a Stand & Deliver match. That can happen on go home show, where Apollo wins his way into this Ladder Match
What's Missing?
Six matches does seem like the limit, but that leaves out a few important things:
Someone is going to win the Dusty Classic and the right to challenge Gallus for the NXT Tag Team Championships, and that makes sense to be at Stand & Deliver.
Grayson Waller is definitely going to be a focus, and since HBK ain't wrestling anymore, he's going to need an opponent (unless he's moving up to the main roster before WrestleMania, which seems odd).
Andre Chase vs. Duke Hudson is going to happen sometime soon, and a WrestleMania Weekend crowd would be going nuts for Mr. Chase.
Tiffany Stratton is going to gain more and more spotlight time, and this seems like a card you want her to be on.
---
What are your thoughts on these proposed matches for WWE NXT Stand & Deliver 2023? Let me know in the comments or on social media @GregDeMarco44!
Greg DeMarco's Results, Reaction, & Analysis: WWE NXT Vengeance Day 2023
The latest WWE NXT premium live event, Vengeance Day 2023, is history, and Greg DeMarco has all of your reactions and analysis!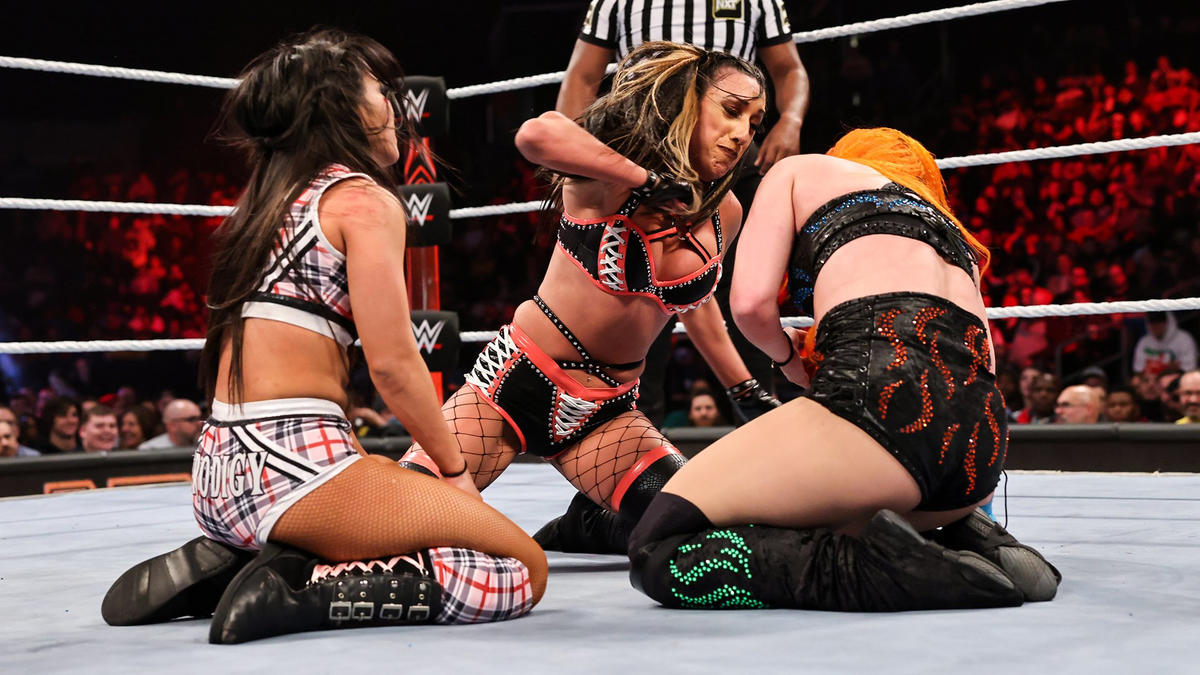 The latest WWE NXT premium live event, Vengeance Day 2023, is history, and Greg DeMarco has all of your reactions and analysis!
For the first time since 2020's Takeover: Portland, the Black–err, White and Gold express that is WWE NXT made their way on the road for a stand-alone Premium Live Event: Vengeance Day 2023!
(I assume NXT Stand & Deliver doesn't count since it's not "stand-alone," but accompanies a larger WWE event.)
(Another aside: the above-referenced 2020 Takeover event happened to fall on my birthday in 2020–look it up and don't forget to wish me a happy birthday!)
Ticket Sales & Attendance
As far as the ticket sales, the always amazing WrestleTix Twitter account has us covered. Remember, sales and attendance are different things. Leave it at that–don't get caught up in the Dave Meltzer/Conrad Thompson "inflated attendance" nonsense. Attendance is everyone in the building. Ticket sales are tickets purchased. It's that simple.
WWE NXT Vengeance Day
Sat • Feb 04 • 7:45 PM
Spectrum Center , Charlotte, NC

Available Tickets => 414
Current Setup/Capacity => 5,768
Tickets Distributed => 5,354

[https://t.co/yRCOtL75Yu] pic.twitter.com/lIKNXzQoMe

— WrestleTix (@WrestleTix) February 4, 2023
A draw consisTent with many recent Raw and Smackdown tapings, which is a big win for the WWE's developmental brand.
Set-Up
I am a big fan of when premium live events have a unique look and feel to them, so the "stage" here was a welcome sight to see.
Let's hope WWE keeps that trend going.
But those are sidebars, now let's see what happened!
Wes Lee pinned DIJAK to retain the WWE NXT North American Championship
The last "stand alone" NXT premium live event, Takeover: Portland, was headlined by Adam Cole defending the NXT Championship against Tommaso Ciampa in a 33-minte banger of a match. The first match of their return to stand-alone events goes 17 minutes–great for an opener–and provided amazing action reminiscent of the Black and Gold Experience.
Wes Lee is an amazing performer. Even when MSK was a thing, I saw Lee as a potential Cruiserweight Champion. That is obviously not an option now, but him winning this championship and defending it the way he has is perfect. Booker T showing his career respect on commentary, including a nod to everywhere else ol' Dez has worked, was a great touch. Booker T and Vic Joseph are really good fits for this brand.
Wes showed immense strength in this contest, taking DIJAK over multiple times in spots where his opponent was nothing but dead weight. Extremely impressive for a guy legitimately giving up nearly 100 pounds.
But DIJAK also stood out, here. This is easily his best outing since he was formerly in NXT, and really showed what he can do. Much of his return has been character driven, but also "big man" style work. This match was reminiscent of his legendary battles with Keith Lee.
Too many kickouts? I wouldn't say that–it all fit perfectly. This match was special, and in the modern day NXT, 17 minutes is great. You don't need to go 30+ to thrill a crowd.
Fallon Henley & Kiana James beat Kayden Carter & Katana Chance to win the NXT Women's Tag Team Championships
While Carter and Chance had been champions for 186 days–a record for any iteration of Women's Tag Team Championships in the modern era for WWE–they did not have the most memorable run. Much of it was overshadowed by controversy surrounding the WWE championship counterpart, along with a lack of competition.
Fallon Henley and Kiana James are outstanding solo performers, and the added element of Josh Briggs & Brooks Jensen really drives the story home. If you watch closely, you can see Henley and Briggs holding everything together. Kiana James has tremendous upside, and is developing at a rapid pace.
This story will obviously continue–and it should. James' conversation with "Zach" last week on NXT will undoubtedly come up, and probably to lead a split between one or both tag teams. I assume "Zach" is her brother, and Henley is being overprotective. Can't blame Brooks for latching on, the "King Of The Friendzone" is maximizing his shot, here.
Carmelo Hayes beat Apollo Crews In A 2-Out-Of-3 Falls Match, 2-0
Many are saying this match underdelivered, and I think it might require a second watch from me to fully say either way. On the first viewing, this match was entertaining and very enjoyable.
The booking? That seemed odd.
I'm  not complaining about Carmelo going over in 2 straight falls–that's fine. Although I was surprised at the crowd response after the first fall. Might have been better if this match opened the show, with the North American Championship going on third instead. But it's easy to say that AFTER the show has happened.
The questionable booking–to me–was the use of the former Commander Azeez, Dabba Kato. He prevented Trick Williams' interference, fulfilling Apollo Crews' vision, but didn't help his former partner at all. He also didn't hurt him. it was just kinda…there.
Had he helped him score a second fall, and then Melo wins in a third fall, I think it all makes more sense, and the turn makes more sense as well. I was also surprised that Vic Joseph didn't make a bigger deal out of their prior association.
Vic Joseph, by the way, had one of the best lines of the night, mentioning both "Nation" and "Casanova" in true IYKYK style–proving he picked up a thing or two when cohosting After The Bell with the King Of IYKYK, Corey Graves.
For the record, I don't think Vic would translate to Raw or Smackdown. But he fits perfect in NXT.
Overall, Carmelo Hayes is a damn star, Trick Williams is the perfect associate, and Apollo Crews seems to be struggling to find where he fits in all of WWE.
Gallus (Mark Coffey& Wolfgang) captured the NXT Tag Team Championships when Coffey pinned Xavier Woods to win a Fatal 4-Way Match that included defending champions The New Day (Woods & Kofi Kingston), Pretty Deadly (Kit Wilson & Elton Prince), and Chase U's Andre Chase & Duke Hudson
The amount accomplished in this 16 minute affair is astounding. It was mostly a sprint, but never seemed spotty to a contrived level. The New Day are some of the best in-ring storytellers in all of WWE, and their presence here helped everyone.
A side story of this match was Andre Chase returning home to the arena he saw many a wrestling event. They even mentioned his tag team with his (Bravado) brother (who I don't believe was shown on camera despite being there), and had the crowd solidly behind his team. Andre Chase did get his moment, the C-H-A-S-E-U Stomps, and it will likely go down as a career moment for him having nearly 6,000 people chanting that.
I do believe he'll do that in front of 50k+ on the main roster someday, but this had to hit different being in his hometown.
THIS MATCH IS CHAOS!!!#WWENXT #VengeanceDay pic.twitter.com/8ERVvnQId2

— WWE (@WWE) February 5, 2023
The finish seemed right, Gallus is a great team, and the door is open for Joe Coffey to surprisingly return to help them retain at some point.
Xavier Woods taking the pin signifies, to me, that The New Day is done with NXT at this point. They could drop a rematch on Tuesday, but since they weren't victims of the "champions don't have to be pinned to lose their titles" rule, they don't have to get a rematch. They did their job, and did it well.
Roxanne Perez pinned Jacy Jayne to retain the NXT Women's Championship in a Triple Threat Match that also included Gigi Dolin
This match was the right mix of story and action. And for this one, you needed both.
Let's start with Roxanne Perez. She's a goddamned star. I can't put my finger on why, but she's electric. She's the type of start that internet stans will talk about her on Twitter 5 years from now referring to her as "Carla" when someone says one bit of criticism about her–or tries to send the attention into another direction.
If I'm Matt Bloom, Shawn Michaels, William Regal, Triple H–whoever–I am sending someone to Reality Of Wrestling weekly to scout talent. Booker T is doing something (many things) right.
Then we have the Toxic Attraction part of the match. Gigi Dolin and Jacy Jayne are a fantastic combination, and they still work without Mandy Rose. It gives them a chance to spread their wings and fly. But I do think a feud between them is in order.
And allow me to fantasy book for a moment–here's how you set it up: on Tuesday's NXT, you start the show with an "earlier today" moment where Gigi & Jacy run into Fallon Henley and Kiana James (and Brooks Jensen and Josh Briggs). They exchange pleasantries until Toxic Attraction points out Fallon & Kiana can never be as good as they are. The babyfaces (?) disagree, so a challenge is issued. Josh says they just found out they have the night off, and it's time to party! Gigi and Jacy push harder, and of course it's Brooks who accepts on behalf of their teammates.
The match itself sees a slight miscommunication between Jacy and Gigi, but it doesn't factor into the finish. Kiana and Fallon win clean, and once they leave things finally boil over for Toxic Attraction. Full on brawl, all over the Performance Center, ending with both of them going off the infamous NXT perch and through some staging below. That's how we end the show, and POOF!–we have our feud between them for Stand & Deliver.
Bron Breakker pins Grayson Waller to retain the NXT Championship in a Steel Cage Match
I get it–Bron is the centerpiece of the brand. And he should be. He's got the charisma, he's got the pedigree, and he just keeps getting better. Yet for the second straight big NXT event (NXT Deadline being the first), I felt like his match shouldn't have closed the show.
This was a good steel cage match. It was a great performance by Grayson Waller, and a damn good performance from Bron Breakker as well. but I think the guy is just too one-dimensional. He needs something more.
Carmelo Hayes coming out with Trick WIlliams in-tow to signify the next program for both men makes all the sense in the world. That should be the main event at NXT Stand & Deliver.
And this time around, Melo absolutely SHOULD. NOT. MISS.
I'd expect that the WrestleMania Weekend audience will be solidly behind Carmelo in this encounter. Use it. Push the envelope with it. Let Bron…wait for it…WAIT FOR IT…Embrace The Hate.
Let Bron snap. Attack the referee. Put his hands on Booker T. A plant in the crowd. On his way to the back he's met by real life girlfriend Cora Jade. But she's not talking in character, because this isn't the Bron Breaker she knows.
AND SHE LIKES IT.
Lay the foundation for NXT's new evil power couple, and turn Carmelo (and Trick) babyface in the process. Melo shoild still be Melo, now he just wants the love. He feeds off of it.
Now Bron has depth.
---
What did you think of NXT Vengeance Day? Sound off in the comments below, or hit me up on social media at @GregDeMarco44!