The Velveteen Dream Reaches White Hot, But When Will He Reach Gold?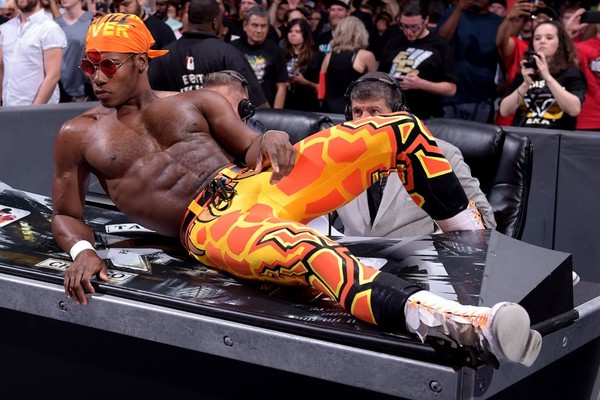 To no one's surprise, Velveteen Dream once again proved that he is the best kept secret in NXT.  He and Ricochet put on an incredible performance at Saturday's NXT TakeOver:  Chicago.  The second match of the night brought Chi-town to its feet as both men battled it out over personal vendettas.  The cheers, echoes of shock, the "oohs" and the "aahs" crescendos from start to finish in a match that was well-deserved for bigger things post-TakeOver.
An easy candidate for Match of the Year, both men went to extreme lengths in their match that resulted in elevation and evolution.  While fans know all too well about the career and reputation of Ricochet, one has to hand it to the Velveteen Dream for the superior effort he has put into his NXT career thus far.  He continues to push the envelope with his remix of Goldust and Rick Rude, taking his path to notoriety along the way.
From acing the ring psychology to the willingness to take risks, Velveteen Dream has the "it-factor" indeed.  His subtle attention to details and ability to create the buzz puts him ahead of even some of the main roster talent.  The little things indeed matter, and it makes Velveteen Dream the character that he is.  Even though the last three TakeOver matches resulted in his losses, when will he be able to back up his words and produce a win at the big one?
The last thing fans want to see is Velveteen Dream take the Bray Wyatt route.  The difference here is that Velveteen Dream is still on NXT, and he has so much more potential to create the legacy the character is capable of.  While it's true that Championships do not make the legends, but it certainly helps enshrine their legacies.  This is exactly where I am getting at here.  Why not take advantage of Velveteen Dream's popularity and establish that he is indeed a threat even at the biggest events of NXT?
With his incredible performances, Velveteen Dream has earned that right to challenge for either the NXT Championship or the North American Championship.  His athletic ability is obvious and his work has tremendously improved.  Velveteen Dream has risen to the occasion that he can deliver a great bout.  He has taken his losses, but not without a fight.  He also has earned the respect of fans, who appreciate the very foundation that pro wrestling is.  Velveteen Dream's character brings that foundation back, and it is such a treat to see.
I cannot say enough good things about his match with Ricochet.  I would believe that this match finishes the program between the two, so what could happen next?  The possibilities are endless considering TakeOver: Brooklyn is the next big show on the NXT event checklist.  TakeOver:  Brooklyn has hosted some of WWE/NXT's greatest moments and matches.  It is a good place to start giving Velveteen Dream his chance and reward him for the work he has put in.  The match this weekend is still fresh on everyone's minds, so it's too soon to tell where he goes now.
So until then, the sky is the limit for Velveteen Dream.  He has already gained respect for this weekend's match in addition to his matches with Aleister Black and the Ladder match for the North American Championship at TakeOver: New Orleans.  Hell, even John Cena has recently praised Velveteen Dream,  putting him over at a recent appearance he made.  He is more than ready to meet the challenges that are before him.  All the tools are there, now it's time to put them into play to take him to the next level.  Dripping in Finesse and all.