Today's Heels Could Learn A Lot From Larry Zbyszko
I absolutely loathed "The Living Legend" Larry Zbyszko when I was a kid. He was smug, a braggart, cheated each and every time the opportunity presented itself, and topped it all off by never running out of things to say to make fans despise him. In short, he was one of the greatest wrestling heels in the history of ever and doesn't get nearly enough credit for his genius.
Underrated Genius
I've been watching pro wrestling for over 30 years and during that time, I've seen few wrestlers I've wanted to choke more than Larry Zbyszko. Yet, when it comes time to start naming some of the greatest bad guys to ever lace up the boots, fans and experts alike are quick to throw out names like "Nature Boy" Ric Flair and "Rowdy" Roddy Piper.
Both men entertained me for more hours than I could ever begin to count, but as great as they were, they each retained the same redeeming quality: Ric and Roddy were hilarious. Sure, they did some awful things, but they were almost so charming in how terrible they were being, I couldn't help rooting for them. With Larry Zbyszko, that sort of thing was never an issue. I never did anything but hate that dude and I'm quite sure he'd be pleased to know that.
No Cheering, Spudhead!
There simply wasn't a thing about Larry that made you cheer for him. He wasn't a cool "shade of gray", he wasn't trying to impress the crowd with his wit and in-ring ability; he was just a complete prick.
Watching Larry's old matches now, I marvel at how well he worked a crowd. When I was a kid, I wanted to punch him in the face every single time he'd stall on the outside of the ring, roll back in, then right back out to stall some more. It was infuriating stuff.
So good was he at being a heel, I've heard there were even wrestlers who would get angered at his in-match antics. When you're getting the guy in the ring with you to lose it, you're really doing work!
Zbyszko did everything he could to be a despicable human being, and regardless of how 'smart' you thought you were to the business, he still found a way to reel you in.
Old School Will Always Be Cool
I'm a bit too young to have seen "The Living Legend" in the WWWF, but his feud with Bruno Sammartino is legendary. Universally abhorred (with heat as white hot as you can get it), Zbyszko really took off when he turned on the popular babyface and mentor Sammartino, attacking him with a chair, leaving him bloody and broken in front of thousands of hardcore Bruno fans. This set the stage for a feud that accounted for many sell out crowds throughout 1980, culminating in their most famous match together, the Shea Stadium Steel Cage Match in which Bruno finally got his revenge in front of more than thirty six thousand fans.
I'm most familiar with Larry Legend's work in the AWA and NWA/WCW. As a kid growing up in East Texas, I was afforded a good many wrestling options on my television each week. Everything from World Class to Mid-South, WWF to NWA could be seen weekly thanks to superstations like USA and TBS, and a local channel out of Dallas, KXTX.
When you consider the talent those promotions sported during the early to late-80's, it's more than a little overwhelming. Many of the all-time greats were plying their craft at the highest of levels then, and I had the honor of seeing them all.
I got up close to The Freebirds, Jimmy Garvin, The Four Horsemen, Bobby Heenan, and countless other heels, but none of them elicited a hate from me like the hate I felt when I watched Larry Zbyszko. If you've never yelled at your television screen, then you don't really know how much fun it can be to get totally taken in by a wrestling bad guy. Larry Zbyszko was that guy for me.
Larry Legend Is The Measuring Stick
I wonder, if more of today's wrestlers were willing to go that extra mile at being a heel, placed more emphasis on being legitimately hated, could wrestling reclaim a bit of what's been lost since fans decided it was cooler to be a jerk than to be a superhero?
I know times have changed, but I still say there's a place for the bad guy who just wants to be a loathsome character. Jinder Mahal and Tommaso Ciampa are do a great job being just that, although wrestling fandom has changed so dramatically, I'm not sure they'll ever truly be appreciated for their level of brilliance.
Perhaps it's just a sign of the times, but I believe many of today's wrestlers would do themselves an enormous favor to go back and watch as much of Larry Zbyszko's work as they can possibly find.
The WWE might not ever go out of its way to tell the 'Universe' how amazing "The Living Legend" was, but that doesn't mean he wasn't.
---
Always Use Your Head and visit the official Pro Wrestling Tees store for The Chairshot All t-shirt proceeds help support the advancement of your favorite hard-hitting wrestling website, The Chairshot!

---
TIME AND FATE: NOAH'S GHC HARDCORE CHAMPIONSHIP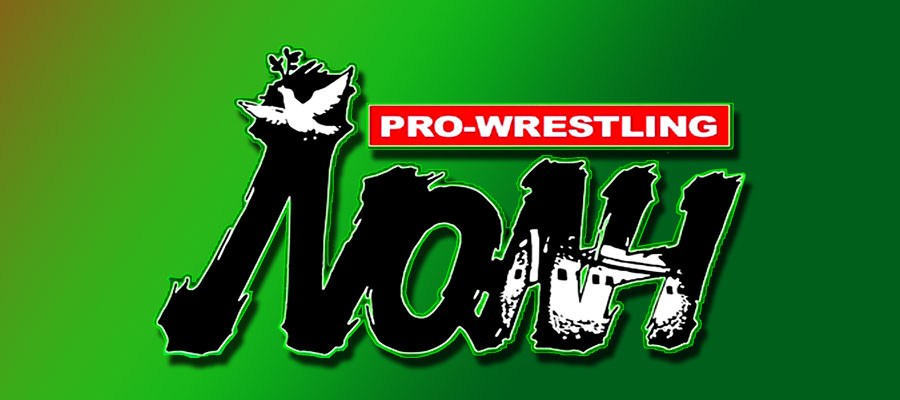 "It seems there was once a belt a long time ago I guess."
Hi69 (May 4th 2018 after a hardcore match with Daisuke Harada).
I hope to present here a brief history of what was known as the GHC Hardcore Championship.
NOAH is not a hardcore promotion that does deathmatches (although they did run one in May 2018 between Hi69 and Daisuke Harada, this was Harada's first time doing hardcore), so you weren't going to win this belt by lighttubes, blowing the ring up, electric barbed wire or stapling paper to your opponents head; although it was defended in some matches termed as "hardcore", or at least as hardcore as NOAH got in that era.
In this situation "Hardcore" meant that anyone could challenge for it regardless of division as it was openweight, you just had to survive and have incredible endurance. The title could be won by a count-out, and if the challenger was smaller than the champion and lasted fifteen minutes, the title could change hands. A win could only be gained by a pinfall, no submission was allowed.
The title could only be challenged for by NOAH wrestlers (or those working for NOAH at the time, such as Scorpio in 2005), not from anyone by an outside promotion.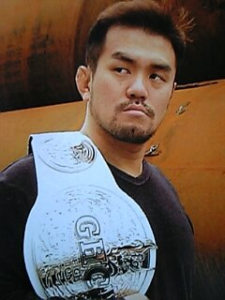 The title began in 2004 when Jun Akiyama came up with the idea. He felt the concept would be exciting as it would create matches regardless of weight and size and would be open to anyone of any division. Mitsuharu Misawa agreed to the idea, funded it, and the belt was created. For this reason Misawa was considered to be the chairman of the belt (in the same way that the GHC has its own committee who decide who gets it etc), and the belt was thought to be Jun Akiyama's as it was created in his style, the same way that the GHC Heavyweight is Misawa's.
The GHC Hardcore belt differed from the other GHC belts as the main belt was white (Jun Akiyama's colors) with the crest being silver, and for that reason it was sometimes known as "The White GHC".
In the beginning it was decided that the belt would only be defended outside of the Kanto area (outside of the metropolitan Tokyo district which included Chiba, Saitama etc), with a fan who won a competition reading out the match announcement (like Joe Higuchi did for championship matches). After the match they would have the honor of handing the belt to the winner, and posing for a commemorative photo afterwards. This didn't happen as the belt would be defended very much in Tokyo.
Immediately the rules caused confusion as in Jun Akiyama's first defense, Takuma Sano was put in a front necklock and passed out, the referee not hearing his "I quit". The belt then passed to Naomichi Marufuji who lost it to Mohammed Yone. NOAH held a rare deathmatch, where Yone faced Morishima in a "Chain Death Match" in Osaka in April 2005, it went to a double knock out. Yone's fourth defense was against Scorpio, who was taken to hospital after the match having injured his leg.
Scorpio lost the title to Kentaro Shiga in September 2006, and the title became a tag title as Shiga unified it with Kishin Kawabata after vacating the belt as he declared he wanted to make a tag with it, (although there were never two belts made for this purpose), and the belt was billed as the "GHC Openweight Hardcore Tag Team Championship". It was defended that December at Korakuen Hall in a "Lumberjack Deathmatch".
By late 2007, the championship belt was becoming sporadic as NOAH booking and NOAH fans were losing interest in it, compared to the turn around of roughly six months when the belt was first inaugurated, Kishin Kawabata made only four defenses in eleven months before losing it to Makoto Hashi in October 2008, he made only two in nine months before losing it to Kenta Kobashi in June 8th 2009 who defended it four times before vacating the title after becoming injured that December.
No one after this it seemed to have much interest in reviving the belt and NOAH had little interest in booking it. Simply put, the concept had run its course, and by late 2009 and early 2010, NOAH were facing serious problems with the death of Misawa and internal fighting about the company restructuring. In the following years talent walkout, scandal, a decline in business and money issues became a far more pressing problem than who held a little white belt with a silver crest.
As of August 2018 NOAH have announced no plans to bring the GHC Hardcore Championship back, and the belt is not listed on the site under a the list of championships.
---
Always Use Your Head and visit the official Pro Wrestling Tees store for The Chairshot All t-shirt proceeds help support the advancement of your favorite hard-hitting wrestling website, The Chairshot!

---
The Elite Should Not Join WWE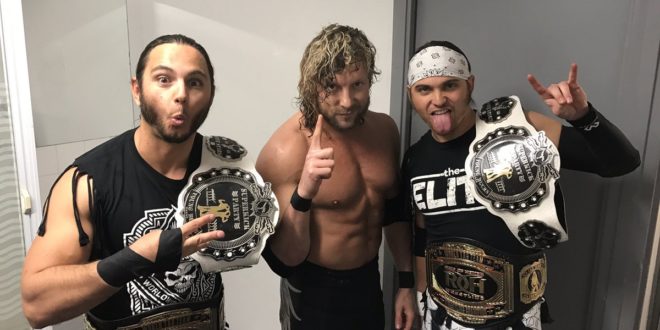 After both All In and The G1 Supercard were sold out, reports of Vince McMahon wanting to sign The Elite in a way to stop the rise of competition for his monopoly were reported everywhere. More than just The Elite rumors regarding a lot of Indy talent joining the ranks of WWE, thanks of these events and the next lucrative deals that WWE will receive in the coming years, gives credence to the speculation in all wrestling circles. The big problem that comes with The Elite joining WWE is that currently after all these years, the wrestling world is no longer a one place only to make big money. Promotions like ROH and NJPW have grown a lot in the last couple of years thanks to the efforts done by the The Elite to change the wrestling world.
If NJPW loses Kenny Omega to WWE, the promotion based in Japan will lose not only a top player but their ambassador of puroresu in the US. As we know, NJPW has big plans to expand into the American market, and those plans have Kenny Omega as the flagship of that expedition.
The Young Bucks will also face some serious problems if they were to go to WWE. The first problem is that as we all know, WWE and more specificly Vince McMahon, is not a fan of tag team wrestling and teams like Anderson and Gallows coupled with current booking, are a clear example of this. Creative will be bad for them and their creative minds will not be used to the extent we're familiar with. That would be a shame seeing how beloved their YouTube show is, Being The Elite.  Also let's not forget the case of the cease and desist letters sent to them because of the Too Sweet sign. Vince McMahon does not forget and could easily bury them in a way to punish them for the case of the situation of the letters and the fan's saying in the show he got free tickets like most people do to fill RAW
If The Elite stay for at least  2 or 3 years before joining WWE and help the wrestling world grow, the business will not only be good for the fans but to wrestlers not signed with WWE. Like we saw with Flip Gordon, who thanks to the Being The Elite show is a well known name already and his career is just beginning. If we're to believe the brand is as big as any brand in WWE right now, The Elite should stay away from WWE to preserve their phrase, ''Change the world'. If they leave, a big hole will be present in the indy scene and the wrestling world will go five years back in time. Further increasing the gap, in a bad way, between WWE and the rest of the wrestling world.
---
Always Use Your Head and visit the official Pro Wrestling Tees store for The Chairshot All t-shirt proceeds help support the advancement of your favorite hard-hitting wrestling website, The Chairshot!

---
Jim Neidhart: Remembering The Anvil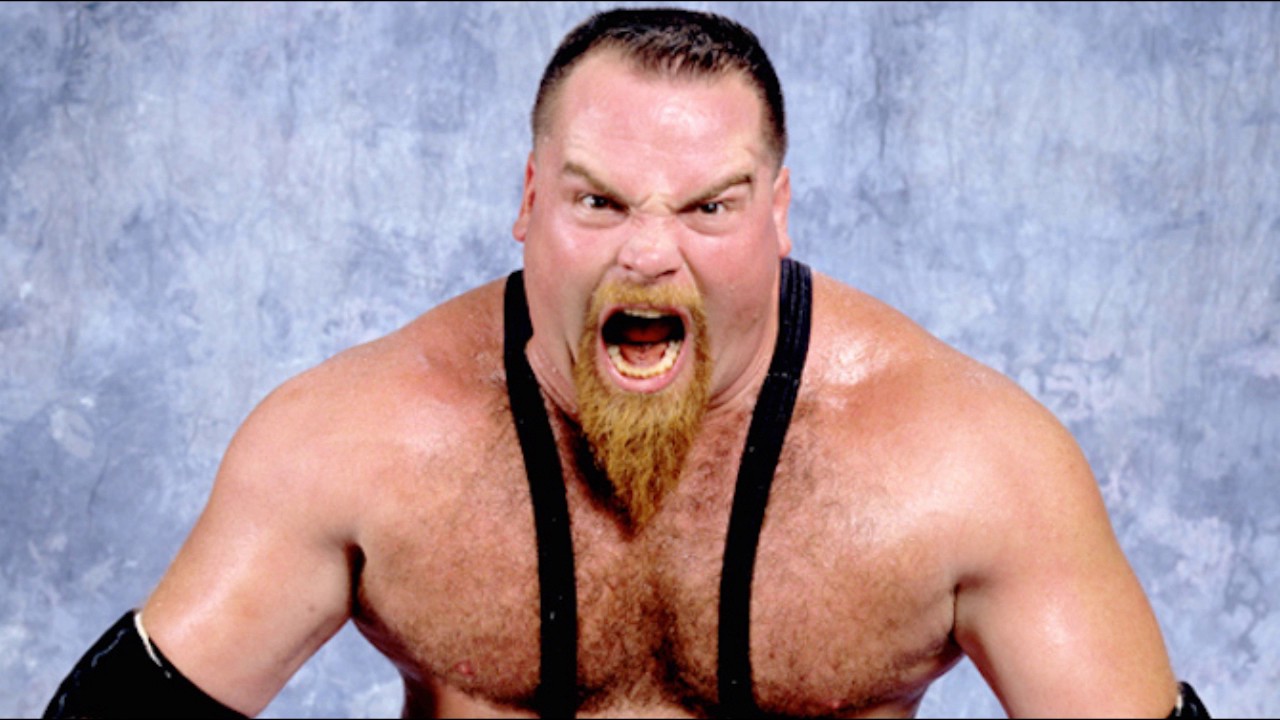 A piece of my childhood passed away.  Jim "The Anvil" Neidhart was known best as half of the 1980s tag team, the Hart Foundation.  Along with his tag team partner and brother-in-law, Bret Hart, the Hart Foundation were active between 1985 and 1991, and won the WWE Tag Team Titles in '87 and '90:  Then in 1997, the Hart Foundation was revived in the form of a stable. The group's line up consisted of family members and students of the Hart clan.
The Neidhart-Bret partnership mirrored a relationship between a big brother; protective over his younger sibling; this illustration became evident when the Harts switched from being villains to heroes, in 1988. An example of the brotherly relationship was demonstrated during their matches as Bret would take the brunt of their opponent's foul tactics while Jim; frustrated and concerned, waited reluctantly in his corner for Bret to escape their opponents and tag him in.
I believe that a lot of Hart Foundation's success and appeal is credited to Jim Neidhart's contributions. Bret was known as the cool member and 'technical wrestling' part of the team; Bret occupied the ring during most of their matches as Neidhart shouted moral support in the corner while waiting for his turn. When Bret was the recipient of their opponents' foul play, the fans depended on Neidhart as the 'big brother' to make the save.
Bret's appeal as the 'cool' guy was an element to the Hart Foundation's fan base; however, it was Neidhart's infectious and loud personality that transformed the Harts into an inclusive brand. The Hart Foundations interviews highlighted Neidhart's abilities to sell the group with his animated charisma. What Bret did for the team in the ring; Neidhart equaled while promoting the duo in their interviews.
RIP Jim "the Anvil" Neidhart
---
Always Use Your Head and visit the official Pro Wrestling Tees store for The Chairshot All t-shirt proceeds help support the advancement of your favorite hard-hitting wrestling website, The Chairshot!

---