Top 5 Matches: Week Ending 6/10/2018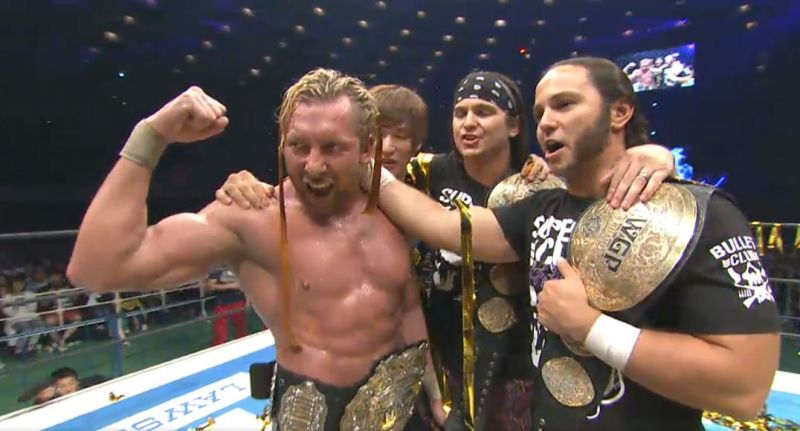 Well as I usually say during tournament or big event time in Japan, it's hard for normal television to compete. So yes, this Top 5 is almost exclusively New Japan, but to be fair, next week will probably be mostly NXT and WWE. So let's take the bad with the good, and move on.
However, last week we had the weekly vote and the May vote. So, no one should be surprised but, Buddy Murphy vs Cedric Alexander, won last week's vote. As for the May vote…well let's just look at our MOTY Pool and find out.
January – Johnny Gargano vs Andrade Almas
February – Kazuchika Okada vs SANADA
March – Golden Lovers vs Young Bucks
April – Andrade Almas vs Aleister Black
May – WWE  Backlash: Seth Rollins vs The Miz

Now that we've got that out of the way, and we see the first "main roster" WWE match made it into the Match of the Year pool, let's see what's getting voted in from New Japan this week.
5T. NJPW Dominion IWGP Heavyweight Tag Team Titles: EVIL & SANADA vs The Young Bucks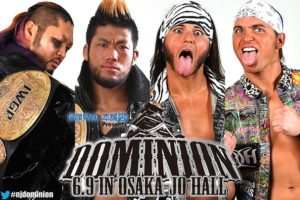 From my NJPW Dominion Results & Ratings:
Match was paced quickly, and that helped and hurt it at the same time. Matt and Nick sold a back and foot injury through most of the match, but that fell apart a little towards the end.
Most of each teams signature moves were hit, SANADA was never able to hit Skull End or his Moonsault and EVIL never managed to hit Everything is Evil. So LIJ weren't hurt at all in the loss, but the super hero resolve and a fairly bad sell on the Magic Killer just to increase the suspense made the finish feel flat to me.
Yes there was a lot of action, so it was entertaining, but it felt more like an older Young Bucks match when people would complain they had no psychology and were all about spots. Let's hope that their first reign as Heavyweight Tag Champs have more well rounded matches.
Winner: Young Bucks via More Bang for Your Buck
Rating: ****
5T. MLW Fusion: Rey Fenix w/ Salina de la Renta vs ACH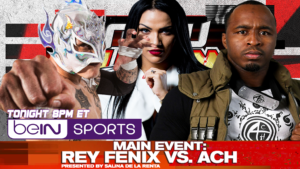 From my MLW Fusion Ratings & Results:
Both play to the crowd for a while, then finally a test of strength into and Arm Ringer from ACH, Arm Drag from Fenix, a little oneupsmenship, followed up by ACH hitting a sweep, double foot stomp, shotgun drop kick. ACH hits a big plancha after Fenix powders out, and then as they come back in, Fenix returns the favor by hitting a big dive, leaving both men prone for the commerical break.
Following the break a big to turnbuckle springboard senton for a nearfall. Big kicks from both as Fenix hits a rewind Spin Kick for another 2 count. Fenix attempts a Rolling DDT, but gets caught into a backbreaker and German Suplex Hold, for 2.
The match finally slows down a little as they both counter Brainbusters, Fenix gets caught mid move, but manages to keep the momentum. Hits a splash, as he goes for a middle rope moonsault, ACH seems to move, but Fenix keeps rolling and catches ACH with a Cutter for the near fall again.
Fenix keeps his position and starts chopping ACH very deliberately and plays to the crowd to get "Uno Mas" chants. Fenix goes for a corner springboard, ACH stops it, Fenix bounces up again, ACH counters again and Fenix pulls himself out of a Tree of Woe, while both men fight for position. Fenix gets a small advantage, goes for a Crossbody, but ACH catches him into a Death Valley Driver, for yet another 2 count.
Both move over to the apron and begin chopping one another. ACH gets the best of the chops, but Fenix escapes, slips momentarily but still hits an Enzuigiri. Following up the Enzuigiri by sliding out, jumping up to the apron and hitting a nice Spinning Back Kick right in ACH's face.
Fenix tries a big top tope move, but ACH catches him with Flash Kick (Guile from Street Fighter). Pace slows down again, and we get a strong style chop battle. Fenix sells his arm, hits a big combination, but ACH manages to catch him with a few kicks of his own, Vertical Suplex float over, into a near fall.
Big Frog Splash from ACH missed, springboard Spin Kick from Fenix in the corner leads to the Fenix Driver, and the pinfall.
Winner: Fenix via Fenix Driver
Rating: ****
4. NJPW Dominion IWGP Intercontinental Title: Tetsuya Naito (c) vs Chris Jericho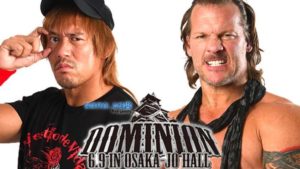 From my NJPW Dominion Results & Ratings:
Wow, Jericho jumps Naito before the bell, hits him with tripods, barricades, anything that isn't tied down. Hell even a Japanese Table breaks for Jericho. Also it must be noted that Jericho comes out looking like Clockwork Orange. Nice call back to his finger flip off spot, but this time he takes a video camera. Jericho DDTs Naito on another table, but it refuses to break.
Eventually Jericho slides in Naito for the match to start, Naito fights back a little, but Jericho maintains all of the advantage. Even hits a nice Lionsault, for another near fall.
Jericho manhandles Naito from pillar to post, until the classic Naito spit spot, gives him a small opening. The leg sweep, Wrecking Ball Dropkick leads to a Rude Awakening on the apron and Naito is finally showing signs of life.
He begins choking Jericho with parts of his suit outfit, and the crowd boos him pretty thoroughly. Maybe Naito is popular, everywhere except Osaka. Naito takes a piece of the broken table and beats Jericho over the head with it multiple times, to more boos.
Naito hits a big Piledriver onto the table from earlier, that still doesn't break, moves back to the ring and Jericho takes a Dropkick to the back of his neck. Jericho blocks a top turnbuckle Frankensteiner and drops down into the Walls of Jericho. At this point it sounds like the crowd finally comes around to Naito.
At this point it seems to go a lot of one for one with Jericho really pushing to win with the Walls of Jericho, but Naito doesn't tap. Scary moment when Naito goes for a running Destino, but Jericho loses his balance and then saves it to look more like a side slam cover.
Few more strikes and then they do the Destino spot correctly. But too lose to the ropes. Naito goes for a flying forearm, but Jericho catches him with a Codebreaker. Naito lands Gloria, goes for a Destino again, but Jericho slips away, and pushes Red Shoes. Low blow and Codebreaker, equals Jericho is the new IWGP Intercontinental Champion.
A little sloppy and slow at points, so their chemistry wasn't fantastic. But, it was a brutal and entertaining match.
Jericho continues beating on Naito and EVIL shows up for the save. So I'm guessing the first official Jericho defense may be EVIL.
Winner: Jericho via Codebreaker
Rating: **** 1/4
3. NJPW Dominion IWGP Junior Heavyweight Championship: Hiromu Takahashi vs Will Ospreay (c)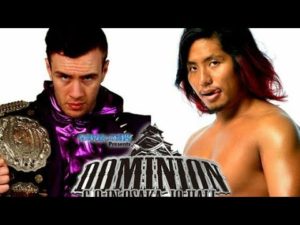 From my NJPW Dominion Results & Ratings:
Starts off with a flurry, Hiromu with the release German into the corner and attempts the Apron Sunset Bomb. Ospreay blocks that and takes a page out of Hiromu's book by running up the apron, for a full sprint running flip dive off the entrance ramp.
Ospreay goes for a more methodical approach, a Grounded Hammerlock Inverted Armbar, while leaning back keeps Hiromu on the ground. Then we see Ospreay being more aggressive and deliberate, until Hiromu finally starts stringing some offense together.
Lots of quick erratic movements, a big Pop-up Power Bomb gets Hiromu a near fall, leading into a corner chop spot and Ospreay curses at Hiromu. Pip Pip Cheerio, leads into a few attempts and counters at offense. Hiromu goes to the outside and Ospreay hits a Space Flying Tiger Drop.
Oscutter attempts number one, gets caught by Hiromu for a big German Suplex to break the flow of offense. We get the building up strikes back and forth spot, before the pace accelerates and there is a lot of transition and counter wrestling. Suplexes countered, Enzuigiris, but Ospreay catches Hiromu with two big Reverseranas, goes for Stormbreaker, but Hiromu counters with a Code Red.
Match moves to the apron and we get some back and forth strikes before Ospreay superplexes him outside in into the Burning Star Press. A Corkscrew Shoot Star press from Ospreay gets a near fall. Ospreay goes for Stormbreaker one more time, Hiromu counters it into a Canadian Destroyer and tries to tap him out with his Triangle Choke.
Ospreay powers out by twisting and driving Hiromu's head into the mat, like a Triangle Driver or something. Ospreay goes for another Oscutter, but Hiromu finally gets the Sunset Bomb, into the Dynamite Plunger for 2.
Lots of sloppy offense from Ospreay at this point, Crescent Kick doesn't hit right, Spinng Heel Kick barely makes contact, and Hiromu manages to counter the Stormbreaker one more time. Hiromu hits his Time Bomb after a Butterfly Piledriver, and a few other moves and, defeats Ospreay!
Winner: Hiromu via Time Bomb
Rating: **** 1/2
Honorable Mentions:
Smackdown: Charlotte Flair vs Becky Lynch
Rating: *** 3/4
Dragon Gate King of Gate Finals: Masato Yoshino vs YAMATO
Rating: *** 3/4
NJPW Dominion: Cody, Marty Scurll & Hangman Page vs Rey Mysterio, Jushin Liger & Hiroshi Tanahashi
Rating: *** 1/2
205 Live: Mustafa Ali vs Buddy Murphy
Rating: *** 1/2
NXT: Danny Burch vs Roderick Strong
Rating: *** 1/2
MLW Fusion: Tom Lawlor vs Fred Yehi
Rating: *** 1/4
NJPW Dominion NEVER Openweight Triple Threat: Taichi vs Michael Elgin vs Hirooki Goto (c)
Rating: *** 1/4
NJPW Dominion: Tomohiro Ishii & Toru Yano vs Minoru Suzuki & Zack Sabre Jr
Rating: *** 1/4
NXT: Lacey Evans vs Kairi Sane
Rating: ***
Smackdown: New Day vs The Miz, Rusev & Samoa Joe
Rating: ***
2. NJPW Dominion IWGP Heavyweight Championship Match 2 out of 3 Falls: Kazuchika Okada (c) vs Kenny Omega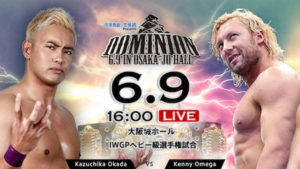 From my NJPW Dominion Results & Ratings:
Okay, outline version for this match, since too long, too much going on and hard to look away to type.
Okada and Omega go to the outside, Okada goes for his crossbody, but V-Trigger counters right into his ribs.
Omega top rope Dragon Suplex, Okada countered into Tombstone on Apron
Rainmaker pose, turned into Dragon Suplex, then Rise of the Terminator
Okada sits down in a sunset flip position and picks up the surprise first fall.
Double stomp from Kenny on table
Okada teases backdrop through table
Omega teases Dragon Suplex through table
Reverserana on the outside from Kenny to Okada
One Winged Angel wins Kenny fall 2
Callback to second match, Omega gets thrown into ropes, Omega collapses and Okada lands on his back after attempting a Dropkick.
Omega hits a Styles Clash
Ibushi tells Kenny to go for a Phoenix Splash, it misses.
Okada couldn't pull of the tombstone, goes for a Rainmaker, and another callback as Okada crumbles after barely making contact
So many attempts at Rainmakers, both were exhausted a really fast One Winged Angel sets the stage for one more V-Trigger and one final One Winged Angel.
Winner: Kenny Omega 2-1 via One Winged Angel
Rating: ***** 3/4
1. BOSJ 25 Finals: Hiromu Takahashi vs Taiji Ishimori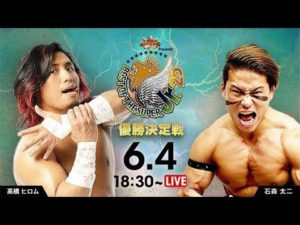 Lots of fast attempts at offense, Hiromu tries the Sunsetbomb but Taiji backflips out of it and they start exchange strikes and moving through the audience. This sets up a recurring move Hiromu was using in this tournament, but finding a long stretch of the building (sometimes the ramp, in this case, the upper deck bleachers) and he runs a long distance and hits a big Shotgun Dropkick.
Hiromu goes to follow that up by Powerbombing Taiji down the steps, but Ishimori counters it into a Frankensteiner that sends Hiromu crashing down 2 or 3 levels of cement steps and crashes into the barricade. After recovering, Taiji walks back to the ring and allows Red Shoes to apply the 20 count, since he doesn't care how he wins, as long as he wins; but Hiromu slides in at 18.
Hiromu tries to stike back a little, bit Hiromu still is reeling from the steps, Taiji takes him over and twists Hiromu's neck with his ankles. Taiji keeps the offense as he takes the match to the floor and throws Hiromu into the chairs, hits him with a few and goes for the count out again.
Taiji hits his Sliding German Suplex and stays ontop of Hiromu until Hiromu finally finds an opening to hit the Sunsent Bomb and returns the countout indifference as Ishimori rolls back in at 19. Hiromu starts using his body as a weapon at this point, and will need to change his wrestling style or he'll be crippled by 35. Fun to watch, just crazy stuff.
Hiromu picks up a near fall, Ishimori tries to go for a Reverse Handspring Elbow, but Hiromu catches him with a forearm shiver. Dynamite Plunger gets countered into a pin for 2, and then Ishimori transitions to the crossface. Hiromu breaks the submission, both men trade forearms, and then Ishimori lands a big Spinning Headscissors Takedown in the perfect position to reapply the Crossface.
Ishimori keeps the Crossface in for a while, changes it to a Grounded Armbreaker to try and keep Hiromu from the ropes, but his feet get to the bottom rope. Some good big move counter wrestling, as Taiji flips out of a release German, but falls victim to the release Belly to Belly into the corner. Hiromu then hits the Dynamite Plunger for a near fall.
More back and forth movement where they just keep trying to out do each other, Ishimori hits Hiromu with a big Reverserana and then Hiromu answers back, but it's a little sloppy and he spikes Ishimori. Both men slowly get to their knees, and start laying in the strikes as they get to their feet and keep throwing hands. A jumping knee and big lariat, Taiji goes for the pin and Hiromu kicks out at 1.
Shotgun dropkick, Meteora, followed by a big Lung Blower, and still Ishimori only gets a 2. Taiji hits a Popup Powerbomb for 2, and Hiromu catches him in a Triangle Choke. Sunk in deep for a minute or so, Ishimori manages to stand up and just drive him into the corner to break the submission.
Taiji gets some offense going, and goes for his old NOAH finisher, the 450 Splash, but is met by Hiromu's knees. A few counters led to Hiromu hitting a big Butterfly Piledriver, and then goes for the Triangle again. Ishimori gets out, tries Bloody Cross, Hiromu counters it with a Death Valley Driver into the corner and then a Time Bomb for the pinfall.
Winner: Hiromu Takahashi via Time Bomb
Rating: ****** (Highest rating of the Year)
So some may be surprised that Omega vs Okada IV wasn't at the top of my list, but I explain my overall feelings in the Dominion article. The match was good and driven by the storyline, but the match pacing was odd, 2 minutes breaks made action a little stilted and the spamming feeling of the third fall from both wrestlers, made it fall short of previous epics.
Given all that, Hiromu Takahashi vs Taiji Ishimori was the first match since Omega vs Okada I to make me say "Wow" as I watched it. So my vote goes to the Best of Super Junior Finals match, and here's to hoping they clash again in the near future.
I don't expect my number 1 to win the vote, but I wanted to make sure it got the appreciation it deserved.
---
Always Use Your Head and visit the official Pro Wrestling Tees store for The Chairshot All t-shirt proceeds help support the advancement of your favorite hard-hitting wrestling website, The Chairshot!

---
TIME AND FATE: NOAH'S GHC HARDCORE CHAMPIONSHIP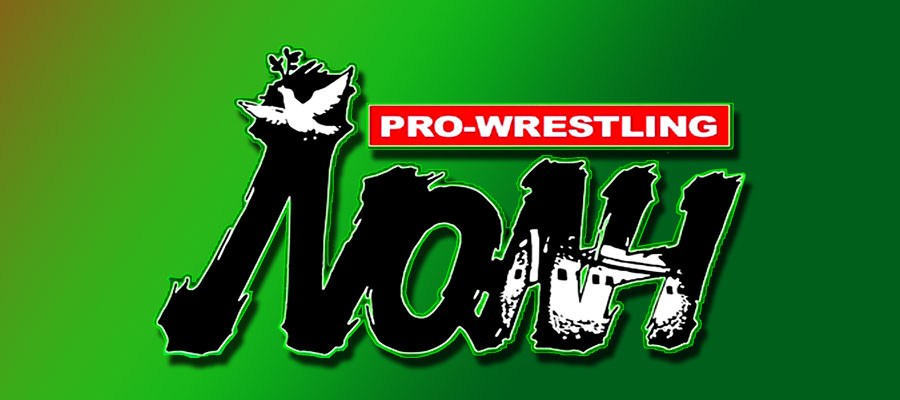 "It seems there was once a belt a long time ago I guess."
Hi69 (May 4th 2018 after a hardcore match with Daisuke Harada).
I hope to present here a brief history of what was known as the GHC Hardcore Championship.
NOAH is not a hardcore promotion that does deathmatches (although they did run one in May 2018 between Hi69 and Daisuke Harada, this was Harada's first time doing hardcore), so you weren't going to win this belt by lighttubes, blowing the ring up, electric barbed wire or stapling paper to your opponents head; although it was defended in some matches termed as "hardcore", or at least as hardcore as NOAH got in that era.
In this situation "Hardcore" meant that anyone could challenge for it regardless of division as it was openweight, you just had to survive and have incredible endurance. The title could be won by a count-out, and if the challenger was smaller than the champion and lasted fifteen minutes, the title could change hands. A win could only be gained by a pinfall, no submission was allowed.
The title could only be challenged for by NOAH wrestlers (or those working for NOAH at the time, such as Scorpio in 2005), not from anyone by an outside promotion.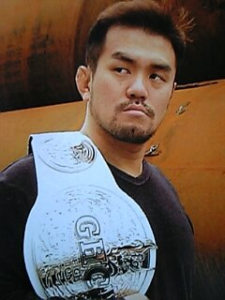 The title began in 2004 when Jun Akiyama came up with the idea. He felt the concept would be exciting as it would create matches regardless of weight and size and would be open to anyone of any division. Mitsuharu Misawa agreed to the idea, funded it, and the belt was created. For this reason Misawa was considered to be the chairman of the belt (in the same way that the GHC has its own committee who decide who gets it etc), and the belt was thought to be Jun Akiyama's as it was created in his style, the same way that the GHC Heavyweight is Misawa's.
The GHC Hardcore belt differed from the other GHC belts as the main belt was white (Jun Akiyama's colors) with the crest being silver, and for that reason it was sometimes known as "The White GHC".
In the beginning it was decided that the belt would only be defended outside of the Kanto area (outside of the metropolitan Tokyo district which included Chiba, Saitama etc), with a fan who won a competition reading out the match announcement (like Joe Higuchi did for championship matches). After the match they would have the honor of handing the belt to the winner, and posing for a commemorative photo afterwards. This didn't happen as the belt would be defended very much in Tokyo.
Immediately the rules caused confusion as in Jun Akiyama's first defense, Takuma Sano was put in a front necklock and passed out, the referee not hearing his "I quit". The belt then passed to Naomichi Marufuji who lost it to Mohammed Yone. NOAH held a rare deathmatch, where Yone faced Morishima in a "Chain Death Match" in Osaka in April 2005, it went to a double knock out. Yone's fourth defense was against Scorpio, who was taken to hospital after the match having injured his leg.
Scorpio lost the title to Kentaro Shiga in September 2006, and the title became a tag title as Shiga unified it with Kishin Kawabata after vacating the belt as he declared he wanted to make a tag with it, (although there were never two belts made for this purpose), and the belt was billed as the "GHC Openweight Hardcore Tag Team Championship". It was defended that December at Korakuen Hall in a "Lumberjack Deathmatch".
By late 2007, the championship belt was becoming sporadic as NOAH booking and NOAH fans were losing interest in it, compared to the turn around of roughly six months when the belt was first inaugurated, Kishin Kawabata made only four defenses in eleven months before losing it to Makoto Hashi in October 2008, he made only two in nine months before losing it to Kenta Kobashi in June 8th 2009 who defended it four times before vacating the title after becoming injured that December.
No one after this it seemed to have much interest in reviving the belt and NOAH had little interest in booking it. Simply put, the concept had run its course, and by late 2009 and early 2010, NOAH were facing serious problems with the death of Misawa and internal fighting about the company restructuring. In the following years talent walkout, scandal, a decline in business and money issues became a far more pressing problem than who held a little white belt with a silver crest.
As of August 2018 NOAH have announced no plans to bring the GHC Hardcore Championship back, and the belt is not listed on the site under a the list of championships.
---
Always Use Your Head and visit the official Pro Wrestling Tees store for The Chairshot All t-shirt proceeds help support the advancement of your favorite hard-hitting wrestling website, The Chairshot!

---
The Elite Should Not Join WWE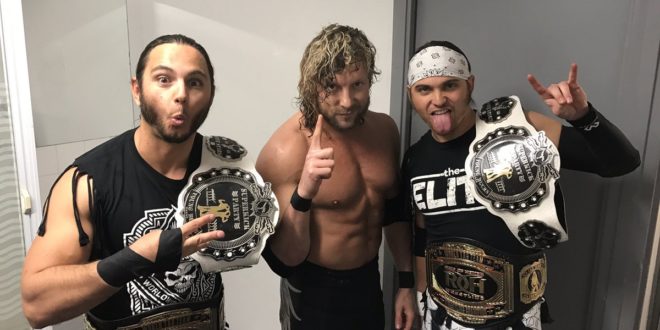 After both All In and The G1 Supercard were sold out, reports of Vince McMahon wanting to sign The Elite in a way to stop the rise of competition for his monopoly were reported everywhere. More than just The Elite rumors regarding a lot of Indy talent joining the ranks of WWE, thanks of these events and the next lucrative deals that WWE will receive in the coming years, gives credence to the speculation in all wrestling circles. The big problem that comes with The Elite joining WWE is that currently after all these years, the wrestling world is no longer a one place only to make big money. Promotions like ROH and NJPW have grown a lot in the last couple of years thanks to the efforts done by the The Elite to change the wrestling world.
If NJPW loses Kenny Omega to WWE, the promotion based in Japan will lose not only a top player but their ambassador of puroresu in the US. As we know, NJPW has big plans to expand into the American market, and those plans have Kenny Omega as the flagship of that expedition.
The Young Bucks will also face some serious problems if they were to go to WWE. The first problem is that as we all know, WWE and more specificly Vince McMahon, is not a fan of tag team wrestling and teams like Anderson and Gallows coupled with current booking, are a clear example of this. Creative will be bad for them and their creative minds will not be used to the extent we're familiar with. That would be a shame seeing how beloved their YouTube show is, Being The Elite.  Also let's not forget the case of the cease and desist letters sent to them because of the Too Sweet sign. Vince McMahon does not forget and could easily bury them in a way to punish them for the case of the situation of the letters and the fan's saying in the show he got free tickets like most people do to fill RAW
If The Elite stay for at least  2 or 3 years before joining WWE and help the wrestling world grow, the business will not only be good for the fans but to wrestlers not signed with WWE. Like we saw with Flip Gordon, who thanks to the Being The Elite show is a well known name already and his career is just beginning. If we're to believe the brand is as big as any brand in WWE right now, The Elite should stay away from WWE to preserve their phrase, ''Change the world'. If they leave, a big hole will be present in the indy scene and the wrestling world will go five years back in time. Further increasing the gap, in a bad way, between WWE and the rest of the wrestling world.
---
Always Use Your Head and visit the official Pro Wrestling Tees store for The Chairshot All t-shirt proceeds help support the advancement of your favorite hard-hitting wrestling website, The Chairshot!

---
Jim Neidhart: Remembering The Anvil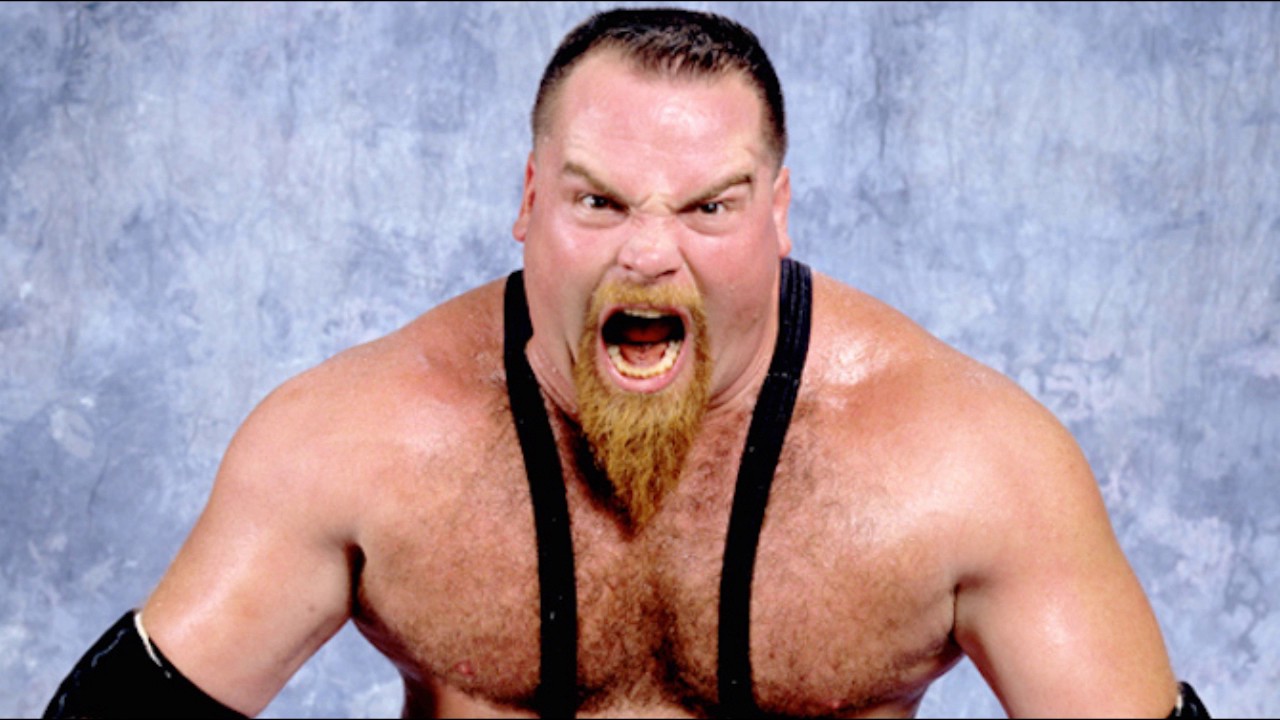 A piece of my childhood passed away.  Jim "The Anvil" Neidhart was known best as half of the 1980s tag team, the Hart Foundation.  Along with his tag team partner and brother-in-law, Bret Hart, the Hart Foundation were active between 1985 and 1991, and won the WWE Tag Team Titles in '87 and '90:  Then in 1997, the Hart Foundation was revived in the form of a stable. The group's line up consisted of family members and students of the Hart clan.
The Neidhart-Bret partnership mirrored a relationship between a big brother; protective over his younger sibling; this illustration became evident when the Harts switched from being villains to heroes, in 1988. An example of the brotherly relationship was demonstrated during their matches as Bret would take the brunt of their opponent's foul tactics while Jim; frustrated and concerned, waited reluctantly in his corner for Bret to escape their opponents and tag him in.
I believe that a lot of Hart Foundation's success and appeal is credited to Jim Neidhart's contributions. Bret was known as the cool member and 'technical wrestling' part of the team; Bret occupied the ring during most of their matches as Neidhart shouted moral support in the corner while waiting for his turn. When Bret was the recipient of their opponents' foul play, the fans depended on Neidhart as the 'big brother' to make the save.
Bret's appeal as the 'cool' guy was an element to the Hart Foundation's fan base; however, it was Neidhart's infectious and loud personality that transformed the Harts into an inclusive brand. The Hart Foundations interviews highlighted Neidhart's abilities to sell the group with his animated charisma. What Bret did for the team in the ring; Neidhart equaled while promoting the duo in their interviews.
RIP Jim "the Anvil" Neidhart
---
Always Use Your Head and visit the official Pro Wrestling Tees store for The Chairshot All t-shirt proceeds help support the advancement of your favorite hard-hitting wrestling website, The Chairshot!

---