Top 5 Matches: Week Ending 6/10/2018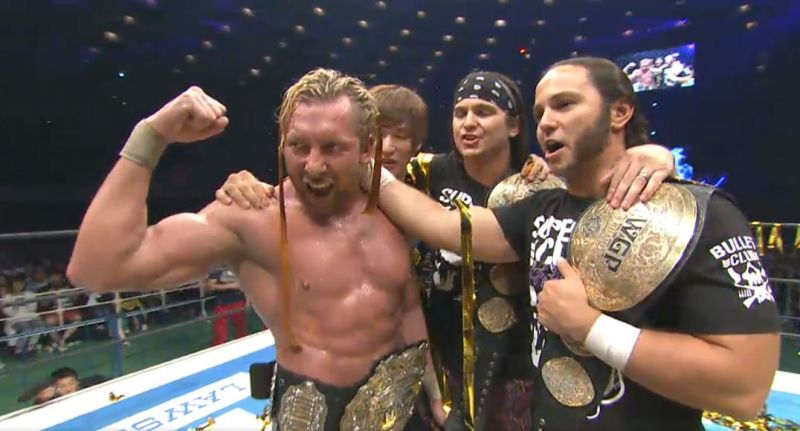 Well as I usually say during tournament or big event time in Japan, it's hard for normal television to compete. So yes, this Top 5 is almost exclusively New Japan, but to be fair, next week will probably be mostly NXT and WWE. So let's take the bad with the good, and move on.
However, last week we had the weekly vote and the May vote. So, no one should be surprised but, Buddy Murphy vs Cedric Alexander, won last week's vote. As for the May vote…well let's just look at our MOTY Pool and find out.
January – Johnny Gargano vs Andrade Almas
February – Kazuchika Okada vs SANADA
March – Golden Lovers vs Young Bucks
April – Andrade Almas vs Aleister Black
May – WWE  Backlash: Seth Rollins vs The Miz

Now that we've got that out of the way, and we see the first "main roster" WWE match made it into the Match of the Year pool, let's see what's getting voted in from New Japan this week.
5T. NJPW Dominion IWGP Heavyweight Tag Team Titles: EVIL & SANADA vs The Young Bucks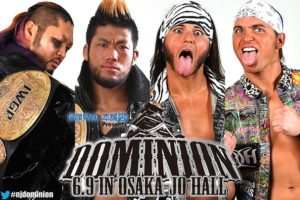 From my NJPW Dominion Results & Ratings:
Match was paced quickly, and that helped and hurt it at the same time. Matt and Nick sold a back and foot injury through most of the match, but that fell apart a little towards the end.
Most of each teams signature moves were hit, SANADA was never able to hit Skull End or his Moonsault and EVIL never managed to hit Everything is Evil. So LIJ weren't hurt at all in the loss, but the super hero resolve and a fairly bad sell on the Magic Killer just to increase the suspense made the finish feel flat to me.
Yes there was a lot of action, so it was entertaining, but it felt more like an older Young Bucks match when people would complain they had no psychology and were all about spots. Let's hope that their first reign as Heavyweight Tag Champs have more well rounded matches.
Winner: Young Bucks via More Bang for Your Buck
Rating: ****
5T. MLW Fusion: Rey Fenix w/ Salina de la Renta vs ACH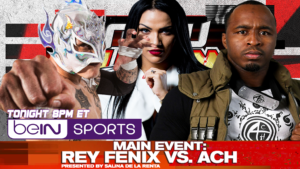 From my MLW Fusion Ratings & Results:
Both play to the crowd for a while, then finally a test of strength into and Arm Ringer from ACH, Arm Drag from Fenix, a little oneupsmenship, followed up by ACH hitting a sweep, double foot stomp, shotgun drop kick. ACH hits a big plancha after Fenix powders out, and then as they come back in, Fenix returns the favor by hitting a big dive, leaving both men prone for the commerical break.
Following the break a big to turnbuckle springboard senton for a nearfall. Big kicks from both as Fenix hits a rewind Spin Kick for another 2 count. Fenix attempts a Rolling DDT, but gets caught into a backbreaker and German Suplex Hold, for 2.
The match finally slows down a little as they both counter Brainbusters, Fenix gets caught mid move, but manages to keep the momentum. Hits a splash, as he goes for a middle rope moonsault, ACH seems to move, but Fenix keeps rolling and catches ACH with a Cutter for the near fall again.
Fenix keeps his position and starts chopping ACH very deliberately and plays to the crowd to get "Uno Mas" chants. Fenix goes for a corner springboard, ACH stops it, Fenix bounces up again, ACH counters again and Fenix pulls himself out of a Tree of Woe, while both men fight for position. Fenix gets a small advantage, goes for a Crossbody, but ACH catches him into a Death Valley Driver, for yet another 2 count.
Both move over to the apron and begin chopping one another. ACH gets the best of the chops, but Fenix escapes, slips momentarily but still hits an Enzuigiri. Following up the Enzuigiri by sliding out, jumping up to the apron and hitting a nice Spinning Back Kick right in ACH's face.
Fenix tries a big top tope move, but ACH catches him with Flash Kick (Guile from Street Fighter). Pace slows down again, and we get a strong style chop battle. Fenix sells his arm, hits a big combination, but ACH manages to catch him with a few kicks of his own, Vertical Suplex float over, into a near fall.
Big Frog Splash from ACH missed, springboard Spin Kick from Fenix in the corner leads to the Fenix Driver, and the pinfall.
Winner: Fenix via Fenix Driver
Rating: ****
4. NJPW Dominion IWGP Intercontinental Title: Tetsuya Naito (c) vs Chris Jericho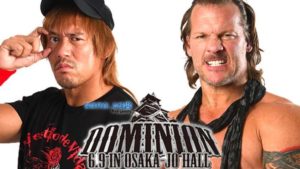 From my NJPW Dominion Results & Ratings:
Wow, Jericho jumps Naito before the bell, hits him with tripods, barricades, anything that isn't tied down. Hell even a Japanese Table breaks for Jericho. Also it must be noted that Jericho comes out looking like Clockwork Orange. Nice call back to his finger flip off spot, but this time he takes a video camera. Jericho DDTs Naito on another table, but it refuses to break.
Eventually Jericho slides in Naito for the match to start, Naito fights back a little, but Jericho maintains all of the advantage. Even hits a nice Lionsault, for another near fall.
Jericho manhandles Naito from pillar to post, until the classic Naito spit spot, gives him a small opening. The leg sweep, Wrecking Ball Dropkick leads to a Rude Awakening on the apron and Naito is finally showing signs of life.
He begins choking Jericho with parts of his suit outfit, and the crowd boos him pretty thoroughly. Maybe Naito is popular, everywhere except Osaka. Naito takes a piece of the broken table and beats Jericho over the head with it multiple times, to more boos.
Naito hits a big Piledriver onto the table from earlier, that still doesn't break, moves back to the ring and Jericho takes a Dropkick to the back of his neck. Jericho blocks a top turnbuckle Frankensteiner and drops down into the Walls of Jericho. At this point it sounds like the crowd finally comes around to Naito.
At this point it seems to go a lot of one for one with Jericho really pushing to win with the Walls of Jericho, but Naito doesn't tap. Scary moment when Naito goes for a running Destino, but Jericho loses his balance and then saves it to look more like a side slam cover.
Few more strikes and then they do the Destino spot correctly. But too lose to the ropes. Naito goes for a flying forearm, but Jericho catches him with a Codebreaker. Naito lands Gloria, goes for a Destino again, but Jericho slips away, and pushes Red Shoes. Low blow and Codebreaker, equals Jericho is the new IWGP Intercontinental Champion.
A little sloppy and slow at points, so their chemistry wasn't fantastic. But, it was a brutal and entertaining match.
Jericho continues beating on Naito and EVIL shows up for the save. So I'm guessing the first official Jericho defense may be EVIL.
Winner: Jericho via Codebreaker
Rating: **** 1/4
3. NJPW Dominion IWGP Junior Heavyweight Championship: Hiromu Takahashi vs Will Ospreay (c)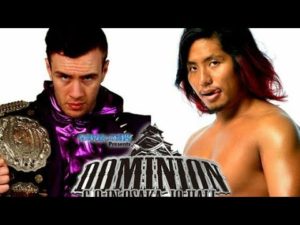 From my NJPW Dominion Results & Ratings:
Starts off with a flurry, Hiromu with the release German into the corner and attempts the Apron Sunset Bomb. Ospreay blocks that and takes a page out of Hiromu's book by running up the apron, for a full sprint running flip dive off the entrance ramp.
Ospreay goes for a more methodical approach, a Grounded Hammerlock Inverted Armbar, while leaning back keeps Hiromu on the ground. Then we see Ospreay being more aggressive and deliberate, until Hiromu finally starts stringing some offense together.
Lots of quick erratic movements, a big Pop-up Power Bomb gets Hiromu a near fall, leading into a corner chop spot and Ospreay curses at Hiromu. Pip Pip Cheerio, leads into a few attempts and counters at offense. Hiromu goes to the outside and Ospreay hits a Space Flying Tiger Drop.
Oscutter attempts number one, gets caught by Hiromu for a big German Suplex to break the flow of offense. We get the building up strikes back and forth spot, before the pace accelerates and there is a lot of transition and counter wrestling. Suplexes countered, Enzuigiris, but Ospreay catches Hiromu with two big Reverseranas, goes for Stormbreaker, but Hiromu counters with a Code Red.
Match moves to the apron and we get some back and forth strikes before Ospreay superplexes him outside in into the Burning Star Press. A Corkscrew Shoot Star press from Ospreay gets a near fall. Ospreay goes for Stormbreaker one more time, Hiromu counters it into a Canadian Destroyer and tries to tap him out with his Triangle Choke.
Ospreay powers out by twisting and driving Hiromu's head into the mat, like a Triangle Driver or something. Ospreay goes for another Oscutter, but Hiromu finally gets the Sunset Bomb, into the Dynamite Plunger for 2.
Lots of sloppy offense from Ospreay at this point, Crescent Kick doesn't hit right, Spinng Heel Kick barely makes contact, and Hiromu manages to counter the Stormbreaker one more time. Hiromu hits his Time Bomb after a Butterfly Piledriver, and a few other moves and, defeats Ospreay!
Winner: Hiromu via Time Bomb
Rating: **** 1/2
Honorable Mentions:
Smackdown: Charlotte Flair vs Becky Lynch
Rating: *** 3/4
Dragon Gate King of Gate Finals: Masato Yoshino vs YAMATO
Rating: *** 3/4
NJPW Dominion: Cody, Marty Scurll & Hangman Page vs Rey Mysterio, Jushin Liger & Hiroshi Tanahashi
Rating: *** 1/2
205 Live: Mustafa Ali vs Buddy Murphy
Rating: *** 1/2
NXT: Danny Burch vs Roderick Strong
Rating: *** 1/2
MLW Fusion: Tom Lawlor vs Fred Yehi
Rating: *** 1/4
NJPW Dominion NEVER Openweight Triple Threat: Taichi vs Michael Elgin vs Hirooki Goto (c)
Rating: *** 1/4
NJPW Dominion: Tomohiro Ishii & Toru Yano vs Minoru Suzuki & Zack Sabre Jr
Rating: *** 1/4
NXT: Lacey Evans vs Kairi Sane
Rating: ***
Smackdown: New Day vs The Miz, Rusev & Samoa Joe
Rating: ***
2. NJPW Dominion IWGP Heavyweight Championship Match 2 out of 3 Falls: Kazuchika Okada (c) vs Kenny Omega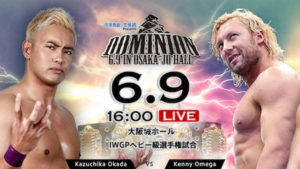 From my NJPW Dominion Results & Ratings:
Okay, outline version for this match, since too long, too much going on and hard to look away to type.
Okada and Omega go to the outside, Okada goes for his crossbody, but V-Trigger counters right into his ribs.
Omega top rope Dragon Suplex, Okada countered into Tombstone on Apron
Rainmaker pose, turned into Dragon Suplex, then Rise of the Terminator
Okada sits down in a sunset flip position and picks up the surprise first fall.
Double stomp from Kenny on table
Okada teases backdrop through table
Omega teases Dragon Suplex through table
Reverserana on the outside from Kenny to Okada
One Winged Angel wins Kenny fall 2
Callback to second match, Omega gets thrown into ropes, Omega collapses and Okada lands on his back after attempting a Dropkick.
Omega hits a Styles Clash
Ibushi tells Kenny to go for a Phoenix Splash, it misses.
Okada couldn't pull of the tombstone, goes for a Rainmaker, and another callback as Okada crumbles after barely making contact
So many attempts at Rainmakers, both were exhausted a really fast One Winged Angel sets the stage for one more V-Trigger and one final One Winged Angel.
Winner: Kenny Omega 2-1 via One Winged Angel
Rating: ***** 3/4
1. BOSJ 25 Finals: Hiromu Takahashi vs Taiji Ishimori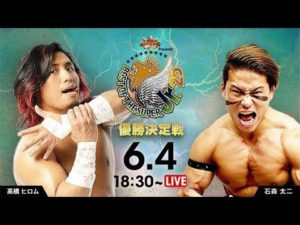 Lots of fast attempts at offense, Hiromu tries the Sunsetbomb but Taiji backflips out of it and they start exchange strikes and moving through the audience. This sets up a recurring move Hiromu was using in this tournament, but finding a long stretch of the building (sometimes the ramp, in this case, the upper deck bleachers) and he runs a long distance and hits a big Shotgun Dropkick.
Hiromu goes to follow that up by Powerbombing Taiji down the steps, but Ishimori counters it into a Frankensteiner that sends Hiromu crashing down 2 or 3 levels of cement steps and crashes into the barricade. After recovering, Taiji walks back to the ring and allows Red Shoes to apply the 20 count, since he doesn't care how he wins, as long as he wins; but Hiromu slides in at 18.
Hiromu tries to stike back a little, bit Hiromu still is reeling from the steps, Taiji takes him over and twists Hiromu's neck with his ankles. Taiji keeps the offense as he takes the match to the floor and throws Hiromu into the chairs, hits him with a few and goes for the count out again.
Taiji hits his Sliding German Suplex and stays ontop of Hiromu until Hiromu finally finds an opening to hit the Sunsent Bomb and returns the countout indifference as Ishimori rolls back in at 19. Hiromu starts using his body as a weapon at this point, and will need to change his wrestling style or he'll be crippled by 35. Fun to watch, just crazy stuff.
Hiromu picks up a near fall, Ishimori tries to go for a Reverse Handspring Elbow, but Hiromu catches him with a forearm shiver. Dynamite Plunger gets countered into a pin for 2, and then Ishimori transitions to the crossface. Hiromu breaks the submission, both men trade forearms, and then Ishimori lands a big Spinning Headscissors Takedown in the perfect position to reapply the Crossface.
Ishimori keeps the Crossface in for a while, changes it to a Grounded Armbreaker to try and keep Hiromu from the ropes, but his feet get to the bottom rope. Some good big move counter wrestling, as Taiji flips out of a release German, but falls victim to the release Belly to Belly into the corner. Hiromu then hits the Dynamite Plunger for a near fall.
More back and forth movement where they just keep trying to out do each other, Ishimori hits Hiromu with a big Reverserana and then Hiromu answers back, but it's a little sloppy and he spikes Ishimori. Both men slowly get to their knees, and start laying in the strikes as they get to their feet and keep throwing hands. A jumping knee and big lariat, Taiji goes for the pin and Hiromu kicks out at 1.
Shotgun dropkick, Meteora, followed by a big Lung Blower, and still Ishimori only gets a 2. Taiji hits a Popup Powerbomb for 2, and Hiromu catches him in a Triangle Choke. Sunk in deep for a minute or so, Ishimori manages to stand up and just drive him into the corner to break the submission.
Taiji gets some offense going, and goes for his old NOAH finisher, the 450 Splash, but is met by Hiromu's knees. A few counters led to Hiromu hitting a big Butterfly Piledriver, and then goes for the Triangle again. Ishimori gets out, tries Bloody Cross, Hiromu counters it with a Death Valley Driver into the corner and then a Time Bomb for the pinfall.
Winner: Hiromu Takahashi via Time Bomb
Rating: ****** (Highest rating of the Year)
So some may be surprised that Omega vs Okada IV wasn't at the top of my list, but I explain my overall feelings in the Dominion article. The match was good and driven by the storyline, but the match pacing was odd, 2 minutes breaks made action a little stilted and the spamming feeling of the third fall from both wrestlers, made it fall short of previous epics.
Given all that, Hiromu Takahashi vs Taiji Ishimori was the first match since Omega vs Okada I to make me say "Wow" as I watched it. So my vote goes to the Best of Super Junior Finals match, and here's to hoping they clash again in the near future.
I don't expect my number 1 to win the vote, but I wanted to make sure it got the appreciation it deserved.
Tiffany's Takes: WWE Raw (6/17/19)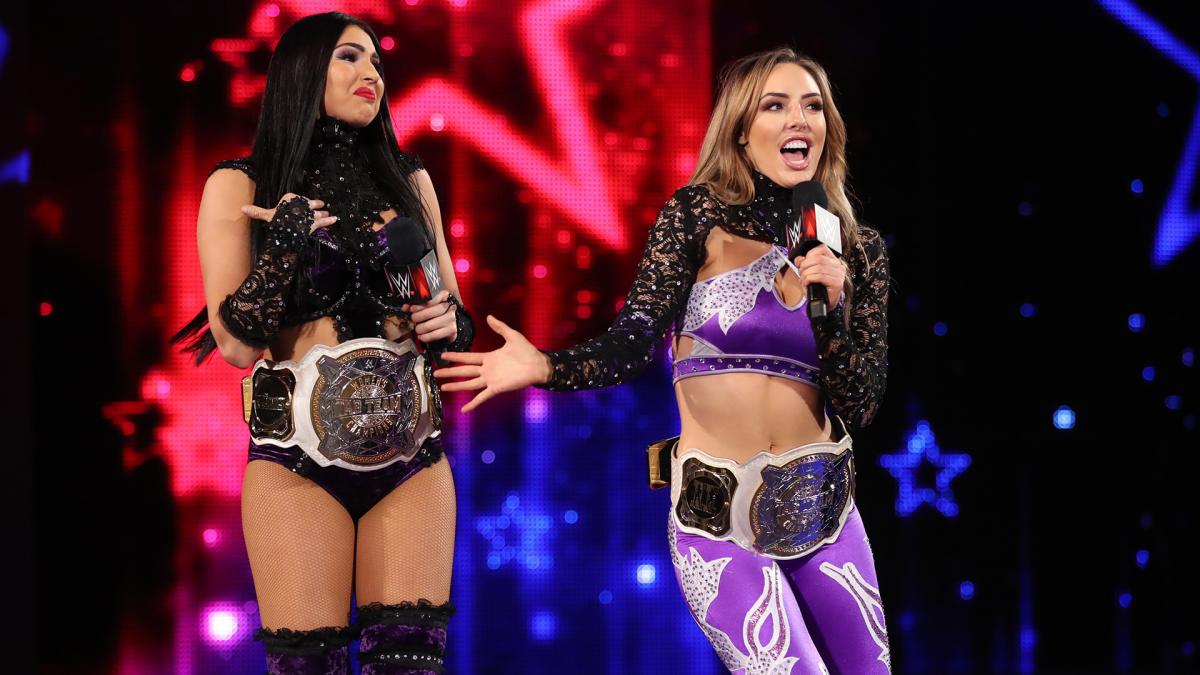 Tiffany's Takes kicks off the week with look at WWE Raw that featured Seth Rollins vs. Daniel Bryan and The New Day in a 2-Out-Of-3-Falls Match!
It's the go-home show for Stomping Grounds! How will WWE Raw make a case for fans to tune in?
Universal Championship: Seth Rollins might a babyface, but that doesn't mean he's afraid to get nasty. I LOVED this nasty side of the BeastSlayer and the warning about what will happen to anyone who sides with Corbin over him. THIS is a Universal Champion I can definitely get behind.
I love it when a face makes good on a threat. I lost count on how many prospective refs Seth destroyed, but he definitely got his point across to Corbin and his cronies: Do NOT piss off Seth Rollins.
I enjoyed the six man tag, though an actual, conscious ref was not as fun as EC3 playing Bernie from Weekend at Bernie's (look it up on Wikipedia if you have no idea what I'm talking about). I had a rant all done about how dumb it was to have Rowan interfere and ruin Rollins vs Bryan, but it wasn't needed. That was a great match, can we have more of those, please?
United States Championship:  If Elias wasn't such a slimeball and mediocre singer, I'd almost feel bad for him after he got beat up by every person involved in the Fatal Five Way #1 Contender's Match for the United States Championship, including two guys he used to be allied with.
The match was actually better than I'd expected, though I did somewhat appreciate the story building of Lashley helping to get Strowman eliminated as payback for Strowman eliminating him. My one big gripe is that this match didn't go for very long, but I am THRILLED that Ricochet won and will get a shot on Sunday!
RAW Women's Division: Have I ever mentioned that I'm over this Becky Lynch/Lacey Evans feud? I have? Good, because I wasn't sure I've mentioned how boring I'm finding Becky's ongoing problems with Emmie Slattery (Evans). I did appreciate them bringing up that Evans is a former Marine because I hate that they've taken someone who is a legit badass and can be such a great example for girls and turned her into a pinup who espouses sexist nonsense that has no place in modern America. HOPEFULLY, Scarlett (Lynch) will finally triumph over Emmie and move on to someone else.
Thank you, God, they made the IIconics look like competent champs! Their title run has been build on them looking stupid and it's hurt them so badly. Even with a tainted win, it was a win over serious opponents, which they needed. Again, I loved edgy Bayley, but I hate that she's playing into Alexa's plan to steal the title. Hopefully, someone gets to Nikki and makes her see sense before something really goes wrong.
Raw Tag Team Division: After an absence of several weeks, Viking Raiders finally returned to RAW for some pillaging, and had to deal with the Greenjerks watching their match, for some reason, and that was about the most interesting thing about that match, since I don't think we got the names of the poor guys they squashed.
I liked the Revival proving that there is no honor among thieves when they stole money from Drew McIntyre. I appreciated WWE trying to enhance McIntyre's heel creds by having him attack Heath Slater, but it just felt forced.
I know Good Brothers are leaving in the fall, but I LOVED the reunion between them and Styles. Oh, what could've been if Vince had pulled his head out of his ass. That said, it looks like Styles' words got to them so this last run might be pretty good. I did enjoy the tag match between them and the Usos, but it wasn't long enough for me, plus Good Brothers looked ridiculous.
24/7 Championship: I'll give Truth and Carmella their dues for trying to be clever with those disguises. They would've gotten away with it if not for the camera crew.
Roman Reigns vs Shane McMahon: If Shane and Drew haven't gotten the message about pissing off Roman Reigns, I'm pretty sure they learned it tonight after Roman beat the hell out of Shane, to everyone's delight, including mine.
Firefly Fun House: NOPE. Just…NOPE! He still gets points for the literature nod, but that's it. I draw the line at maggots, but at least the rabbit was okay. Also: The world is ROUND, you inbred!
Overall Comments: So, how was RAW tonight? That was actually the best go-home show they've had in awhile. Every story got built and we got some great matches. Whoever was booking tonight should get a raise.
There's been some discussion about Seth's conduct, but it makes sense when you realize that he's on his own. Ambrose is gone and Roman is dealing with his own issues. Seth's got no one to watch his back and Lesnar is lurking around, so he's getting paranoid and sick of everyone's BS.
I'm ready for Alexa to get her ass kicked on Sunday and I hope Nikki Cross comes to her senses soon. I'm thrilled that the IIconics are finally being treated like legit performers and not just jokes.
Rollins vs Bryan didn't disappoint, but the fact that we still don't have a guest ref is cause for concern.
That's it for Tiffany's Takes! Tune in tomorrow for SmackDown and 205!
---
Time to pick up a new Chairshot shirt!

Get yours at:
https://www.prowrestlingtees.com/related/thechairshot.html
Andrew's Top Matches: Week Ending 6/16/2019
A jam packed week of matches displays a few of the more infrequent companies. Who made the Top 5?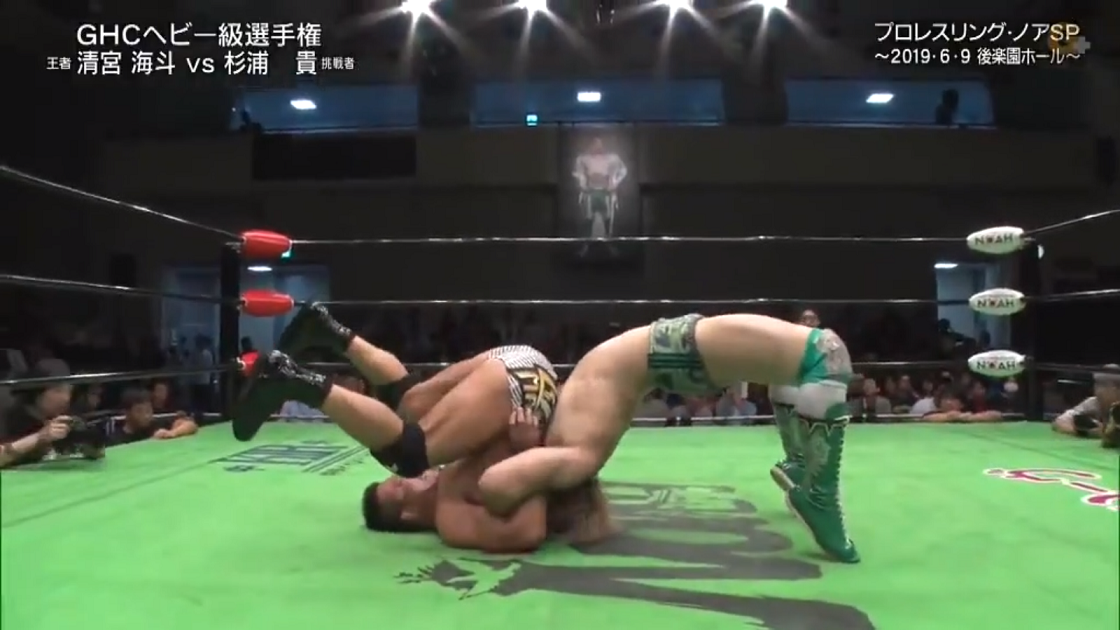 A jam packed week of matches displays a few of the more infrequent companies. Who made the Top 5?
Two big New Japan shows had them dominate last week. Funnily enough, one match dominated by amassing nearly 5 times as many votes as second place. The winner of last week's Japanese filled Top 5, NJPW BOSJ 26 Finals: Shingo Takagi vs Will Ospreay.
For anyone who was upset about the domination last week, well this is the week for you. We've got some WWE products, a little flavor from Mexico, and of course some matches from Japan.
Let's get down to business!
5. NXT UK: Imperium (WALTER, Marcel Barthel & Fabian Aichner) vs British Strong Style ( Pete Dunne, Tyler Bate & Trent Seven)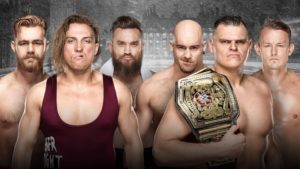 Snippet from Mitchell's Coverage:
Barthel throws Dunne out while Walter throws Seven. Walter stomps Dunne down while Barthel has Bate. Aichner tags in but Bate fights back. Bate boots but Barthel deflects that to ropes. Aichner gives Bate a draping backstabber! Barthel climbs to add double stomps! Aichner covers, TWO!! Bate survives and Glasgow loves it! Aichner is furious but he keeps focus on Bate. Tag to Barthel and they trash talk Bate in their respective languages. But Bate fires off with fast hands! Aichner kicks low and whips Bate, but Bate rebounds for DOUBLE LARIATS! Bate crawls but Walter intercepts, only to get the rolling kick! Hot tag to Seven!
Dunne tags in off Seven, Seven gives Barthel the Seven Stars Lariat! Seven DIVES onto Aichner while Dunne tags Bate. Dunne pump handles, Bitter End on Barthel! Bate climbs, for the corkscrew senton! Walter returns and barrels through Dunne to BOOT Bate! Dunne dropkicks Walter then slingshots out, only to miss. Walter runs at Dunne but Dunne sends him into steel steps! But then Walter back suplexes Dunne onto barriers! Wait, who is that coming down the ramp? He wears a hood and familiar mask… In the ring, Seven CHOPS Aichner. Aichner shoves Seven into the ref! Seven clotheslines Aichner and himself out of the ring! The mystery man enters the ring and targets Bate! It's ALEXANDER WOLFE!! The German Ax Man POWERBOMBS Bate! Glasgow boos but Wolfe grins. Barthel covers while Walter gets the ref in. Imperium wins!!
Winner: Imperium via Sit-Out Powerbomb
Rating: ****
4. AAA Verano de Escalando 2019: AAA Tag Team Championship: Lucha Brothers vs The Young Bucks (c)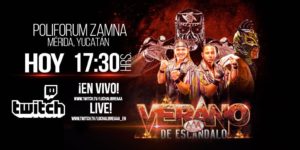 From Joe's AAA Coverage:
Lucha Bros jump the Bucks. Matt Jackson does 3 northern lights suplexes to Fenix then does one to Fenix and Pentagon at the same time. Matt does a baseball slide and then Nick does a dive over him. Matt unties Pentagon's mask and then beats him up in the crowd. Back in the ring they hit double super kicks. Pentagon hits sling blades on both Bucks. Fenix does a double cutter. They roll out and Fenix hits a huge dive and goes flying into the crowd while Pentagon hits Matt with the Pentagon driver. Matt hits a Canadian destroyer then a spear and Fenix breaks it up. Lucha bros go for super kicks but the Bucks reverse it into sharptshooters. Lucha bros break out and a ton of super kicks get hit. Nick hits a frog splash on Fenix and Penta runs up his back and hits a Canadian destroyer on Matt. Fenix then hits a stomp on the apron on Nick. Pentagon hits the package piledriver on Matt. He kicks out. Then Fenix and Pentagon do the combo package piledriver. Nick pulls the ref out. Nick does an asai moonsault to the ref and Fenix. Matt pulls off Pentagon's mask and kicks him in the groin and then they hit a Meltzer driver. Fenix pulls the ref out now. Fenix kicks Matt in the groin and then hits a cutter for a two. A new ref is out here now. They do the combo package piledriver again and Fenix hits a middle rope splash on Nick. Penta pins Matt. Pentagon pins Matt Jackson with a package piledriver combo.
Winner: Lucha Bros via Spike Fear Factor
Rating: ****
3. 205 Live: #1 Contender Fatal 4 Way: Drew Gulak vs Humberto Carrillo vs Akira Tozawa vs Oney Lorcan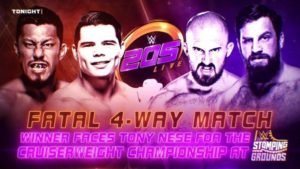 Snippet from Mitchell's Coverage:
Sacramento fires up behind Lorcan, but Ariya Daivari runs out to SMACK Lorcan with a chair!! The Persian Lion is a sore loser from his loss last week. The referee can't disqualify anyone but he does get Daivari to leave. That doesn't matter to Daivari, the damage has been done, and he laughs all the way to the back. This leaves Carrillo and Gulak in the ring. Gulak goes to throw Carrillo but Carrillo throws him out first. Carrillo turns around to get Tozawa's mule kick. Tozawa swings, misses, slides under and hits the rolling roundhouse! Nese is still watching as Tozawa climbs up top! Fans fire up but Carrillo kicks Tozawa down! Carrillo climbs but Gulak returns to shove him off! Carrillo hits barriers!
Gulak has Tozawa, but Tozawa fights back! They brawl up top and Tozawa clubs away. Fans "AH! AH!" along with him, but Gulak just headbutts Tozawa to stop him. Gulak adjusts, for the SUPERPLEX! But both men cradle the other!! Three count, but who wins!?
Winner: Tozawa & Gulak via Simultaneous Pin
Rating: ****
Honorable Mentions:
NOAH Misawa Memorial 6.9.2019: Naomichi Marufuji vs Go Shiozaki
Winner: Shiozaki via Gowan Lariat
Rating: *** 3/4
NXT: Submission Match: Drew Gulak vs Kushida
Winner: Kushida via Hoverboard Lock
Rating: *** 1/2
NJPW Kizuna Road: IWGP Jr Tag Team Titles: Roppongi 3k (c) vs El Phantasmo & Taiji Ishimori
Winner: ELP via CR2
Rating: *** 1/2
205 Live: Chad Gable vs Jack Gallagher
Winner: Gable via Countout
Rating: *** 1/2
AAA Verano de Escalando 2019: Tessa Blanchard & Daga vs Taya Valkyrie & Laredo Kid
Winner: Laredo Kid via Laredo Fly
Rating: *** 1/2
NJPW Kizuna Road: LIJ vs Kota Ibushi, Yuji Nagata, Tiger Mask IV, Jyushi Thunder Liger & Shota Umino
Winner: Shingo via Pumping Bomber
Rating: *** 1/2
IMPACT: Michael Elgin vs Willie Mack
Winner: Elgin via Elgin Bomb
Rating: *** 1/4
NJPW Kizuna Road: DOUKI, Yoshinobu Kanemaru & Taichi vs Tomohiro Ishii, Tomoaki Honma & Ren Narita
Winner: Taichi via Superkick
Rating: *** 1/4
WWE Raw: Bobby Lashley, Samoa Joe & Cesaro vs Ricochet, The Miz & Braun Strowman
Winner: Ricochet via 630 Senton
Rating: *** 1/4
NXT: Undisputed Era (Roderick Strong & Kyle O'Reilly) vs Oney Lorcan & Danny Burch
Winner: Burch via Distracted Roll-Up
Rating: *** 1/4
NJPW Kizuna Road: Minoru Suzuki, Lance Archer & Zack Sabre Jr vs Kazuchika Okada, YOSHI-HASHI & Toa Henare
Winner: Archer via Claw
Rating: ***
IMPACT: Jordynne Grace vs Madison Rayne
Winner: Rayne via CrossRayne
Rating: ***
2. Stardom Shining Destiny: Wonder of Stardom Championship: Tam Nakano vs Arisa Hoshiki (c)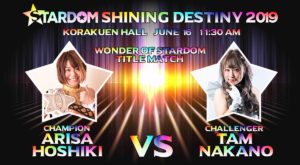 The backstory is interesting for the match. Arisa returned to Stardom about 6 months ago and has been part of the STARS faction, the same faction as Tam. Tam is an awkward girl who just wants to prove herself. Io pushed her before she left (see the Exploding Baseball Bat Match), Mayu saved her from humiliation when she was kicked out of Oedo Tai. So Arisa joining STARS and becoming quite friendly with Mayu, never sat well with Tam. Then during this years draft, Arisa was taken before Tam. This is their chance to express their feelings through a fight, since words don't seem to be doing the job.
Tam came out with a stoic and distant look in her eyes, while Arisa was her typical upbeat self. It almost looked like Tam was distracted by her own determination to prove herself. Arisa smiles as she hits you, she's having fun, she enjoys the sport. This was notable since Tam was straight faced through the first half of the match. Once it spilled to the outside and Tam his a German Suplex on the apron, the tone shifted.
Tam was smiling through the ropes down on Arisa, but not chiding, like she started having fun. The two had a big exchange of strikes and smiles, before Arisa started to harden a little. Tam knew to dodge the Brazilian Kick, but everything else was a great back and forth. Arisa and Tam trade running Knee Strikes, top rope attempts and Arisa tries to submit Tam, but she gets out of it.
We see the fight come to an end after the second time Arisa caught Tam with the Brazilian Kick. They have a moment after the match where Tam tells her that she's not allowed to lose that belt to anyone besides her, or she'll boil her. They even posed with their STARS faction, embracing with the Wonder of Stardom belt between them…and Starlight Kid keeping Tam standing.
This was a hard fought match, with a unique story that you'd see in anime but not often in professional wrestling. The concept of, words weren't enough, so maybe they could communicate better in the ring. It's quite poetic if you think about it.
Winner: Hoshiki via Brazilian Kick
Rating: **** 1/4
1. NOAH Misawa Memorial 6.9.2019: GHC Heavyweight Championship: Kaito Kiyomiya (c) vs Takashi Suigiura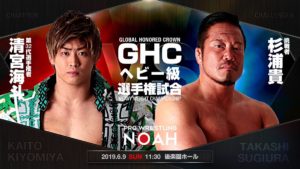 Now as we all know from Hisame's Newsletters, the June 9th show wasn't televised until June 13th, hence why it qualifies for this week's matches. Sugiura has been a great mentor to the young champion Kiyomiya. But since their tag team dissolved, Sugiura has taken to tough love. Earning his opportunity by pinning the champion a few weeks ago, Sugiura looks to become a 5 time GHC Heavyweight Champion.
Kaito came out with a lot of energy. He was trading with The Killing Machine, and holding his own, even trying to focus the left arm to take away some of his power, but the champion took a beating for a while. Kaito managed to fight out of everything Sugiura threw at him. Front Neck Lock, Olympic Slam and even a Guillotine with Body Scissors.
Kiyomiya eventually found an opening when Sugiura went for the Avalanche Olympic Slam, but Kaito turned it into an Avalanche Reverse DDT. Being Misawa's Memorial show, Kaito hit a few Emerald Flowsions and it was only appropriate that Sugiura pulled out the ole Misawa Rolling Elbow, to rock the young champion and give hope that the old vet would pick up the win. But in a feat of beautiful camera work and great resolve from Kiyomiya, he pulls off the Tiger Suplex Hold, right in front of the portrait banner of Misawa. Almost as if Misawa gave the match his blessing.
Brutal match that proved the young champion has guts and could easily be a Match of the Year candidate.
Winner: Kiyomiya via Tiger Suplex Hold
Rating: **** 1/2
Thoughts:
A lot of good stuff this week! AAA managed to make an appearance outside of TripleMania, NOAH saved some great matches for the memorial shows and 205 Live looks to be almost back on track.
However, my vote will go to, Wonder of Stardom: Arisa Hoshiki (c) vs Tam Nakano. Though it wasn't the highest rated match, I really enjoyed the story and how it told the story throughout the match and even the promo afterwards. Arisa has cemented her return and her position as a prominent player. Tam felt like she got better overnight last year during the 5 Star Grand Prix and she continues to prove she's figured it out. If she can manage to stay healthy (she has a history of missing a few shows here or there with little nagging injuries), she might finally get a singles title.
Let's learn geography with @tmtmtmx and @P_chan_panko! 🐼🌏 #StardomWorld #スターダム

➡️ https://t.co/ISZG1AqN5o pic.twitter.com/UOjuIdiCbW

— TDE Wrestling (@tde_wrestling) June 12, 2019