Top 5 Matches: Week Ending 6/17/2018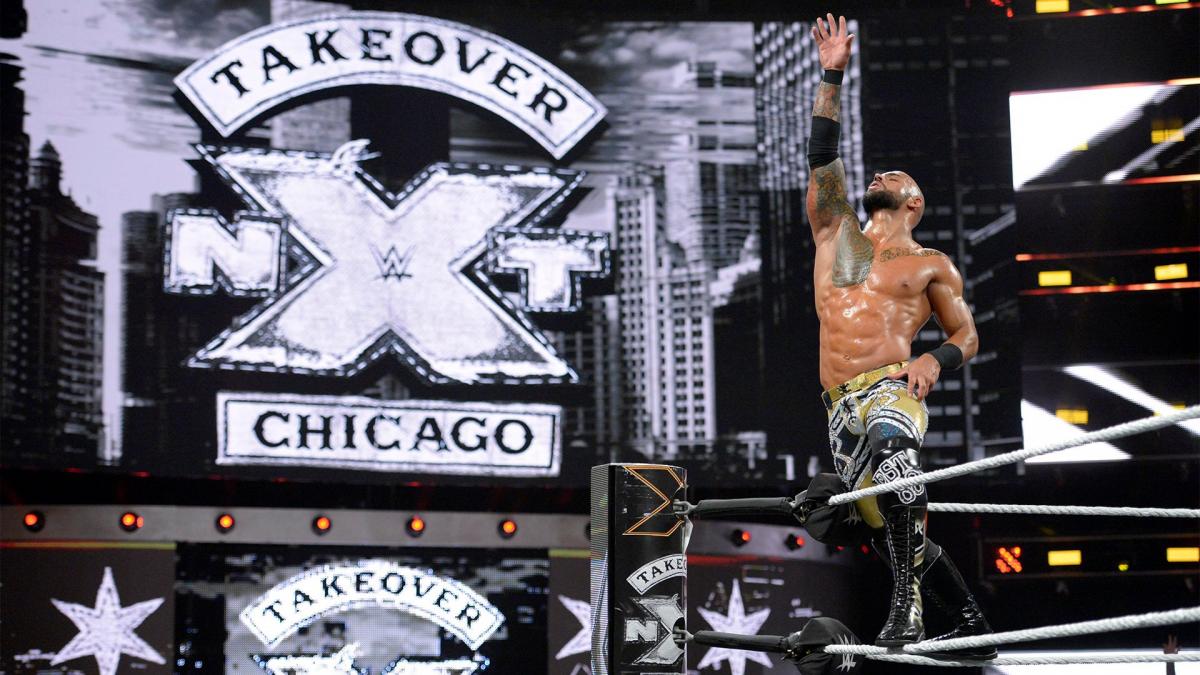 So a surprise to no one, Kenny Omega vs Kazuchika Okada IV at Dominion, won the vote last week.
Now, guess what, just like I said, last week was all New Japan, this week is all WWE. Granted, yes I had a very busy week so I wasn't able to watch much, but that doesn't change the fact that these matches were all pretty solid and only one or two might've moved around if I did watch my normal amount.
So now WWE had a solid weekend between NXT and main roster, so let's see how this all shakes out.
5.  WWE Money in the Bank Women's Ladder Match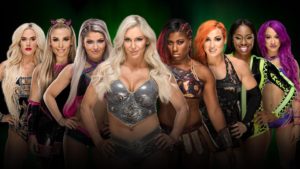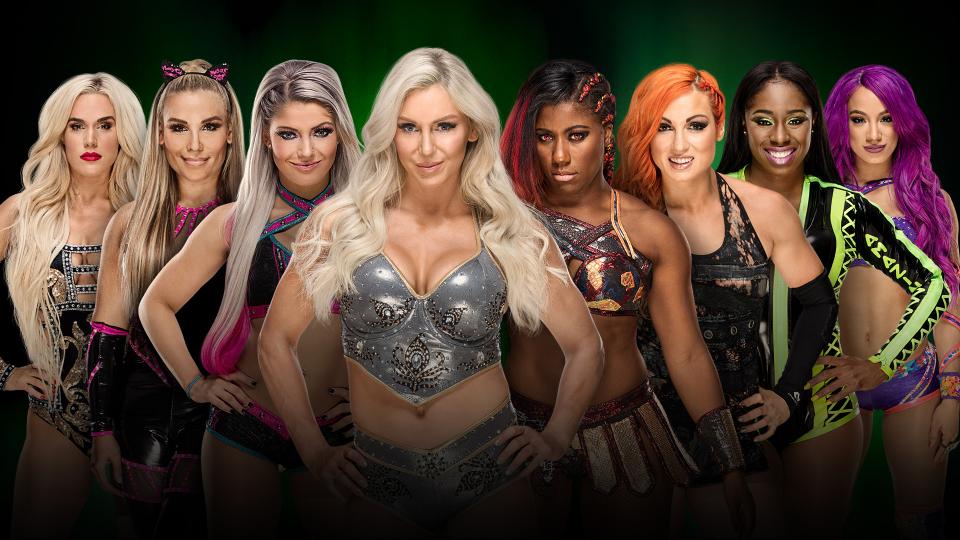 From My Money in the Bank Coverage
Hoo-Hoo-Hulla-Baloo! People get dumped left and right, Becky kicks a ladder into Charlotte's face, but gets caught by Ember Moon before the ladder gets in the ring. Ember than rams Natty into the steps. Sasha stops a Drop Toehold into the ladder, but Ember hits a nice Springboard Crossbody, sending Sasha crashing into the ladder. Ember keeps a lot of early momentum until Lana hits an X Factor on Ember, into the corner of the ladder. Natty comes in, nearly gets the ladder dropped on her, takes out Lana, drops Naomi on the ladder, split first and dropkicks her out of the ring. Charlotte comes in, hits an Exploder Suplex on Natalya and goes for the ladder, but Becky shows up to stop her.
Tug of War with the ladder, Naomi jumps off the ladder onto Natty, then kicks the ladder into both Becky and Charlotte. Bliss tries to pull the ladder out, but Naomi hits a Plancha to get rid of Bliss, and then a Blockbuster from the apron to the floor, as the action pauses.
Naomi dropkicks the ladder into Becky Lynch, as Ember and her then square off. Naomi goes to try and Monkey Flip Ember into the ladder, but Ember flips out, and then Hip Tosses Naomi into the ladder. Sasha enters, stacks Ember and Lana on top of a ladder propped in the corner and hits double knees, on the stacked up opponents. Charlotte cuts off Sasha before she can climb the ladder. After a brief trash talk spot, they both try to run up the same side of the ladder, goofy spot, which turns into them knocking each other off, then Charlotte hits a Neckbreaker on Sasha for the advantage.
Sasha counters a Razor's Edge by landing on the ladder, Natty pulls off Charlotte, Becky shakes Sasha down as she falls into Natty, Bliss pulls down Becky, Banks pulls off Bliss, as they then both slowly climb. Becky takes Alexa off, and the strikes on the ladder start. Lana sets up a taller ladder as Bliss keeps attacking Lynch. Six women on two ladders, let's see how this ends. Natty Slingshot Powerbomb on Sasha into the ladder and knock the ladder over. Charlotte Powerbombs Ember into a Ladder leaning in the corner. Charlotte takes out Lana, and then goes after Bliss, but Bliss hits a Code Red on Charlotte.
Bliss and Lana are the only two up right now. Bliss is the best wrestler standing at the moment, go figure. Lana kicks the taste out of Alexa's mouth and then locks in the Accolade. Naomi springboards onto the ladder, Naomi has the briefcase, but can't take it down, as Becky Lynch takes Naomi down. Becky has a shot, but Charlotte sprints up the ladder. Small stare down, and then Bliss topples the ladder. Charlotte takes out Alexa with a spear, Sasha hits a Backstabber on Charlotte, Naomi rams Sasha's head into the ladder, Lana pulls Naomi off face first. Natty Electric Chair Drops Lana, Ember Superkicks Natty off, Charlotte Spears Ember into the ladder. Becky Becks-sploders Charlotte and readjusts the ladder.
Becky had it, but Alexa tips the ladder and Becky goes crashing. Little Miss Bliss, is Ms. Money in the Bank. The match was a little clunky, but still quite entertaining.
Winner: Alexa Bliss
Rating: *** 3/4
4. NXT Takeover Chicago II: Ricochet vs Velveteen Dream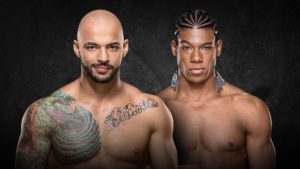 It needs to be mentioned that Velveteen comes out in a Hulk Hogan styled attire, going as far as doing the signature Hogan poses.
They size each other up for a little, collar and elbow tie up and then Dream breaks with Hulk Hogan theatrics. Lots of early chain/mat wrestling. See a Side Headlock, a few cradle style early pin attempts, but nothing really impactful. Dream had a slightly botched tilt-a-whirl headscissor that Ricochet flips out of. They run the ropes a little, and Ricochet hits his signature Power Ranger pose for a stare down.
Now the match speeds up a little, slap from Dream, Handspring Headscissors from Ricochet, into a Dropkick. When Ricochet goes for a springboard move, Dream hits the ropes and Ricochet goes crashing to the floor. Now we see Dream methodically picking apart Ricochet. Rude Awakening, for the 2 count. Ricochet tries to get something going, but Velveteen just pushes him through the ropes to the outside, and Dream hits a Rope Assisted Senton.
They go back inside, Dream had control early but Ricochet slowly starts mounting a comeback. Nothing Ricochet does lands hard enough, until a big Rolling Dropkick, followed by back to back dives onto Dream. Tiger Feint in the corner by Ricochet, Springboard European Uppercut, for the near fall.
Cat and mouse game from Ricochet, positioned for his 630 Senton, saw Dream coming, jumped down, went to set up for a Spanish Fly, but Velveteen hits a big Avalanche Death Valley Driver for 2. After a little jockeying for position, Dream hits a big Vertical Suplex from the Apron to the floor. Surpringsly both men seem exhausted but make it back in the ring at 9. Now we get the slow rising strike attempt, but Dream finds a surprise Cartwheel Death Valley Driver for 2.
Uppercuts from dream, forearms from Ricochet, turns into a Northern Lights Suplex, Superkick from Dream, Pump Kick from Ricochet. Dream hits a Swinging Reverse DDT for only 2 and both men just lay on the mat for a few moments. Dream slowly gets up talking massive crap, telling Ricochet he belongs in a bingo hall. Ricochet hits the Cartwheel Death Valley Driver for emphasis, goes to the top for Dream's Purple Rainmaker Elbow…but a near fall again. Velveteen goes halfway across the mat, but Ricochet hits a Shooting Star Press from Detroit.
The anything you can do game continues, Dream tries the Purple Rainmaker from across the mat, but Ricochet moves. Lands his 630 Senton on Velveteen for the 1-2-3. Very very solid match, had a few hiccups, but entertaining match.
Winner: Ricochet via 630 Senton
Rating: ****
3. NXT Takeover Tag Team Titles: Undisputed Era vs Oney Lorcan & Danny Burch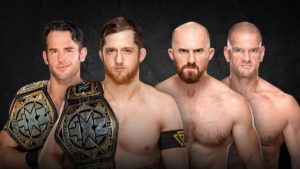 Early on we get a lot of headlocks and grapple exchanges. As O'Reilly and Burch get tagged in, the rough and tumble Lorcan and Burch manage to get the upperhand. After a small powder to the outside, O'Reilly manages to get a little bit of momentum going, while making space to get Roderick Strong back in the match, Big Wrecking Ball Dropkick from Strong, finally gives the Undisputed Era their first advantage of the match.
Kyle gets tagged in and immediately goes for a Kneebar, and tags back out to keep ontop of Burch. Some quick tags and cutting off the ring, leads Burch to absorb a lot of punishment. Armbars, and a big Dropkick from Roddy for a near fall. Strong hits his forearms/back elbow combination, but misses the follow up into the corner. Strong gets to O'Reilly first, but a big headbutt from Burch, lays everyone out for a moment.
Strong and Lorcan come in, and Oney is on fire. Clotheslines, uppercuts, chops and a messy but effective Top con Hilo. Half and Half suplex into a running uppercut on Strong, for 2. Oney takes on both men, and hits a big Double Blockbuster. Tagging in Burch they do a combination move for a near fall thanks to Kyle's interference.
Lorcan goes to the top, but O'Reilly sends him bouncing off the apron and Undisputed Era slowly get the advantage back. Burch fights through a nasty Armbar from O'Reilly for a pretty important submission break. Era go for a few tandem moves, to no avail. Lorcan comes back, hits another big Double Blockbuster on the outside. Lorcan and Burch hit a Doomsday Device and Cole interferes to stop the pinfall.
After Cole gets kicked to the back, O'Reilly nearly picks up the win with a Guillotine Choke. Big double submission spot from Lorcan and Burch, looks like Undisputed Era will tap, but Kyle manages to counter his hold to break up the Half Crab on Strong. Both teams go to either side, say bring it and start throwing hands. O'Relly dispatches Burch with a knee strike, then they gang up on Lorcan and land a few big strikes, followed by Total Elimination. Undisputed Era retain the titles.
Winner: Undisputed Era via Total Elimination
Rating: **** 1/4
Honorable Mentions:
WWE MITB Intercontinental Title: Elias vs Seth Rollins (c)
Rating: *** 3/4
Raw Fatal 4 Way: Braun Strowman vs Kevin Owens vs Finn Balor vs Bobby Roode
Rating: *** 1/2
WWE MITB Men's Ladder Match
Rating: *** 1/4
WWE MITB: Roman Reigns vs Jinder Mahal
Rating: *** 1/4
NXT Takeover NXT Women's Title: Shayna Baszler (c) vs Nikki Cross
Rating: *** 1/4
WWE MITB SmackDown Women's Match: Asuka vs Carmella (c)
Rating: ***
NXT Takeover NXT Championship: Aleister Black (c) vs Lars Sullivan
Rating: ***
2. WWE Money in the Bank WWE Championship: Shinsuke Nakamura vs AJ Styles (c)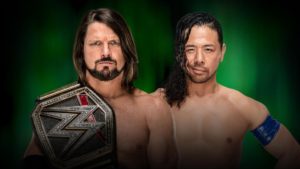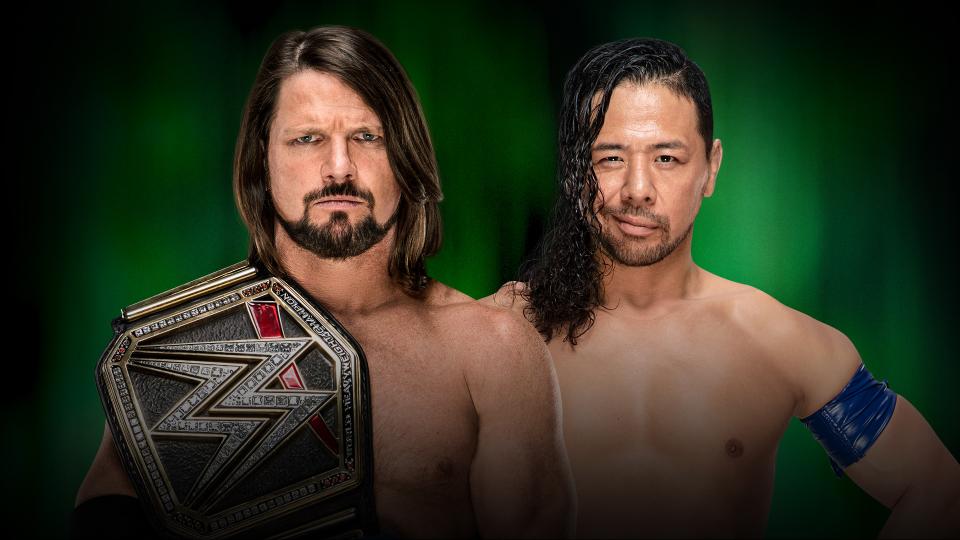 From My Money in the Bank Coverage
Styles takes an early advantage, landing a nice crisp Dropkick for the first attempted 10 count. Nakamura stays on the receiving end of a lot of offense,
including a very quick Phenomenal Forearm to the outside. Nakamura has already been down 4 times, triggering the referee to start a count. Finally, Shinsuke drives Styles into the barricade and snaps off a suplex for his first advantage. Nakamura drapes Styles across the apron and hits a Running Knee and then jumps off the stairs as he lands a Curbstomp style maneuver before rolling AJ back into the ring.
Nakamura big brother's Styles a bit, kicking him in the head, followed by numerous Round Kicks to the chest and abdomen. Keeping Styles in the corner, he chokes him
with his foot, than finally goes for the Vibration Kick, but Styles fights through. Nakamura lands a Feint Kick when AJ starts getting something going, but gets up by
5. Shinsuke drapes AJ across the turnbuckle, and Nakamura drives his knee into the mid section. AJ tries to walk away from Shinsuke, as they trade punches and then
Nakamura wedges Styles' face into the steps and gives him the Vibration Kick.
Going from that spot, Nakamura throws AJ into over the barricade and they start brawling in the crowd. AJ finally gets in a few kicks of his own, sends Nakamura
back over the barricade. AJ jumps on the barricade, and Shinsuke kicks the legs out from under him, but AJ is back up by 7. Styles continues to be on the receiving end of the small insulting taps to the head. Reverse Powerslam attempt, countered by an Enzuigiri. Dropkick mid air from AJ, sending both men down, to get up by 7.
Phenomenal Blitz catches Nakamura, and then Styles does that Wheelbarrow Faceplant move for a count of 6. Shinsuke goes for the low blow, Styles dodged, Shinsuke
caught his foot and then lands the Reverse Powerslam. Knishasa attempt number one, gets met by a forearm from Styles. Both men down, but Nakamura is up by 7, Styles lands an Ushigoroshi. Count gets up to 8, as Styles goes for another Phenomenal Forearm, but an Enzuigiri sends AJ falling to the outside.
We may see our first announce table spot. Nakamura cleans on off, drops Styles onto it and then clears the top off of all of them. Runs across all announce tables and
lands the Kinshasa. Styles rolls off the table at 9, so Nakamura drives his face into the ring post. Shinsuke goes to get out a table before the crowd chants for it, for a change.
Shinsuke kicks Styles in the knee and Styles goes face first into the table legs before it's correctly set up. Table is set up, AJ is propped on the top turnbuckle, Styles slips through and tries to Powerbomb him, Nakamura fights out, table gets knocked over and Shinsuke drops AJ on the edge of the table.
He then leans the table in the corner, and throws AJ styles through it. Table breaks clean and Styles lays there, but manages to get up by 9 to Nakamura's  astonishment.Knee lift, Axe Kick, but Nakamura misses the Draping Knee and his knee goes into the exposed turnbuckle. Styles works on Shinsuke's injured knee, and they both slowly get back up. Styles keeps stomping on Nakamura's knee, but eventually stops so the ref can count. Shinsuke gets up by 6, and goes for the Calf Crusher. Nakamura visibly taps out, but that doesn't matter in this type of match.
Shinsuke gets back at 8, as AJ keeps methodically kicking at the left leg. So the tables turned, as Shinsuke was the methodical predator early, but now AJ is just
trying to cripple Nakamura. Even going to get a chair and ramming it into the knee, then multiple Chairshots. The pleading of Nakamura goes unanswered, but it was all bait for a perfectly placed Low Blow, Styles is up by 9. Shinsuke with a desperation Kinsasha on a damaged knee, but back up at 9 again. Styles refuses to stay down.
Nakamura goes for Landslide on the table, Styles pushes him off and hits a Phenomenal Forearm, followed by a Styles Clash from the stairs to the floor,
Nakamura is up at 9. "Come on" from Nakamura, and Styles just kicks him in the balls. Goes back into the ring, and lands a Phenomenal Forearm through the table. Match had a few hiccups, but told a good story, had callbacks from the entire feud, both men looked very resilient. Styles wanted it, just a little bit more.
Winner: AJ Styles via Phenomenal Forearm
Rating: **** 1/2
1. NXT Takeover Chicago II: Johnny Gargano vs Tommaso Ciampa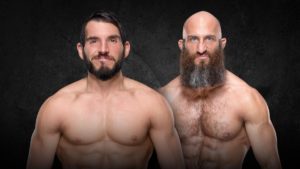 Both come out swinging symbolic crutches, but a big Cannonball Senton and dump over the announce table, gives Gargano the early advantage.Ciampa tried to rip up a Gargano poster, but their was a secret Stop Sign within it, so Gargano keeps the advantage.
After a small moment of no action, Ciampa goes for the Stop Sign, but Gargano flies off the second row of seating and hits Ciampa with a Flying Crossbody.Johnny goes under the ring for weapons, but that gives Ciampa the opening he needs to get in his first few glimpses of offense. Ciampa hits 3 German Suplexes in a row, but Gargano counters the fourth into a German of his own, followed up by a Suicide dive.
Gargano drives Ciampa into the ring steps and goes looking under the ring again. Ciampa hits a knee strike while Gargano is distracted and strats throwing him around the outside. Ciampa goes fishing under the ring, and pulls out a chair. Hits him once, drapes it around his neck and drive him into the ring steps. So far, Gargano has been doing whatever he could think of, but Ciampa is focusing on Johnny's neck.
After a few more weapon strikes, Ciampa takes off his shirt and pulls back on Gargano's neck in the middle of the ring. As he goes off to look for handcuffs, Johnny gets a small reprieve and manages to turn it around on Ciampa. As we then see Gargano take it to another level and he starts whipping Ciampa with his belt. Punctuated with a trash can over Ciampa's head, and a big Superkick from Gargano.
Ciampa counters a Lawn Dart into the corner, lands Project Ciampa and a running knee strike with a trash can lid for 2. Intense spot on the apron where it looks like Gargano is going to counter Ciampa's momentum, but Ciampa fights through the elbow strikes from Johnny and lands a Gravy Train on the steel steps, rolls him back in for only 2.
Tommaso gets bolt cutters out and removes the canvas to expose the hard wooden boards beneath the ring. After exposing the one corner, Ciampa props him on the top turnbuckle, bites him, tries to go for an Avalanche Gravy Train, Gargano slides out, attempts a Sunset Flip Powerbomb, but Ciampa blocks. We see the Cheeky Nando Kick, and then a slow but emphatic exchange of strikes between the two.
Both men keep countering the other's weapon shot attempts, there was a double head shot with a trash can lid and crutch, but Ciampa manages to barely kick out. Johnny follows Ciampa to the outside with a Plancha, but Ciampa catches him with another trash can lid. Gargano moves out of the way of a knee strike and then goes after Ciampa's surgically repaired knee. Chairshots, punches, stomping, and when it looks like Gargano has some momentum, Ciampa kicks him into the trash can in the corner.
Ciampa rains down elbows on the back of Gargano's head. Johnny can barely pull himself up, and eats a knee strike and then a crutch to the back of the neck. Positioning and weapons are a big callback through this feud, the body language is very reminiscent of the last time they were in Chicago. They walk up the ramp the same way as last Chicago, and reenact the betrayal spot.
Ciampa climbs equipment to put Gargano through a table, even takes off Johnny's wedding ring, but after spitting on it, and throwing that away, Gargano hits Ciampa with a Gravy Train through a wooden table from on top of the equipment. After this spot there's a kind of long stretcher moment, as we watch Gargano slowly decide he needs to punish Ciampa more.
He locks in the Garga-NO-Escape, but the Ref is laid out. Agents try to break it up, but Gargano lays them out and handcuffs Ciampa and hits more Superkicks than the Young Bucks have all year. More agents come in to try and pull back Gargano, the ref finally gets to the ring, to help Ciampa out of the cuffs. Gargano walks up the ring steps and Ciampa catches him with a Draping DDT on the exposed wood, for the 1-2-3.
Gargano's emotions got the best of him, and cost him the match.
Winner: Tommaso Ciampa via Draping DDT
Rating: **** 3/4
Oddly enough, the top two matches aren't traditional matches. Street Fights and Last Man Standing, add for interesting wrinkles. When it comes down to which match I choose out of the week, I'll pick, Shinsuke Nakamura vs AJ Styles. The best match of the series, it was punctuated so emphatically with the finish, that the feud should be over. Whereas, Gargano and Ciampa didn't have their best match and this feels like we need at least one more. So with the culmination of one storyline, and the continuation of another…I'll take the finished story.
Remember to let your opinion be heard, comment, email, retweet or send a carrier pigeon.
Always Use Your Head.