Velveteen Dream VS Ricochet – The Battle for the Crown
The Velveteen Dream and "The One and Only" Ricochet are set for an epic clash of King VS Prince at NXT Takeover: Chicago II. Who will wear the crown?
"There's a monarchy here in NXT.  And Ricochet believes that he's the King.  And that's funny to The Dream. He he. Well, if The Dream were to pick a crown, he'd choose to be the Prince.  The difference between a King and a Prince? The King was good, but that Prince… he knows that there's a bigger crown." – The Velveteen Dream
If you haven't been watching NXT, which is the best wrestling product in the WWE, you may be missing what could go down as one of the best feuds of the year.  Ricochet – the high flying, record breaking, Indy legend – is currently feuding with The Velveteen Dream in a perfect match of opposites in personality but equals in ability.  Dream – the former Tough enough contestant turned flamboyant Prince-esque showman – has taken umbrage with Ricochet's emergence on NXT and his Indy beginnings, wanting the spotlight only for himself.  Ricochet, known as the "One and Only", has dared The Dream to prove that he deserves it. This game of one-upmanship has captivated viewers and turned their scheduled encounter at NXT Takeover: Chicago 2 into a must see match.
This, however, is more than just two tremendous wrestlers just wanting to prove their the best.  Both men have layered histories riddled with nuance and hurdles that they've both had to climb. And as such, both have created personas that have been built from those very hurdles and bred to exhibit not only their skills, but their true inner selves as well.  That's what makes this matchup so interesting.
The Velveteen Dream, who's real name is Patrick Clark, first came into wrestling fame as a member of the 6th and most recent season of WWE Tough Enough.  Clark was an avid and knowledgeable fan, and was quite arrogant about it, as well as his prior training. Because of his arrogance and perceived lack of humility, he was eliminated on the 5th episode.  Still, due to his clear aptitude in the ring, youth, and passion for WWE, he was signed to a developmental deal. Clark went through a few different characters in NXT before he found his current one, one most notably being a politically charged version of himself seeing as he's from Washington D.C.  Fortunately for him and us, he's landed on The Velveteen Dream. He plays the character with a real sense of flair, vibrancy, and animation. His act would surely make Prince, the basis for the character, proud.
The beauty of how he portrays the character, however, is in the subtleties.  Through the bravado, there's clearly an insecure man begging for recognition.  All of Dream's feuds revolve around some sense of respect or acknowledgment. He's is on a constant quest for validation, only matched by his need to be unique.  A man genuinely proud of his luminosity, he is always fighting to prove that he is in fact luminous. Something that Ricochet, in his own way, has fought for his whole career.
Born Trevor Mann, Ricochet has taken a much longer journey to NXT and WWE.  A 15 year veteran, Mann has been everywhere and done everything. He's wrestled in the frenetic energy of PWG in Reseda, been in the family friendly world of Chikara, went overseas with the ultra competitive Dragon Gate promotion, and been the face of the upstart Lucha Promotion.  He's even done significant time in the second biggest wrestling company in the world – New Japan Pro Wrestling. There, he won the 2014 Best of the Super Juniors tournament and is a three time IWGP Junior Heavyweight Tag Team Champion. His success is almost unparalleled, but what's most notable about him isn't his successes.  It's his style. Ricochet has created quite possibly the most exciting style in all of professional wrestling. He's arguably the best high flyer in the game today, maybe ever, and he matches that with a speed, precision, and attitude that makes is 5'9 frame seem twice that. Despite all that, unfortunately, it still took him 15 years to make it to NXT.
That's not a fact that he takes lightly.  The landscape of WWE as a whole is tremendously different than it was just 10 years ago.  Before then, a guy like Ricochet likely wouldn't have been signed, but now? He's not only gotten signed, but he's become a marquee performer in just a small time.  Which directly leads him into The Velveteen Dream's spotlight and quest for validation.
There is a certain beauty in the dichotomy between the two.  Dream is a showman who is an opportunist. He takes advantage of every situation and outlasts his opponents, utilizing a bevy of awkward looking but effective moves.  But when it comes down to it, he's a high flyer at heart, utilizing his beautiful Purple Rainmaker elbow drop to finish the job.
On the other hand, Ricochet is known for his high flying – nobody does it better – but is a truly adept grappler and mat wrestler.  He may fly around the ring with ease, but he is one of the most savvy wrestlers around, having seen everything and come out on top. Still, he's utilizes the most show-stopping move in all of NXT to end his matches – the mesmerizing 630 splash. As seen in their few encounters so far, they're a perfect match for each other because they're essentially two sides of the same coin.
Both performers have a flair for the dramatic.  They both have a sense of the moment. And they both want the spotlight.  But only one can have it. At NXT Takeover: Chicago 2, the best NXT has to offer will face NXT's future.  
King VS Prince: Who will wear the crown?
Heavy is the head.
FIN
King's WrestleMania Rewind: Stone Cold VS. Scott Hall (WrestleMania X8)
Chris King is back with another WrestleMania Rewind, looking at the NWO's Scott Hall battling Stone Cold Steve Austin at WWE WrestleMania X8 from Toronto!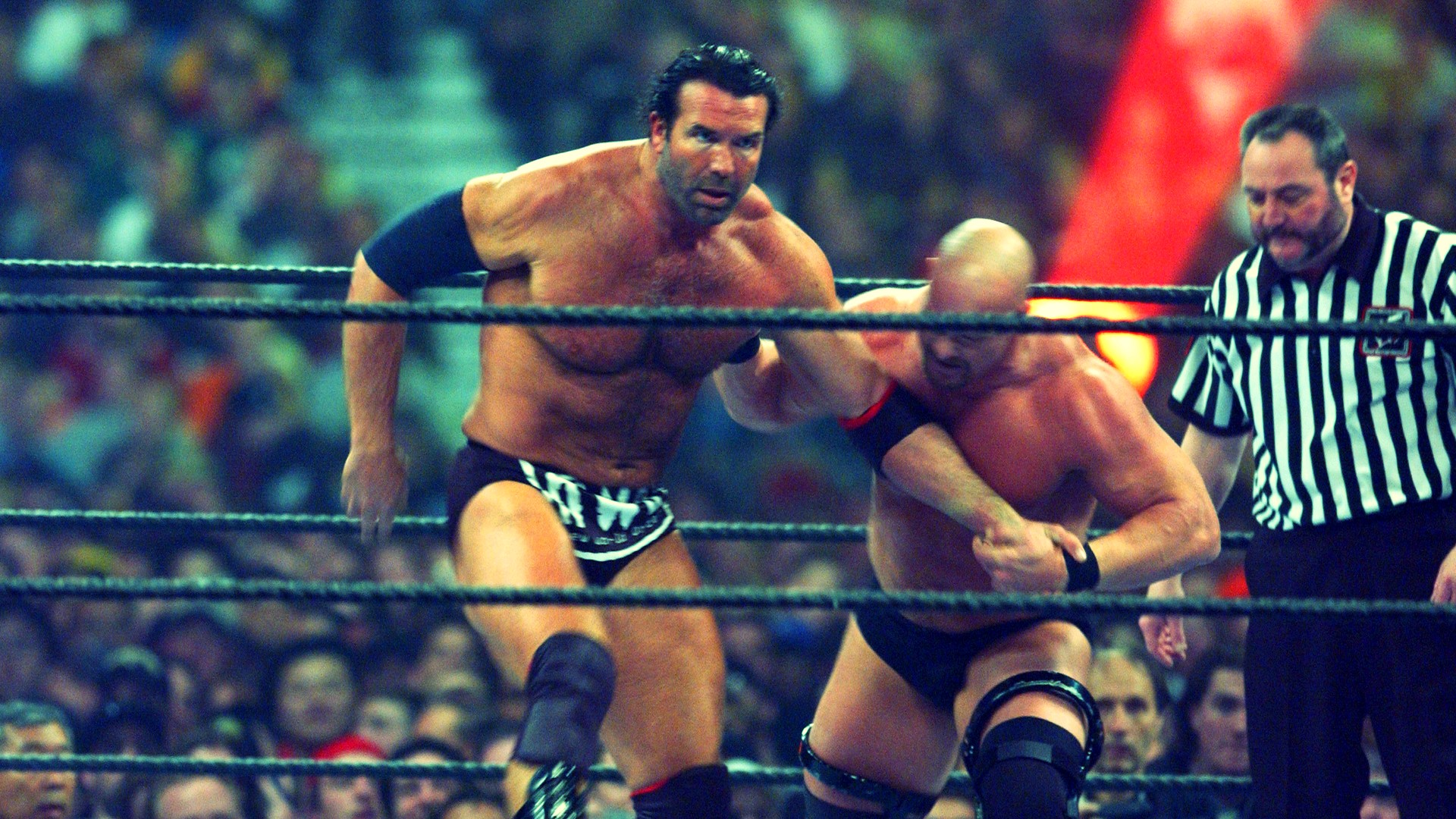 Chris King is back with another WrestleMania Rewind, looking at the NWO's Scott Hall battling Stone Cold Steve Austin at WWE WrestleMania X8 from Toronto!
Chris King is back this week with another edition of WrestleMania Rewind, where he is rewatching all the past Mania matches and feuds. This week you're in for a treat as we look back at 'Stone Cold' Steve Austin vs. Scott Hall at WrestleMania X8.
In late 2001, Vince McMahon bought out his competition WCW and acquired the rights to a plethora of talent including Booker T, Eddie Guerrero, Chris Benoit, and the iconic trio known as NWO. Hulk Hogan; Kevin Nash, and Scott Hall were hell raisers, and what better way to make a name for yourself than take out the two top superstars in the WWE The Rock, and Stone Cold?
The NWO cost Austin his chance at becoming the Undisputed Champion at No Way Out during his match with Chris Jericho. Adding insult to injury, the NWO spray-painted 'The Texas Rattlesnake' with their brand logo just like they did in WCW. As you can imagine, Austin was pissed and out for revenge against the group and primarily Scott Hall.
Hall would challenge Stone Cold to a match at WrestleMania 18. Both superstars beat the living hell out of each other leading up to this highly-anticipated match for who runs the WWE.
The glass broke and Stone Cold made his iconic entrance, and black and white NWO covered Halls' entrance alongside Kevin Nash. With the odds stacked against 'The Toughest S.O.B' could Austin or NWO prove their dominance? Sadly the NWO  broke up that very night when Hulk Hogan came to the aid of his adversary The Rock after their 'iconic' dream match. Stone Cold would ensure the victory with the Stunner. Hall would perform an Oscar-worthy sell over the finisher.
What a time to be a wrestling fan in the 2000s when nothing was impossible for WWE. Who would've thought WCW would go out of business and Hogan would make his long-awaited return to WWE?
King's WrestleMania Rewind: Seth Rollins vs. Kevin Owens (WWE WrestleMania 36)
Chris King takes a look at the most underrated WWE WrestleMania matches, and starts off with Seth Rollins battling Kevin Owens at WrestleMania 36!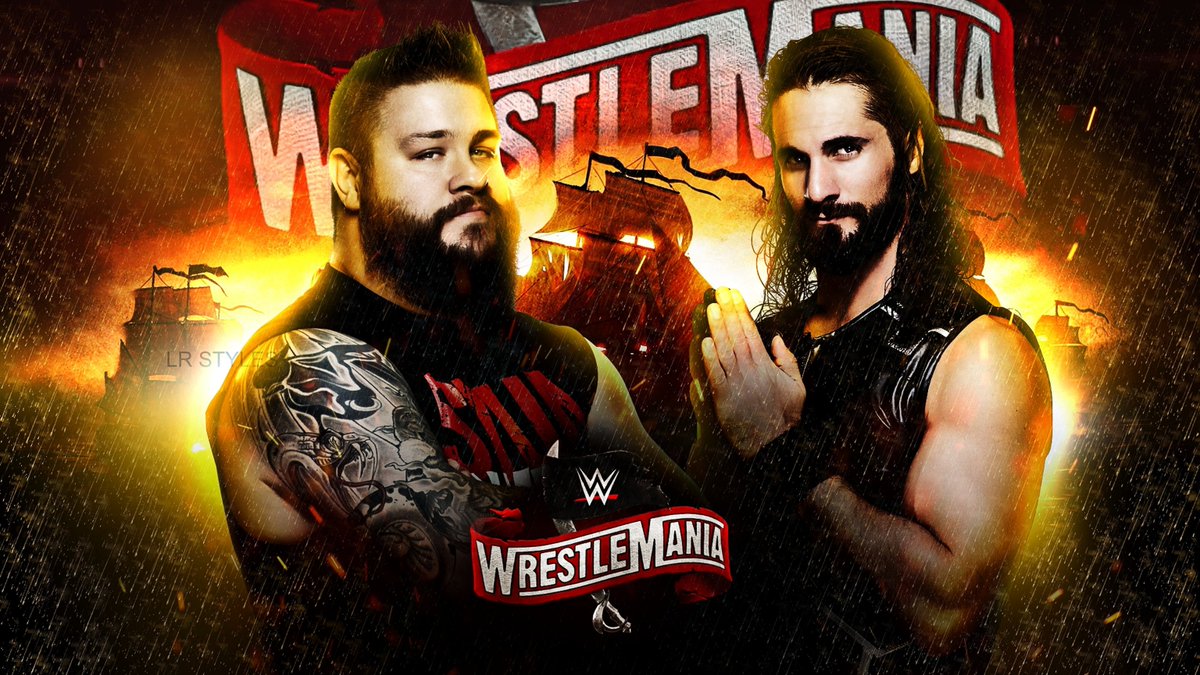 Chris King takes a look at the most underrated WWE WrestleMania matches, and starts off with Seth Rollins battling Kevin Owens in the WWE Performance Center at WrestleMania 36!
Chris King is starting a new series heading into WrestleMania season dubbed WrestleMania Rewind. Each week he'll be going back and sharing his insight over underrated matches at the Show of Shows. First up, is Kevin Owens vs. "The Monday Night Messiah" Seth Rollins at WrestleMania 36.
At the 2019 edition of Survivor Series, Rollins sacrificed himself during the men's traditional match allowing SmackDown to ultimately gain the victory. The following night the self-proclaimed Messiah, berated the whole roster but KO was not having any part of it. Owens quickly became a huge barrier in Rollins' cause for the greater good. The Authors of Pain attacked Owens with Rollins' character in question.
Owens finally had enough of his rival's mind games and torment and challenged Rollins to a match on the Grandest Stage Of Them All. Rollins mockingly accepted his challenge and the match was made official for night one of WrestleMania. Owens came out of the gate beating the holy hell out of the Monday Night Messiah trying to achieve his long-awaited moment at Mania but, Rollins tried to steal a disqualification victory by using the ring bell.
Owens hellbent on revenge provoked Rollins into turning their encounter into a no-disqualification contest where the fight could be taken all over the empty arena. The highlight of the match, was when KO used the WrestleMania sign to deliver a thunderous senton bomb through the announce table. Owens would secure the victory with a Stunner in an incredible match. Despite having no crowd during the pandemic era, both KO and Rollins put on an intense performance under the brightest lights.
In my personal opinion, this was a great feud that helped both superstars in their transformation as compelling characters for years to come.