If there's something I love, but there's not enough of in WWE, it's factions.
Back in the day there were plenty of factions from DX to the NWO to the Four Horsemen. Today you only get a big faction every now and then with the likes of the Nexus and the Shield. However down in NXT there is what could become one of the greatest factions in WWE: The Undisputed Era
What could easily have just been all these former ROH guys thrown together turned out to be the best thing for them. Cole is the perfect cocky heel and is made better having people around him that can interfere on his behalf. Also, Fish and O'Reilly as good as they are as singles stars they're amazing as a team. They've been positioned as a threat ever since they debuted in NXT forcing unlikely allies to have to come together to try and stop them.
At Takeover New Orleans they had that moment that all good factions need which is when each member of the group holds a championship.
The addition of Roderick Strong has only made the group stronger. It gave knew life to Strong, Allows the Era to stay at the top as champions and helped set up feuds for the next couple of months.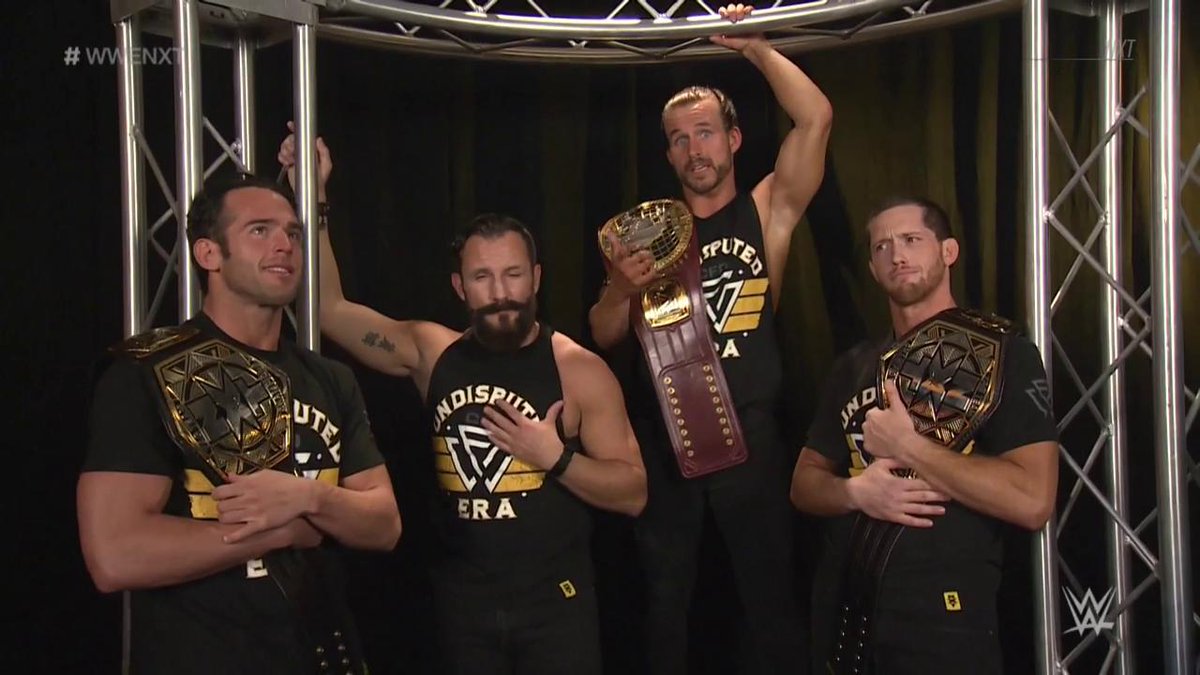 As good as they are now things can only get better once they get to the main roster because of all the potential match ups. They could continue their feud with Sanity or have a feud against New Day. Imagine Fish and O'Reilly against the Usos, the Bar on even the Deleters of Worlds. Cole could go after a singles title against either Jeff Hardy or Seth Rollins. Better yet he could be place right in the main event scene against AJ Styles. Strong could go back to 205 Live since he was apart of the Cruiserweight Championship tournament. This way the Undisputed Era are taking over all divisions in WWE. Also it would bring some actual star power to the Cruiserweight Division.
There's always room to expand the group provided it's the right person. They could ad a powerhouse, like the recently debuted in NXT Chris Dijak, or how about even adding a woman to the group.
I was thinking possibly Carmella or a freshly heel turned Sasha Banks. Either of them can pull off the cocky arrogance that would make them a perfect fit for the Undisputed Era.
What will be a big advantage for the Undisputed Era is that Triple H is clearly very high on them particularly on Cole who definitely be the company's top heel sometime within the next 5 years. Him versus an underdog like Daniel Bryan could be a big money program with Bryan having to fight through the rest of the Undisputed Era to get to Cole.
Undisputed Era so far has done what a great faction should do which is elevate each of his members who could hopefully become great singles stars when the group inevitably disbands. On their own in NXT they were all just another former Indie guy that would just have got lost in the shuffle.