Looking Into The Women's 2018 WWE Money In The Bank Ladder Match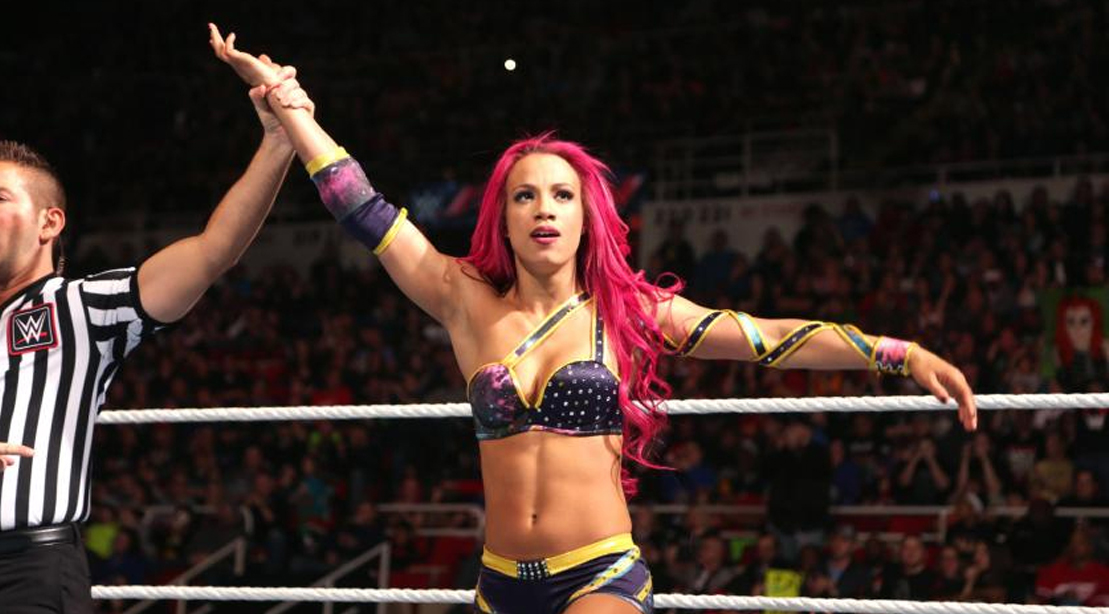 The stage is set for the third Women's Money in the Bank ladder match next month in Chicago.  This time, both members from Raw and Smackdown will go to battle to attain the coveted Money in the Bank briefcase that holds a contract for a future Championship match.  This year, all the elements will add an unique mix as to who will be the second woman to hold the briefcase.  With the eight competitors, it is very well up in the air as to who could win this year.
For three of these women – Charlotte Flair, Becky Lynch, and Natalya respectively – this will be their third Money in the Bank match.  If you want to be technical they have been in every Women's MITB match thus far.  They already have had the experience of the brutality that this match is capable of.  So in essence Flair, Lynch and Natalya have a distinct advantage ahead of the other competitors.  It is a matter of staying ahead of the game in this match.
That's not to say that the other women in this match aren't history makers in their own right.  Arguably, Sasha Banks has had a handful of history making matches from Iron Woman to Hell in a Cell.  Alexa Bliss isn't a stranger to history either with her successful Raw and Smackdown Championship reigns over the past two years.  Additionally Naomi won the first Women's Battle Royal at WrestleMania this past spring.  The list continues to grow as the Women's Division continues to charter new territories that were just a mere dream years ago.
The Money in the Bank match itself will give way to possible new feuds that can develop over the summer.  Whether it's the cash-in itself or perhaps some sort of betrayal comes about, drama is guaranteed to happen.  One instance is the Riott Squad's exclusion from the match.  Neither woman did not advance to the Money in the Bank match, but Ruby Riott, Sarah Logan, and Liv Morgan could very well make an impact should they make their presence known.  Many fans were surprised that Riott isn't in this match to begin with, so perhaps the silver lining is that she could get revenge from her loss this past Monday night.  Do the IIconics make an appearance as well?  Those factors can be huge.
Going to my point about that – while the Women's Money in the Bank is the stage for some drama – rest assured there isn't bound to be controversy a'la last year with James Ellsworth.  WWE is no stranger to controversial ideas especially if it benefits the company all around financially.  What I'm saying is that it's bound to be there but to a point.  Whether it's the way the match is finished or if the briefcase is cashed in can decide that.  Money in the Bank is the ultimate opportunity and can change someone's career.  Just ask Carmella.
Every woman in this match is on a quest to attain Championship gold.  All of them have some sort of backstory whether it's to build their accolades or their legacies.  There is no surefire way than having the briefcase in their possession – it gives them the upper hand for the next year.  They can bide their time and strike at the worst possible time for the Champion.  It is a threat that hangs over the division until that briefcase is cashed in.
In this piece, I will explore each woman's chances of becoming Miss Money in the Bank.  This event is exciting particularly because the possibilities are endless as to what comes out of it.  Money in the Bank sits just in the middle of the gap between WrestleMania and SummerSlam, which are WWE's two top PPV events.  That fact alone opens up a plethora of ideas and ways the company can build to their stories.  Does it benefit this person, or what happens to this person if she wins it?  While us as fans are never sure what the company can put out for our viewing pleasure, the rollercoaster there is worth the ride.
Who will win the 2018 Women's Money In The Bank Ladder Match?
Click the right arrow to see my thoughts on all 8 competitors!
---
Always Use Your Head and visit the official Pro Wrestling Tees store for The Chairshot All t-shirt proceeds help support the advancement of your favorite hard-hitting wrestling website, The Chairshot!

---
Three Stars of The Night: WWE Monday Night Raw (August 13, 2018)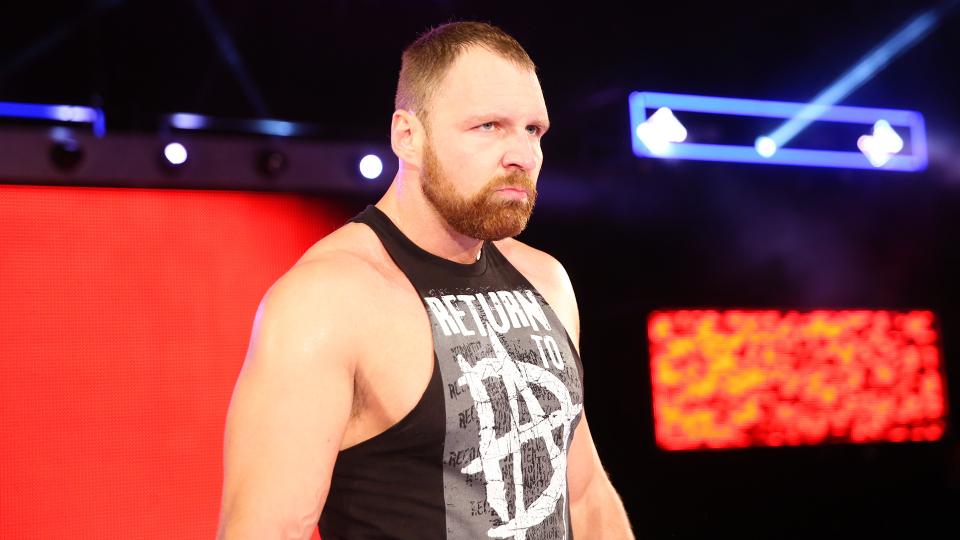 A look at the Three Stars Of The Night for the August 13th edition of WWE Monday Night Raw!
Did you miss me? I know you did! If you are new to this format, the Three Stars concept is defined below. Take a look and this will make way more sense.
Good? Excellent!
Now then, the Road to SummerSlam comes to a close for WWE Monday Night Raw–and that means some folks are earning some stars!
The Third Star:
The Revival
Raw featured multiple tag team matches (it WAS a go-home show, after all), but The Revival is once again showing why they are THE team on Raw. This match is exhibit A, B, and C. It's time for Patrick O'Dowd's Cycle Of WWE Tag Team Wrestling to continue to roll, with the belts finally resting on a legitimate tag team for an extended period of time.
Maybe not at SummerSlam, but soon.
The Second Star:
"Local Musician" Ricky Roberts (and Elias)
John Skyler is 31 years old, and has been wrestling since 2008. He's made multiple appearances on WWE (and NXT) broadcasts in the past, but his appearance on RAW as Ricky Roberts? That takes the cake.
Hell of a job, Ricky. Hell of a job.
Other Honorable Mentions:
Alexa Bliss, Ember Moon, Alicia Fox's head-dress, Ronda Rousey, Mojo Rawley, Kevin Owens, Constable Corbin
And now… a distinction usually reserved
for the top performer of the night …the first star!
The First Star:
Dean Ambrose
"Less is more" is a phrase that more professional wrestlers need to learn, and tonight one who basically did the least (Dean Ambrose) really accomplished the most. Dean's return to Raw ignited the crowd, social media, and really added some needed "zing" to the Dolph Ziggler's Intercontinental Championship defense against Seth Rollins at SummerSlam.Hopefully shorter hair and a fuller beard means we are getting more Stone Cold out of Dean Ambrose and less Mick Foley.
(Full disclosure: I always thought Ambrose had "Stone Cold" potential if used right. Hopefully we're headed down that road.)
Will he stay on the good side with Seth, or is Dean setting up his brother for a big swerve? Time will tell us soon enough!
---
Who are your Three Stars of WWE Monday Night Raw? Comment on social media @ChairshotGreg, @theCHAIRSHOTcom, and use the hashtag #UseYourHead!
---
In hockey, a game's "Three Stars Of The Night" represent the top three performers of the night. For more clarification, I defer to this Pittsburgh Gazette explanation:
"The tradition dates to the 1936-37 season, when Imperial Oil became the principal sponsor of Hockey Night in Canada radio broadcasts and was seeking a way to promote one of its products, Three Star gasoline. The idea of doing so by selecting the top three performers in a particular game purportedly came from a Canadian advertising agency.
Many clubs do recognize the player with the most three-star selections with an award or trophy, usually in conjunction with a corporate sponsorship, at the end of the season (or sometimes, each month). All six Canadian franchises, for example, have an affiliation with a well-known brewery.
The NHL keeps track of its own Three Stars Of The Night selections, but that is done on a league-wide basis. The league employs a system that awards 30 points to a first star, 20 to a second star and 10 to a third – a running total can be found on the league's website – but it does not present an award based on them."
In hockey tradition, the first star represents the best of the three, but all three are considered to be receiving a high honor.
---
Always Use Your Head and visit the official Pro Wrestling Tees store for The Chairshot All t-shirt proceeds help support the advancement of your favorite hard-hitting wrestling website, The Chairshot!

---
The 10 Defining Moments Of Kurt Angle's Career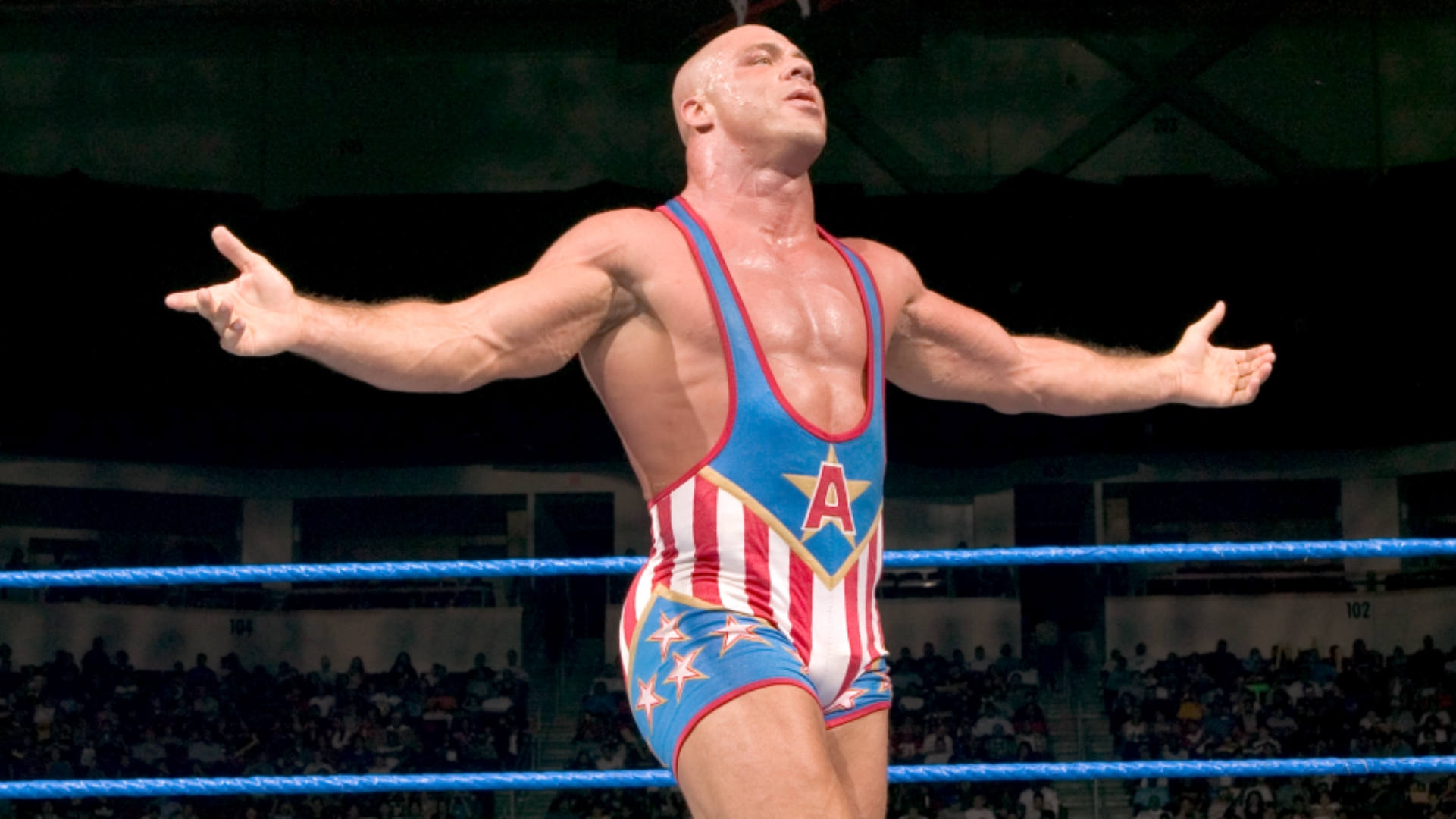 Don't let his cringe worthy role as RAW GM distract you from the fact that Kurt Angle is one of the best in ring technicians of all time. A legit Olympic gold medalist and a multi time world champion as  anyone transitioned from amateur wrestling to pro wrestling as seamlessly as Kurt Angle.
He's one of the most decorated wrestlers of all time and has had a career filled with great moments but which best define the Career of pro wrestling's only Olympic Gold medallist. That's Why I'm here to give you the 10 defining moments of Kurt Angles career.
10. Winning His Gold Medal
I don't know if you're aware of this, but Kurt Angle won a gold medal with a broken freaken neck. He might have mentioned it once or twice. Angle shifted his wait to avoid losing a point but in doing so he landed right on his head. However since Angle is not like most people he still gained the points and went on to win the gold medal
This is on the list not just cause it's a great accomplishment in its self but the fact it became the crux of Kurt Angle's character. This gave Kurt that air of legitimacy and immediately set him apart from everyone else on the roster as there had never been a gold medallist in Pro wrestling before.
9. Appearing in ECW
Despite not debuting until late 99 WWE first offered Kurt Angle a contract in 96 shortly after winning his medal. This was around the time they were brining in people with legit sporting backgrounds like Mark Henry and Ken Shamrock.
Angle was hesitant but a trip to Philadelphia nearly soured Angle on pro wrestling altogether. Angle was a guest at an ECW show because Paul Heyman was trying to convince him to debut for him. It just so happened this was the same show Where the Sandman was crucified by Raven. Not only did they offend many of the people in attendance, but Angle was so offended he walked out.
Imagine if Angle hadn't changed his mind and never went into pro wrestling. This match would have deprived us of so many great matches and moments. 
---
Always Use Your Head and visit the official Pro Wrestling Tees store for The Chairshot All t-shirt proceeds help support the advancement of your favorite hard-hitting wrestling website, The Chairshot!

---
Does Seth Rollins Need to Win vs. Dolph Ziggler at WWE SummerSlam?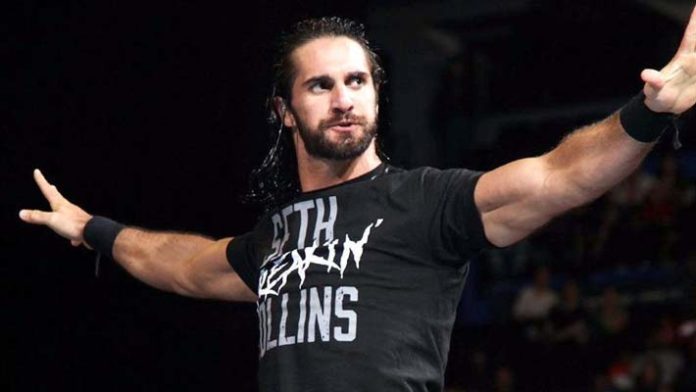 Seth Rollins will wage war against Dolph Ziggler for the WWE Intercontinental Championship at SummerSlam on August 19. The two men have been embroiled in a very intense feud on the red brand for the past few months and SummerSlam may just be the blow-off match.
But does The Kingslayer need the win on August 19? Rollins has been at the top of his game over the past year and many fans believe he is the best in WWE right now. It's certainly difficult to argue that point, as Seth has really never looked better. So should he go over and take back the gold?
For some fans, there is no better validation of a Superstar's talent than with the reward of a championship belt. Titles in WWE denote a certain level of importance of the men and women holding them, which is exactly the notion that the company wants to convey. It is very effective of course, as a title can often mean the difference between a featured star and a supporting cast member.
Sometimes though a championship reinforces a guy's standing in the company. AJ Styles is a perfect example of this. Many believe that AJ is the best in the world today. His matches are must-see TV and he always brings everything he has to tell an amazingly compelling story between the ropes. 
But if Styles did not have the WWE Championship, would fans think any less of him? Would AJ be considered a great talent, but not so great that he can handle the main event grind that comes with being the top titleholder? Common sense says that a guy like AJ Styles doesn't need a title belt or any other type of trophy to be considered the top pro wrestler working today. His work speaks for itself.
However the overall perception of AJ has undoubtedly been heightened due to his run with the WWE Championship. He was always a favorite of fans who followed his career before he came to WWE. But a lengthy run with WWE's top title does nothing but bolster the idea that the company has a tremendous amount of faith in him. Of course there's always the question of who would be WWE champion if AJ didn't have it. After all, there's only so many main event talents working on SmackDown Live.
As for Seth Rollins, the opposite is true. Monday Night Raw is rife with main event guys, all of whom could wear any championship at any time and have a successful run in the process. That makes things a bit tougher for Seth, but it also forces him to raise his game. That is especially true due to a certain Samoan Superstar.
Raw is Roman Reigns' show. WWE is Roman Reigns' company. It's only logical to assume that any brand he lives on would be the top brand and he would be the top champ. The fact that he doesn't have the WWE Universal Championship right now is a mystery to many, who felt that he should have beaten Brock Lesnar months ago at WrestleMania 34.
Even Roman's critics were surely bewildered by WWE's decision to keep the belt on Brock. The Beast Incarnate is never around. He never defends the title. At the very least, Roman is always there and if he did hold the belt, he could potentially drop it to anyone at any time. He's not invincible and he's not unbeatable. 
Reigns may indeed be the next Universal champion of course. He and Lesnar will do battle at SummerSlam for the title. But even if Reigns wins now, it would perhaps feel a bit anticlimactic. Would anyone really care that he finally pinned Lesnar? If Brock wins, would another loss lessen Roman's standing in the company?
As The Big Dog has fought to dethrone the beast, Seth Rollins has been waiting just to the left of his former Shield teammate. As Rollins' matches continued to impress and his stock continued to rise, Seth arguably became the true top guy of Monday Night Raw. Does that come with an asterisk because Rollins does not have a title? Or does that even matter?
Not only does Seth have to contend with the presence of WWE's top star, he also has to deal with guys like Finn Balor, Kevin Owens and Braun Strowman, all of whom are viable contenders for the main event mantle. Even Dean Ambrose, who will eventually return from injury, is among that group.
Of course the Intercontinental Championship is not the Universal Championship. But fans may or may not see that as a negative and WWE certainly doesn't portray it as a negative. The company presents the IC title as the workhorse title and even refers to it that way as well. WWE reinforces the idea that whoever holds the title is a trusted, dependable, hardworking guy. The Intercontinental champion is someone who always delivers and always gets over. What better way to describe Seth Rollins?
The fact is that Seth Rollins is Seth Rollins with or without the Intercontinental Championship. But if he does not regain the title at SummerSlam, does that diminish his standing on Raw? This is WWE after all and in WWE, guys can often get overlooked if no championship plans are in place for them. Surely this is not the case for Seth. 
But some view Rollins as the kid brother to Roman Reigns. Seth is always just behind Reigns, always living in his immense shadow. Is that actually the case? While the Intercontinental Championship may not be a cure-all for Seth Rollins, it may just be the remedy he needs right now. It would anchor his position in WWE. It would also be a nice consolation prize next to the Universal Championship and that title is one that should definitely come to Rollins in time.
---
Always Use Your Head and visit the official Pro Wrestling Tees store for The Chairshot All t-shirt proceeds help support the advancement of your favorite hard-hitting wrestling website, The Chairshot!

---