WWE Money in the Bank: Timing is Everything for the Women's Division
The Women's Money In The Bank Ladder Match is the hardest to predict on the card.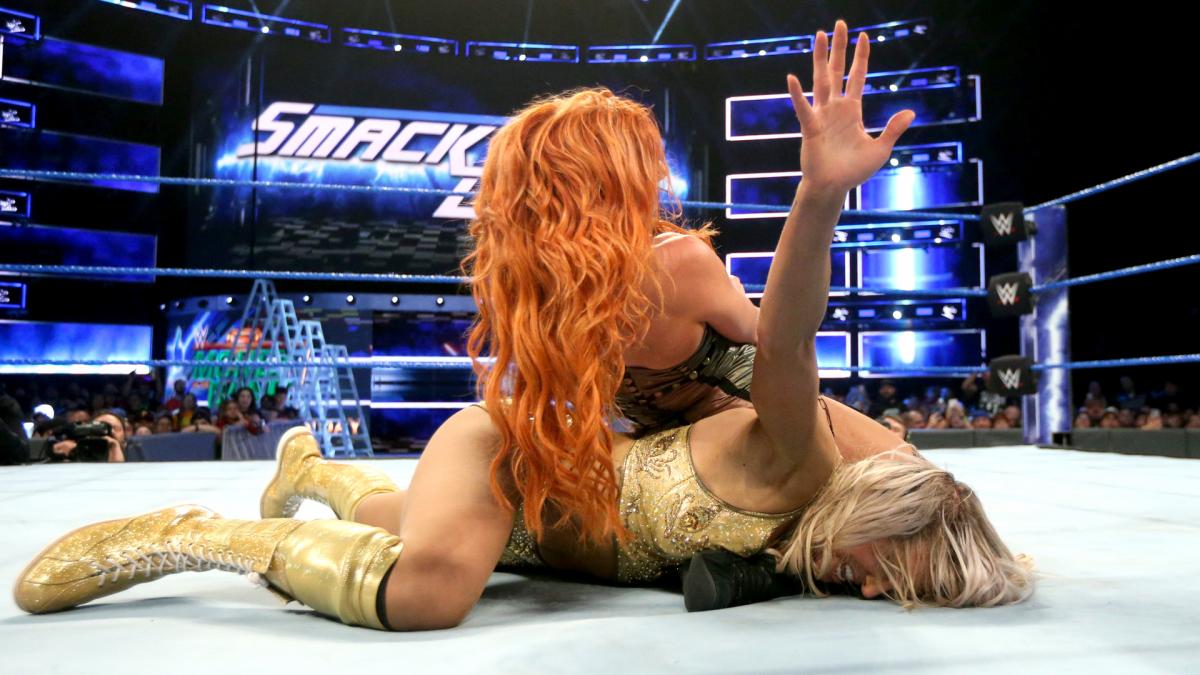 Eight top WWE Superstars will step into the ring at Money in the Bank to determine who gets a guaranteed opportunity at a women's championship. Charlotte Flair, Becky Lynch, Sasha Banks, Alexa Bliss, Ember Moon, Natalya, Naomi and Lana will all compete for the briefcase and a shot at either the Raw or SmackDown women's title.
But as fans speculate on who could win this match, it becomes clear that it's anyone's game. Each woman has a legitimate chance of pulling down the briefcase and making an impact at some point. Maybe a veteran will resume her former glory. Or maybe a rising star will realize her potential. Perhaps this one is all about timing.
WWE has done an impressive job of building up each Superstar heading into MITB on June 17. Fans must believe that everyone has a chance to win or otherwise there's just no drama involved. The Women's Revolution belonged to Flair, Banks and Lynch in the beginning of course. But those women are now sharing the spotlight with the next wave.
Ember Moon is a natural fit for this match. She was a hit in NXT and built a fan following that rivaled anyone on that brand. She has a unique look, she's charismatic and she's exciting to watch. Most importantly, she's good in the ring. Ember combines showmanship and technical skill in a package that undoubtedly represents the future of women's wrestling in WWE.
Lana could very well be the dark horse in this match. Her progression from Rusev's manager and mouthpiece to in-ring competitor has been slow and steady thus far. The company could have rushed her along the way and perhaps that was the case early on. But Lana seems to finally be finding her rhythm in the ring. She could be the one to win it all.
Alexa Bliss is already a top star and she could rise up once again. Bliss is a wickedly obnoxious heel and fans have no reason to like her. But it's hard to hate someone that so obviously enjoys her work. It's even harder to hate her considering she's just so good at it. Bliss's time as a main event star is definitely not over.
Natalya is the ring general of this match. She is the one that bridged the gap from the latter days of the Ruthless Aggression Era to the modern era of WWE. If anyone deserves to be recognized with a Money in the Bank win, it's certainly Natalya. She is a reliable star and the Raw Women's Championship would be in good hands if she does go over on June 17.
Naomi is one of the most popular Superstars in WWE. She's dynamic, she's athletically gifted and she's just fun to watch. She doesn't really need a championship to get over. But every time she does wear a title, she accentuates it just as it accentuates her. If she takes the case at Money in the Bank, fans know she would surely deliver as only she can.
But then there's the trio of Charlotte, Becky and Sasha. Each one is an established star and the women's division is solid today because of their efforts. Like Naomi, none of the three really need a belt to be on top. In fact there's every reason to believe that they're in this match to strengthen it and provide some veteran leadership along the way.
However many have wondered why Bayley was not booked in this match. Indeed Bayley seems to be the forgotten Superstar in this equation. She and Sasha have had heat in recent months and that definitely would have carried over to MITB.
The storyline between them seems to have cooled off recently and it never really reached a boiling point the way some fans believed it would. There's still time to revisit the angle of course and perhaps WWE has a long term plan in mind for them. But it's curious that Bayley is not around for this. Could she interfere and cost Sasha the win?
Becky is perhaps the most technically sound of the three and the time seems to be right for her to get back on track with her main event career. But even though she's gotten hot lately, many are wondering why she continues to be left out of the championship picture. Maybe the time is right for Becky to show off and show what she can do as the next No. 1 Contender.
Of course when it comes to top Superstars in the women's division, Charlotte Flair is on another level. That's due not only to what she does in the ring but also to her booking. Charlotte has been presented as the best of the best and though she has her critics like anyone else, it's hard to argue her effort.
But when it comes to Charlotte Flair, this is not the match that fans are talking about. That match is Charlotte versus Ronda Rousey. Everyone knows it's going to happen and the consensus opinion is it will happen at WrestleMania.
So if Charlotte goes over and becomes the new Ms. Money in the Bank, then that victory could ultimately lead her to a showdown with Rousey. Again, the timing is crucial if the storyline is to be successful. WWE still has just under a year until WrestleMania 35. Will the company hold out that long or could fans see Flair versus Rousey at SummerSlam?
The fact is the Women's Money in the Bank Ladder Match is anyone's to win. This one is not easy to predict, which means it's more exciting for the fans watching. The women continue to break ground in WWE and this match is yet another example. No matter who goes over on June 17, the fans are the ones that win and that's the most important part.