WWE News: Jeff Hardy Enters Guilty Plea In North Carolina For DWI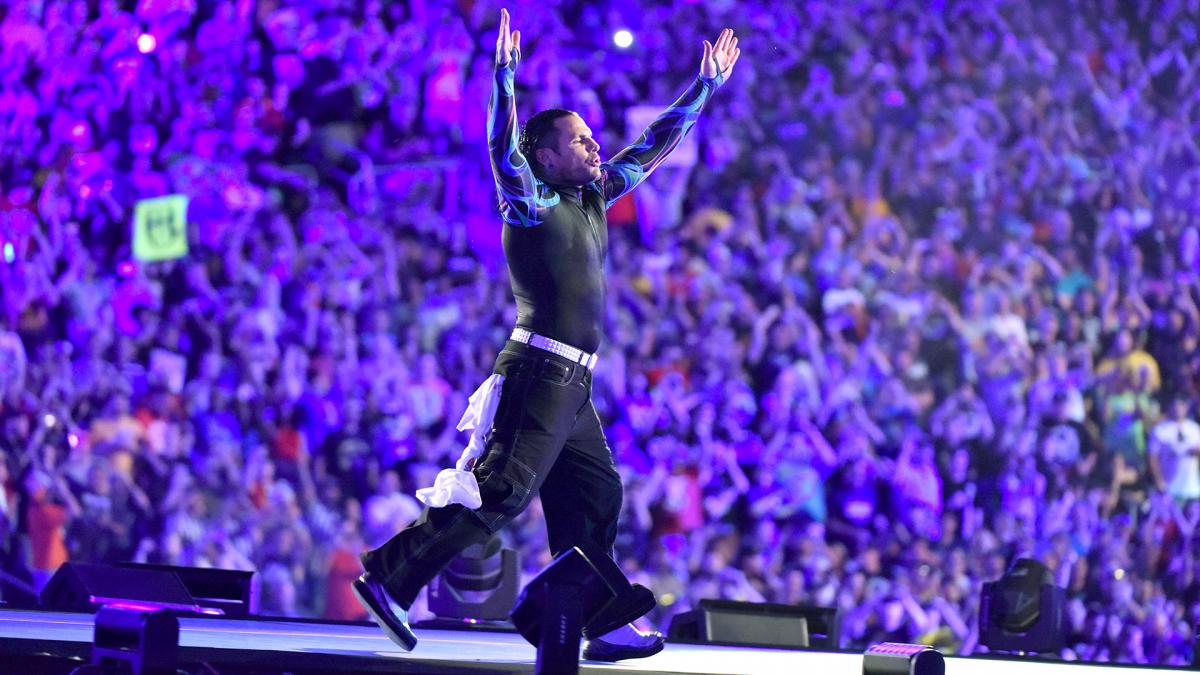 If you remember, WWE SmackDown Live Superstar and current United States Champion Jeff Hardy was arrested back on March 10th for driving while impaired in Concord, North Carolina. At the time, 'The Charismatic Enigma' was on the road back from surgery last September for a torn labrum and rotator cuff.
The arrest report revealed that Jeff "ran off the roadway … striking about 105 feet of guardrail before the back end of the car spun out 90 degrees … coming to rest in the middle of the right [north]bound lane of travel." Damage estimates put the total amount for the guardrail at $5,000, while Hardy's vehicle, a 2016 Cadillac, came in at $8,000. He also blew a .25 when submitting to a blood-alcohol content breath test.
Jeff appeared in court for his arrest yesterday and WBTV reports Hardy plead guilty to DWI and was given a 120-day suspended sentence, as well as a fine of $300 for court costs. Hardy will also have to complete 48 hours of community service, turn over his driver's license and go through an assessment and treatment class. At this time, it does not appear as if there will be any repercussions from WWE.
Continue following TheChairshot for all the latest skull smashing opinion, news, reviews and so much more! @theCHAIRSHOTcom on Twitter
Always #UseYourHead
NWA News: NWA 'New Years Clash' Coming To Tennessee January 5th, Current Card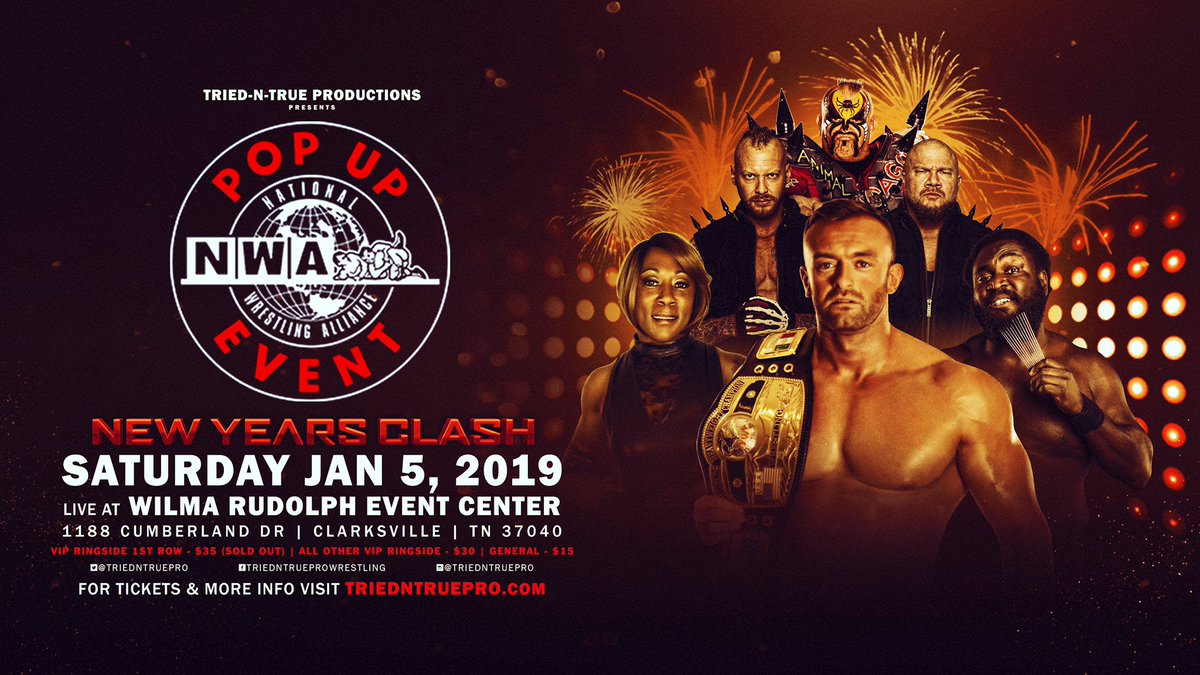 Details on NWA's 'New Years Clash' Pop-Up Event on January 5th!
The revival of the National Wrestling Alliance in 2018 has brought the once-dead brand back to life, making headlines with reigning NWA World's Heavyweight Champion Nick Aldis' feud against Cody Rhodes, whom he lost and regained the title from.
In 2019, the promotion will continue to expand as they will present a number of NWA Pop-Up Events with the first, 'New Years Clash', coming on January 5th from the Wilma Rudolph Event Center in Clarksville, Tennessee. So far for the show, a few matches have been revealed beginning with the aforementioned NWA World's Heavyweight Champion Nick Aldis putting his title on the line against an old TNA Wrestling foe, 'The Cowboy' James Storm.
Additionally, the revived NWA National Championship with be defended when Matt Cross challenges Willie Mack. Plus, NWA World Women's Champion Jazz will also have to put her title up for grabs when she goes one-on-one with IMPACT Wrestling's Allie and there will be a Crockett Cup Qualifying Match with more announcements on the way in the coming weeks.
For tickets and ticket information, just go to this link.
Are you interested in attending? What other matches would you like to see added? Let us know on social media @theCHAIRSHOTcom and always remember to use the hashtag #UseYourHead!
Jimmy Jacobs On WWE's Ratings, Seth Rollins & Matt Jackson Respond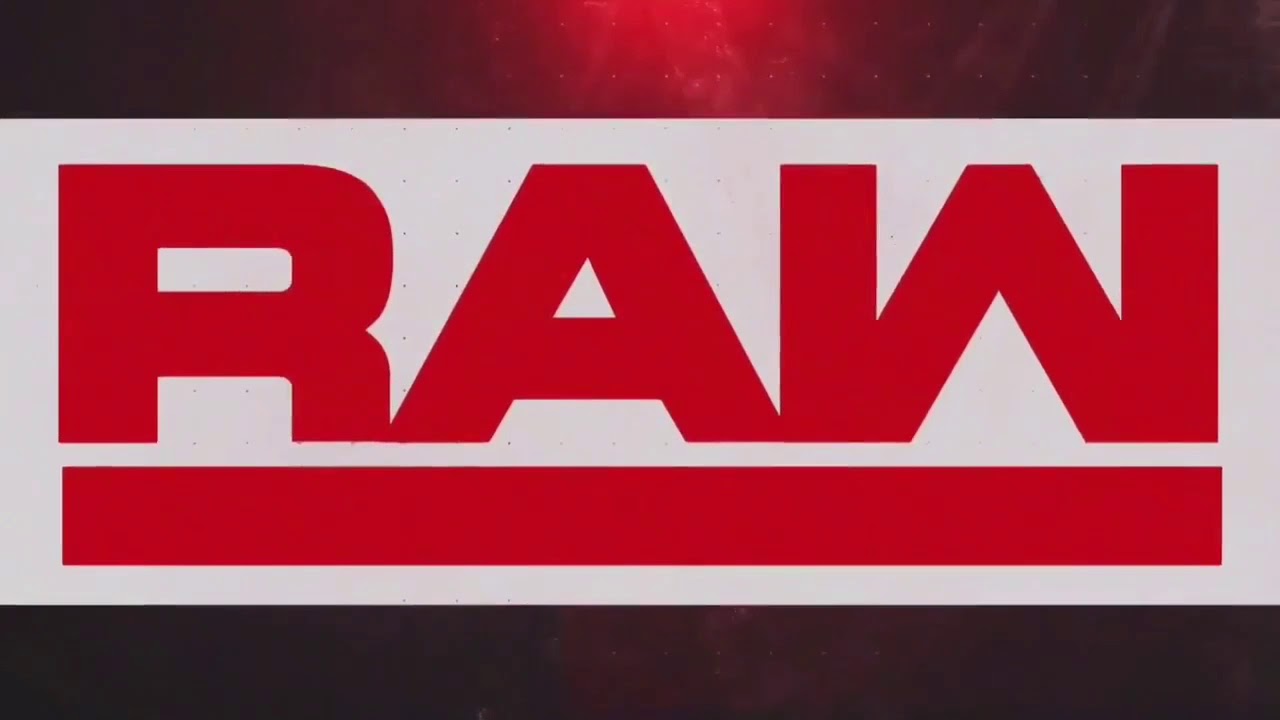 Jimmy Jacobs defends against criticism of WWE's recent RAW ratings!
To say that many fans and members of the wrestling media have been taking WWE to task in recent weeks over the ratings, most specifically for Monday Night RAW, would definitely be called an understatement.
After declining viewership for three consecutive weeks and record lows (check out this week's numbers), the criticism of the company's booking has not been hard to find. So much so that it has even been put into angles on television, as we saw this past Monday with the opening segment involving Seth Rollins and Baron Corbin. When the ratings for the red brand were revealed yesterday, The Wrestling Observer's Bryan Alvarez took to Twitter to offer his thoughts on the results:
This is embarrassing. https://t.co/0YXmFXukNH

— Bryan Alvarez (@bryanalvarez) December 12, 2018
One person who took notice and would actually come to WWE's defense would be former member of the company's creative team and current independent star, Jimmy Jacobs. Jacobs was let go last year after he took a photo with members of The Bullet Club while they were outside of a Monday Night RAW taping. Now competing for the likes of MLW and IMPACT Wrestling, Jacobs was quick to point out the other side of the coin to Alvarez: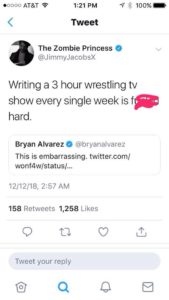 Not only did this earn a reply from WWE Superstar Seth Rollins, but interestingly enough, Matt Jackson of The Young Bucks would also agree with Jacobs:
That's the one thing I don't think people understand. 5 hours of live TV every week. EVERY WEEK. Add in all the extraneous variables that affect the final outcome….and it's a modern miracle that the shows come together as well as they do.

— Seth Rollins (@WWERollins) December 12, 2018
Dude. 15 minutes a week is hard!

— The Young Bucks (@MattJackson13) December 12, 2018
Jacobs would continue, replying to a number of fan responses:
Everybody is allowed to their opinion. I take zero offense to it. But one of the 1st things I learned writing is that it's easy to point out the problems. The job is to come up with solutions. https://t.co/YYBQmBuAGG

— The Zombie Princess (@JimmyJacobsX) December 12, 2018
This is the most common response I've gotten. While as a fan, I agree, the bottom line says differently. WWE gets paid way more to have 3 hours of RAW than for 2. So that seems to be off the table. https://t.co/mKD2Vxdpey

— The Zombie Princess (@JimmyJacobsX) December 12, 2018
I know very little & what I do know is bounded on all sides by infinite ignorance. I can only speak to my experiences. In those experiences I've found writing a wrestling tv show isn't an easy task. Thanks to all that engaged in meaningful dialogue with me! I love the passion!

— The Zombie Princess (@JimmyJacobsX) December 12, 2018
Which side of the fence do you land on when it comes to WWE's recent creative? Let us know on social media @theCHAIRSHOTcom and always remember to use the hashtag #UseYourHead!