WWE News: The New Day's Xavier Woods Gets Character In New Video Game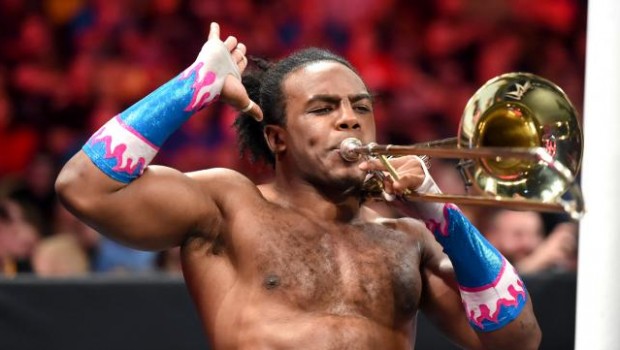 We all know (unless you've been living under a rock) that WWE Superstar and member of The New Day, Xavier Woods, is a massive video game fan. The success of his YouTube channel Up Up Down Down has brought multiple opportunities for Woods outside the WWE, now including his own character in non-WWE video games.
Video game company Konami issued the following press release yesterday, revealing that Woods has his own character in the new release 'Super Bomberman R', which is available now for Playstation 4, XBox One and comes out today on PC and Steam:
SUPER BOMBERMAN R Now Available for PlayStation 4 and Xbox One in the Americas
[ E3 2018 ] LOS ANGELES, CALIF. – JUNE 12, 2018 – Konami Digital Entertainment, Inc. announces today that SUPER BOMBERMAN R is now available in the Americas on PlayStation4 and Xbox One, and will arrive on PC via Steam tomorrow, June 13th. The game will launch globally on all platforms on June 14th.
KONAMI also reveals a brand-new character to join the Bomberman family – Xavier Woods Bomber! A global wrestling superstar and video game guru, this Bomber hosts his own game channel for his millions of fans. Rumor has it that he has plans to broadcast the next Bomber Battle to the entire galaxy! His special skill involves using his trusty trombone, Francesca 2.
Xavier Woods Bomber will be a part of a 'Day 1' patch available today, and the patch will also include platform exclusive characters Ratchet & Clank Bomber (PlayStation 4), Master Chief Bomber (Xbox One), and P-body Bomber (Steam).
In SUPER BOMBERMAN R, up to two players can work cooperatively in 'Story' mode to clear stages in order to save the galaxy. Guide a wide variety of Bomberman characters around maze-like areas using timed bombs to open walkways and take out opponents. Multiply the fun and play with up to eight players* in 'Battle' mode, or jump into the competitive Grand Prix mode. Grand Prix is a team-versus-team mode that pits two teams of up to 3 players each who battle it out in different arena stages using characters with special abilities.
Super Bomberman R is now available in the Americas at SRP $39.99 for PlayStation4 and Xbox One, and will arrive on PC via Steam tomorrow, June 13th. The game will launch globally on all platforms on June 14th.
About Konami Group
Konami Group was founded in 1973, starting as an amusement machine manufacturer for arcades. Over the years, the company has grown to include different business units across various markets. Currently, KONAMI HOLDINGS CORPORATION includes the Digital Entertainment, Amusement, Gaming & Systems, and Health & Fitness Businesses. The company went public on the Osaka Securities Exchange in 1984, the Tokyo Stock Exchange in 1988, and the London Stock Exchange in 1999. For more information, visit: www.konami.com/en.
About Konami Digital Entertainment
Konami Digital Entertainment, which is the core company of Konami Group, develops entertaining content for mobile, console and card games. The company is known for global franchises such as Pro Evolution Soccer, Metal Gear, Silent Hill, Castlevania, and Contra, as well as the Yu-Gi-Oh! trading card game series. www.konami.com/games/corporate/en/
Below is a look at Xavier's 'Super Bomberman R' character:
Super Bomberman R has launched and we are beyond fired up to have Xavier Woods Bomber @XavierWoodsPhD join the ranks!! A global wrestling superstar and video game guru, this Bomber hosts his own game channel for his millions of fans! https://t.co/cUC66hXB7G #Bomberman #HaveABlast pic.twitter.com/ZRP1TdeBSD

— Konami (@Konami) June 12, 2018
Continue following TheChairshot for all the latest skull smashing opinion, news, reviews and so much more! @theCHAIRSHOTcom on Twitter
Always #UseYourHead
MLW News: Final Card For Tonight's Never Say Never Fusion TV Tapings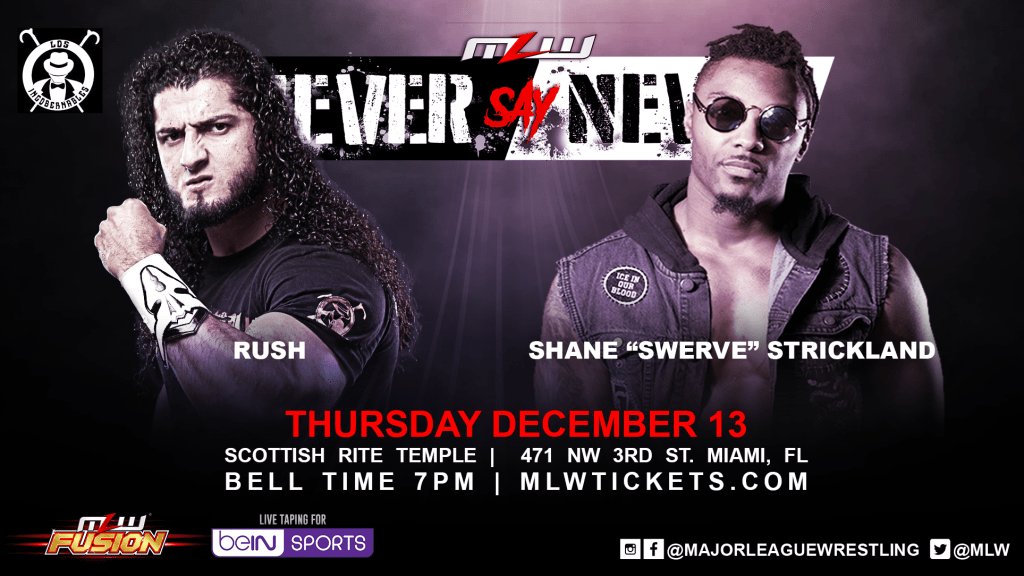 A look at the lineup for MLW's Never Say Never TV tapings!
A weekend loaded with tons of professional wrestling across the country will kick off beginning tonight, as one of the bigger company's here in the United States heads to Miami, Florida.
Major League Wrestling's back-to-back nights at the Scottish Rite Temple starts with Never Say Never this evening, which is being taped for Fusion on beIN Sports. After a few changes due to some injuries (including to the Never Say Never main event), things looks to be finalized with just hours remaining before bell time.
Here's a look at the final advertised lineup for tonight's show, which you will be able to watch in the coming weeks every Friday night at 8PM EST on beIN Sports:
Pentagon Jr. vs. Teddy Hart
Falls Count Anywhere
LA Park vs. Sami Callihan
No Holds Barred, No Ropes Fight
Tom Lawlor vs. Simon Gotch
Rich Swann vs. Dragon Lee
Rush vs. Shane Strickland
DJZ vs. Hijo de LA Park
Dezmond Xavier vs. Andrew Everett
Which matches are you looking forward to watching on beIN Sports? Let us know on social media @theCHAIRSHOTcom and always remember to use the hashtag #UseYourHead!
WWE News: John Cena Speaks On Not Being Able To Wrestle While Filming A Movie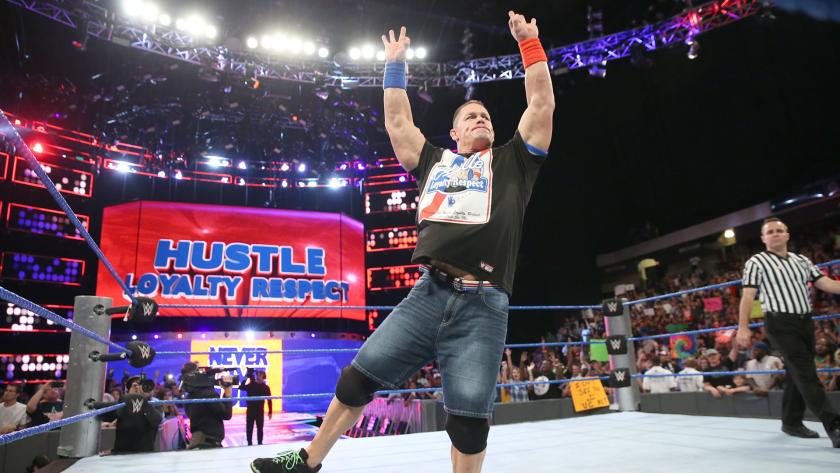 John Cena talks retirement, being told he can't wrestle while filming and more!
It's no secret that the man who has been the face of the WWE for over a decade, John Cena, is winding down his in-ring career as the past couple of years have seen the 16-time champion spend less time with the company and more on outside projects.
'The Leader of the Cenation' will be making his WWE return this month on December 26th (see his upcoming WWE schedule here) after last competing at Super Show-Down in October, while at the same time his newest film 'Bumblebee' will be hitting theaters this Christmas. He has already confirmed that he will be at WrestleMania 35, so it's expected he will be sticking around from his return until at least then.
Cena sat down with ESPN's Cari Champion recently to promote the release of 'Bumblebee' and spoke on a number of topics including retirement from the ring and why he can't compete inside the squared circle while he's shooting a movie. When asked if he ever thinks to himself, "This is it for wrestling", Cena responded:
"Well, that's like asking an athlete like, 'Hey, do you ever contemplate retirement?', and you can ask a professional rookie that. You have to because anything that you rely on your body for an end result, time is gonna catch up with you. So there is gonna come a point where I can no longer keep up with the pace. I made a promise to myself years ago, years before I ever found my passion for being on-screen, when I can't keep up with the pace I gotta walk away. I don't wanna take a buyer's money and have sit down and be like, 'Ah, he's just hanging on'. I don't ever want that feeling."
Cena would continue and speak about why he wants to wrestle while shooting movie and can't, as well as how he previously misjudged The Rock by not understanding what comes with shooting a movie:
"So I don't think that correlates with what I'm doing now. The biggest difficulty is trying to juggle stuff because I have learned and I'm trying to fight the system, but I'm losing, when you're in production for a movie they don't allow you to wrestle because I can't go to a WWE taping, have my nose put over here [in reference to his broken nose in a match against Seth Rollins]. Not only does it not look good, 'Man, you don't look right'. So then they shut the movie down and there's 150 people that are expecting a paycheck for that movie and I just screwed them out of their wage and it ups the budget of the movie, so I just put the movie behind the eight ball of possibly being a financial success.
So as much as I want to do everything, you can't and this is a GIANT misunderstanding I had with what Dwayne was doing, what The Rock was doing 'cause he does movie after movie after movie after movie and I know the feeling of wanting to go back and I'm going back as soon as I can, but I can't go back until I'm done with this. So I totally get it and I kinda called him out for it and that was me being an ass and I was totally wrong and ignorant and young and stupid and I've told him, 'I'm sorry', but it's something I think that our fans don't understand. If LeBron James was to take a break from basketball because he had the opportunity to film something, basketball fans would be like, 'What are you doing? Go back to basketball'. So I understand the resentment, but it's a tough balancing act and I'm bold enough to try."
If you use any of the above highlights, please credit The Chairshot for transcription.
Do you think John Cena can follow in The Rock's footsteps? Let us know on social media @theCHAIRSHOTcom and always remember to use the hashtag #UseYourHead!