The wrestling community as of late has been interesting hasn't it?
Not only is the world of wrestling hotter than it's ever been before, but at the same time we've been divided at some of the occurrences taking place lately, particularly from the one man known as Dave Meltzer.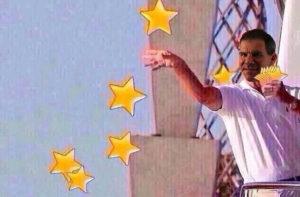 With the recent top-notch quality wrestling being put on my New Japan Pro Wrestling in the form of the epic Kazuchika Okada vs Kenny Omega match at NJPW Dominion, we've seen traditions broken even further from what occurred last year. Wrestling's traditional star ratings, generally ranging from 1 to 5 (1 being the worst, 5 being the best) have been somewhat expanded if that phrase is appropriate.
The use of 6 & 7 stars has been used to credit some of the NJPW product lately, but what does this truly mean?
Star ratings themselves are simply numeric, not really presenting any meaning beyond a value that is either small, medium or large to represent quality and much like most criticism, we should focus on critique for its content not the simple use of a numeric value or symbol. This sadly has caused a divide in the fan base, many feeling outraged at Meltzer's 'bias' to products such as WWE or NXT, others thinking it's incredibly unnecessary since a 6 or 7-star rating means no more than the highest, traditional 5-star.
Both sides of this argument make valid points and when actually heard out, are on to something. However, for the sake of exploiting a situation, let's use this to shed light on the product we all love and cherish, wrestling!
In light of recent events, I'm going to use this divide to shed light on matches that can be deemed severely underrated but since the 5-stars mean that much, let's take a look at matches that deserve the formal recognition of receiving the 'iconic' 5-star match rating from the likes of Dave Meltzer.
#5: The Rock vs 'Hollywood' Hulk Hogan – Wrestlemania X-8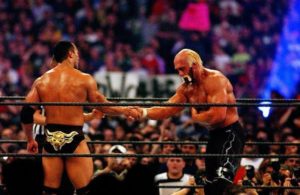 Arguably one of the biggest crowd reactions in Wrestlemania history did not belong to a fateful 3-count, a title change or the return of a superstar but instead belonged to a 60-second stare down between two opponents nobody ever thought they would see collide in a WWE ring. The stare down between Hulk Hogan & The Rock in Toronto will forever be one that is remembered through time & will live on for as long as this business flourishes.
That moment epitomizes what this business is all about, the passion, the emotion & just the pure electricity of over 60,000 rabid fans losing their minds over a moment they knew would never come again. To think this reaction occurred before the bell had even rung is surreal and it's crazy to think the consistency of this reaction spanned for the entire 16-minute period the match went on for.
All fanboying aside, the match itself was not the most technically masterful, in fact for the most part is being your run-of-the-mill Hogan match, just tacked on with the biggest name in the business at the time and a dream opponent we had waited for years to see collide with 'The Hulkster' head on. These additions however caused the matches lack of in-ring substance to become almost irrelevant to the passion the crowd had within it.
We tend to forget that while in-ring ability and story are in 50/50 split when it comes to judging a professional wrestling match, there are times when the tides can shift so greatly to one side it can entirely sway opinions in favour of the latter. Just how some films are remembered for their brain dead entertainment values over lack of substance in their scripts, this match will forever be remembered for being one of the most passionate amongst the fanbase & in my opinion, deserves that 5-star rating as much as any match on the coveted list thus far.
#4: Shinsuke Nakamura vs Sami Zayn – NXT TakeOver: Dallas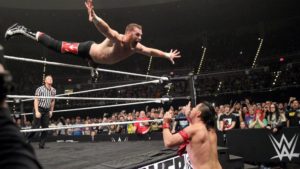 We can sum up this match with two words; ''Fight Forever!''.
The sea of cheers & chants that took place on this fateful evening in Dallas, Texas remain one of my favourite wrestling moments since the birth of the NXT brand in 2014.
You had the heart & soul of NXT in Sami Zayn, the no-quit babyface who was responsible for countless memories on the brand since his debut including phenomenal performances against Cesaro, Kevin Owens, Neville & Tyson Kidd which had granted him the reputation he had going into this dream match in what was his last appearance on NXT before his main roster arrival.
The matches story was poetic as well, having the longstanding warrior in Sami Zayn put his pride & reputation in the NXT brand on the line against a new threat, NJPW's own Shinsuke Nakamura who's signing was announced roughly 8 weeks prior to this landmark event. From the get-go the crowd was ready for what they were about to witness, the goodbye of their hero & the arrival of NXT's future.
It was the match we all dreamt it would be and even more than we could have anticipated. This certainly wasn't a standard WWE affair sharing the similar formula we see on RAW or SmackDown, this was a fight to the death and neither man gave up. Combining the aero-dynamic ability of Sami Zayn with the raw, brutish style of Shinsuke Nakamura resulted in a grueling contest that left both men physically and mentally exhausted, as was the audience.
Nakamura ended up pinning the heart & soul of NXT after a near 30-minute contest that rocked the Dallas crowd and cemented himself as a warrior from his very first match under the WWE brand, perhaps even being the best single WWE debut of all time?
That is a question we can leave to the community to discuss.
Giving this match 5 stars seemed like a given once the bell rang at the matches conclusion, but it seemed like many fans saw this match as lesser than many of us did, potentially a clash in tastes or some WWE fans not traditionally used to a style like Nakamura's could have played into this. Either way, this was tremendous and I stand by it being the single best debut in company history.

#3: Sasha Banks vs Bayley – NXT TakeOver: Brooklyn I & NXT TakeOver: Respect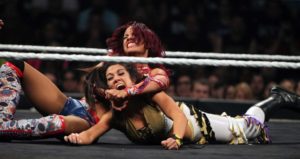 For myself personally and my interest in women's wrestling, this was the resurgence of that. Admittedly I'm not that big of a fan when it comes to both the current state of Bayley's or Sasha Banks' characters, but I will forever defend the mastery these women put on display every time they went out to an NXT ring.
Both Banks & Bayley have the ability to say they possess perfect in-ring chemistry amongst one another and that comes primarily due to their real-life friendship outside the ring, as many fans who own the WWE Network would know. Every move they performed in the ring, every action & every glance of simple eye contact oozes passion & intensity which not only makes the match special on every level but brought every fan to their feet.
The reason both their NXT classics are here is because it's impossible to distinguish which one of the two is better in terms of overall quality. Their first contest in Brooklyn was far more straightforward in terms of its structure, since the match was contested under standard one-fall rules, however their second & final bout was contested under Ironman rules and featured far more out-of-the-ring chaos than their initial clash. Neither match however drifted from the story at hand and stuck to the core of what made it so good, the proceeding storyline which was fairly simple; both women striving to be the best.
On top of the simple yet spectacular storyline, both Banks & Bayley managed to utilize fairly simple in-ring work to craft 2 masterpieces in women's wrestling. There was nothing too flashy or in-your-face for the most part, just beautiful in-ring psychology & some awesome character moments that any wrestling fan could appreciate.
Not only were these the two matches that put women's wrestling back in the spotlight but are 2 of the finest examples of just how phenomenal women can be in a wrestling ring when handled correctly. Banks & Bayley deserve all 10 collective stars these matches should have received and more, since that seems to be the trend these days and to anyone who hasn't seen these two classics, do yourself a favour and switch them on right now. You won't be disappointed.
#2: Shawn Michaels vs The Undertaker – Wrestlemania XXV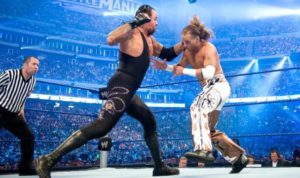 I don't think there is a living wrestling fan out there who doesn't love this match with every ounce of heart in their body.
The Undertaker & Shawn Michaels, two names so soaked in wrestling greatness & history it's almost impossible to imagine another duo matching up to the standard they've set for any WWE star in today's business. Prior to this match, the two had a storied history, being fierce rivals in the late 90's before HBK left professional wrestling due to spinal issues and making history by competing in the first-ever Hell in A Cell match in WWE history, still standing as one of my favourite matches of all time.
Upon his return to the ring in 2002 both HBK & his former rival had been kept apart for the most part, with a few run-ins during the 2007 & 2008 Royal Rumble matches which only heated up fans anticipation for an eventual rematch between the two. In 2009 though, fans would be treated to something very, very special at the 25th Anniversary of Wrestlemania in Houston, Texas.
On this evening, The Undertaker & Shawn Michaels crafted a masterpiece in professional wrestling, a match with arguably the loudest crowd in recent wrestling memory and the closest thing I can envision in this business to a literal work of art. This instant classic didn't just tell the story of two of wrestling's best pushing themselves above and beyond in the fight to both keep the streak alive and subsequently end it on the side of HBK, it was also a match with stakes that have never felt bigger. Everything was on the line, legacies, honour & the right to ultimately be called 'The Best'.
The two exchanged blows, signature moves, suicide dives, horrifying crash landings both in and out of the ring & submission manoeuvres for nearly 30-minutes and by the end of it were barely left standing on their own two feet. Understandably the crowd in Houston were on their own feet for the majority of this masterpiece and by the matches faithful end, cheered like never respect paying respect to two warriors who had left everything they had in the ring on this night.
Personally, I don't understand what qualities this match was missing to not push it to that '5-star' level, this match had everything a wrestling fan could dream of, from incredible storytelling to stomach churning kickouts it's just a miracle this isn't on that 'historic' list.
#1: The Shield vs The Wyatt Family – WWE Elimination Chamber 2014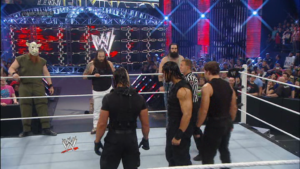 You know what's more special than two legends in their prime getting a reaction that nearly shakes the roof of the arena they're in?
Two groups of young up & comers from a small developmental brand getting unanimous chants of ''This is awesome'' from every single audience member in attendance.
The Shield & The Wyatt Family at this point in 2014 were the most interesting collective of characters in the wrestling business, boasting multiple personalities all of whom worked together to make each respective group standout in their own unique way, which made this impending clash all the more anticipated by the WWE and wrestling fanbase in general. Their initial stare down, much like Hogan & Rock, was the coming together of weeks of storytelling with each unit at one another's throat out for nothing but blood & vengeance and the audience in attendance felt that resonate regardless of where you were.
As for the match itself, its as close to perfect as one can get with a multi-man match in this business. It featured everything from the insane spots to self-contained character moments in the ring, which is something I think this match doesn't get enough credit for. While all 6 men aimed to function as a unit, each of their individual personalities stood out just as much as their collective teams did, Rollins was your high-flying showman, Ambrose was the unhinged maniac & Reigns was the powerhouse constantly knocking down his larger opponents.
Everything done here worked, the match easily stole the show and left the crowd not just satisfied but wanting even more than what had just been put on display & we finally got the NXT clash fans had been clamouring for years on end to see with their own eyes.
Obviously tastes in styles of wrestling vary as does everyone's opinion on this affair, but it's baffling as to how and why people don't see this match as anything but '5-Star', it contains everything a professional wrestling match should be and more, also being one of the rare occurrences WWE manage to absolutely nail the booking of a feud without one single misstep. Phenomenal stuff all around and worth your time to go out of your way to see.