Abe's 2018 in Review (Part 2): Wrestler of the Year Candidates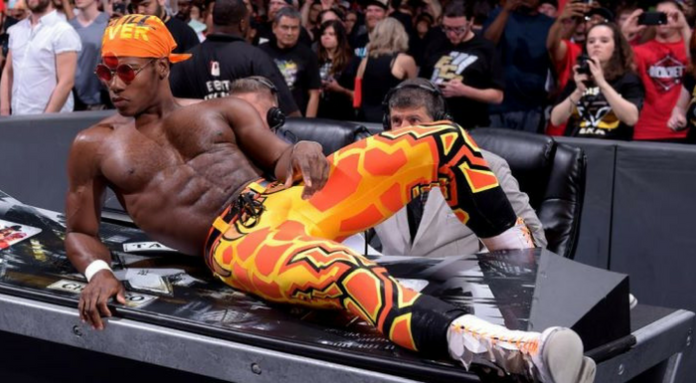 This is the second installment of my review for the 2018 calendar year.  You can read my Match of the Year candidates here.  We're about halfway done with this year so I wanted to take some time to reflect on those who have contributed most to our wrestling world so far.  The candidates across all promotions are listed below with my front-runner being announced last.
Aleister Black
I mentioned in my last article how he very narrowly missed the cut for my MOTY entries.  It's a shame because he's had a fantastic showing at every TakeOver event.  He started the year with a brutal street fight against Adam Cole, won the NXT Title in April, then had a stellar match against Lars Sullivan when many were concerned with how their styles would mesh.  When he defeated Andrade "Cien" Almas for the belt, a friend of mine mentioned how Aleister would provide more interesting storylines going forward.  I'm a big fan of Almas so I didn't want to agree but he was ultimately right.  Now that I think about it, his run on the main roster is going to be really interesting.  He takes his character and ring work so seriously that it might be impossible for management to ruin him.
Undisputed Era
Triple H has figured out how to book them to their full potential.  I think the best way to get the most out of cowardly heels is to showcase their impressive ring work as well.  That's exactly what they've been able to do.  Even when they're not cheating or using their numbers advantage, they're still good enough to beat you in the ring.  Adam Cole won the inaugural North American Championship, Kyle O'Reilly had a classic against Pete Dunne, and Roderick Strong has found a new lease with the absence of Bobby Fish.  Even though they lost their tag belts, their matches against British Strong Style and Mustache Mountain were some of the highlights of the UK special.  With how successful their year has been, I almost forgot to mention their show-stealer with Oney Lorcan and Danny Burch.
Velveteen Dream
He just gets it.  Everything he touches turns to gold.  Even John Cena said he may be "the one".  At the end of every night, he wants to be the topic of conversation.  It wasn't talked about much because it wasn't his greatest match but his bout with Kassius Ohno is a perfect example.  Part of the story was that he promised to knockout the "Knockout Artist" in 30 seconds.  Then in true Velveteen style, he showed up in full boxing gear and had an assistant carrying his mouthpiece on a giant pillow.  It's just little ideas that leave a big impression.  Mania weekend he was an integral part of a 5-star ladder match then had a fan-favorite match and social media feud with Ricochet last month.  Before his classic with Ricochet, he decided to enter the ring in Prince Puma tights and flex like Hulk Hogan.  Hulk reached out to be his manager on Twitter but Velveteen told his former Tough Enough judge that he'd rather ride solo.  You know you're doing something right when you have a legion of fans waiting to see what you're going to do next.
Ronda Rousey
She's only had two matches but you can tell she understands the art of wrestling and loves it too.  Being an MMA fighter has taught her how to properly sell and feed off a live audience.  Ronda still has a whole career ahead of her but she's quickly become one of my favorite things about the product.  Just like Velveteen, she's gotten me excited for whatever her next step is going to be.  This is sort of like an MVP list so she's still too relatively new to be given serious consideration.  If I was to crown a Rookie of the Year, she'd be the clear winner.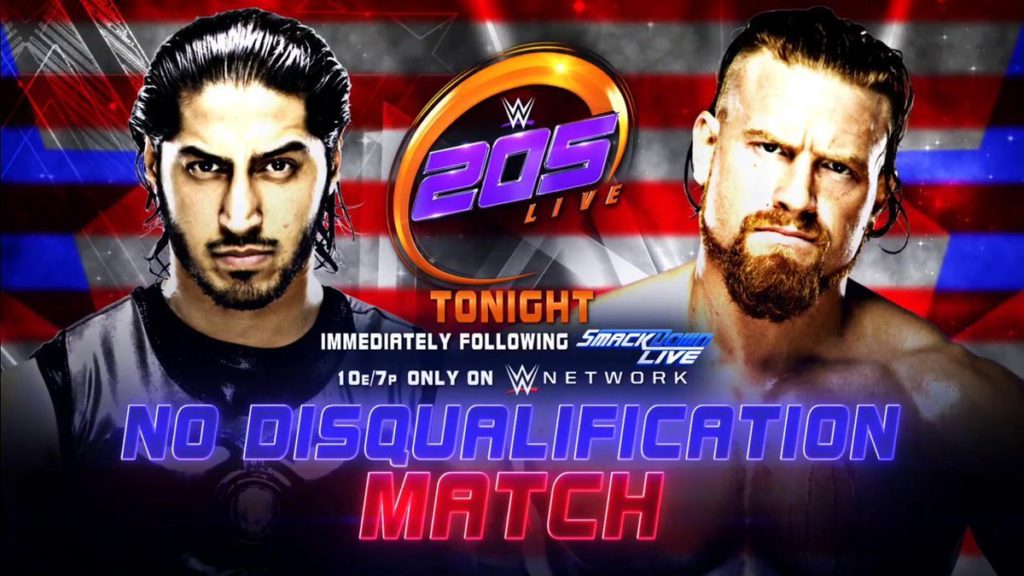 Cedric Alexander/Mustafa Ali/Buddy Murphy
If you've given up on 205 Live then you should really go back and watch the Cruiserweight Championship tournament from March.  That's when we started to watch things shift direction and see the members of the division get more creative freedom.  Since then, the main event of 205 Live has been a talking point on social media on an almost weekly basis.  Cedric still isn't getting the biggest pops when he comes out but he knows how to get the crowd on their feet by the end of the match.  Mustafa Ali has not only been a positive voice online but he's been one of the most consistent performers of the year.  There's nothing he wont do to leave the fans happy.  Buddy Murphy has the talent, size, and look to compete for any belt in the company but took on the challenge of elevating a smaller division instead.  My Match of the Year article was written a week too early because the match between Murphy and Ali from this week's episode of 205 Live deserved to be on the list.  I implore you to go watch it if you haven't already.  It would have been match of the night on any main roster pay-per-view this year.
Chris Jericho
In the middle of being on tour with Fozzy, he has somehow managed to work two of the hottest feuds of the year with Kenny Omega and Tetsuya Naito.  Every time it feels like he's done it all, he manages to do something fresh and exciting every time he's on screen.  Stealing a television camera during a match and filming his own middle finger is just one example.  We also can't forget his profanity-laced promo he shot with a wild turtle.  Despite his recent commitments to NJPW, he still made appearances at Raw 25 and The Greatest Royal Rumble.  On top of his already impossible schedule, he's taking the best wrestlers in the world and putting them all on a cruise ship this fall.
Johnny Gargano/Tommaso Ciampa
I had to package them together.  They've already provided two of the best matches we've seen this year and the rivalry still hasn't been settled yet.  When they split last year I was genuinely upset.  I felt that we were being robbed of so many future classic tag team matches waiting to happen on the main roster.  At the time I was too short-sided to realize we were going to be getting an all-time great feud out of it.  Their work with each other hasn't even been their only success.  Johnny kicked off the year with spectacular matches against Andrade Almas.  Ciampa has not only mastered social media but he just started a program with Aleister Black which could go in a variety of directions.
The Elite
While this entry is mostly referring to Kenny Omega, The Young Bucks, and Cody, the remaining cast of "Being the Elite" deserves recognition too.  Marty Scurll, Hangman Page, Brandi Rhodes, Flip Gordon, and even Burnard the Business Bear contribute to the success of the whole group.  Kenny and Cody headlined Supercard of Honor and are now headlining the G1 Special in San Francisco.  The Young Bucks, headlined Long Beach, became the first ever 7-time junior tag champs in history, moved up to the heavyweight division, then captured those tag belts on the first try.  On top of that, Matt sustained a back injury at Wrestle Kingdom in January and has been selling it in every match since then.  If the injury is real, then dealing with that is even more impressive.  Flip and Marty had great showings in the BOSJ tournament.  Marty also put his IWGP Junior Heavyweight belt on the line at Wrestle Kingdom and competed for ROH Championship along with Cody.  ALL IN not only met its goal of 10,000 tickets but sold out in 30 minutes.  In fact, it was just announced on Thursday that Marty will be competing against Kazuchika Okada at the show.  After Kenny Omega won the IWGP Heavyweight Championship at Dominion, him and The Young Bucks announced they would be forming "The Golden Elite" with Kota Ibushi.  Outside the ring, The Elite beat The New Day in Street Fighter, and Kenny, the Bucks, and Cody became the first non-WWE stars with Funko Pops.  And for good measure, Matt and Nick decided to write a children's book too.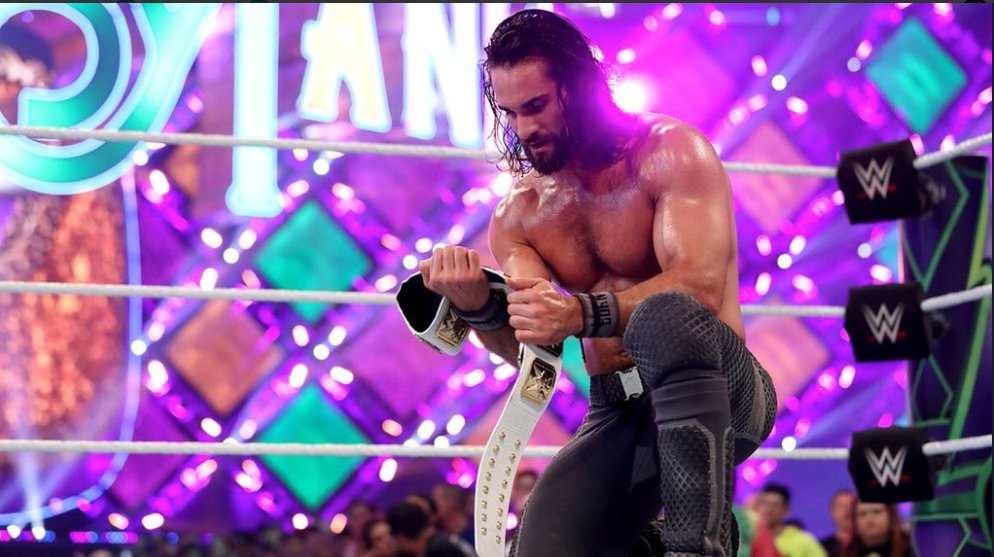 My Current Frontrunner: Seth Rollins
I know everything I just typed is pretty hard to follow so I'll try my best to make my case for Seth.  Unlike The Elite, Seth hasn't had the help of The Shield this year.  He's putting on the best matches for the biggest brand, and on the most-watched programming.  He was running stale for awhile as a babyface but that gauntlet match on Raw where he wrestled for over an hour gave him enough momentum for the rest of the year.  He won his IC belt at Wrestlemania and has picked up steam seemingly every week since.  When he was holding the Intercontinental Championship, it felt like the most important belt in the company.  I think I speak for most people when I say he should be the current Universal Champion.  He's become the highlight of Raw solely by his wrestling ability.  "Burn it down" helps too but it's Seth's charisma that was able to get it over.  Whether it's against Miz, Finn Balor, Elias, or Dolph Ziggler, the match of the night always seems to involve Seth Rollins.
Honorable Mentions
Kazuchika Okada – Dalton Castle – Will Ospreay – Asuka – Sami Callihan – Tetsuya Niato – Pentagon Jr. – Hiromu Takahashi – Pete Dunne – Suzuki-gun – Shayna Baszler – WALTER – Io Shirai – Daniel Bryan – Jay White – Keith Lee – Matt Riddle
---
Who is your wrestler of the year so far? Tweet us @theCHAIRSHOTcom with your top name!
---
Always Use Your Head and visit the official Pro Wrestling Tees store for The Chairshot All t-shirt proceeds help support the advancement of your favorite hard-hitting wrestling website, The Chairshot!

---
Brock Lesnar Creates the Kind of Chaos WWE Does Not Need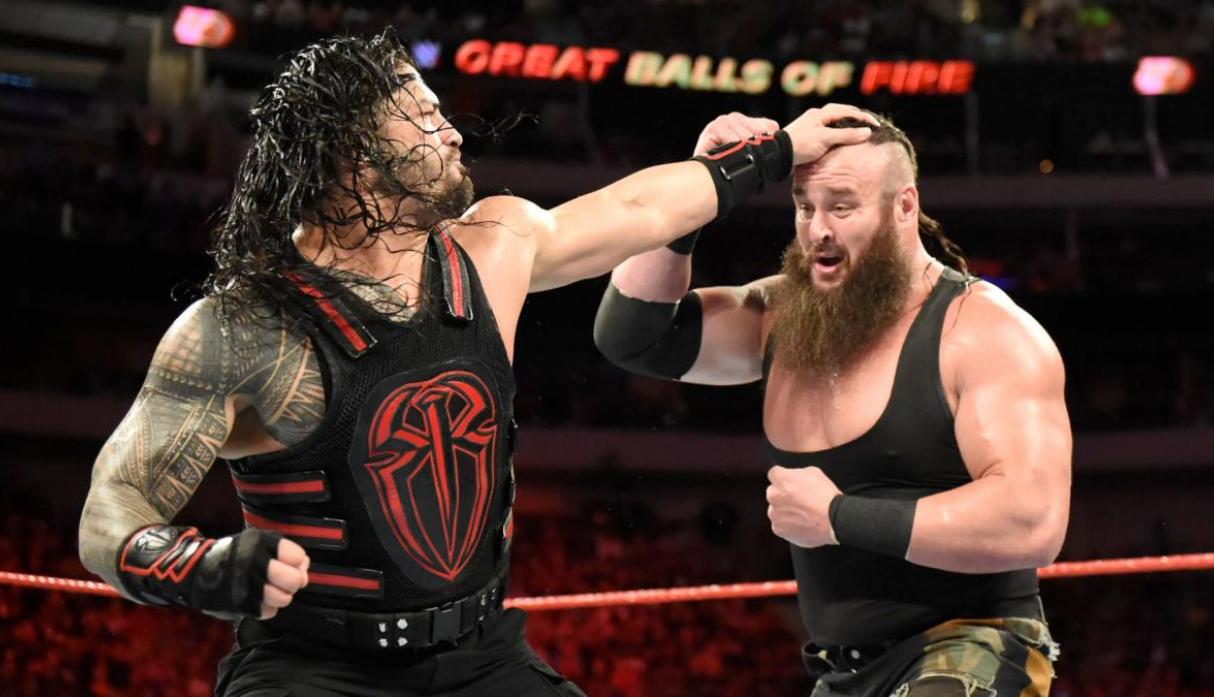 Here we go again. The main event scene on Monday Night Raw has once again become even more disturbing with the addition of Brock Lesnar.
The former Universal Heavyweight Champion entered the main event at Hell in a Cell, taking down both the current champion Roman Reigns and Braun Strowman in a  sad but predictable ending to a decent pay-per-view.
WWE cannot seem to get out of its own way in deciding what to do with the red brand's title. Or, maybe it's Lesnar who is holding the marionette strings of a company that has not moved on from the Beast Incarnate to forge a new identity of main event stars. The Hell in a Cell match between Reigns and Strowman was muddled with the arrival of Drew McIntyre and Dolph Ziggler and Seth Rollins and Dean Ambrose as it was.
Adding Lesnar to the chaos and disorder creates more problems than solutions for the creative team, Reigns and the title he wears around his waist.
The thought was once Reigns beat Lesnar to claim the belt, it would be the end of the line for the WWE and UFC star, who has made no secret he wants to dominate the octagon once again. It also opened the door for Reigns to finally assume his role as Vince McMahon's master plan of having the current Shield Member and four-time champion to step over Lesnar, John Cena and anyone else in his path as the company's new face.
I'm sure WWE's fans have finally succumbed to the notion Reigns isn't going anywhere. To steal a phrase from Ric Flair, "Whether you like it or don't like it, learn to love it…"
You get the idea.
So now, WWE has a three-headed monster fighting over the same belt it did only months ago with no end in sight. The notion of McIntyre stepping forward as the next opponent for Reigns looks to be squashed. Lesnar's contract, demands and lack of airtime while wearing the Universal Title finally pissed the fanbase off. Does putting the strap back around his waist make sense?
Now that Strowman has become an ally of Ziggler and McIntyre, how does this all play out? Does anyone care? Is the best thing to come out of the Hell in a Cell match is the return of Paul Heyman? It's still a tangled web WWE weaves with no ending point. It's status quo for poor booking.
It appears to be the norm, not the exception. We all just learn to deal with it, mainly because change does not seem to be a good thing in this promotion.
---
Always Use Your Head and visit the official Pro Wrestling Tees store for The Chairshot All t-shirt proceeds help support the advancement of your favorite hard-hitting wrestling website, The Chairshot!

---
WWE Women's Tag Team Championships?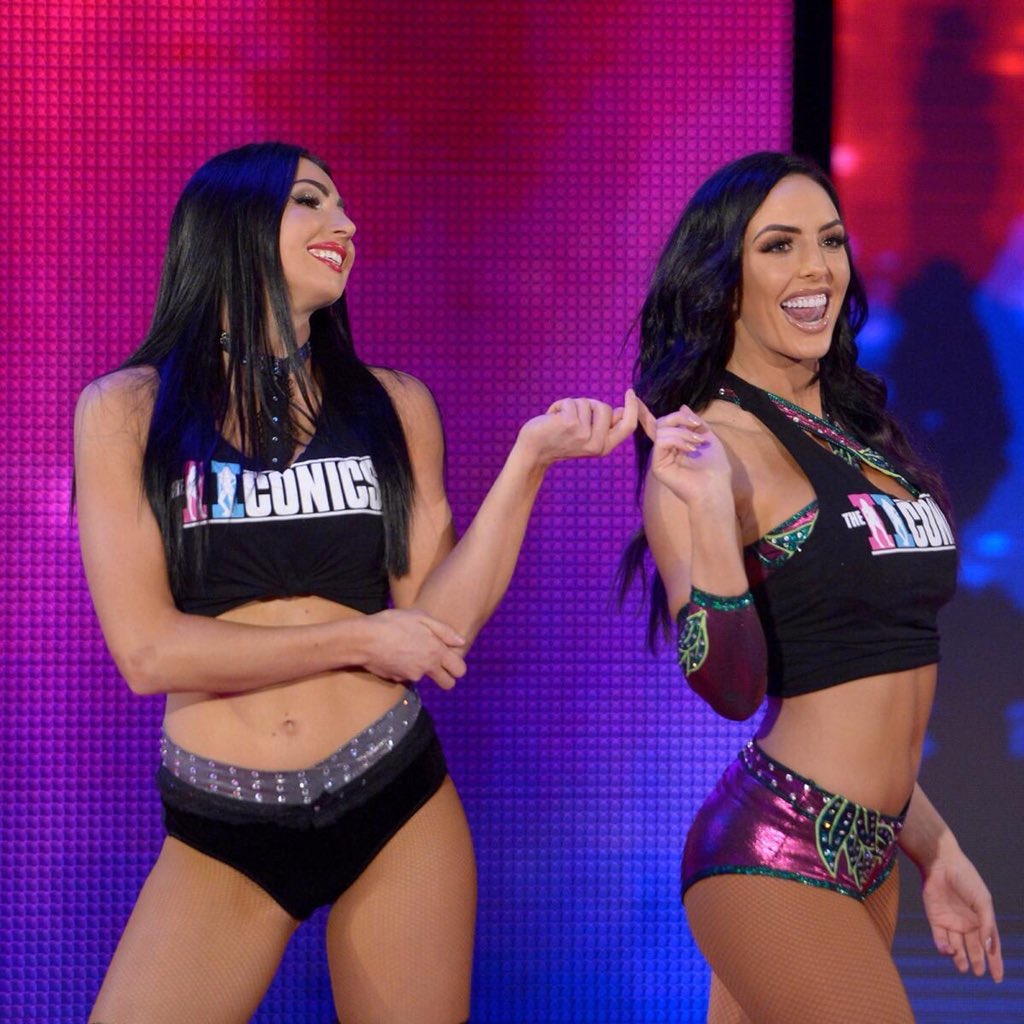 I don't want this title to be misleading. I'm not trying to break news or spread a rumor. This is just something I've noticed over the past several months.
As we all know, WWE's first all-female pay-per-view, Evolution, is set to take place in October.  In addition to the finals of the Mae Young Classic, an NXT Women's Championship match is supposed to take place. Alexa Bliss vs. Trish Stratus has also been announced.
We know a lot of talent is supposed to be present but we haven't heard much in terms of scheduled matches. This is one of the reasons I think we could see the debut of women's tag team titles.
Over the summer, WWE has been pairing up a lot of the women on their roster. Take Sasha Banks and Bayley for example. Many of us thought that was leading to a blood feud that was going to culminate at SummerSlam or Hell in a Cell.  But nothing happened. They made up and have been working tag matches together ever since. We've also seen the return of The Bella Twins who have been appearing on both Raw and SmackDown.
Teams like The IIconics and The Riott Squad were already present but let's look at the rest of the roster. When Paige left Absolution, Sonya Deville and Mandy Rose continued to make appearances as a team. Ronda Rousey and Natalya have been in each other's corner all summer. Alexa Bliss used to only be accompanied by Mickie James but now Alicia Fox has joined their stable. As previously stated, Alexa is supposed to wrestle with Trish so Mickie and Alicia can still partner together.
The same is occurring over on SmackDown Live. Naomi was feuding with both Peyton Royce and Billie Kay but Asuka has very recently joined forces with her. They even had a tag match against The IIconics on Tuesday.
On Raw the only women left without a team are Nia Jax, Ember Moon, and Dana Brooke. Carmella, Becky Lynch, and Charlotte are the only lone women on SmackDown Live. Zelina Vega and Lana are attached to their male associates so I don't expect them to be paired with another female talent in the near future. Carmella's partnership with R-Truth isn't as permanent and Tamina is still on the shelf with an injury. I wouldn't be surprised if we saw a mini Welcoming Committee reunion upon Tamina's return.
Again, this is all just personal speculation. I turn a blind eye to dirt sheets and leaked event cards so you may know more than I do on this subject. This is just something I've picked up on from watching the product. It may be my imagination but there were too many signs for me to ignore.
---
Always Use Your Head and visit the official Pro Wrestling Tees store for The Chairshot All t-shirt proceeds help support the advancement of your favorite hard-hitting wrestling website, The Chairshot!

---
Dear Smarks, The Saudi Arabia Show Has Nothing to Do With Evolution!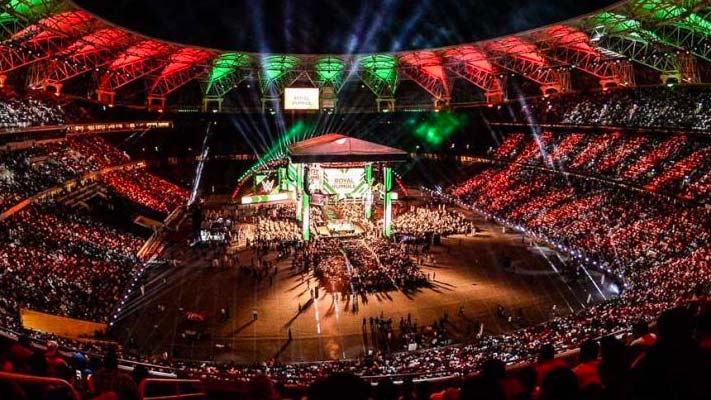 It's that time of year again. WWE is getting ready to go to the Kingdom of Saudi Arabia for a Network Special, and once again, the wrestling PC Police are up in arms about it. The rallying cry this time is about how AWFUL it is that WWE is doing a show in Saudi Arabia, where the Women's Division isn't allowed to compete, just days after the first all women's PPV. Obviously, this is a blatant attempt by WWE to undermine the Women's Evolution by doing this and that WWE should be ashamed to take 'blood money' from Saudi Arabia.
There's so much wrong with this argument, I'm not sure where to start. First of all, the scheduling of the Crown Jewel for November 2 would've happened if WWE had put No Mercy on instead of Evolution. The scheduling for both events was done long before either was formally announced.  Secondly, as I have stated before, WWE goes to the Middle East as part of their bi-annual overseas tour every year and have done so for decades, and every time, except for the match in Abu Dabai, the women have never gone on that leg of the tour because they weren't allowed to compete. This wasn't a secret, but no one cared until after the deal with Saudi Arabia was announced and Banks and Bliss had their history making match in Abu Dhabi.
Here's a question: How is doing TWO shows a year in Saudi Arabia undermining the Women's Division? Seriously. Do you HONESTLY, truly and honestly, think WWE is going to spend three years building the Women's Division, putting on two all-Women's tournaments, doing the first Women's Royal Rumble, Elimination Chamber, and WrestleMania Battle Royal, while secretly plotting to undermine it by doing two glorified house shows in a country where women are banned from participating in sports?
As for the 'blood money', oh where do I start? What brand of shoes do you have on? What brand of clothing are you wearing? Or your phone? Chances are pretty good that your clothes, shoes, and/or your phone, was made in an overseas factory by workers who get pay a very small amount and often work long hours in terrible conditions. Yet, companies stock these products and not a word is said about the business deals being 'blood money'.
Before anyone starts about Saudi Arabia's human rights violations, let me point out that Australia, site of the Super Show-Down and China, which will be getting it's own Network Special, BOTH  have their own recent histories of human rights violations. Australia has been HEAVILY criticized for its treatment of migrants and refugees, many of whom are from predominately Muslim countries, as well as the continued mistreatment of Aboriginal peoples. China's list of human rights violations is a pretty lengthy one, but they have also recent come under fire for its persecution of a Muslim minority, and yet, no one has complained about WWE doing shows there. No one has made nearly the same amount of noise about 'blood money'. So why is Saudi Arabia unacceptable while Australia and China are acceptable?
The bottom line is that WWE is a business, not the United States Government, or the United Nations. The deal with Saudi Arabia is a business deal that gives fans in the Middle East a chance to see a WWE show without having to stay up to the crack of dawn.
If the idea of WWE doing TWO shows a year without the women present bothers you that much, don't watch it and focus that energy on supporting women's wrestling and women's causes where you live. Cheer when the women's matches are on instead of going to the bathroom or changing the channel, watch the Mae Young Classic (it's great, I promise), plan to watch Evolution, buy merchandise to support the female superstars. The Women's Evolution is bigger than two house shows in Saudi Arabia, don't diminish it by making that the end all-be all.
---
Always Use Your Head and visit the official Pro Wrestling Tees store for The Chairshot All t-shirt proceeds help support the advancement of your favorite hard-hitting wrestling website, The Chairshot!

---