AJ Styles vs. Samoa Joe Is The Perfect Match-Up For WWE SummerSlam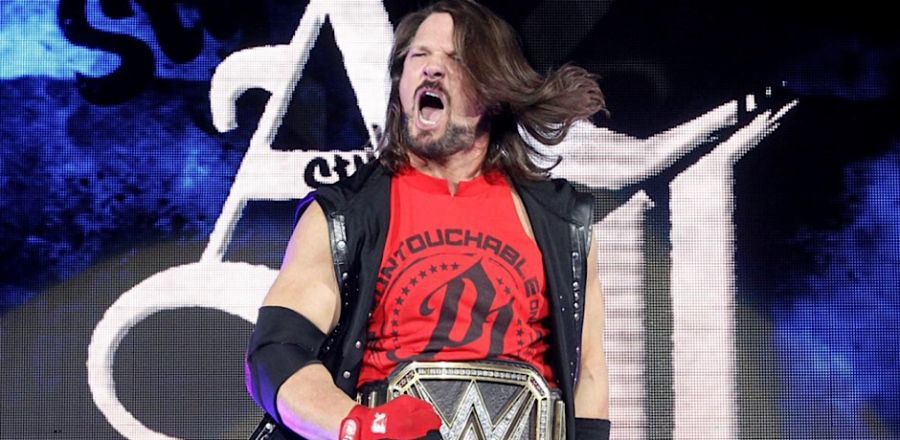 AJ Styles is the current WWE champion and arguably the best wrestler in the world. The man that built his career outside of Vince McMahon's company is now on top of it and AJ's fans would have it no other way. Styles is indeed an elite performer and deserves every accolade afforded him.
Now The Phenomenal One is without an opponent for SummerSlam on August 19. But that opponent will be named by Page on the July 24 edition of SmackDown Live. Cageside Seats is reporting that Samoa Joe is expected to be the man to face AJ at WWE's biggest party of the summer.
This is indeed good news for WWE fans. Styles spent the past few months feuding with Shinsuke Nakamura and while it began on a high note, it became very ugly very quickly. The match-up could have worked and there's no reason why it shouldn't have. It was a great bit of booking after all.
The matches themselves were well wrestled, just as fans expected they would be. Styles and Nakamura are pros and many consider them to be the top two talents in the world today. It was a must-see feud and there was every reason to believe that each match would be an instant classic.
But that's not how their rivalry is viewed now. Styles and Nakamura have chemistry but it was clunky and there never seemed to be a good rhythm to any of their contests. They did get in a groove toward the end, But by that time, it was apparent to many that Shinsuke was probably not going to win the WWE Championship.
Then there's the low-blows. What began as a shocking twist to the end of their WrestleMania 34 match became the norm for every match. Nakamura was obsessed with taking the easy way out and though he is a heel, the point was driven home perhaps way too often.
The move cheapened their rivalry and caused many fans to tune out. It's unfortunate because it ultimately defined the feud. The hard work that both men put in was not wasted but it was perhaps done in vain. How many fans will remember AJ Styles versus Shinsuke Nakamura for the actual wrestling?
AJ Styles proves himself against everyone he works and he did the same with Nakamura. Styles has no reason to do so because everyone knows how good he is. He has the respect of his fans and his peers alike. But AJ does not take a match off and he probably never will. So now that he has an empty dance card, the time is right to fill it with someone that can truly put him to the test. There is no better man to do that than Samoa Joe.
Joe and AJ have gone to war before of course when both men worked in TNA. Their rivalry in that company was legendary as both men were at the forefront of American wrestling outside of WWE. Theirs was an explosive, hard-hitting rivalry that carried a company to legitimacy.
Fans could only imagine a scenario in which Samoa Joe and AJ Styles would perhaps one day face off in a WWE ring. It was difficult to believe either man would ever join WWE, much less headline a WWE pay-per-view together. Now that impossibility may become a reality.
Joe is the perfect foil for AJ. Styles enjoys being in control all the time and Samoa Joe is uncontrollable. AJ is smooth in the ring and Joe is a destroyer. They are polar opposites of each other and that is why they match up so well. But they do share a deep desire to have the best match on the card and that will be evident when they lock up at SummerSlam.
So if that match happens, who goes over? As of this writing, AJ Styles has held the WWE Championship for 257 days. Both of his title reigns combined number 397 days. It's safe to assume that the company not only believes in him but trusts him as well. Considering the storyline chaos surrounding the Universal Championship, should WWE make the move and crown a new champion on SmackDown Live?
Samoa Joe is certainly capable of wearing the gold. Like AJ, Joe can work a wide variety of opponents and versatility is a good thing when it comes to being a champion in WWE. Joe has great heat as a heel and even though he's extremely popular with fans, Samoa Joe doesn't have to do much to make them hate him.
Samoa Joe would be a tough challenge for any babyface on SmackDown Live, including Jeff Hardy and Daniel Bryan. Either one of those Superstars could main event against Joe any night of the week and steal the show. Perhaps it's time for a heel WWE champion on the blue brand once again.
But of course fans cannot forget about Randy Orton. Orton's recent heel turn on Jeff Hardy will likely lead the two into a feud and that feud will certainly not be pretty. The Viper is coldhearted and sadistic. He will stop at nothing to get what he wants. How long until he wants the WWE Championship again?
If the company is planning long term, then putting the belt on Joe may not be the best move. But if Samoa Joe cannot dethrone AJ Styles, then who can? Samoa Joe is indeed the perfect opponent for Styles so it could very well be that the time is perfect for a title change. But how does that affect WrestleMania 35?
Eight months separate SummerSlam and WrestleMania 35 but it's never too soon to prepare for The Grandest Stage of Them All. The company tends to use SummerSlam as the point of origin for top matches at WrestleMania. There's every reason to believe that will be the case again this year. Whoever wins between AJ and Joe could be the man to beat in 2019.
No matter how the match between them plays out, the fact is AJ Styles and Samoa Joe deserve to share the main event stage together in WWE. AJ is a trusted top guy and Joe has earned the right to become one. The WWE Championship continues to be the gold standard in Vince McMahon's company. That will surely be the case once again at SummerSlam.