Andrew's G1 Climax 28 A Block Ratings & Review: Day 1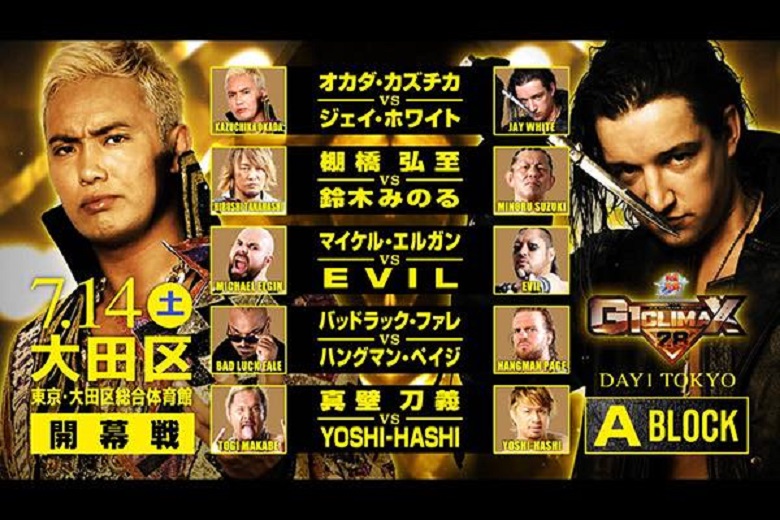 So, much like you may have noticed, Mathew Sarpraicone and I like to split up tournaments so it's not such an arduous undertaking. So for B Block days, make sure to keep an eye out for his articles.
Now, as with all tournaments, part of the fun is picking winners. Right? So if all of my fantasy booking works out, the Finals will be Hiroshi Tanahashi from A Block and Kota Ibushi from B Block. Now, yes I'm aware of the fact that the winner usually comes from the block opposite of the current IWGP Champion, but that trend has to break at some point.  So I'm picking Kota Ibushi to win the whole thing, so we can have the Golden Lover showdown at Wrestle Kingdom.
So with the pick out of the way, let's get to today's matches.
Togi Makabe vs Yoshi-Hashi
Yoshi has been mostly unimpressive and even disappointing the last few years. Managing only 2 wins last year, another bad run could mean he gets removed from next year's tournament. As for Makabe, most people think he's hitting that "old veteran" wall, and last year saw him struggle early before rattling off 3 wins in a row, ending with a respectable 4 wins. So with Makabe not having many G1s left because of age, and Yoshi looking at the chopping block because of failure…this match means quite a bit to both competitors.
The match starts off with both men just throwing forearm shots, as Makabe ducks a lariat and drives Yoshi to the ground with a Shoulder Tackle. From there we see a lot of back and forth from both men. Makabe with some big strikes and Yoshi-Hashi continuing to try and find his spot. Makabe goes to the top turnbuckle for his Spider German Suplex, but Yoshi-Hashi counters it and hits a running Sitout Powerbomb to turn the tide.
From there we see a few attempts at the Butterfly Lock and even a top rope Blockbuster from Yoshi-Hashi, still can't put away Makabe. After popping up right after a German Suplex, Yoshi charges at Makabe only to get lariated into next week. Makabe then places him on the top rope again, hits the Spider German Suplex, into the King Kong Knee Drop, for the 1-2-3.
So another loss for Yoshi-Hashi, but he did show a few glimpses of resilience, so there might be hope for him yet.
Winner: Makabe via King Kong Knee Drop
Rating: ** 3/4
Bad Luck Fale vs Hangman Page
So this has weight thanks to the Tongans attacking the rest of the Bullet Club members and continuing the Civil War. Hangman is in his first G1, so there's no past history to work off of and Fale has had 10 or more point the last 4 tournaments. So Fale usually having good luck in tournaments, coupled with the on going Bullet Club drama…makes you wonder how this one will play out.
Fale with an early cheap shot before Hangman gets in the ring, sends him careening into the barricade. After that we see a good bit of time outside, with Fale tossing Page into the barricade and multiple rows of seats. Eventually they get back into the ring, where Page shows some life.
What starts off as Fale dominating, gets turned around into a lot of impressive moments from Hangman. Tonga Loa comes out to distract, but Hangman fights him off and even lands his beautiful Moonsault onto both Fale and Loa. Following that up with his Buckshot Lariat, things begin looking like Page is on his way to a victory. But before he can really attempt the Rite of Passage, Tama Tanga hits the ring, throws the ref and all 3 beat down Hangman.
This causes the referee to have to DQ Fale, and give Page his first G1 victory…coupled with an ass kicking.
Winner: Hangman via DQ
Rating: ** 1/4
EVIL vs Michael Elgin
EVIL coming off the year that elevated his status thanks to his win over Okada last year. Elgin is an odd case where he puts up respectable numbers in his previous three G1s, but after having the shortest NEVER Openweight Title Reign this year and all his other personal drama, it's really not easy to pinpoint his role in this years tournament. Both tend to do fairly well in the G1, the are 1-1 against each other, so the early momentum would be useful, and  a tie breaker.
This was a heavy striking affair. Elgin took an early advantage until he missed a lariat outside, which saw his lariat the ring post. After that, EVIL wrapped a chair around his arm and drove that into the post. Later in the match we see EVIL continue to work on the arm by driving the Elgin's arm from the apron, across the barricade.
Elgin fought from underneath with the one arm for the better portion of the match, but that didn't hurt any kind of suspense. He'd use the injured arm, regardless of pain, and they would trade lariats and power moves for a while.
As we got to the end, EVIL kept trying to go for Everything is Evil, but Mike counters repeatedly, even attempting his own finishers like the Burning Hammer, we see Elgin hit a big Gutwrench Splash Mountain into Elgin Bomb for the victory.
Winner: Elgin via Elgin Bomb
Rating: ****
Hiroshi Tanahashi vs Minoru Suzuki
Neither of these men need an introduction honestly. Be it referencing their 2012 Match of the Year at King of Pro Wrestling, or even Suzuki torturing the Intercontinental Title off of Tanahashi earlier this year at New Beginning at Sapporo. We know what these two are about, and are always possible winners of any tournament they're in. Should be fun to see who gets the early 2 points.
Well now, umm, this was a Suzuki clinic. Suzuki dominates this match with tons of strikes, Knee Bars, Achilles Lock, Heel Hooks, Figure Four Leg Locks, but Tanahashi lands an Inverted Dragonscrew Leg Whip, and that changes everything. Suzuki screams like his knee got dislocated or something, so a Sling Blade and two High Fly Flows give Tanahashi a win, when he spent most of the match screaming on his back.
Suzuki's strategy made sense, and is exactly his type of thing. Torture before a quick victory. But I can't help but feel it ended too abruptly and it was just odd to watch Tanahashi win out of nowhere.
Winner: Tanahashi via High Fly Flow
Rating: *** 1/4
Jay White vs Kazuchika Okada
So Jay White gets his first shot at Okada since returning from excursion and joining Chaos. Jay did say he wanted more inner stable matches, but given that neither have titles currently, this is just awkward. Okada sporting red hair and new awful music, and Jay White asking people where his belt is…I don't even know what to think here. One will bounce back after big losses, but neither seems to be mentally complete at the moment.
Okada comes out with his balloons and looking relaxed to the point of goofiness, but does manage to take an early advantage. After some time on the outside, Jay White turns it around and starts banging Okada's back off the barricade and apron. Plenty of entertaining spots in this match. Jay rips off the banner from the apron and tries to asphyxiate Okada, wait til 4, and then reattaches it as the crowd applauds that. Jay beats down Okada on the outside, Red Shoes starts counting, but Jay goes out there and throws Okada in the ring as the crowd applauds that also. So even though he's doing obviously heelish things, they're applauding when he does nice stuff as a show of respect, even if Jay is being disingenuous.
Even though this shell of Okada isn't the same man that defended the IWGP title for 720, he gets a small fire under him when Jay starts toying with him. The Okada Dropkick, Macho Man Style Elbow Drop, Scooby Dooby Doo Crossbody and even a Rainmaker pose, but Jay manages to counter the Rainmaker the first few times.
We see Jay going to any lengths necessary to try and win the match, while verbally harassing Okada and messing with the crowd. Speaking of the crowd, they were oddly quiet through a lot of it. I'm not sure if they're still trying to figure out new Okada or if they're just not ready to openly support him after a year of cheering ever challenger he faced. Either way, the tense atmosphere, coupled with Jay's insistence upon cheating to make it "his Chaos", gave the match an odd feel.
Towards the end, Jay brings in a chair, pushes down Red Shoes and goes to hit Okada, but the Rainmaker Dropkicks the chair into Jay's face and looks to be on track to winning the match. Red Shoes gets up, Okada winds up Jay for the Rainmaker, but Jay backfists Red Shoes before eating the Rainmaker. So even though the ref could've counted to 12, White's tactics paid off. Kazuchika goes to pick him for another move, Jay hits a low blow, followed by throwing the chair into Okada's face and finally, Blade Runner ends the match as the referee comes to.
So it told a good story of Okada still not being himself, and Jay White finding a character that will go to any lengths to win all while claiming everything is his.
Winner: Jay White via Blade Runner
Rating: **** 1/2
A Block Standings:
Togi Makabe: 1-0 (2 Points)
Jay White: 1-0 (2 Points)
Hangman Page: 1-0 (2 Points)
Hiroshi Tanahashi: 1-0 (2 Points)
Michael Elgin: 1-0 (2 Points)
Kazuchika Okada: 0-1 ( 0 Points)
EVIL: 0-1 (0 Points)
Yoshi-Hashi: 0-1 (0 Points)
Minoru Suzuki: 0-1 (0 Points)
Bad Luck Fale: 0-1 (0 Points)
Thoughts:
Good first night, solid matches, a lot of storyline movement and even the big upset from Jay White. What's going to become of Chaos after this tournament? Is Broken Okada gonna snap out of it? Do the Tongans care about winning, or just beating the hell out of the rest of the Bullet Club?
Only one way to find out. Story seems to be driving this G1 besides the prospect of high quality matches, and I'm not mad at all.