Andrew's G1 Climax 28 A Block Ratings & Review: Day 11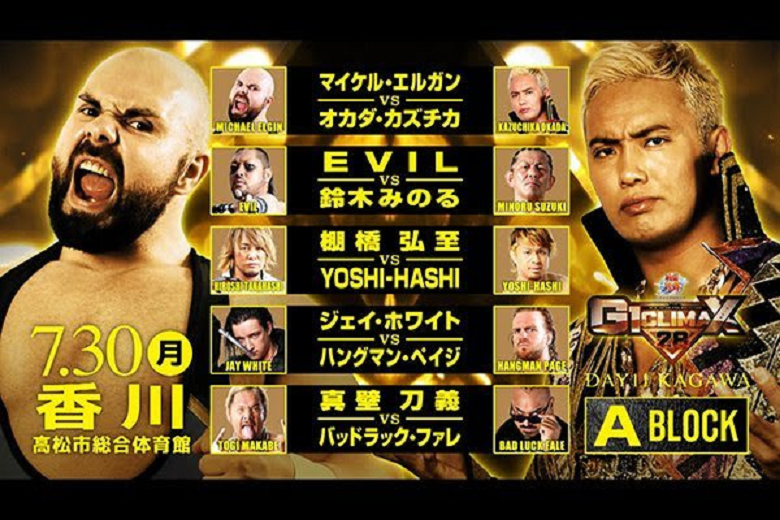 The block balance is restored, since by the next B Block day, Mathew will be back, so I'm on A Block duty. Sadly that means I'm back to the underwhelming block.
Since we've got Zack Sabre versus Kenny Omega for the next B Block show, this one is going to need to step up. Can we finally get a blow away night?
I'm not too sure about it, but only one way to find out.
Togi Makabe vs Bad Luck Fale
Not much to say here beyond the fact that Makabe never has much luck against Fale. But with all of the Firing Squad shenanigans, this match is really anyone's game.
This match went mostly the way we all expected. They immediately charge into each other, a few shoulder tackles and lariats, but then Loa pulls Makabe out. Fale takes the chance to start throwing Makabe around the outside, into the barricade and even into the chairs/fan seating area.
Makabe shows a lot of heart getting back in the ring and continuing to duke it out with the Underboss. As soon as Makabe gets any glimmer of hope, Loa pulls out the referee and the interference begins.
Togi knocks them both down with a Double Lariat and goes to the top rope for his King Kong Knee Drop, but both Loa and Fale are up too quickly and toss him down. Fale then grabs Makabe's chain, wraps it around his fist and knock Makabe out.
Loa rolls the referee back in, and Fale picks up the rather cheap victory, to a chorus of boos.
Winner: Fale via Chain Wrapped Fist
Rating: **
Hangman Page vs Jay White
Oh look, a rematch from Strong Style evolved. If this match goes the way of all the rematches from earlier this year, Page might pick up a surprising victory. But at least we know both of these guys have what it takes to put on a stellar match.
Well the rematch didn't go the usual way this time. The match was fantastic though. White countered the Buckshot Lariat and Complete Shot Moonsault numerous times. Hell, White even sidestepped the Shooting Star Shoulder tackle and began the story of working over Hangman's back.
I do appreciate how Jay ramming his opponent into the barricade in front of the announce desk has become a thing now. Between the drama with JR and Josh Barnett, he knocked over Rocky Romero a few times and even took the English broadcast off air for about 15 minutes last A Block day. He's just a headache for the English announce teams.
There was a tease of an Avalanche Back Body Drop to the outside, but Hangman thankfully countered that, as opposed to dying. Then he finally lands the Buckshot Lariat, so it all seems to be moving upwards for him. Jay introduces a few chairs to regain the momentum, but Page nearly outsmarts the Switchblade.
After the referee disarms Jay, he goes to pull Page to the center of the ring, but the boot comes off. Hangman tries the old Eddie Guerrero, but the School Boy rollup doesn't work out. A small flurry of offense from Hangman, as he then goes to use the chair. The referee stops him, takes the chair, and White hits a low blow.
Blade Runner after the low blow, and the rest is history.
Winner: Jay White via Blade Runner
Rating: **** 1/4
Minoru Suzuki vs EVIL
So we've got the King of Darkness EVIL, against pure evil. It's hard to root against Suzuki in this match, especially riding the 3 match winning streak. But EVIL is on a 4 match winning streak and really come around to being a bigger player the past year or so. Should be fun to see what happens.
Suzuki was one prime display here. By that I mean, his sadistic tendencies and ability to dissect someone was the better portion of this match. It goes to the outside early and Suzuki starts bouncing EVIL's head off tables, trapping it between guardrails and beating him with chairs, before Red Shoes is like " Okay, let's get back in the ring now".
From there we get more of the same with Suzuki rotating between EVIL's injured arm or his bandaged knee. Finally, EVIL gets a small advantage the next time the go outside and Red Shoes tries to intervene when Suzuki is using more chairs. EVIL throws a chair into Minoru's face and turns the tide.
Since fair is fair, EVIL does his whole chair wrapped around the head home run spot right in front of Red Shoes, but hey, Suzuki used chairs, so it's all good to Mills Lane…I mean Red Shoes. After this point we get a normal New Japan bout of hard strikes and demanding to be hit back.
The ending sequence is tremendous though. We see EVIL try Darkness Falls, but Suzuki slips out looking for a Sleeper, but EVIL spins around looking for Everything is Evil, to only see Suzuki counter into a Piledriver attempt. EVIL fights that off and hits the ropes, only to have Suzuki follow him and wrap around to go for a Sleeper Hold. EVIL counters again to attempt Everything is EVIL but Suzuki finally gets the Sleeper, takes him down to the ground with it, slowly brings him back up, and snaps off the Gotch Style Piledriver fairly quickly.
Winner: Suzuki via Gotch Style Piledriver
Rating: ****
Hiroshi Tanahashi vs YOSHI-HASHI
Tanahashi is sitting atop the A Block, whilst YOSHI-HASHI is being his usual disappointing last place self. It does seem like YOSHI has been putting in solid effort throughout the G1, but he just can't put it together. Nearly pulling off the upset on Okada, could've been what he needed to wake up.
I think it's safe to say this was HASHI's best match all G1. Both men are heavily taped up and have very well documented injuries, so the suspension of disbelief was more relevant in this match.
HASHI pulls off a nice Mule Kick to counter a Dragon Screw Leg Whip, lands his signature Head Hunter (Block Buster) and even a Swanton Bomb, but all for nothing more than a 2 count. YOSHI goes for a Capture Brainbuster and gets another near fall.
Tanahashi manages to roll away from Karma, while landing a wrist control style Slingblade to start to change the momentum. A shutdown style suplex, gives an opening for the High Fly Flow, but HASHI mostly moves out of the way. After a Double Knees pinfall, YOSHI tries the Butterfly Lock, but Hiroshi counters that into an Arm Capture Cradle, for the 3 count.
Another match where the story is The Ace escaping the jaws of defeat with one miracle move. First man to 10 points, may not be able to escape much longer, but for now, this is the Ace Block.
Winner: Tanahashi via Arm Capture Cradle
Rating: **** 1/4
Kazuchika Okada vs Michael Elgin
Elgin was really the first one to challenge Okada last year during his 6-0 run. Even though Okada came out with the win, a bunch of big moments could've had last year's match go either way. Can Elgin overcome 'Gone Fishin' Okada, or does this watered down Rainmaker still have enough for a victory?
This match was kind of the same, but different than their previous encounters. Almost immediately both men went for signatures before the Tombstone ended up being Okada's Achilles heel. Elgin stops the attempt and counters it into a Delayed Vertical Suplex. This gave Elgin the necessary space to pull off numerous lariats, Powerbomb variations and generally over power Okada.
That's what I meant by saying it was the same, because it was Elgin's power against Okada's athleticism. Especially on display when Okada tried the Scooby Dooby Doo Crossbody only to get caught and slammed down by Big Mike. The landscape changed a bit when Elgin attempts an Avalanche Splash Mountain, but Okada counters it into a Super Wheelbarrow Arm Drag.
Elgin got a little desperate at different points in the match, which is a good story, since a loss to Okada and his G1 hopes are over. So he tries to force the Burning Hammer, but Okada gets out of it. During a lariat exchange, Okada finally gets the best of Big Mike, hitting a Tombstone shortly after, Discus Rainmaker and then the official Rainmaker for the pinfall victory.
Winner: Okada via Rainmaker
Rating: **** 1/2
A Block Standings:
Hiroshi Tanahashi: 5-1 (10 Points)
Minoru Suzuki: 4-2 (8 Points)
EVIL: 4-2 (8 Points)
Jay White: 4-2 (8 Points)
Kazuchika Okada: 4-2 ( 8 Points)
Bad Luck Fale: 3-3 (6 Points)
Togi Makabe: 2-4 (4 Points) – Eliminated
Michael Elgin: 2-4 (4 Points) – Eliminated
Hangman Page: 1-5 (2 Points) – Eliminated
YOSHI-HASHI: 1-5 (2 Points) – Eliminated
Thoughts:
Well I'm happily surprised! This was the first high quality throughout day for the block! Granted, yes, the Fale match was lacking, but that's also to be expected.
Every match after Fale could easily be match of the night depending on how people feel. The main event was one of the more believable struggles since Big Mike is always positioned strongly in these tournaments.
However, because of the loss, that mathematically eliminates a bunch of people. Even if they win out, YOSHI and Page can only get 8 points, so that doesn't work. Makabe could get to 10, but has already lost against Tanahashi, so that works against him. Elgin would need Tanhashi to lose his last three matches, but the problem there, is that Okada is one of the last 3 opponents. So if Tanahashi loses to Okada, and Elgin wins all his remaining matches, his 10 points wouldn't beat Okada's 10.
So with nearly half the field eliminated with 3 days left, that adds a very interesting 'nothing to lose' mentality to the matches involving those participants.