Andrew's G1 Climax 28 A Block Ratings & Review: Day 3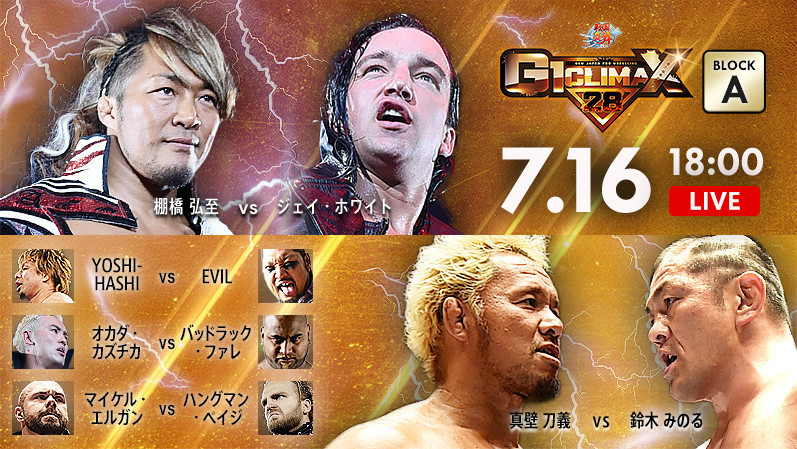 So a few surprising results from the first day of the G1. Shattered Okada lost his first match,  Minoru Suzuki is down early and Bad Luck Fale cares about statements more than points.
It will be interesting to see how the second day shakes out. Break point is usually around 3 losses. So if anyone starts 0-2, that doesn't give a lot of room for error.
Let's find out who takes the early lead this year.
Michael Elgin vs Hangman Page
Starting off nicely with two men who already have a victory, so the winner here will take an early lead in the tournament. Since it's Page's first G1, they don't have any previous matches to pull from beyond stuff in ROH. But let's be honest, Page has really come into his own the last year or so. Thusly, their previous matches are a little moot.
This match really helped Page get over more with the Japanese crowd. Elgin's power was on full display in this match, while Page tried to use his agility and even show heart by striking back and forth with him.
As the match went on, the crowd was more and more behind Hangman, which was nice to see them come around. Elgin ends up countering the Buckshot Lariat with a Lariat of his own, followed by a Tiger Suplex and Splash Mountain, but Hangman kicks out.
Alas, the kick out only delayed the inevitable where Elgin hits Buck Bomb, into Tiger Driver into Elgin Bomb to get the pinfall, and be the first competitor to 4 points.
As a match this was fine. A few higher risk spots looked a little clunky and they didn't always seem to be on the same page, but it wasn't a bad match at all.
Winner: Elgin via Elgin Bomb
Rating: *** 1/4
EVIL vs Yoshi-Hashi
This is an odd pairing. Both men lost their opening match, but aren't perceived as equals. EVIL is up and coming, upper mid card, while Yoshi-Hashi is the bottom of the barrel. However, Yoshi-Hashi holds the victory in their only ever run in the 2016 G1. So can Yoshi-Hashi run it back, or will EVIL get his win back?
Well now, this was a somewhat unsurprising match, and even the crowd seemed to just be waiting for the end. Yoshi-Hashi showed some early aggression, but he came off as over anxious. So much so, he nearly killed EVIL when he put too much torque in a Powerbomb attempt, and also too damn close to the ropes, so they both spilled out to the outside.
Thankfully, no one seemed badly injured, but still, Hashi repeated the Powerbomb attempt when they went back in the ring, which proves it was a botch.
Yoshi went for Karma a couple times, but EVIL fights it off and lands a hard hitting lariat to set up nicely for Everything is Evil. Which ties up their G1 records at 1 a piece, but more importantly, it puts EVIL on the scoreboard.
Winner: EVIL via Everything is Evil
Rating: ** 3/4
Togi Makabe vs Minoru Suzuki
So there's a lot of history behind both of these men. Most recently we had Suzuki beating Makabe at the Anniversary show this year. The bad blood runs deep with these guys, so let's just see how it plays out.
Umm…okay, my first reaction is that this match is the wrestling equivalent of watching a hate fuck. Words don't exactly do it justice, nor can I find a better reaction.
This match is a fight, nothing pretty, nothing flashy, just a masterfully savage brawl. Both men goad the other for more strikes, they have a chair duel, numerous strong style moments and just a plethora of sadistic desire.
Suzuki looks like he might win with the Sleeper Hold, but of course, he goes for the Gotch Piledriver and Makabe continuously blocks the move. Makabe hits a few lariats, his ten count head punches with signature Makabe laugh and Spider German Suplex.
Minoru stands up after the spider so Makabe hits him with a Flying Knee, and then his signature finish, King Kong Knee Drop. Makabe goes to 4 points while Suzuki sits at zero.
This match was leaps and bounds better than their Anniversary show, and will be hard to top for this day.
Winner: Makabe via King Kong Knee Drop
Rating: **** 1/4
Bad Luck Fale vs Kazuchika Okada
From Rainmaker to Rainman, Okada remains shattered with his red hair, balloons and awful remix theme. Not really sure how hard Fale is trying since he gave the 2 points to Hangman Page last A Block Day, just to send a message.
Well okay, so the Tongans are back in old school Bullet Club form. Tanga Loa came out with Fale, but Okada handled both of them relatively easily. Okada was able to slam Fale, slip out of the Bad Luck Fall twice and hit two Rainmakers.
But Tama Tonga slides in out of nowhere, to land a devastating Gun Stun while Fale had the referee distracted, and that was all that was necessary. Fale picks up the pieces, hits a Bad Luck Fall and gets himself 2 points.
Rainman Okada needs to figure this out, definitely, definitely, needs to figure this out.
Winner: Fale via Bad Luck Fall
Rating: ***
Jay White vs Hiroshi Tanahashi
Well Tanahashi put Jay in his place at Wrestle Kingdom 12, but this is a new Switchblade. White has a new confidence about him since beating Okada and Tanahashi has a chip on his shoulder since some people think he's reaching the end. Will the Ace of a Century get his second win, or will Jay get his win back as well as join the 4 pointers at the top?
Jay continues to turn up the intensity in his matches. Going after Tanahashi's banged up knee early and coming back to it to make a few points. However, Jay also lands a bevy of snap suplexes, which gives him the idea to focus on the neck also.
Watching White systematically carve up the ace was different, since this growth in his character has come fairly quickly. Tanahashi got in plenty of offense in this match though, so at least it wasn't a one sided ordeal like his last one.
Jay introduces a steel chair directly in front of Red Shoes, and the referee lets him know that he'll get disqualified. Jay swings any, but misses and then we get some shenanigans with the referee not paying attention.
Red Shoes cowers in the corner the same as he did during the G1 Special in San Francisco, and Jay hits Hiroshi with a low blow. As Jay goes for the chairshot, Tanahashi hits Jay with a straight right, below the belt.
The finish saw Tanahashi have a lot of momentum, but Jay managed to use Red Shoes as a shield to protect him from High Fly Flow and crotch Tanahashi on the top turnbuckle. We then see Jay throw the chair in the face of the ace, much like he did to Okada, land Blade Runner and pick up his second win.
Winner: White via Blade Runner
Rating: *** 3/4
A Block Standings:
Togi Makabe: 2-0 (4 Points)
Jay White: 2-0 (4 Points)
Michael Elgin: 2-0 (4 Points)
Hangman Page: 1-1 (2 Points)
Hiroshi Tanahashi: 1-1 (2 Points)
EVIL: 1-1 (2 Points)
Bad Luck Fale: 1-1 (2 Points)
Kazuchika Okada: 0-2 ( 0 Points)
Yoshi-Hashi: 0-2 (0 Points)
Minoru Suzuki: 0-2 (0 Points)
Thoughts:
Much like I said after Day 1, the match quality is still solid so far, but the stories are really pushing the A Block forward. Makabe and Suzuki continue their blood feud, Yoshi-Hashi can't seem to catch a break, Rainman Okada is too shattered to really compete, Firing Squad bringing the old school Bullet Club antics and Jay White…is just on a different level.
That's not to mean like Okada was as an in ring performer, it's just Jay is doing anything necessary to win. Plus this persona of he will claim everything, including the air, is his while imploring people to "open their lungs, and breathe with him", is just…well…different.
Even if this isn't 4+ star classics on every match, the storylines are still quite compelling and the ring work isn't awful. Damn good night.