Andrew's MLW Battle Riot Special Ratings & Review: 7/27/2018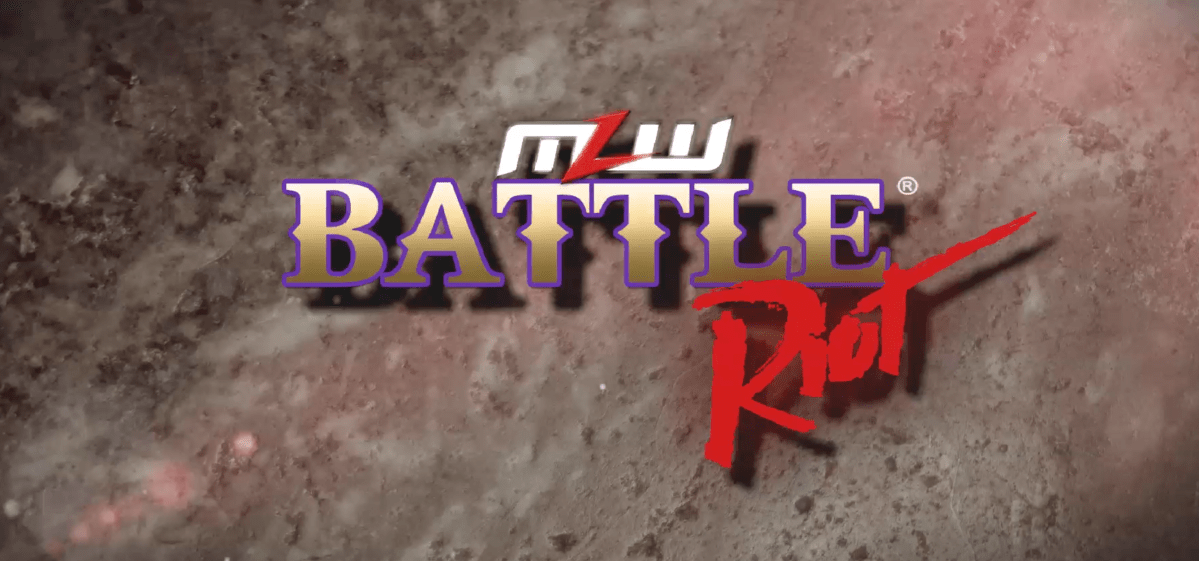 Well we had a new champion last week, and now we get MLW's first 2 hour special for Battle Riot. The Battle Riot is their Royal Rumble, with the only noticeable difference of, submissions can eliminate people.
This should be fun to see how MLW handles this first 2 hour show and we're given a surprised before any action in the ring happens. Tony Schiavone is joined by a different announcer, Matt Striker is joining Tony tonight.
So with an announce team upgrade and a big event feel, let's see what the show gives us.
Myron Reed vs Kotto Brazil
A lot of athletic back and forth that ends in a kip up stare down. But everything continues to go one for one until Reed hits a Springboard Seated Senton for a near fall, then a Scoop Slam for another near fall. Reed keeps up the offense into the corners before Kotto counters a splash attempt and hits a Wrecking Ball Dropkick for a quick 2.
Kotto applies an arm capture crossface that Reed needs to struggle out of, but then we see a few athletic maneuvers before both men crash into each other after dual Crossbody blocks. Myron gets caught across the middle rope which allows for multiple strikes sending Reed to the outside, and Kotto hits back to back Suicide Dives, tries a third, but Reed counters, sends Brazil to the outside and lands a Flying Hip Attack,
Springboard Uppercut gives Reed a near fall, but now it's time for Myron to put something together. Brazil gets sent into the corner, as he catches Myron's head, drives it into the middle turnbuckle and a German Suplex gives him a 2 count. Frog Splash attempt from Kotto is almost countered, but Kotto lands on his feet and applies a Trailer Hitch submission for a near submission victory.
Reed matrixes under a Kotto back springboard attempt, hits a Cutter for 2. 450 Splash attempt from Reed, lands on Brazil"s knees for a near fall for Brazil. Inside Out Stunner gave Reed an opening but Kotto pulls a Standing Sliced Bread out of nowhere for the victory.
Winner: Brazil via Stranding Sliced Bread
Rating: *** 1/4
Kaci Lennox is interviewing MJF, *insert smarmy crap and happiness for New York since he was born there*, ya MJF, is an incomplete acronym. Maxwell "Just Freaking Awful".
Kaci Lennox is backstage again, this time with Konnan talking about why he came out of retirement for Battle Riot.
Short trailer for LA Park coming to MLW
Kaci again (I love her), this time with Joey Ryan talking about his Middleweight title match against MJF. Adds a few funny moments about needing to cut weight so no more lollipops and no baby oil for this match.
More Kaci, this time with Team Filthy and the Battle Riot carousel pull. A little discussion about the match last week against Jimmy Havoc, but Tom Lawlor makes a funny excuse and pulls his number.
Inaugural MLW Middleweight Championship Match: MJF vs Joey Ryan
Joey does his thing, sharing the lollipop with a fan, oiling up, and then we go to commercial.
After the commercial the match starts and he immediately goes to the "touch it" spot. Full arm drag and twist from Joey, but countered by MJF, until Joey hits a kip up and does a reversal of his own. A lot of jawwing back and forth since they're both more known for characters than ring work. MJF hits a leaping through the middle rope Arm DDT and starts driving repeated knees into the arm. From there, MJF locks in an Armbar to keep working over the arm he already damaged.
MJF keeps yelling at the crowd and working on the arm, but Joey slides through with wrist control and hits a Wristclutch Exploder Suplex. A little back and forth until Joey catches MJF with a Spinebuster and gets a 2 count.
Arm Capture Side Slam gives MJF a 2 count, as the two competitors begin trading some slaps. MJF spits on Joey, ducks under the lariat, says wait and pokes him in the eye. Both men run into each other, and MJF falls face first into Joey's crotch. Then when they both get up, MJF tries an Inverted Atomic Drop and injures himself. Joey goes for the lollipop in the mouth spot, sticks it in MJF's mouth, uses the referee as a shield, pokes Ryan in the eye and then hits a Package Shoulderbreaker, all while keeping the lollipop in his mouth.
🍭That may have been slightly disgusting but it got the job done. @The_MJF is the new @MLW World Middleweight Champion! Whether the fans like it or not 👀 pic.twitter.com/mFR2QktLDl

— beIN SPORTS USA (@beINSPORTSUSA) July 28, 2018
Winner: MJF via Package Shoulderbreaker
Rating: **
Kaci Lennox with an in-ring interview asking MJF how he feels. He buries the crowd, but all I take from this, is I'm glad red is my favorite color anyway, cause with Kaci's outfit, it was gonna become my favorite color regardless.
Vanessa Craft now backstage with the Death Machines, but Sami Callihan sends her away and they make their picks.
Kaci Lennox with Swoggle, makes a WWE writer jab, but hey, more Kaci is a good thing.
Highlight package of the Bounty storyline, starting with Brody King, Sami's blind side attack and Low Ki's victory.
Vanessa Craft with Salina de la Renta and Low Ki. Vanessa looks scared as Salina announces a Black Friday Management and Promociones Dorado partnership. Low Ki with a nod to Gary Hart and original MLW. Salina ends the interview with the Iceman from Top Gun teeth chomp. 
40 Man Battle Riot Battle Royal
Out first, Pentagon Jr and second is Rey Fenix. Should be interesting with how hard they go after each other when there's a new entrant every 60 seconds. Also should be noted that Fenix and Pentagon are currently MLW Tag Team Champions.
Fenix shrugs and offers a hand shake, Pentagon takes it and kicks him as the two trade some sexy lucha moves and locomotion cradle attempts. Stereo High Kicks send both men to the mat as the third person is Brody King. King lays in immediate chops on both and then lariats into the corner, before the Lucha Bros start working together. Nice tandem cannonball/monkey flip from Fenix and Pentagon.
4th participant is Kenny Dykstra…no Doane…Kenny Doane, the other one is a lawsuit. Spirit Squad chant kicks up before dual Superkicks knock him down, and then King and Doane start working together. Number 5, Tom Lawlor, the best thing in MLW. Lawlor immediately goes after King and sinks in the rear naked choke, and submissions do eliminate people in this match. So Brody King is the first one eliminated from the Riot. Lance Anoa'i comes in 6th but runs into Fenix after only a small glimmer of offense.
Kenny tries to eliminate Pentagon as number 7, Rey Horus comes in. Horus goes after Doane, and then Pentagon grounds him with a Hammerlock -commercial break-
After the commercial Fenix almost eliminates himself as number 8, the Taskmaster Kevin Sullivan shows up with a golden railroad spike. Lawlor catches him in the Rear Naked Choke after Sullivan knock a few people down with right hands. Fallah Bahh is number 9, the Filipino big boi, tells Rey Horus "No, No No". Crossbody from Bahh flattens Horus. 10th entrant is Swoggle and he immediately bites Fallah"s butt and German Suplex Kenny and Fenix. Pentagon misses a kick and gets Suplexed. Lance Anoa'i ends the small Suplex City as Samu comes in at 11 headbutting everyone.
Samu goes to the corner to celebrate and Lance eliminates his dad. ACH is 12th and we just see a lot of strikes. Swoggle starts lighting up ACH before Pentagon kicks him. Konnan gets the unlucky number. Hasta la muerte despues! Rey Horus steps up as Konnan puts Horus in the Paradise lock,spins out of Lawlor's moves and goes for the Tequila Sunrise but ACH breaks it up.
Barrington Hughes comes in and him and Fallah Bahh have a belly bump as Swoggle tries to interfere but Lawlor chokes him out with a Guillotine. Jimmy Yuta is 15, and starts putting together some offense as Hughes takes out Lance, Kenny and Konnan. Fallah Bahh, Pentagon and Fenix wipe each other out as Kotto Brazil comes in to a significantly more empty ring.
.@Konnan5150 With an STO followed by the Tequila Sunrise!!#MLFusion#MLWBattleRiot@MLW #beINSPORTS pic.twitter.com/ZXeAnPxqP3

— Jocay 🇪🇨 (@Jocay19) July 28, 2018
Rey Horus tries to jump on Barrington, but Hughes tosses him into the corner and splashes the soul out of him. 17th is Richard Holiday. Holiday tries to avoid Hughes but Hughes goes after him. Fred Yehi flies in to try and help out fellow Team Filthy member and he and Lawlor murder Brazil. Jason Cade shows up at 19 while Yuta is still in the ring, and the bickering continues, but they all try to gang up on Barrington. Hughes drops Horus out and everyone except Tom Lawlor spills over the top trying to eliminate the big man.
Teddy Hart is 20, and he just does a Moonsault onto the group of people on the outside. So Teddy eliminates himself and doesn't care. -commercial break-
Vandal Ortugun is 21, starts trading strikes with Lawlor, but this isn't close. Armbar and Vandal taps. Mikey Mondo derps to the ring, Lawlor seems confused and insulted. Mikey keeps a whistle in his mouth to add comedic effect during the rear naked choke. FINALLY NOT A JOBBER! PCO is 23! Lawlor grabs a strike and tries a Fujiwara Armbar, into a Crossface but then transitions to ground and pound. LA Smooth at 24, another Samoan taking it to PCO. PCO levels Smooth with a Lariat and gets the 3 count. Simon Gotch trying to come in at 25 to help his teammate Tom Lawlor. The Team Filthy members gang up on PCO at 26 counts down and ends up being Homicide, Mr. 187. Homicide goes after PCO and Team Filthy just stands there and watches.
Davey Boy Jr is 27, and starts going after Gotch and Homicide. Lawlor interferes when the attention is on Gotch, but he starts taking on both Team Filthy members. Blue Meanie is the 28th guy, and does his Meanie dance in his bWo belly shirt. Meanie tries to make friends with Homicide, but Homicide kicks him and eliminates him while Team Filthy takes out PCO. Michael Patrick of the Dirty Blondes is next out, and he'll add some size to the people in the ring, but he's a tag team wrestler, so it's not likely he has a shot. Big number 30 is Sami Callihan. Sami eliminates Homicide immediately  and then allies with Michael Patrick to try and take out Gotch. An elbow and Enzuigiri save Gotch -commercial break-
Not this time @BlueMeanieBWO #MLFusion#MLWBattleRiot@MLW #beINSPORTS pic.twitter.com/gJYRLMTUqs

— Jocay 🇪🇨 (@Jocay19) July 28, 2018
Three quarters of the way through the participants, we come back from commercial to see Sawyer Fulton run in at 31, which means there are 2 Death Machines and 2 member of Team Filthy. The Death Machines go after Davey Boy Jr and they struggle to take out the baby bulldog. 32, the former champion, Shane 'Swerve' Strickland goes right after Callihan. The last Death Machine Leon Scott comes in at 33, and they focus Strickland and Davey Boy. They finally get out Smith, as Simon Gotch and Tom Lawlor try to take it to them. Drago enters in next, as starts kicking whoever is down and bites Callihan's foot. Leo Bryan, the other half of the Dirty Blondes is in there now as they take it to Gotch, and try weaken Team Filthy.
Even though he lost the Middleweight match, Joey Ryan manages to draw 36 and goes after Callihan. The other half of the Middleweight match MJF shows up next, and him and Ryan pick up where they left off. Team Filthy eliminates both Middleweight competitors. Jake Hager draws so late and it's a good position for him at 38. Hager eliminates Leon Scott as the other Death Machines try to eliminate Hager. John Hennigan is the next to last entrant as he flies in on Callihan. Hennigan eliminates Michael Patrick with a little rope-a-dope.
The last man to enter is Jimmy Havoc, and he goes right after Drago and dumps him over the top even after a missed Acid Rainmaker. Swerve Stomp on Leo, as he then gets tossed out even after Havoc takes Strickland's attention. Hennigan with a Small Package on Sawyer Fulton -commercial break-
In off the commercial Shane throws Havoc out,  Sami tries to eliminate Swerve, but he holds on and they fight on the apron. Piledriver onto the apron eliminates Swerve, Lawlor chokes out Callihan over the rope and he slinks off the apron. Hager takes out Hennigan, which leaves two Jake Hager and Tom Lawlor, number 38 versus number 5.
Thumbs up!👍
Thumbs down!👎@TheSamiCallihan #MLFusion#MLWBattleRiot@MLW #beINSPORTS pic.twitter.com/nZXpaDB9Fc

— Jocay 🇪🇨 (@Jocay19) July 28, 2018
Driving Spinebuster from Hager on to Lawlor as he takes him to the top turnbuckle following a near fall. Lawlor applies the Triangle Choke over the top turnbuckle, Hager turns it into a Powerbomb for a 2 count. Jake keeps trying to throw out Lawlor, Lawlor slips out and tries to eliminate the bigger man. Hager fights out and Lawlor hits a desperation German Suplex. Tom Lawlor looking for a 17th wind, as the two men start striking with uppercuts and forearms. Lawlor gets the best of the exchange with some kicks and quick rabbit punches, as he then starts a succession of mid kicks followed by a running Front Kick, for only 2.
Lawlor goes for the Rear Naked Choke as Hager keeps trying to toss Lawlor but slowly starts dropping. Hager rolls through the choke and applies an Ankle Lock as Lawlor tries to find a way out of it.  Lawlor goes to the ropes for leverage but falls down, as the crowd chants "Please Don't Tap". Tom starts biting his hand to not tap, and walks up the ropes to try and get leverage out of the  Ankle Lock. Lawlor manages to flip Hager out of the ring and land on the apron as Jake goes crashing to the floor. Lawlor goes in at 5 and now has a title shot whenever he chooses.
HISTORY HAS BEEN MADE!

Here is your #BattleRiot WINNER!@FilthyTomLawlor figured out a way after being in Hager's extremely painful ankle lock for more than 2 minutes! pic.twitter.com/y9E44jk0xb

— Major League Wrestling (@MLW) July 28, 2018
Winner: 'Flithy' Tom Lawlor
Rating: ***
Post match interview with Matt Striker and Tom Lawlor, gets across that Lawlor finally gets the guarantee he deserves and the L in MLW will stand for Major LAWLOR Wrestling.
Thoughts:
Now like I've gone over before, and recently in POD is War, Battle Royals, Royal Rumbles, I don't grade highly. It's more of an "entertaining" or "train wreck" kind of perception. Just too many moving pieces, too many obviously filler moments with jobbers and comedy that grading a Rumble the same way as a regular match really just isn't fair.
That being said, the show was pretty damn good. I don't care for Joey Ryan or MJF, so their shtick doesn't add to a match for me, so even though I wasn't a fan of it, it might resonate better with others. We do however see the right guy win the Battle Riot. Tom Lawlor really should be the face of the franchise, cause not only is he a legit fighter with his MMA background, he's extremely charismatic and a likable tweener.
Also purely biased point here, the more Kaci Lennox is on the screen, the happier I am. So if you keep her as the main interviewer, I will have less and less to complain about. MLW put on a damn good show, check out their YouTube channel over the weekend if you didn't see it live.