Andrew's MLW Battle Riot Special Ratings & Review: 7/27/2018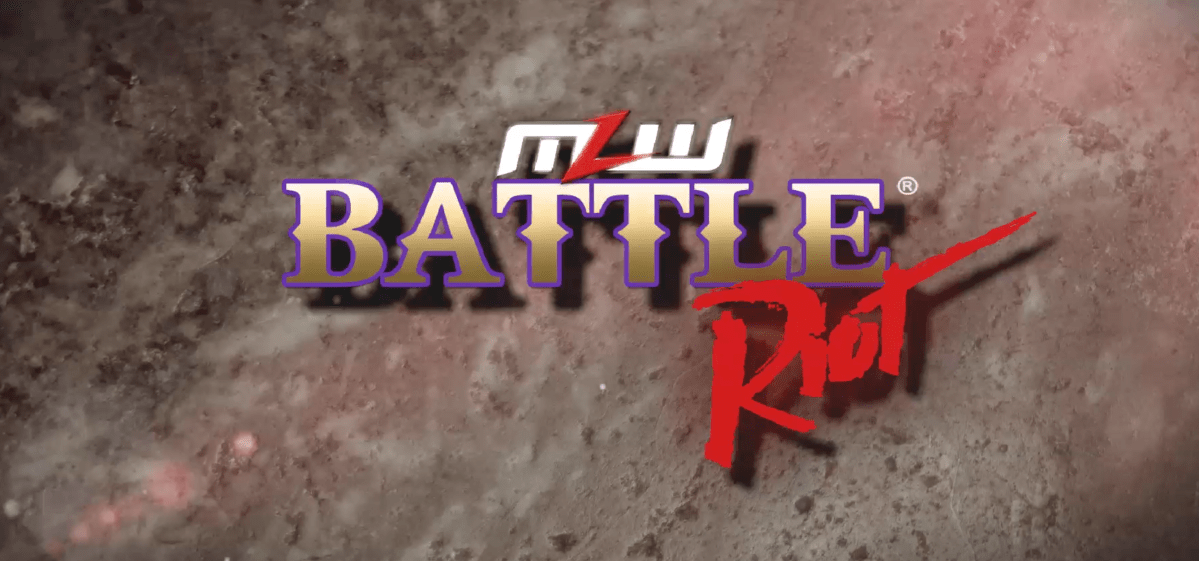 Well we had a new champion last week, and now we get MLW's first 2 hour special for Battle Riot. The Battle Riot is their Royal Rumble, with the only noticeable difference of, submissions can eliminate people.
This should be fun to see how MLW handles this first 2 hour show and we're given a surprised before any action in the ring happens. Tony Schiavone is joined by a different announcer, Matt Striker is joining Tony tonight.
So with an announce team upgrade and a big event feel, let's see what the show gives us.
Myron Reed vs Kotto Brazil
A lot of athletic back and forth that ends in a kip up stare down. But everything continues to go one for one until Reed hits a Springboard Seated Senton for a near fall, then a Scoop Slam for another near fall. Reed keeps up the offense into the corners before Kotto counters a splash attempt and hits a Wrecking Ball Dropkick for a quick 2.
Kotto applies an arm capture crossface that Reed needs to struggle out of, but then we see a few athletic maneuvers before both men crash into each other after dual Crossbody blocks. Myron gets caught across the middle rope which allows for multiple strikes sending Reed to the outside, and Kotto hits back to back Suicide Dives, tries a third, but Reed counters, sends Brazil to the outside and lands a Flying Hip Attack,
Springboard Uppercut gives Reed a near fall, but now it's time for Myron to put something together. Brazil gets sent into the corner, as he catches Myron's head, drives it into the middle turnbuckle and a German Suplex gives him a 2 count. Frog Splash attempt from Kotto is almost countered, but Kotto lands on his feet and applies a Trailer Hitch submission for a near submission victory.
Reed matrixes under a Kotto back springboard attempt, hits a Cutter for 2. 450 Splash attempt from Reed, lands on Brazil"s knees for a near fall for Brazil. Inside Out Stunner gave Reed an opening but Kotto pulls a Standing Sliced Bread out of nowhere for the victory.
Winner: Brazil via Stranding Sliced Bread
Rating: *** 1/4
Kaci Lennox is interviewing MJF, *insert smarmy crap and happiness for New York since he was born there*, ya MJF, is an incomplete acronym. Maxwell "Just Freaking Awful".
Kaci Lennox is backstage again, this time with Konnan talking about why he came out of retirement for Battle Riot.
Short trailer for LA Park coming to MLW
Kaci again (I love her), this time with Joey Ryan talking about his Middleweight title match against MJF. Adds a few funny moments about needing to cut weight so no more lollipops and no baby oil for this match.
More Kaci, this time with Team Filthy and the Battle Riot carousel pull. A little discussion about the match last week against Jimmy Havoc, but Tom Lawlor makes a funny excuse and pulls his number.
Inaugural MLW Middleweight Championship Match: MJF vs Joey Ryan
Joey does his thing, sharing the lollipop with a fan, oiling up, and then we go to commercial.
After the commercial the match starts and he immediately goes to the "touch it" spot. Full arm drag and twist from Joey, but countered by MJF, until Joey hits a kip up and does a reversal of his own. A lot of jawwing back and forth since they're both more known for characters than ring work. MJF hits a leaping through the middle rope Arm DDT and starts driving repeated knees into the arm. From there, MJF locks in an Armbar to keep working over the arm he already damaged.
MJF keeps yelling at the crowd and working on the arm, but Joey slides through with wrist control and hits a Wristclutch Exploder Suplex. A little back and forth until Joey catches MJF with a Spinebuster and gets a 2 count.
Arm Capture Side Slam gives MJF a 2 count, as the two competitors begin trading some slaps. MJF spits on Joey, ducks under the lariat, says wait and pokes him in the eye. Both men run into each other, and MJF falls face first into Joey's crotch. Then when they both get up, MJF tries an Inverted Atomic Drop and injures himself. Joey goes for the lollipop in the mouth spot, sticks it in MJF's mouth, uses the referee as a shield, pokes Ryan in the eye and then hits a Package Shoulderbreaker, all while keeping the lollipop in his mouth.
🍭That may have been slightly disgusting but it got the job done. @The_MJF is the new @MLW World Middleweight Champion! Whether the fans like it or not 👀 pic.twitter.com/mFR2QktLDl

— beIN SPORTS USA (@beINSPORTSUSA) July 28, 2018
Winner: MJF via Package Shoulderbreaker
Rating: **
Kaci Lennox with an in-ring interview asking MJF how he feels. He buries the crowd, but all I take from this, is I'm glad red is my favorite color anyway, cause with Kaci's outfit, it was gonna become my favorite color regardless.
Vanessa Craft now backstage with the Death Machines, but Sami Callihan sends her away and they make their picks.
Kaci Lennox with Swoggle, makes a WWE writer jab, but hey, more Kaci is a good thing.
Highlight package of the Bounty storyline, starting with Brody King, Sami's blind side attack and Low Ki's victory.
Vanessa Craft with Salina de la Renta and Low Ki. Vanessa looks scared as Salina announces a Black Friday Management and Promociones Dorado partnership. Low Ki with a nod to Gary Hart and original MLW. Salina ends the interview with the Iceman from Top Gun teeth chomp. 
40 Man Battle Riot Battle Royal
Out first, Pentagon Jr and second is Rey Fenix. Should be interesting with how hard they go after each other when there's a new entrant every 60 seconds. Also should be noted that Fenix and Pentagon are currently MLW Tag Team Champions.
Fenix shrugs and offers a hand shake, Pentagon takes it and kicks him as the two trade some sexy lucha moves and locomotion cradle attempts. Stereo High Kicks send both men to the mat as the third person is Brody King. King lays in immediate chops on both and then lariats into the corner, before the Lucha Bros start working together. Nice tandem cannonball/monkey flip from Fenix and Pentagon.
4th participant is Kenny Dykstra…no Doane…Kenny Doane, the other one is a lawsuit. Spirit Squad chant kicks up before dual Superkicks knock him down, and then King and Doane start working together. Number 5, Tom Lawlor, the best thing in MLW. Lawlor immediately goes after King and sinks in the rear naked choke, and submissions do eliminate people in this match. So Brody King is the first one eliminated from the Riot. Lance Anoa'i comes in 6th but runs into Fenix after only a small glimmer of offense.
Kenny tries to eliminate Pentagon as number 7, Rey Horus comes in. Horus goes after Doane, and then Pentagon grounds him with a Hammerlock -commercial break-
After the commercial Fenix almost eliminates himself as number 8, the Taskmaster Kevin Sullivan shows up with a golden railroad spike. Lawlor catches him in the Rear Naked Choke after Sullivan knock a few people down with right hands. Fallah Bahh is number 9, the Filipino big boi, tells Rey Horus "No, No No". Crossbody from Bahh flattens Horus. 10th entrant is Swoggle and he immediately bites Fallah"s butt and German Suplex Kenny and Fenix. Pentagon misses a kick and gets Suplexed. Lance Anoa'i ends the small Suplex City as Samu comes in at 11 headbutting everyone.
Samu goes to the corner to celebrate and Lance eliminates his dad. ACH is 12th and we just see a lot of strikes. Swoggle starts lighting up ACH before Pentagon kicks him. Konnan gets the unlucky number. Hasta la muerte despues! Rey Horus steps up as Konnan puts Horus in the Paradise lock,spins out of Lawlor's moves and goes for the Tequila Sunrise but ACH breaks it up.
Barrington Hughes comes in and him and Fallah Bahh have a belly bump as Swoggle tries to interfere but Lawlor chokes him out with a Guillotine. Jimmy Yuta is 15, and starts putting together some offense as Hughes takes out Lance, Kenny and Konnan. Fallah Bahh, Pentagon and Fenix wipe each other out as Kotto Brazil comes in to a significantly more empty ring.
.@Konnan5150 With an STO followed by the Tequila Sunrise!!#MLFusion#MLWBattleRiot@MLW #beINSPORTS pic.twitter.com/ZXeAnPxqP3

— Jocay 🇪🇨 (@Jocay19) July 28, 2018
Rey Horus tries to jump on Barrington, but Hughes tosses him into the corner and splashes the soul out of him. 17th is Richard Holiday. Holiday tries to avoid Hughes but Hughes goes after him. Fred Yehi flies in to try and help out fellow Team Filthy member and he and Lawlor murder Brazil. Jason Cade shows up at 19 while Yuta is still in the ring, and the bickering continues, but they all try to gang up on Barrington. Hughes drops Horus out and everyone except Tom Lawlor spills over the top trying to eliminate the big man.
Teddy Hart is 20, and he just does a Moonsault onto the group of people on the outside. So Teddy eliminates himself and doesn't care. -commercial break-
Vandal Ortugun is 21, starts trading strikes with Lawlor, but this isn't close. Armbar and Vandal taps. Mikey Mondo derps to the ring, Lawlor seems confused and insulted. Mikey keeps a whistle in his mouth to add comedic effect during the rear naked choke. FINALLY NOT A JOBBER! PCO is 23! Lawlor grabs a strike and tries a Fujiwara Armbar, into a Crossface but then transitions to ground and pound. LA Smooth at 24, another Samoan taking it to PCO. PCO levels Smooth with a Lariat and gets the 3 count. Simon Gotch trying to come in at 25 to help his teammate Tom Lawlor. The Team Filthy members gang up on PCO at 26 counts down and ends up being Homicide, Mr. 187. Homicide goes after PCO and Team Filthy just stands there and watches.
Davey Boy Jr is 27, and starts going after Gotch and Homicide. Lawlor interferes when the attention is on Gotch, but he starts taking on both Team Filthy members. Blue Meanie is the 28th guy, and does his Meanie dance in his bWo belly shirt. Meanie tries to make friends with Homicide, but Homicide kicks him and eliminates him while Team Filthy takes out PCO. Michael Patrick of the Dirty Blondes is next out, and he'll add some size to the people in the ring, but he's a tag team wrestler, so it's not likely he has a shot. Big number 30 is Sami Callihan. Sami eliminates Homicide immediately  and then allies with Michael Patrick to try and take out Gotch. An elbow and Enzuigiri save Gotch -commercial break-
Not this time @BlueMeanieBWO #MLFusion#MLWBattleRiot@MLW #beINSPORTS pic.twitter.com/gJYRLMTUqs

— Jocay 🇪🇨 (@Jocay19) July 28, 2018
Three quarters of the way through the participants, we come back from commercial to see Sawyer Fulton run in at 31, which means there are 2 Death Machines and 2 member of Team Filthy. The Death Machines go after Davey Boy Jr and they struggle to take out the baby bulldog. 32, the former champion, Shane 'Swerve' Strickland goes right after Callihan. The last Death Machine Leon Scott comes in at 33, and they focus Strickland and Davey Boy. They finally get out Smith, as Simon Gotch and Tom Lawlor try to take it to them. Drago enters in next, as starts kicking whoever is down and bites Callihan's foot. Leo Bryan, the other half of the Dirty Blondes is in there now as they take it to Gotch, and try weaken Team Filthy.
Even though he lost the Middleweight match, Joey Ryan manages to draw 36 and goes after Callihan. The other half of the Middleweight match MJF shows up next, and him and Ryan pick up where they left off. Team Filthy eliminates both Middleweight competitors. Jake Hager draws so late and it's a good position for him at 38. Hager eliminates Leon Scott as the other Death Machines try to eliminate Hager. John Hennigan is the next to last entrant as he flies in on Callihan. Hennigan eliminates Michael Patrick with a little rope-a-dope.
The last man to enter is Jimmy Havoc, and he goes right after Drago and dumps him over the top even after a missed Acid Rainmaker. Swerve Stomp on Leo, as he then gets tossed out even after Havoc takes Strickland's attention. Hennigan with a Small Package on Sawyer Fulton -commercial break-
In off the commercial Shane throws Havoc out,  Sami tries to eliminate Swerve, but he holds on and they fight on the apron. Piledriver onto the apron eliminates Swerve, Lawlor chokes out Callihan over the rope and he slinks off the apron. Hager takes out Hennigan, which leaves two Jake Hager and Tom Lawlor, number 38 versus number 5.
Thumbs up!👍
Thumbs down!👎@TheSamiCallihan #MLFusion#MLWBattleRiot@MLW #beINSPORTS pic.twitter.com/nZXpaDB9Fc

— Jocay 🇪🇨 (@Jocay19) July 28, 2018
Driving Spinebuster from Hager on to Lawlor as he takes him to the top turnbuckle following a near fall. Lawlor applies the Triangle Choke over the top turnbuckle, Hager turns it into a Powerbomb for a 2 count. Jake keeps trying to throw out Lawlor, Lawlor slips out and tries to eliminate the bigger man. Hager fights out and Lawlor hits a desperation German Suplex. Tom Lawlor looking for a 17th wind, as the two men start striking with uppercuts and forearms. Lawlor gets the best of the exchange with some kicks and quick rabbit punches, as he then starts a succession of mid kicks followed by a running Front Kick, for only 2.
Lawlor goes for the Rear Naked Choke as Hager keeps trying to toss Lawlor but slowly starts dropping. Hager rolls through the choke and applies an Ankle Lock as Lawlor tries to find a way out of it.  Lawlor goes to the ropes for leverage but falls down, as the crowd chants "Please Don't Tap". Tom starts biting his hand to not tap, and walks up the ropes to try and get leverage out of the  Ankle Lock. Lawlor manages to flip Hager out of the ring and land on the apron as Jake goes crashing to the floor. Lawlor goes in at 5 and now has a title shot whenever he chooses.
HISTORY HAS BEEN MADE!

Here is your #BattleRiot WINNER!@FilthyTomLawlor figured out a way after being in Hager's extremely painful ankle lock for more than 2 minutes! pic.twitter.com/y9E44jk0xb

— Major League Wrestling (@MLW) July 28, 2018
Winner: 'Flithy' Tom Lawlor
Rating: ***
Post match interview with Matt Striker and Tom Lawlor, gets across that Lawlor finally gets the guarantee he deserves and the L in MLW will stand for Major LAWLOR Wrestling.
Thoughts:
Now like I've gone over before, and recently in POD is War, Battle Royals, Royal Rumbles, I don't grade highly. It's more of an "entertaining" or "train wreck" kind of perception. Just too many moving pieces, too many obviously filler moments with jobbers and comedy that grading a Rumble the same way as a regular match really just isn't fair.
That being said, the show was pretty damn good. I don't care for Joey Ryan or MJF, so their shtick doesn't add to a match for me, so even though I wasn't a fan of it, it might resonate better with others. We do however see the right guy win the Battle Riot. Tom Lawlor really should be the face of the franchise, cause not only is he a legit fighter with his MMA background, he's extremely charismatic and a likable tweener.
Also purely biased point here, the more Kaci Lennox is on the screen, the happier I am. So if you keep her as the main interviewer, I will have less and less to complain about. MLW put on a damn good show, check out their YouTube channel over the weekend if you didn't see it live.
Mitchell's Women of Wrestling Results & Report! (2/8/19)
Tessa Blanchard wants to be champion but the champion wants revenge!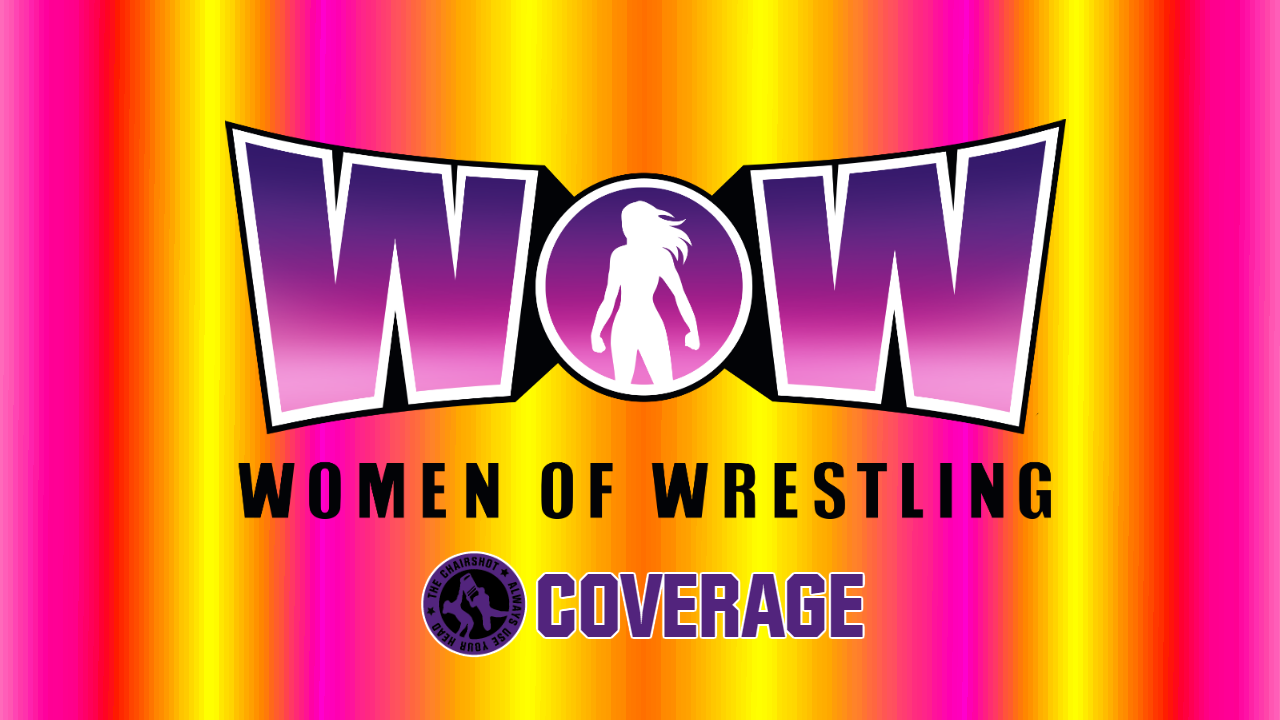 WOW World Champion Santana Garrett wants revenge while Tessa Blanchard wants that title. But Jungle Grrrl is also still in the mix, so who gets their shot?
OFFICIAL RESULTS
Amber O'Neal w/ Lana Star VS Eye Candy; O'Neal wins.
Jessie Jones VS Stephy Slays; Jones wins.
Holidead VS Azteca; Azteca wins.
WOW World Championship Triple Threat: Santana Garrett VS Jungle Grrrl VS Tessa Blanchard; wins and
PLAY BY PLAY
Previously on WOW…
Tessa Blanchard talked trash on Santana Garrett as she aimed for the Women of Wrestling World Championship. Santana told her to "get to the back of the line, girlfriend!" But then Tessa made things personal going after Papa Keny G.
And now…
David McLane stands in the ring with Santana Garrett again, and Santana says it's been three whole weeks. She wants Tessa in a match tonight! But instead of the Born Legend, she gets Jungle Grrrl! Tessa's attack not only angered and humiliated Santana, but it cost Jungle Grrrl a real victory over the WOW World Champion. Jungle Grrrl's back because while she understands the grudge against Tessa, Santana also has the greatest responsibility: defend the title. This won't be about Keny G ringside, this won't be about personal feelings, this will be about the gold around that waist! Santana needs to fairly defend that title against Jungle Grrrl, but Jungle Grrrl has never actually lost to Santana.
David agrees, Jungle Grrrl is still unpinned. But only now does Tessa appear! "Rules, rules, rules"! Tessa is sick and tired of this, but David tells her that if she starts any trouble again, she'll be fined and suspended! Tessa wants David to listen: she always gets what she wants! The Born Legend has already secured a spot in a title match. Not according to David. Then Tessa will just have to change his mind. David asks the fans about Tessa having a match. They want to see it! David can't deny the fans what they want, and Tessa says she gets what she wants, so everyone gets something great. Tessa's gonna earn the title, but Jungle Grrrl also deserves another shot. Santana's a fighting champion, so let's have a TRIPLE THREAT!! All three women compete for the title, who comes out THE WOW World Champion!?
Amber O'Neal and Lana Star hang out backstage.
The Beverly Hills Babe and her Fabulous friend take selfies and talk about being trending worldwide. But Lana wants Amber to understand something. Lana's the star and executive producer of WOW, while Amber's spending too much time in #Amberland. This is #Lanaland. But here's some direction: Amber's been loving the lifestyle, from the Lakers tickets to VIP buffet, and traveling the world. But there are new girls coming to WOW, so Amber needs to remind them all who she is. Amber needs to focus. She will, she's got this! But does she really?
Amber O'Neal w/ Lana Star VS Eye Candy!
Speaking of the new girls, the bubbly babe from the Big Apple is ready to take a bite out of the Women of Wrestling roster. But will her positive attitude and athletic skill be enough against the experienced veteran?
The bell rings and Amber does not take Candy seriously. They tie up and Amber wrenches the arm. She wristlocks but Candy rolls and slides under to trip Amber up! Candy jumps on to mess with her hair! Candy backs off and Amber is furious. Amber tells the referee to keep Candy back while she fixes her hair. Fans boo as Amber insists Candy cannot touch the hair or else that's a disqualification. The ref says it's not, and Amber argues it should be. But Candy rocks Amber with a forearm! Candy whips but Amber throws her down by her hair! Seems that hair rule is one way. Candy rolls Amber up, TWO! Candy keeps on Amber and gets a swinging neckbreaker! Then the senton! Cover, but Amber keeps a shoulder up.
Amber says her arm is hurt but Candy keeps on Amber. Amber jawbreakers back, and Candy staggers to the corner. The ref checks on Amber this time, so Lana goes after Candy in the corner! The referee sees Lana choking Candy, and reprimands her. Lana backs off but Amber is on Candy with a mudhole stomp. Amber drags Candy up and whips corner to corner, but Candy reverses. Candy runs in but into Amber's headscissors, for the "Queen City Stretch!" Amber lets go of her hanging headscissor hold at 4, to then SLAP Candy! Amber kicks and chokes Candy more, but lets up at 4. The ref reprimands Amber, Candy gets a takedown! High stack cover, TWO! Amber thrashes and hammers Candy down and fans boo and jeer.
Lana and Amber talk strategy in the corner while Candy gets to her feet. Amber whips but Candy reverses to a Russian Leg Sweep! Lana is annoyed as Candy and Amber stand. Amber runs but Candy dodges to rally with ax handles! Candy hits a hip attack, then goes up top. Amber stands but Lana anchors a foot. The referee gets Lana to stop, and Candy still missile dropkicks Amber down! Cover, TWO! Candy drags Amber up to a fireman's carry and hits a Death Valley Driver, aka the Sweet Treat! Cover, but Lana slides in! Candy lets off to stop her, then covers again, TWO! Lana's distraction saves Amber, but Candy swings on Lana. Candy turns around, SUPERKICK! Backslide cover, with a bridge! Amber wins!
Winner: Amber O'Neal, by pinfall
Amber gets a win with a lot of help from her manager. But that doesn't matter to either of them as Lana gets in the ring and grabs a mic. Lana says "We just won!" Give it up for the Beverly Hills Babe! Fans boo and jeer instead as Amber takes a bow. But Lana tells the locker room that Amber's streak has begun. The WOW World Championship will be back under Lana's control, via Amber. Clearly Candy can't make it in Lana's town. Lana goes on and on about everyone bowing to her, and then gloats how she saved Amber from mediocrity. Fans still boo as Lana rants on about the one top star in WOW is Lana Star. "Don't ever underestimate me!" Who will heed Lana's warning about getting in the Babe's way? Who will decide to shut Lana up instead?
Introducing: Stephy Slays.
"Growing up in Texas, you get judged really quickly for being different." Stephy's only difference was not having a father around. She got bullied and it affected her deeply. Stephy felt like a loser with nothing to live for. It was a cruel world growing up like that, and Stephy hit rock bottom. But her mom was friends with Sophia Lopez, and Sophia helped Stephy find a new possibility. Stephy had a life changing experience becoming a Woman of Wrestling, and now has friends as strong as family! Stephy trained with Selina Majors, who was a big help in her improving her skills. Selina is like a big sister to Stephy and the others, and that's why Stephy is so thankful. Stephy feels whole, and is ready to slay any challenge!
Backstage interview with Jessie Jones.
Jessie tells Brigiite Valdez the WOW fans already know who she is. And after what Jessie did to "Speedy Gonzales", fans also know Jessie is ready to do that to anyone, including Stephy Slays. Um, her opponent last week was named "Azteca". Yeah, that's what Jessie said. But it don't matter, Jessie's ready to beat the brakes off of any woman standing in her way.
Jessie Jones VS Stephy Slays!
Ms. Southern Pride may want to #MakeWrasslinGreatAgain, but it's her attitude that needs to be improved. However, Jessie's own mentor in Selina Major taught Stephy everything she knows, too. Which student of the original Ms. Southern Pride will win and move on step closer to the title?
The bell rings and the two circle. They tie up and Jessie wrenches Stephy, but Stephy reverses to a fireman's carry takedown! Stephy gets a headlock but Jessie powers out to a hammerlock. Stephy spins through and reverses but Jessie drives Stephy down to the mat. Jessie has the keylock cover, ONE as Stephy rolls up and around. Stephy reverses back to the hammerlock, but Jessie rolls to get control. Jessie sits down on Stephy but Stephy makes it a roll up, TWO! Stephy has a headlock but Jessie pries her way out. Jessie wrenches but Stephy wrenches back. Fans rally but Jessie pulls hair to whip Stephy. Stephy dodges and crucifix! TWO, but Stephy sweeps the legs! Cover, ONE, but fans are fired up as Stephy Oklahoma Rolls Jessie! TWO, and Jessie gets to a corner.
Stephy's right on Jessie with a monkey flip! Jessie staggers into Stephy's dropkick! Stephy whips Jessie corner to corner but Jessie slips out to hotshot the arm! Fans boo as Jessie storms over to drop a leg on the arm. Jessie pulls the arm back and mockingly claps with Stephy's hand. Stephy rolls Jessie again, TWO! Jessie grimaces as she whips Stephy to a corner. Jessie runs in but Stephy goes up and huricanranas Jessie down! Stephy dropkicks but Jessie ducks under! Jessie covers, TWO! Fans rally up for Stephy but Jessie drags her up to pull hair. Jessie reels Stephy in for shoulder after shoulder, then whips to run her over! Cover, TWO! Stephy's tough and Jessie grows frustrated.
Jessie drags Stephy back up and tells the fans to shut up. She whips but Stephy sunset flips! TWO and Jessie sits on Stephy, TWO! Stephy sunsets again, TWO, Jessie sits on her again, TWO! Another sunset, TWO, and the two separate. Fans love this close match-up as Jessie drags Stephy up. Jessie whips Stephy to a corner but runs into an elbow! Stephy hops up and leaps for a crossbody! Cover, TWO! Stephy's arm is hurting but Jessie's on it. Jessie whips but Stephy hits a lariat! Stephy starts rallying and kicks low, but Jessie slips out to rock her with a right. Jessie chicken wings to the Gory Special! Stephy pops out to sunset flip powerbomb! TWO and Jessie boots Stephy down!
Jessie goes after the bad arm at the ropes, then drags Stephy into the mounted armbar! Jessie twists the wrist and elbow, Stephy taps, Jessie wins!
Winner: Jessie Jones, by submission
Fans may not like it, but Jessie's still winning! Will Jessie truly Make Wrasslin' Great Again? Will Stephy ever get that first win on WOW TV?
Jessie grabs a mic and cuts the music to talk. "Y'know what? I'm sick of the disrespectful wannabe women wrestlers here at WOW." Jessie's forgotten more about this business than any of these women will ever even know! She's old school like that, and these girls will learn to respect her. Or else she'll beat it into them. Who else will Jessie beat on the way to the title?
Stephy Slays recovers in the locker room.
And after a crushing defeat like that, she even cries. Abilene comes by to mock Stephy's pain. Will she ever learn? She's in the big leagues now. Stephy is frustrated, but will she be able to snap back and finally slay this challenge?
Holidead VS Azteca!
A denizen of the Dark Side battles with the Sun Goddess in a return to WOW TV! As Jessie Jones rubbed in earlier, Azteca lost her WOW debut, but will she be able to turn it around against this Twisted Sister?
The bell rings and Holidead slithers up to Azteca. Azteca doesn't back down as she takes her warrior stance. Holidead and Azteca circle but Holidead backs off to take her time with her opponent. Both women try to psych the other out before approaching again. Holidead dodges Azteca to lick her fingers. They approach and Azteca still takes the tie up. They go for a test of strength, but Holidead kicks low. Holidead throws Azteca but Azteca lands on her feet, only for Holidead to knee low again. Holidead whips but Azteca arm-drags! Azteca spins and flips to arm-drag Holidead again! She kicks and whips but Holidead reverses, only for Azteca to go up! Azteca leaps for a flying huricanrana! Fans fire up with Azteca while Holidead backs off again.
Azteca CHOPS Holidead on the ropes then whips but Holidead holds the ropes. Azteca knees low and tries again, but Holidead reverses the whip. Holidead tilt-o-whirls Azteca to a backbreaker! Fans cheer as Holidead drags Azteca to a cover. ONE, but Holidead puts Azteca on the ropes. Holidead chokes and stomps Azteca and fans boo. She whips Azteca corner to corner hard! Holidead drags Azteca up and whips her again, then gets her with another backbreaker! Azteca writhes while Holidead laughs. Holidead covers, TWO! Holidead is upset but the referee tells her it was fair. She returns to Azteca for stomps and a whip. Azteca dodges and hits back with forearms! Holidead ducks the next shot to pick Azteca up and ram her into buckles! Holidead forearms Azteca in the back!
Azteca is stuck on the ropes as Holidead hits a corner splash! Cover, TWO! Holidead grins as she drags Azteca around. Fans rally but Holidead puts Azteca in a Queen Angelito stretch. Azteca endures and crawls for ropes, and gets the ropebreak! Holidead lets go at 4, and kicks a corner in frustration. Azteca gasps for air but manages to CHOP Holidead back! Holidead clubs Azteca then puts her in a corner. She whips corner to corner but Azteca elbows her away. Azteca leaps but Holidead catches her for another backbreaker! Holidead taunts the pain and covers, TWO! Holidead stomps Azteca but fans still rally for her. Azteca is down while Holidead climbs a corner. Azteca catches Holidead with a knee! Now Azteca joins Holidead, SUPER STEINER!
Both women are down but fans fire up! Azteca and Holidead stir as the ref starts a standing count. Azteca gets up first but Holidead follows. Holidead runs in but Azteca dodges to fire off strikes! Azteca buzzsaw kicks and covers! TWO!! Azteca grits her teeth because she can't believe Holidead lives. But she fires herself back up as she drags Holidead to her feet. Holidead fights back with body shots and a shove. Fireman's carry to a toss! Cover, TWO! Azteca lives and Holidead can't believe it. Holidead wants to finish Azteca and gets chicken wings. Azteca resists and powers out to kick low, sunset flip powerbomb! Cover, Azteca wins!
Winner: Azteca, by pinfall
The Sun Goddess pulls out her Destroyer outta nowhere! And now she has her first win in WOW! But wait, the lights go out, and the Voodoo Doll, Siren, appears! Siren targets Holidead, but then roundhouses Azteca! Siren smiles at Holidead, then disappears! Is Azteca going to be Siren's first sacrifice?
WOW World Championship Triple Threat: Santana Garrett VS Jungle Grrrl VS Tessa Blanchard!
The Wonder Woman of Wrestling won this very title in a Triple Threat involving former champion Jungle Grrrl, but because she pinned former friend Amber O'Neal. Now Santana finds herself on the other side of this scenario where she doesn't need to be pinned to lose her title. Will Jungle Grrrl reclaim the title she was never pinned for? Or will the Born Legend get what she wants by beating two great competitors at once?
Introductions are made, the belt is raised, and streamers even fly! The bell rings and while Tessa and Santana stare down, Jungle Grrrl gets in between them. She wants them to understand this isn't their grudge match, it's all of their match. Tessa takes this as Jungle Grrrl having a problem with her, too, but then Santana gets both of their attention. Things speed up as Santana dodges both opponents, only for both of them to run her over. Tessa and JG tells the other to stay out of the way, but they both end up picking Santana up. Santana uses that to acrobatically arm-drag them both! Tessa ends up out of the ring so she and JG finally have some alone time.
Santana and JG tie up, and Santana gets a waistlock. JG reels out and whips but Santana goes up and over. Santana arm-drags JG around, then wrenches her to a modified stretch. JG fights out and whips again, but Tessa trips Santana up. Tessa drags Santana out to throw her into a post! JG is ready for Tessa and they go around. Tessa rolls JG but JG rolls through to tackle Tessa down! JG gets Tessa with a back suplex! Tessa scrambles to a corner but JG keeps Santana out first. JG whips Tessa corner to corner then runs in but misses. Tessa rocks JG with a hard right! Tessa puts JG on the top rope just to kick her legs out! JG is stuck, draping code breaker! Cover, TWO! JG lives but Tessa's right on her with a wrench and hammerlock. JG slips out, scoops and slams Tessa!
Santana returns and rallies on both opponents! Santana Russian Leg Sweeps JG, then kicks Tessa's feet out for a running boot! She whips Tessa at JG in the corner, then corner to corner handspring back elbows! Fans fire up as Santana hits double bulldogs! Santana then gets DOUBLE Last Chancery! Both opponents endure but they both crawl, too. They each get the ropebreak! Santana lets go and JG gets to an apron. Santana drags Tessa up but Tessa spins and hammerlocks, but Santana pushes away to SUPERKICK! Tessa bails out but JG climbs. Santana stops her with a SLAP! And then goes for a Super Steiner, but JG denies it! Tessa cutters Santana outta nowhere! But JG gets Tessa with a German Suplex! But Santana SUPERKICKS JG!
Santana goes after Tessa again but Tessa blocks Eat DaFeet to roll Santana up! TWO, and Santana reels Tessa in to make her Eat DaFeet! But JG climbs again as Santana hits the "Supernatural" handspring moonsault! JG hits her Jungle Splash! Double cover?! That's a three-count, but for who?! Both Santana and JG think they won, but the ref is just as confused! The rest of the officials come in to discuss. JG and Santana want an answer as much as we do, but we're running out of TV time! Will the referees and David McLane settle this controversy before the next episode?
---
My Thoughts:
A pretty good episode, but I'm just not sure about the choices for matches. Amber VS Candy was good, though Lana Star was getting way too involved without getting ejected. The story is clear, Lana is just using Amber and then takes all the credit, but her talking to the ref as often as she was even before going after Candy's foot or getting in the ring was just weakening Amber. Amber needs to look stronger than this if she's supposed to be the new champion Lana can live vicariously through. Lana should be less active than this to make that work. Jessie Jones fortunately toned down how political she was this week, but I'm disappointed they didn't play to the link that is Selina Major between her and Stephy.
The development with Siren is interesting, but it also seemed very obvious in presentation. Of course Siren doesn't attack Holidead, their gimmicks pretty much go together. And making the note that Sophia Lopez promises to bring more lucha libre to WOW, I have a feeling I know what this means. Kobra Moon of Lucha Underground, who is also Thunder Rosa, Holidead's tag partner in Twisted Sisterz, has been spotted in the promotional material for WOW. Kobra coming to WOW to be a Face alongside Azteca makes some sense if Siren and Holidead work together from now on. Plus, this gives WOW more tag teams to give them reason to bring back their WOW World Tag Team Championships. It would be even better if the Twisted Sisterz formed up in WOW to be those inaugural champions.
My only problem is that including so much takes away from what should've been the biggest match of the night. The Triple Threat WOW World Championship match should've been half of this episode to really let all three women shine. The story they gave us in only 10 minutes was fine, but imagine these three going for even 15. I did like the choice of ending to keeps them all strong. A double cover keeps this match from really ending, and I hope we get a longer version of this match on a later episode. And should we get that rematch, I feel Tessa would be able to win, especially if The Beast attacks Jungle Grrrl. Beast VS Jungle Grrrl still needs to happen on the side given the tease from the season premiere, so it'd be natural if Beast interfered in a longer version of the Triple Threat.
My Score: 8.2/10
Mitchell's Women of Wrestling Results & Report! (2/1/19)
What does Tessa Blanchard say about her actions since coming to WOW?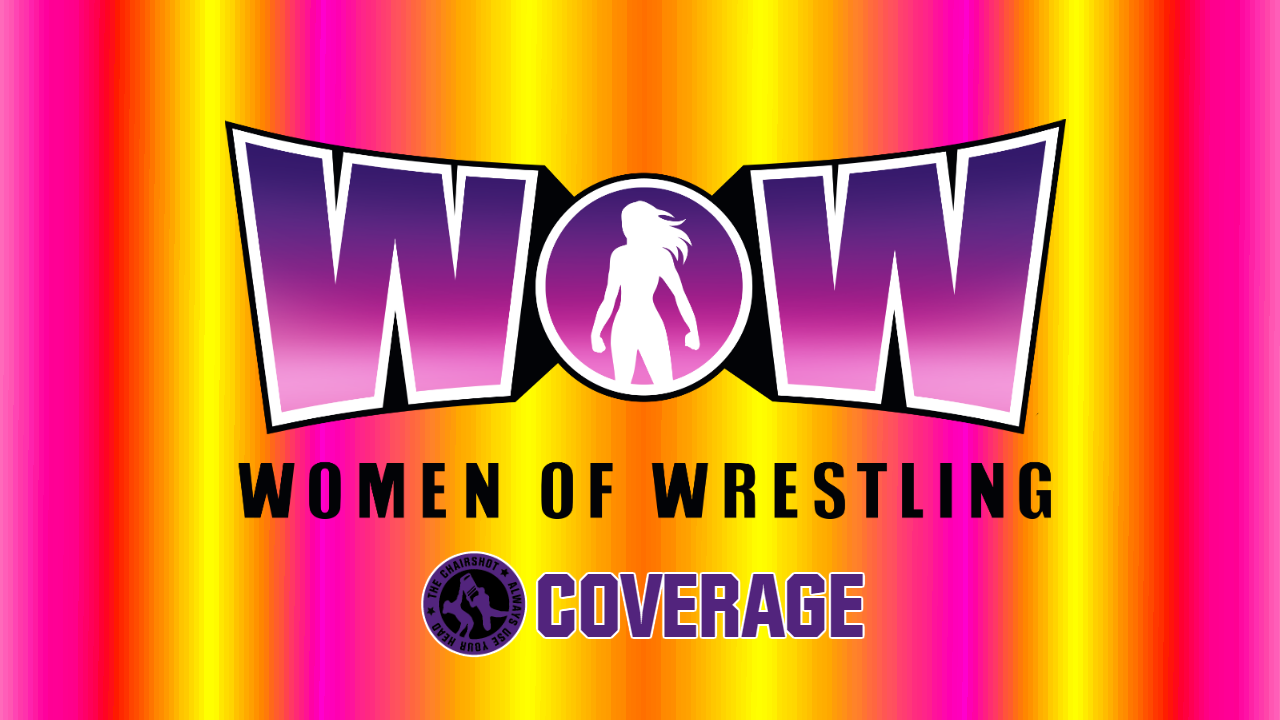 WOW matchmakers want Tessa Blanchard to earn her title shot, but will she give them much of a choice? Will she force their hands with another furious brawl?
OFFICIAL RESULTS
The Beast VS Faith the Lioness; The Beast wins.
Fire VS The Disciplinarian w/ Samantha Smart; Fire wins.
Fury w/ Razor VS Chantilly Chella; Fury wins.
Khloe Hurtz VS Abilene Maverick; Hurtz wins.
PLAY BY PLAY
Previously on WOW…
The Born Legend, Tessa Blanchard, continues to talk smack to Santana Garrett. She vows the title will be hers. But she also made sure no one else would take it from Santana before her when she went after Papa Keny G! It was all to distract Santana from her match with Jungle Grrrl, and it worked! Santana is furious and wants a match with Tessa, but WOW matchmaker David McLane insists Tessa earn it. Tessa beat the Beverly Hills Babe, Amber O'Neal, and demanded her shot right then and there. Santana came out, to give Tessa some payback! The third-generation Woman of Wrestling will give us an exclusive interview, but what will she have to say about Santana, the title, and her own actions?
Meanwhile, in the Lioness's Den.
WOW talent and aspiring rap artist is in the studio working on her bars, Faith Lioness is the youngest member of the roster at just 19 years old. She's been dancing and rapping since she was little as an outlet for her natural spastic energy. Faith raps on her own theme song, "We Just Flex", and expresses her true self through it all. She knew she wasn't going to be a college graduate, so she shifted her focus to wrestling and other martial arts. Faith got her black belt in Taekwondo at 17, and then shifted to pro-wrestling. Being the Lioness is about overcoming and attacking, but also about the hunger for more. Will the Lioness make all the other Women of Wrestling her prey?
The Beast VS Faith the Lioness!
The Lioness may want to be the Queen of the Jungle, but she's got an Alpha Female to deal with right out of the gate! Will Faith be able to flex on The Beast? Or will her pride be broken in her AXS TV debut?
Fans are fired up after Faith's live performance of her theme, but The Beast is just angry. The bell rings and Beast goes right at Faith! They tie up fast and hard and Faith gets a wristlock. Faith shifts to a headlock takeover but Beast powers out with a headscissor. Beast squeezes but Faith pops out. The two go again and Faith gets another headlock takeover! Beast gets up and powers out, and the two collide with shoulders. To everyone's surprise, Faith doesn't fall. Faith gets serious now and she builds up speed. She dodges and whips Beast, but Beast blasts her down! Beast drags Lioness up by her mane and puts on a headlock. Faith tries to power out but Beast holds on. Faith manages to get free but Beast runs her over! But then Faith kips up! Beast can't believe it!
Things speed up now and Beast SPEARS Faith! Fans are divided between cheers and jeers as Beast drags Faith up again. Beast throws haymakers then whips, and she scoops Faith in a powerslam! Cover, TWO! Faith survives but Beast kicks her around now. Beast has Faith in a corner and whips her corner to corner for a big clothesline! Beast grabs Faith for a belly2belly! But Beast doesn't cover, she wants to make Faith suffer. Beast kicks Faith to a corner and grinds in her boot. The ref counts and Beast backs off to argue with him. Beast runs back in but Faith dodges! Things speed up, Faith leaps but Beast catches her! Another powerslam! Beast grins as she drags Faith back up. Faith resists and breaks free, enziguri! Beast stays standing, but gets a spinning roundhouse! Cover, ONE!!
Beast gets mad now, and drags Faith into a powerbomb lift. Beast Bomb! Cover, Beast wins!
Winner: The Beast, by pinfall
The Alpha Female is dominant as ever, but she didn't expect this from The Lioness. Beast grabs a mic to tell David McLane that he keeps lining them up, and she keeps knocking them down. "Because I'm the biggest. I'm the baddest! I am THE BEAST!" The Beast roars, but how long will she have to wait for a shot at the WOW World Championship?
Introducing: Samantha Smart & The Disciplinarian.
Per her ring name, Kristen Davidson is ready to deal out some discipline to the unruly Women of Wrestling. Ms. Smart heard about a little girl who plays with fire, and that is not smart. Will these two teach young Ms. Keira Hogan a tough lesson? Or will they be the ones who learn not to play with Fire?
Fire VS The Disciplinarian w/ Samantha Smart!
Everyone knows that if you play with fire, you're bound to get burned. But will Fire burn too hot for these strict school teachers? Or will she be put in detention for expressing herself?
The bell rings and Fire circles with Davidson. Fans are on Fire's side, which gets on the nerves of Team Discipline. The two tie up and Davidson shoves Fire to a corner. She eggs Fire on and the two tie up again. Davidson shoves Fire again but Fire gets back up. Fire ducks and runs to crossbody Davidson down! Cover, TWO! Fire keeps going with a headlock takeover and she grinds Davidson down. Fans fire up for Fire but Davidson powers out. They speed up and Davidson runs Fire over. Davidson runs but Fire ducks and dropkicks her down! Fire fires herself up and runs, but is put on the apron for a hotshot! She tumbles back in, Davidson covers, TWO! Davidson grows frustrated and she bumps Fire off buckles.
Davidson grinds her boots into Fire but lets up at 4. She tells everyone to hush but fans boo instead. Davidson drags Fire back in, covers, TWO! Davidson clubs Fire back down then taunts her. Fans rally up as Davidson whips corner to corner hard! Fire hits the mat but drags herself up. Samantha uses the ruler to get a cheap shot on Fire! Then Davidson comes back to club Fire down. Davidson laughs as she soaks up the heat. But Fire comes back with a knee! Then a snapmare and kick! Fire runs to dropkick Davidson down! Cover, TWO! Fire keeps going but Davidson boots her right down. Davidson drags Fire to thrash her against the mat. She stops at 4 but fans don't give up on Fire. Davidson suplexes and slams Fire down, then double stomps the back! Cover, TWO! Fire still lives and Davidson is furious!
Samantha Smart tells the fans to shut up while Davidson wraps Fire in a chinlock. Davidson shifts to an arm bow 'n' arrow, but the fans still rally for Fire. Fire endures and powers up, and then fights out with forearms! Fire starts to rally with elbows! Then she snapmares and SUPERKICKS Davidson! Fire aims from a corner, runs and hits a big clothesline! Then a hip attack! Then side to side for the dropkick wash! Samantha panics as Fire covers, TWO! Fire was so close but Davidson survives. Davidson throat chops Fire then runs, but Fire kicks out legs, runs, and bulldogs Davidson down! Cover, TWO!! Another close call and Samantha is shocked Fire is pushing Davidson like this. Davidson stands but Fire smashes in the corner. Fire whips but Davidson reverses, only to catch Fire going up and over.
Davidson drags Fire out in the Gory Special, and makes it a neckbreaker drop! Cover, TWO!! Fire survives and fans are at a fever pitch for the young underdog. Davidson is beside herself as she drags Fire up into the fireman's carry. But Fire slips out to a sunset flip, Fire wins!!
Winner: Fire, by pinfall
What a shocking upset! Fire burns The Disciplinarian for a big win, and David McLane joins her in the ring to celebrate. He praises Fire for giving it all up for her dream, and now fans are behind her. How does she feel? #OnFire! Will this new WOW sensation be a future WOW World Champion?
Backstage interview with The Psycho Sisters.
Well, actually, just Razor. She doesn't want the WOW interviewers messing up Fury's preparations for her match tonight. The Vanguard of Violence tells the Women of Wrestling to prepare for the storm that's coming. Razor vows that The Psycho Sisters will have gold soon enough, and "the first rung on the ladder is Chantilly Chella." The Dancing Queen knows how to party, sure, but it won't help her against the onslaught. Are you ready for the chaos?
Fury w/ Razor VS Chantilly Chella!
The Psycho Sisters plan to run roughshod over the Women of Wrestling roster, but will the Daughter of Darkness make good on her AXS TV debut? Or will the Dancing Queen be partying it up in LA after a successful return to a WOW ring?
The bell rings and Chella is all pumped up. Fury doesn't take her serious as the two circle. Chella gives Fury a peace sign but Fury slaps it away. Chella offers a handshake now, but Fury gets a takedown and rains down rights! Fury backs off and Chella gets to a corner, but Fury squashes her with a corner clothesline! Fury whips Chella corner to corner but Chella goes up and over to arm-drag! Chella arm-drags Fury more, then dropkicks her right down! Fans fire up with Chella as she gives a swift kick! Chella goes up top but Fury feigns injury to distract the ref while Razor pushes Chella down! Razor gets away with it and Fury grabs Chella at the ropes. Fury chokes Chella, then whips and forearms her. Fury whips and forearms again, then whips for a knee. She snapmares Chella for a running knee! Cover, TWO!
Fury goes after Chella's arm but Chella resists. Fury shifts to a neck wrench and half straitjacket now. Fans boo as Razor talks trash. Chella endures so Fury shifts to bring her up. Chella hits back, then runs, but into a tilt-o-whirl backbreaker! Cover, TWO! Fury keeps on Chella in a corner and tosses her across the way! Fury throws her again, then stalks Chella to the corner. She throws Chella right into the post! Fury climbs up and grinds a boot into the back! She stops at 4 but then Razor digs her nails into Chella's scalp! Fury drags Chella out to drop her on her face, then covers, TWO! Chella survives but Fury keeps her cool. Chella fights back but Fury whips, only for Chella to sunset flip! TWO, and Chella runs into a full nelson! Fury bumps Chella off buckles then CHOPS her back into the corner!
Fury takes a moment to brag, but she walks into Chella's boot! Chella runs out for a tilt-o-whirl headscissors! Chella fires up and kicks away on Fury. She front kicks, and sweeps the legs! Fans fire up with Chella and Razor freaks out. Chella drops meteora knees! Cover, TWO! Chella pumps up again while Fury gets to a corner. Chella hits a corner shining wizard! She throws Fury out then climbs up top, flying crossbody! Cover, TWO! Fury survives and Chella grows frustrated. But Chella gets up and aims at Fury. Fury ducks the roundhouse, ripcord to SPINEBUSTER! Cover, TWO!! Chella gasps as she gets to a corner while Fury walks over. Chella roundhouses Fury down! Cover, but Razar creates a ropebreak! Fans boo but Razor gets away with another one.
Chella gets up but Fury knees her low. Fury underhooks, "Hell Hath No Fury!" Butterfly sit-down buster! Cover, Fury wins!
Winner: Fury, by pinfall
Fury won but Razor wants her own piece of Chella! Razor rains down rights and then Fury drags Chella up to throw her out! Will The Psycho Sisters rule over WOW as a dominant tag team?
WOW Media interviews Tessa Blanchard.
Can she explain herself about her attack of Keny G? Tessa makes sure we all understand something: she doesn't care about Santana Garrett, she only cares about the WOW World Championship. The only reason Tessa is even bothering with Santana is because she is WOW World Champion. Maybe Tessa went too far going after Santana's father, but if she didn't, Jungle Grrrl would have definitely won and become the new champion. So yeah, Tessa's the only reason Jungle Grrrl missed out on the title, because Tessa snapped. But Tessa's glad she snapped and slapped Keny G around. Now she has Santana's attention, she has David McLane's attention, and the attention of the entire world!
Santana told Tessa to get in line. Tessa did, but she made her way right to the front of that line, and Santana can't stop her. Tessa's coming for the WOW World Championship, but will she take it?
Khloe Hurtz VS Abilene Maverick!
There's a lot of drama between these two stars of WOW. First came a misunderstanding over limousines. Then came a ice cream based wardrobe malfunction. Then the Governor's Daughter caught the All Natural with her man, Preston, and threw her into a pool! But Khloe only flirted with Preston to get on Abilene's nerves. Abilene retaliated with pies, but she added further insult in a special "Ring Rats Match". If Abilene won, Khloe's usual horde of hunks would be replaced by handpicked "Texas" Ring Rats. And when Abilene won, she made sure Khloe's men were some good ol' boys from around town. Khloe would get her real Rats back, but she still wants revenge! Will she get satisfaction or more frustration?
Abilene and Khloe talk trash the moment they're both in the ring, and the referee tries to keep the peace. Abilene pushes Khloe, so Khloe shoves Abilene! The ref quickly rings the bell as the two rush each other! Khloe gets around to a waistlock but Abilene resists the toss. Abilene elbows but Khloe keeps hold. Khloe slams Abilene then grinds her face into the mat! Khloe backs off long enough to put Abilene in a headscissors. She slams Abilene into the mat then covers, TWO! Abilene gets Khloe back with a facelock and brings Khloe to the mat. They roll around but Abilene holds on. She wrenches back and drags Khloe up for big knees. Khloe manages to roll Abilene to a cradle! TWO, but Khloe fireman's carry. She does some squats, then hits the Samoan Drop! Khloe drops the splits leg drop and covers, TWO!
Khloe stalks Abilene to a corner but Abilene throws her into buckles! Abilene drags Khloe up by her hair then runs corner to corner to bump her off buckles. Abilene grinds Khloe into the ropes! The ref counts and Abilene lets up at 4 to bump Khloe again. Abilene rams her shoulder into Khloe, then runs corner to corner for a big knee. Khloe gasps as Abilene mule kicks and rolls Khloe, basement dropkick! Cover, TWO! Abilene keeps her cool while Khloe crawls. Abilene runs in corner to corner again, but into Khloe's elbow! Khloe hops up and leaps for a big crossbody! Cover, TWO!! Khloe grows frustrated but she keeps on Abilene, only to end up in a victory roll! ONE, and Abilene hurries to bring Khloe back up. Abilene snapmares into a knee smash, then she throws body shots before throwing Khloe right down.
Khloe checks her teeth while Abilene stalks her. Abilene stomps the hand! Then the ankle! Then smashes the knee! Abilene is picking apart the All Natural, then puts her on the ropes for big knees. Abilene yanks her off the ropes and then places her under them, for a springboard knee drop! Khloe sputters onto the apron but Abilene drags her back in. Khloe jawbreakers back, then kicks low. Scissor Kick! Cover, TWO!! Abilene survives and Khloe can't believe it. Khloe drags Abilene back up for a clubbing forearm. She hops up again but Abilene hits her back. Abilene snapmares Khloe off the top, then covers, TWO! Abilene comes close to a temper tantrum but she keeps her composure. She kicks Khloe around then snapmares her again. Abilene drags Khloe around and smashes the knee again. Abilene turns Khloe over for the Boston Crab!
Khloe endures and her Ring Rats try to help her reach the ropes. But Abilene drags Khloe away! Khloe keeps crawling and the Ring Rats help get that ropebreak! Abilene lets go while the Ring Rats show concern. Abilene drags Khloe away from them, and then whips Khloe to a corner. She runs corner to corner but into Khloe's boot. Khloe hops up, has Abilene, tornado DDT! Cover, Khloe wins!
Winner: Khloe Hurtz, by pinfall
The All Natural gets the tiebreaker in this increasingly personal feud! Will Khloe keep ahead of the Governor's Daughter in the race towards the WOW World Championship?
---
My Thoughts:
This was a good episode, but not as good as the previous ones. It was essentially the mid to upper-mid card getting some spotlight while building the title story through promos. Tessa Blanchard is great in the ring, but her interview promo could've been better. It started out alright, but it felt like somewhere in the middle her words got in the way of her message. Also, I was expecting an actual interview in a room, but it seems WOW went the paparazzi route instead. Perhaps that had a part to play in it, with Tessa having to say it all in one take, but it seemed like her lines concerning Jungle Grrrl weren't quite right. And in connection to that, The Beast is still undefeated, despite young Faith giving her a good match. I'd expect Jungle Grrrl VS Tessa, Beast gets involved to bring about Jungle Grrrl VS Beast.
Fire supposedly had her parents in the crowd, but the cameras never going to them killed the kayfabe for that moment. Fire winning in front of her family should've added to the inspirational heartwarming feeling of her victory, but again, the kayfabe wasn't maintained. I don't know if WOW will ever create a micard title but Fire could be a contender for such a thing if this push continues. For that matter, the WOW World Tag Team Championships might want to return if The Psycho Sisters are going to be a tag team. Fury and Chella did well, and of course Razor being ringside helps Fury win. Razor wants gold, so she and Fury should insist on the WOW tag titles returning.
Then the main event of Khloe VS Abilene was not main event material to me, even with the story of their grudge being explained. The action just didn't capture what that grudge was, so it was a rather weak ending to the night. Khloe wins and has the lead in their series, but I suspect these two are far from through with each other. Hopefully they improve in the ring, though, or this will be just too weak a story to be a main event match again.
My Score: 7.9/10