Andrew's MLW Fusion Ratings & Review: 7/20/2018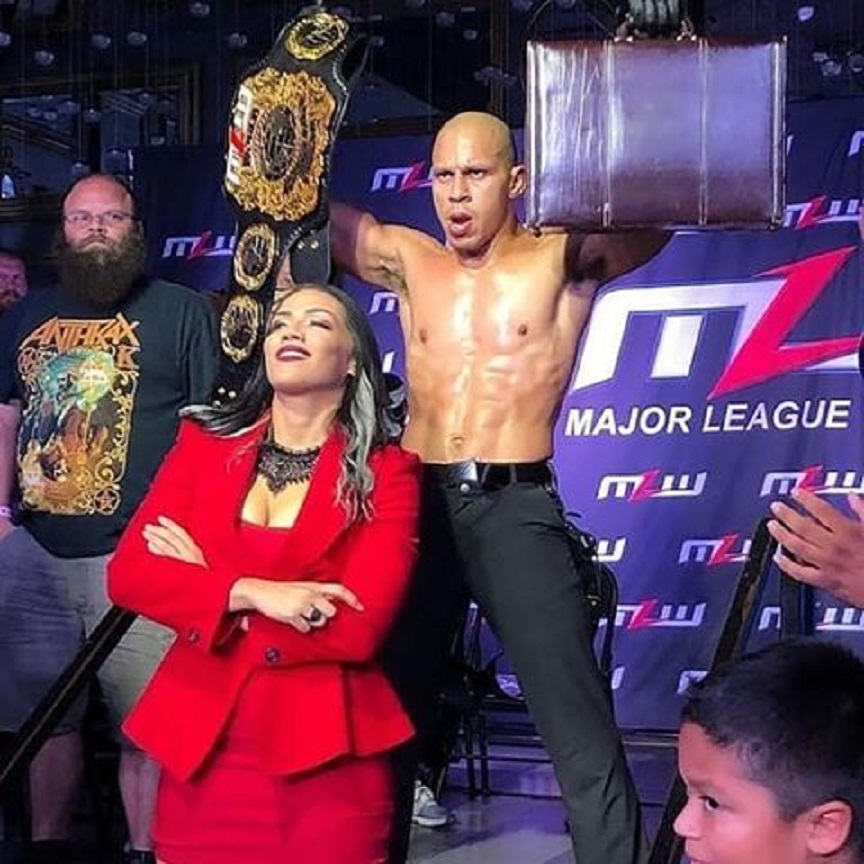 Well last week we had my favorite episode of MLW Fusion recently. This one however, promises to pay off some storylines so we can mostly clean the slate going into Battle Riot.
Low Ki looks to get a championship and $60,000 dollars in this episode, which would also make Salina de la Renta happy. While the other story that comes to a head is Jimmy Havoc finally getting his hands on Tom Lawlor, and if Lawlor can maintain his number 1 status in the MLW Top 10.
Time to find out what happens.
Kiki Roberts vs Kahuna Khan
The "prospects" or jobbers square off and as soon as they shake hands, the lights go red and Su Yung's music hits. Thank God, we get Zeda Zhang and Su Yung beating the hell out of this dumb looking jobbers.
Zeda and Su make another statement, and I really enjoy the fact that they attack men, and completely destroy them. Apparently going by Kodokushi Death Squad and I'm not even mad. Death by beautiful Asian women seems good to me.
Winner: N/A
Rating: N/A
Stud Stable seen in the back, Parrow and the Dirty Blondes try to intimidate Fred Yehi until Tom Lawlor and Simon Gotch show up. They hand Yehi a Team Filthy hoodie, the guys shake on it and Gotch asks for Yehi's mask as trade. Seems like Yehi has joined the team.
Off the commercial they show Shane Strickland showing up to the building for his match with Low Ki.
Then we get a summary preview of the Jimmy Havoc/Tom Lawlor storyline
Grudge Fight: Tom Lawlor vs Jimmy Havoc
After a little banter, Havoc clocks Lawlor with a forearm that sends him to the outside, followed by a Suicide Dive. Havoc throws a few chairs in the ring and the two men trade strikes amongst the crowd.
Havoc grabs a piece of plywood, a few more weapons and even finds a cheese grater. Lawlor gets the better of the exchange, and takes the cheese grater to Havoc's forehead. Lawlor puts Havoc's arm through a chair and applies a Double Wristlock, which Jimmy only breaks by clawing at Lawlor's eyes.
Jimmy then finds a stapler and tries to use it, but Filthy Tom reverses that too. The more Havoc tries to introduce different weapons, they more they get used against him as Lawlor staples a brochure to Havoc's head. But as they move back into the ring, Lawlor catches the grater to the balls.
After piling up a few chairs, Jimmy tries the Acid Rainmaker, but misses and Lawlor counters with a German Suplex onto the previously mentioned chairs. Filthy leads the plywood in the corner and tries to put Havoc in a position. Jimmy fights it off, gets put in a Sleeper Hold, but manages to grab the paper from earlier and give Lawlor paper cuts to break the hold.
Now since he sufficiently sliced open Tom's hands, he gets some lemons and squirts lemon juice into the cut. Next new toy is a pizza cutter that gets used against Havoc, but all in all this match is just a collection of spots with weapons and no real flow. Both men are cut open as Lawlor hits a sideslam onto chairs, but before he can finish things Havoc hits the Acid Rainmaker out of nowhere.
The match ends abruptly and could be due to Havoc seemingly getting cut bad. The plywood was never a factor and the match was generally just spots and spectacle.
Winner: Havoc via Acid Rainmaker
Rating: ** 1/4
Coming off the commercial, Sami Callihan reveals that he's the one that attacked Shane Strickland. He's sick of just making friends he wants to make money and doesn't like what Shane has become.
Kotto Brazil, Barrington Hughes and Shane Strickland are caught back stage reacting to Callihan's reveal. Shane has an idea, and they all walk off to discuss battle plans.
Low Ki seen warming up for his match, as Salina de la Renta approaches him to remind him about the 60,000 ways she has to insure Shane loses.
$60,000 Bounty MLW Heavyweight Championship Match: Low Ki vs Shane Strickland (c)
Low Ki mockingly starts a Swerve chant and smiles big at Strickland. After about a minute of smack talk and posturing, Low Ki slaps Swerve and Strickland returns a multitude of strikes.
Strickland catches a punch into an Arm Drag, transitioning into an Arm Breaker as he then pulls him by the suspenders and throws him in the corner. After a few more strikes from Strickland, Low Ki manages to get in a few strikes and begins working over Shane in the corner. A Scoop Slam and few strikes allow Low Ki to give a cocky cover, that only gets 1. But working over the champion with headbutts, kicks, chops and elbows continues. It's been a solid 3 minutes of Low Ki lighting up Strickland like the dummy from 3 Ninjas.
The Champ @StricklandShane manhandling @OneWorldWarrior early in the match! #MLWFusion pic.twitter.com/9LD02vv3Ki

— Major League Wrestling (@MLW) July 13, 2018
The referee applies the standing 10 count, and Swerve gets up by 6, but Low Ki keeps the hits coming. Swerve tries to get space by dropping Low Ki onto the apron, but Low Ki ties him up with a Dragon Sleeper through the ropes, followed by a Springboard kick. Ki drops his guard for a bit as the referee gives the standing 10 count again, so Shane pops up and starts landing a barrage of strikes.
Low Ki counters some of the momentum with the roll through Double Foot Stomp into a near fall. Continuing to get a little cocky Ki grabs Strickland through the ropes, but Strickland tosses him to the outside. Handstand Headscissors Takeover from the apron to the floor from Swerve, might finally give him the first real opportunity to put in offense.
Strickland tears Low Ki's shirt, lays in some strikes and then moves to the corner to reign down punches. Strickland executes a very nice Half and Half Release Suplex for only 2. Shane catapults Low Ki into the corner, but Ki lands on the middle turnbuckle and jumps backwards to nail Strickland with a Double Stomp for a near fall.
Rolling Cutter attempt 1 gets countered, but a different angle Rolling Cutter gets Swerve a 2 count. Shane goes to the top, attempts Swerve Stomp but misses and continues to sell his right knee. Low Ki lands a shot to the back of Shane's head, measures the champion and ends the match with the Switchblade kick.
New champion, and $60,000 richer, Low Ki.
Winner: Low Ki via Switchblade Kick
Rating: *** 3/4
Thoughts:
Well this saw a fairly convincing end to both of the storylines that were leading into it. Havoc got his revenge on Lawlor and regardless of if I liked the match or not, there will be people that enjoyed the spectacle. As for Low Ki versus Shane, it was hurt a bit by the fact that crowd was generally silent. Schiavone and Boccini tried to say they were just tense because of the high stakes of the match. But making less noise than a Japanese crowd really doesn't translate well on TV. But either way, still not a bad show, it just had a different feel than all the others.
Either way, we have a new champion, an immediate feud for the former champion to give him some space to breathe and Battle Riot to look forward to next week. I believe they said a 2 Hour Special, so that's already a positive indication for MLW that BeinSports is giving them an extra hour only 3 months into the shows run.