Andrew's MLW Fusion Results & Ratings: 7/6/2018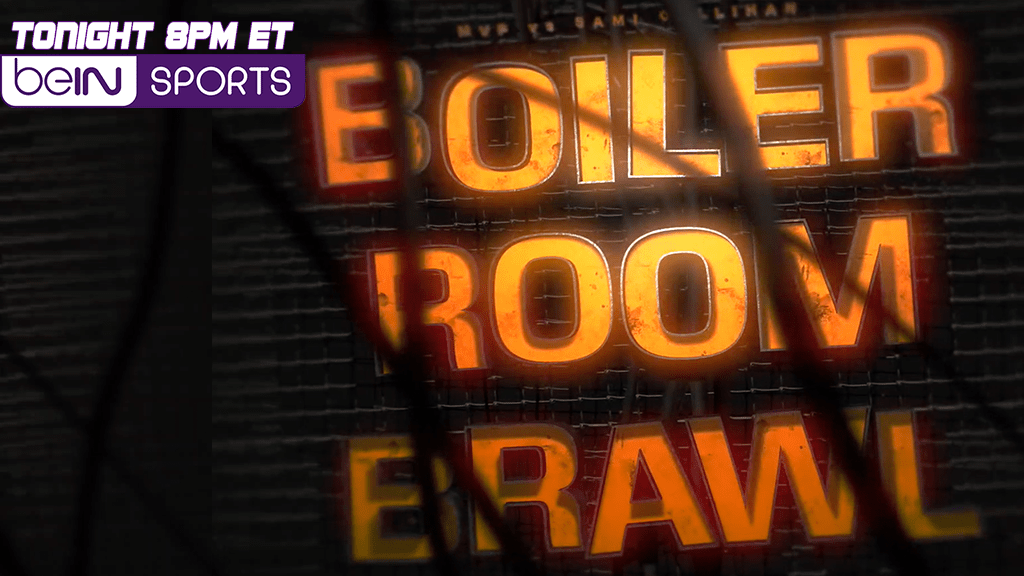 Well if you've been keeping up with the show, you know what tonight is! MLW Fusion, brings us the first Boiler Room Brawl in roughly 20 years.
Yeah…I'm not too sure about it either. There's mostly a reason why it's taken 20 years to do another one, but hey, maybe this one will be better?
The show begins with a review of the MVP and Sami Callihan feud that's been building.
Tom Lawlor & Simon Gotch vs ACH & Rich Swann
Gotch and Swann start off with Gotch taking him down and working a wristlock. Swann does numerous kip-ups to counter it into an arm drag. Nice arm drag counter by Swann using the ropes to Springboard back and hit a dropkick as the legal participants switch.
ACH tries to keep Lawlor grounded, but that's not gonna work. Lawlor with a few big knee strikes into the corner and then a chop. Lawlor takes the seated Inoki position and after some playing, ACH kicks him in the face and gets a quick 2. ACH gets caught in a triangle choke getting cute, as it then transitions to a Cross Armbar. ACH rolls it into a position for him to stand up and break the submission and turn it into a suplex.
Both men tag out, at the Dirty Blondes show up at ringside and start jaw jacking with Team Filthy. ACH and Swann take the opportunity to just dive on both teams, as Jake Hager sneaks up through the crowd to attack Tom Lawlor, since he's affiliated with the Dirty Blondes as part of Col. Parker's Stud Stable.
Back in the ring, Gotch is served up to take the finish. ACH Brainbuster followed by Swann's Frogsplash put the match away.
Flying into the weekend like… @MLW #MLWFusion pic.twitter.com/rYAfJWIsKN

— beIN SPORTS USA (@beINSPORTSUSA) July 7, 2018
Winner: Swann via Frogsplash
Rating: ** 1/4
Vanessa Craft finds Salina de la Renta in the  back, interrupts her phone call to inquire about the bounties, but Salina brushes her off in an amusing way.
Back from the commercial break we see Col. Parker and Jake Hager giving a warning and brief explanation on why they did what they did.
More participants announced for the Battle Riot
Salina de la Renta hot tub promo, with what sounds like her dropping Sammy Guevera from Promociones Dorado
Tom Lawlor and Jake Hager announced for next week's main event, followed by a Kaci Lennox interview with Team Filthy. Solid promo, putting Lawlor over and a nice insinuation about the horse definition of 'putting out to stud'.
Low Ki vs Ricky Martinez
Low Ki flies at Martinez immediately after the bell. Lays him, begins pummeling him from the ground, into the corner, then back in the middle of the ring. Very deliberate chops and a choke in the corner keep everything looking up Low Ki. Shotgun Dropkick onto Martinez, as Low Ki then puts him between the ropes and tears at his face.
Finally puts the victim away with his Switchblade.
Winner: Low Ki via Switchblade
Rating: N/A
Low Ki interview from Vanessa Craft discussing the Bounty and raising it from 20,000 to 60,000 dollars.
Barrington Hughes quick promo
Shane Strcikland black and white promo about Salina de la Renta and the bounty.
Top 10 Promo:
🔝 See who's leading the @MLW Top 10 for July 👀 #MLWFusion pic.twitter.com/j2r0X4tnHM

— beIN SPORTS USA (@beINSPORTSUSA) July 7, 2018
Boiler Room Brawl: Sami Callihan vs MVP
Callihan throws the ref in first and then MVP shows himself. MVP smashes Callihan's face into the chain length and smashes the door against his arm repeatedly. Callihan tries to get out of the way and force MVP into the ductwork, but MVP catches him with a bucket. Sami manages to use the door to daze MVP and get out of the Boiler Room, but MVP stares him down in the hallway.
Leon Scott tries to interfere, but gets laid out and Sami goes searching for MVP> MVP tackles him against the tables as Sawyer Fulton shows up to try and interfere, but then Fulton gets taken care of while Sami tries to flee.
Callihan finally manages some offense, but it's short lived as MVP kicks him in the head and then throws him through a doorway, leading to the crowd/ring area. MVP finds a broom and beats the hell out of Callihan and starts choking him. Sami gouges at the eyes to get a reprieve, and then uses a chair to get some momentum. MVP stays resilient though and reverses an Irish Whip to send Sami flying into a bunch of chairs.
MVP breaks a bottle over Callihan's head and then hits some Misawa style elbows. Sami hits MVP with a bottle and then a trash can, as he then postures for the crowd. Callihan slides MVP into the ring, brings in a chair and keeps his momentum rolling. Callihan tries to Piledriver MVP onto the chair, but MVP counters and hits a Playmaker on the chair, but Sami kicks out.
A charging MVP tries to end things, but Callihan throws a chair at his face for a near fall. Sami goes and finds a baseball bat just to be met with a Spear from MVP. Death Machines interfere again, as Callihan hits a low blow, baseball bat shot to MVP's face and then a Cranial Contusion for only 2. MVP defiantly spits at him, to eat one more bat shot for the pinfall victory.
When you haven't done your share of the chores and the rest of the household is fed up pic.twitter.com/iOlvBFMTtM

— beIN SPORTS USA (@beINSPORTSUSA) July 7, 2018
Winner: Callihan via Baseball Bat strike
Rating: * 1/2
Well in the immortal words of Jim Cornette, " Holy Shit, Fuck Almighty". That Boiler Room Brawl was hokey, spotty and just bad. Leon Scott and Sawyer Fulton got mostly handled outside of view of the camera, we just got to see the wreckage, and in general it felt like a SyFy level horror movie.
This is amplified from the fact that the whole show felt like it was building to this big main event. With only one real match prior to the main event (Low Ki's extended squash is not a match), and a lot of interviews, promos and backstage segments, this needed to pay off. So sadly, the focus being so heavily put on this brawl, just accentuated the short comings of this show.
Which kinda sucks, since the promos were really good. Salina's tremendous on the mic, and they even showed a little more of her sexiness with the hot tub scene and the Stud Stable drama was nicely explained. So if the main event was better, this would've been a solid show for building the brand and storylines.