How The Brock Lesnar UFC Return Could Influence WWE Universal Championship Reign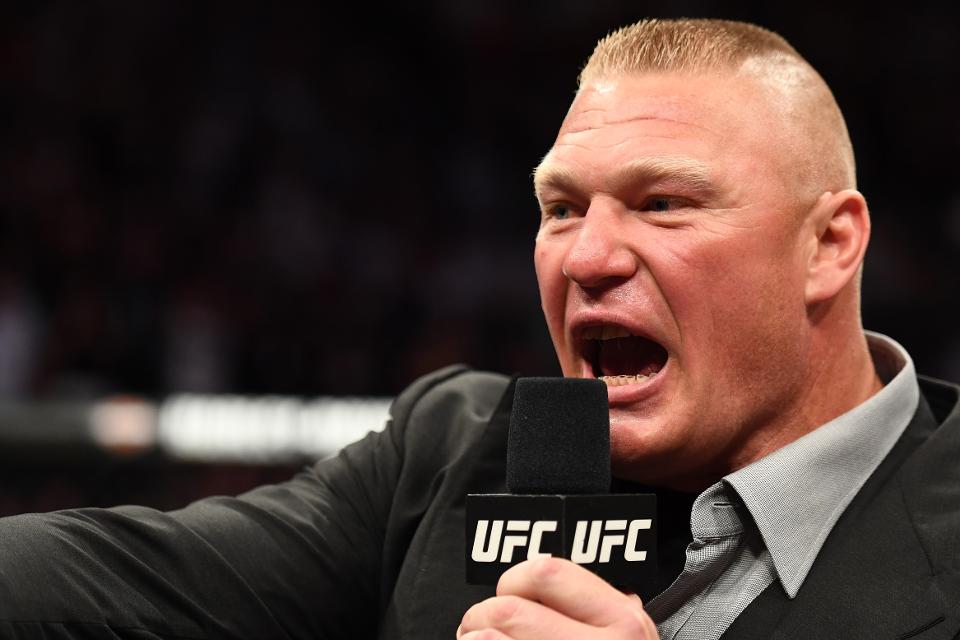 At UFC 226 last weekend, Brock Lesnar made a surprise return to the promotion and in a scene reminiscent of Monday Night Raw, challenged new heavyweight champion Daniel Cormier. Though we had heard rumblings that Lesnar's new WWE contract included a clause that would allow him to return to UFC competition, it was a true shock to me on Sunday morning to see the headlines and video of Brock's reemergence. While this may be the shot in the arm the UFC needs right now, it begs to question what implications this will have on his current WWE commitments.
You might not remember, and who could blame you, but Brock Lesnar is the reigning WWE Universal Champion.
In my mind, the ruckus at UFC 226 puts two potential WWE scenarios in play.
The first is the simplest, safest, and perhaps the best for all involved.  This scenario would simply involve Lesnar dropping the Universal Title at SummerSlam (challenger TBA) and taking a long sabbatical as he prepares for his UFC return.  Dana White all but confirmed Saturday night that a Cormier/Lesnar match WILL take place.  Lesnar has been confirmed to have reentered the USADA testing pool, allowing him to complete the remainder of his suspension from a failed drug test prior to UFC 200, and a potential showdown with Cormier for the heavyweight championship could take place as early as late December or early January.  Allowing for a 6-12 week training camp for Lesnar to prepare for the fight, the timing would seem right to have him work SummerSlam in August, drop the title, take some time off to heal and recharge the batteries, and begin UFC training in October or November. It would make for a clean break for Lesnar and the WWE on good terms, with the obvious potential for a future return. As for the present, Lesnar moves on, WWE can move on (with a full time Universal Champion to boot), done and done!
Scenario B gets a bit more complicated. Without getting to heavily involved in the how, the end result of this scenario would ideally conclude with Brock Lesnar carrying the Universal Title all the way into next year's WrestleMania, with the hope that he also walks into MetLife Stadium as the UFC Heavyweight Champion as well. There are already reports out there that Vince McMahon and WWE are very interested in this potential prospect. Granted, there is an allure to the visual of seeing Lesnar walk down the ramp at the biggest show of the year with both the WWE Universal and UFC Heavyweight championship belts over his shoulder. However, there are a few big red flags with going in this direction.
For starters, regardless if Brock Lesnar works SummerSlam or not, going in this direction would all but guarantee that Lesnar would not again defend the Universal Championship until WrestleMania 35, perhaps Royal Rumble 2019 at the absolute earliest. He would obviously need that time from September to late December/early January to train for his UFC fight. You'd have to assume all WWE engagements would be off the table at that point. So if Lesnar leaves (or simply remains) that title holder after SummerSlam, there would be no top title on RAW for the entire fall and majority of the winter. That's nearly seven months! We know Lesnar has been an absentee champion, but surely over half a year without a champion to promote would be too much even for Vince, right?
Additionally, we can't forget about the biggest variable in this scenario- the UFC fight itself. Lesnar might beat Cormier; Cormier might also beat Lesnar. Each outcome comes with its own set of issues.
First let's look at what the ramifications if Brock Lesnar walks into his UFC fight as Universal Champion and loses. If that happens, the preceding seven months are a total waste. The lack of a visible champion, the lack of a Universal Title defense on any major show, etc. All done in the hopes of having a "dual champion" at Mania, now up in smoke. Plus, what effect would it have on Brock's drawing power? Would there be much interest, both from traditional wrestling fans and the casual viewer that Mania draws in each year, in watching a guy in a "fixed" fight for entertainment sake when he just lost a real, legitimate contest just two months prior? And if the end game was for Brock to ultimately drop the title anyway, why take the risk? Why not have him drop it early, while his name is hot again and it will make newsfeeds across the sports and entertainment realm, rather than take the chance of him dropping it much later when no one cares anymore?
Now, what if Brock Lesnar were to win the UFC Heavyweight Championship? The scenario becomes even more problematic in my opinion! You have to assume that the WWE and UFC have some sort of working relationship and an understanding of what both parties are wanting to gain from Lesnar's participation in their promotion. You would also have to assume there are a few strings attached on both sides. So WHAT IF Lesnar wins the UFC Heavyweight Title at the start of the year. He rolls into Mania as a dual champion. Do you really think the UFC, a legit fighting company, would be keen on the idea of their champion losing a "fake" match to a wrestler/entertainer? I don't think so! Now I am taking nothing away from any WWE performer or the wrestling business itself, but I don't think anyone could argue that it would do the UFC no favors to have their Heavyweight Champion get "pinned" in front of a multi-million member audience and then also promote him as the baddest man in the fighting game.
Would Dana White have the stroke with Vince to tell him he will not allow Lesnar to lose in WWE while he is the reigning UFC Champion? Would Vince even entertain that? Would the WWE be at the mercy of Lesnar's UFC career and be forced to keep him as the Universal Champion until he dropped the UFC title first? Would Brock even agree to wrestle anymore if he wins the UFC title, for fear of injury? It's a fascinating rabbit hole to go down.
In the end, all things considered, I think SummerSlam is the right place and time for Brock Lesnar to drop the Universal Title. At this point, I don't even care who he drops it to. While the idea of a crossover champion is interesting, it offers way too many potential obstacles to overcome and chances to have to take. If Vince wants to do what's "best for business," it's time to put the Lesnar Era to bed and move on.