Chairshot Classics: WCW Halloween Havoc 1990 – Terror Rules The Ring!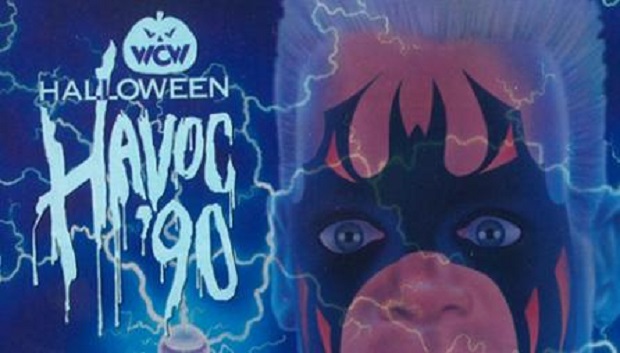 In The Arena: Tony Schiavone is standing by with The Four Horsemen. Double A tells Doom to be all the man they can be. Flair explains that they will be watching Sid Vicious take the world title off of Sting after he and Anderson win the tag titles.
Match #3 for the NWA United States Tag Team Championships: NWA United States Tag Team Champions The Steiner Brothers (Rick & Scott) vs. The Nasty Boys (Brian Knobs & Jerry Sags)
Both teams immediately brawl before the bell rings. Rick rolls out of the ring with Knobs while Scott exchanges blows with Sags. Sags reverses a whip into the guard rail and he hits Scott with a chair. He rolls Scott back into the ring and seats him on the top turnbuckle. Scott reverses a superplex attempt, instead sending Sags flying with a belly to belly suplex from the top. Knobs breaks up a pin attempt. Rick follows him into the ring and delivers a right. Knobs stumbles out of the ring and there finally appears to be some order. Scott and Sags exchange strikes. Scott ducks a clothesline.
He stops short of Sags' back body drop and lifts the big man with a double under hook suplex. Rick once again knocks an interfering Knobs out of the ring. Rick climbs to the top turnbuckle. Scott lifts Sags on his shoulders for their patented raised bulldog. The crowd pops, but Knobs is already back in the ring wielding a chair. He hits Scott and covers him despite not being the legal man. The uncertain referee counts anyway and gets two. Side slam by Knobs who stays right on Scott with stomps and rights. Knobs continues the offense with a power slam and he gets two and a half. Scott is dumped through the middle rope to the floor and Sags leaps off the apron with a knee to his head.
The legal men are back in the ring and Sags drops Steiner with a pump handle slam. This is followed up with a Side salto slam, and Rick must break up the pin. Knobs changes out with Sags once again despite a lack of tag. Knobs locks in an abdominal stretch on Scott while he screams across the ring, taunting Rick. The older brother has seen enough of the illegal double team work and he rushes in to break the hold. Sags grabs younger brother in a bear hug, focusing on the lower back. Steiner musters enough energy to break with a belly to belly suplex. Knobs runs in but he is cut off by Rick Steiner's Steinerline. Rick goes for a 2nd but Knobs moves and the Steiner flies over the top rope to the floor.
The referee is outside redirecting Rick while the Nasty Boys set up a double teamed spike piledriver on Scott. The referee gets into with Knobs while Rick re-enters the ring and delivers a chair shot on Sags. Scott Steiner and Sags are slow to get up. Sags stumbles and misses a clothesline, instead receiving a belly to back suplex. He is able to make his tag first and Knobs cuts off Scott from making his. Knobs goes back to work on Scott's lower back with a bear hug much like the one his partner previously applied. Scott tries to break it up with a right, but Knobs drives him to the turnbuckle. Irish whip by Knobs and Scott is able to get his big boot up. Scott tries to crawl over to his brother, but he is caught by the ankle. Sags runs in for some cheap shots.
The referee corrals a protesting Rick and the Nasty Boys make another illegal change. Sags is busted open from the chair shot and he applies a Boston crab submission hold. Scott uses his leg strength to flip Sags over, but cannot make the tag before Knobs cuts him off. Knobs locks in a camel clutch. Scott screams that he will not give up. Scott uses his strength to stand up on his feet with the large Knobs on his back and he falls backwards to break the hold. Knobs makes the tag and holds Scott in place so Sags can get to him before his tag is made. Sags drives Scott's face into the mat with his knee. Scott fights back and delivers an atomic drop but he's spent. Sags brings Scott to his corner and tags in Knobs. Scott is sent with an Irish whip.
The Nasty Boys attempt an assisted splash but Scott moves. He comes out of the corner and hits Sags with a Steinerline. The crowd is hot for Rick to be tagged in. He's able to get there and the place erupts. The Dog Faced Gremlin abuses the Nastys and bashes their heads together. He hits Knobs with a belly to belly suplex but the pin is broken up by Sags' elbow. Scott is back to help his brother and he delivers rights to Sags in the corner. He only gets to 3 before Sags dumps him over the top rope and out to the floor. Sags blindsides Rick with a knee. Rick is dumped through the middle rope to the floor but he's quick to get up. The Nasty Boys don't see Rick climbing the top rope behind them and they turn around into a double Steinerline from the turnbuckle.
The 3 men return to their feet, and the double team is too much for Rick. Knobs and Sags exit the ring to double team Scott with a slam. They send Rick for the ride setting up a double team clothesline, but Scott grabs both of their ankles tripping them both. He pulls Sags out of the ring and drives him into the post. Huge Steinerline by Rick on Knobs as Scott climbs back into the ring. They motion to the crowd and Scott sends Knobs to the ropes. He executes the Frankensteiner and the champs retain.
Winners and STILL NWA United States Tag Team Champions: Steiner Brothers (Scott/Frankensteiner)
After The Bell: The irate Nasty Boys attack the celebrating Steiners, hitting them with their belts. Rick is sent into the ring post several times before the Nasty Boys seemingly retreat to the locker room. Scott Steiner stops to answer questions from Schiavone but he's attacked by someone dressed as a concession stand worker. It's Sags, and the Nasty Boys beat him down.
EA's Take: The six matches on this show feature three inductees to the WWE Hall of Fame class of 2016 (Sting, The Fabulous Freebirds, Stan Hansen) and this match featured two teams who should eventually go in. We'll see if Scott Steiner's abrasive attitude and big mouth keeps them out longer than they should be. A lot of people tend to forget just how innovative Rick and Scott were during this era, and the crowd was completely behind them. I enjoyed this because it was almost like a glimpse into the WWF of the future!
Match #4 for the NWA World Tag Team Championships: NWA World Tag Team Champions Doom (Ron Simmons & Butch Reed) w/Theodore R. Long vs. 'Nature Boy' Ric Flair & 'The Enforcer' Arn Anderson
Anderson and Simmons get the match started. Simmons powers Anderson down several times and double A steps back to contemplate his strategy. Collar and elbow tie up, Anderson shoves Simmons to the ropes and dishes out shoulder blocks to the midsection. Simmons ducks a right and Arn tumbles to the apron. Vertical suplex by Simmons to bring Anderson back in the ring. Arn rolls out and checks in with Flair. He makes his way back to the ring and ties up with Simmons again. Side headlock applied by Simmons. Flair takes a cheap shot from apron and The Enforcer hits a suplex before taunting to the crowd. He doesn't realize how quickly Simmons returned to his feet and the Doom member unloads on him.
Powerslam by Simmons and Flair breaks up the pin attempt. Randy Anderson is tied up with Butch Reed and the Horsemen double team Simmons. Simmons fights out of it and lands a double clothesline. Flair has words with Long on the outside and chases him into the ring. Long slaps Flair in the face and he is clearly offended. Butch Reed is tagged in after the commotion is sorted out. Anderson opts to tag in Flair and the crowd lets out their "WOOOs". Flair strikes Reed with some rights and kicks. Flair delivers a chop that wakes up Reed who fights back and delivers a gorilla press. Anderson rushes to his aid and finds himself on the receiving end of another gorilla press. Flair stops the momentum for a second with an eye rake, but Reed is full of quick strikes. Flair baits Reed into the corner, but his chops are doing nothing.
Flair turns around to tag Anderson after a flurry of punches but falls on his face before he can get there. Flair flies up and over the turnbuckle on an Irish whip, runs into the cameraman and runs straight into Ron Simmons. Simmons kicks Flair down on the entrance ramp. Flair tries a chop but the undeterred Simmons stalks him down the ramp. Simmons throws Flair back into the ring and he is able to tag Double-A. A whip to the ropes and a big knee comes from Butch Reed. Tag is made to Simmons and Doom hits Anderson with a double clothesline. Anderson is sent for the ride again, but Anderson counters with an elbow. While the referee is tied up, Flair charges in and drops a knee. Anderson stays in control for a moment before tagging The Nature Boy in. he chops Simmons down to size and makes a quick tag back to Anderson.
Arn delivers a patented spinebuster. Simmons is able to kick out of the lateral press and Flair is tagged back in. He goes to work on Simmons' knee and another quick tag is made to Anderson. He keeps with the theme and hits elevated stomps on the knee. Yet another quick tag is made back to Flair and he doesn't let up on the leg. Belly to back suplex by Flair and he locks in the figure four. He uses Anderson for extra leverage. Butch Reed protests and Anderson takes a few stomps while the ref's back is turned. Simmons is able to reverse the hold but Flair is close enough to make the tag. Arn continues to work on the leg, dropping the knee and applying various submissions.
Simmons is able to land a shot to the mid section and fight back. He sends Anderson for the ride, but Arn stops short of a drop kick.. Anderson makes the cover and gets two. They get into a test of strength situation but Arn cannot get a 3 count. He leaps up on his hands to drop a knee of Simmons but Ron catches him with one first. Flair is tagged back in and cannot take Simmons down with a chop and football tag. He is able to prevent a tag to Butch Reed. Reed is incensed and Simmons is dumped to the floor. Flair attempts to drive Simmons head first into the railing. Simmons blocks it and instead does the same to Flair. Simmons pulls himself up to the apron.
He lands a sunset flip on Anderson, but doesn't realize Arn tagged Flair on the way down. Flair comes in and rakes the eyes. Flair sends Simmons for the ride. Simmons ducks a chop and returns with a leaping clothesline. Flair is first to crawl to his side and make a tag. Simmons stops short on a whip and lands a facebuster. Anderson makes a tag but so does Simmons. Reed comes in and cleans house. Flair is victim of a drop kick and a shoulder block. Anderson breaks up the pin and Simmons takes exception to that. Reed and Flair roll out of the ring while the others do battle inside. Flair is knocked out by the security railing and Reed heads for the top rope.
Anderson tries to get Simmons up for a piledriver but instead meets Reed's flying shoulder tackle. Flair gets back to the ring just in time to break up a pin. Simmons hits an upper cut and Flair goes up and over the top rope. Anderson reverses a scoop slam into a DDT. Simmons breaks up that pin with an ax handle to the back of the head. Flair is back in the ring and Anderson gets his shoulder up at two. All four men brawl. Flair sends Reed for the ride but Reed comes back with a clothesline. Simmons and Anderson tumble back to the floor. Flair and Reed give chase to help their respective partners and they all brawl on the floor. Referee Randy Anderson counts to 10 and the match is over.
Winners: Double Count-Out
EA's Take: Arn Anderson is one of the best tag team specialists of all-time, while Ric Flair had one of the most prolific singles careers. That being said, I always enjoyed them as a tag team. They were best of friends, but sort of an odd couple. Arn was the definition of blue collar while Flair was the limousine riding, jet flying, arrogant kook. I had to rewind and watch the spot where Flair fell on his face before making the tag three times because I was laughing so hard. It was an entertaining match and the finish keeps everyone protected.