Chairshot Classics: WCW SuperBrawl – Return From The Rising Sun (1991)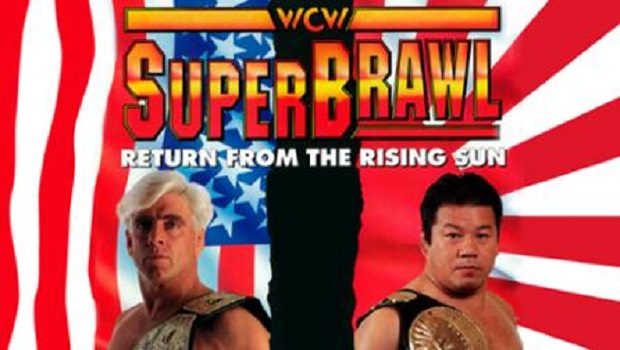 The tables have turned for the fans regarding Ric Flair as he's now defending America and his WCW World Title when he takes on NWA World Heavweight Champion Tatsumi Fujinami! Following the WCW/New Japan Supershow, the WCW World Title situation was unusual. Fujinami had defeated Flair in the Tokyo Dome for the NWA Title, recognized as a separate championship from the WCW Title in Japan. Of course in America, the WCW and NWA Title were one in the same. What?!?! So now it's title-for-title tonight, but if you're an American it's only being promoted as for the WCW Title!
Match #1 for the Vacant WCW United States Tag Team Championships: The Young Pistols (Tracy Smothers & Steve Armstrong) vs. The Fabulous Freebirds (Michael 'P.S.' Hayes & Jimmy 'Jam' Garvin) w/'Diamond' Dallas Page & Big Daddy Dink
Hayes and Armstrong start the action. They tie up and Armstrong goes over with an arm drag. Hayes taunts and gets caught from behind with a cradle and a two count. Hayes reacts to the crowd who are behind the Pistols. Hayes chops Armstrong and dumps him outside. The Birds try to double team him on the floor but Steve hits everyone with clotheslines, including Dink. Back to the ring they tie up. Side headlock by Armstrong. They run the ropes and Steve is tripped by Dink. Hayes goes on offense with some right forearms. Brad Armstrong appears at ringside to even the score from Dink's interference. The referee ejects Big Daddy from ringside. It's Smothers and Garvin's turn.
Knees to the gut by Jimmy and a tag is made to Hayes. Smothers sneaks out and runs to his corner. He tries a double clothesline. Garvin moves and Hayes is dumped outside. Armstrong takes care of Garvin and the Birds regroup. Jimmy is slow to get back in the ring and he locks up with Smothers. Rights and knees from Garvin. A blind tag is made to Armstrong and the Pistols deliver a double shoulder tackle. Hayes wants in and Garvin obliges. PS wants Smothers and gets him. Side headlock by Smothers. He hits the ropes and Garvin pulls the top one over. The Birds drop him face first across the railing. Garvin kicks Smothers off the apron immediately. The referee gives lectures while Hayes takes a cheap shot on the floor.
Smothers rolls back in and is greeted by a scoop slam. A lateral press earns him two. Garvin hammers at Smothers' chest and holds a chin lock. Smothers fights back with elbows, but he runs right into Garvin's knees. Tag is made to Hayes who delivers a chop. Smothers reverses an Irish whip and goes to work with some rights. Hayes carries him away, he ducks a clothesline and delivers a left. Tag is made to Garvin, Smothers leapfrogs him and hits a superkick. Tag is made to Armstrong and he lifts Hayes for a big back body drop. He fights off both Freebirds with right hands and scoop slams them both. Smothers comes in to help his partner and they slam their opponents heads together.
The Pistols each pick a turn buckle, but Hayes and Garvin move away from missile dropkicks. Smothers is dumped to the floor followed by Armstrong. The Freebirds celebrate and they miss Smothers sneaking back to the top rope. He delivers a double clothesline and sends them both over the top. Flying cross body by Smothers onto the floor. Hayes is rolled back in and falls victim to a double team flying elbow. Garvin is whipped over the top rope from the apron. They lift Garvin for another double teamed flying elbow, but the referee is knocked over from the move. The Young Pistols cannot get the pin because of this and a masked man appears and ambushes the Pistols, finishing them off with elevated DDTs. The referee gets up to see Hayes making a pin, and the Freebirds become new champions.
Winners and NEW WCW United States Tag Team Champions: The Fabulous Freebirds (Hayes/DDT)
EA's Take: Lots of high risk offense from The Young Pistols as they make the action exciting per usual. They were made to look like a million bucks despite taking a loss to the veterans, so it was a win-win for them. The US Tag Titles had remained vacated for over a year when The Steiners won the World Tag Titles and held both. They should have stayed deactivated honestly, as they'd only last just over a year before becoming defunct again. I mean, why bring them back? What little prestige they had was long, long gone.
Match #2: 'Dangerous' Dan Spivey vs. Ricky Morton
They tie up and Spivey goes to work with forearms in the corner. He dumps Morton outside but Ricky is right back in. Spivey fights back and tries to dump him out two more times but Morton has two much spunk. Ricky goes for a back body drop but Spivey catches him with a DDT. Vicious clothesline from Dangerous Dan and he gets a two count. Morton is lifted and powerbombed in the middle of the ring. Spivey puts his boot to Morton's throat and picks him back up. Morton attempts some rights, he hits the ropes and is caught out of the air with a fall away slam. A big legdrop from Spivey gets another two count.
Morton is picked back up, hit with a left and a its followed by a scoop slam. Morton is sent for the ride and manages a Japanese arm drag. Spivey reverses an Irish whip, Morton moves, Spivey hits the turnbuckle and a schoolboy by Morton gets 2. Spivey is sent for the ride and stops short of a dropkick. Dangerous Dan misses an elbow drop. Morton hits the ropes, Spivey stops him short and lifts him for a powerbomb.
Winner: 'Dangerous' Dan Spivey (Powerbomb)
EA's Take: The setup for the finish looked like a miscommunication but the rest of the match was good, despite being short. Spivey certainly looks like a monster and Morton showed he had a lot of fight in him, despite being completely outmatched in size and strength. Which is really Ricky Morton's calling card, making him fit into this put-over role.