Chairshot Classics: WWE SummerSlam 2010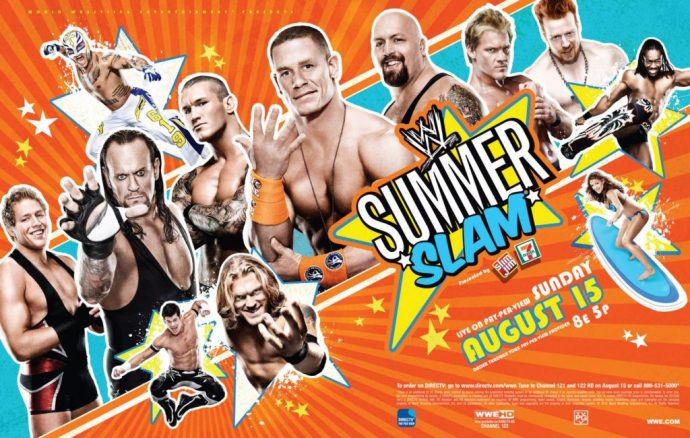 SummerSlam 2010 brings the WWE facing the dawn of The Nexus in a 7-Vs-7 Elimination Match. Sheamus continues his feud with Randy Orton with the WWE Championship on the line. Rey Mysterio tries to defy the odds against Kane for the World Heavyweight Title..
For the second year in a row, and for four more, we are in the Staples Center in Los Angeles, California. The house is packed with 17,463 fans and another 350K tuning in on PPV. These numbers are about the same as the previous year. We get two infamous sponsors that kind of go hand and hand, 7-Eleven and Slim Jim. The band Jet will give us the theme of "Rip it Up." We are fresh off the heels of Money in the Bank here where Kane won the World Title contract and The Miz won the WWE contract. Lets get the show started and see what SummerSlam 2010 has to offer!
The show opens with the LA Skyline at night and the Staples center is the main focus. The video package is well put together and shows the "Nexus Invasion" of the WWE as the narrator warns of change. Its also shows the battle between The Big Show and CM Punk's Straight-Edge Society. This is well produced and paints a great picture for the start of this faction fueled PPV. It isn't long before we enter the arena for this "23rd Edition on SummerSlam".
After we see the packed house we are joined by the announce team of Michael Cole, Jerry "The King" Lawler and Matt Striker. The boys are quick to get things underway and announce the first competitor in this match for the Intercontinental Championship. The champ, Dolph Ziggler enters first and is joined by his assistant Vickie Guerrero. We see a quick clip of how her interference cost the challenger, Kofi Kingston the Title. Vickie takes to the mic with her annoying "Excuse me, Excuse me" bit and gets the desired heat from the fans. She is cut off by the music of Kofi Kingston and the crowd gives some pop for this. He gets some more pop before the bell sounds by hitting the corners. Kofi strikes first with a forearm that takes Dolph off his feet. The stomping by Kofi goes on until the ref forces the separation. Dolph returns to his feet and Kingston quickly sends him to the outside with a clothesline over the top rope. This sends the crowd into an early frenzy. The suicide dive is attempted by Kofi next but Vickie pulls the arm of Ziggler and out of harms way. Kofi gets all the harm though and crashes head first into the security wall. Ziggler is quick to return to the ring and scream at the official to start the count. Ziggler goes for a quick cover when Kingston returns to the ring, but Kofi kicks out quick.
Ziggler is frustrated early but still manages the reverse neckbreaker on Kingston. He tries for another cover but Kofi is able to easily kick-out. Dolph applies the rear naked choke but Kofi is able to rally, and escape behind some chants bearing his name. When they return to their feet, Ziggler is still able to land the first punch and proceeds to choke Kofi with the bottom rope. The ref is forced to break this after he counts to three. The crowd again begins with some "Lets go Kofi" chants and he uses this to take Ziggler off his feet, first with kicks then punches. Ziggler is quick to slow the gaining momentum and drop toe holds Kofi into the second turnbuckle. Dolph then hooks the leg but still is able to only manage the two count. Kofi is left in a seated position after a snapmare and this sets Dolph up to hit a running version onto the seated Kingston. This time Ziggler hooks both legs for the cover, but Kofi still rolls out of it. Ziggler begins to use a chinlock on Kofi, and when it looks like Kingston may escape, Dolph drops an elbow into his spine and locks the hold back on. Kofi again starts to wiggle free and just as he does Ziggler drops another elbow. This time he tries for a cover, but Kingston still kicks out. After the failed cover Dolph goes right back to a submission hold, this time a headlock. Kofi makes it to his knees and after some midsection punches, makes it to his feet. Dolph again thwarts this with a kick to the midsection followed by a whip to the turnbuckle. Ziggler tries for a splash but Kofi is able to move. This leaves Dolph's face crashing into the top turnbuckle. Kofi again rallies, this time behind a pair of two handed chops and a dropkick. After a high leaping Lou Thesz variant, Kofi hits his signature Branch Lock. No idea why it is called this because it isn't a lock at all, more a leg drop version of a Five Knuckle Shuffle. Kofi hits a springboard crossbody, off the second turnbuckle, but Ziggler is able to roll through it and hook the leg of Kingston. It is as near as it gets but Kofi still kicks out regardless.
Ziggler hits the Fame-Asser quickly and tries for another cover. But once again Kofi kicks out. Kingston is able to slow Dolph with a kick to the face and is quick to take to the top rope. Kingston hits the diving fist and is waiting to give Ziggler Trouble in Paradise. He is able to duck it though and put Kofi in the standing sleeper hold. This is when the men of The Nexus enter and destroy both men. Ziggler is able to escape and leave Kingston for the dogs. This is a common theme of the WWE at the time with what was going on with The Nexus. Wade Barrett takes to the mic after the assault and attacks the WWE roster that way. He finishes with the stables signature "You're either Nexus or You're against us." This is basically done to build hype for who their seventh man will be for the Main Event. This was a great match and until the screwy finish I enjoyed it. That being said I think the original idea for this match would have been better. The original plan was a six way featuring Cody Rhodes, Matt Hardy, Drew McIntyre, a Nexus member and the original two competitors. This is believed to have been scrapped for two reasons, one being that it would be less believable if Nexus beat that many guys up and it was easier to pull off with two guys. The other is more interesting. McIntyre was in a confrontation with his then wife, Tiffany (Taryn Terrell of TNA fame) at the hotel after a night of partying at the playboy mansion. The cops said that Drew was the one assaulted and arrested her for it. This would lead to her dismissal from the company and the reason a Women's tag match was also scrapped from the card. Regardless, a good match with a terrible WCW-like booked finish. Match Time-7:05
---
Always Use Your Head and visit the official Pro Wrestling Tees store for The Chairshot All t-shirt proceeds help support the advancement of your favorite hard-hitting wrestling website, The Chairshot!

---
Chairshot Classics: WCW Starrcade '91 – BattleBowl & The Lethal Lottery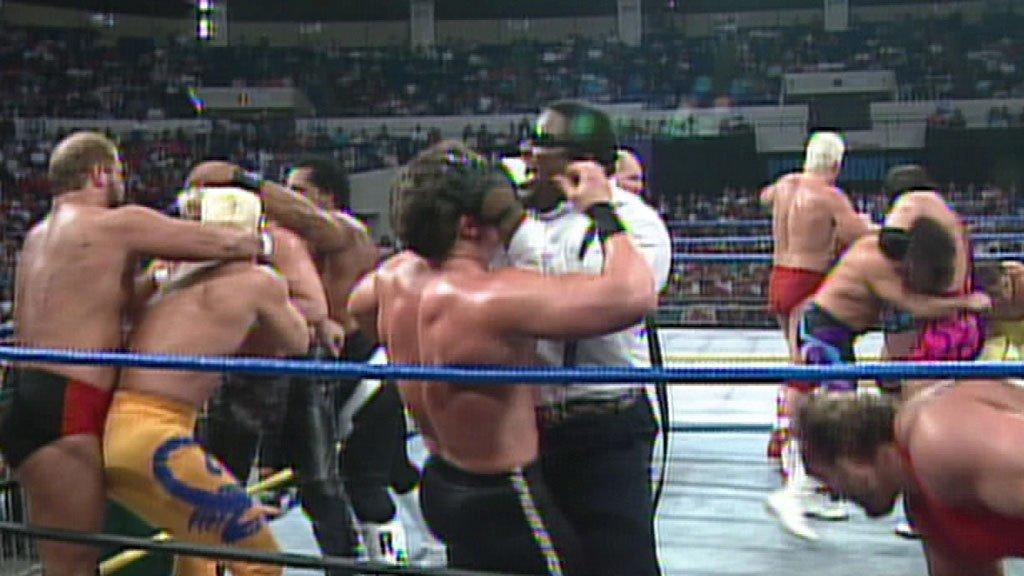 Open: The names of 40 top WCW Superstars were entered into a "Lethal Lottery" to randomly generate 20 tag teams. This created 10 tag team matches with the winners of each being entered into the main event: a 20 man battle royal to determine the sole winner of Battlebowl.
In The Arena: Eric Bischoff, Missy Hyatt and Magnum T.A. are standing by with all 40 participants are standing on the entrance stage. Hyatt and T.A. start to draw names, and Bischoff announces the first participants. We have our first surprise as The Fabulous Freebirds are on opposing teams.
Match #1: Michael 'P.S.' Hayes & Tracy Smothers vs. Jimmy 'Jam' Garvin & Marcus Bagwell
Bagwell and Smothers start us out. Both Freebirds get the crowd clapping from the apron. There is a staredown and they exchange shoves. They hit the ropes and Bagwell takes Smothers down with a shoulder block. Smothers reevaluates his situation. The crowd chants for the DDT. Collar and elbow tie up and a deep arm drag by Bagwell. Another tie up, chain wrestling into a hammerlock by Smothers, reversed with a takedown by Bagwell. Smothers lectures a stalling Smothers. Collar and elbow, Smothers escapes a reverse waistlock with an elbow to the jaw and follows it with a shoulder block.
They run the ropes, Bagwell leapfrogs Smothers and delivers a hip toss. He follows with a drop kick and an arm drag, Smothers gets up and misses a drop kick before retreating. Smothers gets up and insists one or both Freebirds enter the match. Garvin is tagged in, Smothers taunts him, Garvin struts around and he is ambushed from behind. Smothers is shot into the ropes, they exchange leapfrogs before Garvin hits a hip toss and a drop kick. Smothers rolls to the apron, and he's kicked in the face and out to the floor. Hayes checks in with his partner as the crowd cheers for the DDT. Smothers regroups in the ring, he offers a handshake but kicks Garvin in the gut.
Jimmy Jam lifts his cheap shotting opponent up for an atomic drop and he tumbles outside again. Back to the ring, Garvin grabs a wrist lock and tags in Bagwell. Bagwell enters with a double ax handle to the shoulder and locks in a wrist lock of his own. Smothers reverses with a knee to the gut and some clubbing fists. Hayes is finally tagged in, chop followed by an elbow off the ropes. Arm bar by Hayes is reversed with a take down by Bagwell. They jockey for position and Hayes uses a drop toe hold. He controls Bagwell with the arm bar and clubs Bagwell's shoulder. Smothers is tagged back in and stays on the arm. Bagwell reverses, grabbing the other wrist, throwing Smothers over and landing a standing leg drop. Back to their feet and Bagwell stays on the shoulder. Smothers gets positioning in the corner, the referee calls for a break in the hold and The Young Pistol cheap shots Bagwell in the mid section.
The rookie escapes from the corner but Smothers is hot on his trail. Bagwell reverses a whip to the ropes and takes his opponent down with an arm drag. The fans get on the case of Smothers with some jeers. A knee to the gut off the tie up by Smothers, he lifts Bagwell but Marcus escapes and delivers a scoop slam. Garvin is tagged back in, and Smothers dives to his corner and forces a tag on Hayes. The partners smile as the crowd reacts. They shake hands and tie up. No one gets an advantage and it's broken. Another collar and elbow and Hayes gets position on the ropes, the referee breaks them up. A fourth tie up and Hayes throws Garvin with the arm drag. Michael Struts. Garvin hits an arm drag of his own.
They tie up and Hayes goes for a quick schoolboy and a two count. Side headlock takedown by Garvin, countered with a leg scissor, broken quickly and they're back to their feet. They each strut to their corners and tag in their respective partners as the fans cheer. Quick strikes and a superkick by Smothers. Bagwell is lifted for a scoop slam but he dodges the elbow. Garvin is tagged back in and hits Smothers with a back body drop. Garvin confuses his dazed opponent with some fast running across the ring and a running forearm. He tags in Bagwell who heads for the top rope, Garvin holds Smothers in place with a wrist lock and Bagwell gets two on a flying cross body.
Marcus gives Hayes a shot on the apron before turning to Smothers. Hayes takes offense and enters the ring to knock him with a right. Garvin turns Hayes around and Michael unknowingly clocks him with a big left. Scoop slam by Smothers in the middle of the ring as the Freebirds argue. Smothers goes for a high risk move but Bagwell gets the knees up. Bagwell hits a Fisherman's Suplex and picks up the win. The Freebirds make up and shake hands.
Winners: Jimmy 'Jam' Garvin & Marcus Bagwell (Bagwell/Fisherman's Suplex)
EA's Take: I don't think I've seen more than two consecutive PPVs where the Freebirds remain either heels or faces. They're sort of the 'Ric Flair' of tag teams – you either love them or love to hate them. This was obviously a curious match of "will they/won't they" in terms of fighting one another. Two times I thought they were going in a particular direction, but both times it turned out to be nothing. When the Birds were in the ring, I started laughing each time they locked up and broke it off on the ropes. I would have stuck with that, exaggerating the excursion from each tie-up and adding some more comedy before making the tags back after no moves were thrown. They ended up hitting one another with some arm drags, so the whole, "sure, we'll fight each other… just kidding", wasn't as good as it could have been. When they got into it at the end, you thought maybe it was friction within the team, but instead they immediately made up. Oh well, decent match. The Birds know how to entertain.
Match #2: WCW Television Champion 'Stunning' Steve Austin & WCW United States Champion 'Ravishing' Rick Rude w/Paul E. Dangerously vs. Van Hammer & Big Josh
Hammer and Austin start with a tie up and quick break. Another tie up, Austin takes position and it's broken in the corner. Hammer lifts Austin for a scoop slam and Austin looks "Stunned". Kick to the gut and rights by Austin. Hammer reverses a back body drop with a kick to the face, but Austin is right back up with a kick and an attempted vertical suplex. The big Hammer blocks and lifts the TV champ for one instead. Austin kicks out at two and jumps back up with a drop toe hold and a reverse chin lock on the mat.
Hammer reverses into a hammerlock on the mat and follows it with knees to the ribs. They work back to their feet and Austin takes him down with a series of snapmare takedowns. Hammer reverses the Irish whip, Austin moves and Hammer collides with the turn buckle. Strikes and another snapmare by Austin who tags in Rude to a sea of boos. Rude sends him for the ride and a clothesline before taunting the crowd. Knee to the mid section and clubbing forearms by the US Champ. Hammer tries to fight back with rights, but Rude rakes his eyes. Hammer is sent to the ropes and is flipped over by a knee to the gut. Rude holds him in place with his boot as he tags in Austin.
Clothesline by Austin followed by a side salto suplex. Rude gets the quick tag, and he clubs the back of Hammer's neck. Reverse side head lock by Rude as Hammer tries to strength his way over to Big Josh. He's able to make it, and Josh is fired up, giving a few strikes and sending Rude for a power slam. He stands on Rude for a log roll, but the US champ points out his abs are invincible to that move. Josh unsuccessfully tries striking his mid section, but he's had enough and just clotheslines him. A quick kick out by Rude, but he goes down just as fast with a shoulder block. Rude kicks out of another lateral press, Austin rushes the ring but Josh takes him out. The Dangerous Alliance reels on the outside after having their heads knocked together.
Rude is back in, and Dangerously screams on his phone. Josh reverses a hammerlock with an elbow to the jaw, arm drag take down, Rude desperately reaches for a tag. He gets it, and Austin meets a similar fate. Austin works back to his feet, he breaks the hold with some rights. Josh reverses the Irish whip to the ropes, Austin takes him down with a shoulder tackle, but the second time Big Josh catches him and slingshots him across the top rope. A clothesline and a lateral press gets two and Van Hammer is tagged back in. Austin is worked down with the hammerlock. He adjusts to a wrist lock and makes the quick tag to Josh who hangs onto it. Austin breaks it with rights and breaks up Josh's attempt at a back body drop.
Reverse waist lock by Josh, Austin ducks and runs toward the ropes and Rude clocks the outdoorsman. Legal tag is made to Rude and he goes for the top rope. Double ax handle knocks Josh to the mat, but there's a kick out at two. Strikes from Rude and another tag to Austin. Boots in the corner by Austin and he holds his opponent on the middle rope. The ref pulls him away, Rude jumps down to the floor to keep him in place and Austin comes back with a leaping bronco buster. Austin gets two and a half on Josh. Front face lock and a tag back to Rude. Clubbing forearms and a snap mare. Rude holds on with a modified reverse chin lock, Josh manages to get back to his feet and Paul E. immediately gets on the apron.
Josh fights out of the hold but he's blind sided by Austin's boot. Dangerously is lectured down to the floor, and the referee questions is a tag was made to Austin while he wasn't looking. Big Josh is dumped to the floor for abuse by Rude while Austin ties up the ref. Snapmare and a reverse chinlock by Austin. Josh is slow to get back to his feet as Hammer leads the cheering. The hold is broken with elbows to the gut, and he catches a leaping Austin with a power slam. Josh goes for the elbow but Austin moves. Josh is once again draped on the middle rope, Dangerously holds him in place while Rude provides the distraction.
Austin goes for another bronco buster, but Josh moves and pulls his manager in the way. Josh crawls across the ring to make the hot tag who goes right after Austin. Power slam by Hammer followed by a belly to back suplex. Austin is sent for the ride and eats a diving shoulder block. Rude makes the save and Josh takes offense. Back to the apron, Rude makes a blind tag as Austin hits the ropes. Hammer lifts the TV champ for the back body drop but doesn't realize the US champ in the legal man. Rude spins Hammer around and hits the Rude Awakening for the win.
Winners: 'Stunning' Steve Austin & 'Ravishing' Rick Rude (Rude/Rude Awakening)
EA's Take: In two matches, they've already achieved my expectation to have some partners on opposite corners and others conveniently together with Austin and Rude. The Ravishing One's debut at Halloween Havoc not only brought him into WCW, but opened the door for him to become leader of The Dangerous Alliance, one of the better factions that is often forgotten in time. With Rude and Paul E as the figureheads, being flanked by Arn Anderson, Larry Zbysko, Bobby Eaton, a young Steve Austin and Madusa was a pretty formidable. On top of that, Austin would quickly become Television Champion, Rude would pull off a tremendous ruse to get the US Title off of Sting and they had all the momentum in the world. Obvious winners just by reading the card.
---
Always Use Your Head and visit the official Pro Wrestling Tees store for The Chairshot All t-shirt proceeds help support the advancement of your favorite hard-hitting wrestling website, The Chairshot!

---
Chairshot Classics: WCW Monday Nitro Episode 12 – Sting vs. Hogan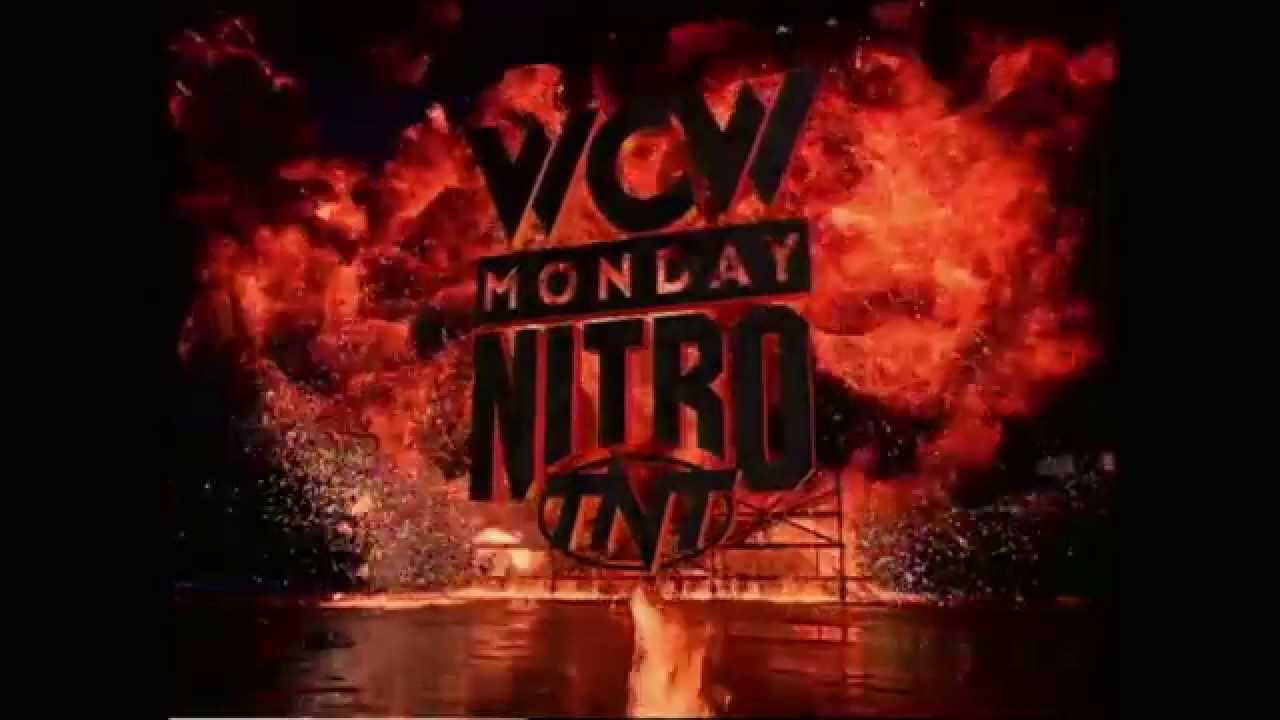 Here is the go-home Nitro for World War 3!
WCW Nitro: Episode 12
November 20, 1995
Macon Coliseum, Macon, GA
Bischoff, Heenan and McMichael are on commentary as usual getting us hyped for Hulk Hogan vs Sting in the main event. Bischoff is calling it the Super Bowl of professional wrestling, interesting they gave it away on free television.
Scott "Flash" Norton vs The Shark
The Shark attacks Norton on the entrance ramp and they brawl outside the ring. Bobby Heenan says that Shark is well over 500 pounds, who believes that??? The Shark gets control with a belly to belly suplex, but Norton starts no selling his strikes. Norton hits a scoop powerslam and gets the victory. This was a very lackluster match and seemed to be filler for a few minutes. John Tenta was so talented, it's sad that he never caught on like he really could have.
Winner: Scott Norton via pinfall
Mean Gene interviews Taskmaster and Jimmy Hart at the entrance ramp. Hart is trying to rally Sting for his match against Hogan later, focusing on Hogan not being behind Sting as a talent. Taskmaster hypes up World War 3 and how the Dungeon of Doom has strength in numbers.
Disco Inferno is out to dance until Eddie Guerrero's music hits and he runs off.
Eddie Guerrero vs Brian Pillman
This was supposed to be Ric Flair but he came out in street clothes with Brian Pillman in his ring gear. Flair cuts a promo about being so focused on Sting, that he's having Pillman take his place. Replace one amazing competitor with another, I'm not mad. Guerrero in control early with a neck tie head scissors, big dropkick and belly to back suplex. He goes off the top rope but Pillman catches him with a dropkick to halt the momentum. Pillman hits his own belly to back suplex for a near fall. The two trade chops before Brian sticks a finger in Eddie's eye and hits a snap powerslam for another near fall. Pillman suplexes Eddie out of the ring and misses a cross body on the railing. Eddie counters with his own MASSIVE cross body and brings Brian back in the ring. Eddie hits the brainbuster and goes to the top rope but Pillman crotches him up there. Eddie pushes Brian off the top rope and hits the frog splash to get the victory. A very fun match, I'm sure these two could seriously tear the roof off the place.
Winner: Eddie Guerrero via pinfall
We take a look back at Nitro from the previous week where the Dungeon of Doom and Lex Luger attacked Randy Savage and worked over his arm. Commentary is saying it is a serious arm injury that will need surgery. Eric Bischoff wonders if Macho Man is faking the injury to plot against Hulk Hogan.
Big Bubba vs Road Warrior Hawk
A rare singles match for Hawk and a younger Ray Traylor, I'm good with this. Hawk attacks Bubba to start and is in control after a back body drop. Hawk hits a scoop slam but misses a splash off the top rope. Bubba is in control now with strikes and a clothesline. Hawk makes a comeback but Bubba cuts him off with a big spinebuster before eating a right fist outside the ring. The men knock heads and Hawk goes to the top rope but Bubba counters it into a facebuster. Bubba pulls something from his pocket(maybe a roll of quarters?) and tapes up his hand. He goes to come off the ropes but Jim Duggan comes out of nowhere to trip Bubba who falls face first on the foreign object. Hawk makes the cover for the victory. Big hoss match, fun stuff.
Winner: Hawk via pinfall
Sting vs Hulk Hogan
This match has been hyped up all show as the be all and end all of professional wrestling. Sting comes out in red and yellow, fitting considering Hogan's recent move to the "dark side." We went to commercial before Sting's entrance and apparently right after. Interesting television choices there.
Hogan's music hit and there's some boos in the crowd. Macho Man Randy Savage comes out and is motioning to the entrance for Hogan to come out for an uncomfortably long time. Hogan comes in through the crowd and postures to the crowd to mostly boos. Hogan is still clean shaven and dressed in black.
After the bell, Sting is on the offensive early with lots of strikes. Hulk takes control with strikes of his own and is getting a good amount of boos. Hulk misses a clothesline and tumbles over the top rope after 2 dropkicks. Hulk pulls Stinger out of the ring, puts his head into the guardrail and suplexes him at ringside.
Sting comes back in the ring with a running cross body and we are back on even ground. Hulk goes for a spinning toe drop and it looks awful and slow, same with his attempt at an armbar takedown. It's obvious that he is wrestling out of his comfort zone. Sting takes control with crisp looking holds and transitions. Hulk rides a side headlock for a lengthy time before inexplicably just letting Sting go. Sting goes for a Stinger Splash and Hogan counters it into a bearhug for a few seconds before again letting him go.
Belly to back suplex garners a near fall for Hulkster and he hits a suplex for another near fall. Sting comes back and starts working over the leg before locking on the Scorpion Death Lock-that is good storytelling and psychology. Hogan powers out of it and starts his traditional hulk up comeback. Three punches, big boot to Sting's face, but Sting avoids the leg drop. Hogan's leg is hurting, Sting locks on the Scorpion Death Lock again.
The Dungeon of Doom comes down and attacks everyone but Sting and Hogan seem to overcome the 6 on 2 odds. The Giant comes down and goes to chokeslam Hogan and Sting. Macho Man hits Giant with a chair but eats a chokelsam for his effort. Hogan and Sting use a chair to clothesline The Giant over the top rope as we go to break.
Winner: No Contest via interference on both men
After the break, Taskmaster and Jimmy Hart are at the commentary table and are sent away by Bischoff. This is being billed as an appetizer to World War 3. Bischoff pushes the narrative that WCW is unpredictable and anyone could walk out of World War 3 as WCW Heavyweight Champion as Nitro goes off the air.
The build to World War 3 has been fun, it'll be interesting to see how it progresses and changes the show going forward!
---
Always Use Your Head and visit the official Pro Wrestling Tees store for The Chairshot All t-shirt proceeds help support the advancement of your favorite hard-hitting wrestling website, The Chairshot!

---
Chairshot Classics: Raw #11 (April 5 1993)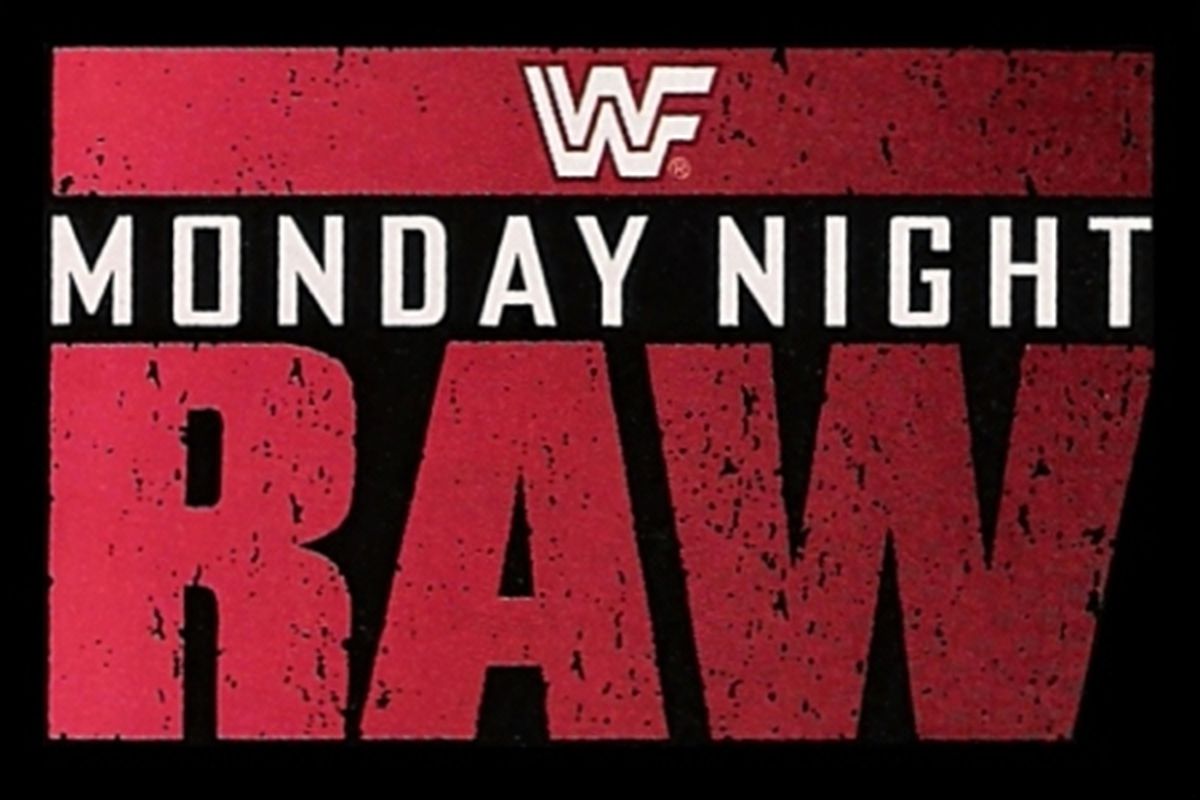 Welcome to the Granddaddy of them all in it's infancy years as we put the Monday into Monday Night Raw as we cover Monday Night Raw episode by episode. Last night (in 1993) was WrestleMania 9. Here are the results:
. Tatanka beat Intercontinental Champion, Shawn Michaels by Count Out
. Rick Steiner & Scott Steiner beat Samu & Fatu when Scott Steiner pinned Samu after a Frankensteiner
. Doink beat Crush when a second Doink hit Crush with a fake arm
. Razor Ramon beat Bob Backlund after a Small Package
. Ted DiBiase & IRS beat Hulk Hogan & Brutus Beefcake to defend the Tag Team Titles by DQ
. Lex Luger beat Mr Perfect after a Backslide
. The Undertaker beat Giant Gonzales by DQ for using chloroform
. Yokozuna beat Bret Hart to win the WWE Title after Mr Fuji threw salt in Bret Hart's eyes
. Hulk Hogan beat Yokozuna to win the WWE Title after a Legdrop Of Doom
Also, one of my colleagues was nice enough to review it so I don't have to. Here it is.
All caught up? Good. This may be the night after WrestleMania but it's not going to be the big deal that it is today. Is it any good though? One way to find out.
Raw #11 (April 5 1993)
Vince and Savage welcome us to Raw (no Bartlet!!!!!! *streamers*) and they run through some of the matches on tonight's show.
. Bam Bam Bigelow vs Virgil
While this wasn't an enhancement match, there really was only ever going to be one winner of this. To his credit Virgil got some offence in. Probably enough so he's not considered Enhancement. To make things worse, Vince and Savage spend half the match discussing the events of WrestleMania and basically ignoring this match. I know it's a post PPV Raw but they should find a way to give an equal cover to the match AND last night's show. Bigelow won this following a top rope Headbutt.
Winner: Bam Bam Bigelow
Jerry Lawler is supposed to wrestle but he decides not to as the crowd refuse to stop chanting "Burger King"
We see a backstage interview that was clearly taped at WrestleMania with Mr Fuji, Yokozuna and Mean Gene. Gene points out that Fuji is unhappy at the result of last night with Fuji feeling that Yokozuna's WWE Title match with Hulk Hogan was unsanctioned and as a result Yokozuna should still be champion. Talk about leading the witness, neither Fuji nor Yokozuna spoke a word here.
. Bob Backlund vs Kim Chee
I don't know if this is Enhancement or not. Granted that is due to my not knowing that Kim Chee wrestled. As matches go this was fairly even but I feel that, like the last match, only one was ever going to win. Backlund won with a Bridging Roll Up. Or at least that's as good as I can describe it. If you have a better name, Tweet me.
Winner: Bob Backlund
. Damian Demento vs Jim Brunzell
I thought Brunzell left years ago! Worse still, Rob Bartlett calls in. Apparently he's ran out of money and is still in Vegas. What's even odder is that I've seen WrestleMania a few times over the years and I have no recollection of ever seeing him to the point that I thought last week was HIS last week (still hopin'). This match was alright. It screams filler but that doesn't make it bad. Demento looked quite good on offence and got the win here after a Neckbreaker followed by a Knee Drop
Winner: Damian Demento
Bret Hart IcoPro ad.
Randy Savage Slim Jim ad.
We get an ad for the Encore Presentation of WrestleMania.
. Rick Steiner & Scott Steiner vs Blake Beverley & Beau Beverley
This is a better match. This match SHOULD have been the main event. This was a proper match between two name teams. Scott's power and suplexes looked good as they usually do. Beverly's slowed it down and worked on face in peril until the hot tag. Basic tag team formula but if it's not broken, don't fix it. Scott got the pin after a Frankensteiner on Blake.
Winners: Rick Steiner & Scott Steiner
The "hyperactivity" ad for Mania airs.
. Jerry Lawler vs Jim Powers
Another one sided match with only ever one winner. Not a lot I can say. It was decent, it was basic. I still say the Steiner's match should have been the main event. To prove how much of a basic Jerry Lawler match this is, Lawler won wth a Piledriver.
Winner: Jerry Lawler
We get the action figure ad.
Jerry Lawler says it's easy to be tough when you're in a seat. It looks like Savage and Lawler may have an altercation. Vince plugs Money Inc vs Bushwackers next week and we fade out.
Post Show: For a post WrestleMania show this was bizarre. The debuts, the chanting crowds, the party atmosphere that we take for granted in 2018 are non-existent here. Tat said, this was a better show than the previous ten. I don't know if it's because WWE have found the right balance for the show, if it's due to a lack of Bartlett or a lack of enhancement matches. Either way it was better and long may it continue.
Match Of The Night: Steiners vs Beverleys. Have you not been paying attention?
MVP: Bam Bam Bigelow. Vince and Savage may have ignored him but I like him
Rating: 8/10
With that I am done. I can be found on Twitter @Callaweasy2220 where I live tweet Raw, Smackdown, NXT and (when there is one on) Pay Per View. Also feel free to tweet me your opinions on the new format I've been doing for the last two weeks. Do you like it? Hate it? If you just want to talk wrestling you can Tweet me about that too.
While you are here feel free to peruse all the news, views and reviews that we at Chairshot have to offer. Maybe after reading this, you want to contribute yourself. You can find how to do just that here at Chairshot too.
I'll be back next week with the next thrilling installment of Raw so until then #UseYourHead and ALWAYS have an Angle!
---
Always Use Your Head and visit the official Pro Wrestling Tees store for The Chairshot All t-shirt proceeds help support the advancement of your favorite hard-hitting wrestling website, The Chairshot!

---