Heel Bayley or Heel Sasha? That Is The Question!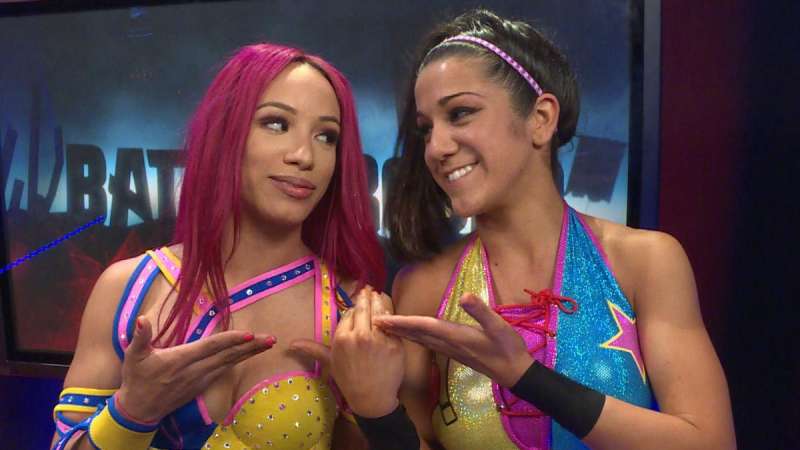 Last Monday, the simmering feud between Sasha Banks and Bayley seemed to catch fire when Bayley attacked Sasha from behind following a loss to the Riott Squad. This shocking beat down was praised by fans, who were eager to see the groundbreaking feud between Sasha and Bayley finally coming to fruition on the Main Roster. To the shock of many, Bailey's 'heel' turn barely lasted past the commercial break and following segment. Within ten minutes, Bayley was back to being a face and trying to explain herself to Kurt Angle, who promptly ordered both her and Sasha into a therapy session or face termination. Bayley reluctantly seems to have accepted this order, but Sasha has spent the last week encouraging her fans to buy her merchandise while she 'still has a job'.
Since the long awaited feud seems to finally be upon us, the question is: Who would be the better heel in this situation, Sasha or Bayley?
Heel Bayley
Pros: Bayley has spent her entire career as a kid friendly babyface, but the things about her that made her such a great star in NXT, haven't really served her as well on the Main Roster. Her feud with Alexa Bliss wasn't a shining moment for either woman. At one point, Bayley was getting booed by fans. A well-done heel run would be a great way to refresh her character.
Cons: I'm not sure anyone would really buy Bayley as a heel. On Monday, many people predicted that the heel turn wouldn't last long and it broke a record. She's such a stereotypical 'good girl', I'm not sure a heel turn would work for her. Liv Morgan of the Riott Squad has done a pretty good job of transitioning from a babyface to a heel while not changing her character too much, but Bayley would have to either do a complete overhaul, which could end up putting the feud back on the backburner, or do a hybrid version like Liv Morgan has done and keep her bright, cheery appearance and being a heel.
Heel Sasha 
Pros: Being a heel comes more naturally to Sasha, her greatest success came when she was a heel in NXT. A full blown heel!Sasha on the Main Roster would be an amazing thing to see. It was a role she played during her feud with Bayley in NXT.  A return of the badass!Boss character would be refreshing.
Cons: It can be argued that Sasha has been a little more successful as a babyface/tweener on the Main Roster than she has a heel. She didn't get a run as a champion until Charlotte turned fully heel and WWE found a spot for Sasha as a babyface, though she's managed to maintain an edge throughout her babyface run.
Heel Bayley vs Face Sasha
Story 1: Bayley is tired of Sasha getting the attention and praise and turns on her.
Pros: It would be new ground for both women and a refresh for both women.
Cons: Again, I'm not sure Bayley can pull off a believable heel, though this story would be cool to watch.
Heel Sasha vs Face Bayley
Story: Sasha sees Bayley as a leech and is tired of constantly having to help her because Bayley can't stand on her own and sees Bayley's actions as proof that Bayley is ungrateful for all the help Sasha's given her: Bringing her into the Main Roster at Battleground 2016, helping her beat Charlotte for the Women's title, and cheering her on.
Pros: It's familiar territory for both women and would give the Main Roster audience a chance to see their history-making feud live.
Cons: If you've already seen this feud in NXT, you might not be eager to see a rehash every Monday Night. There's a big risk of Creative taking what worked in NXT and 'fixing it' until they ruin it.
Alternate Face Bayley vs Heel Sasha
Story: Bayley is tired of being bullied by Sasha and snaps, much like she did in NXT.
Pros: This seems to be the story WWE is going with right now and the fans seemed to like it, though how it was done is a little puzzling since Kurt Angle put Sasha in the match and the final sequence was as much the work of the Riott Squad as anything else.
Cons: As stated above, the way WWE's doing this storyline makes Bayley look more like a heel than a face and having her turn face within ten minutes is a little silly.
So, which do you prefer? Heel Bayley vs Face Sasha or Face Bayley vs Heel Sasha? Personally, I prefer Heel!Sasha, her babyface run has been good, but I miss the Boss from NXT and would love to see that version of Sasha on the Main Roster. Either way, this feud has the potential to break new ground for women in WWE since this is a major feud that doesn't involve the Women's Title, which could lead to more storylines like this for the Women if it's successful, so whomever you support, let's have fun watching it together.