Ite Lemalu's Interview With Bad Luck Fale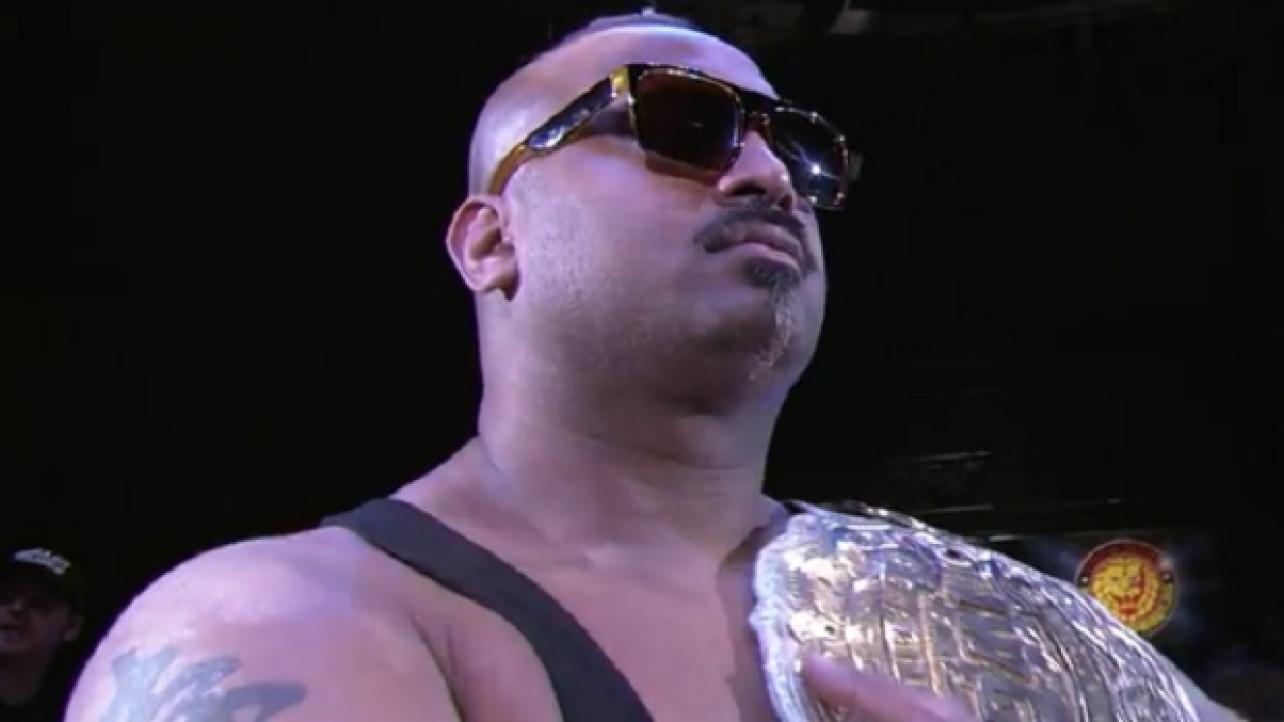 This article discusses the baddest man in pro wrestling; Bad Luck Fale. Along with his fellow Tongans and 'Firing Squad' members, Tama Tonga, Tanga Loa and King Haku; this Polynesian branch of the Bullet Club are causing all sorts of havoc at the New Japan Pro Wrestling's G1 Climax tournament series. Although Fale is currently a prominent topic of discussion in the wrestling world, this piece focuses more on his backstory as a youngster growing up in New Zealand and the ongoing work he serves in his South Auckland community. I had the privilege of interviewing Bad Luck Fale during his visit back to NZ, to which I gained some valuable insight into the man nicknamed, "Underboss".
Ite Lemalu:  Please share your memories about your family's journey, migrating from Tonga to New Zealand?
Bad Luck Fale:  We moved from Tonga to New Zealand in 1989. It was a whole new world, but it wasn't an easy life. Mum, Dad, and my older siblings struggled with multiple jobs to look after us. We lived in Onehunga (central Auckland) then moved to Mangere (South Auckland) in the early 90's.
Ite Lemalu:  What are some of your first memories of watching wrestling?
Bad Luck Fale:  The earliest memories of wrestling was when we were still in Tonga. My grandfather had a wrestling videotape, and we watched it over and over, for years. I remember watching Hulk Hogan, King Haku and Andre the Giant, who stood out.
Ite Lemalu:  Could you describe your experience as a student at De La Salle College, specifically your time playing for the 1st XV rugby team: How much did this school prepare you to transition from rugby to pro wrestling?
Bad Luck Fale:  De La Salle gave me the chance to get to where I am today. There were times where I couldn't afford to pay for my school fees so my 1st 15 coach would help me out, and that wasn't just me. The school still helps those who are in need to this day.
Ite Lemalu:  When you first arrived in Japan, how were you at adapting to the culture?
Bad Luck Fale:  I arrived in Japan only knowing "Konnichiwa" and expecting to see samurai warriors walking around; it was a very different world. It was not easy at all. Having to learn the language and getting used to the food.
Ite Lemalu:  The number of Pacific Islanders in wrestling has grown a lot in the last 15 years; other than and yourself and the Islanders you work with in Japan; who are some other Pacific wrestlers that you've met?
Bad Luck Fale:  I've met the great Rikishi and his son and nephew. I've received
nothing but love.
Ite Lemalu:  In regards to the working relationship between New Japan Pro Wrestling and Ring of Honor; have you considered working for ROH or basing yourself in the United States?
Bad Luck Fale:  I actually I haven't. But if the opportunity arises who knows.
Ite Lemalu:  What are your plans for the G1 Climax tournament?
Bad Luck Fale:  Like I have every year. I aim to stamp my mark as one of the greats and make sure the voice and presence of our Polynesian people are noticed.

Ite Lemalu:  What inspired you to set up the Fale Dojo and locating it in South Auckland?
Bad Luck Fale:  The reason I based it in south Auckland is to give the young people there the same opportunity I had. Not all of them play rugby, netball etc. This is just another option. Henare is making a huge impact on the business at the moment and he will be a superstar in the near future. My goal is to open up Fale Dojo in Tonga, Fiji, and Samoa.
Ite Lemalu:  During your spare time, you invest a lot back into your community.  Could you share some of the work that you're involved in?  
Bad Luck Fale:  I like to share my struggles and journey with the local youth groups and schools. Hopefully, some of them will realize that they too can make it.
Ite Lemalu:  Who has been your favourite opponent so far; and is there a wrestler you've yet to lock up with that you'd like to wrestle?
Bad Luck Fale:  Thus far, Shinsuke Nakamura. My dream match is to team up or wrestle against the man King Haku.
Ite Lemalu:  Before we close off, is there anything you'd like to say to your fans?
Bad Luck Fale:  Cheer me or boo me. Thank you!
Thank you @TOKSFALE
---
Always Use Your Head and visit the official Pro Wrestling Tees store for The Chairshot All t-shirt proceeds help support the advancement of your favorite hard-hitting wrestling website, The Chairshot!

---
RING RIFFS: Arn Anderson vs. Johnny B. Badd – Boxer vs. Wrestler Match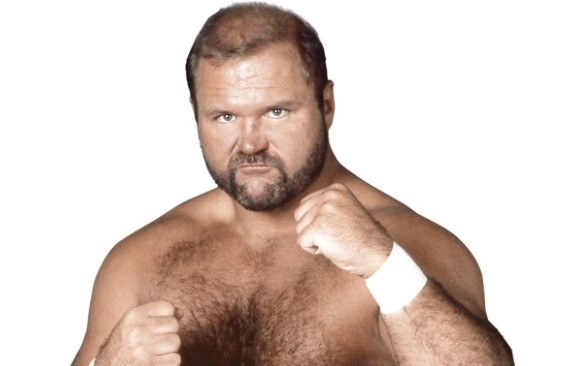 Welcome to Ring Riffs! Where we take the absolute worst of professional wrestling and wrap it up in a neat little episodic package for your entertainment…and my own sense of masochism.
***WARNING***If you are easily offended by words, or if you are generally a good parent who doesn't want their children exposed to potty-mouthed anger, viewer discretion is advised.
Ring Riffs is my video love letter to everything absolutely horrid about professional wrestling. We are all aware that, like any form of entertainment, there is the best of wrestling and the worst of it. We nerd-rage over matches and moments that are beneath our expectations of what wrestling should be – but over time, those terrible moments become inside jokes and memes for us to point and laugh at, wondering exactly what life-altering drugs were ingested by those who believed their ideas would get over with the wrestling fanbase.
So here we are, and here I am, ready to exploit the bottom of the barrel when it comes to wrestling matches. There is an entire galaxy of terrible matches for your entertainment…and for my punishment for the evil things I have done in my life.
Episode #8 continues of my tortuous month of reviews for WCW Uncensored 1995 – there's a Boxer vs. Wrestler Match between Johnny B. Badd and Arn Anderson afoot: and it's inconsistencies kicked me when I was down.
Don't forget to "like" the episodes and Subscribe to the Ring Riffs Channel! It helps The Chairshot, and helps me continue to do what I do.
---
Always Use Your Head and visit the official Pro Wrestling Tees store for The Chairshot All t-shirt proceeds help support the advancement of your favorite hard-hitting wrestling website, The Chairshot!

---
Jordan Fox Blog: My Life in Wrestling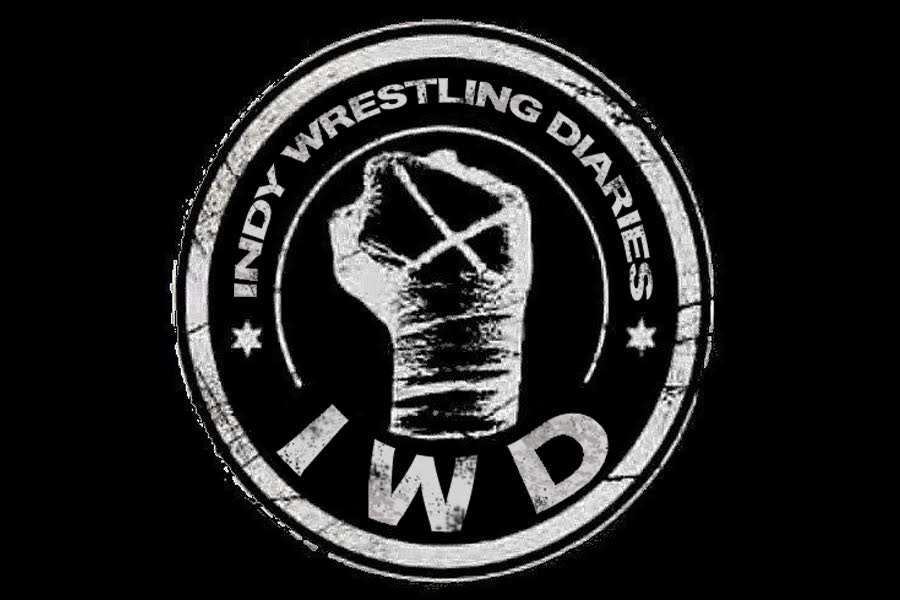 Wednesday August 15th, 2018
Quick shout out! Yesterday's episode of my show Indy Wrestling Radio has already gotten over 500 downloads!! So thank you to all the listeners!!
Disclaimer – Sometimes you might wonder what the point of the stories are… I'll be honest, sometimes there isn't going to be any meaning to what I'm blogging. I just simply want to share these really cool moments I get to experience. I get to experience these wonderful moments because I work in "The Business." I work in wrestling, that might not mean much to a non fan, but to wrestling fans, being a full time wrestling employee, like I am, is the Holy Grail.
I don't have a "shoot" job. The wrestling business is my job & this blog details the fun I experience in our wacky world of wrestling… ENJOY!
On Sunday I had my first show with Heroes of Wrestling which is based out of Royse City Texas, which is 30 miles outside of Dallas.
That sentence alone is incredible when all things are considered. I finally got clean & sober, 8 months now. My time in Iraq, time as a flight paramedic & 7 years as a fulltime firefighter have not been easy on the body or mind. I was been left with PTSD that was so crippling at times that I began to self medicate.
I know what people think about PTSD, they either think "I've seen dead bodies, what's the big deal?" or they'll feel so sorry for you that they won't take you seriously, you'll get the whole "Ahhhh, good for him." I hate that. The first one is the worst, the "I've seen dead bodies" one. I'm not discounting that you've seen some shit, I actually feel sorry for you, I don't wish that upon anyone but to think because you have seen screwed up shit & you don't have nightmares doesn't mean that I should be judged because I wake up terrified thinking I smell human flesh burning. I've seen so many things that I wish I hadn't, I couldn't begin to name them all, but the smell of human flesh burning is that one, that one thing above all else I would take away from my memory if given the chance.
Anyway, back to wrestling. I was, am still am, in a boot on my left foot because I rolled my ankle at the wrestling academy that I'm attending in Tulsa. Anyway, the show was absolutely great. I got to meet a ton of new guys & call their matches. It was a lot of fun, A life experience that every wrestling fan should experience.
The night started off with me getting ready in the locker room & as I was pulling my hair back, my friend & stablemate, Malico, came to me & said we need to shoot something short for our MadWorld web series we are developing. During the 30 second clip he called me by my character name for the first time, Sly. I was over the moon. Something I've worked so hard towards & dedicated so much time to felt like it was starting to come together at that moment. It couldn't of come at a better time either, with me being somewhat depressed that I can't train for a few more weeks because of my ankle.
I called my first "bull rope match" which featured Randy Wayne & Graham Bell. Holy shit these two guys are tough. That was a lot of fun. I had met both guys earlier in the evening & both were really cool to talk with. I was in a couple of group convo's with Randy & you can tell he knows a lot about the wrestling business so I hope to pick his brain more as I get to know him better. I didn't want to be the douche bag that asks him for advice on the first night lol.
Andy Dalton & Will Allday had a great match. I got to kinda shoot the shit with Andy for a little while but I didn't get to talk to Will a ton. My partner on commentary, Wil Rigdon said that he was from Booker T's school/promotion, Reality of Wrestling. It was obvious that wherever he was training, they are amazing because the guy was great. Both guys were. I actually watched a match of Andy's on Twitch randomly so it was cool meeting him.
Brock Baker, who had a very entertaining match with Chandler Hopkins that night as well, & Will Allday are in the middle of a feud & it was a lot of fun being on commentary as that unfolded. I wanna say that Rigdon said that Brock Baker is a Booker T guy as well.
I called a match that featured a former WORLD CHAMPION! The fan in me still can't believe that. The match was Tim Storm vs Bam Bam Malone. Bam Bam was a really cool dude, as was Brysin Scott who I got to kinda BS with for awhile. he had recently won a promotions title so I got to see his new hardware & pick his brain a bit.
AND, in a really cool moment, my good pal Malico faced off against Barrett Brown & it was great. Two world class athletes going head to head like that while I get to call the action from 12 feet away, it's indescribable. I met both guys on my first night in wrestling, so I love when I get the chance to work with either of them. I obviously don't get to work with Barrett as much but it's a blast when I do get to.
It was a ton of fun. I'm still a fan, even though I work in wrestling full time between commentary, TheChairshot.com & podcasting, I'm still a huge fan & anytime I have the opportunity to "suspend my disbelief" I'm going to take it.
These guys are stars & still on the rise, so go check them out on social media! Thanks to everyone for checking out this weeks blog entry!
Stay strong & Too Sweet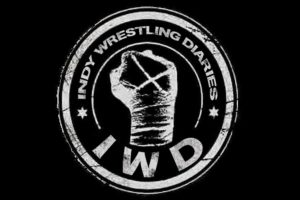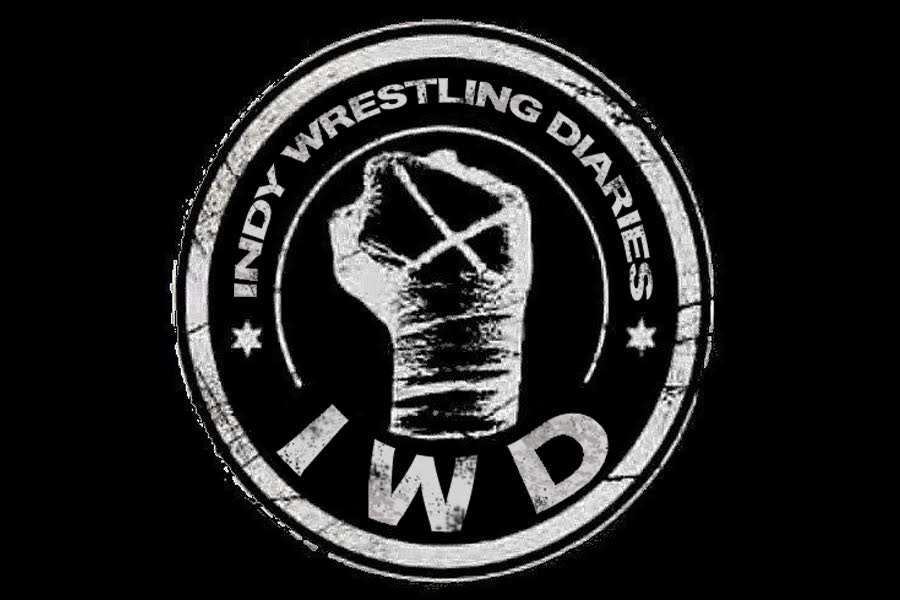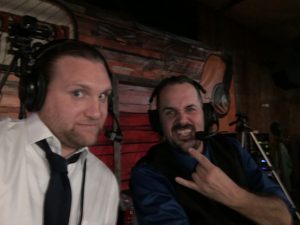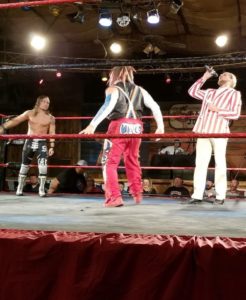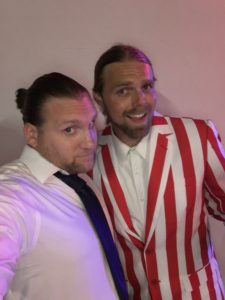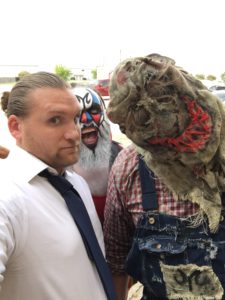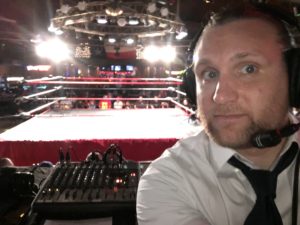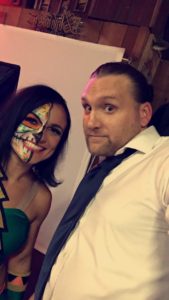 ---
Always Use Your Head and visit the official Pro Wrestling Tees store for The Chairshot All t-shirt proceeds help support the advancement of your favorite hard-hitting wrestling website, The Chairshot!

---
Levin's WWE SmackDown Live Review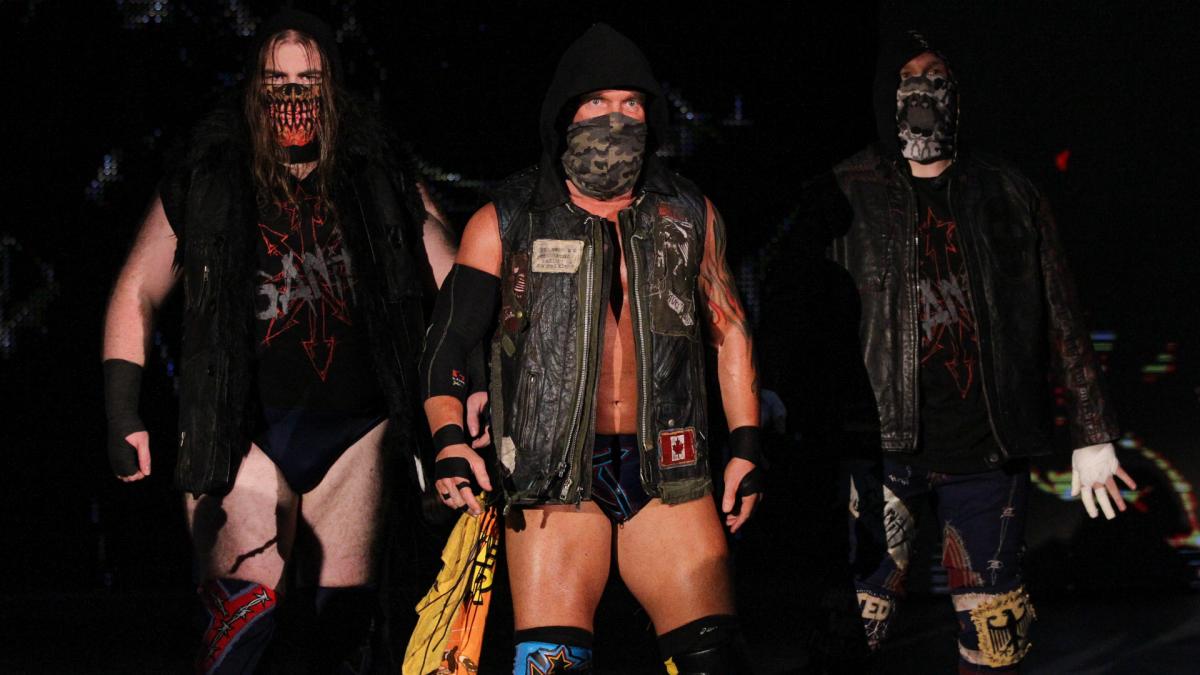 If WWE can bring back Dean Ambrose for the "go home" show before SummerSlam, then why can't the creative team for SmackDown Live do something equally dynamic?
WWE took a page out of old-school wrestling on Tuesday night, building the match between The Miz and Daniel Bryan to be as big, if not bigger than any feud the company or the business has ever witnessed. By promoting both company superstars through three vignettes, the next six days to SummerSlam should be full of hype, anticipation, and suspense.
The WWE did this right. The back and forth comments were perfect. The walk down memory lane sent chills down my spine. The fear of the match falling short, leading to disappointment vanished with each segment, which was better than the last. Whoever came up with this concept deserves a gold star and a raise.
When I look at feuds of the past, Flair-Steamboat, Savage-Hogan, Brisco-Funk, they all had a great storyline and even better in-ring chemistry. The same holds true for this match and hopefully, it means a continuing feud moving forward. Also, like John Cena and CM Punk, there is potential to write more chapters as a "go to" feud when ratings fall or the business becomes stale.
Bad blood usually spoils over again in this business.
Here are a few more points I need to make.
The Tuesday night show started off with Carmella, Becky Lynch and Charlotte Flair in the ring ahead of the SmackDown Women's Title match on Sunday night. I'm still trying to get behind this one and waiting for ether BFF to turn to the dark side. There are plenty of scenarios that could take place, but the fact remains if Carmella walks out of Brooklyn with the title in hand, I'm going to be pissed with plenty of other wrestling fans.
The dialogue between the three ladies was decent but still didn't excite the masses. The best line of the opening segment is when Flair told the champ, "You're a diva living in a women's era."
Of course, Paige (Good Gawd) comes out and orders a tag team match between Flair and Becky vs. Mandy Rose and Sonya DeVille.
I'll say this, the women's division has gotten better – with the resurgence of Lynch, Hopefully, the match will be better than the hype.
Lynch got the pinfall and stole the show, leading to more backstage tension between the two women.
The Bludgeon Brothers and Everyone Else
The Bludgeon Brothers remind me of the Wild Samoans from the old WWWF/WWF. Over 600 pounds of intensity and tougher and meaner than any other tag team. The current SmackDown tag team champions have no peer and should New Day beat them, it shows WWE's need to keep the four-time tag team champions relevant.
This is a division that is good, but it could use a shakeup.
Sanity vs. The New Day – Does Nothing For Me
Alexander Wolf, Killian Dain, and Eric Young should be one badass tag team that challenges the Bludgeon Brothers but are stuck in tag team mediocrity.
Young is one of the better mat wrestlers of this generation. Dain should be in singles competition. I'm still of the belief WWE should figure out what to do with Xavier Woods (205), Kofi Kingston (main even picture) and Big E feud with Rusev.
Don't get me wrong about my point. The match itself was very good, but there was no way WWE would put Sanity over when New Day has a tag team title opportunity.
Samoa Joe Must Beat AJ Styles
There is no way A.J. Styles will hold the WWE Title for over 500 days. There is no way Samoa Joe will continue to march through the SmackDown Live roster without a title. This is a match I cannot wait to see on Sunday.
While Styles may be a better in-ring performer, Joe is the more complete performer. Personally, I would love to see Joe as the next Paul Heyman guy. I did not like the end of the show.
Aiden English Needs A Spot
English vs. Andrade "Cien" Almas. You knew this would happen. It's the only reasonable progression. But it makes no sense.
The rumor has been Vince McMahon is in favor of an Almas run toward the main event after two weeks of matches against Styles and Rusev. Rusev vs. Almas at SummerSlam would be perfect if it were not for the current storyline.
English really is a ball and chain. And honestly, I don't want to see a mixed tag match to kick off SummerSlam.
By the way, Lana cannot remember her accent.
Shelton Benjamin Deserves Better
What would happen if Shelton Benjamin could stay healthy? Would he be in line for a main event push? The match with Jeff Hardy, which was good, was a mere icebreaker for a confrontation with Shinsuke Nakamura.
With the addition of Randy Orton to this angle, there is no doubt he will decide the outcome of the match and the United States Title. WWE has to be careful here. If he costs Nakamura the match, what does that do for the former champion's character? What happens with Hardy moving forward?
Would Benjamin get a chance at the title and have Orton and Nakamura work a program?
---
Always Use Your Head and visit the official Pro Wrestling Tees store for The Chairshot All t-shirt proceeds help support the advancement of your favorite hard-hitting wrestling website, The Chairshot!

---