Ja'Von's Impact Wrestling Live Report (7/5/18)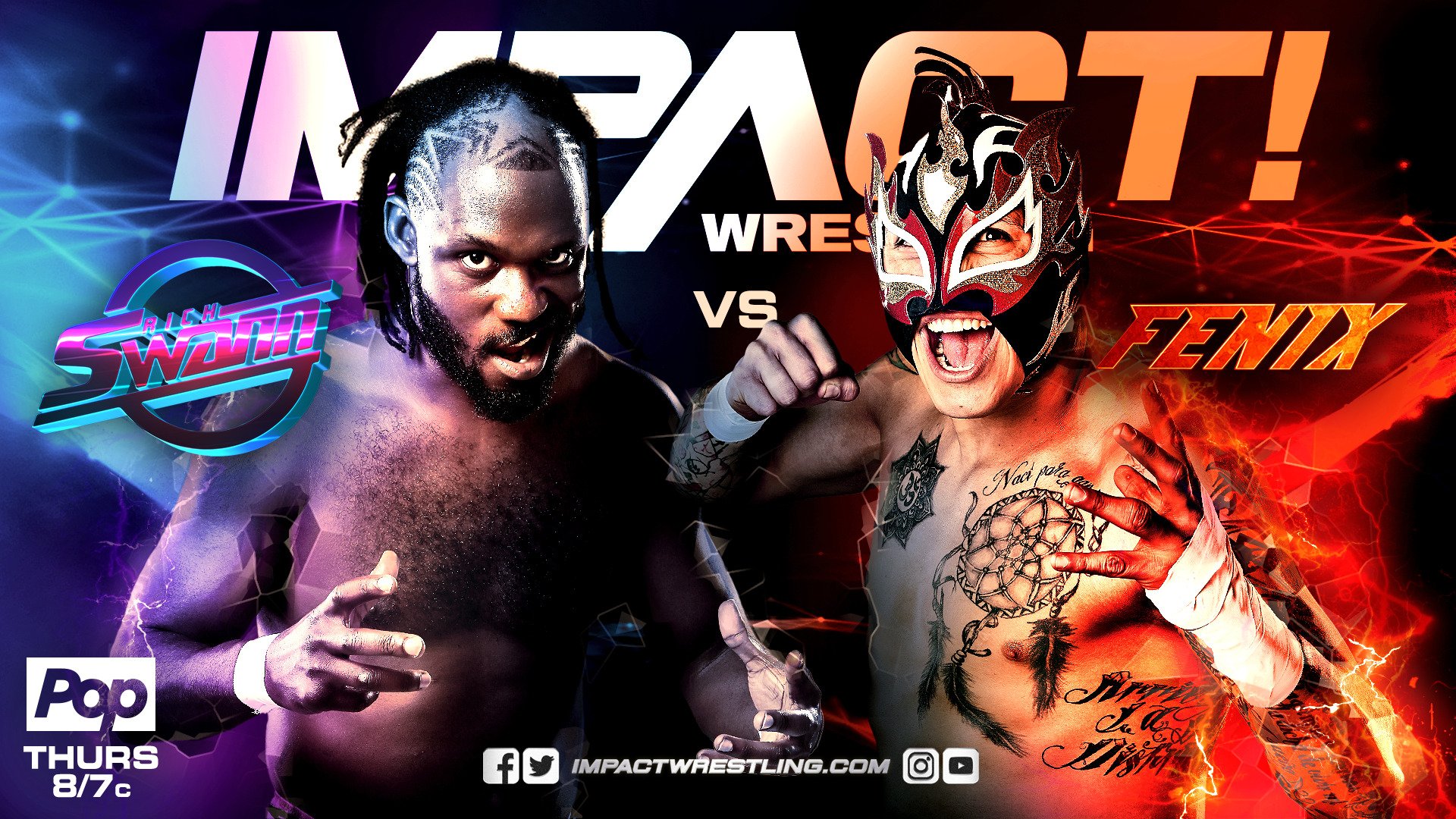 Quick Results:
Rich Swann vs Fenix: Fenix via pinfall 
Killer Kross vs Fallah Bahh: Killer Kross via submission 
Madison Rayne & Allie vs Su Yung & Undead Maid of Honor: Madison Rayne & Allie via pinfall 
Katernia vs Rebel: Katernia via pinfall 
Brian Cage vs Kongo Kong: Brian Cage via pinfall 
Play by Play:
Cold Opening:
Impact Wrestling opens up with a cold opening that recaps everything that went down last wee on Impact.
Rich Swann vs Fenix: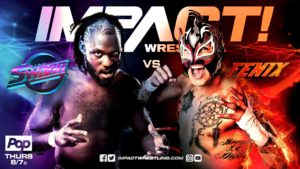 Rich Swann makes his way to the ring for the opening contest of the night.
Welcome to the party. #IMPACTonPop @GottaGetSwann pic.twitter.com/d40zq5khlK

— IMPACT (@IMPACTWRESTLING) July 6, 2018
Fenix who is making his Impact return tonight makes his way to the ring for this match tonight.
Who's pumped to see @ReyFenixMx back for the first time since #Redemption? #IMPACTonPop pic.twitter.com/zrDX4HporQ

— IMPACT (@IMPACTWRESTLING) July 6, 2018
The bell rings and here we go. Collar and elbow tie up with Fenix hitting the go behind and bring Swann yo the mat then locking in a wristlock and bring him back to the mat. Swann then hits multiple kip upa before finally getting back up. While still holding on to the wristlock Fenix walks the ropes then sends Rich to the floor. Back in the ring the match is fast and furious with multiple flips and tricks both guys miss their shots then do double kip ups into a stand off. They get in each others face and Fenix hits Rich with a dropckick sending Swann to the outside. Fenix follows to the outside but Rich gets the advantage and gets on the apron to hit a springboard move but Fenix tries to counter and eats a superkick. Swann then conncects with springboard somersault. Back in the ring Fenix regains control of the match and sends Swann back to the outside and hits a sucide dive and brings Rich back in the ring. Fenix sets him up in the corner and hits a reverse cutter off the second rope. Fenix tries to go for it again this time from the middle rope but Swann counters it into a handstand and goes over Fenix.
Swann dodges @ReyFenixMx's moonsault but amazingly Fenix rolls through and connects with a cutter. #IMPACTonPOP pic.twitter.com/ENQOakLjRp

— IMPACT (@IMPACTWRESTLING) July 6, 2018
They both then think about doing the same thing as they hit double handsprings into fouble reverse cutters as we go to break.
Double handspring.

Double neckbreaker.

Both @ReyFenixMx and @GottaGetSwann are down! #IMPACTonPop pic.twitter.com/GIeBSCVNvE

— IMPACT (@IMPACTWRESTLING) July 6, 2018
Back from break and we have ourselves a stalemate back and forth with both guys laying in chops to each other. Fenix tosses Swann to the floor but Rich catches himself and comes back in and catches him with a kick to the side of the head then followed by a fisherman suplex for a nearfall. Rich Swann continues with a 450 from the second rope for another nearfall. Both guys end up on the top rop and Fenix hits a hurricanrana followed by a piledriver for a nearfall. Fenix is first to get back to his feet and runs into a big superkick from Swann. Fenix then sets Rich on the top rope and hits an uppercut followed by some sort of musclebuster with a spin for the pinfall victory.
.@ReyFenixMx WINS! WHAT A MATCH! #IMPACTonPop pic.twitter.com/DbeUIQbgKd

— IMPACT (@IMPACTWRESTLING) July 6, 2018
Winner: Fenix via pinfall
After the match oVe attacks Fenix and try to take his mask off but Pentagon Jr. slides into the ring and oVe escape. Pentagon Jr. then turns oj Fenix and hits him with the Pentagon driver. Pentagon then takes off his mask and it turns out to be Callihan.
.@TheSamiCallihan DISGUISED HIMSELF AS PENTAGON! #IMPACTonPop pic.twitter.com/tEg450CQOa

— IMPACT (@IMPACTWRESTLING) July 6, 2018
Swann then comes back to make the save but gets overpowered and oVe forces him to watch as Sami goes to take the mask off of Fenix. Then the REAL Pentagon Jr. ckmes out to make the save and takes out Sami Callihan and oVe with a suicide dive.
.@PENTAELZEROM takes out oVe! #IMPACTonPop pic.twitter.com/8PZAqLRqQY

— IMPACT (@IMPACTWRESTLING) July 6, 2018
Backstage we see KM and Fallah Bahh. KM apologizes to him and says he is committed to him and their partnership.
Killer Kross makes his Impact debut NEXT.
.@realKILLERkross warms up by forearming a wall. This man is terrifying. #IMPACTonPop pic.twitter.com/9soC5cwwav

— IMPACT (@IMPACTWRESTLING) July 6, 2018
Back from the break Allie and Madison Rayne are interviewed about their match. Madison says she has face almost every knockout that has come through Impact and is glad to have someone on het side who knows what their facing tonight. Allie spoke about Rosemary telling her to not get consume by the darnkness but she did and is looking for revenge against Su Yung tonight.
Killer Kross vs Fallah Bahh:
Fallah Bahh accompanied by KM makes his way to the ring for his match. Killer Kross makes his way to the ring for his debut match. The bell rings and here we go. They run at each other and hit each other with shoulderblocks and Kross absorbed the blow. Kross sends Bahh into the corner and lays in the rights and the referee pulls him off him which allows Bahh to take control. Bahh puts Kross in the corner and lays in the chops. Kross then fights back and hits Fallah with a clothesline sending him to the mat. Kross then picks him up and invites him to hit him some more. Bahh does just that and Kross eventually grabs him and hits a sido suplex
.@realKILLERkross JUST THREW @FALLAH1 WITH A SUPLEX! #IMPACTonPop pic.twitter.com/EycdXIhMMk

— IMPACT (@IMPACTWRESTLING) July 6, 2018
then locks in a MMA style choke and puts Fallah Bahh to sleep and the submission victory.
.@realKILLERkross choked out Fallah Bahh. What a debut. #IMPACTonPop pic.twitter.com/DFcVr2Z6Ce

— IMPACT (@IMPACTWRESTLING) July 6, 2018
Winner: Killer Kross via Submission
After the match Kross continues to attack Fallah which prompts KM to try and make the save but he gets choked out too which prompts Petey Williams to make his return and the save for KM. He hits Kross with a steel chair but it does nothing to him and Kross is sent to the outside of the ring after Petey throws a chair and it hits Kross in the face.
.@iPeteyWilliams just threw a chair in the face of @realKILLERkross and he just smiled. He enjoys this. #IMPACTonPop pic.twitter.com/HPVhNsMARq

— IMPACT (@IMPACTWRESTLING) July 6, 2018
Kross stands on the ramp and  tells Petey tick tok.
Back from break Jimmy Jacobs and Kongo Kong and interviewed backstage. Jimmy says he is a good guy and Kongo Kong is a monster. He says Kong took out Abyss and Johnny Impact. He talks about Kong attscking Cage last week and that he felt pain so magbe he isnt a machine after all. He predicts that Kong will beat Cage tonight and that he gets what he wants cause he's a princess.
GWN Flashback Moment of the Week: RVD vs Sting( TNA World Heavyweight Championship): RVD retained that night.
Desi Hit Squad celebrated their win from last week and tells them under his guidance they will take over America and Impact Wrestling.
.@GR8GamaSingh is a harsh taskmaster. It would appear he keeps @HakimZane and @GursinderImpact in check. #IMPACTonPop pic.twitter.com/ambDjsDH9Q

— IMPACT (@IMPACTWRESTLING) July 6, 2018
Back from break and we get a video package of a new knockout coming soon to the Impact Zone.
Madison Rayne & Allie vs Su Yung & Undead Maid of Honor: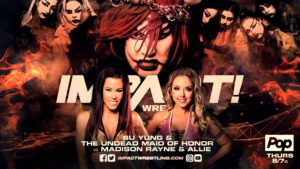 Impact Knockouts Champion and het Undead Maid of Honor make their way to the ring for their match. Allie and Madison Rayne make their way tothe ring and rush Su and her Maid of Honor and they take both of them doen with shoulderblocks in the corner then thez presses into raining in forearms. Allie then offically starts the match with the maid of honor and Allie hits her with multiple forearms then hits a Russian Legsweep for a nearfall. Allie hits the ropes to go for a big move but Su Yung grabs her hair to stop her. Su continues to distract Allie which allows for the maid of honor to take down Allie for a nearfall. Su Yung then takes in and wears down Allie with a workkng hold submission maneuver. Allie fights back to get back to her feet. Allie then takes out Su Yung and both knockouts are down. Allie then tags in Madison and Su tags in the maid of honor. Rayne take her down then hits a ripcord neckbreaker. Madison then tries to take out the bridesmaids but gets caught. Allie then dives off the apron to take out the bridesmaids.
🐰🚀#IMPACTonPop @AllieImpact pic.twitter.com/0kHNDf17ma

— IMPACT (@IMPACTWRESTLING) July 6, 2018
Madison then gets caught by Su who sets her up for the paincswitch and accidentally takes of the referee with Madison's feet. Madison would then counter into Cross Rayne but there is no referee to make the count which allows Tessa Blanchard to come in and attack Madison.
.@Tess_Blanchard has made her presence known in this match. #IMPACTonPop pic.twitter.com/xRcClr8wjE

— IMPACT (@IMPACTWRESTLING) July 6, 2018
Allie comes in to make the save and takes out Tessa. Madison then his Cross Rayne again on the maid of honor for the pinfall victory.
Another momentum building win for @MadisonRayne on the road to Slammiversary. #IMPACTonPop pic.twitter.com/OhC5yOWovQ

— IMPACT (@IMPACTWRESTLING) July 6, 2018
Winners: Madison Rayne & Allie via pinfall.
In the LAX Clubhouse Santana and Ortiz say they are loyal dudes and ride for Konan who took them out of the ghetto and their bad situations. King feels disrespected by Konan for stepping to him like that and accusing him of attacking him. He doesn't want to wait anymore and heads to the ring to see what kind of proof Konan has on him.
Back from break we are shown how the Desi Hit Squad trains and Gama Singh's strict training methods.
oVe Cam:
Sami Callihan is wearing Pentagon's mask and says that Pentagon should've stayed out of their business and says that he ruined everything. He announces a six man tag match between them and Pentagon Jr. Fenix and Rich Swann. Sami says he will take Pentagon's mask, Fenix's mask  and Rich Swann's face.
.@TheSamiCallihan, @TheJakeCrist and @TheDaveCrist are sick of Fenix, Swann and Pentagon and they want a six man tag NEXT WEEK! #IMPACTonPop pic.twitter.com/VLXE9sxNw7

— IMPACT (@IMPACTWRESTLING) July 6, 2018
We get an in depth video package on Impact World Champion Austin Aries about his childhood and how he got into the wrestling industry. He also says that he didn't have any special favors like Moose. He sahs that Moose ckmes from a world where someone else draws up the gameplan for him but he draws up his own gameplan.
"After I finish you (at Slammiversary), your new dream will be to hope the @xfl2020 needs a sh*tty offensive lineman." – @AustinAries is pulling absolutely no punches with @TheMooseNation on the way to Slammiversary. #IMPACTonPop pic.twitter.com/PFcrQEDbLg

— IMPACT (@IMPACTWRESTLING) July 6, 2018
We see Konan on the phone saying that he has the proof and is going to expose him tonight.
Back from break we hear from Tommy Dreamer after he was attacked by Eddie Edwards last week.
For months @TheEddieEdwards has had an obsession with Sami Callihan, now @THETOMMYDREAMER has an obsession with Eddie Edwards.

What a raw, emotional, passionate response by Dreamer. #IMPACTonPop pic.twitter.com/09bKZlY2Hh

— IMPACT (@IMPACTWRESTLING) July 6, 2018
Dreamer says Eddie is throwing his career away because of his obsession with Sami Callihan. Tommy says that he nows has an obsession with Eddie Edwards.
BREAKING: It is official. @THETOMMYDREAMER will face @TheEddieEdwards in a House of Hardcore match at Slammiversary on July 22nd in Toronto. This will be deeply personal.

TICKETS: https://t.co/Nmyym63B4d pic.twitter.com/oxD64Iupnt

— IMPACT (@IMPACTWRESTLING) July 6, 2018
Katerina vs Rebel:
Rebel makes her way to the ring for this match.
.@RebelTanea is here! #IMPACTonPop pic.twitter.com/d0yZ1M4fiu

— IMPACT (@IMPACTWRESTLING) July 6, 2018
Katerina accompanied by Grado makes her way to the ring. The bell rings and here we go. Collar and elbow tie up with Rebel getting the upper hand on Katerina with a sideheadlock bringing her to the mat. Back and forth roll ups lead to Rebel still with the upper hand laying in forearns to Katerina then picks her up snd drops her on the mat for a nearfall. Rebel goes for a handspring move but eats nothing but turnbuckle. Katerina then hits a tornado DDT on Rebel and gets a nearfall. Katerina goes to the to rope and jumpa off the ropes and comes up empty. Rebel then hits a split on Katerina but she fights back and hits a backbreaker on her knee for the pinfall victory.
Shoutout to @hemmepowered with a variation of the Flying Firecrotch Guillotine! #IMPACTonPop @RebelTanea pic.twitter.com/1nP2fkU1xp

— IMPACT (@IMPACTWRESTLING) July 6, 2018
Back from break and Grado and Katerina celebrate her victory and Katerina has a surprise for him. She surprises him with Joe Hendry.
The Prestigious One is here!@katarinasinfamy has brought @joeshendry to IMPACT and @gradowrestling is delighted. #IMPACTonPop pic.twitter.com/AtxHtBBbCX

— IMPACT (@IMPACTWRESTLING) July 6, 2018
Winner: Katerina via pinfall
Brain Cage vs Kongo Kong: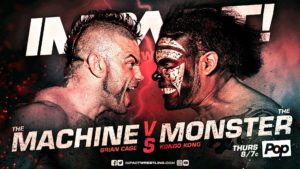 Kongo Kong accompanied by Jimmy Jacobs makes his way to the ring for the match. Brian Cage makes his way to the ring for the match. The bell rings and here we go. They both go right at each other sith punches. Kong takes down Cage and goes for a splash but Brian Cage rolls out of the way and hits an armdrag on Kong sending him out of the ring. Cage follows up with a sommersault plancha to the outside.
HOW DOES @MrGMSI_BCage FLY LIKE THIS? #IMPACTonPop pic.twitter.com/epqLs9Ojia

— IMPACT (@IMPACTWRESTLING) July 6, 2018
Cage brings him back in and Cage stays on the attack and sets u.k p for a running powerbomb until Kong counters and hits a hurricanrana.
WHAT IS EVEN HAPPENING?! #IMPACTonPop @RealKongoKong pic.twitter.com/CcPmnN58Rw

— IMPACT (@IMPACTWRESTLING) July 6, 2018
Cage then fights bsck and goes on the attack and hits a 619 and a german suplex for a nearfall.
THIS MATCH IS JUST US CONSTANTLY SCREAMING! 619 BY @MrGMSI_BCage. #IMPACTonPop pic.twitter.com/EZaFo2C7p8

— IMPACT (@IMPACTWRESTLING) July 6, 2018
Kong fights backand gets a nearfall of his own. Cage then hits a superplex from the top rope followed by an F5 for pinfall victory.
Winner: Brian Cage via pinfall 
Konan's Proof: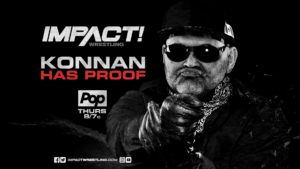 Back from break Konan mkes his way to the ring to expose King for being the one who attacked him. Konan calls out King and he comes out to the ring with Santana and Ortiz.
Should we be reading anything into the fact that @SantanaLAX and @Ortiz5150 came out with @MadKing1981 rather than Konnan? #IMPACTonPop pic.twitter.com/o6nhrTSaQb

— IMPACT (@IMPACTWRESTLING) July 6, 2018
Konan is not made that King put a hit on him. Konan bring up all the times he helped King out during their childhood and King's marriage. Konan says the calls that King said he made to him while he was in the hospital never happened. Konan calls him an explicit name.
This ladies and gentlemen, is a glory hole chant by the fine folks in Windsor. #IMPACTonPop pic.twitter.com/de5G932WQZ

— IMPACT (@IMPACTWRESTLING) July 6, 2018
King then admits that he was the one who called the hit saying he is the future and Konan is the past. Santana and Ortiz flip King off and Konan says he didn't get the job done as usual. The orginal LAX Homicide and Hernandez attack Konan, Santana, and Ortiz.
HOMICIDE AND @SuperMexCTM HAVE RETURNED!

King has recruited the original LAX to start a turf war with @Konnan5150, @SantanaLAX and @Ortiz5150! And they're taking the territory by force! #IMPACTonPop pic.twitter.com/JrVxn8S0p2

— IMPACT (@IMPACTWRESTLING) July 6, 2018
The battle lines have been drawn and King, Homicide, and Hernandez stand tall.
My thoughts: This sas a really great show tonight we kicked off with a must see match between Rich Swann and Fenix and ended wih a civil war. Tonight also saw two debuts with the in-ring debut of Killer Kross and the Impact debut of Joe Hendry. Seems like Hendry will be involved with Grado and Katerina while Kross might have began his first offical feud. Another great show from Impact tonight. Stay close to Twitter and Chairshot.com for my Impact Wrestling Viewership and YouTube articles in the coming days.
My Score: 6.5/10
Andrew's Impact Wrestling Ratings & Review 1/18/2019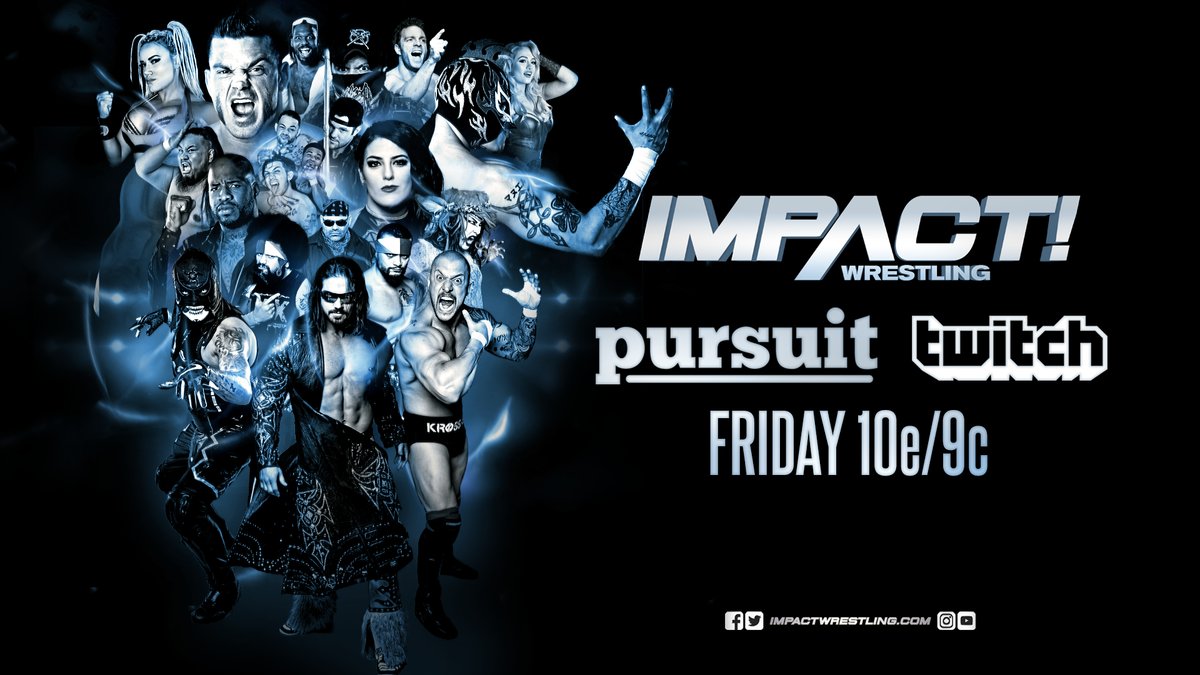 Coming off their sexy debut on Pursuit and Twitch, how does Impact Wrestling follow that? Andrew let's us know how it all went down.
With nothing as edgy as a Scarlett Bordeaux strip show advertised for this week, I guess we should find out exactly how much sex sold last week and who stuck around for Impact.
We should see developments with Johnny/Cage/Kross/Moose, Tessa/Gail and Allie/Rosemary. So with a bunch of budding stories, this should be a fun episode.
.@AllieImpact is here… #IMPACT

▶️ – https://t.co/jyZYT6QL46 pic.twitter.com/WHnYmlkeoK

— IMPACT (@IMPACTWRESTLING) January 19, 2019
Interesting note: Sami Callihan, Don Callis and Jordynne Grace are active in the Twitch chat tonight, along with a few other wrestlers. The interactive aspect is kind of cool.
Ratings:
KM w/Fallah Bah vs Caleb Conley – NO CONTEST Brian Cage lays everyone out
'All Ego' Ethan Page vs Eddie Edwards – Page wins via DQ – ** 1/2
Dark Allie w/Su Yung vs Jodynne Grace w/ Kiera Hogan –  Jordynne wins via Wristclutch Fisherman Driver – *
Brian Cage vs Moose – Cage wins via Drill Claw – ***
Trey vs Rich Swann -Swann wins via 450 Splash – ***
LAX vs oVe – LAX wins via Tandem Inverted Suplex – *** 1/2
Review Notes:
The show starts off with what we expect to be a match, but then it cuts to the back with Brian Cage going crazy. He storms out, interrupts the match, lays out the world and calls out Johnny Impact. Impact comes out, Moose and Kross beat down Johnny. Cage eventually struts up the ramp, drags Johnny back to the ring to lay in some damage himself, but Moose spears Cage and Kross hits Johnny with the Doomsday Saito Suplex.  Wonder if we get a thrown together tag or if the free for all feel continues.
Twitch unique commercial break has Josh Mathew's Skype in and chat with the viewers. It's an interesting take on doing the show through Twitch.
Quick backstage moment with Cage making a match for tonight with Moose, since Moose hit him with the spear.
Eli Drake comes out to join commentary
Decent match by Page and Edwards here. Drake sets up the promo he cuts on Edwards after the match throughout his commentary. Some nice bickering between commentary and solid enough match before Eddie decides to use the Kendo Stick. Edwards calls the Kendo Stick Kenny, and when Page landed a big Pump Kick, Drake couldn't miss the South Park reference. But after the DQ it sounds like Drake wants Eddie to return to his old version, not this twisted hardcore person. Maybe we'll see Davey Richards come back. LAX against the American Wolves would be a great match.
Flashback moment is a steel cage match with Raven's Gathering versus Abyss' Red Shirts. Always nice to see the overbooked nostalgia of old school TNA with AJ Styles, Sting and CM Punk at the time.
Rascalz with the That 70s Show stoner vignette, even drop a Step Brothers reference. Pretty funny if you like that.
Allie puts up a little bit of a fight, but Jordynne dominates for the most part. After the match Rosemary shuts the lights off and switches places with Su Yung in the ring to try and get Allie back. But Allie bails and runs off in fear.
Scarlett announces her winner, and it's herself. She says that she's already the most over Knockout and she hasn't wrestled yet, so now she'll get in a ring and prove herself there.
Cage vs Moose is a hard hitting big boy style match. Moose got to showcase a bit of the cocky persona when he thought he outsmarted Brian Cage, but then Cage ducks the chop and Moose hits the post like a geek. The match was slow, but some nice outside of the ring work, as well as, fun spots. Moose did a Kip Up, Brian Cage fired up, flurry of strikes, Moose lands a Go to Hell, but Cage kicks out. Moose tries to introduce a chair, it backfires and Cage kills Moose. Cage has a much clearer path to a rematch against Johnny.
Taya interview says she'll be back in time for the Mexico shows, and we'll get some La Wera Loca action.
Interesting note, Allie joined the Twitch chat, with Rosemary in it as well…and they continue to talk in character and further to story a bit. It's really cool. Feels like an old AOL RP chat room…shut up, I'm old, don't talk.
Tessa gets an interview in the back, nearly attacks McKenzie, attacks a PA, Gail shows up to pull her off and they scuffle. So again, I'm figuring Gail comes out of retirement to face Tessa. Fun Eli Drake sighting in the background during the brawl though. Scott D'amore did just suspend Tessa, but we all know those never stick.
Swann and Trey was quick and fun. A few hiccups in the match, but not bad. Locomotion Double Leg Cradles make Baby Ref dizzy and Trey nearly gets the best of it. Swann kicks out, knocks Trey back on his ass and then puts things away with a second rope 450 Splash. oVe comes out to try and recruit Swann again, but before a decision is made, LAX come out for the match. So again we're left without knowing how Swann feels.
The commercial break comes back a little late, but we get a good portion of the match. Spotty but a fun match. Saw a lot of quick tandem work between both teams, and it's also the first time we've really seen Dave Crist in an actual match in a while. oVe hits a Superplex/Jumping Powerbomb combo, but only for a 2. Then LAX dispatches of Dave, hits a bunch of smooth moves, Rolling Cutter, Code Breaker, Superkick, Tandem Inverted Suplex, and the pinfall. Fast paced and fun, perfectly fine TV main event. After the match the Lucha Bros congratulate them, but Ortiz gets a little prematurely mouthy as Konnan voices his dismay when the show cuts off.
"If you ever want another ass whipping just let us know baby!" @Ortiz5150 is happy to pick another fight with @PENTAELZEROM and @ReyFenixMx! #IMPACT pic.twitter.com/sapQDse4tt

— IMPACT (@IMPACTWRESTLING) January 19, 2019
Overall Score: 6.5/10
Fun and solid show. Even though the actual wrestling was back-loaded this week, we saw plenty of story line progression and all of the little segments and promos are building to something. Plus Impact showed their new concept with wrestlers in the chat to kind of talk with and Josh's Skype presence. It would be cool if they mixed up the Skype person though. McKenzie Mitchell, Eli Drake, Bruan Cage (with Melissa maybe) or Alicia Atout popping in at 3 minute intervals during commercials would probably be better. But it was still a very cool concept.
Still, between the interactivity on Twitch and the actual content of the show, this was an easy watch and pretty enjoyable. It should be mentioned though that Twitch viewers did drop by a bit. The show capped off right around 8,000 viewers and by the time the main event hit, it was down to 6,500. So this shows about a 20% drop in viewership, but a strip show also wasn't marketed…so who knows if that played into the bigger number last week. All I know is, it's early in the year, but Impact has put on a more solid TV product than even SmackDown Live. I'm hopeful this trend continues, so I'll keep watching.
Andrew's IMPACT Wrestling 1/11/2019 Ratings & Notes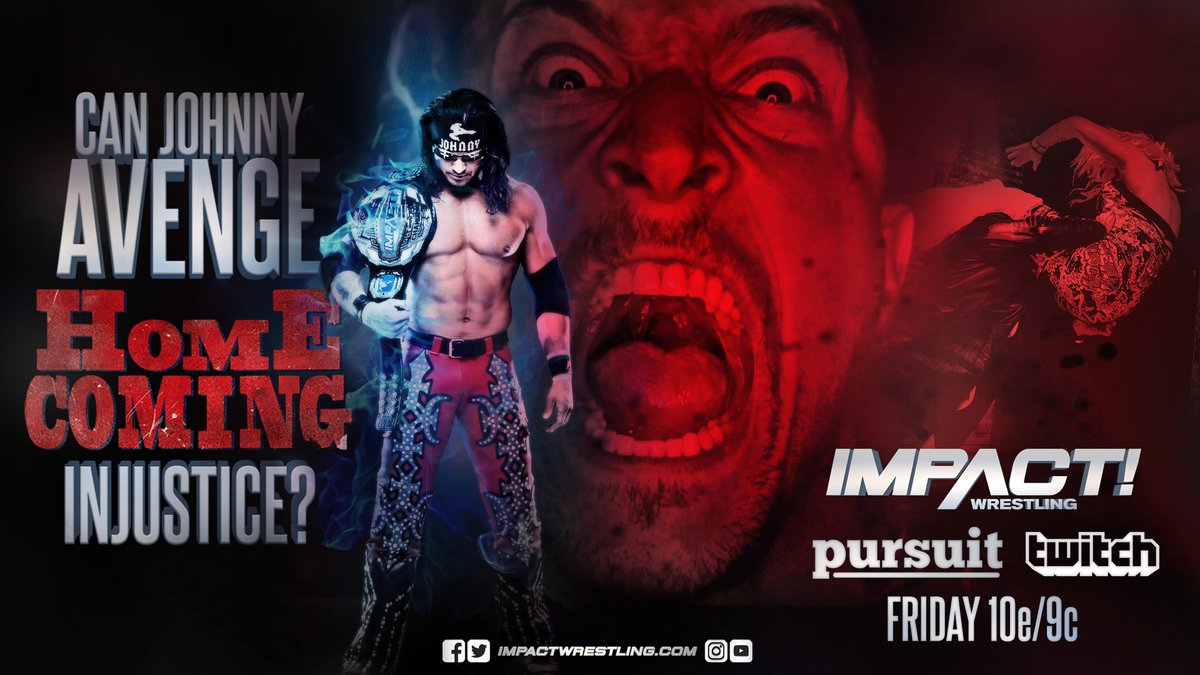 Andrew covers the first Pursuit/Twitch Impact. Will it rebound from Homecoming?
Well if you read my Homecoming review notes, or listened to POD is War…that PPV didn't really ring my bell. With Don Callis promising Edgier and Sexier, does the inaugural Pursuit/Twitch show pay off?
Firstly, Impact's Twitch TV link: https://www.twitch.tv/impactwrestling
So now let's get to the reason why most people prolly clicked this.
Impact Ratings:
Wentz & Dez vs Pentagon Jr & Fenix – Pentagon & Fenix wins via Tandem Gory Bomb/Fear Factor/Cutter combination – *** 3/4
FLASHBACK MATCH 8/20/2003 X Division Ultimate X Match: Michael Shane vs Chris Sabin vs Frankie Kazarian: Shane wins for those who forgot – *** 3/4
Willie Mack vs Sami Callihan – Mack wins via Cradle – ***
Tessa Blanchard vs Cali Collins – Tessa wins via Eat DeFeat – N/A Job Match
No DQ Match: Johnny Impact vs Killer Kross – Kross wins via CrossJacket Sleeper – ***
Review Notes:
Kicks off with Johnny complaining about Killer Kross Powerbombing Taya off the stage. Brian Cage shows up to state that Johnny isn't done with him since he had him pinned for a 10 count, but a bunch of extra crap saved the championship for Johnny. Kross then shows up, says once Taya is back he'll put her back in the hospital. Johnny Superkicks Cage, dives on Kross, Kross rolls in the ring, Cage wipes out Johnny with a Discus Clothesline, Kross tries to lay out Cage, but Cage pops up and Kross looks shocked but leaves the ring before anything crazy happens.
Well now, if anyone had questions about The Rascalz, this stopped those questions. Match was basically run like a Lucha Rules match since I don't remember a clean tag the whole time, but there were quick, crisp and great moves. Dez started off mirroring Pentagon for amusement, and the Rascalz continued their stoner/playful gimmick, while looking impressive as hell. As Dez and Wentz were trying to set up for Hot Fire Flame, Fenix shows up to turn the tides, Pentagon has Dez in a Gory Special, picks up Wentz for the Fear Factor, and drops down, while Fenix hits a cutter on Dez. Could easily have been a PPV match, all four were tremendous.
GWN Flashback to the first ever X Division Ultimate X Match – Apparently they're doing a full Flashback match now. Well…that's kinda cool. I miss Frankie Kazarian's hair.
Broken Hardys interlude, not sure if just a Twitch thing for when commercials are on, but nice to see some of those clips again.
Killer Kross is a great promo. He plays unhinged and sadistic so beautifully.
Rich Swann promo is solid, turns into Sami Callihan offering him a spot in oVe, Willie Mack then comes out before the answer and they start scuffling before their official match.
2002 Hidden Gem Match, Hot Shots vs The Briscoes (yes the ROH Briscoes).
Callihan and Mack have a nice match that looks more like a brawl. Lots of heavy hands and solid strikes. False finish with Callihan hitting the Piledriver on the stage, but Mack makes it back to the ring right before the 10 count. Mack never hits the Stunner, but they end the match after locomotion cradle attempts and then Mack sits down on the Sunset attempt, grabs a leg and gets the Cradle victory.
Scarlett Bordeaux Strip Show, she gives a countdown after saying she'll declare the winner of her talent search next week. Desi Hit Squad plays Mike Knox and interrupts, a few amusing lines, but then Scott Steiner shows up. Lays out the Desi Hit Squad, says Scarlett will continue and sets up a chair for a front row seat. And well, she reveals this lacy little red and black number under the robe. Looks similar to her wrestling gear in Mexico, but yeah…I'm not complaining. I hope Steve Cook is watching.
Tessa is pissed and this job match adds to her calling out Gail. Using Gail's finisher to end the match is a cute wrinkle. I guess Gail is coming out of retirement soon.
Backstage segment with Eddie Edwards and Eli Drake hints very heavily that if Eddie wants to maintain this more hardcore persona, Drake may be in his future.
Quick backstage piece with Dark Allie and Su Yung. Ahh…Dark Allie…<3
One more Hidden Gem before the Main Event, and it's Elix Skipper vs Shinsuke Nakamura from 2008. Subconscious is still the best wrestling theme ever.
Well this was a hell of a fight. Impact started off aggressively, Kross then got in some offense with chairs, then we get a fun spot. Johnny knocks down Kross, asks the crowd for chairs so they feed up about a dozen. Johnny does a Moonsault onto the pile of chairs with Kross under. He then starts moving the steal steps and throws one or two chairs in the ring as Kross pops up looking like a monster, grinning from ear to ear. Kross then tosses a chair into the ring, and they have this understood armistice of "Yeah, chairs in the ring sounds cool". They keep eye contact going into the ring, and then have a chair duel like a bunch of 12 year olds (in an amusing way). Right when it looks like Johnny has a chance to win, Moose comes out, pushes Johnny into a previously propped up table and Kross chokes out Johnny.
Overall Score: 8/10
The first episode after a disappointing Homecoming had to deliver in my book, and boy did it. Moose and Kross joining back up is a nice to pull on a fairly recent affiliation. Since Johnny promised Cage a shot after he dealt with Kross, I feel we're going to get Johnny Cage vs Killer Moose in some combination over the next few weeks.  Eli and Eddie most likely colliding is nice since they are both former World Champions and you'd have to figure the winner of that feud should be positioned back towards the top. oVe's story with Mack and Swann is solid, as well as the Dark Allie/Rosemary stuff.
Impact definitely felt more like Attitude Era WWF/Old TNA, not sure if that was purposely done cause they're taping from the Asylum or if it's their new model. But this was damn good and I think the Twitch stream maxed out around 10,350 viewers and held steady between 8,500 – 9,000 for most of the show.