King Haku – Celebrating 30 Years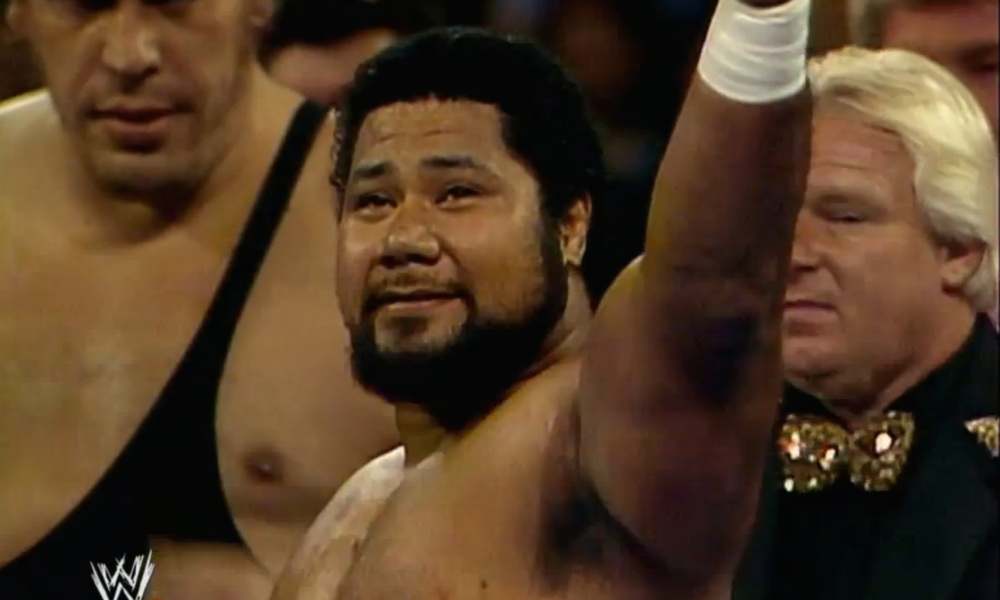 Today marks the 30th anniversary of King Haku's royal coronation. This event was televised on the 9th of July edition of WWF's flagship show, Superstars of Wrestling. I can imagine that some people may not see the importance of this event; they may even find it foolish, so I will explain in detail the significance of this event from my perspective; as a New Zealand born Samoan. This event holds a significance of influence regarding the visibility of Pacific Island people, on screen: In this article, I share my memories of this joyous event; I also have the privilege of sharing perspectives from pro wrestlers Tama Tonga, Bad Luck Fale, Sonny Siaki, Nui Tofiga and Mana – all of whom are of Pacific heritage. In addition to their thoughts of the coronation, these men will also express the impact that King Haku had on them as Pacific Islanders and professional wrestlers.
The 'King of Wrestling'; a title that was created in 1986 and bestowed upon Harley Race after winning the 'King of the Ring' tournament. However these titles are not the same; the KOTR title would reset every year with a different winner, whereas the "King of Wrestling" served as a form of recognition to Race, a former 8 time NWA World Champion and a respected elder. The Kingship was under the facilitating of Bobby Heenan and although it did not equate in value to a championship belt, it was occasionally contested by the opposition and done so unsuccessfully; the most notable of those opponents being the Junkyard Dog at WrestleMania III.
In 1988, Harley Race suffered a severe injury which put him out of action for most of the year. Bobby Heenan eventually took the crown from Race and went on a search to crown a new King; this brings us to the 9th of July, in the year of our Lord, Nineteen Hundred and Eighty-Eight! The WWE's villain community, congregated in the ring to await the announcement of the new 'King of the World Wrestling Federation'. This was one of the first episodes of 'Superstars' that I remember, and I was not yet familiar with the identities of the wrestlers. What I miss about wrestling that was clear throughout the coronation was that it was simple to tell the heroes from the villains. The moment I saw the gathering of wrestlers in the ring, I knew that I was looking at a fraternity of antagonists. The 'boos' coming from the crowd might have indicated that setting, however, the scenery was confirmed by the lost art of subtlety that was conveyed by the wrestlers through their posture, mannerisms and dress wear. There were no smiles or friendly chit-chat among the guests despite it being a celebration in their community. Distinguished attendees like the Big Boss Man, the One Man Gang, Bad News Brown, and Demolition were equipped to spark fear and intimidate.
The pompous figures such as the Honky Tonk Man, Ravishing Rick Rude and the Million Dollar Man Ted Dibiase gave the impression that no one else mattered but them. My favourite wrestling villain was the type that was unfazed by the fans' disapproval, this would only make the crowd increase their hatred. This gathering was also a culturally diverse bunch; consisting of foreigners that showed disdain for America. These 'international' villains of the '80s were normally stereotypes and represented nations that went to war with America and its allies; such threats included Nikolai Volkoff and Boris Zhukov, the two staunch, burly Russians who wore the Soviet apparel with pride; Frenchy Martin, the French painter, and Mr. Fuji, the devious Japanese dressed in a tuxedo and bowler hat.
The ceremony commenced with words from the officiator, Bobby Heenan, assuring his community that the new King had arrived. Heenan introduces everyone to the King of the WWF, and from the entrance way comes Haku! I'm surprised as I notice that the new King isn't just any foreigner; the new King resembles my Pacific features and brown skin! I learn along the way of Haku's identity from (colour commentary antagonist) Jesse Ventura's glowing references. I've noticed how well Haku is received by the other villains; the mood changes to smiles and adoration as Haku acknowledges them with a wave and smile.
I have watched this segment many times over the years, and I've come to grasp the importance of this historic event: My childhood heroes in 1980s New Zealand were dominantly influenced by American pop culture; names like Hogan, Macho Man, Warrior, even to broader parts of entertainment; Arnold, Van Dam and Stallone were considered the biggest box office action heroes. It didn't matter what character Arnold played or movie he led, in many Samoan homes the character's name was 'ARNOLD!" My heroes weren't Samoan or Pacific Islander/Polynesian like me; I didn't resemble a likeness to Arnold or Van Dam, but I'm sure like other Pacific children, that I wanted to be like Arnold. King Haku came close to being my first Pacific Island hero; I didn't care if he was a bad guy. Haku was the first of the Pacific wrestlers I saw on television, and from that point on my perspective of the narrative had changed; King Haku wasn't a bad guy; the fans were just misunderstood.
Long before the Rock had broken barriers for Pacific people in pro wrestling and Hollywood, Pacific Islanders were limited to depicting a stereotype – the barefoot, hard-headed (literally) island savage. The typecast was modestly humanised (westernised) for the protagonists by being 'domesticated' as friendly and well-spoken; while the vilified 'savage' was uncivilised, aggressive and did not speak English. Times have drastically changed, Pacific wrestlers now have more freedom and options to fuse their ethnic identity with western culture, though the island savage is still a relevant and celebrated character. King Haku was not an ordinary 'savage'; he remained a barefoot antagonist and the majority of speaking was still handled by his manager Bobby Heenan; however King Haku was civilised, reserved and when given the opportunity, he spoke with great authority: This may have been a case of colonialism, but it was really an accurate portrayal of the general Pacific Island male.
Samoan wrestler Nui Tofiga explains Haku's influence on him as a fan "Haku always held my attention when I was growing up. When my relatives in Hawai'i would see Haku and other Polynesians on TV, they would feel proud and say 'that's what a man looks like'. You tend to pick up on that and think that maybe I should make these guys my role models". Tofiga, a gifted and agile super heavyweight credits Haku and other Polynesian wrestlers for the way he has embraced his physical attributes and culture, "I wasn't going to change who I was to try and look like Hulk Hogan. Every Polynesian that I grew up watching in wrestling made me proud to be myself."
Prior to taking over the crown, Haku was part of a tag team called the Islanders (along with Tama). Wild Samoan Training Center graduate and NHPW Owner, Mana, is Maori, the native culture in New Zealand; he recounts on the chemistry between Haku and Tama; "I remember watching Haku as the Islanders with Tama (from the Anoa'i family). The Islanders were one of my favourites and inspired me to become a wrestler. Tama was like the cheeky uncle you had a laugh with and Haku was the quiet one you always feared." Haku and Tama displayed a tag team style that was ahead of its time. Tama's speed and agility blended well with Haku's power and strikes; as Mana explains in detail, "I still believe Haku's Thrust/Superkick was as superior to any version I have seen in wrestling, even now. I loved his offence with the chops, martial arts thrusts etc. I always wanted to thank him for his accomplishments and inspiration to someone like me."
The history into Haku's martial arts background can be traced back to his youth, growing up in his native Tonga in the 1970s: During that time a young Tonga Fifita was one of several teenagers selected to study the art of sumo wrestling in Japan. Fifita was a successful competitor in sumo, however, due to a political dispute involving a sumo trainer, Fifita was forced to retire. From there Fifita made the transition to professional wrestling and competed for Giant Baba's All Japan Pro Wrestling. "The Underboss" Bad Luck Fale followed a similar journey, beginning in 2001 when Fale; an elite rugby union player in high school, moved from his home New Zealand to Japan in pursuit of furthering his aspirations. Fale remembers growing up in South Auckland as a young boy, watching the King's coronation on TV, "King Haku made me feel that as a Tongan, I can conquer the world. He was the first famous Tongan in my eyes and became the idol I aimed to become." In 2009, Fale took off his rugby jersey following his retirement from the game (due to injury) and put on pro wrestling gear. Fale found success with New Japan Pro Wrestling; his athleticism, humility, and willingness to learn made Fale an asset: Fale's character assured NJPW that they could invest and depend on him. Following the formation of the Bullet Club, Fale would be joined shortly after by Tama Tonga. Tama was not just a fellow Tongan; Tama was one of Haku's sons. This soon led to an opportunity for Fale to meet his idol in 2014; "I just remembered how huge he was. Haku is the most feared wrestler in and out of the ring but he's the most kind-hearted guy you'll ever meet".
In 2016, Haku visited New Zealand; during his stay, Haku gave an in-depth interview with an Auckland radio station; a key theme that resonated with Haku was his support for all the Pacific Islanders that are situated across the world. Haku was inspired by the multicultural society of New Zealand, in particular, the different Pacific cultures and Maori that co-exist. Haku expressed his passion for hospitality and is comforted knowing that Pacific communities exist beyond the Islands.
Former WCW and IMPACT! Wrestling star Sonny Siaki was a recipient of Haku's hospitality and attested to Haku's character; "I first met Haku in 1998 when I was at the WCW Power Plant training as a wrestler! He's huge and very intimidating in person but he took me in like his own 'cause I am Samoan and of course, we all stick together like a family." Siaki noted on Haku's influence on his wrestling career; "He definitely made a huge impact on me along with the Rock, Rikishi, Afa, Sika, Umaga and many other islanders who came before me. Haku is definitely one of the first wrestlers to put our culture on the map. When I first started he gave me many advice and pep talk before walking out. He had an old school mentality and had great in-ring psychology".
Haku's son Tama Tonga recounts his first memories of his father; the wrestler; "I was adopted, and I came here to America from Tonga in 1991. Basically, I saw him on TV a lot, and it made me realize that he was the first Tongan at least to my knowledge to make a name for Tongans. I thought that was really cool".
Tama and his two brothers Tanga Loa and Hikuleo are mainstays on the New Japan Pro Wrestling roster and along with Fale; they have made up the backbone to the mighty Bullet Club; "Seeing my dad on TV had a big impact on me as a Tongan. My dad came to America for a better life, and he always tried to set an example for me and my siblings to never give up and keep moving towards achieving our goals."
Tama also added on Haku's love for his Pacific people, "My dad is that guy who's proud of any Polynesian that he sees playing sports; just seeing them representing where they come from – makes him proud. He's continuously trying to be a good role model and dad. He's always rooting for the Tongans that play rugby regardless of what country they play for; even when he sees Polys playing football like the Samoans and Fijians, he's always got love for everybody".
After reading my perspective and the stories of the wrestlers who were inspired by King Haku, I hope you now can understand the significance that King Haku has had on his people and to a great extent – on pro wrestling. King Haku may have just been a character that was brought to life by Tonga Fifita, but I would suggest that Tonga Fifita has displayed the fruits of a kind and generous ruler. To Haku's family, he was a loving provider; steeped in principles and values. As a teacher, he offered words of wisdom and guidance to a young Samoan wrestler who was making his way into the wrestling profession. On the radio, Haku delivered messages of support to all the Pacific people he sees chasing their dreams in the public eye; he encourages the young to pursue higher education and has as a passion for Pacific communities. To me; King Haku was the first prominent Pacific character to be shown on an international screen; the ascension of King Haku exemplified that Pacific wrestlers that followed could achieve their goals without compromising their identity. LONG LIVE THE KING!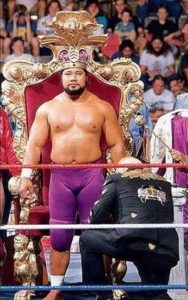 Thank you to  @Tama_Tonga  @TOKSFALE  @ManaPW  @usoATL and @2NuiTofiga for contributing to this article; alofa atu.
Top 5 Matches: Week Ending 2/17/2019
With New Beginning Osaka to start the week, and Elimination Chamber to end, what makes Andrew's cut for Top 5 matches?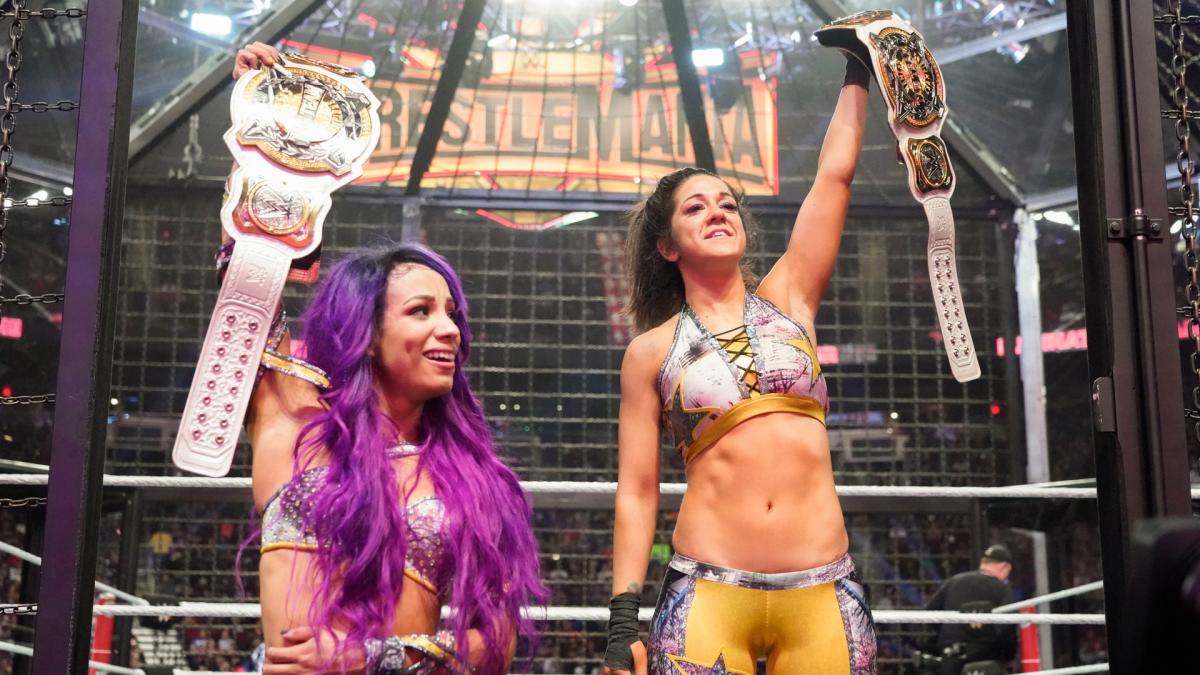 With New Beginning Osaka to start the week, and Elimination Chamber to end, what makes Andrew's cut for Top 5 matches?
So this was an eventful week. Osaka, Uncaged and Elimination Chamber all happened, and hell, even SmackDown and Raw put on 1 match each that was worth noticing. Given everything to process, and how there was a bit of good stuff to pick from for everything…this is one of those times where I have a tie.
But before we reveal the tie, we need to reveal the winner last week! It wasn't a difficult vote since slower weeks when I go hunting, tends to mean the random matches don't get adequate love. With that said, yes, Matt Riddle vs Drew Gulak, ran away with the votes.
So let's get to this week, and one mini surprise on the list!
5 (t). WWE Raw: Raw Tag Team Title Match: Bobby Roode & Chad Gable (c) vs The Revival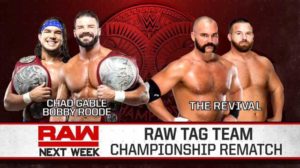 Snippet From Mitchell's Coverage:
Raw returns once again, and Gable slams Dawson down to catapult him into buckles! Fans rally up, hot tags to Dash and Roode! Roode rallies on The Revival, and gives Dash a big back drop! Dawson runs into a urenage! Dash runs into a gourd buster onto Dawson! Roode fires up as he tackles them both in the corner! Roode hops up and aims at Dash, but Dash gets clear. He clotheslines Dawson instead, then gives Dash a GLORIOUS Spinebuster! Cover, TWO! Roode is shocked but The Revival still lives. Dash crawls away but Roode winds it up. GLORIOUS but Dawson saves Dash from the DDT! Dash rolls Roode, TWO! Tag and Dash bucks Roode off. Gory Special, BULLDOG! Cover, TWO!! Roode lives and The Revival can't believe it!
Dawson tags Dash and they double whip. Roode sunset flips, Gable crossbodies! Cover, TWO! Dash runs into boots and Roode tags to Gable. Gable hops up, but dash scoops. Roode slips out, Gable moonsaults but misses. Gable waistlocks Dash while Roode climbs, GLORIOUS Blockbuster and German Suplex combo! Cover, but Dawson breaks it just in time! Fans realize "This is Awesome!" as all four men catch their breath. Roode runs at Dawson but Dawson tosses him out. Gable hits Dawson with a rolling kick, then wheelbarrows Dash to a victory roll! TWO and Dash gets to the apron. Dash shoulders back then climbs up, but Gable leaps up to join him! They fight, Dawson tags. Dash sunset flips and Dawson climbs, Doomsday Device! Cover, but Roode pushes Dash into it! All four men are down and fans are loving it!
Fans again declare "This is Awesome!" as the teams regroup. The Revival stand up first and drag Gable up. They double suplex but Roode saves Gable. Roode ducks their clotheslines and shoves Dash into Dawson. Roode then tosses Dawson out and Gable climbs up. Dawson DDT's Roode! Gable leaps for a sunset flip with jackknife bridge! TWO!! Dash tags in even as Gable atomic drops Dawson. Gable is ready with haymakers, then whips Dawson. Dawson reverses, but Gable leaps, INTO SHATTER MACHINE!! Cover, The Revival win!!
Winner: Revival via Shatter Machine
Rating: ****
5(t). WWE Elimination Chamber: Women's Tag Team Championship Elimination Chamber: The IIconics vs Liv Morgan & Sarah Logan vs Tamina & Nia Jax vs Bayley & Sasha Banks vs Mandy Rose & Sonya Deville vs Carmella & Naomi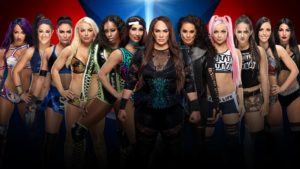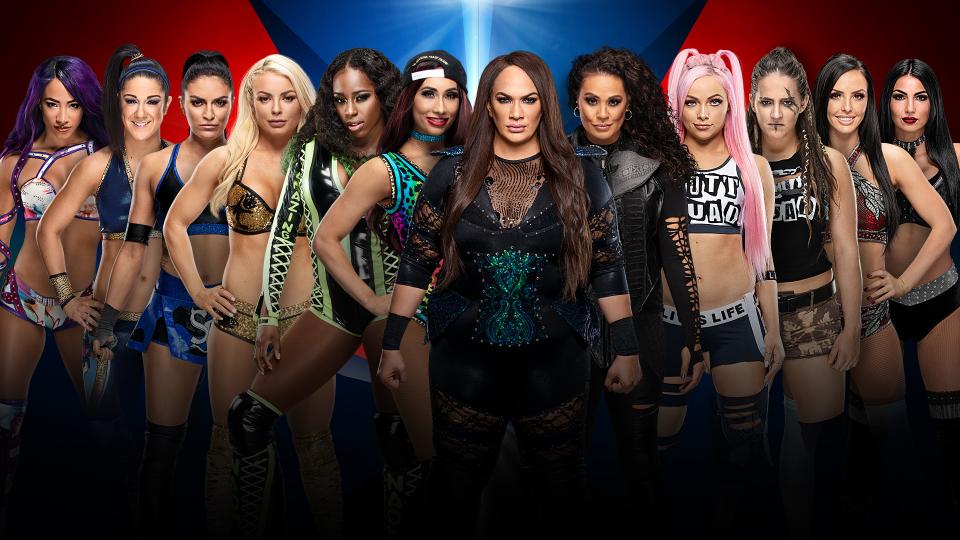 From My Review:
Well the beginning of this chamber match started off pretty awful actually. But once the rest of the teams got involved, the match actually got better. Riott Squad performed really well, IIconics had a nice tandem pin to eliminate Naomi and Nia took the Big Show bump of crashing through a pod. Honestly a little surprised they put the belts on Sasha & Bayley right away. With Sasha's injury and faces chasing belts usually being an easier way to write a Mania angle, they instead took the easy route and just put the belts on the fan favorites right away. Surprised not because it doesn't make sense, surprised because WWE usually takes detours and goes around the block a few times before eventually ending up where it should've been. But yea, bad first couple minutes, but turned into a damn good match.
Winner: Banks & Bayley via Modified Bank Statement
Rating: ****
4. RevPro High Stakes: Will Ospreay vs PAC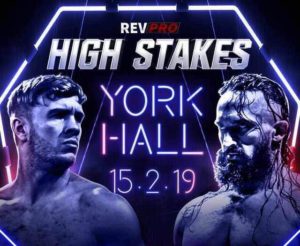 The NEVER Openweight Champion Will Ospreay, faces the Open the Dream Gate Champion PAC. In a match that's been dubbed a dream match by many, let's see how this 30 minutes match plays out.
Ospreay starts off the first few minutes by flipping out of PAC's moves, as a way to frustrate the Bastard. Eventually they go into the usual Indy exchange of kip ups, duck unders and stuff that makes the crowd cheer. Early on Ospreay gets busted up either from PAC's Apron Thrust Kick, Moonsault or stomping on his face. The bleeding stopped fairly quickly, so it didn't turn the match into a mess at least.
After the slower build up of 'anything you can do, I can do better', the match started to become a hard striking affair. PAC hit some stiff shots and a real Hurricanrana (you don't see the actual move often anymore). Eventually Ospreay gets an advantage and PAC is prone in the Hidden Blade (unprotected Elbow that got so much hype when it concussed Ibushi), but CCK interfere in the match. Jonathan Gresham and Chris Brooks beat on Ospreay a little and go to grab a belt to hit him with, but grab the Dream Gate title. Big no-no.
PAC sees this and steps on the strap before Brooks can pick it up and basically shows some pride in the match. He kicks away the belt, then he and Ospreay take out CCK ending in stereo Planchas, with both men sliding back into the ring never taking their eyes off one another. Aussie Open comes out to take CCK away, and then we hit a portion of the match that made me groan.
Ospreay literally starts hitting reference moves. Rainmaker, Scurll style finger break, Benadryller and then a Shooting Star Press, and to no one's surprise, PAC kicks out. Stormbreaker attempt number one, but PAC tries to counter with a Frankensteiner, Ospreay stops him and hits the Styles Clash, for another near fall. Uughh…
The finish sees the 1 minute call happen, Ospreay tries another Stormbreaker, PAC flips off the shoulder and low blows Ospreay in front of the ref. PAC then tells the ref to ring the bell, the ref decides not to and he wants a finish. PAC hurries to the top rope for Black Arrow, but then hears the final 10 second count down. So he just stands on the top rope and counts along with the crowd, flipping the bird for 1 of course.
So what was framed as Ospreay's match to win at 2 different points (3 if you count the fact it should've been DQ), PAC forces the Draw. Ospreay and fans ask for 5 more minutes, but PAC just walks off. Good match, hopefully leading to something because the lack of a distinct finish, low blow and interference took away from a match that could've been a classic.
Still worth the watch though.
Winner: TIME LIMIT DRAW
Rating: **** 1/4
3. SmackDown Live: Elimination Chamber Guantlet Match: Kofi Kingston vs Daniel Bryan vs Jefft Hardy vs Samoa Joe vs AJ Styles vs Randy Orton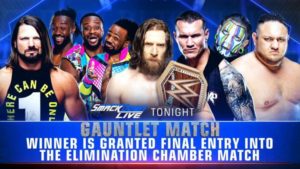 From My Review:
Now comes the gauntlet and the New Day reveal of who they're picking as the fill in for Mustafa. Kofi and Daniel Bryan start things off, and this alone was a solid match. Now it did great things by showing Daniel is vulnerable without help. New Day got banished, Rowan did as well, and in his scrambling to try and win quickly, Bryan gets caught by a Trouble in Paradise, Kofi gets the pinfall. Jeff Hardy comes out and immediately tries to throw some of his bigger signature moves on an already weakened opponent. Hardy misses a lot, and then gets caught in the S.O.S. Now with Joe coming out at 3, most of us probably saw this going the same way as Rollins from last year, and here's where the plucky workhorse loses, but nay! Kofi manages to reverse the Sleeper Hold into a pin. Joe being the angry man he is, sinks in the Coquina Clutch after the loss, so AJ has to break it up. Now AJ does what Cena didn't do well last year. Trying to play the whole " You don't need to continue, you're hurt, just stop" angle. AJ showed real concern cause he helped him back into the ring and seemed sincere. Kofi got fired up and what we saw wasn't bad at all. Kofi versus AJ could definitely be a good number 1 contender match, maybe at Fastlane or Mania. AJ catches Kofi with the Calf Crusher, and awaits Randy Orton. As the crowd gives Kofi the standing ovation, Randy flies in from off camera and hits and RKO out of nowhere for the 1-2-3, right at 10 eastern. Perfect punctuation. Yes a couple spots here or there were a little sloppy, but generally speaking this was a great match. Maybe even better than last year's Raw gauntlet.
Winner: Orton via RKO
Rating: **** 1/4
Honorable Mentions:
NJPW New Beginning in Osaka IWGP Junior Heavyweight Title Match: Taiji Ishimori (c) vs Ryusuke Taguchi
Winner: Ishimori via Bloody Cross
Rating: ****
WWE Elimination Chamber: Cruiserweight Championship: Buddy Murphy (c) vs Akira Tozawa
Winner: Murphy via Murphy's Law
Rating: ****
Impact Wrestling Uncaged: Knockout's Championship Street Fight: Tessa Blanchard vs Taya Valkyrie (c)
Winner: Taya via Double Footstomp through Table
Rating: *** 3/4
NXT UK: Pete Dunne vs Wolfgang
Winner: Dunne via Cross Armbreaker
Rating: *** 3/4
NJPW New Beginning in Osaka: Kazuchika Okada vs Bad Luck Fale
Winner: Okada via Rainmaker
Rating: *** 3/4
Impact Wrestling Uncaged: Elimination 4v4: Team Impact (Fallah Bahh, Sami Callihan, Eli Drake & Eddie Edwards) vs Team AAA (Puma King, Psycho Clown, Hijo del Vikingo & Aerostar)
Winner: Team Triple A 4-3
Rating: *** 3/4
NXT UK: Noam Dar vs Jordan Devlin
Winner: Dar via Cradle
Rating: *** 1/2
AJPW Jr Battle of Glory: Atsushi Aoki vs Black Menso-re
Winner: Aoki via Cloverleaf
Rating: *** 1/2
Impact Wrestling Uncaged: Fatal 4 Way Impact World Championship: Killer Kross vs Moose vs Johnny Impact (c) vs Brian Cage
Winner: Johnny via Starship Pain
Rating: *** 1/4
NXT UK: Jinny vs Mia Yim
Winner: Jinny via Dirty Pin
Rating: ***
2. NJPW New Beginning in Osaka IWGP Heavyweight Championship Match: Jay White vs Hiroshi Tanahashi (c)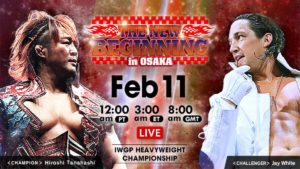 From Mathew's Article:
This match was mostly about one thing and that was the evolution of Jay White and his character in New Japan over the past year and everything he's been doing since this new persona has been unveiled to the world. Jay's character has evolved with how his mindset works, how he speaks, the mind games, and the following he has gained when he was the new leader of Bullet Club. Tanahashi, despite having a classic with Kenny Omega recently, he's still injured and body is still busted and you can see that with how he moves in the ring and when Jay attacked his knee recently, he found a target point to use throughout the match. The best part about this was that the interference with Gedo was very minimal and I'm glad that was the case since that would've been overkill if he did it constantly, even Tanahashi would attack Gedo a few times when he just had enough of his shit.
Gedo would be used as a distraction once again to give Jay enough time to try and hit Tanahashi with the chair but would move out of the way as he accidentally hits Gedo with the chair. Tanahashi was able to get High Fly Flow in but onto Jay's back and wasn't enough to put him away and as he went for the second one, Jay would roll out of the way. Whenever Tanahashi would try to hit a big move in the match, Jay would use the ropes to hold himself up so that Tanahashi wouldn't get a chance to hit a Slingblade. This was a smart move as he would do it a few times and whenever Tanahashi had him away from the ropes to try and hit it, Jay would fall to his knees to buy himself a little bit of time. Jay would attack the knee a little bit more but Tanahashi would finally get a chance to get some Dragon Screws in before applying the Lucky Cloverleaf to try and make JAy tap out but Jay had the ropes just in time. Jay caught Tanahashi to try and go for the Blade Runner but Tanahashi turned it into a Slingblade and would hit another one to put Jay down. Tanahashi is up on the ropes once again as he would attempt another High Fly Flow but Jay caught him in midair to hit the Blade Runner and he connects this time for the pinfall and we have a new champion!
I'm actually speechless as to seeing Jay White win the IWGP Heavyweight Championship here since I expected Tanahashi to at least have a few successful defenses under his belt before dropping it at the G1 Supercard or Dominion, but it looks like they backed themselves up into a corner with Jay White since he had a ton of momentum leading to this match that losing here would hurt him slightly. Jay White has been wrestling for six years and has been with New Japan for about four of them and he has now defeated the ace to win the IWGP Heavyweight Championship. It looks like New Japan has a new star made to fill the void of Kenny Omega, which Jay did beat early in 2018 along with Kazuchika Okada, and now Hiroshi Tanahashi, Jay is the new star and we're indeed in the Cutthroat era.
Winner: White via Blade Runner
Rating: **** 1/2
1.  WWE Elimination Chamber: WWE Championship Elimination Chamber: Kofi Kingston vs Randy Orton vs AJ Styles vs Samoa Joe vs Jeff Hardy vs Daniel Bryan (c)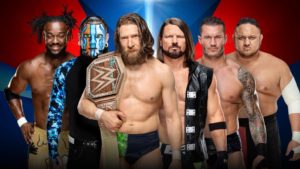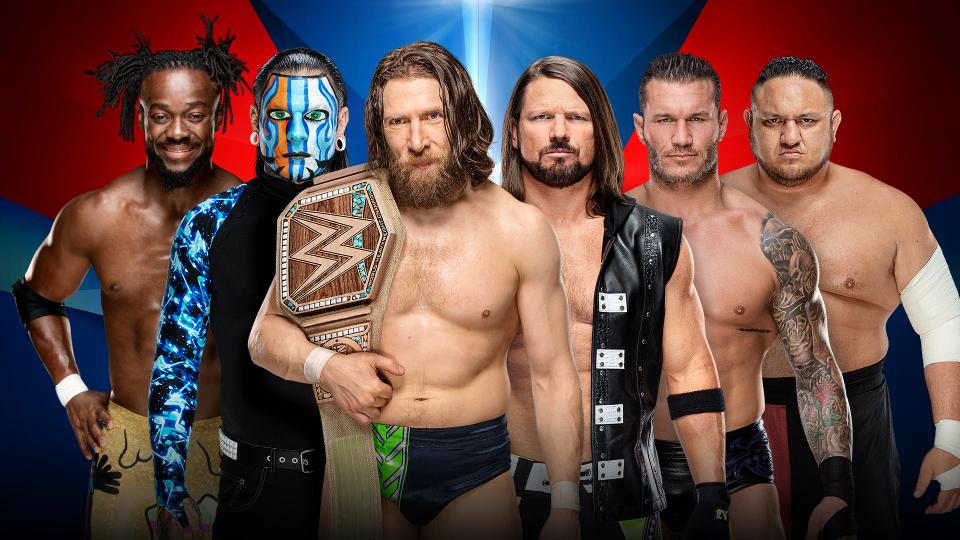 Snippet From Mitchell's Coverage:
Kofi dropkicks Orton! Kofi drags Styles up, but Styles gets him with the STO backbreaker, just like the Gauntlet match! Styles drags Kofi up as fans rally. Styles whips Kofi to a corner, then runs in, only for Kofi to put him outside. Kofi turns around into Styles' forearm, then Styles springboards, into an RKO!! Cover, Orton ELIMINATES Styles! Orton grins as he watches Styles be helped out of the Chamber. But Kofi rolls Orton! TWO, Trouble in Paradise misses. Kofi kicks Orton back, then climbs up, only for Orton to trip him up. Orton drags Kofi out from the top rope, for a SUPER draping DDT! Fans duel as Orton hears the voices in his head. Orton stalks Kofi but catches Bryan in a powerslam! Orton goes back to Kofi but Kofi denies the RKO! TROUBLE IN PARADISE! Cover, Kofi ELIMINATES Orton!
Kofi is one of the final two with Daniel Bryan! Houston is thunderous for how close Kofi is to achieving a dream! Kofi and Bryan are in opposite corners, and Kofi fires himself up. Bryan and Kofi stand up stare down. They approach, and start throwing hands! Bryan kicks so Kofi kicks, and repeat! They go back and forth, but Kofi eggs Bryan's kicks on! Bryan kicks and Kofi kicks! Trouble In Paradise misses, Bryan dropkicks the legs out! Bryan dares Kofi to sit up, and starts giving him No Kick! He kicks again and again, but Kofi ducks the buzzsaw! SOS!! Cover, TWO!! Kofi was so close yet so far from finally being world champion! Houston is at a fever pitch as Kofi and Bryan reset.
Kofi runs in but misses in the corner! Fans rally up as Bryan takes his time looming over Kofi. Bryan throws angry haymakers, saying Kofi doesn't deserve to be here. Bryan gives Kofi more kicks, then runs corner to corner, for a big dropkick! And then another! And a third! A fourth! Kofi jumps out and double stomps out Bryan! Cover, TWO!! Houston is right there with Kofi on how close he was again. Kofi wills himself to his feet and to a corner. He aims at Bryan as he stands. Kofi runs but Bryan bails out. Kofi goes after Bryan and throws him into chains! He does it again and again and again! Kofi only picks up speed as he rams Bryan into steel! He drags Bryan up, bulldog but Bryan sends Kofi into the pod!
Bryan drags Kofi into the ring, and waits for Kofi to stand. Fans are not giving up on Kofi, but Bryan is taking am. Bryan runs at Kofi, KNEE PLUS! Cover, TWO!? Kofi survives and shocks Bryan! But Houston is eating this up! Bryan grows angry, and grabs Kofi's arms. Bryan stomps away on Kofi's face! And again and again and again! Cover, TWO! Bryan wants another shot, Kofi stands, TROUBLE IN PARADISE! Cover, TWO to a cradle! TWO, and Kofi kicks Bryan. Bryan catches Kofi's arm into a form of the Labell Lock! But he also rakes the eyes and nose! This isn't illegal in the Chamber! Kofi reaches and gets the ropebreak! Bryan lets go out of exhaustion. Bryan sits up and drags Kofi around. Houston declares "This is Awesome!"
Bryan climbs up top but Kofi kicks him down! Kofi climbs up and throws hands. Bryan climbs to the pod but Kofi pursues. Kofi clubs Bryan down then headbutts him against the Plexiglas. Kofi throws Bryan into it as fans chant "Yes! Yes!" He drags Bryan up, but Bryan resists. Kofi throws body shots but Bryan continues to block the risky suplex. Bryan fights and now he bounces Kofi against the Plexiglas! Bryan decides to use Kofi's idea, but now Kofi resists! Kofi fights back and clubs Bryan down. Bryan slips down to the post but Kofi again pursues. Kofi boots Bryan again and again and sends him all the way down! Kofi stands, leaps, but FLOPS! Bryan aims from the corner, KNEE PLUS!! Cover, Bryan wins!
Winner: Bryan via Knee Plus
Rating: **** 1/2
Thoughts:
Well the top matches of this week were all very close. I'm torn on quite a few of these matches. Revival finally getting the monkey off their back and winning the belts, Bayley & Sasha being the inaugural 'modern era' or however they're spinning it Women's Tag Champions, Jay White doing something no one has ever done, that being beating Tanahashi on a first defense. Since admittedly Pac/Ospreay was disappointing on surface level since there was no clean finish, I guess we know what my pick is.
Men's Elimination Chamber match is my vote! Started off slow, had spots that tried too hard and just looked dumb, but that's nit picking. Kofi's story was fantastic, once a few people got eliminated the match really started to take shape. Plus the entire Kofi/Bryan portion was almost a match within itself. Just so many nice layers, and even though Kofi didn't win, I think he won over many people that weren't really fans of his prior.
(NOAH) WEEKLY NEWSLETTER VOL.23 ~ 16TH FEBRUARY 2019
In an odd twist of fate, Marufuji is placed in a familiar, yet flipped position going into his GHC title challenge next month. Hisame let's us know how the NOAH build is going!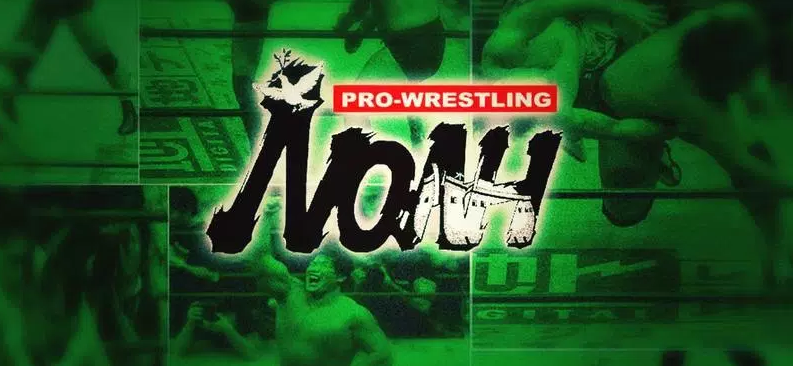 In an odd twist of fate, Marufuji is placed in a familiar, yet flipped position going into his GHC title challenge next month. Hisame let's us know how the NOAH build is going!
CURRENT TOUR RECAP
"Navigation for The Progress"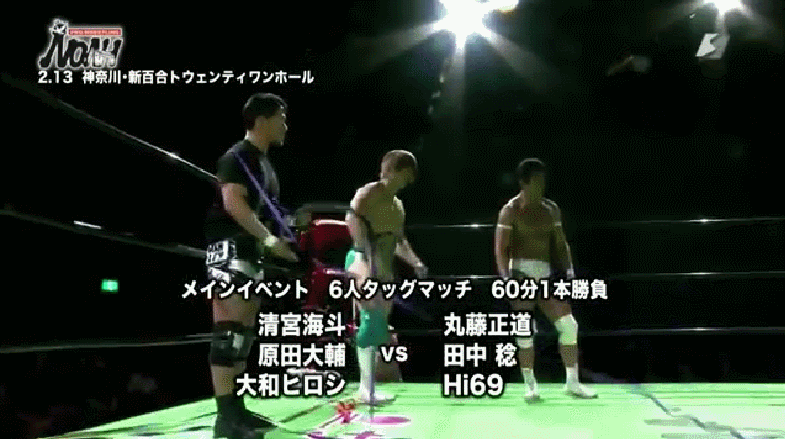 Kaito Kiyomiya and Naomichi Marufuji continued their feud over the GHC Heavyweight title. Kiyomiya managed to knock Marufuji out of the ring with a dropkick, but was left wondering as to whether Marufuji played it up deliberately. He also turned his back on him when Kiyomiya was in the ring and was announced.
Marufuji, now that he can't do aerial attacks (and finally realizing that his body is older than he thought), has turned to more vicious tactics, and decided to work on Kiyomiya's left arm. In Kiyomiya's post match promo, he told him that he was going to take him apart bit by bit, and next it would be his legs.
Kiyomiya has vowed that he will find "the Genius' weakness" before "my body breaks down". 
It has been pointed out to Marufuji that he is in the same position that Mitsuharu Misawa was when he himself was GHC Heavyweight Champion; the senior is challenging the junior.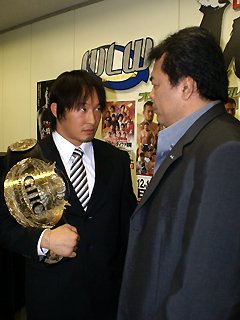 Atsushi Kotoge became injured at NOAH's show in Fukushima on the 11th February, which has put a spanner in the works of the GHC Heavyweight Tag title match with Eddie Edwards, taking on 50 Funky Powers.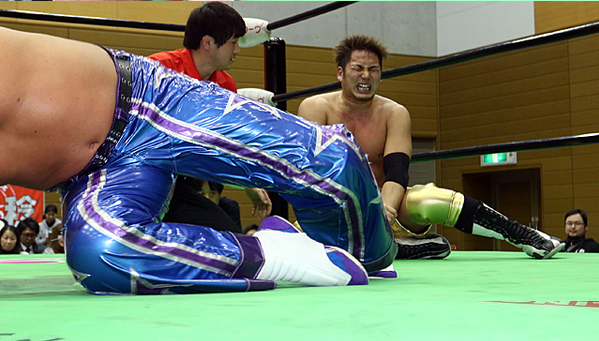 Kotoge had gone for the "Revolutionary Cloak Splash" from the top rope, but managed to damage his arm on landing. Fans noticed that he was in a lot of pain, and he was checked out in the ring. NOAH removed him from the subsequent show, and later announced that he had dislocated his elbow and suffered a further fracture to the arm.
Kotoge himself said that he had felt a shooting pain in his arm, and he couldn't move it at all.
With Kotoge's injury and subsequent card change, "The Mid Generation" (Go Shiozaki and Katsuhiko Nakajima),took on the champions. They obliterated them with Nakajima choking out Quiet Storm with a sleeper, and then laughing about it afterwards.
Although NOAH have not yet announced what will become of the title challenge, and whether Eddie Edwards will team with someone else or postpone his appearance until Kotoge is better (this may not be until the late summer, and Kotoge will most likely miss Global League 2019), but it may be likely that "The Mid Generation" will receive a title shot.
Katsuhiko Nakajima later posted ….

Three of the Dark Agents (Takashi Sugiura, Masao Inoue and Akitoshi Saito) have reunited to take down The Hooligans, however, they have not been very successful in their efforts with The Hooligans defeating them twice so far. Takashi Sugiura has already started making jokes about Masao Inoue, lumping him together with having experience akin to the rookies in the group, Kinya Okada and Yoshiki Inamura. Should Sugiura be unfortunate enough to join The Hooligans, his job will be as their lackey; KAZMA SAKAMOTO says he will have to carry Cody's bags, lick his boots, clean their toilets, do Nagai's laundry and wash Maybach Taniguchi's back.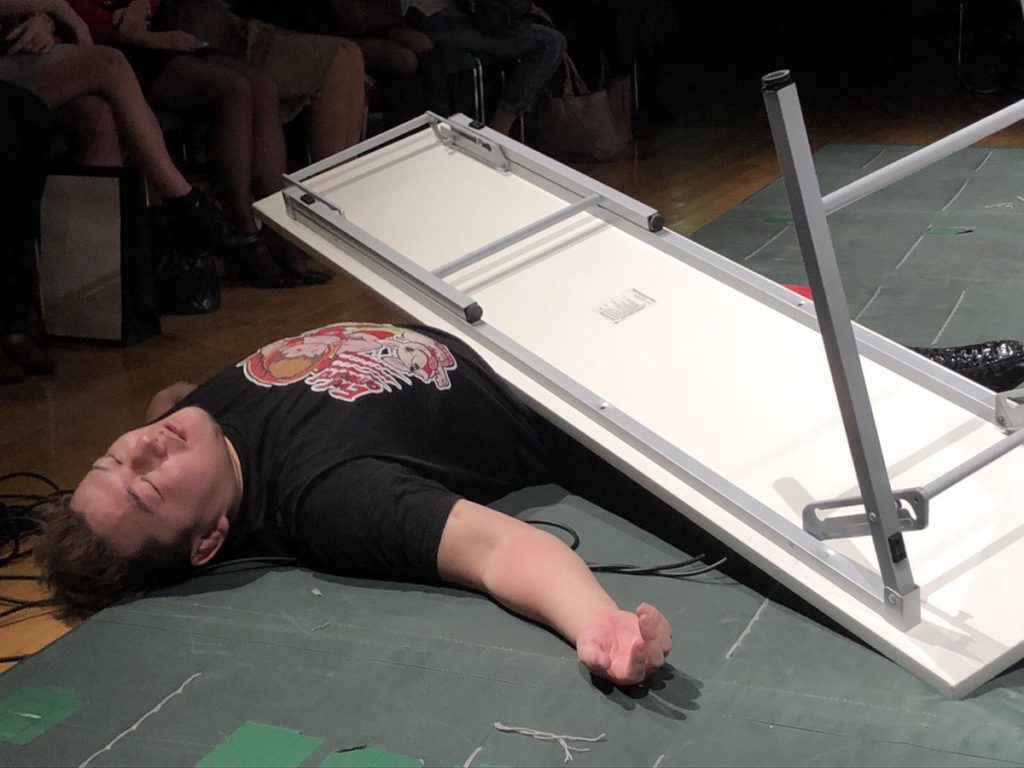 YO-HEY was said to be looking a lot happier at "the wife" (HAYATA) returning "home", and while really the only thing that has happened on this tour between himself and HAYATA and the former friends in RATELS, is Daisuke Harada and Tadasuke appearing in the ring and demanding to know what HAYATA thought he was doing.
Their new teammate, Yoshinari Ogawa (backed by YO-HEY & HAYATA, as Kotaro Suzuki is currently absent), continued the fight with The Backbreakers (Hajime Ohara and Hitoshi Kumano) over the current GHC Junior Heavyweight Tag titles. Ogawa (in a supreme Golden Era move) threw a table at Hitoshi Kumano, and the team of The Backbreakers and Yoshiki Inamura were wiped out completely, with Ogawa posing with the belts at the end.
Yoshiki Inamura continued his "Seven Match Series", this time against Masa Kitamiya.
NOAH have so far done very well this tour with both of their two opening dates being sold out.
NEWS

"COME AT ME YOU BASTARDS" (Kenoh's column in "Weekly Pro")
Kenoh visited the new NOAH offices and spoke of a variety of different things ranging from how nice the NOAH staff look now (even Mr. Okada looks smart now, despite "those fucking glasses"), the new company and how they should ask him for advice, the validation of his own opinion on "Leaving Misawa", and Marufuji vs Kiyomiya.
Continuing his concerned older brother theme when it comes to Kiyomiya, and his hope that Marufuji will beat Kiyomiya for the belt for two reasons; the first being Kenoh wants to challenge, and the second that he seems to intimate that the longer Kiyomiya has it, the worse damage it is doing him, and the more Kenoh of all people seems to worry.
Kenoh's other idea is that he will second Marufuji on the night (so to be first in line to challenge him), but I doubt that Marufuji is going to allow him to do that.
FAREWELL HAKATA STALENE
NOAH will return to the venue for the last time ever on March 17th, as the building is going to be torn down. Although the full card hasn't been announced, Naomichi Marufuji will take on Yoshinari Ogawa (this will be their first singles match in 14 years) and Go Shiozaki and Takashi Sugiura will put on a "Golden Era Match" (as they always do when they collide in big matches).
CURRENT CHAMPIONS
TOUR TIDBITS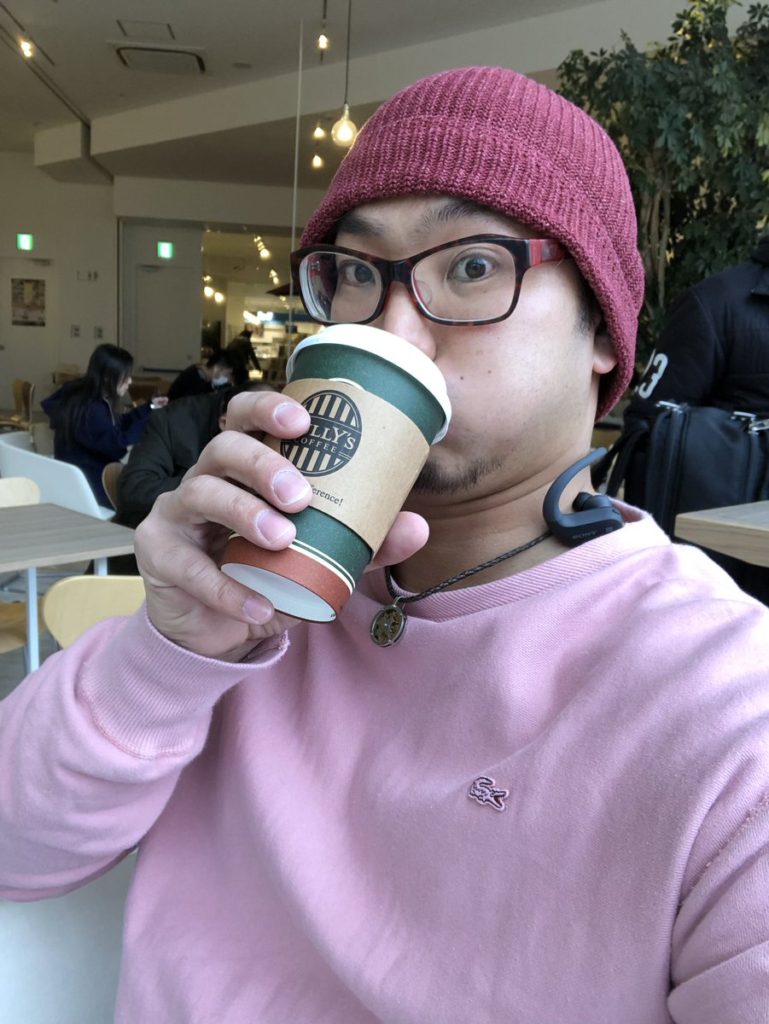 ~ Katsuhiko Nakajima decided to wind up Kenoh by sticking his leg in his fist when Kenoh entered the ring and knelt to do his ring introduction.
~ Yoshinari Ogawa denied ever being part of Special 4.
~ NOAH returned to Shinyousei Twenty-One Hall, which has the infamous staircase named "The Demon Staircase of Hell" due to the fact that it is two flights, and means that due to there being no underground parking at the venue for the truck, the equipment has to be carried up and down it, across a courtyard and through the lobby.
~ Minoru Tanaka says his first wish has been granted (i.e. for a title match at Yokohama), but his second one is still outstanding, he won't say what it is though.
~ Both Daisuke Harada and Tadasuke have hinted at possible moves to the heavyweight division. Tadasuke when he fought Kenoh and Masa Kitamiya and said something "sparked" in him, and Daisuke Harada pointing to the GHC Heavyweight and declaring it was his "final goal".
~ Mohammed Yone got beaten up in front of a group of old ladies (one was his mother) by Katsuhiko Nakajima.
~ Hitoshi Yamato did his usual singing entry, and incorporated the lyrics that Naomichi Marufuji couldn't have dried seaweed. Marufuji had a priceless look on his face. 
~ Cody Hall took a picture of Atsushi Kotoge who was sitting drinking coffee near a window; Kotoge came out as a big pink blob.
KING SHAMELESS CORNER
Takashi Sugiura has posted pictures of either what is coming out of his dog, or what his dog has left behind. On a pleasanter note, he was given gifts by fans after a small gathering at "Muscle Grill", and said that as he was carrying a big plushie, he probably looked like a "Weird old man" getting on the train.

BROADCASTS
NOAH's Korakuen Hall show of the 24th February will be broadcast on Samurai at 10pm (JST) on Samurai TV.

BOOK CORNER
The ongoing translation of Naomichi Marufuji's "Heir To The Ark" can be found here
LINKS
HAYATA (Costume Research)
"Come to Noah" ~ interview with Naomichi Marufuji
The Green Guide to Muscle Grill
Takashi Sugiura mini interview ahead of the match with The Hooligans
Battlemen Recap (Noah, Wednesday February 13th 2019)
Noah's Arkive Podcast (ITunes)
NOAH FROM THE VAULT (articles translated by Purodino)
YO-HEY "My turning point"