King Haku – Celebrating 30 Years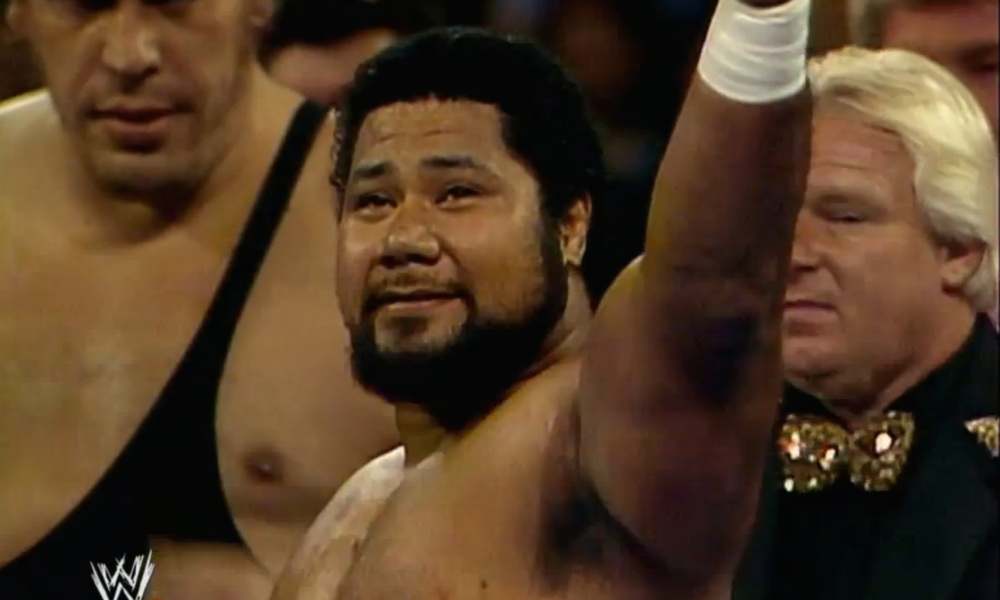 Today marks the 30th anniversary of King Haku's royal coronation. This event was televised on the 9th of July edition of WWF's flagship show, Superstars of Wrestling. I can imagine that some people may not see the importance of this event; they may even find it foolish, so I will explain in detail the significance of this event from my perspective; as a New Zealand born Samoan. This event holds a significance of influence regarding the visibility of Pacific Island people, on screen: In this article, I share my memories of this joyous event; I also have the privilege of sharing perspectives from pro wrestlers Tama Tonga, Bad Luck Fale, Sonny Siaki, Nui Tofiga and Mana – all of whom are of Pacific heritage. In addition to their thoughts of the coronation, these men will also express the impact that King Haku had on them as Pacific Islanders and professional wrestlers.
The 'King of Wrestling'; a title that was created in 1986 and bestowed upon Harley Race after winning the 'King of the Ring' tournament. However these titles are not the same; the KOTR title would reset every year with a different winner, whereas the "King of Wrestling" served as a form of recognition to Race, a former 8 time NWA World Champion and a respected elder. The Kingship was under the facilitating of Bobby Heenan and although it did not equate in value to a championship belt, it was occasionally contested by the opposition and done so unsuccessfully; the most notable of those opponents being the Junkyard Dog at WrestleMania III.
In 1988, Harley Race suffered a severe injury which put him out of action for most of the year. Bobby Heenan eventually took the crown from Race and went on a search to crown a new King; this brings us to the 9th of July, in the year of our Lord, Nineteen Hundred and Eighty-Eight! The WWE's villain community, congregated in the ring to await the announcement of the new 'King of the World Wrestling Federation'. This was one of the first episodes of 'Superstars' that I remember, and I was not yet familiar with the identities of the wrestlers. What I miss about wrestling that was clear throughout the coronation was that it was simple to tell the heroes from the villains. The moment I saw the gathering of wrestlers in the ring, I knew that I was looking at a fraternity of antagonists. The 'boos' coming from the crowd might have indicated that setting, however, the scenery was confirmed by the lost art of subtlety that was conveyed by the wrestlers through their posture, mannerisms and dress wear. There were no smiles or friendly chit-chat among the guests despite it being a celebration in their community. Distinguished attendees like the Big Boss Man, the One Man Gang, Bad News Brown, and Demolition were equipped to spark fear and intimidate.
The pompous figures such as the Honky Tonk Man, Ravishing Rick Rude and the Million Dollar Man Ted Dibiase gave the impression that no one else mattered but them. My favourite wrestling villain was the type that was unfazed by the fans' disapproval, this would only make the crowd increase their hatred. This gathering was also a culturally diverse bunch; consisting of foreigners that showed disdain for America. These 'international' villains of the '80s were normally stereotypes and represented nations that went to war with America and its allies; such threats included Nikolai Volkoff and Boris Zhukov, the two staunch, burly Russians who wore the Soviet apparel with pride; Frenchy Martin, the French painter, and Mr. Fuji, the devious Japanese dressed in a tuxedo and bowler hat.
The ceremony commenced with words from the officiator, Bobby Heenan, assuring his community that the new King had arrived. Heenan introduces everyone to the King of the WWF, and from the entrance way comes Haku! I'm surprised as I notice that the new King isn't just any foreigner; the new King resembles my Pacific features and brown skin! I learn along the way of Haku's identity from (colour commentary antagonist) Jesse Ventura's glowing references. I've noticed how well Haku is received by the other villains; the mood changes to smiles and adoration as Haku acknowledges them with a wave and smile.
I have watched this segment many times over the years, and I've come to grasp the importance of this historic event: My childhood heroes in 1980s New Zealand were dominantly influenced by American pop culture; names like Hogan, Macho Man, Warrior, even to broader parts of entertainment; Arnold, Van Dam and Stallone were considered the biggest box office action heroes. It didn't matter what character Arnold played or movie he led, in many Samoan homes the character's name was 'ARNOLD!" My heroes weren't Samoan or Pacific Islander/Polynesian like me; I didn't resemble a likeness to Arnold or Van Dam, but I'm sure like other Pacific children, that I wanted to be like Arnold. King Haku came close to being my first Pacific Island hero; I didn't care if he was a bad guy. Haku was the first of the Pacific wrestlers I saw on television, and from that point on my perspective of the narrative had changed; King Haku wasn't a bad guy; the fans were just misunderstood.
Long before the Rock had broken barriers for Pacific people in pro wrestling and Hollywood, Pacific Islanders were limited to depicting a stereotype – the barefoot, hard-headed (literally) island savage. The typecast was modestly humanised (westernised) for the protagonists by being 'domesticated' as friendly and well-spoken; while the vilified 'savage' was uncivilised, aggressive and did not speak English. Times have drastically changed, Pacific wrestlers now have more freedom and options to fuse their ethnic identity with western culture, though the island savage is still a relevant and celebrated character. King Haku was not an ordinary 'savage'; he remained a barefoot antagonist and the majority of speaking was still handled by his manager Bobby Heenan; however King Haku was civilised, reserved and when given the opportunity, he spoke with great authority: This may have been a case of colonialism, but it was really an accurate portrayal of the general Pacific Island male.
Samoan wrestler Nui Tofiga explains Haku's influence on him as a fan "Haku always held my attention when I was growing up. When my relatives in Hawai'i would see Haku and other Polynesians on TV, they would feel proud and say 'that's what a man looks like'. You tend to pick up on that and think that maybe I should make these guys my role models". Tofiga, a gifted and agile super heavyweight credits Haku and other Polynesian wrestlers for the way he has embraced his physical attributes and culture, "I wasn't going to change who I was to try and look like Hulk Hogan. Every Polynesian that I grew up watching in wrestling made me proud to be myself."
Prior to taking over the crown, Haku was part of a tag team called the Islanders (along with Tama). Wild Samoan Training Center graduate and NHPW Owner, Mana, is Maori, the native culture in New Zealand; he recounts on the chemistry between Haku and Tama; "I remember watching Haku as the Islanders with Tama (from the Anoa'i family). The Islanders were one of my favourites and inspired me to become a wrestler. Tama was like the cheeky uncle you had a laugh with and Haku was the quiet one you always feared." Haku and Tama displayed a tag team style that was ahead of its time. Tama's speed and agility blended well with Haku's power and strikes; as Mana explains in detail, "I still believe Haku's Thrust/Superkick was as superior to any version I have seen in wrestling, even now. I loved his offence with the chops, martial arts thrusts etc. I always wanted to thank him for his accomplishments and inspiration to someone like me."
The history into Haku's martial arts background can be traced back to his youth, growing up in his native Tonga in the 1970s: During that time a young Tonga Fifita was one of several teenagers selected to study the art of sumo wrestling in Japan. Fifita was a successful competitor in sumo, however, due to a political dispute involving a sumo trainer, Fifita was forced to retire. From there Fifita made the transition to professional wrestling and competed for Giant Baba's All Japan Pro Wrestling. "The Underboss" Bad Luck Fale followed a similar journey, beginning in 2001 when Fale; an elite rugby union player in high school, moved from his home New Zealand to Japan in pursuit of furthering his aspirations. Fale remembers growing up in South Auckland as a young boy, watching the King's coronation on TV, "King Haku made me feel that as a Tongan, I can conquer the world. He was the first famous Tongan in my eyes and became the idol I aimed to become." In 2009, Fale took off his rugby jersey following his retirement from the game (due to injury) and put on pro wrestling gear. Fale found success with New Japan Pro Wrestling; his athleticism, humility, and willingness to learn made Fale an asset: Fale's character assured NJPW that they could invest and depend on him. Following the formation of the Bullet Club, Fale would be joined shortly after by Tama Tonga. Tama was not just a fellow Tongan; Tama was one of Haku's sons. This soon led to an opportunity for Fale to meet his idol in 2014; "I just remembered how huge he was. Haku is the most feared wrestler in and out of the ring but he's the most kind-hearted guy you'll ever meet".
In 2016, Haku visited New Zealand; during his stay, Haku gave an in-depth interview with an Auckland radio station; a key theme that resonated with Haku was his support for all the Pacific Islanders that are situated across the world. Haku was inspired by the multicultural society of New Zealand, in particular, the different Pacific cultures and Maori that co-exist. Haku expressed his passion for hospitality and is comforted knowing that Pacific communities exist beyond the Islands.
Former WCW and IMPACT! Wrestling star Sonny Siaki was a recipient of Haku's hospitality and attested to Haku's character; "I first met Haku in 1998 when I was at the WCW Power Plant training as a wrestler! He's huge and very intimidating in person but he took me in like his own 'cause I am Samoan and of course, we all stick together like a family." Siaki noted on Haku's influence on his wrestling career; "He definitely made a huge impact on me along with the Rock, Rikishi, Afa, Sika, Umaga and many other islanders who came before me. Haku is definitely one of the first wrestlers to put our culture on the map. When I first started he gave me many advice and pep talk before walking out. He had an old school mentality and had great in-ring psychology".
Haku's son Tama Tonga recounts his first memories of his father; the wrestler; "I was adopted, and I came here to America from Tonga in 1991. Basically, I saw him on TV a lot, and it made me realize that he was the first Tongan at least to my knowledge to make a name for Tongans. I thought that was really cool".
Tama and his two brothers Tanga Loa and Hikuleo are mainstays on the New Japan Pro Wrestling roster and along with Fale; they have made up the backbone to the mighty Bullet Club; "Seeing my dad on TV had a big impact on me as a Tongan. My dad came to America for a better life, and he always tried to set an example for me and my siblings to never give up and keep moving towards achieving our goals."
Tama also added on Haku's love for his Pacific people, "My dad is that guy who's proud of any Polynesian that he sees playing sports; just seeing them representing where they come from – makes him proud. He's continuously trying to be a good role model and dad. He's always rooting for the Tongans that play rugby regardless of what country they play for; even when he sees Polys playing football like the Samoans and Fijians, he's always got love for everybody".
After reading my perspective and the stories of the wrestlers who were inspired by King Haku, I hope you now can understand the significance that King Haku has had on his people and to a great extent – on pro wrestling. King Haku may have just been a character that was brought to life by Tonga Fifita, but I would suggest that Tonga Fifita has displayed the fruits of a kind and generous ruler. To Haku's family, he was a loving provider; steeped in principles and values. As a teacher, he offered words of wisdom and guidance to a young Samoan wrestler who was making his way into the wrestling profession. On the radio, Haku delivered messages of support to all the Pacific people he sees chasing their dreams in the public eye; he encourages the young to pursue higher education and has as a passion for Pacific communities. To me; King Haku was the first prominent Pacific character to be shown on an international screen; the ascension of King Haku exemplified that Pacific wrestlers that followed could achieve their goals without compromising their identity. LONG LIVE THE KING!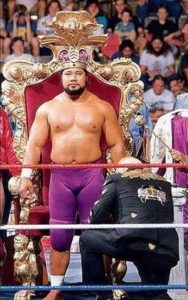 Thank you to  @Tama_Tonga  @TOKSFALE  @ManaPW  @usoATL and @2NuiTofiga for contributing to this article; alofa atu.
---
Always Use Your Head and visit the official Pro Wrestling Tees store for The Chairshot All t-shirt proceeds help support the advancement of your favorite hard-hitting wrestling website, The Chairshot!

---
Levin's SmackDown Live Review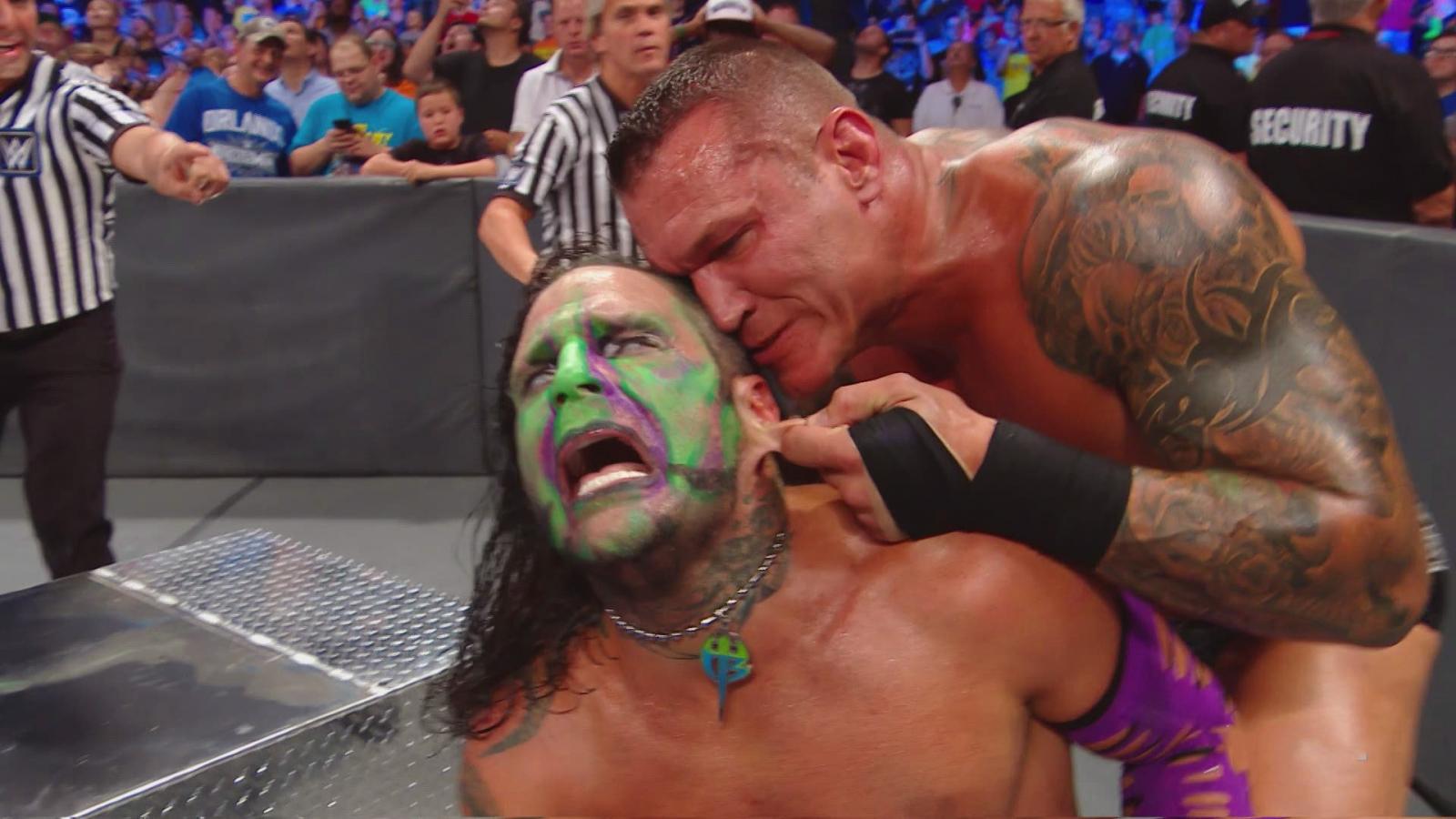 You figured the aftermath of the Extreme Rules pay-per-view would be "must-see" television on SmackDown Live. With Jeff Hardy demanding a rematch for the United States Title with Shinsuke Nakamura and a potential confrontation with Randy Orton, the show was very much something I was looking forward to.
Let's not forget WWE still had to wade through the waters of A.J. Styles' win over Rusev. Would the company continue to book this feud moving forward? There was Carmella and her stooge James Ellsworth and the Asuka "situation." Would the Empress of Tomorrow exact her revenge?
And if that wasn't enough, Daniel Bryan has officially signed his new deal with WWE, which means he could be booked as a contender for Styles' WWE Title. Where did The Miz fit in all of this, while he was busy playing softball during the MLB All-Star festivities and missed the show on Sunday night?
I waited anxiously for answers. Was I satisfied with the results? No exactly. Here are a few thoughts about SmackDown Live.
A.J. Styles vs. Cien Almas
The two superstars meet for the first time in WWE and does well for himself. The two crossed paths in Japan, renewing an old rivalry. The former NXT star has shown in recent weeks he could be part of the blue brand's title picture. Almas was able to answer the WWE champion's arsenal.
If WWE is going to push Almas toward the main event picture, this was the showcase he needed. Almas may have submitted to the calf crusher, but this is a feud I would love to see moving forward.
It also remains to be seen when WWE may book Styles to finally drop the company title.
The Demise of Rusev Day?
More like the beginning of the end of the relationship between Rusev and Aiden English. After watching the exchange between English and Lana, discussing how bad Rusev's sidekick felt about costing him the WWE Title at Extreme Rules, I hope this does not lead to a confrontation between both performers.
This would be a huge blow to Rusev's chance to remain in the main event picture. It may also put an end to the "Rusev Day" phenomenon.
Becky Lynch vs. Mandy Rose
While I am huge fan of Lynch, maybe even a slight crush on the Irish lass, the continual weekly bouts with Lynch and Sonya Deville have to stop. There is no movement in the women's division. If anything, moving Sasha Banks to Tuesday nights might be the best thing for this division while Charlotte Flair is still out of action.
I will say this, the match between the two women may have been the best we have seen, with Rose showing she can hold her own with a former women's champion. But still, "Make this stop!"
Now, Lynch sets her sights on Carmella and the SmackDown Women's Title.
Paige and Carmella
I love Paige. Leave it to the SmackDown Live general manager to stir the pot. Lynch gets her shot at Carmella in a non-title match. If she beats the champion, she gets another match at SummerSlam. It makes you wonder what the heck the company is doing with Asuka.
Samoa Joe vs. Tye Dillinger
Seriously! Dillinger is a classic example of moving to the main roster too soon. Joe should be part of the main event picture. You have to wonder when that might happen as WWE has yet to fully push the wild Samoan.
If Joe is not used effectively, where he deserves a chance to face Styles (see a theme here?) but his health and a crowded title picture may screw him out of a match.
The Miz Eulogizes Team Hell No!
The best part of Tuesday nights is the appearance of the "A-Lister." Offering a eulogy for the demise of Daniel Bryan and Kane, who suffered a broken ankle in the loss to the Bludgeon Brothers was class Miz.
Oh, and congratulations on winning the MVP of the celebrity softball game on Monday night. Sorry, back to the moment at hand. We even got an N'Sync reference which was classic.
The Miz remains the class of Tuesday nights.
After proclaiming Bryan's career is dead, you know what happens next. The setup for SummerSlam has begun.
Yes! Yes! Yes!
Kofi Kingston vs. Eric Young
There was a time when Eric Young was one of the best in the business and one of the more underrated wrestlers. Now, he is the leader of Sanity. I'm not sure if I like this faction, but they are growing on me.
Kofi Kingston could be part of the main event picture, but he is mired in the current situation with The New Day. I'm still waiting for WWE to dissolve this trio and give Kingston, Big E and Xavier Woods their own angles. The match between Kingston and Young could be a solid mid card feud, but that won't happen.
A wheel barrow neck breaker gives Young the win.
Jeff Hardy vs. Shinsuke Nakamura (for the United States Title)
In the opening segment, Hardy said he was BROKEN because he did not have the United States Title around his waist and invoked his return title match clause. It was a good match, but not great.
Hardy takes the fight to the champion immediately. But this match slows down as expected. Nakamura continues to play the role of villain well, getting heat from the fans in attendance (who were mostly quiet until the Bryan-Miz segment). I'm curious what this match would be like if Hardy was healthy.
He admitted he has been banged up for some time prior to the Extreme Rules pay-per-view.
Insert Randy Orton. The Viper beats the hell out Hardy until he defends himself. Ultimately, Orton stakes his claim as the top heel on Tuesday nights.
---
Always Use Your Head and visit the official Pro Wrestling Tees store for The Chairshot All t-shirt proceeds help support the advancement of your favorite hard-hitting wrestling website, The Chairshot!

---
WWE Possibly Doing an All Women PPV? Yes, Please!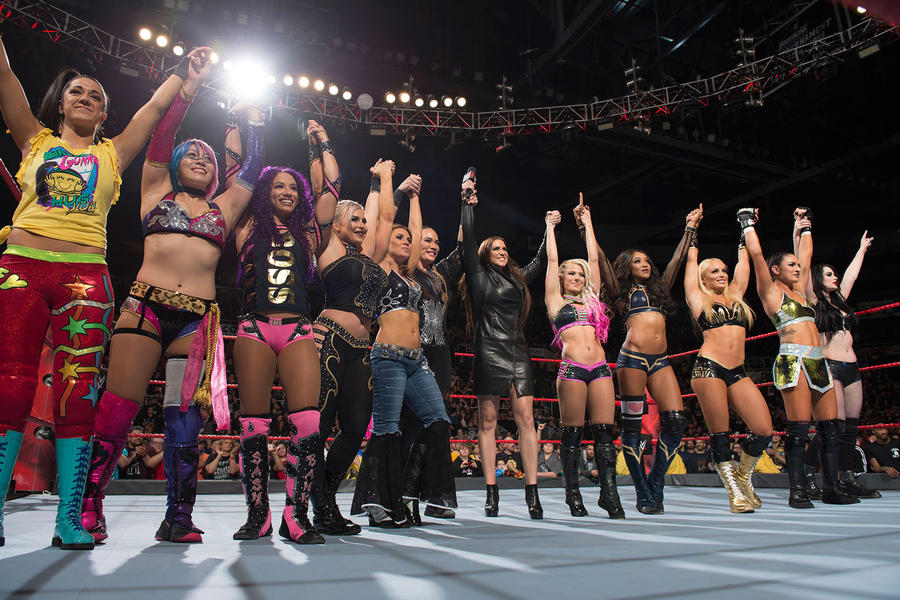 So, rumor's been going around that WWE's planning to do a PPV strictly for the Women's Divisions of RAW and SmackDown and all I can say is: FINALLY! WHERE DO I SIGN UP FOR TICKETS?!
Ever since the start of the Women's Revolution, it's become more and more obvious that the women need a show of their own because as the Women's Divisions grow on the Main Roster, there's less and less room for them on the PPVs and TV and it's a problem that's not going to get better with time.
A major promotion doing an all women PPV isn't new. TNA has done them before for their Women's Division, however, WWE has never before invested the time in exploring such a thing, or had a big enough Women's Roster to do it with, now they have both.
Why? Well, the RAW and SmackDown Women's Divisions have a lot of talent, but are still seriously outnumbered by the men's roster and so don't get as much TV time as they should and when they do get TV time, if they aren't involved in the title situation, they're usually in a multi-person tag match.
So, what are WWE's options here?
1. A Regular PPV. They could just take an already existing PPV like Unforgiven or No Mercy and just have an all-female card. Problem is making it feel special instead of WWE just copping out.
2. A Brand New PPV. This is the one I like the best, instead of resurrecting an old PPV: Give the women a PPV of their own that is named for them. The name I've been kicking around today is 'WWE: Revolution' and having the poster be of the two Women's Division rosters.
3. A Network Special. This is the one I can honestly see WWE doing in the spirit of the UK Tournament or the Greatest Royal Rumble. One idea that a lot of fans seem to like is 'Queen of the Ring', which would, of course be an all women's version of King of the Ring.
One issue I can see arising from doing an all women PPV is having enough matches to fill a three hour PPV/Special slot plus the Kickoff Show. There's about twenty women between RAW and Smackdown, now that sounds like a lot, but WWE had a card of about 35 people divided up into twelve matches, including the Kickoff Show, and there was still a lot of talking to make the time stretch and that was with seven title matches. So how would they fill in the gaps for the Women's Division when each division only has one title belt to compete for?
1. Include NXT. The NXT Women's Division is looking really good right now and a good case could be made to include the NXT Women in an all women WWE PPV/Special.
2. Include some legends. If WWE were to do something like they did with the Women's Royal Rumble and bring back some past Women's Division stars and Legends and set up some dream matches it would not only generate a lot of interest in the show but definitely fill the roster up.
3. Have Title Tournaments. This would really only work if WWE was planning on introducing secondary and tag titles to the Women's Divisions. The finals for those matches would be great additions to a Women's PPV.
4. Include the Mae Young Classic. I doubt very seriously that this will happen, but it would be a great addition if this PPV goes off to maybe have the Mae Young Classic final match on the card.
Again, it's only rumored that WWE's considering a Women's Division PPV, but I think it's an idea whose time has come and is long overdue. Since 2015, the revamped Women's Division has shown that they are more than capable of carrying a card, never mind a PPV on their own and it's time they were given the chance to prove it.
---
Always Use Your Head and visit the official Pro Wrestling Tees store for The Chairshot All t-shirt proceeds help support the advancement of your favorite hard-hitting wrestling website, The Chairshot!

---
Ring Riffs: The Undertaker Vs. Giant Gonzales (WrestleMania IX)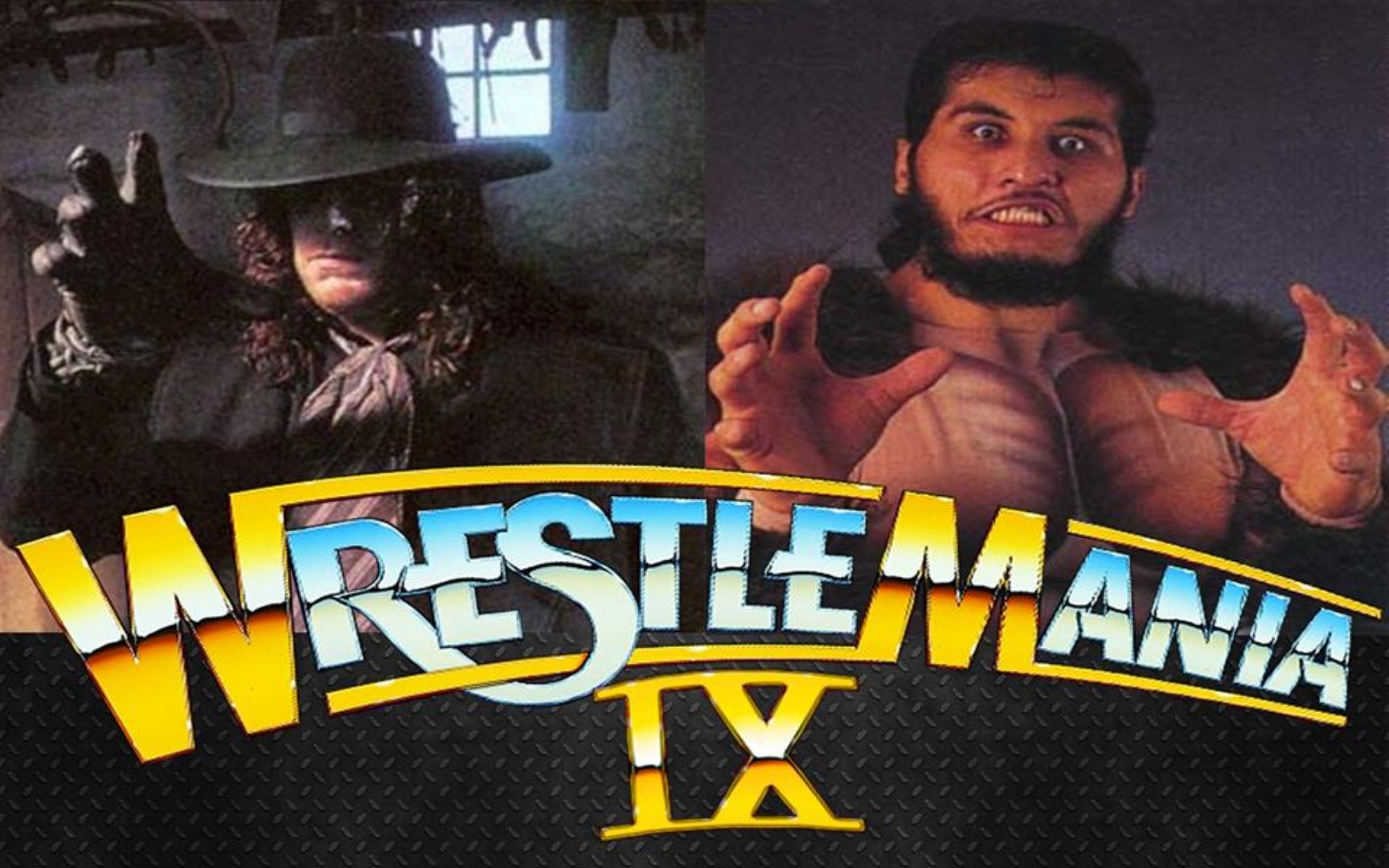 Welcome to Ring Riffs! Where we take the absolute worst of professional wrestling and wrap it up in a neat little episodic package for your entertainment…and my own sense of masochism.
I have made my (small) claim to fame as a wrestling writer, both as professional wrestling fanatic and a glutton for punishment, as I – like most of us – are willing to wade through the muck and mucus of embarrassing skits, negative 2 star matches and backstage scandals to embrace those special, singular moments that made us fans in the first place.
I intend to wade through the muck for all of you. Consider this dying for the sins of wrestling. Again. And again. And horrifyingly again.
Ring Riffs is my video love letter to everything absolutely horrid about professional wrestling. We are all aware that, like any form of entertainment, there is the best of wrestling and the worst of it. We nerd-rage over matches and moments that are beneath our expectations of what wrestling should be – but over time, those terrible moments become inside jokes and memes for us to point and laugh at, wondering exactly what life-altering drugs were ingested by those who believed their ideas would get over with the wrestling fanbase.
So here we are, and here I am, ready to exploit the bottom of the barrel when it comes to wrestling matches. There is an entire galaxy of terrible matches for your entertainment…and for my punishment for the evil things I have done in my life.
In Episode #4, I took a look at what made the WrestleMania IX match between The Undertaker and Giant Gonzales was such a fascinating mess of truly epic proportions. Epic may be the understatement of the millennia.
Don't forget to "like" the episodes and subscribe to the Ring Riffs Channel! It helps The Chairshot, and helps me continue to do what I do.
***WARNING***If you are easily offended by words, or if you are generfally a good parent who doesn't want their children exposed to potty-mouthed anger, viewer discretion is advised.
Subscribe to the Ring Riffs YouTube Channel to keep new episodes coming!
Join the Ring Riffs Facebook Page.
Follow @RiffsRing on Twitter.
Love Wrestling. Love Life. Love Each Other.
---
Always Use Your Head and visit the official Pro Wrestling Tees store for The Chairshot All t-shirt proceeds help support the advancement of your favorite hard-hitting wrestling website, The Chairshot!

---