Lashley. Reigns. Rollins. Ziggler. Are You Not Entertained?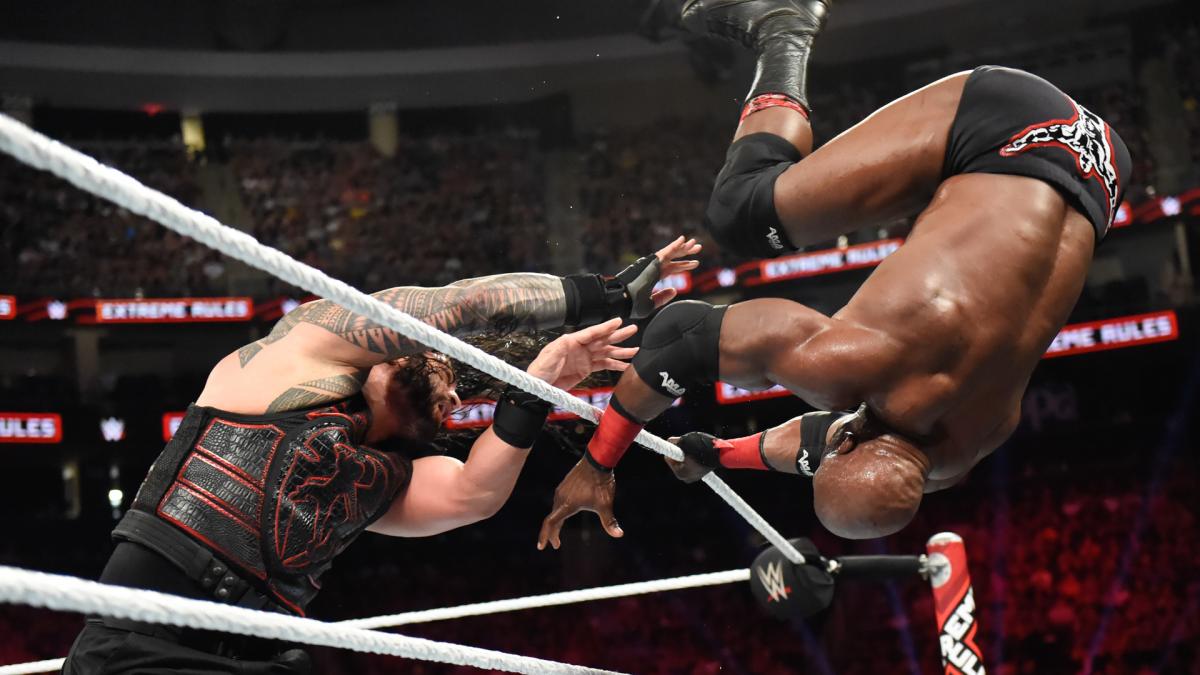 It was supposed to be everything wrestling fans had asked for. The night was last Sunday. The place was Extreme Rules. And the main event of the evening? Not Roman Reigns vs Bobby Lashley as most had predicted and groaned about, but instead a 30 minute Iron Man Match for the Intercontinental Title between Dolph Ziggler and Seth Rollins. It was exactly what the audience wanted. At least, it was what the internet told us that the audience wanted.
And what happened? An embarrassment on multiple fronts. A crowd that was either unappreciative or uninterested. Disrespectful chants. And two performers in Ziggler and Rollins, both deserving of this spot, probably seeing any future main event opportunities evaporating away.
The cringe worthy crowd response to the main event at Extreme Rules proves two truths in wrestling today, though uncomfortable as they might be to accept.
Number one, despite what the "Internet Wrestling Community" might tell you, they do not represent a majority of the WWE audience. Not only are they not a majority, they don't even comprise as large a percentage of the general crowd for a WWE show as they might want you to believe. In today's world, especially with the advent of social media, it would be easy to think that most wrestling fans in 2018 are "in the know." They scour the dirt sheets for news and rumors, are daily visitors to message boards, stalk wrestlers' Instagram accounts, and follow anyone and everyone related to the WWE on Twitter. If that were the case, the Extreme Rules main event would have went over like gangbusters!
"Roman Reigns Sucks."
"Bobby Lashley Sucks."
"Why Isn't The WWE Title the Main Event?"
"Seth Rollins Should Be Universal Champion."
"Seth Rollins vs Dolph Ziggler Is The Only Thing Good About RAW."
Every message board you might visit was littered with the same sentiments in the build up to Extreme Rules. If the keyboard warriors are to be believed, it is a dark time in wrestling right now. So what does Vince McMahon and the WWE do? They throw everyone a curveball and give them exactly what you wanted! Ziggler vs Rollins in the main event! Heck, Reigns vs Lashley was even in the mid card! It was a smart mark's dream. And how did these supposed wrestling purists react to this? By crapping all over it. Why? Maybe there weren't as many smart marks in the crowd frothing at the mouth for thirty minutes of Ziggler and Rollins as we thought there were. Perception isn't always reality.
The second truth that last Sunday revealed, and perhaps hardest for a longtime fan like me to accept, is that Vince McMahon is right- audiences don't know what they want. The highly vocal (though apparent minority) of wrestling fans will tell you that they want to go back to the days of true heels and baby faces. They want to see good, technically sound wrestling. They want to see developed storylines and feuds that last longer than two weeks and come to a decisive end. You had all of that in Ziggler vs Rollins! Ziggler is the cocky heel with the muscle in Drew McIntyre to back him up. Rollins is arguably the most popular face on RAW right now. They are two of the best workers in the company and had already had great matches between themselves previously leading up to this Iron Man blow off. Their feud had a background and a story, and was probably the longest running and most developed storyline of any match on the card at Extreme Rules. It was everything today's jaded fan would want wrestling to return to, and yet it didn't matter. If we are to believe that these were the things most wrestling fans yearn for, their reaction to getting exactly what they asked for was the biggest disservice they could have done for Ziggler, for Rollins, and for themselves. The crowd was more interested in getting themselves over than either of the superstars in the ring. And therefore, nothing got over. Nothing except for the notion that "Vince Knows Best."
I'm a fan of both Ziggler and Rollins. I was happy to see them get this spot and opportunity, and it was unfortunate that the crowd reaction was what it was. It's also unfortunate that so many wrestling fans today like to be negative just for the sake of being negative. It's perfectly OK to have your own opinions about what you like and don't like. But then when you are given an alternative to prove your cause and it is met with this kind of response, you are only assuring yourself of getting more of the status quo. But maybe, deep down, that's really what you want. Because if things were to change, then what would you have to complain about?
---
Always Use Your Head and visit the official Pro Wrestling Tees store for The Chairshot All t-shirt proceeds help support the advancement of your favorite hard-hitting wrestling website, The Chairshot!

---
Jordan Fox Blog: My Life in Wrestling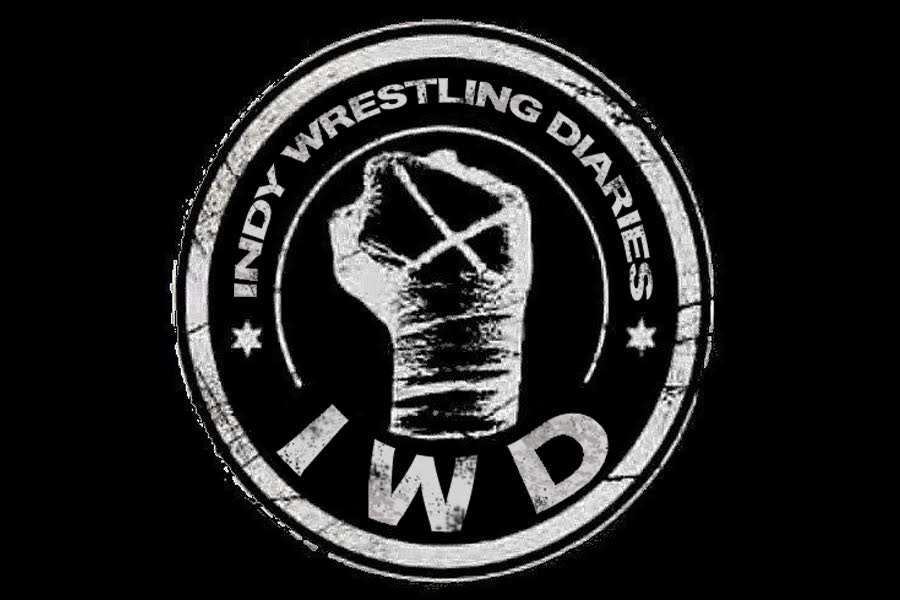 Wednesday August 15th, 2018
Quick shout out! Yesterday's episode of my show Indy Wrestling Radio has already gotten over 500 downloads!! So thank you to all the listeners!!
Disclaimer – Sometimes you might wonder what the point of the stories are… I'll be honest, sometimes there isn't going to be any meaning to what I'm blogging. I just simply want to share these really cool moments I get to experience. I get to experience these wonderful moments because I work in "The Business." I work in wrestling, that might not mean much to a non fan, but to wrestling fans, being a full time wrestling employee, like I am, is the Holy Grail.
I don't have a "shoot" job. The wrestling business is my job & this blog details the fun I experience in our wacky world of wrestling… ENJOY!
On Sunday I had my first show with Heroes of Wrestling which is based out of Royse City Texas, which is 30 miles outside of Dallas.
That sentence alone is incredible when all things are considered. I finally got clean & sober, 8 months now. My time in Iraq, time as a flight paramedic & 7 years as a fulltime firefighter have not been easy on the body or mind. I was been left with PTSD that was so crippling at times that I began to self medicate.
I know what people think about PTSD, they either think "I've seen dead bodies, what's the big deal?" or they'll feel so sorry for you that they won't take you seriously, you'll get the whole "Ahhhh, good for him." I hate that. The first one is the worst, the "I've seen dead bodies" one. I'm not discounting that you've seen some shit, I actually feel sorry for you, I don't wish that upon anyone but to think because you have seen screwed up shit & you don't have nightmares doesn't mean that I should be judged because I wake up terrified thinking I smell human flesh burning. I've seen so many things that I wish I hadn't, I couldn't begin to name them all, but the smell of human flesh burning is that one, that one thing above all else I would take away from my memory if given the chance.
Anyway, back to wrestling. I was, am still am, in a boot on my left foot because I rolled my ankle at the wrestling academy that I'm attending in Tulsa. Anyway, the show was absolutely great. I got to meet a ton of new guys & call their matches. It was a lot of fun, A life experience that every wrestling fan should experience.
The night started off with me getting ready in the locker room & as I was pulling my hair back, my friend & stablemate, Malico, came to me & said we need to shoot something short for our MadWorld web series we are developing. During the 30 second clip he called me by my character name for the first time, Sly. I was over the moon. Something I've worked so hard towards & dedicated so much time to felt like it was starting to come together at that moment. It couldn't of come at a better time either, with me being somewhat depressed that I can't train for a few more weeks because of my ankle.
I called my first "bull rope match" which featured Randy Wayne & Graham Bell. Holy shit these two guys are tough. That was a lot of fun. I had met both guys earlier in the evening & both were really cool to talk with. I was in a couple of group convo's with Randy & you can tell he knows a lot about the wrestling business so I hope to pick his brain more as I get to know him better. I didn't want to be the douche bag that asks him for advice on the first night lol.
Andy Dalton & Will Allday had a great match. I got to kinda shoot the shit with Andy for a little while but I didn't get to talk to Will a ton. My partner on commentary, Wil Rigdon said that he was from Booker T's school/promotion, Reality of Wrestling. It was obvious that wherever he was training, they are amazing because the guy was great. Both guys were. I actually watched a match of Andy's on Twitch randomly so it was cool meeting him.
Brock Baker, who had a very entertaining match with Chandler Hopkins that night as well, & Will Allday are in the middle of a feud & it was a lot of fun being on commentary as that unfolded. I wanna say that Rigdon said that Brock Baker is a Booker T guy as well.
I called a match that featured a former WORLD CHAMPION! The fan in me still can't believe that. The match was Tim Storm vs Bam Bam Malone. Bam Bam was a really cool dude, as was Brysin Scott who I got to kinda BS with for awhile. he had recently won a promotions title so I got to see his new hardware & pick his brain a bit.
AND, in a really cool moment, my good pal Malico faced off against Barrett Brown & it was great. Two world class athletes going head to head like that while I get to call the action from 12 feet away, it's indescribable. I met both guys on my first night in wrestling, so I love when I get the chance to work with either of them. I obviously don't get to work with Barrett as much but it's a blast when I do get to.
It was a ton of fun. I'm still a fan, even though I work in wrestling full time between commentary, TheChairshot.com & podcasting, I'm still a huge fan & anytime I have the opportunity to "suspend my disbelief" I'm going to take it.
These guys are stars & still on the rise, so go check them out on social media! Thanks to everyone for checking out this weeks blog entry!
Stay strong & Too Sweet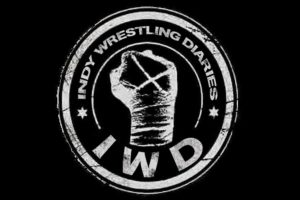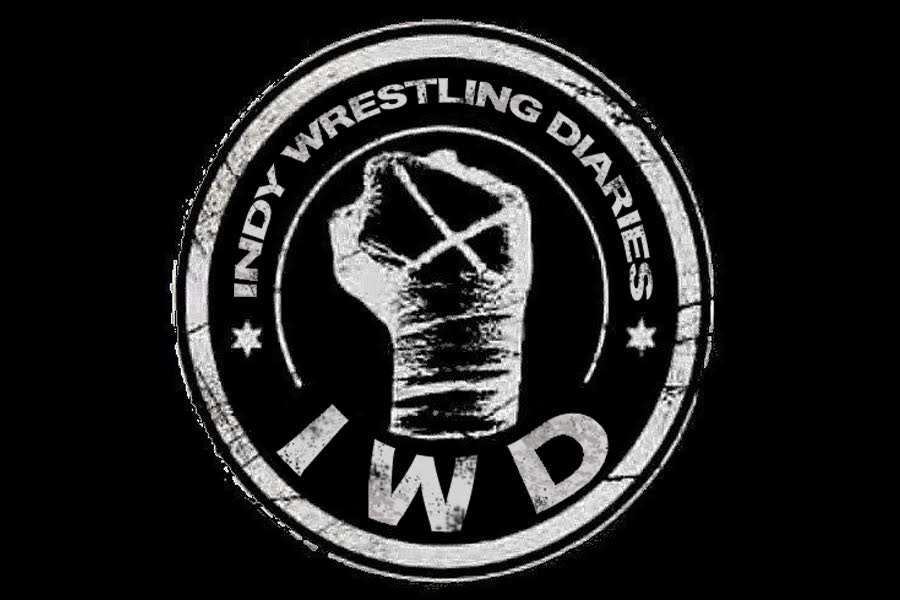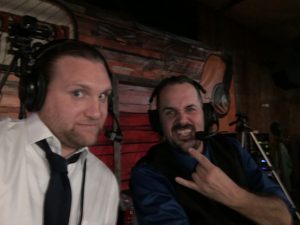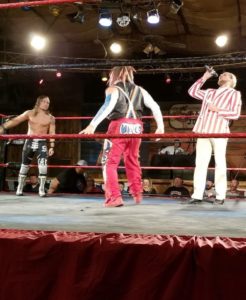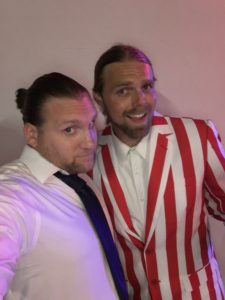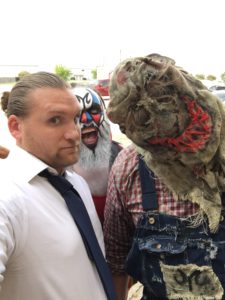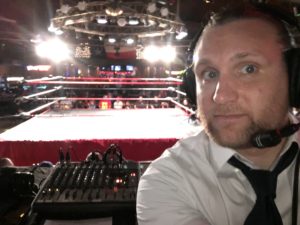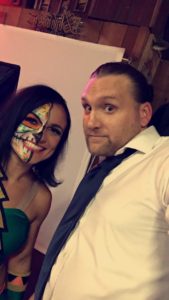 ---
Always Use Your Head and visit the official Pro Wrestling Tees store for The Chairshot All t-shirt proceeds help support the advancement of your favorite hard-hitting wrestling website, The Chairshot!

---
Levin's WWE SmackDown Live Review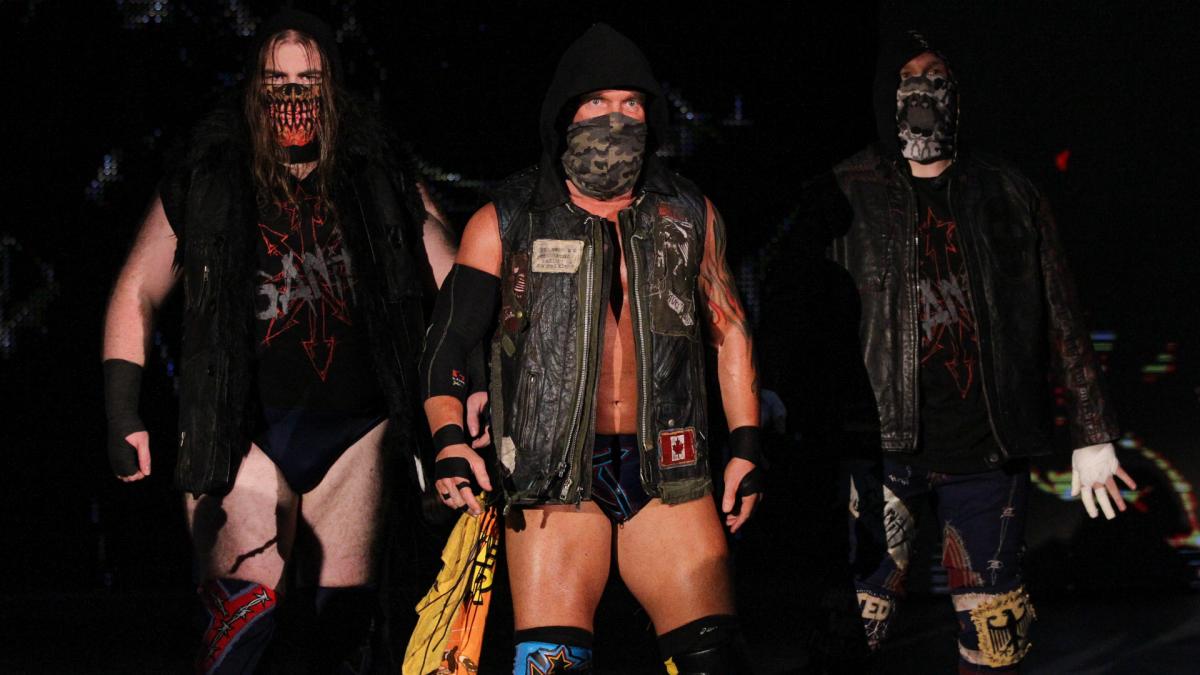 If WWE can bring back Dean Ambrose for the "go home" show before SummerSlam, then why can't the creative team for SmackDown Live do something equally dynamic?
WWE took a page out of old-school wrestling on Tuesday night, building the match between The Miz and Daniel Bryan to be as big, if not bigger than any feud the company or the business has ever witnessed. By promoting both company superstars through three vignettes, the next six days to SummerSlam should be full of hype, anticipation, and suspense.
The WWE did this right. The back and forth comments were perfect. The walk down memory lane sent chills down my spine. The fear of the match falling short, leading to disappointment vanished with each segment, which was better than the last. Whoever came up with this concept deserves a gold star and a raise.
When I look at feuds of the past, Flair-Steamboat, Savage-Hogan, Brisco-Funk, they all had a great storyline and even better in-ring chemistry. The same holds true for this match and hopefully, it means a continuing feud moving forward. Also, like John Cena and CM Punk, there is potential to write more chapters as a "go to" feud when ratings fall or the business becomes stale.
Bad blood usually spoils over again in this business.
Here are a few more points I need to make.
The Tuesday night show started off with Carmella, Becky Lynch and Charlotte Flair in the ring ahead of the SmackDown Women's Title match on Sunday night. I'm still trying to get behind this one and waiting for ether BFF to turn to the dark side. There are plenty of scenarios that could take place, but the fact remains if Carmella walks out of Brooklyn with the title in hand, I'm going to be pissed with plenty of other wrestling fans.
The dialogue between the three ladies was decent but still didn't excite the masses. The best line of the opening segment is when Flair told the champ, "You're a diva living in a women's era."
Of course, Paige (Good Gawd) comes out and orders a tag team match between Flair and Becky vs. Mandy Rose and Sonya DeVille.
I'll say this, the women's division has gotten better – with the resurgence of Lynch, Hopefully, the match will be better than the hype.
Lynch got the pinfall and stole the show, leading to more backstage tension between the two women.
The Bludgeon Brothers and Everyone Else
The Bludgeon Brothers remind me of the Wild Samoans from the old WWWF/WWF. Over 600 pounds of intensity and tougher and meaner than any other tag team. The current SmackDown tag team champions have no peer and should New Day beat them, it shows WWE's need to keep the four-time tag team champions relevant.
This is a division that is good, but it could use a shakeup.
Sanity vs. The New Day – Does Nothing For Me
Alexander Wolf, Killian Dain, and Eric Young should be one badass tag team that challenges the Bludgeon Brothers but are stuck in tag team mediocrity.
Young is one of the better mat wrestlers of this generation. Dain should be in singles competition. I'm still of the belief WWE should figure out what to do with Xavier Woods (205), Kofi Kingston (main even picture) and Big E feud with Rusev.
Don't get me wrong about my point. The match itself was very good, but there was no way WWE would put Sanity over when New Day has a tag team title opportunity.
Samoa Joe Must Beat AJ Styles
There is no way A.J. Styles will hold the WWE Title for over 500 days. There is no way Samoa Joe will continue to march through the SmackDown Live roster without a title. This is a match I cannot wait to see on Sunday.
While Styles may be a better in-ring performer, Joe is the more complete performer. Personally, I would love to see Joe as the next Paul Heyman guy. I did not like the end of the show.
Aiden English Needs A Spot
English vs. Andrade "Cien" Almas. You knew this would happen. It's the only reasonable progression. But it makes no sense.
The rumor has been Vince McMahon is in favor of an Almas run toward the main event after two weeks of matches against Styles and Rusev. Rusev vs. Almas at SummerSlam would be perfect if it were not for the current storyline.
English really is a ball and chain. And honestly, I don't want to see a mixed tag match to kick off SummerSlam.
By the way, Lana cannot remember her accent.
Shelton Benjamin Deserves Better
What would happen if Shelton Benjamin could stay healthy? Would he be in line for a main event push? The match with Jeff Hardy, which was good, was a mere icebreaker for a confrontation with Shinsuke Nakamura.
With the addition of Randy Orton to this angle, there is no doubt he will decide the outcome of the match and the United States Title. WWE has to be careful here. If he costs Nakamura the match, what does that do for the former champion's character? What happens with Hardy moving forward?
Would Benjamin get a chance at the title and have Orton and Nakamura work a program?
---
Always Use Your Head and visit the official Pro Wrestling Tees store for The Chairshot All t-shirt proceeds help support the advancement of your favorite hard-hitting wrestling website, The Chairshot!

---
TIME AND FATE: NOAH'S GHC HARDCORE CHAMPIONSHIP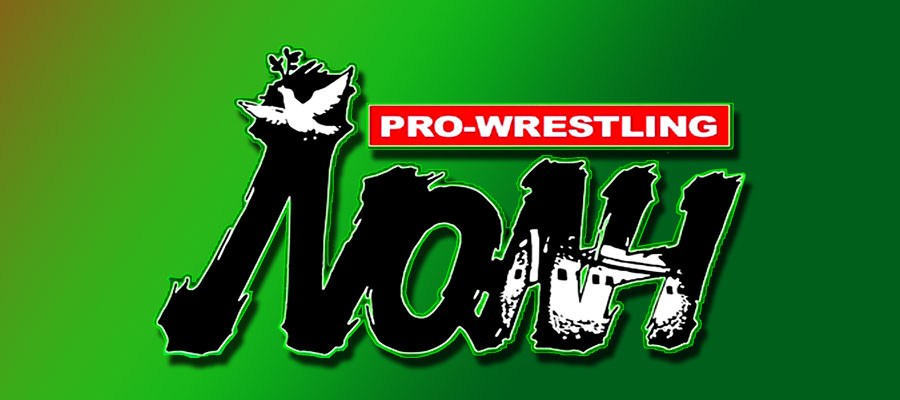 "It seems there was once a belt a long time ago I guess."
Hi69 (May 4th 2018 after a hardcore match with Daisuke Harada).
I hope to present here a brief history of what was known as the GHC Hardcore Championship.
NOAH is not a hardcore promotion that does deathmatches (although they did run one in May 2018 between Hi69 and Daisuke Harada, this was Harada's first time doing hardcore), so you weren't going to win this belt by lighttubes, blowing the ring up, electric barbed wire or stapling paper to your opponents head; although it was defended in some matches termed as "hardcore", or at least as hardcore as NOAH got in that era.
In this situation "Hardcore" meant that anyone could challenge for it regardless of division as it was openweight, you just had to survive and have incredible endurance. The title could be won by a count-out, and if the challenger was smaller than the champion and lasted fifteen minutes, the title could change hands. A win could only be gained by a pinfall, no submission was allowed.
The title could only be challenged for by NOAH wrestlers (or those working for NOAH at the time, such as Scorpio in 2005), not from anyone by an outside promotion.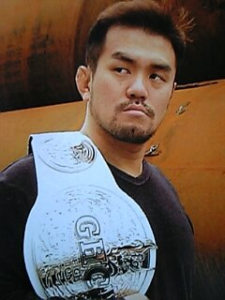 The title began in 2004 when Jun Akiyama came up with the idea. He felt the concept would be exciting as it would create matches regardless of weight and size and would be open to anyone of any division. Mitsuharu Misawa agreed to the idea, funded it, and the belt was created. For this reason Misawa was considered to be the chairman of the belt (in the same way that the GHC has its own committee who decide who gets it etc), and the belt was thought to be Jun Akiyama's as it was created in his style, the same way that the GHC Heavyweight is Misawa's.
The GHC Hardcore belt differed from the other GHC belts as the main belt was white (Jun Akiyama's colors) with the crest being silver, and for that reason it was sometimes known as "The White GHC".
In the beginning it was decided that the belt would only be defended outside of the Kanto area (outside of the metropolitan Tokyo district which included Chiba, Saitama etc), with a fan who won a competition reading out the match announcement (like Joe Higuchi did for championship matches). After the match they would have the honor of handing the belt to the winner, and posing for a commemorative photo afterwards. This didn't happen as the belt would be defended very much in Tokyo.
Immediately the rules caused confusion as in Jun Akiyama's first defense, Takuma Sano was put in a front necklock and passed out, the referee not hearing his "I quit". The belt then passed to Naomichi Marufuji who lost it to Mohammed Yone. NOAH held a rare deathmatch, where Yone faced Morishima in a "Chain Death Match" in Osaka in April 2005, it went to a double knock out. Yone's fourth defense was against Scorpio, who was taken to hospital after the match having injured his leg.
Scorpio lost the title to Kentaro Shiga in September 2006, and the title became a tag title as Shiga unified it with Kishin Kawabata after vacating the belt as he declared he wanted to make a tag with it, (although there were never two belts made for this purpose), and the belt was billed as the "GHC Openweight Hardcore Tag Team Championship". It was defended that December at Korakuen Hall in a "Lumberjack Deathmatch".
By late 2007, the championship belt was becoming sporadic as NOAH booking and NOAH fans were losing interest in it, compared to the turn around of roughly six months when the belt was first inaugurated, Kishin Kawabata made only four defenses in eleven months before losing it to Makoto Hashi in October 2008, he made only two in nine months before losing it to Kenta Kobashi in June 8th 2009 who defended it four times before vacating the title after becoming injured that December.
No one after this it seemed to have much interest in reviving the belt and NOAH had little interest in booking it. Simply put, the concept had run its course, and by late 2009 and early 2010, NOAH were facing serious problems with the death of Misawa and internal fighting about the company restructuring. In the following years talent walkout, scandal, a decline in business and money issues became a far more pressing problem than who held a little white belt with a silver crest.
As of August 2018 NOAH have announced no plans to bring the GHC Hardcore Championship back, and the belt is not listed on the site under a the list of championships.
---
Always Use Your Head and visit the official Pro Wrestling Tees store for The Chairshot All t-shirt proceeds help support the advancement of your favorite hard-hitting wrestling website, The Chairshot!

---