Mathew's G1 Climax 28 B Block Results & Review: Day 2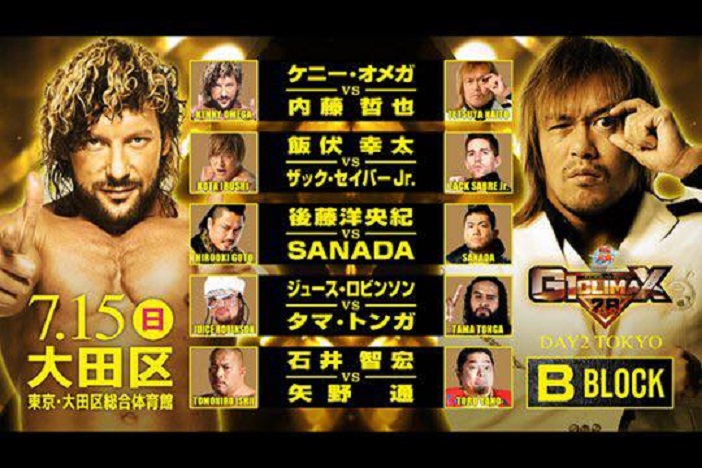 If you have followed me and Andrew's collaborations before, we both covered the AJPW Champion Carnival and Dragon Gate's King of Gate a few months ago into doing separate blocks to make it easier since one person covering the whole thing. That would be a lot of time and work, plus I couldn't ask for a better partner in this. So with this going on, Stardom, Dragon Gate, AJPW, and other stuff I cover will have to either be put on hold or limited for the time being until G1 is over with unless a really big show happens and I'll try to squeeze it in.
Anyway, it is time for New Japan's biggest tournament of the year, the G1 Climax where ten wrestlers with each block will fight each other in a round robin style tournament and the winner of those blocks will face off in the final and the winner of that will challenge the IWGP Heavyweight Champion in the main event of Wrestle Kingdom in January. Last year, Tetsuya Naito won the G1 Climax by defeating Kenny Omega and this year has both blocks surely stacked as I cover B Block and got a solid opening. For predictions, I want Naito to win the G1 again to finally reclaim that title, but I somehow can see Tanahashi vs. Ibushi in there. Let's not waste any more time and just…dive right in.
G1 Climax 2018 Block B Match
Tomohiro Ishii vs. Toru Yano
Review: Our first match in B Block contains both members of CHAOS as we have the companies gatekeeper, Tomohiro Ishii taking on Toru Yano who is someone that isn't somebody that you would expect to win the whole thing but can be known to be a thorn on peoples sides by costing people a chance to win if he surprisingly defeats them. Can Yano get the victory in the first night and ruin Ishii's chances or will the Stone Pitbull stomp on those thorns?
I think I'm missing something here because this is clearly not Toru Yano, did him and Ryo Saito share the same sake and became completely different people since this Toru seems to be a bit more serious than I've seen him in years, keep it up. The match was surprisingly very solid with this new side of Toru getting into the mix with even going toe to toe with Ishii a few times during the match. Another thing about Toru in this is that he wasn't over the top with his little antics since it wasn't one after another, he would do them in different sequences far in between to throw his opponent off a little bit more since they'll be expecting them frequently from him and the fact that he's not can throw them off more than he usually does. Ishii also does very well as usual by working with a bunch of people to give us quality matches and I feel like that's what the remainder of his career is going to be in New Japan with just being the gatekeeper of the company and give us memorable matches outside of winning the IWGP Heavyweight Championship since I don't think he really needs it this stage in the game and you can even have a great career without the need of winning the big gold and he's a great example. Toru near the end would try to do more of his antics with attempting to low blow him or use the referee and Ishii would just counter all of that and even pull a page out of Yano's book with a low blow when the referee wasn't looking and rolls him up with the La Magistral for the win and Ishii gets two points.
Recommended: Surprisingly entertaining, give it a watch.
G1 Climax 2018 Block B Match
Juice Robinson vs. Tama Tonga
Review: At the last show they had at the United States, a lot has happened with first being that Juice Robinson would defeat Jay White to become the new IWGP United States Champion in a solid bout with Juice finally winning his first big title and he has definitely earned it and has come a long way since his NXT days and now looks to have a more impressive record for this G1. Tama Tonga would pull the trigger with Bad Luck Fale and his family to assault Kenny Omega and the rest of the Bullet Club as he looks to bring the Club back to where it was originally supposed to be. With both having newfound chapters in their career, a win here would help solidify them a bit more as they both need it.
Tama normally doesn't care about being in the G1 Climax, but with the Bullet Club Civil War going on and the fact that Kenny Omega is actually in the same block as time, it seems to have given him some motivation to give a damn about it just so he could defeat Kenny in the tournament a try to win the whole thing so he could defeat him again on the big stage. Juice's hand still seems to be a bit injured since you can see him selling it more and not normally using it for when he does his little punch combo. The two seemed to hit it off pretty well with Tama being the cool type of heel with his brother helping him once or twice in the match and Juice, of course, being the underdog that is he despite being a champion now. Juice would seem to get the upper hand as he went for his Pulp Friction until Loa would distract him and get thrown in for Juice to hit him with his combo of punches to take him out and before he could try to hit the move again on Tama, he turned it around for a Gun Stun and gets the win. With Tama getting the win here against Juice, he could potentially have a future title match with him if he does indeed fail to win the G1, could be a fun match,
Recommended: Solid bout, worth watching.
G1 Climax 2018 Block B Match
Hirooki Goto vs. SANADA
Review: SANADA will always be my dark horse in any type of tournament he's in since he has the potential to be one of the biggest stars in the company and he has shown a lot of that this year with his matches against Okada, Toru, Zack, and various others and maybe this tournament could be his break, never count him out because he could surprise you. The NEVER Openweight Champion, Hirooki Goto is his opponent and normally seems to do well in these types of tournaments and represents Shibata every time he comes out with the Openweight title since Shibata made that belt feel important and Goto hopes to do it for his good friend. Excited to see how this one goes since I think this is the first time they fight one on one.
After seeing this match, SANADA moved up the ladder a bit for me for favorites in the promotion for me since matches like these show you how excellent he is in the ring and how his character is also intelligent since he can calculate what to do in the match to better his chances of winning a match and knowing how to dodge or reverse his opponents moves without really having to reverse it into submission holds, almost as if he has a counter for everything if it plays out in his favor. Goto deserves as much credit as SANADA since while Goto is someone that really screams a main eventer or IWGP Heavyweight Champion material, he's exactly where he needs to be with this title and representing his own vision of strong style and bring out the best of his opponents whenever he's in the ring with them. I love the GTR reversals into the Dragon Sleeper between the two and most of these little sequences made me believe that he could've had Goto tap out and unfortunately couldn't but it was still great storytelling with the both of them. Goto would attempt a GTR and SANADA would counter with a roll-up and would almost get the win by a millisecond as Goto kicked out just in time. Goto would have SANDA's feet on the ropes and looked like he was going for that DDT Randy Orton does, but he hits a GTR instead before picking him up to double tap with one more GTR as Goto picks up the win. I need to see a rematch with these two as soon as possible.
Recommended: Great match, definitely worth watching.
G1 Climax 2018 Block B Match
Kota Ibushi vs. Zack Sabre Jr.
Review: These two are no strangers to each other as they fought each other at last years G1 Climax on A Block with Ibushi getting the win over Zack and the two would fight again this year at the New Japan Cup Quarter Final Round with Zack making Ibushi tap out. The two would fight again to get the rubber match to see who would come out on top since a win here is important to get the early advantage. Will Zack be able to make him JUST TAP OUT for the second time in a row or will the Golden Star shine bright?
TAKA needs to be Zack's manager permanently going forward just by how he hypes him up like how Gedo hypes Okada. With Zack Sabre Jr, I love his technical ability and I will never deny his talent as a wrestler, but my big problem with him normally that he hardly ever shows character or even sell outside of Japan like he would just be a generic guy that just knows a lot of technical moves, but whenever I see him in Japan with Suzuki Gun, he shows all of the things to show he can be a better overall wrestler instead of just moves and I wish I saw this side of him everywhere else since it's great of him. This match was incredibly stiff from beginning to end with all of the strikes they do to each other whether it's chops, kicks, or just slapping each other in the face enough to see the sweat leaving their body. Zack is just incredible with his submissions since he just knows body manipulation and can just make you tap out with just about any combination of his holds since he's just so creative with them. Ibushi is a great talent with a glass ceiling hanging over his head and he could break that anytime he wants to move up to the next level and be a top player along with winning more gold, but the fact that he is a Freelancers with no decision to sign a full-time contract with the company is what holds him back to go to the next level to be the IWGP Heavyweight Champion. The last seven minutes of the match elevated their high intensity with Zack kept locking his arms and legs in to try and make Ibushi tap out while Ibushi would do his best to knee his face in to knock him out with both of them not giving each other the edge to make it happen, but Zack would give in as Ibushi finally hits the Kamigoye to pick up the win over Zack.
Recommended: Fantastic match, worth watching.
G1 Climax 2018 Block B Match
Kenny Omega vs. Tetsuya Naito
Review: We're not at our main event of the night with our IWGP Heavyweight Champion, Kenny Omega taking on NJPW's most charismatic superstar and leader of Los Ignorables de Japon, Tetsuya Naito and these two are no strangers to each other since this is the third year in a row where they fought each other in the G1 Climax and actually the only time these two ever fought each other in singles competition also.
Two years ago, Kenny Omega would defeat Tetsuya Naito in the B Block final show to determine who would move on where Kenny has one the G1 Climax, also making him the first Gaijin to win the tournament and also be the first Gaijin to main event a Wrestle Kingdom show despite losing the match. Last year, Tetsuya would defeat Kenny Omega in the G1 Climax final to win his second G1 and finally got what he wanted and that was to main event Wrestle Kingdom and the Tokyo Dome and he would also fail to win the belt from Okada at the show and he stated that he mostly cared about main eventing the show to show that he could get to that level and now that he has that goal crossed off his list, he can now set his sights on a new goal and that's to win the championship once again but as a main eventer. A win here could be huge for both of them at the start of this tournament since they're also both considered to be the favorites to win the tournament and them fighting first could possibly change the course of how things will play out.
This might be a bit of an unpopular opinion, but I like the Naito/Omega matches slightly a bit more than Okada/Omega and it's mostly due to that while Okada/Omega has the better story and rivalry, Naito/Omega also have unique elements to their stories and also really good match quality since I've enjoyed all of their matches together and just feels more organic compared to the other feud, but the only thing holding me back for saying that it's fully better is that they haven't had a match outside of G1 together yet and these are just tournament matches instead of having a regular match without the constraints of being in G1 and I hope they get that soon if they win G1 or maybe at a different big event since I feel like we're long overdue for one and doing it for the title would be a great way to do it. Despite that little nitpick, the match was fantastic and probably their best match together in these series of G1 matches as they are again more organic and natural with their wrestling and story with each other and loved the little taunts to each other in the beginning of the match with Omega mocking Naito and Naito doing it back to him a little bit after, it's just great mind games to each other. Naito would hit a Destino twice on Omega and it was still not enough and when he went to go for it again, Omega caught him with a Fire Thunder and an Underhook Piledriver to do more damage onto Naito's neck and he would eventually hit the One-Winged Angel to get the win. I was hoping for Naito to win this match to set up a future title match at Kings of Pro Wrestling or something, but I think it would be more beneficial for Omega to get a big win under his name while being the new IWGP Heavyweight Champion. Despite the loss, Naito was still super over with the crowd and they were even chanting for Naito over their own champion once that bell would ring, so I don't know what that tells you.
Recommended: Best match of the night in my opinion, definitely check it out.
Overall: This is only the second day of the G1 Climax and they already raised the bar to hopefully have the following days step up their game until the very end of the tournament. I like to think B Block won the first day compared to A Block, but it was still really good and should definitely check out Andrew's coverage also and follow us on this journey together.
Favorite Match: Kenny Omega vs. Tetsuya Naito
Least Favorite Match: Juice Robinson vs. Tama Tonga (If I really had to pick)
Score: 9/10
B Block Standings:
Kenny Omega 1-0 (2 Points)
Kota Ibushi: 1-0 (2 Points)
Tama Tonga 1-0 (2 Points)
Hirooki Goto: 1-0 (2 Points)
Tomohiro Ishii: 1-0 (2 Points)
Tetsuya Naito: 0-1 (0 Points)
Zack Sabre Jr: 0-1 (0 Points)
SANADA: 0-1 (0 Points)
Juice Robinson: 0-1 (0 Points)
Toru Yano: 0-1 (0 Points)