Mathew's G1 Climax 28 B Block Results & Review: Day 8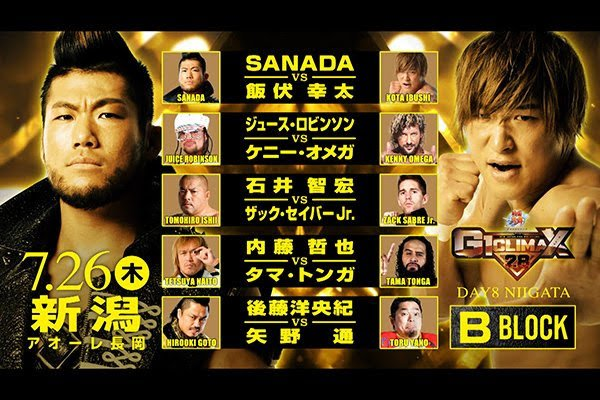 Welcome back to B Block! Last time we were here, we had two matches that were considered some of the best matches of the G1 Tournament Goto/Ishii and Sabre/SANADA, and with Omega still the only one undefeated in the tournament, he is someone that you need to keep an eye on.
Omega could have this locked up if he wins the next couple. So that means someone would have to beat him soon if they're gonna have to have a chance of knocking him off the mountain. We got another stacked show tonight and sure to have something for everyone, so let us…dive right in.
G1 Climax 2018 Block B Match
Toru Yano vs. Hirooki Goto
Review: So now that Toru was finally able to get a win and now be known as a thorn in Ibushi's side, could he do it again when he takes on fellow CHAOS member and NEVER Openweight Champion, Hirooki Goto. Goto has had two great matches so far throughout his run in the tournament so far, but he would, unfortunately, take the last two losses where they would mostly count and only has one win in his name and a win here is pretty crucial for Goto if he has any chance of staying alive or will Toru stab another thorn in someone else to ruin their chances back to back?
There it is, there's the Yano type of match that we've been waiting to see where he tries to end it as quickly as possible and it can work if he is smart enough, but it is Toru we're talking about. Toru would get it started with taking the turnbuckle pad right away to hit Goto with it and throw him to the exposed turnbuckle to try and roll him up a couple of times for a two count. It looked like Toru was going to have it and then he didn't when Goto hits the GTR for the much-needed win here.
Recommended: This one is probably their weakest matches in this series so far but up to you really.
G1 Climax 2018 Block B Match
Tama Tonga vs. Tetsuya Naito
Review: Tama has made it clear in this tournament that he does not give two shits about winning the G1 or even taking part in it for that matter. He just wants to send a message to the New Japan roster about the Bullet Club IS FINE and going back to their old school roots from years ago when they were considered an actual good faction unlike now. But, he has to care a little bit since he's fighting the leader of Los Ignorables de Japon, Tetsuya Naito and he could ruin Naito's chances of winning at least or he could just do what he's been doing and keep getting himself disqualified while the Firing Squad beats up their opponents like they're nothing. Naito would, however, like to win the G1 to get back into the main event of the Tokyo Dome with his new mindset since he already reached that goal and would just need to fulfill his promise of winning the remainder of his matches. So which leader wins, OG Bullet Club or LIJ?
Tama once again wasted no time with Naito by using Loa as a distraction from when he 'left' the area for Tama to start assaulting Naito from behind as Loa was able to get back into the ring. Not gonna lie, this is so far Tonga's best match in this G1 tournament and don't think that's not really saying much so far since he's been rather lackluster in this tournament. Story-wise, it's very good and his motives make sense from his standpoint but if we're gonna go by in-ring quality, then it's not so impressive. Naito attempted a Destino only to be tossed off Tonga and made him land on the referee which made Loa come out to attack Naito and then EVIL came out to help fend off Loa only to be beaten down by Bad Luck Fale, and then BUSHI would run in to try and help out only for Fale to attempt a Grenade but BUSHI spits green mist into his eyes as the team members are down. It's just Naito and Tong in the ring now and they both kicked each other below the belt, but Naito would get up and hits Tongs with the Destino and gets another win.
Recommended: Pretty solid match, worth a watch.
G1 Climax 2018 Block B Match
Zack Sabre Jr. vs. Tomohiro Ishii
Review: Things aren't looking too good with Zack as he only has one win to his name and two losses, so he would need to win this one to try and stay in the game a little bit longer. To do that however, he has to defeat the person who defeated him for the RPW Heavyweight Championship a few months ago, Tomohiro Ishii who had one of the best matches in the tournament at the last B Block show and looks to have that momentum going while still delivering us a great match to go with it. Will Ishii keep his momentum rolling or can Zack find a way to make him JUST TAP OUT?
I have to say that both of these guys have been killing it so far in this tournament and it should be no surprise for Ishii since he usually delivers and Zack keeps on impressing me more and looks to be delivering in these tournament style matches and feel like he could be a great Openweight Champion if he ever had his first singles run with the company. I like the chemistry with the two since you got Zack using his technical ability to try wear and tear down Ishii to find an opening to try and make him tap out while Ishii mostly using his power to beat down Zack like a scrawny rag doll. After about fourteen minutes in, Sabre would try to win with the European Clutch and would kick out of it and Zack would try to try to do a Triangle Choke but Ishii picked him up for a Powerbomb and headbutts him instead and would Powerbomb him one more time but Zack would transition it into a modified Armbar and made him tap out to get a second win in his name.
Recommended: Very fun match, worth watching.
G1 Climax 2018 Block B Match
Juice Robinson vs. Kenny Omega
Review: Last year when these guys fought at the G1 Climax, Juice would shock the world when he pulled the surprise victory by rolling up Omega and would later on get a title match for the IWGP United States Championship which he failed to get at the time. One year later, they would fight again as they're both also champions this time around but unfortunately, Juice has three losses in his name and if he loses this match right here, then he's going to lose his chances of getting further into the tournament. Can he get another surprise victory over Omega or will Kenny still go on undefeated?
I liked how Omega didn't use this time to work on Juice's broken hand during the match and chose to not take the easy way out and have a fair fight with Juice here and nothing wrong with that happening. I know I said before that I loved the progression of Juice and how he's the perfect underdog for the company because of how believable he is in pulling that off and it adds more to his matches and the stories behind it and with Omega actually having better stories in his matches than in-ring quality these days. I honestly thought their first G1 match was slightly better I think due to the story playing out better in this one, but this still had solid wrestling and again the story turned out to be great. Omega was able to hit two Snap Dragons on Juice and would go for the third but Juice would block it but gets countered into the Fujiwara Armbar for Juice to grab the ropes. Juice was getting ready to hit the Pulp Friction and gets reversed into the V-Trigger and he goes for the One-Winged Angel as Juice rolled him up shades of last year and Kenny kicks out of it this time, not falling for it. Kenny would hit Juice with the V-Trigger and then finally hits the One-Winged Angel to remain undefeated.
Recommended: I liked their previous bouts better, but this was still solid.
G1 Climax 2018 Block B Match
Kota Ibushi vs. SANADA
Review: Surprised this is the main event, but I am very glad this is the case, since I don't think the two have faced each other before. Adding a special aspect to this match, despite it happening in the G1 Climax. Both of them have two victories and one loss and a victory for either one of these men would give them a bigger advantage since neither of them has fought Kenny yet and they could be the ones to knock Omega down a peg. Who's gonna get the win? Either way, we're gonna have something special in this dream match between two.
SANADA really is something special and the more I watch him more frequently in these types of matches, the more I slowly start to consider him my favorites in 2018 overall and not just in New Japan. It was pretty much exactly how I expected it to turn out with while having a great match, still leaving out enough to let us know that they could definitely fight again pretty soon and I'm sure they'll blow us away the next time their paths cross. Majority of the match was fairly even with the chain wrestling, the reversals, and the attempts of hitting their big moves onto each other but some of the spots however would come out a tiny bit sloppy, but not enough to take it away from the match at all. SANADA goes to the outside where Ibushi attempts a Baseball Slide for SANADA to duck it and drag him outside also and eventually Ibushi jumps to the ropes to land an Asai Moonsault. Ibushi now pulling the big spots with the Last Ride only for SANADA to kick out at two and SANADA kept on weakening Ibushi with the Skull End a few times to try and get him down for the Moonsault and Ibushi rolls out of the way before it would connect. Ibushi looks to finish it with the Kamigoye Knee and SANADA ducks the knee to get him into the Skull End one more time and even gets him knocked out long enough to drag him to the corner for the Diving Moonsault as SANADA gets the win. I felt like SANADA winning the the Skull End here would've been a more impactful finish, but I will take this and glad to see SANADA getting the victory over Ibushi, but I would love to see them fight again and soon.
Recommended: Great match, worth viewing.
Overall: This is probably the weaker one of my nights so far, but it was still a solid night for what it was and worth a watch if you've been following the G1 Climax at all. I, unfortunately, won't be able to cover the next B Block on Saturday due to me being on vacation, but Andrew is kind enough to cover that day for me, so be sure to find it under his name instead of mine just for that day and I'll be back on track just in time for the next one after that.
Favorite Match: Kota Ibushi vs. SANADA
Least Favorite Match: Toru Yano vs. Hirooki Goto
Score: 7.5/10
B Block Standings:
Kenny Omega 4-0 (8 Points)
Tetsuya Naito: 3-1 (6 Points)
SANADA: 3-1 (6 Points)
Kota Ibushi: 2-2 (4 Points)
Tomohiro Ishii: 2-2 (4 Points)
Zack Sabre Jr: 2-2 (4 Points)
Hirooki Goto: 2-2 (4 Points)
Tama Tonga: 1-3 (2 Points)
Toru Yano: 1-3 (2 Points)
Juice Robinson: 0-4 (0 Points)