"THE HOOLIGANS" (Mitsuya Nagai, KAZMA SAKAMOTO, Maybach Taniguchi & Cody Hall)
Q: What is the origin of the team name?
KAZMA: You know soccer don't you? Football hooligans fucking rampage. At NOAH we are going to fucking rampage. That's the meaning.
NAGAI wants to know how long the Chinese athletes think they can continue to fight with them
KAZMA: Even though NOAH and Eastern Heroes have a business alliance, why are we their opponents? I guess its some kind of conspiracy. Oh well, we will teach them the true nature of pro-wrestling. We will go to China next time, and anywhere in China, we will teach you wrestling!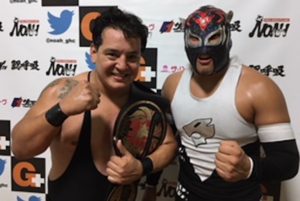 RICKY MARVIN AND EL HIJO DEL PANTERA
Q: Are you excited, you hoped for a third victory?
MARVIN: Yes! From now on it is real! We will show them! I came back from Mexico for this reason!
PANTERA: Thank you! Next it is Hi69 and Minoru Tanaka!
MARVIN: You guys! Do your best!
PANTERA: Team Mexico! Number One!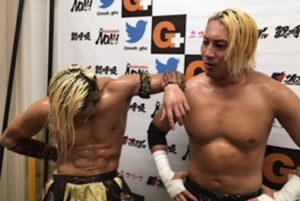 YO-HEY & HAYATA
YO-HEY: My waist…ah. The wife cut in…but another two seconds and it would be too late, I would have tapped out…after all, it is the best wife. Aside from that, Hajime Ohara did not take the Headache well. I caught that guy and was able to win. ♪ Now we have six points. If I think about it, had we lost today I would have lost my dream of two consecutive victories.
Then YO-HEY noticed HAYATA (who had been completely ignoring him) watching the two new trainees making their announcement for their debut.
YO-HEY: If you are interested in the trainees speech, the wife can have the last word.
HAYATA: Same!
YO-HEY: Winning two consecutive matches, also the same!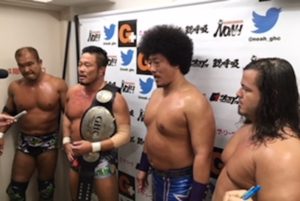 MASATO TANAKA, TAKASHI SUGIURA, MOHAMMED YONE & QUIET STORM
SUGIURA: The members of this group have nothing to fear from those young guys.
Q: You had a fierce competition with Shiozaki. Your chest is swollen from the chops?
Sugiura says that he is going to drive the elbow into his face.
Q: Will you exceed the momentum today?
SUGIURA: What do you think?
Q: What is the opinion on Sugiura from the others?
TANAKA: He looks good, especially when watching Shiozaki and Sugiura from the corner, it makes me feel a hot burn. Two matches. So intense.
YONE: The younger team do not have such a reassuring team to assemble. The wall is too high for them. What do you think Quiet Storm?
QUIET STORM: C'mon, C'mon, C'mon. Anytime! Anywhere!
Q: Blind spots?
SUGIURA: No. For Shiozaki and the younger generation, be scared when we are aligned.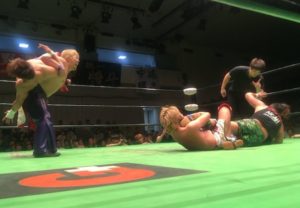 IKUTO HIDAKA & TAKUYA SUGAWARA
HIDAKA: Hey champions! Did you see it? This is what we meant, like when Mr. Yoshiaki Fujiwara, came to the dojo and said "no matter who is the champion, even in sumo, even in rock-paper-scissors, you cannot lose to them". You assholes have no excuse, so just give us the belts.
SUGAWARA: 4 wins, 8 points, we are at the top. I said it earlier by August 5th is not just NOAH's anniversary, it is Hidaka's 46th birthday. 46…does he look it? He looks quite good.
HIDAKA: Stop it!
SUGAWARA: Lets hope Team ZERO-1 gets the victory, and we can have Hidaka's birthday party in the ring at Korakuen.
HIDAKA: How old will NOAH be?
SUGAWARA: 18
HIDAKA: On my 46th birthday
SUGAWARA: This one is going to be beautiful!
HIDAKA: Hey! Stop messing around
SUGAWARA: Anyway, the next is RATELS. ZERO-1 can take the win.
HIDAKA: YO-HEY is a young pupil of my teacher, FUNAKI. I'm sorry, but I will not go easy on him, we have to finish the series.
SUGAWARA: Alright, lets see how tough this can be.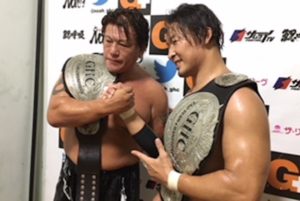 NAOMICHI MARUFUJI AND AKITOSHI SAITO
Q: You have not had a belt for a long time*, what are your thoughts?
SAITO: I haven't really noticed the difference. My ambition now is also a bit different because I am thinking about Noah. There is something I want to say to the young guys. Today I was caught, even if the genius beside me does not care, and even if I fell and collapsed, I turned that into a tactic to take advantage, because that kind of compassion is there. That's it, that's how you raise a promotion I think. If you understand this, I think you will know strength.
Q: Marufuji-san, how do you feel seeing Saito like this?
MARUFUJI: In recent years, Saito has been taking small steps. Now he has shown his real strength, look at what has happened. The customer also knew this, and of course he is a former champion of a different generation. In terms of generation, I am lower than him, but now I am going to fight in the same place like this and with all my strength. I will do my best to support him, and in the 20th anniversary of my debut, thanks to Saito, I was able to win this belt, thank you.
SAITO: No way. I trust you from the bottom of my heart and chosen you for my partner. You and I have a different bond, we have been together since the beginning of NOAH and we know it.
Q: What about future defenses?
MARUFUJI: The young guys…I guess they will challenge. It would be strange if they didn't. Of course it is inevitable that the same generation may also do the same. Nakajima and Kitamiya, you can do it once again, anyone can. It is our style that we will do it with anyone. Do you understand? Who do you think my partner is, assholes?
SAITO: Saito!
Link to original article from Noah.co.jp (in Japanese)
========================================================================
*2012 when Saito partnered with Go Shiozaki