Post Monday Night Raw Confusion For Roman Reigns and Brock Lesnar
Albert Einstein once defined insanity as: ''Doing the same thing over and over again, and expecting different results'', no quote better phrases my emotions than what one of the most famous individuals in history had to say about that phrase after the events of RAW this past week.
Roughly two weeks ago I wrote an article pitching a simple plan for SummerSlam following the recent Extreme Rules event that WWE put on in Philadelphia. In this article I proposed a simple concept, a triple threat match at 'The Biggest Party of the Summer' involving Bobby Lashley as opposed to a rehash of the same old Brock Lesnar vs Roman Reigns formula that fans clearly don't want to witness again, at least judging by the vast majority.
What I proposed would be a match at Extreme Rules and follow-up that would benefit everyone involved, whether that be Lesnar, Reigns or Lashley and would have everyone serve a purpose to the storyline at hand, give the returning Lashley more momentum & give the Universal Title the best chance of not ending in an absolute car crash, like the one we witnessed at WrestleMania earlier this year.
I'm now sitting here, roughly 5 days removed from the Extreme Rules rematch on Monday night between Roman Reigns & Bobby Lashley on RAW thinking, what was the point?
No seriously, what was the point of the events that just unfolded?
Whenever I seem to write an article these days it primarily bases around the booking of the current WWE product and the mistakes I feel they make on a weekly basis, especially when we look at RAW as opposed to its competition both inside & outside the realm of WWE. In no way do I intend to come across as repetitive or like a prototypical online troll that is out to get Roman Reigns head on a pike, because I genuinely respect him as an athlete and will defend him against any fan who thinks the man can't go in a professional wrestling ring.
My quarrel with this past week on RAW was simple, what was the intention?
Monday Night confused me beyond belief because I simply didn't understand what purpose the main event served to anyone who's followed the product since WrestleMania, regardless of if you're a fan or the superstars themselves. We once again had Roman Reigns overcome the competition set-up in front of him, adding yet another name to his already impressive list of defeats in his career thus far but beyond that I felt underwhelmed and just uninterested. To their credit, both Reigns & Lashley delivered a really solid outing in the main event, much like their initial encounter two weeks ago, the match really hit its stride in the 2nd half and gave the fans some great action but ended in a similar fashion to the Extreme Rules encounter only with the winners reversed.
That is where my issue arises, why was any of this necessary? Why was it necessary to put on the initial Reigns vs Lashley match with no real significant attachment to it just about 2 weeks ago, but then rehash the entire thing once again a matter of days later with a different victor of the bout? What did any of this achieve in regard to the credibility of the two men gunning for the title?
Absolutely nothing. Roman Reigns gets his 4th shot at 'The Beast' at Summerslam but doesn't look quite as dominant as he should since he just lost to the man he defeated a few days prior & Lashley is left wondering aimlessly as we head into the 2nd biggest show on the calendar despite pinning the current contender for the title again, a few days earlier.
Booking like this infuriates me, there's no clear attempt to build strong characters or a strong story in the long-term, all of this was clearly a plan to draw out the road to Summerslam to be as long as possible, potentially due to the arrival of the Universal Champion himself being so late in the build towards the summer spectacular. A simple and quick fix to all of this would simply be adding the stakes of Monday Night's match to their initial encounter at Extreme Rules instead and give the audience a decisive winner, where one looks as strong as possible when they eventually face Brock Lesnar instead of reverting back to the standard 50/50 booking WWE is now famous for when it comes to its main roster product.
Having the match occur then and there would have added further significance to Extreme Rules as a whole, given the match a lot more emotion behind it than the forced ones the fans had exerted on that evening, made the winner look considerably stronger than he does now & given even more time to build towards Summerslam's main event rather than 2 throwaway shows that in all honesty seem completely irrelevant in hindsight.
I do wonder as I rant about this though, am I missing something that other fans are aware of?
Maybe I've become so compulsively unsatisfied with the direction of Monday Night's 'Hottest' show that it reflects in almost any decision they make as a brand? Is it just that other brands have more to offer in terms of their larger stories or content of wrestling? Or maybe, if you really look into it, could this be the WWE's strategy? Confusion in an attempt to blur the logic behind their product and instead just wait for us to give into their direction as opposed to directions than the fans clearly want instead.
That last point seems like a bit of a stretch and something I'm clearly thinking too much into, but this is what happens when the booking of a product twists & turns this frequently to a regular follower like myself.
All I want from the headline match on one of WWE's 'Big 4' event, is a great setup to it, one that I can buy into and not feel like I've voluntarily had my time wasted. The world of professional wrestling is on fire right now, with so much content available it's almost impossible to keep up with, so when I invest my time I personally want to be satisfied. This doesn't necessarily mean I want things my way but in a way where I feel engaged & feel like I'm about to watch something spectacular, larger than life & a match that will tear the roof of the arena it's hosted in. Which is everything this 4th encounter between Brock Lesnar & Roman Reigns seems like it's missing so far.
As we embark on the Road to SummerSlam I hope my criticisms are silenced–I truly do. Whether it seems this way or not, professional wrestling is a large part of what I read and talk about in my free time and I hate holding negativity or constant criticisms such as these towards it on an almost weekly basis. Here's to hoping WWE brings out the biggest guns possible for SummerSlam in 4 weeks and completely subvert my expectations to what I hope ends up being a tremendous evening of professional wrestling…
…including Brock Lesnar vs. Roman Reigns.
#RAWisDVR: Greg DeMarco's ACCELERATED Look At WWE Raw for 2/18
How much of Raw was Fast Forward worthy on Monday? (A lot.)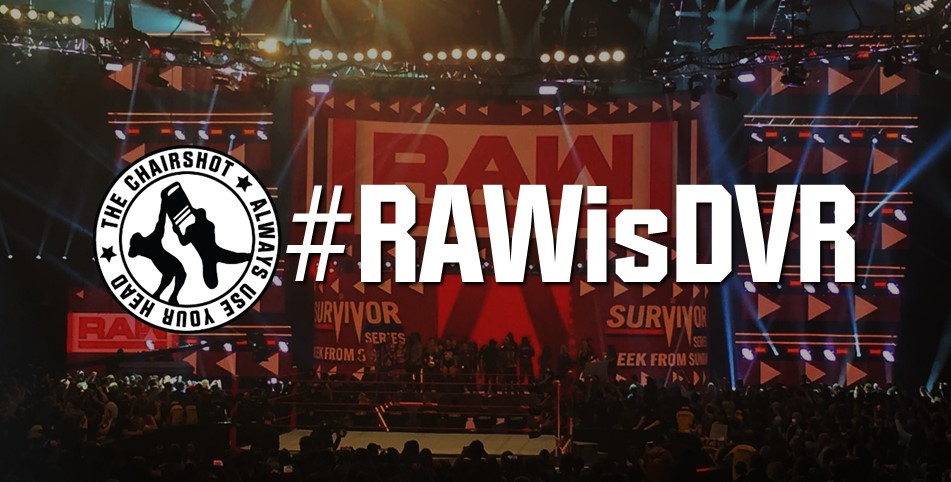 Greg DeMarco watches WWE RAW on DVR, and you get to see how much time he saved! In the process, he's highly entertaining, because it's Greg DeMarco!
The experiment continues! Monday's Raw follows up WWE Elimination Chamber, but it's also a holiday Raw. What will happen? Will Greg skip too much? Let's see!
Triple H is in entering the ring
Raw is weird again–not showing entrances
Promo in a nutshell: this is a holiday Raw, and nothing of consequence will happen–but we will try to make you think it is!
FAST FORWARD some talking
NXT?
Having Ricochet, Aleister Black, Johnny Gargano, and Tommaso Ciampa appear on Raw is great, but it immediately makes the 6 stars awaiting assignment look small time
No Velveteen Dream? I wonder if this is a set-up?
FAST FORWARD the entrances
Braun Noveltyman vs. Baron Corbin Sucks in a Tables Match
I FAST FORWARDed it, but they spent WAY too much time on Corbin walking.
He sucks at walking, too.
Corbin also sucks at sliding tables under rings.
Why would he do that, anyway? He needs a table to win!
The flaw in a Tables Match, at least for this experiment, is that you can FAST FORWARD when a table isn't involved.
FAST FORWARD commercials, we're already saving tons of time tonight!
I wonder if Abyss is the agent for Baron Corbin's matches? I mean, that's the Vortex Of Suck!
Strowman wins. You're shocked, I know.
Paul Heyman is on the stage, as WWE tries to keep you from changing the channel.
FAST FORWARD the commercials
Timestamp 15:39 (Show time: 35:43)
Paul Heyman is on the stage
Heyman didn't give us the proper intro, and it hurt the segment.
FAST FORWARD the video
Heyman is right, Brock Lesnar is a force of nature that we can't do anything about. That's why him as champion works so well.
This crowd doesn't really seem to care all that much about Seth Rollins
ANOTHER INTERRUPTION – #FinnBalorsDick is out and dressed to fight
Alternate Names For This:
#RAWisINTERRUPTION
#PleaseDontChangeTheChannel
#RAWisWEIRD
FAST FORWARD the commercials and video
Finn Balor & Ricochet vs. Bobby Lashley & Lio Rush
"One of these championships" isn't a great way to describe everyone's favorite title
Lio Rush is here, presumably to distract Balor so Lashley can attack him (because WWE)
And there he is!
BTW, you don't FAST FORWARD when Lio Rush is talking
Which NXT star saves Balor? Ricochet? Black?
Aaaaaaaaaaaaaaand it's Ricochet.
FAST FORWARD the commercials
Ricochet really needed an introduction for this audience
Evan Bourne mention by Renee Young?
Renee is basically telling us that no one watches NXT.
This crowd could give a shit about Ricochet.
Four amazing athletes and there's enough stalling for me to FAST FORWARD?
FAST FORWARD the commercials, again?
If you're worried about Ricochet on the main roster…your fear is warranted.
FAST FORWARD the talking, but I stopped to see what Drew McIntyre was
FAST FORWARD so much stuff!
Timestamp: 33:45 (Real time: 1:23:05)
The Major Brothers (Zack Ryder & Curt Hawkins) vs. Lucha House Party's Gran Metallik & Lince Dorado
This isn't where Hawkins wins, right? A throw away Raw match?
"Tans don't win championships, ask Eric Bischoff!"
BTW, if Corey Graves is going through personal strife, he's BURYING himself in his work, because he's on fire tonight!
And of course Hawkins loses.
FAST FORWARD time!
Charly Caruso interviews Heavy Machinery
TUCKER hits the highlights, OTIS drives it home
Lacey Evans literally just walks the fuck around! And does nothing else? Lars couldn't handle this?
We're not having matches now, just entrances? And Bushwhacker walking? Missed opportunity for me to FAST FORWARD.
FAST FORWARD the commercials
DIY talks to Bobby Roode & chad Gable
Johnny Gargano looks like he's waiting to say his lines, but Tommaso Ciampa is sitting there maintaining his gimmick
See Renee, The Revival watches NXT!
And the entrance we do get is The Revival?
Oh we get Ciampa and Gargano entrances, too
The Revival vs. DIY (non-title assumed)
The fans in Lafayette have got to feel like they did something wrong, or wonder if they're still watching dark matches
Literally 6 people are chanting "NXT!" Somehow I don't see how this was a good idea.
While we're here, anyone want to talk to me about how important it is to have defined Faces and Heels? No? Didn't think so.
Classic Gargano? Not Vintage? Maybe Cole really is looking to finish this up.
FAST FORWARD the commercials and I am 5 minutes short of an hour saved
A "Saints Got Robbed" sign? Let it go, brother.
The announcers selling what it would mean if DIY wins has to be foreshadowing, eh?
This match is proof that you can't just throw matches out and expect a reaction–you need to build characters first.
Great match–imagine if the crowd had a reason to be invested in more than the last two minutes!
Charly Caruso talks to Ricochet
Damn, Ricochet looks nervous
I hope that was done live, and not the best take in pretapes
FAST FORWARD the commercials
(These Kevin Owens videos are boring–this is supposed to get him over upon return?)
Timestamp: 59:27 (Real time: 2:01:15)
FAST FORWARD the promo, the commentary aside, DX package, commercials, and more entrances
Dean Ambrose vs. Drew McIntyre
Credit to McIntyre for trying to take the referee's directions off camera, but this was WAY off
I don't want to blame Ambrose, but shit this was oddly bad
FAST FORWARD
Timestamp: 1:04:24 (Real time: 2:22:23 )
Seth Rollins Talking to Charly Caruso
It's about what you'd expect.
Whatever they're doing with Ambrose here, it sucks.
FAST FORWARD the commercials and videos
Elias vs. Aleister Black
"Hello I am Eliath" Aleister Black here?
Elias is so good at cheap heat, and I 100% believe in cheap heat
And we let Aleister cut a promo? That's totally bad for his character.
Black trimmed the beard, and it was a smart move
FAST FORWARD the commercials
"His tattoos tall a story about his life–dark and mean" yet I see flowers on his arm?
FAST FORWARD the chinlock
BLACK MASS is still a great finisher, even if this one was a bit awkward.
I really wonder if the time these guys have to work on their matches at the PC really is the key to NXT's success
FAST FORWARD the commercials and entrances
Ronda Rousey vs. Ruby Riott
Holiday Raw means no Becky Lynch or Charlotte Flair?
Did Ronda borrow shorts from Lacey Evans?
Someday Ruby Riott is going to be booked like a plucky underdog babyface, and she's going to flourish
Even the commentary is off tonight!
And there's the "WE WANT BECKY!" chants
Camera work, anyone? We just saw two different conversations take place in the ring.
Damn, Ronda took that Riott kick square to the head!
And Ronda has now kicked out of Ruby's finisher TWICE. Once off the top!
Ronda was terrible tonight.
Raw ends with Ronda standing tall and nothing else.
Final Timestamp: 1:24:44
Real Time: 3:00:00
Time Saved: 1:35:16
Overall, this was just a weird Raw. Nearly everything seemed off, and as we march towards WrestleMania, nothing that happened tonight will be remembered.
The Streak Part 8: Going For the Gold (2007-2008)
The Streak continues against Batista and Edge!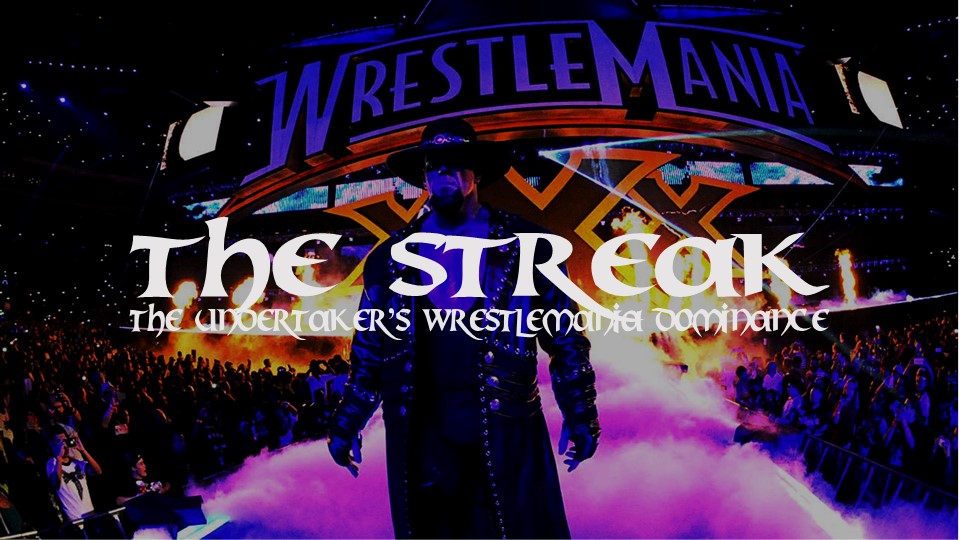 The years of 2007-8 were banner years for the Undertaker at WrestleMania, for the first time ever, he found himself battling for the World Heavyweight Championship in back-to-back WrestleManias when he took on Batista and Edge. 2007 would also mark the first and only time the Undertaker won a Royal Rumble match, eliminating Shawn Michaels after an amazing match, their first encounter since their casket match at the 1998 Royal Rumble.
In 2008, Taker would find himself facing another undefeated WrestleMania Streak when he took on Edge, his former Ministry minion, who had had a career resurgence, bursting back onto the scene as the opportunistic, manipulative, and cunning Rated-R Superstar, who was also undefeated at WrestleMania.
WrestleMania 23 – Taming the Animal
The Undertaker vs. Batista
The match against Batista was something of a dream match for a lot of fans. Batista had risen through the ranks of WWE like a rocket as part of the Evolution stable with Triple H, Ric Flair, and Randy Orton. For Taker, this would mark the first time since 1997, that he'd battled for a title at WrestleMania.
For some reason, SmackDown GM, Teddy Long, is playing the ring announcer for this match. Batista comes out first, even though he is the champion and he shows no real intimidation of the Undertaker. The Druids come out first, ready to light the way for the Deadman and there are a LOT of them, lightning strikes and the Deadman cometh.
Batista does the smart thing and goes for Taker before Taker is really ready for him, hoping to get the Deadman off his game and give himself a chance of ending the match quickly and keeping his title. This match quickly degenerated into a brawl, but there was a weird moment when Taker was almost shadow boxing, like he'd gotten his bell rung a little and didn't know where he was.
Batista really dominated the start of the match, ending the Streak seemed less important than keeping the title, which is how it should be. We're about halfway into the match before Taker really starts mounting any serious offense, but it was the full Taker treatment. Old School is always cool to see.
I will give Batista his due, he's never been a refined wrestler and definitely had flaws in his game, but he kept up with Taker step for step and actually seemed to have the Deadman on the ropes a few times. At one point, it looked like the Streak was going to end with a countout after Batista put Taker through the announce table, but Animal didn't want to win that way and went after the Deadman, tearing apart half of ringside in the process.
The one odd thing about this match is that, despite Taker winning the Royal Rumble, this match was NOT the main event of WrestleMania, that spot was given to the John Cena vs Shawn Michaels WWE Championship match. This dream match was in the mid-card, which has always irritated me. The Deadman would sustain all this punishment and, for the first time in his career, win the World Heavyweight Championship, not the WWE Championship, at WrestleMania. The Streak is 15-0.
Rating: 8/10 It was a great match, just really bad placement.
Highlight: Batista not wanting to win on a countout.
WrestleMania 24 – Streak vs Streak
The Undertaker vs. Edge
This was another really interesting feud. Edge had gone from tag team competition to the mid-card before bursting into the main event scene after revamping himself as a manipulative, opportunistic superstar who would stop at nothing to get and retain the World Championship, which lead him to pick a fight with both Batista and the Undertaker, and using his relationship with Vicki Guerrero and her Familia to hang onto the title, but after Taker won at Elimination Chamber, it was time for Edge to pay the piper…or the Reaper. This match would also be a battle of the Streaks as Taker's 15-0 Streak would be up against Edge's 5-0 Streak.
Taker comes out first, in one of the rare cases that it happened, faithful Druids on hand to light the way. The fact that WWE was able to make an outdoor arena pitch black for this entrance is really cool. Edge, the champion, is accompanied, at least part of the way, by Vicki and Chavo Guerrero, Vicki in her wheelchair. Edge was actually smirking and cocky…until he got in the ring and what he was about to do fully hit him, then the smirk fell.
This match started with shoving and punching and stayed that way. This was a PHYSICAL match up. Edge actually countered Old School, but paid for it anyway when Taker was able to reverse in mid-air. We had an unintended snafu when Taker hit a Stinger Splash on Edge a little too hard and launched himself out of the ring and landed badly on his hip.  Edge tried to take advantage, but Taker battled back, despite a noticeable limp.
Things broke down when the ref got taken out. Edge tried every underhanded trick in the book to win, but Taker sat back up. It looked all over, except for the ref, but Charles Robinson, in the moment that made him a meme, sprinted down to the ring with all his might to make the count.
We also got our first look at Ryder and Hawkins as the Edgeheads, but even they weren't enough to put away the Deadman. This was an amazing match up, Edge definitely proved that being in the main event was where he belonged and he could hang with anyone, including the Undertaker.
The end was surprise. Edge hit the dreaded Spear but Taker countered it into Hell's Gate, which was TECHNICALLY illegal, but Robinson okayed it and Edge tapped out, the first time a Streak match ended on a submission. Taker is 16-0 and NEW World Heavyweight Champion!
Rating: 8/10 A really great match and a surprise ending.
Highlight: Charles Robinson running. The Edgehead getting their clocks cleaned. Edge tapping out.
---