Press Release: New Florida Heavyweight Champion Crowned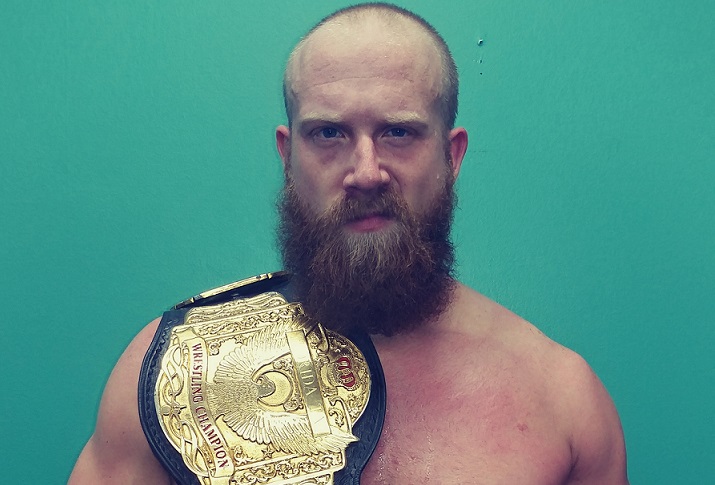 The Chairshot was sent along the following press release as a new Florida Heavyweight Champion was crowned:
Chico Adams is the new Florida Heavyweight Champion after defeating Aaron Epic in a hardcore match at an I Believe in Wrestling event in Downtown Orlando. Originally scheduled to defend against Chasyn Rance, Rance defeated Adams in a contenders match but suffered a torn rotator cuff in the match. Adams replaced Rance and defeated Epic after a low blow and an STO. Adams will defend the title in a three-way on Friday, August 3 at the Team Vision Dojo against Aaron Epic and the 2018 Florida J-Cup Winner Serpentico.
Also, on the event, 1/2 of the Florida Tag Team Champions Amber Nova defeated recently released WWE superstar Zeda Zhang in her first independent loss. She will be defending the tag titles with Axx Clover against Ariel Domingiez and CT Brown on August 3.
Plus, Ashley Mayberry beat former UFC fighter Seth Petruzelli in a hippo match. Petruzelli, who is used to dating smaller girls, competed in this hippo match where the way you win is by placing the hippo mask on your opponent. Mayberry, similar in size to Petruzelli, but not in the same areas, fought very hard and defeated Petruzelli after giving him a choke bomb and putting the mask on him.
I Believe in Wrestling returns to the Team Vision Dojo in Orlando, FL on Friday, August 3 at 8pm.
Florida Heavyweight Championship
Chico Adams vs. Aaron Epic vs. Serpentico
Florida Tag Team Championship
Amber Nova & Axx Clover vs. CT Brown & Ariel Dominguez
Rex Bacchus' Make-a-Wish Battle Royal
Deon James vs. Jumal Kyng
Zeda Zhang vs. Lexi Gomez
Chairshot Wrestling News Shuffle (2/14/19)
Start your Thursday off with comments on news regarding Ronda Rousey, Total Divas, NXT Takeover WrestleMania, and more!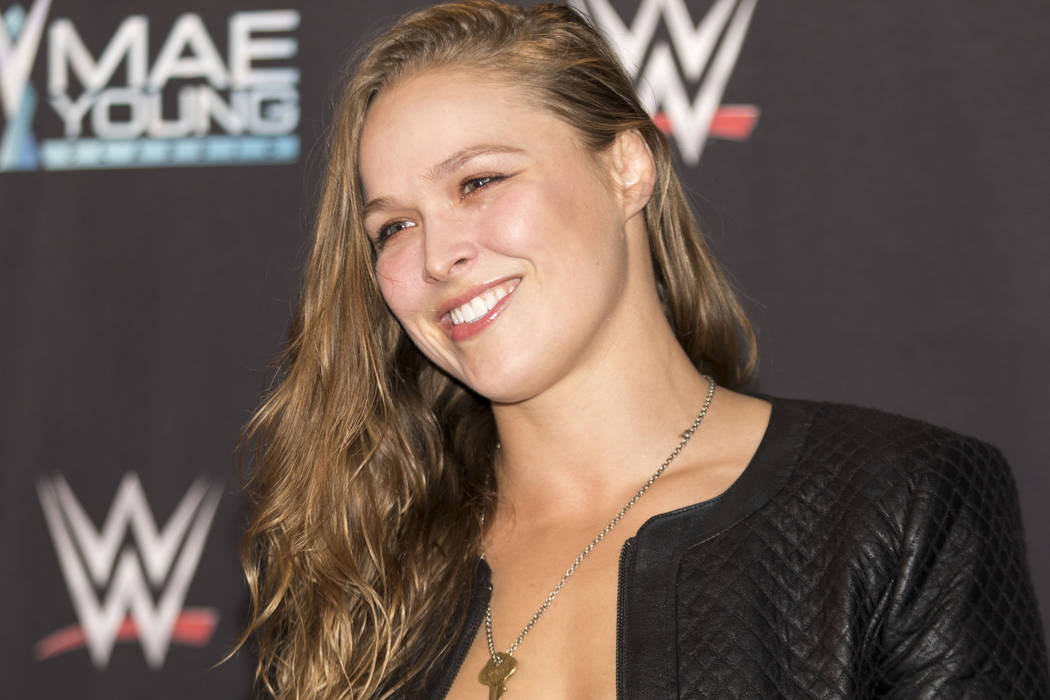 Jason shuffles in to your Thursday with the Chairshot Wrestling News Shuffle! Today we take a look at news on Ronda Rousey, Total Divas, NXT Takeover WrestleMania, and more!

Chris Jericho On AEW Talent
Chris Jericho recently did an interview with Forbes discussing various elements of All Elite Wrestling. (Read the interview HERE). One of the excerpts of the interview was in regards to homegrown talent in AEW. Jericho said:
"I think we've assembled a great roster already of fresh talent," Jericho said. "We have the seasoned veterans and really untapped rookies, with great people on every level. We have six-to-eight blue-chippers. That's all you need to do a wrestling company. I think we have enough talent for the first year already."
"I think what AEW has done is shaken up the big companies, and when I say that I mean WWE and New Japan, to where they're signing everybody, and signing them to longer deals and more money. And I say to all of them, you're welcome."
"We have to work and build the roster that we already have, knowing that we'll get more, but for right now, we have to assume this is our roster for next year. Let's build some guys and create some of our own stars, which is mandatory for any wrestling company to survive."
Ronda Rousey Joining Total Divas ?
Over the past few days, we have found out that Lana will be removed from the upcoming season of Total Divas while Sonya Deville will be added to the show. Now word is coming out that Ronda Rousey may be added to season nine. Crew members have reportedly been filming Rousey the past few weeks on her Browsey Acres farm.
Plans For The Women's Tag Division Revealed?
WrestleVotes, one of the wrestling Twitter accounts that has a track record in breaking wrestling news, has sources that have revealed some potential information regarding the women's tag division in a tweet earlier today:
Source: the Women's division roster is slowly going to be crossing over more between both shows.

The plan is to have the Women's Tag Team Champions appear on both brands initially, however, not on a weekly basis.

— WrestleVotes (@WrestleVotes) February 13, 2019
NXT Takeover: Blacklist?
According the ticket website for the WWE, the NXT Takeover event that will be taking place during WrestleMania weekend will be titled NXT Takeover:Blacklist.  (You can view the ticket page HERE)
Jason's Thoughts On Today's News
With one set of tag team titles and lack of depth, it was a given that the women's tag team division would cross over between brands. If handled right, I think the women's tag team division will do well and could be a draw for WWE. While we are a ways off from an all women's weekly show in WWE, the tag team division is the next logical step in that direction. It would be nice to see the NXT women's division involved in the tag team division as well. Isn't it interesting though? WWE, a company who has really done nothing with tag team wrestling the last 5 to 10 years trying to revolutionize women's tag team wrestling in America. #savetagteamwrestling   (Speaking of which, pick up a Save Tag Team Wrestling t-shirt from the Chairshot Pro Wrestling Tees store HERE  Yeah, I know, cheap plug)
Can AEW run for a year on 6 to 8 names like Jeircho says it can? Is WWE and New Japan really trying to sign all the talent available? Or is Jericho just good at stirring the pot ? Let's say it's a combination of all of the above.
TV Network To Air AEW Weekly TV Revealed ?
Has AEW leaked out the identity of the network that will be airing AEW weekly TV?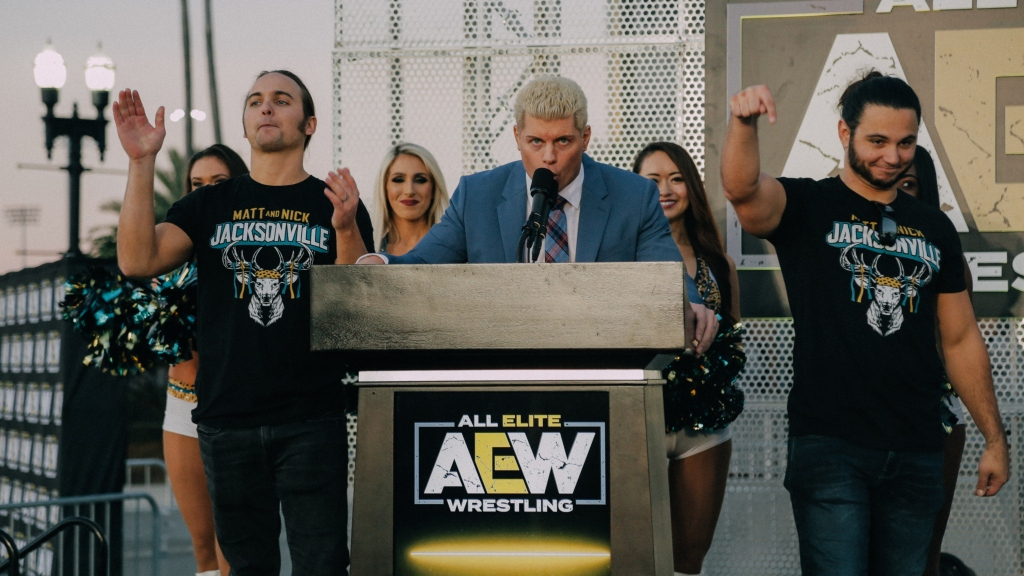 Today, tickets for All Elite Wrestling Double Or Nothing went on sale, and if you were lucky enough to either have a pre-sale code, or were able to purchase tickets, consider yourself lucky as tickets sold out in 4 minutes. AEW shared the news via their Twitter account.
#AEW #DoubleOrNothing Sat, May 25th#SOLDOUT in 4 Minutes#THANKYOUhttps://t.co/BVyw1bPbla pic.twitter.com/SepBKq7UnC

— All Elite Wrestling (@AEWrestling) February 13, 2019
Pay close attention to the above tweet. Click on the picture in the tweet. Notice anything of interest? I'll wait………If you missed it, the bottom of the picture contains the logo for the AXS television network. One can only speculate that AXS will be the networking that will air AEW this fall. It does makes sense on the one hand as the network does broadcast NJPW and WOW. However, it makes even less sense as the rumors that have been making the rounds from Dave Meltzer is the network deal AEW was looking at was a better network/deal than Spike TV had with TNA/IMPACT and was supposed to be the best non WWE TV deal since WCW was in existence in 2001. Chris Jericho has also claimed on his podcast that he would not have signed up with AEW if there wasn't negotiations ongoing for AEW to air on a major network.
I can't really say I classify AXS as a major television network. In fact, when I think of the top five networks that AEW would have signed on with based off rumor, I wouldn't even have considered AXS.
However, one could also speculate that AXS will air highlights or a condensed package of material from the upcoming Double Or Nothing event, and the upcoming, unnamed Jacksonville, FL event.