Ranking Brock Lesnar's SummerSlam Matches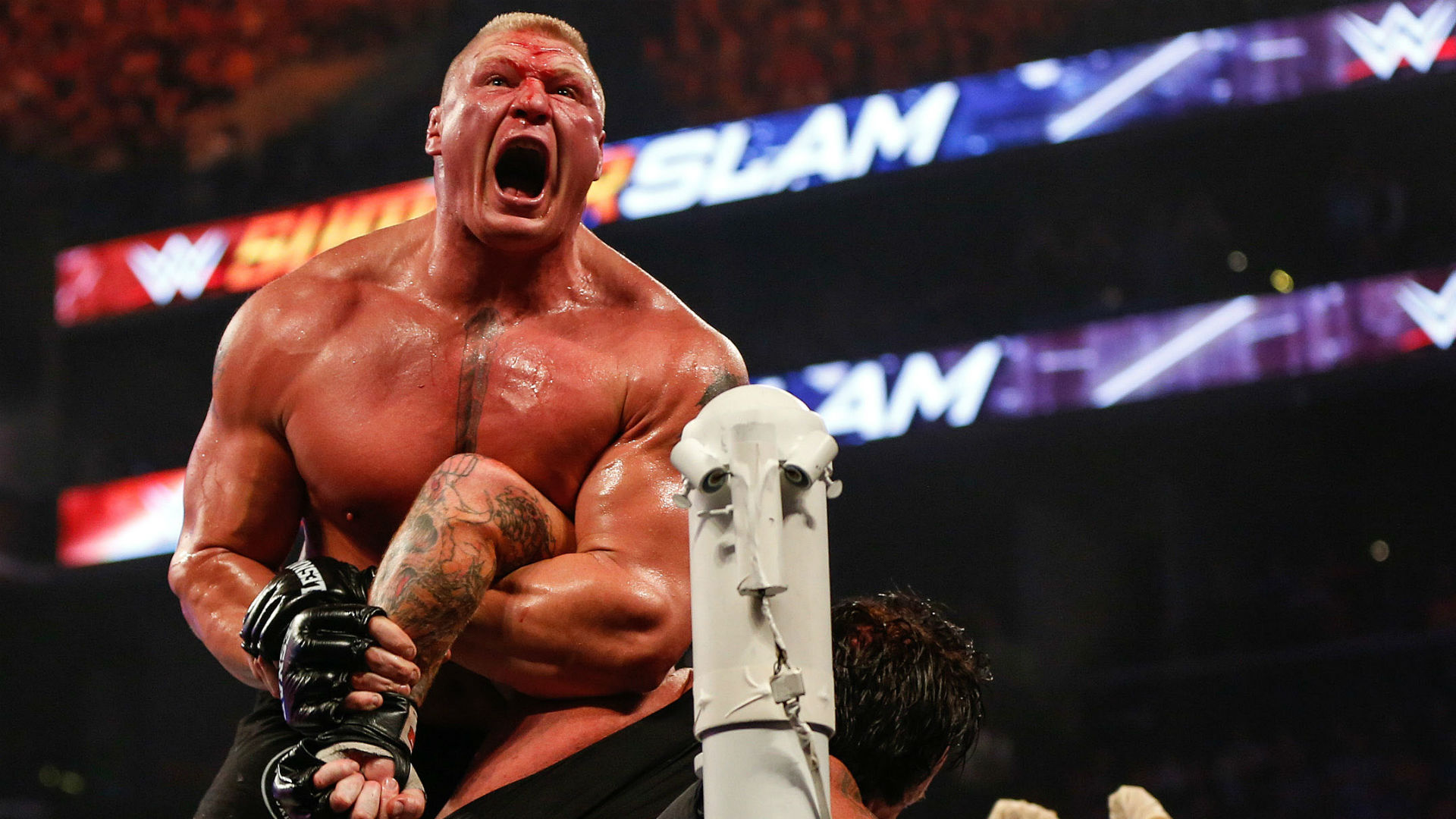 Even though Lesnar has been described as lazy in his latest run, SummerSlam seems to be where Lesnar shines. With that being said, with SummerSlam right around the corner now would be the best time to take a look at each of Lesnar's outings at the Greatest Party of the Summer.
8. Brock Lesnar vs. Randy Orton
While not the worst match ever, Lesnar vs. Orton was a contest with little to no stakes to it.  Aside from the ending where Orton was bleeding profusely from the head, the match is forgettable. With the second version of the brand split in effect, this match served as the first cross-promotional match of the New Era. Each competitor would appear on the other's respective shows and cause chaos, making for some entertaining segments. Even the match itself isn't bad, but compared to everything else on this list, it's clear which match brings up the rear.
7. vs. Triple H
A decent match, but when compared to other matches on this list there isn't much to shout home about. After Lesnar's loss to John Cena at that year's extreme rules, he needed a win over a big name. Triple H would become that man, as he and Lesnar would be put into a feud, where the two would fight three times, the first being at SummerSlam. Ever since Lesnar broke the Undertaker's Undefeated Streak, these three matches have become mute, and this isn't even the best of the bunch. Nonetheless, the match coined as the Perfect Storm is a fine match you can sit back and enjoy. But if you're looking fore something with a little more substance, I suggest you look elsewhere.
6. vs. The Rock
When I came up with the idea for this list, I figured I would be putting this match higher on the list than this. As Lesnar's first World Championship win, this match has gone down in history. However, that is the only truly memorable thing about it. Well, that and it main event what is considered to be the greatest SummerSlam of all time. Anyway, Rock was on his way out, and Brock was on his way up, so there was really only one outcome here. An outcome that turned Lesnar into a star, kicking off a dominating career and a run that made Lesnar a highlight of the early stages of the Ruthless Aggression Era.
5. vs. John Cena
One of the best squash matches we will ever lay witness to. The destruction of John Cena at the hands of Brock Lesnar was spectacular. Coming out of WrestleMania 30, there was no way Lesnar was walking out of the Staples Center without the WWE World Heavyweight Championship. It was the way Lesnar ripped the belts from Cena's hands, however, that makes the match such a spectacle. You won't find any technical wizardry or awe-inspiring athleticism on display. Rather, you'll find a slow paced beat don of one of WWE's top figures. While it was no conquering of the Streak, it was still an impressive feat, laying the groundwork for Suplex City
4. vs. Roman Reigns vs. Samoa Joe vs. Braun Strowman
As the only multi-man match on the list, it has the most variety. That being said, most of the match was big hits and big spots. Even so, it was very entertaining. While Lesnar retaining wasn't a shock at all, having him battle the three biggest threats to his reign was not a bad idea. Sure WWE may have overdid multi-person matches last year, but this was one of the better ones of 2017. Four power houses battering each other lead to some creative spots. It was also somewhat of a launching pad for Braun Strowman as he decimated Brock and nearly took home the belt. The only downside is that had we known Lesnar's reign would last as long as it is, the majority of fans would clamor for another victor. One can only hope his next SummerSlam match is as good as this one. Maybe then we can forget about his title reign, even if it is for a moment.
3. vs. Undertaker
There is no doubt in my mind that if this match had a different finish, it would be number one on this list. This brutal encounter was a return to form for the Undertaker after the Streak was broken at WrestleMania 30. Before that, The Undertaker was not stranger to having match of the night in every one of his appearances. It was clear from the start that the feud would be brutal, but little did we know we would be treated to a clinic in hard-hitting brutality. The best part going in was the unpredictability,  While the ending is screwy, what lead up to it was a great back and forth between the most dominant characters of the time.
2. vs. CM Punk
For many, this match is number one, and it is tough to argue. The Best vs. The Beast was nothing short of a dream match, and the two delivered and then some. Not only was there a nice in ring story flowing, but Punk's relationship with Paul Heyman helped it loads. Because of this, the interference from Heyman were that much more impactful. Looking back, there was no doubt the Beast would take the victory, as this was a continuation of Lesnar's momentum that would lead him to break the Streak. But at the time, there was no telling would would win. The aforementioned interference from Paul Hayman would tip the scales in Lesnar's favor, but it would be the last time Heyman would get involved physically in a Lesnar match.
1. vs. Kurt Angle
As I stated in the previous entry, number one and two can be interchangeable. And while that may be true, I'll go with Lesnar's match with Angle as his best SummerSlam match. The rivalry of Lesnar and Angel is well documented, with generation defining matches being fought every time they went toe to toe. In the midst of their historic feud, Angle and Brock would meet at that years SummerSlam, where Angle would successfully defend the WWE Championship. Lesnar would win the title a few weeks later in their Iron Man Match. That match, alongside their WrestleMania encounter, may have overshadowed this gem. Even so, this is arguably Brock Lesnar's greatest SummerSlam Match.
---
Always Use Your Head and visit the official Pro Wrestling Tees store for The Chairshot All t-shirt proceeds help support the advancement of your favorite hard-hitting wrestling website, The Chairshot!

---
Becky Lynch Is A Heel Whether Fans Believe It Or Not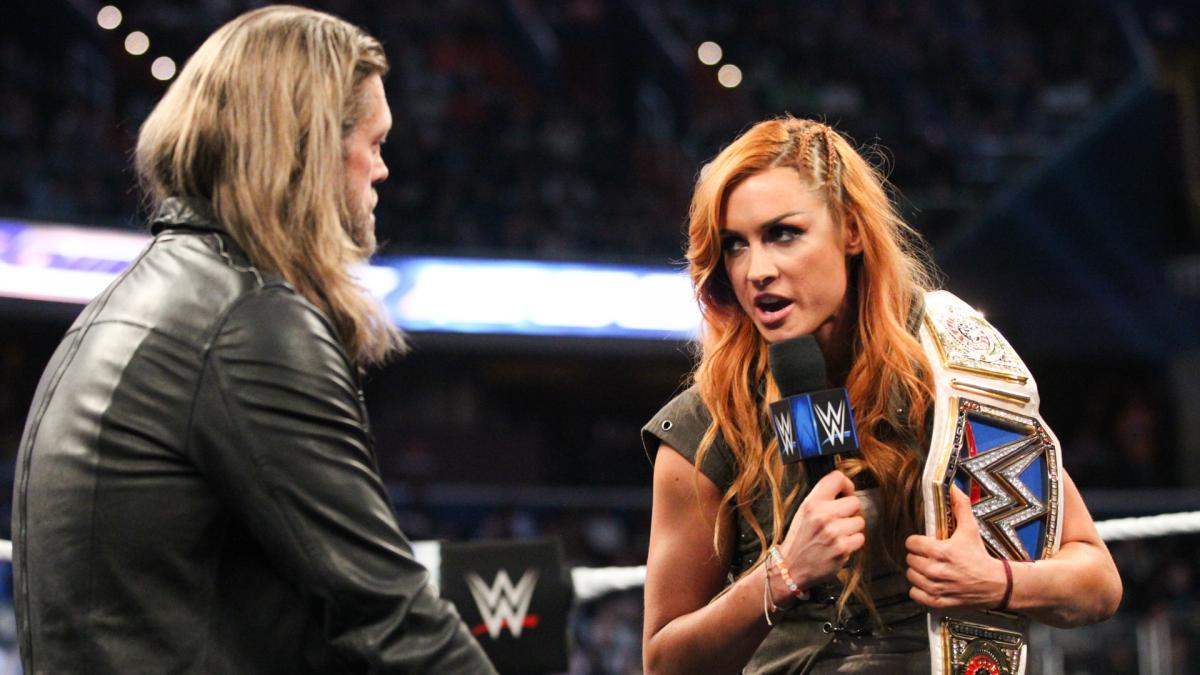 Becky Lynch is the hottest heel in WWE today. That statement can be denied, it can be argued and it can be dissected from start to finish. In fact it has been and that will likely continue for the duration of her current run on SmackDown Live.
Many fans want to believe that heels and babyfaces do not matter anymore in pro wrestling and especially in WWE. They feel that it's an outdated concept, best kept for the smoke-filled arenas of the territories in the 1980's. To them, the hero and villain dynamic is pointless and has no place in today's modern era of professional wrestling. 
But no matter how often critics want to dispute the validity of good versus evil and right versus wrong, the truth is that the foundation of it is still there. It will always be there and if it wasn't, this would no longer be pro wrestling. That's because when everything else strips away, the business is about good versus evil and right versus wrong. Even shades of gray are not enough to change that.
This is evident in Becky's case, as her story is still unfolding. She was Charlotte Flair's best friend and the two supported each other through thick and thin. In spite of all the drama happening around them or to them individually, Flair and Lynch were in this together.
But then Charlotte returned to SmackDown Live and was added to Becky's title match at SummerSlam. In that moment, Becky's heel turn began. She believed that Charlotte's ego had taken over and suddenly their friendship meant nothing. Becky saw this intrusion as a betrayal and she wouldn't let it go unanswered.
Of course common sense says that in the reality of pro wrestling, it's every woman for herself. If a Superstar wants to get to the top, then she has to take every opportunity given to her and make the best of it. If Charlotte had declined the opportunity to compete for the SmackDown Women's Championship at SummerSlam and Lynch had lost, then what? Would Becky still be a babyface right now?
In Becky's mind, Charlotte crossed a line that cannot be uncrossed. Charlotte simply did what anyone in her position would have done but that's of little consequence now. Becky Lynch is a heel and a heel's perspective is much different than everyone else. 
Fans know all of this of course, just as they know that WWE is using the whole FairPlay point to bolster Charlotte as the babyface of the story but to no avail. In fact it really doesn't matter what Flair says at this point, she's going to be hated. She is hated and that's okay.
The WWE faithful has its favorites and that's just how it is. Becky is a huge favorite and that's understandable. She was also a favorite before she turned on Charlotte and she's even more relevant now that she ever has been. But for anyone to believe that she's not a heel perhaps is not paying attention to the way WWE is booking her.
She sneak attacks Charlotte. She mocks her and she belittles her on TV. Becky Lynch had the opportunity, just as Flair did, to compete for the title and just like Charlotte before her, Becky won. Lynch could have taken that victory and moved on to the next opponent, leaving Charlotte far behind. 
But instead Becky keeps provoking Flair. Lynch has beaten Charlotte and Charlotte has every reason to keep chasing the gold but it's Becky that keeps coming back for more. Lynch proved her point when she beat Charlotte at Hell in a Cell and that could have been the end of it. But it's not, because Becky's obsession is proving that she's better than Charlotte. 
It's gone far beyond the championship now. For Becky Lynch, this feud is about disgracing Charlotte and leaving her for dead as often as possible. Becky had the title in her sights, she won it and she's on top now. She has everything she wanted and she could be spending her time proving she's the best against every single female Superstar on the blue brand. But she won't do that because she only cares about taking down the woman she's already beaten. This is the definition of a heel, pure and simple.
This is how the company books Becky and to further prove that point, even WWE Hall of Famer Edge himself could not get through to her. Edge, who has the respect of fans and who typically never receives criticism for anything, could not convince Lynch that she's doing the wrong thing. The crowd did not turn on Becky for mocking him and in fact, she was cheered during The Cutting Edge.
But just because WWE made the effort to heel Becky out again does not mean it was the most ideal effort. Edge was one of the most notorious heels in WWE history. He was the ultimate opportunist and he took every avenue available to get to the top. He was as devious as any heel on the roster and this is the man that WWE brought in to talk some sense into Becky Lynch?
However despite how many times the company tries to salvage Lynch's heel turn and fails, the point is that the work is taking place. WWE wants the fans to hate Becky. That was the plan from day one and everything the company has done proves that. Fans may not want to play along, but that does not change the facts. Becky Lynch is a heel and that's just how it is.
But fans want to love her, so that truth is denied. Fans want to hate Roman Reigns so they lie to themselves and claim that he's really a heel anyway. Charlotte is the daughter of The Dirtiest Player in the Game but she does nothing to heel out against Becky. Yet, fans hate her anyway. Just like Roman, fans believe WWE is pushing Charlotte as a face on them and they don't want that. Once again, the audience disregards the truth in favor of controlling the narrative.
The point is that WWE is not going to change the way it does business. Fans can believe whatever they want and the company itself can suggest anything it wants. But it's all in the execution and the timing. It was not the right time to turn Becky heel, just as the time came and went to turn Roman heel but WWE did nothing. 
The fact that fans can't determine which way is up should be no mystery. The most well-laid plans tend to fail when WWE does not establish the most basic elements from the very beginning. That's not on the fans, it's on the company. No matter who's right in this scenario, the truth is that fans are enjoying the ride and that's what matters the most.
---
Always Use Your Head and visit the official Pro Wrestling Tees store for The Chairshot All t-shirt proceeds help support the advancement of your favorite hard-hitting wrestling website, The Chairshot!

---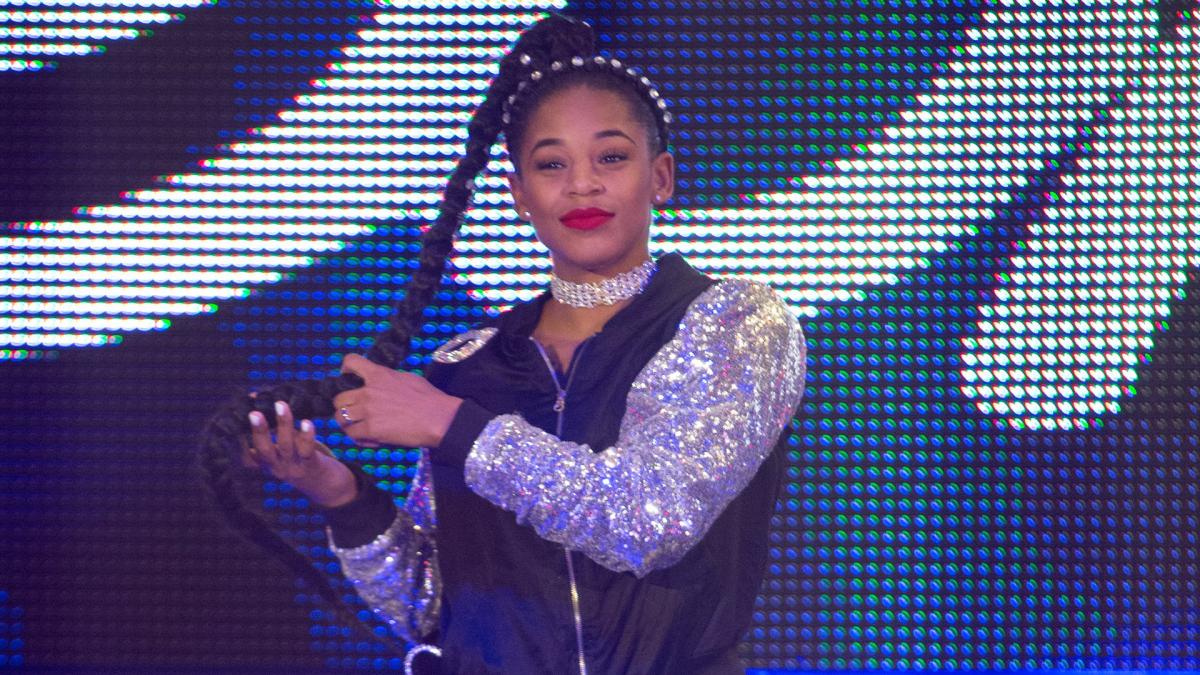 This weeks NXT had a double main event of Undisputed Era  vs the War Raiders for the Tag Team Titles and a rematch between Nikki Cross vs Bianca Belair.
It would be Belair vs Cross that ultimately closed the show which is nothing new as NXT have always put the spotlight on their women's division. It was a good match which ended when Black returned to demand Cross tell him who attacked him.
I've already talked about who might have attacked Black so I don't want to talk about that much more instead I want to talk about Belair.
Despite losing in the second round of the first Mae Young Classic to Kairi Sane, Belair has been undefeated on NXT TV. She's good in ring despite only being a year or so into the business helped by her athletic background. Her whip sets her apart and she plays a good heel.
My question is though: Why am I not interested in her?
Every time I see her I think she's not as good as the commentators make her out to be and for a while I thought she was overrated. Maybe she plays that good of a heel that I've worked myself into not liking her. I don't think having an undefeated streak helps her either. It's a trait we see too often with NXT when a new person comes in. So far they've done a good job of protecting her and finding ways to have her lose and keep her streak like in her first match with Cross.
Eventually she will have to lose because the longer a streak goes on for the more it begins to hurt the persons opponent and story telling. Especially if she wins the Women's title will undefeated like Asuka did. I think she will be champion eventually because she would a great heel champion lording it over everyone.
I thought when she did that sit down interview a while back talking about her upbringing I would be more invested in her but I'm not. It just reinforced that her gimmick is simply I'm better than you at everything.
A gimmick that's worked in the past but I think we need more than that now. It's like how just having the gimmick of just being a good wrestling is not enough anymore since the quality of wrestling has vastly improved. She strikes me as a female Mr Perfect.
I also get vibes of what Sasha Banks was when she was in NXT and we've seen what's happened to her since she went to the main roster. If I've seen that there's a chance main roster officials might see that which would not help her at all.
Hopefully my opinion of her changes in the near future as Belair continues to develop. She's going to be in NXT for at least another year or so considering she's still very young. With some small improvements to her character along with how good she is in the ring Bianca Belair could be a figurehead in the women's division for years to come.
---
Always Use Your Head and visit the official Pro Wrestling Tees store for The Chairshot All t-shirt proceeds help support the advancement of your favorite hard-hitting wrestling website, The Chairshot!

---
While You're Distracted, Drew McIntyre Is Taking Over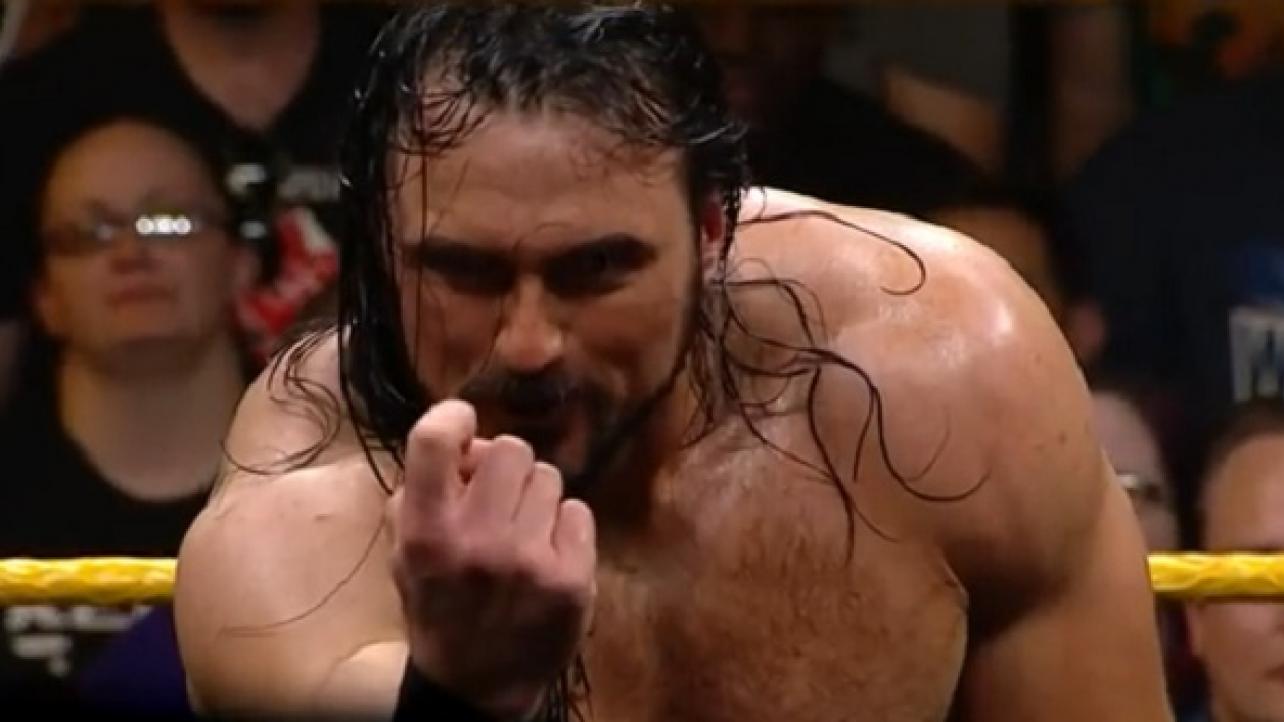 There's been a lot going on this week. Much of our attention has been taken by the developing situation in Saudi Arabia, which has led to some backlash towards WWE due to their relationship with the Saudi regime. Every part-time star & legend that we can think of has come back in recent weeks. Oh, and there's everything else going on in the world. It's a lot to take in.
Sometimes, things fly under the radar. We don't take proper notice of events that end up shaping the future of the wrestling business. Steve Austin adopting the nickname "Stone Cold" didn't garner much attention when it happened. Most of The Rock's catchphrases didn't immediately catch fire the first time he used them. Heck, it took a few months after Mankind got tossed off of Hell in a Cell for people to realize how big a deal it was.
Raw on Monday was one of those shows that we barely noticed while it was happening. Much of our attention was focused on Saudi Arabia, along with the SmackDown 1000 show the next night. Raw's main event pitted The Shield, who have been fighting off rumors of dissention for weeks now, against Braun Strowman, Dolph Ziggler & Drew McIntyre. While Dean Ambrose & Seth Rollins had their moment of unease, it was Braun Strowman's alliance that broke apart at the end of the night.
Braun's logic in associating with Dolph & Drew was always flawed. He thought he was getting two guys to watch his back, to stay in the shadows and handle Roman Reigns' friends while he set about his goal of obtaining the Universal Championship. He wanted a couple of flunkies. If Braun had paid any attention to the careers of the men he was trying to put in these roles, he would have seen all of this coming.
Dolph Ziggler's best quality as a professional wrestler is his ability to serve as cannon fodder. He has the ability to make almost anybody across the ring from him look like a million bucks. When you enlist him as part of your group, you do so with the understanding that he's going to be taking a lot of pinfalls. It isn't ideal, but hey, it keeps you from taking the fall. Getting mad at him over it is counterproductive. It also has the side effect of getting his tag team partner really mad at you. That's the last thing you need right now.
Look who's here to kick things off LIVE TONIGHT on @USA_Network…#Raw @BraunStrowman @HEELZiggler @DMcIntyreWWE pic.twitter.com/oXl4ryO2DF

— WWE (@WWE) October 16, 2018
Which one of these guys is supposed to be the star?
In case you haven't noticed, the Drew McIntyre that's emerged onto the Raw scene in 2018 isn't the same Drew McIntyre we remember from back in the day. It was almost a decade ago when he debuted on SmackDown as the Chosen One. He was a pretty young Scottish fella with Vince McMahon's stamp of approval as a future world champion. Getting Vince's endorsement is a big deal, but as some of our top Superstars have learned over the years, it makes it tougher for the fans to buy into you.
Drew showed a ton of potential early on, but something was missing. A reign as Intercontinental Champion & with Cody Rhodes as SmackDown's Tag Team Champions didn't quite click. There was also the business with Drew's marriage to Taryn Terrell blowing up & the fallout souring WWE higher-ups on him. He didn't do too much of note after that, except form 3MB with Heath Slater & Jinder Mahal. Don't get me wrong, 3MB definitely had its entertaining moments, and the group has already seen one of its members become WWE Champion. It was, however, a huge step down from being the Chosen One and a future world champion.
Drew got released in June 2014. Some guys get released from WWE and are never heard from again. Others take their new status as an opportunity to reinvent themselves & step their game up to another level. That's exactly what Drew did. He dominated EVOLVE Wrestling from his first night in the company, winning their championship in his first match there. If that wasn't enough, he was one-half of their first Tag Team Championship team. He went to TNA/Impact Wrestling and won their top two championships. He tore a path through the United Kingdom wrestling scene, winning titles wherever he went.
While doing all of this, Drew developed his persona and became a more effective talker. He got bigger & more effective in the ring. Basically, he improved everything about himself as a wrestler & sports entertainer. By the time he returned to WWE, via the NXT brand, Drew McIntyre was ready to be the top star we thought he could be. The only thing keeping him from dominating NXT for longer than three months was a torn bicep. Once Drew recovered from that, it was time to hit the main roster.
His run on Raw since the Superstar Shakeup hasn't seen a lot of bumps in the road. His teaming with Dolph Ziggler has made the Showoff relevant for the first time in a long time. McIntyre has yet to take a pinfall loss while on the Raw roster. There have been some disqualifications for kicking too much ass & things like that, but Drew has been portrayed as an unstoppable force since his return. To the point where he can lay out Braun Freaking Strowman with a Claymore kick and it doesn't surprise anybody. Well, except Braun, who actually thought that McIntyre would serve as one of his toadies. Silly Braun. If the Monster Among Men wants to keep this alliance going, it'll be on the Scottish Psychopath's terms.
We all know that the Saudi Arabian quagmire is going to disappear in the rear view mirror at some point. WWE (and professional wrestling in general) has withstood every crisis that people thought would bring its demise. Publicly revealing that wrestling was predetermined didn't kill the business. The sex & steroid scandals of the early 90s didn't end it all. Chris Benoit killing himself & his family didn't derail the industry. These issues were big bumps in the road, but pro wrestling survived.
When Saudi Arabia is far off in the distance, Drew McIntyre will be standing in front of your windshield. Probably with somebody's head hanging from his hands, and maybe the Universal Championship over his shoulder. While you were distracted, he was making his mark. Bring in all the part timers & legends you want. The future is here, and ready to kick your head off.
---
Always Use Your Head and visit the official Pro Wrestling Tees store for The Chairshot All t-shirt proceeds help support the advancement of your favorite hard-hitting wrestling website, The Chairshot!

---