Should the Title have changed hands on TV?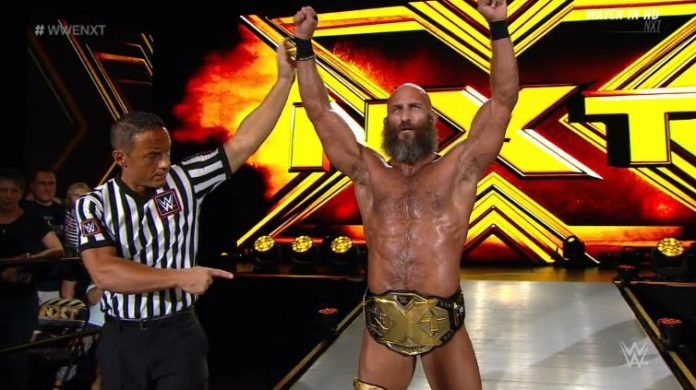 It goes without saying but if you haven't seen this week's NXT major spoilers ahead. If you managed to avoid spoilers good for you.
The biggest story coming out of last nights episode is that Tomasso Ciampa defeated Aleister Black in the main event to become the new NXT Champion. This is huge because ever since moving to the network NXT tends to save major title changes for big Takeover shows. Obviously, there have been exceptions like the tag titles have changed hands on TV a few times including recently with Undisputed Era defeating Moustache Mountain. However this is the first time the main title has changed hands since Bo Dallas beat Big E way back in 2013. This makes Ciampa the first man to win the title on NXT TV in over 5 years.
Like I said it's huge but the question we need to ask is was it the right move?
If you've seen my previous articles, you'll know I'm all for Ciampa winning the title because at the moment there's no one in WWE with as much as heat as him and this just magnifies that. That's not just in front of the smarky full sail crowd but Takeover crowds as well. I wanted that moment of him winning the title in Brooklyn to a chorus of boos. I'm also concerned about what this does to Black. During his reign he's been made to seem secondary despite being the champion as everyone was more invested in Gargano vs Ciampa. He didn't even get to main event a Takeover as Champion.
Don't get me wrong it was an excellent match. If you only watch one thing from this week's NXT watch this match. So many counters and false finishes that I almost forgot I knew the result. Commentary was excellent and the fans were so invested they were all standing before the finish. The inclusion of Gargano added a new element to both the his feud with Ciampa as well as this feud.
I've heard this is leading to a triple threat main event in Brooklyn for the title between Gargano, Black and Ciampa. No doubt this will be a great match, but I think there were other ways of getting there like having Gargano interfering in this match causing a DQ. Either way it's likely to be yet another match of the year candidate.
Also, there's the chance of Black feeling secondary yet again because people want to see Ciampa vs Gargano for the title. I think they'll hold off on that for a while like possibly at the WrestleMania weekend Takeover. The rubber match where Gargano finally beats Ciampa and becomes NXT champion. It would be a fitting conclusion to their story.
Maybe I'm nit-picking this too much. I guess like most fans I had a particular idea in my head and it didn't go that way. This still a great thing and you know Ciampa's going to have a lot of fun rubbing it in to annoy fans. If it were up to me I would have him beat Fin Balor's record to get every last bit of heat out of this.