Stardom Shining Stars Day 3 Results & Review (6/10/2018)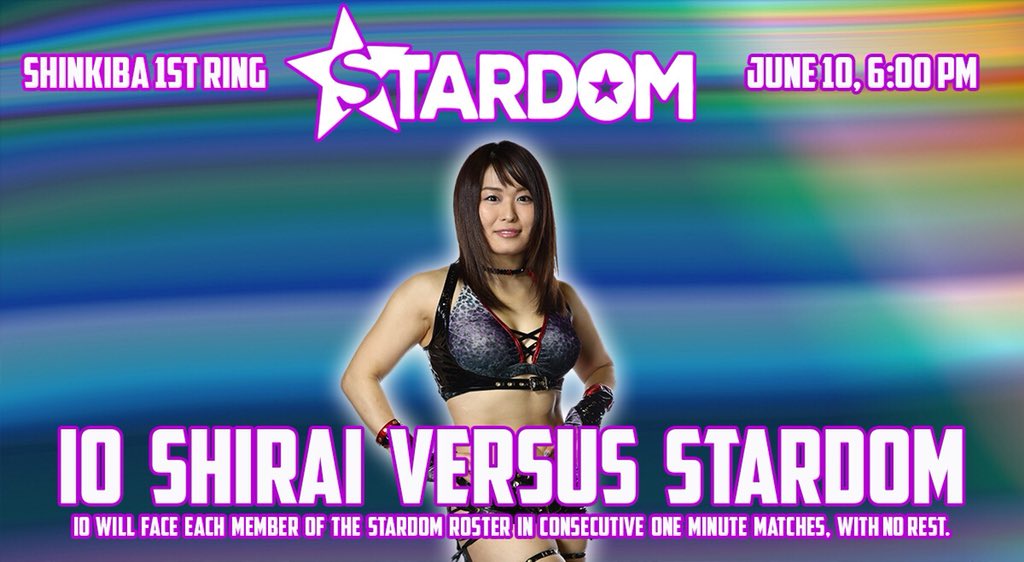 We continue our Io Shirai Farewell Tour as she has two shows left to do before she departs to the WWE and this will be where she does her traditional Gauntlet Match which we'll get to later on in the review.
Last show, we had an unexpected result with Kagetsu defeating Toni Storm for the World of Stardom Championship and I am thrilled for her winning it since she definitely earned it, just the unexpected match-up without any build is what threw me off and hey, it worked. We're close to having a brand new chapter in Stardom and all we need to close it up for good is for Io to have her final match and she'll make the most of her last days.
So let us…dive right in.
Three Way Match
Hanan vs. Kaori Yoneyama vs. Zoe Lucas
Review: Our opening bout is a three-way dance between Hanan, Kaori, and Zoe and it's good to see Hanan still working again and hopefully we get some good results here. The three would lock hands as Kaori and Zoe would both have Hanan's arms and hit her back before throwing her to the ropes and it looked like Hanan was going for a Dropkick and missed it which gives Kaori a chance to pin Hanan but she kicks out and now Hanan sweeps Zoe down to go for a pin and kicks out, but now Zoe tries the same thing with Kaori and she kicks out as all three stood up in a stalemate. Hanan would suggest a truce with Kaori as they attacked Zoe and as Hanan threw Kaori into Zoe, she would roll her up for a two count and now offer to team up with Zoe as they now attack Kaori and they both went for a kick as they accidentally hit each other and Zoe had Hanan in for a German and Kaori jumps behind Zoe as well to have their arms in a submission until she broke it up. Zoe would hit a Running Crossbody on Hanan and Kaori would break the pin with the Senton and would try to hit another one on both of them, but they rolled out of the way and Hanan would do a variation of a Suplex for Zoe to break it up and Hanan hits Zoe with an STO and picked her up to try and put her away, but Zoe broke out of it and kicked Kaori out before hitting Hanan with a Backdrop and quickly picked her up to hit her Split Leg Drop and looks a lit nicer this time as she gets the win.
Recommended: It was a short match, but not the worst nor great either. So, up to you.
Tag Team Match
Deonna Purrazzo & Toni Storm vs. Saki Kashima & Shiki Shibusawa
Review: This is Toni's first match since losing the championship as she partners up with Deonna Purrazzo to take on STARS members, Saki Kashima and Shiki Shibusawa.
Appears as if Shiki and Toni are gonna open this one off as Shiki attempts to do a test of strength with Toni, but it doesn't work with Shiki using both her hands to try one of Toni's and just doesn't budge as she starts to overpower Shiki and step on her hands. Toni and Deonna would just tag each other back and forth to pretty much work on Shiki to make sure they can try and take her out without even giving her a chance to tag in Saki. Toni looked like she was gonna go for a Powerbomb and Saki runs in to hit her with a Sunset Flip to have her let go of Shiki while she Dropkicks Toni once Saki moved out of the way after doing the flip. The match was decent and was most impressed with Saki and Deonna in this bout, especially when they were in the ring together where Saki reversed her German Suplex into a Bulldog and then went to do an Underhook Suplex, she had a good flow with it. Deonna and Toni were a decent team while Saki and Shiki were okay at least and Saki does a lot better with Mayu as a partner since they could do more together. Shiki would take the loss from Toni Storm once she hits the Strong Zero Piledriver.
It's Toni Storm & Deonna Purrazzo vs Saki Kashima & Shiki Shibusawa on https://t.co/q8dHnF58vW now! pic.twitter.com/3t5WcVdS6S

— We Are Stardom (@we_are_stardom) June 25, 2018
Recommended: It was a decent match, up to you if you wanna give it a watch.
Six Man Tag Team Match
Jungle Kyona, Leo Onozaki & Natsuko Tora vs. Mayu Iwatani, Starlight Kid & Tam Nakano
Review: Up next, we have JAN taking on STARS with Leo being on their team instead of Kaori due to wrestling earlier as they take on Mayu, Starlight, and Tam, so least they both have one member from the future division on their team.
.@tmtmtmx, @StarLight_Kid11 and @MayuIwatani are STARS, so of course they know how to make a star! #StardomWorld 🌟 #スターダム

➡️ https://t.co/jniqaHHrua pic.twitter.com/yN5GnrJ3eS

— TDE Wrestling (@totaldivaseps) June 29, 2018
This is the first time both teams are fighting each other with Mayu involved ever since JAN decided to form their own group due to Mayu not picking them in the draft, so they wanna make sure that they beat STARS here to prove they can be taken seriously…sorta. Kyona and Mayu started the match with Kyona going for a handshake and then kicks Mayu to beat her down, but Mayu turned it around and hits a sloppy arm drag and then Kyona swept her up off her feet to pin her as Mayu kicks out and they both stand up. Starlight and Leo get tagged in now and in the pre-match interview, Leo said she learned a new technique she wanted to use in the match and I hope it's a Double Cutter, but the two would chain wrestle with Starlight getting the upper hand as she tagged in Tam who hits her handstand and lands her knees on Leo and rather poorly might I add. STARS worked on Leo until she made the tag to Kyona and knocks Starlight down until Starlight would hit her Bow and Arrow submission before tagging in Mayu as the two go at it again. Mayu went to go for a German Suplex but Natsuko would attack Mayu and the two would double-team her until Mayu flipped it around to throw the two of them into the ropes with Tam catching them both for a Stunner to make their throats hit the ropes with Mayu and Starlight hitting a Standing Moonsault right after that. Kyona was going for a Powerbomb and Mayu reverses it into a Frankensteiner for a two count and hits a Thrust Kick to daze Kyona to attempt her Dragon Suplex, but Kyona breaks free from it to hit a German Suplex, making Mayu land on her head on that one, ouch. Kyona would tag Natsuko in and tried to get the momentum, but Mayu would roll her up for a two count and hit her with a Roundhouse Kick and tagged in Tam due to her neck being in pain. Natsuko would hit Tam and attempted to go for a Spear, but Tam kicks her head to knock her down before she could connect. Everyone starts going into the ring now and ended with Kyona hitting a Double Clothesline onto Tam and Mayu as she turned around for her and Natsuko to hit Tam, but they hit each other by accident as Starlight Dropkicks Kyona out the ring and Mayu runs after Natsuko to only be Speared this time. You know, I'm surprised Leo hasn't hit a single Cutter in this ma…nevermind! After a valiant effort by Leo, Tam would hit her Spinning Kick on her to win the match for STARS.
Recommended: Couple of sloppy spots, but it was still solid for what it was. Worth one view.
Leo's Cutter Count: 1
Six Man Tag Team Match
Hazuki, Kagetsu & Natsu Sumire vs. AZM, Konami & Momo Watanabe
Review: Our first show with Kagetsu as the World of Stardom Champion and since Hana is gone until September, looks like Hazuki is gonna replace her for the six-man tag bouts as they fight Queen's Quest in our pre-main lead by Wonder of Stardom Champion, Momo Watanabe. Can Kagetsu gain more momentum going forward as the new champion or will Momo derail her and prove she's the future? Looks like Oedo Tai extended their dance a little bit and I already love it, probably did it for Kagetsu's title victory the day before.
Soon as Queen's Quest got into the ring, Oedo Tai would attack them right away with four of them fighting around the outside while Sumire would kick around AZM after bringing her back into the ring until Konami would grab Sumire's leg to stop her and all three members of Queen's Quest would hit their Triple Dropkick for a two count. Momo would get tagged in to do some work on Sumire before tagging AZM back in as she kicked her from the turnbuckle and it looked like AZM was attempting another Dropkick to the corner, but she stops herself to slap Sumire in the face. They would punch each other back and forth and Sumire would yell out "you little brat" while AZM yells out back at her "you old bitch" in which Sumire replies "it feels good to be in my mid-twenties" while slapping AZM, but AZM ended by saying Sumire had a grandma face…damn girl.
Konami gets tagged in now and kicks Sumire in the back and before she could kick her face in, she saw Hazuki sliding the flogger in for Sumire to grab and Konami picks it up before she could and whips Sumire in the face before throwing it away, but Sumire would attack Konami once she threw it away and would roll her up for a two count and quickly tagged in Kagetsu. Kagetsu and Hazuki would kick Konami down and do a Running Senton on top of her before Kagetsu would pick Konami up as the two start kicking each other back and forth for a while and it looked like Kagetsu had it, but Konami would kick her chest once she ran the ropes and hits a PK for a two count, but Konami didn't stop as she ran towards her but gets caught in a Samoan Drop and the two are down until they crawled to their corners as Hazuki and Momo are tagged in now. The two start going at it with Momo hitting a Dropkick to Hazuki on the corner to her first and then Hazuki would do it back in return and hit a Half Nelson Slam and a Running Senton, but now Momo would start to get some punches in until they went back and forth again till Momo caught her for a Crossface Chicken Wing. Momo attempted to turn the hold into a Tequila Sunrise and Hazuki fights it off with a Codebreaker and Momo kicks her head in to make them go down. I smell money for this feud, a former Queen's Quest member taking on the new current leader and feels like it could be a jealousy issue here and if done right, can have an amazing delivery.
AZM gets tagged in now, but Oedo Tai would gang up on her into the corner while they all hit their moves on her and Sumire throws her into Hazuki to hit a Double Axe Handle for a two count. Hazuki had AZM in a Full Nelson and both Kagetsu and Sumire attempted to go for a kick but they accidentally hit Hazuki instead, giving Momo and Konami time to get them out of the ring and they kicked Hazuki down before AZM would hit a Lionsault for a two count. AZM went running to the top rope and AKgetsu sprays water into her eyes before Konami kicked her down and Hazuki would deliver some stiff kicks to both Momo and AZM for a two count, but she went to pick her up quick and AZM caught her with a Small Package for a two count as well. Hazuki had enough playing around as she hits a Michinoku Driver and goes to the second rope for the Atomic Bombs Away as she wins the match for Oedo Tai.
After the match, Kagetsu cuts a promo saying Queen's Quest is basically useless without Io Shirai and she talked about how she defeated Toni Storm the night before as she will now be known as Prime Minister Kagetsu, and I for one welcome our new Prime Minister. Kagetsu has also appointed roles for both Sumire and Hazuki as Sumire will now be in charge of declining birthrate and Hazuki will be Chief Cabinet Secretary and awards them both title opportunities with Sumire saying she's going for the Goddesses of Stardom Championships and will increase birthrate, now Hazuki wants to fight Momo for the Wonder of Stardom Championship. Mayu and Saki came out and said they'll defend their belts against Sumire and Hazuki at the next show, but Kagetsu pointed out that Mayu already has a match with Io Shirai as her partner meaning we have a Thunder Rock reunion!
Now on https://t.co/q8dHnF58vW, Oedo Tai take on Queen's Quest in trios action! pic.twitter.com/bdF0UAqlOL

— We Are Stardom (@we_are_stardom) June 27, 2018
Recommended: Very solid match, worth watching for sure.
Io Shirai Gauntlet Match
Io Shirai vs. AZM, Deonna Purrazzo, Hanan, Hazuki, Jungle Kyona, Kagetsu, Kaori Yoneyama, Konami, Leo Onozaki, Mayu Iwatani, Momo Watanabe, Natsuko Tora, Natsu Sumire, Saki Kashima, Shiki Shibusawa, Starlight Kid, Takumi Iroha, Tam Nakano, Toni Storm & Zoe Lucas
Review: Well, this is Io Shirai's second to last match with Stardom before she's gone from the company and in the traditional matter, she is set to fight the roster in a Gauntlet Match. Rules are the same as the last one with Io fighting one person at a time with a one-minute time limit and once the time runs out, the next person comes in right away and it keeps on going until the last one is in the match. Even if Io wins or loses in one of the matches, it keeps going until all of them participated. I'm gonna do it a bit different this time and write it down as a list with who came up, who won, and if it was good or not and will write something if anything big happens in that minute. So let's see how many Io can defeat or if anyone can even defeat her in this gauntlet match.
Entry 1: Leo Onozaki. Leo didn't do any cutters in the match, so I'm disappointed with that and Io makes quick work of her by making her tap out to the Cloverleaf.
Entry 2: Hanan. Hanan had a better effort into beating down Io, but she would hit her Underhook Facebuster for a second win.
Entry 3: Zoe Lucas. Zoe would propose to Io with pocky and she refuses to take it and throws it out of the ring and now Zoe is made, she misses a Split Leg Drop and Io wrenches her leg till the draw happened.
Entry 4: Deonna Purrazzo. Deonna would mostly out maneuver Io and had her in the Fujiwara Armbar for the duration of the time to make it a draw due to not making Io tap out.
Entry 5: Shiki Shibusawa. Io would hit a 619 and a Dropkick off the top rope before applying a Boston Crab for a draw.
Entry 6: Starlight Kid. Starlight actually came close to winning when she hits her Tornado DDT, Moonsault Press, and a Code Red before Io kicked out for a draw.
Entry 7: Natsuko Tora. Io didn't waste any time smacking her around soon as Tora got in. Tora hits a Spear and Io kicks out as we have another draw.
Entry 8. Jungle Kyona. Mostly testing their strength and Jungle had her in the Cesaro Swing til time ran out and kept going for a few extra seconds till she lets go
Entry 9: Kaori Yoneyama. Kaori asks Io to Moonsault her one last time and lays down for her, but would push her off once she got to the top and hits a Moonsault of her own, but misses and gets caught in a Cloverleaf til time ran out.
Entry 10. Tam Nakano. Tam pretty much kicking the living shit out of her even when Io to hit with everything she's got til a draw.
Entry 11. Saki Kashima. Saki would get emotional and hug her till she tricked her into an Uppercut and even kissed Io a few times to try and hold her off for a Killswitch, but didn't work as we get a draw.
Entry 12: Konami. She would hug Io to pin her down for a pin and mostly does strikes and has her in a submission until time ran out.
Entry 13. AZM. Had Io in the Black Widow for most of it and went back and forth until AZM caught her in a submission soon as time ran out.
Entry 14. Natsu Sumire. Sumire would bat Io with her photo book and would show it to the referee as they looked at the pictures. Sumire would mock Io by attempting her Moonsault but stood on the top rope till time ran out.
Entry 15. Hazuki. Would hit a Springboard Dropkick before the bell rings, they Crossface each other back and forth, and Hazuki hits her Atomic Bombs Away as the bell rang.
Entry 16. Takumi Iroha. Well, this is a very pleasant surprise and they hold each other's hand so they could forearm each other back and forth until they both delivered stiff kicks to their heads and as Takumi went for the pin, the bell rang.
Entry 17. Toni Storm. Toni attempted the Strong Zero early on and backfired as Io attempted to beat her down, but gets knocked out. Toni would headbutt her till the bell rang and hits a Strong Zero before taking off.
Entry 18. Kagetsu. Kagetsu hits Io with the belt and would attempt a Chokeslam but Io reversed it into a Frankensteiner for a two count. Kagetsu would hit the Oedo Coaster to finally get a pinfall over Io, go Prime Minister!
Entry 19. Mayu Iwatani. Two went back and forth and played paper, rock, scissor as they slapped each other. Gonna miss these two fighting each other and wish they had one more match. Mayu hits a Standing Moonsault as the bell rang.
Entry 20. Momo Watanabe. Momo would attempt her Cradle but Io reversed it into her Underhook Facebuster as the time ran out, but Momo would allow her to hit her Diving Moonsault Press one last time as she does so and even lets Io pin her despite the time running out. (2-1-17)
This whole gauntlet was a lot of fun with a nice surprise from Takumi, everyone gave it their all and was an emotion fun ride. After the match, Io would cut a promo saying that she has one final match left before she leaves and would say to her that pro wrestling is life. Io said that even with her gone, Stardom will still shine and create a brighter future as she saw that today when she fought everyone. Everyone would come into the ring as she leads them to say their phrase which is 'Believe now, shine tomorrow, we are Stardom". They pose in the ring as everyone group hugs her.
Io Shirai vs Stardom! IO SHIRAI VS STARDOM! Io takes on 20 opponents in a gauntlet match, in her final Shinkiba appearance, and it's on https://t.co/q8dHnF58vW now! pic.twitter.com/haAkis5tT1

— We Are Stardom (@we_are_stardom) June 28, 2018
Recommended: Great gauntlet match and an emotional one as we have one more show to go.
Leo's Cutter Count: 0 (What sorcery is this!?)
Overall: The show was a solid one for what it was and we had a very nice gauntlet match. It's now dawning on me that we may never see Io Shirai in Stardom again and it'll be hard to see, but they'll still shine brightly with or without her and they proved that tonight.
Favorite Match: Io Shirai vs. Stardom
Least Favorite Match: Hanan vs. Kaori Yoneyama vs. Zoe Lucas
Score: 7/10
Andrew's G1 Climax 29 Ratings & Analysis: Night 3 A Block
A Block second matches! Do Okada and KENTA keep momentum? Do Tanahashi or Ibushi get on the score board?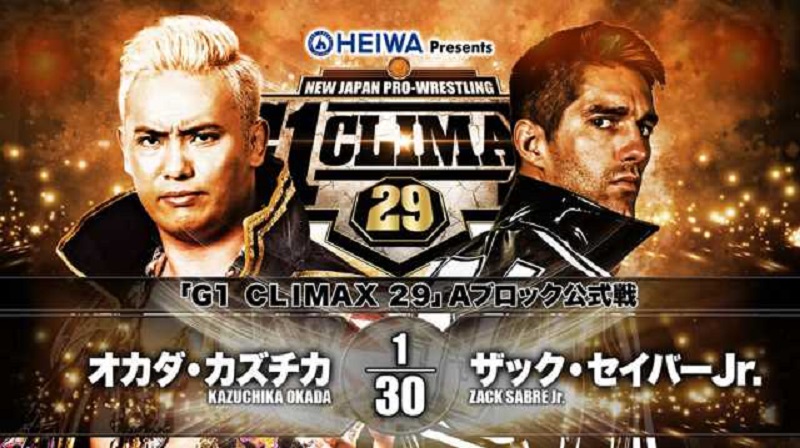 A Block second matches! Do Okada and KENTA keep momentum? Do Tanahashi or Ibushi get on the score board?
So we've got the irresistible force/immovable object match with Fale and Archer! Who is the dominant big man?
Plus there's of course the bigger names that have yet to get points, like, Ospreay, Tanahashi and Ibushi. It's early on, but still a few surprising early wrinkles.
Ratings:
Tomoaki Honma, Yuya Uemura & Hirooki Goto vs Yota Tsuji, Toa Henare & Juice Robinson: Toa Henare wins via Uranage @6:30 – **
Jeff Cobb & Ren Narita vs Jon Moxley & Shota Umino: Cobb wins via Tour of the Islands @4:55 – ** 1/4
Yujiro Takahashi, Chase Owens & Jay White vs YOSHI-HASHI, Tomohiro Ishii & Toru Yano: Yano wins via Brenda Roll Up @9:20 – ** 1/2
Yoshinobu Kanemaru, Minoru Suzuki & Taichi vs Tetsuya Naito, Shingo Takagi & BUSHI: Suzuki wins via Gotch Style Piledriver @8:35 – ***
Block A: Bad Luck Fale vs Lance Archer: Archer wins via EBD Claw Hold @10:10 – ***
Block A: SANADA vs Will Ospreay: Ospreay wins via Storm Breaker @17:10 – ****
Block A: Kazuchika Okada vs Zack Sabre Jr: Okada wins via Rainmaker @12:05 – **** 1/4
Block A: EVIL vs Kota Ibushi: EVIL wins via Everything is Evil @19:10 – *** 1/2
Block A: KENTA vs Hiroshi Tanahashi: KENTA wins via Go 2 Sleep @18:35 – *** 3/4
Analysis:
Basic undercard tag with not a ton going on with the competitors about to face each other in the next block night. The Young Lions started off hot trying to cut their teeth on one another, and then Uemura eats the pin as to protect everyone who's already established on the main roster.
This was quick, but Shota and Moxley have a little bit of tag team chemistry as the pulled off a Hart Attack, and generally looked to work well together. Moxley was relegated to taking out Narita and then getting tied up once Cobb took control of the match. Another very simple match, but not bad.
So White and Ishii had very good interactions, YOSHI took most of the beatings and Chase ate the pinfall. But generally speaking this was fun. It was also nice to see Yujiro since he's been M.I.A. due to injuries off and on the last few years. We need our Tokyo Pimp.
Naito and Taichi continued their feud through the better portion of this match. Taichi had Naito reeling at numerous moments but Naito eventually got enough space to start the LIJ tags. So the whole story of Suzuki-Gun versus LIJ, Naito versus Taichi, just a lot of stories continued to grow here. Nice story telling.
Lots of power moves and both men trying to position themselves as the Alpha. Fale had an early advantage especially thanks to Jado and Marty Asami not feeling like tossing out DQs like candy. Both men had a few close calls with signatures, but after countering the Bad Luck Fall Archer hits a Pounce and builds his momentum. A chokeslam and Everybody Dies Claw later, Archer gets his second win.
Well now, this went back and forth quite a bit. SANADA proved his athleticism, Ospreay proved that he can hang with heavyweights and it was close the whole time. The only really awful spot was Ospreay slipping out of the Paradise Lock. There's a gimmick there, and we don't need the allure of it to be cheapened for a dumb flip spot. Aside from that worthless moment, the match was really wrestled well and SANADA had a few attempts at victory. SANADA's constant desire to use the Moonsault still proves to be his downfall. He really needs a new move.
Okada has the amazing ability to wrestler his opponent's style of match. Sabre stretched him and tried to break him, but Okada fended off every attempt. We saw numerous counters, submissions and great wrestling. Okada's Rolling Rainmaker to set up the traditional Rainmaker is always a fun transition. Awesome match.
Well I guess this was the palate cleanser before the main event. This match was slow, plodding and EVIL did the worst Scorpion Deathlock I've ever seen. And I mean worse that 50+ year old Sting when he'd basically fall over. Like it was a Scorpion Hot Garbage Lock. But once Ibushi hit his second life bar, the match picked up a little, but it wasn't close to a great match. It was fine, but a major step down from the previous two matches.
This main event told a solid story of KENTA proving himself against the Ace and stepping into the place of Katsuyori Shibata. The match was deliberately paced but there were some noticeable hiccups. A match that basically took about a decade to happen because of how NOAH and NJPW were run, lived up to a first time meeting. If we saw this match before KENTA left for the WWE in 2014, I feel it would've been much harder hitting and more of a classic puroresu match. This wasn't bad by any regard, but it was carried by the story and hampered a little by the fact that both men are older and adjusting to injuries.
Overall Score: 7.5/10
The block matches were on average a little better than the first Block A night, but the energy felt down a little. Undercard served it's purpose well and all the matches that were expected to be bangers, delivered fairly well on the expectation. KENTA with the hot start is a little concerning for me though. Historically, freelancers have good showings but don't win the tournament.
Judging from early positioning it feels like either Okada or Goto are being positioned for the win, but with all the new faces…this is definitely harder to call. Adds to the fun, doesn't it?
Block A Standings:
Kazuchika Okada: 2-0 (4 Points)
Lance Archer: 2-0 (4 Points)
KENTA: 2-0 (4 Points)
SANADA: 1-1 (2 Points)
EVIL: 1-1 (2 Points)
Will Ospreay: 1-1 (2 Points)
Bad Luck Fale: 1-1 (2 Points)
Zack Sabre Jr: 0-2 (2 Points)
Hiroshi Tanahashi: 0-2 (0 Points)
Kota Ibushi: 0-2 (0 Points)
Sarpraicone: Just Tap Out, TAKA And His New Journey
After parting ways with Kaientai Dojo, TAKA Michinoku starts a new promotion! JUST TAP OUT!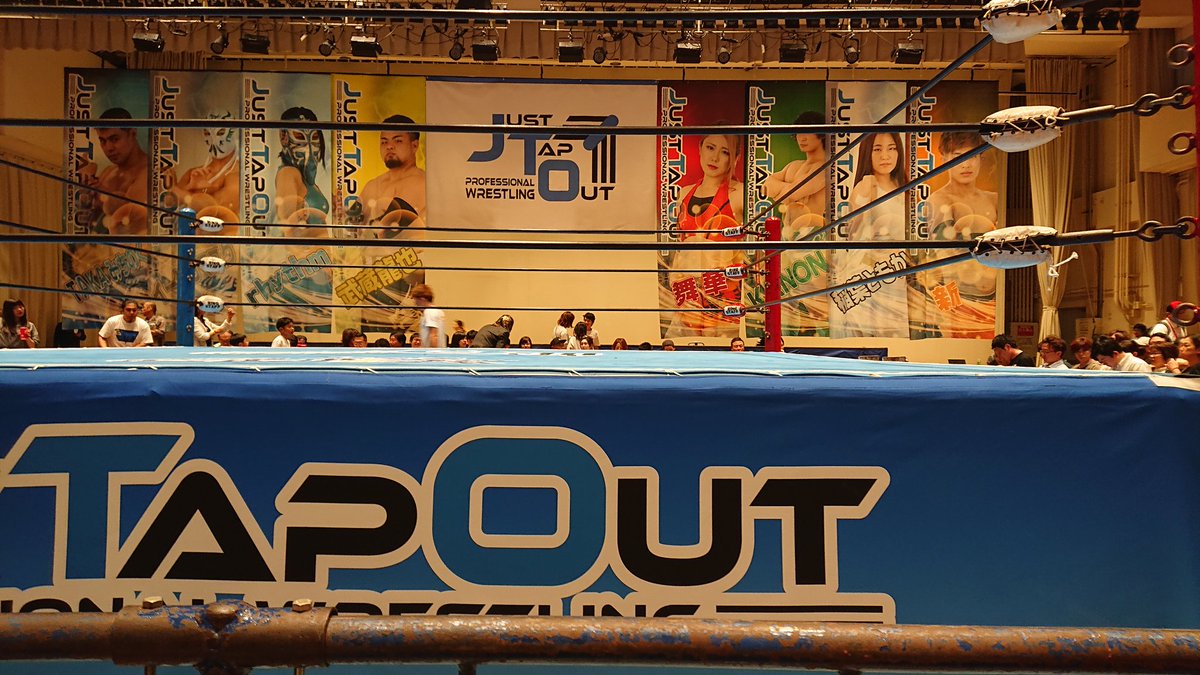 After parting ways with Kaientai Dojo, TAKA Michinoku starts a new promotion! JUST TAP OUT!
Welcome to Zack Sabre Jr time.
Wait, I'm not doing TAKA's whole speech? Then what the hell am I doing? Ohhhh Just Tap Out the promotion….you're no fun.
Anyway, I will be talking about a new promotion called Just Tap Out Professional Wrestling which was created by none other than TAKA Michinoku. TAKA is no stranger to running a promotion as he was the founder of Kaientai Dojo in 2002 until he left on January 27th, 2019 after news has gone around about his affair in 2018 that it caused some issues with management and with the risk of their image being tainted. TAKA would be punished for his affair and it would cause him to leave with K-DOJO renaming their promotion to Active Advance Pro Wrestling (2AW).
However, on April 11th, TAKA would announce that he would be forming a new promotion after his departure called JTO for the little quote he does for the person he manages, Zack Sabre Jr. He also announced that his first show would take place on July 8th at Korakuen Hall and it'll be called Hajime (Begin).
Another thing I wanna talk about is the roster TAKA has for his promotion since it's basically TAKA and eight rookies. The people that will be following him in this journey is rhythm, Tomoko Inaba, Eagle Mask, Arata, El Chango Japones, Maika, Ryuya Takekura, and KANON These are the ones that will be with him in this new promotion and I don't have much info on them on if he actually trained them or is giving them an opportunity, but we'll see as time goes on for now.
Their first was apparently a success as it drew 660 people, told the production of the event was great, and they even brought in some big names like Minoru Suzuki and Jiro Kuroshio. From what I've read, it looks like the show will air on Samurai TV on August 3rd, so be sure to keep an eye out for it around that time or the day after it's uploaded somewhere. Anyway, I'm glad to see TAKA was able to bounce back from the controversy that happened and not let it be his downfall.
During this show, Maiki was in the ring after her match and had Stardom's, Utami Hayashishita come out to the ring to issue a challenge to Maiki. I didn't know this but Maiki has called out to Utami a few times on social media since her debut a couple of months ago and just now Utami has answered the call. I think it's a smart move for TAKA to give the people what they want and to have it be a test for Maiki to take on the Super Rookie at their next show titled Dream. Another match that got announced was Ryuya Takekura taking on Dragon Gate's very own Takashi Yoshida. No other info about the show yet but we already got two matches to keep the fans interest for their next show.
Not much else I know about the promotion at this time but either way, I wish TAKA the best of luck with his new journey here with JTO. I'll be sure to check them out whenever they air since Utami and Maika sounds really good for September.
Just Tap Out! Haha there, I said it without talking about the promotion. Wait, I'm fired? Well…shit.