The Rock: The 10 Defining Moments of The People's Champion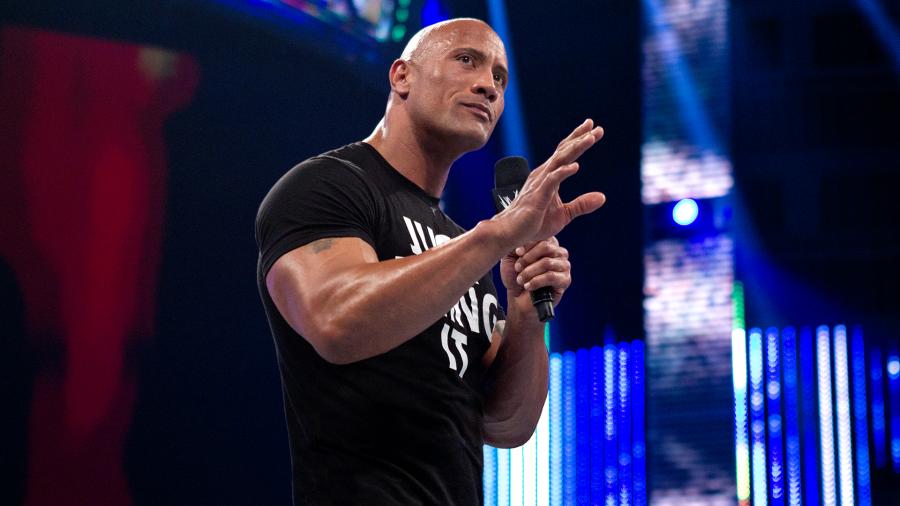 Has there ever been anyone who has be as if not more successful outside of the WWE as the were in WWE as the Rock? The Rock is one of the most charismatic people to ever step foot in WWE with countless quotable catchphrases. One of the best talkers of all time, a Hollywood megastar and by all accounts genuinely one of the nicest people.
He is without doubt the most electrifying man in Sports Entertainment history, but which moments were most electrifying? What moments truly defined the People's Champ? Let's find out today as we go through the Rock's career to find his 10 defining moments.
10. His Debut

This moment is significant not just because it was the first time we'd ever seen The Rock in the ring but how the debut was done. First off it was in Madison Square Garden so clearly, they had faith in him.  Then there was the way he was presented with commentary talking about his potential and his heritage being the first third generation superstar (He wasn't). JR even declared Rocky would be "the man".
They did everything they could do to present him as this fiery babyface even having him be the sole survivor. The problem was nobody bought it. He got a decent reaction but soon after that fans turned on Rocky Maivia chanting Die Rocky Die and Rocky sucks.
---
Always Use Your Head and visit the official Pro Wrestling Tees store for The Chairshot All t-shirt proceeds help support the advancement of your favorite hard-hitting wrestling website, The Chairshot!

---
Joe's Lucha Libre Weekly: News & Opinions (10/18/18)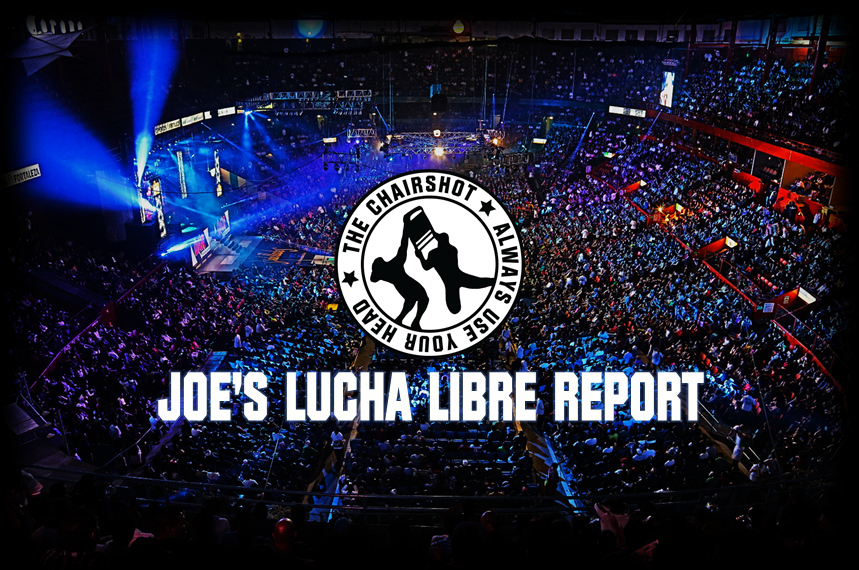 Fear Not! We have a AAA show finally this Friday but first…
CMLL
Last weeks shows to sum up really quick was basically a small tournament to decide the two competitors in the heavyweight championship match. The important note on the Puebla show was Volador defeating Cavernario defending his Welterweight championship. But that was discussed more in depth last week. Important notes to look at are Volador Jr and Soberano Jr competing in the New Japan Super Juniors Tag League. I will be watching those shows not just for the luchadors because, well, I watch most of New Japan's shows. But our CMLL athletes defeated ACH and Taguchi in the first match of tag league for them. They will be facing Jushin Thunder Liger and Tiger mask tonight.
Side note: I've watched Soberano and Volador vs Tiger Mask and Jushin Thunder Liger. It was a very exciting match. The crowd was super into Volador and kept chanting his name. Which makes sense because he has a very smooth style. The match saw Volador and Soberano having the advantage a lot but in the end Soberano was pinned by Tiger Mask and they lost falling to 1-1 in Junior tag league with 2 points.
Arena Mexico, Friday
The important notes of this show are Ultimo Guerrero defeated Michael Elgin in the main event in what was a pretty good match. Of course Guerrero had to avenge himself after losing the Grand Prix to Elgin. But I think it's okay considering what Ultimo Guerrero obtains later in this summary of the shows (see below for Tuesday Arena Mexico Show). Elgin expresses how much he loves Mexico and would like to be back, as did Flip Gordon on the Tuesday show three days before this. I have to think Elgin will be back. He was very over with the crowd and they appreciated his ability to do some lucha libre. Ultimo Guerrero raised his hand at the end, and since he won the Grand Prix, I have to think they have plans for him. It's not like Elgin is taking American booking. It's just Japan and Mexico now.
In the Co-Main Event we saw LA Park, Mistico, and Volador defeated Hechicero, Cavernario, and The Chris. Interesting note in this match is that Ciber was supposed to be in it but a few days before the show a change was made. I wonder if that has to do with last week's show where Ciber was totally not taking bumps for Park. Park tried to go for his spear, his new finisher but Ciber didn't take it and it ended up being a clothesline which Park was very upset at. This, however, was just a standard match. Nothing else important.
The match before saw Finlay and LA Park's son team with Atlantis in what was a nice fun match against Bestia Del Ring, Okumura, and Rey Bucanero. It was a fun match, Hechicero was originally to be in this match but was moved to the match Ciber was supposed to be in. Finlay has been used a lot in CMLL recently so i wonder if they're looking to use Finlay, Flip Gordon, and Elgin more specifically. It feels like Finlay is stuck in New Japan since there isn't a spot for him right now. He also wasn't booked in the Junior tag league so he has time on his hand. Atlantis pinned Bestia to win this match.
Puebla
The main event of this show saw Caristico team with Mistico and Finlay. It's weird to see Mistico and Caristico in the ring, since the fans know Caristico is the original Mistico so it kind of hurts Mistico and they want to see Caristico. Finlay, again getting some more work in CMLL working Puebla. The Puebla shows are always fun for outsiders to work. It's a nice relaxed atmosphere and the crowd feels like it's right on top of you. They wrestled Los Guerrero's. As you would figure though, going into a heavyweight title match, Ultimo Guerrero's team wasn't going to lose. The Co-Main saw Diamante Azul team with Angel de Oro, and Niebla Roja facing Mephisto, Luciferno, and Ephesto. Of course Azul's team won as well going into his heavyweight title match. I felt Mephisto's team looked silly at times in this match.
Arena Mexico Tuesday
Obviously the big thing for this show was the crowning of a new heavyweight champ. It was a nice back and forth match with Azul and Guerrero trading big moves, but Guerrero won with a reverse suplex off the top rope for the win. It was around a 15 minute match and it was a good match but the problem is the crowd didn't sound totally into it mainly because it sounded like there was barely anybody in the crowd. As I make note in my weekly review of the CMLL shows which will be out later this week, you could hear the echo from the announcers talking on their headsets because the arena simply wasn't filled much at all. I'll be interested to know if there will be attendance numbers for this show like there usually is for the Friday shows.
The Co-Main saw Mistico team with Niebla Roja and Stuka to take on Nitro, Euforia, and Rey Bucanero. What was interesting here is that Shocker was listed as being in this match on their billboard and even on the upload of the event after it aired live on Youtube they still listed Shocker as being in the match even though he wasn't. He was supposed to be in a match last Friday which he wasn't in either, so I wonder if there's a problem with him or if he's injury. I haven't checked if he's working any other shows in the mean time. There wasn't anything significant about this match or the matches underneath. They were all just fun matches.
Preview of Arena Mexico Friday Blue Panther 40th Anniversary Show
This will be the 40th Anniversary show for Blue Panther and they are having a tournament, yet again. It is the Suriano Falcon Cup and the competitors in the match will be, Angel de Oro, Blue Pnather Jr, Niebla Roja, Black Panther, Stuka Jr, Dragon Rojo, Luciferno, Misterioso Jr, Espanto Jr, and Templario. I'll make my prediction on the winner….. Templario. I feel like having Blue Panther Jr win would be obvious but hey you never know. The main event of the show is Caristico, Pentagon Jr, and David Finlay yet again vs Rush, El Terrible, and Cavernario. That should be a really fun match. The legends match on this show for the Blue Panther Anniversary show is Blue Panther, Black Warrior, Panterita del Ring, and Euforia vs Mascara Ano 2000, Sanson, Cuatrero, and Forastero. Another name match on the show features Mistico, Diamante Azul, and El Valiente vs Negro Casas, Dark Magic, and El Felino.
---
Always Use Your Head and visit the official Pro Wrestling Tees store for The Chairshot All t-shirt proceeds help support the advancement of your favorite hard-hitting wrestling website, The Chairshot!

---
WWE Evolution Will Be a Lackluster PPV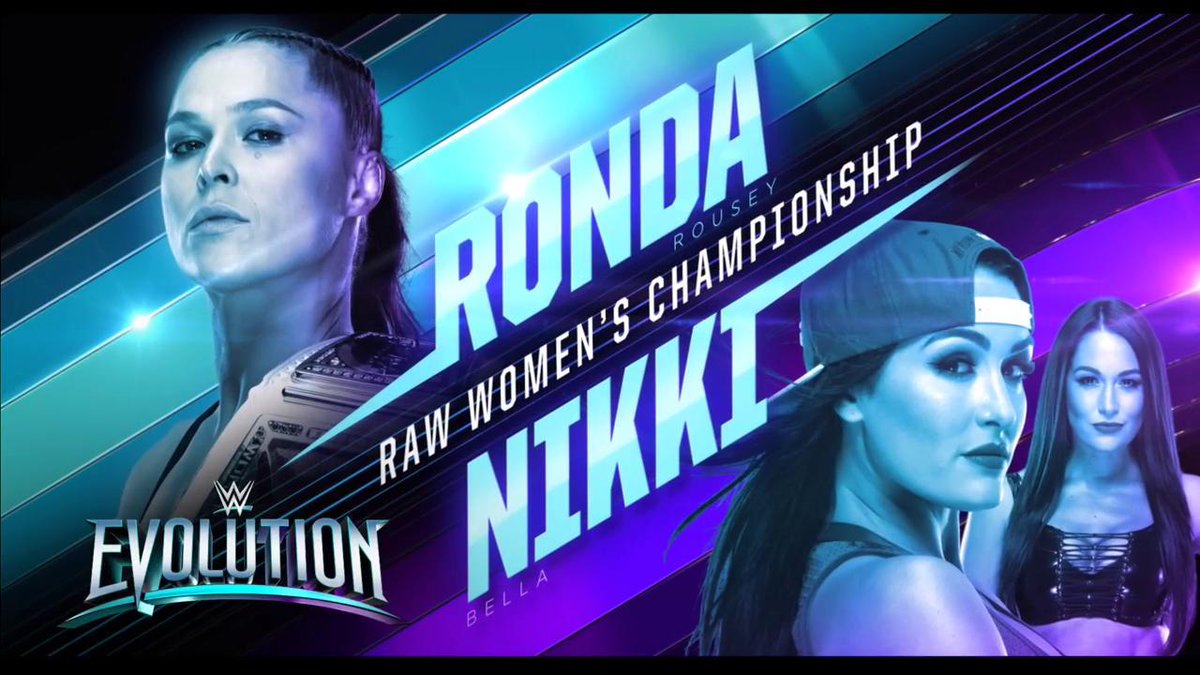 On October 28th, WWE is hosting their first ever women's only PPV Evolution. When the announcement was made in July, fans and wrestlers were excited. WWE has been pushing a Women's Revolution the past few years by giving their female roster more airtime and more opportunities. While the women have done groundbreaking work with their matches and storylines, there is still some criticism that WWE wasn't pushing the women to their full potential.
When the Evolution PPV was announced in July, it was another historic moment. The PPV would feature the talents of the current roster, while also bringing back the pioneers in women's wrestling. Immediately, fans became excited at the prospect of dream matches and possibly the introduction of new championships at the PPV.
With three month between the announcement and PPV, WWE had plenty of time to create matches and engaging storylines for the women.
So have they lived up to their promise of booking an iconic PPV?
Let's take a look at the matches planned so far.
Ronda Rousey vs Nikki Bella for the RAW Women's Championship
Becky Lynch vs Charlotte Flair in a Last Women Standing match for the Smackdown Women's Championship.
Kairi Sane vs Shayna Baszler for the NXT Women's Championship
The finals for the Mae Young Classic tournament
Alexa Bliss and Mickie James vs Trish Stratus and Lita
A battle royal for a #1 contender championship match featuring stars such as Asuka, Naomi, Ember Moon, and Torrie Wilson.
Aside from these matches, it's also possible there will be a tag match featuring The Riott Squad vs Sasha Banks, Bayley, and Natalya. With these being the matches booked so far, fans have started to lose interest in the PPV and you can't blame them.
WWE had a chance to do right by their female roster and put on a thrilling show, yet it's turning out to be lackluster.
But with Vince reportedly in charge of the show, fans should've known to expect something like this. Unlike Triple H and Stephanie, Vince has a reputation of not caring about the women's division. Based the booking of Evolution, it's obvious he still doesn't.
It seemed like Vince's main focus was on Super Show-Down in Australia and their upcoming Crown Jewel PPV. If Vince and the WWE crew could create stellar matches for those shows, why couldn't the same effort be made for Evolution?
The lack of buildup for Evolution has fans disheartened along with some of the female talent. After the battle royal was announced, many of the stars took to Twitter to voice their displeasure. The women's roster has every right to be angry, the PPV was their chance to shine and now they're going to be thrust into some battle royal that nobody is going to care about.
With a week til the PPV, WWE is going into promotion overload for the show. Yet, despite the talents of Ronda Rousey, Nikki Bella, and Trish Stratus; that won't be enough to save the show. Such a shame that a show started out with promise, yet has quickly turned into a dud.
---
Always Use Your Head and visit the official Pro Wrestling Tees store for The Chairshot All t-shirt proceeds help support the advancement of your favorite hard-hitting wrestling website, The Chairshot!

---
Levin's SmackDown Live Review (10/16/18)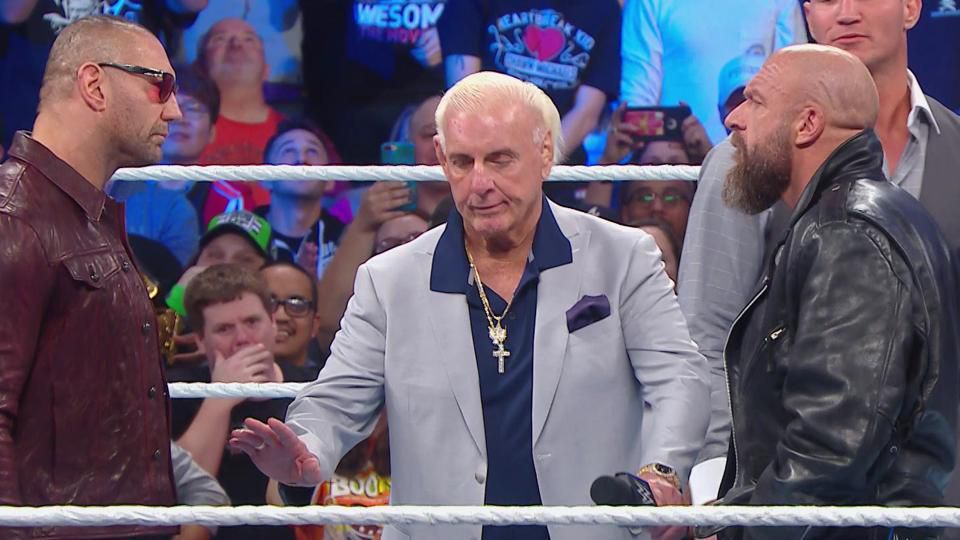 After watching parts (thank you Comcast) of SmackDown Live's 1,000th show, it is clear to me the company may not be done promoting matches in the future that feature stars of the past.
While I was not able to witness the entire show, the parts I did see left me thinking (out loud) whether WWE's commitment to showcasing part-time performers is truly worth the battle? Does the fan base gain anything from seeing older rivalries renewed? Do the current stars on the roster feel slighted in the least by having to share time with restructured programming?
The reunion of Evolution may be the reopening of Pandora's Box. The confrontation between Batista and Triple H could once again lead to a confrontation in the ring potentially at the Royal Rumble or as an addition to the card at WrestleMania 35. The back and forth between "The Animal" and the "King of Kings" was expected once Randy Orton spewed his venom about Batista leaving the company to pursue acting.
That's part of the script we all expected. The confrontation and vibe given off as Batista and Triple H "hugged it out" may have been part of the spot, but there are some undertones the company might want to save for another time and date. The use of veterans who have reemerged of late – with Undertaker and Trips in Australia and a tag team match between 'Taker and Kane and DX (Triple H and Shawn Michaels) may be great on paper, but it is also a hard sell since the announcers have downplayed Michaels' return to the ring.
Does a Batista-Triple H return match do anything for you? Are you entertained enough to think it is worth a long storyline? Batista has teased a return to the ring, much like The Rock has commented on social media how he cannot wait to get back to the company that made him a millionaire many times over. History tells us certain feuds stand the test of generational gaps.
Triple H and Undertaker is one. The Rock and Steve Austin – if it ever happened – is another. Given that both performers are still in amazing shape this advanced in their careers, is there any reason to think a match wouldn't sell? Probably not. Finding the right place and time to sell it is the key to its success. SmackDown Live has done such a phenomenal job of using two hours of "wrestling" effectively and has clearly become the "go to" program on WWE's circuit. Making sure this match gets the proper attention without sacrificing other wrestlers or programs is key.
I suspect the talk of a WWE "reunion" with Batista and Triple H will heat up in the next few weeks. A match looming in the coming year is almost as easy to predict as The Rock and Roman Reigns in a "match for the ages." The problem is the heat each wrestler brings must match the in-ring performance. We all know Triple H can carry his end of the deal. It remains to be seen if Batista, who has been off in Hollywood making movies, can do the same thing.
As a fan, I sure hope he can.
---
Always Use Your Head and visit the official Pro Wrestling Tees store for The Chairshot All t-shirt proceeds help support the advancement of your favorite hard-hitting wrestling website, The Chairshot!

---