Tommasso Ciampa & The Plight of Today's Pro Wrestling Heel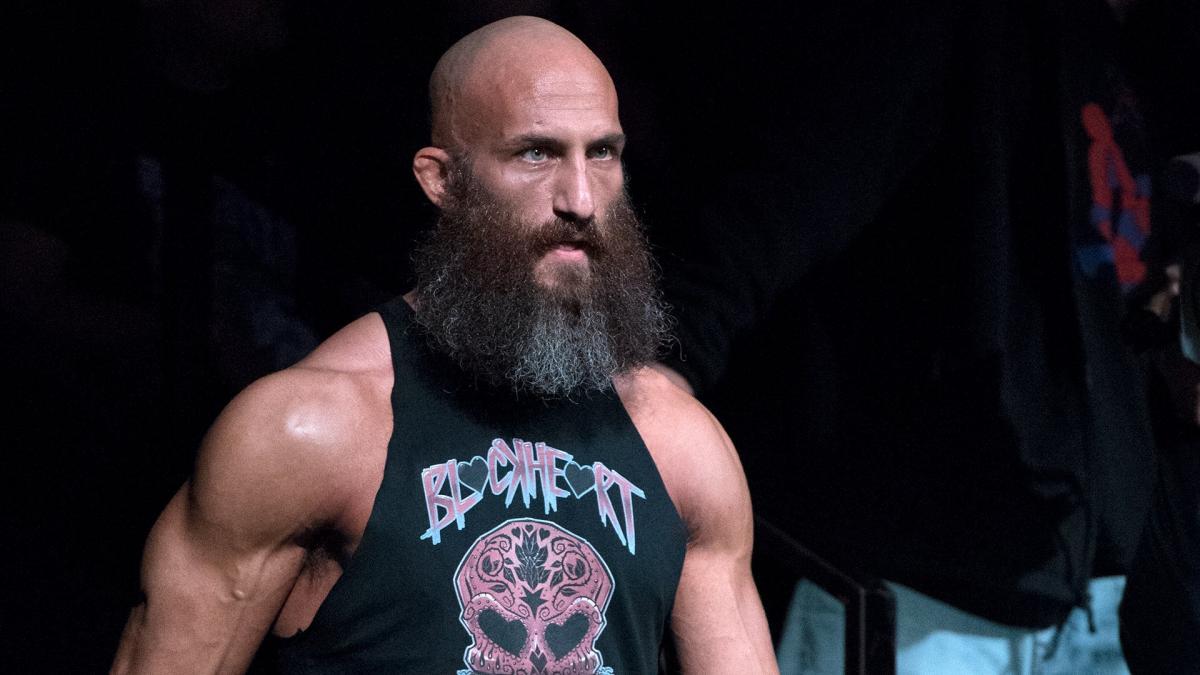 Tommasso Ciampa's recent NXT Championship win is the talk of pro wrestling fans everywhere. Some are curious why Aleister Black's title reign lasted only three months, despite the excellent work he does in the ring. Others are happy to see him drop the belt, mostly because they feel he has less of an edge since becoming champion.
But the real story here is Ciampa. Ciampa is one of those talents that has put in the time and effort to truly establish himself, as many guys around him have. However Tommasso is a genuine storyteller and has never really needed the mic to narrate the story. He does his talking in the ring. There's no denying that he has earned not only his spot but the NXT Championship as well.
There's also no denying he is one of the strongest heels working in the business today. There is nothing remotely redeeming about Ciampa's character other than his work ethic. Tommasso is despicable, his actions are deplorable and his motivations are demented. Ciampa has the perfect level of evil to carry him far beyond the NXT Championship. But is he working in the wrong era?
This is where things get complicated. Some fans believe that everything changed in pro wrestling with the advent of The Attitude Era and this is true to a certain extent. The WWE product became edgier and the Superstars were allowed more freedom to explore who they were and what they could be.
WCW was in firm control and ECW was making waves. WWE had to establish its dominance in the industry and that's exactly what happened. Vince McMahon's company evolved past its competition and the rest is history. But that's not where the business necessarily changed.
Everything changed on December 15, 1997 when McMahon pulled back the curtain and let the whole world see the truth. Pro wrestling was never an actual competition, at least not in the traditional sense of the word. Pro wrestling was nothing more than a TV show. That is the moment when The Attitude Era began. It's also the moment when the business changed forever.
When fans were smartened up, they perhaps became too smart for their own good. Instead of watching pro wrestling for the drama of good versus evil and right versus wrong, fans tuned in to see the athleticism of the talents in the ring. These were no longer real people; they were real people portraying characters. Fans were not getting lost in the fictional reality happening before them. They were instead getting wrapped up in the overall mechanics of the business itself.
This is the industry that Tommasso Ciampa finds himself in. His job was to turn heel against Johnny Gargano and become as hated as he possibly could be. Ciampa had to do everything imaginable to destroy Johnny Wrestling and show zero remorse in the process. When fans looked at him, they had to see a true villain reveling in the chaos he created.
Ciampa did his job and then some. But when fans look at him, they see a hardworking guy that deserves every accolade that comes his way. While there's nothing necessarily wrong with that, the truth is some have lost the ability to just watch the match itself and lose themselves in the story. But of course Tommasso is not the only man struggling with that reality.
Anyone working in the business after December 15 1997 has had to deal with this. There used to be a mystery behind pro wrestling and an aura around pro wrestlers. It was a secret society of individuals that adhered to a very strict code. If someone broke that code, then he could expose the business. That just could not happen. If it did, then everything could fall apart.
How many fans praised Dirty Dick Slater or Cowboy Bob Orton when they ran heel together in the 1980's? Did fans compliment each guy, recognizing their ability to get heat from the crowd? Or did they just sit back and enjoy hating them?
Fans can now see what each man brought to the table and they can respect them for it. But that's the case all across the board, on every level of the business. While fans are obviously aware of this, an entire generation has come after McMahon's 1997 announcement and the end of The Monday Night Wars in 2000. Can this generation truly remove itself from the reality of the product long enough to actually enjoy it as fans did during the Territory Era?
The irony of this is that pro wrestling had to evolve. It had to change. Vince McMahon's announcement was shocking to those behind the scenes. But it confirmed what many fans had already suspected for years. If the pro wrestling industry was going to survive into the future, then the truth had to be told. There was just no wary around it.
Tommasso Ciampa deserves applause for his work in NXT. He deserves recognition for the work he does to get over as a heel. His war with Gargano will continue yet and there's no way to know just how much more damage Tommasso will do to everyone's favorite babyface.
But Tommasso Ciampa should also continue to hear the boos. He should feel the hate now, more than ever. He should get the respect he earns as a heel that wants to destroy everyone and everything in his path. Ciampa's character doesn't want the cheers and he doesn't care about them. The same is likely true of Ciampa the man. He and Gargano have created magic together thus far and they will surely make more very soon.
So if fans want to truly praise Tommasso for his efforts, then they should hate him for everything he's worth. That would definitely be the case in any other era of the sport. Perhaps it will eventually be the case in this era as well.
King's WrestleMania Rewind: Charlotte Flair vs. Asuka from WrestleMania 34
Chris king is back with one of the most underrated matches in WrestleMania history–Charlotte Flair vs. Asuka!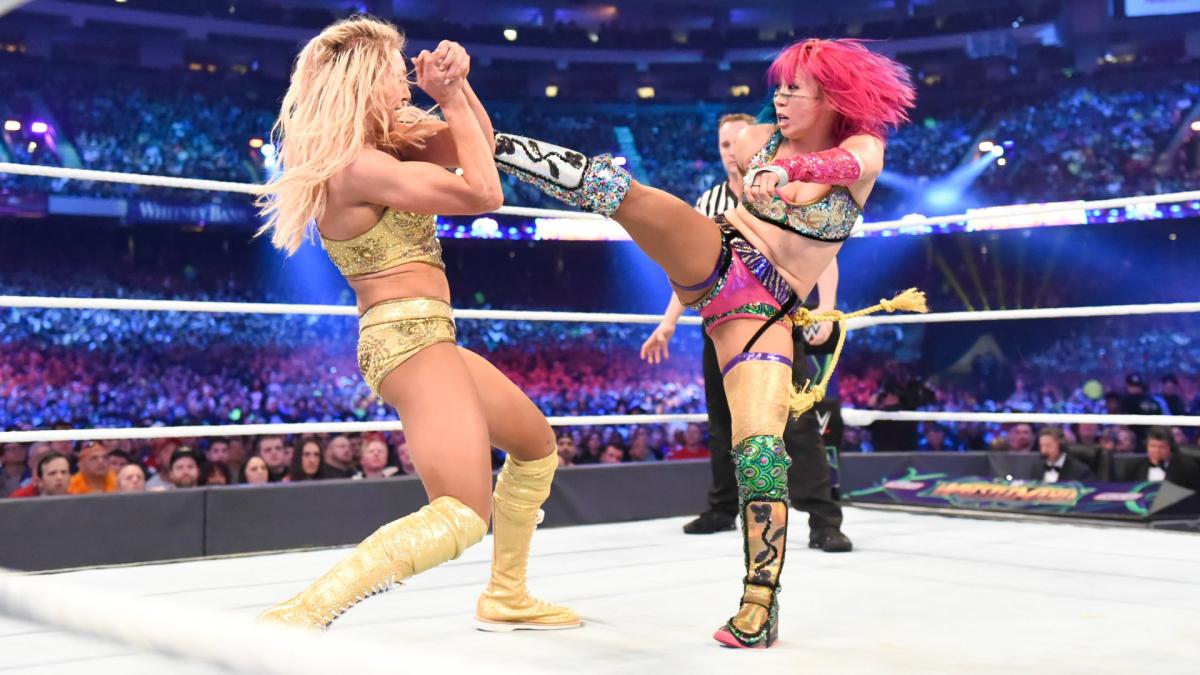 Chris king is back with one of the most underrated matches in WrestleMania history–Charlotte Flair vs. Asuka!
We look back at Charlotte Flair vs. Asuka at WWE WrestleMania 34. 'The Empress of Tomorrow' put her unprecedented and historic undefeated streak of 914 days on the line against 'The Queen's' SmackDown Women's Championship.
For years, this was considered a dream match while Asuka dominated the roster in NXT, while Flair won numerous championships on the main roster on both Raw and SmackDown. The Empress made her long-awaited debut on the September 11th episode of Raw and began to tear through the competition.
Asuka outlasted all twenty-nine other women in the historic first-ever Women's Royal Rumble match to challenge for the title of her choosing. At Fastlane, she made her choice.
The WWE Universe was so excited for this match myself included. Both superstars delivered a fantastic performance on the Grandest Stage of Them All executing counter after counter. Asuka showed off some nasty-looking kicks to her opponent, and Flair hit a thunderous Spanish Fly off the top rope. Flair was seconds away from defeat at the hands of The Empress but she locked in Figure Eight and Asuka was forced to tap out.
I can't even begin to explain how shocked I was at this outcome, as nearly everyone expected The Empress to continue her undefeated streak and walk away with the women's title. This controversial decision was the downfall of Asuka's momentum. She would ultimately win the SmackDown Women's Championship at the 2018 TLC pay-per-view in the triple-threat ladder match.
Fast forward to this year when Asuka has recently returned with her Japanese-inspired persona Kana. Kana is dangerous and ruthless and is heading into a championship with Bianca Belair at WrestleMania 39. The Empress has regained all her momentum and is highly favored to walk away with the Raw Women's Championship. Let's hope that Asuka and Belair can tear the house down and deliver an A+ grade match both women are fully capable of.
King: Dominik Mysterio Needs To Do This At WrestleMania
Chris King is here with what WWE should do with Dominik Mysterio at WrestleMania in his long-awaited match against his father Rey Mysterio Jr.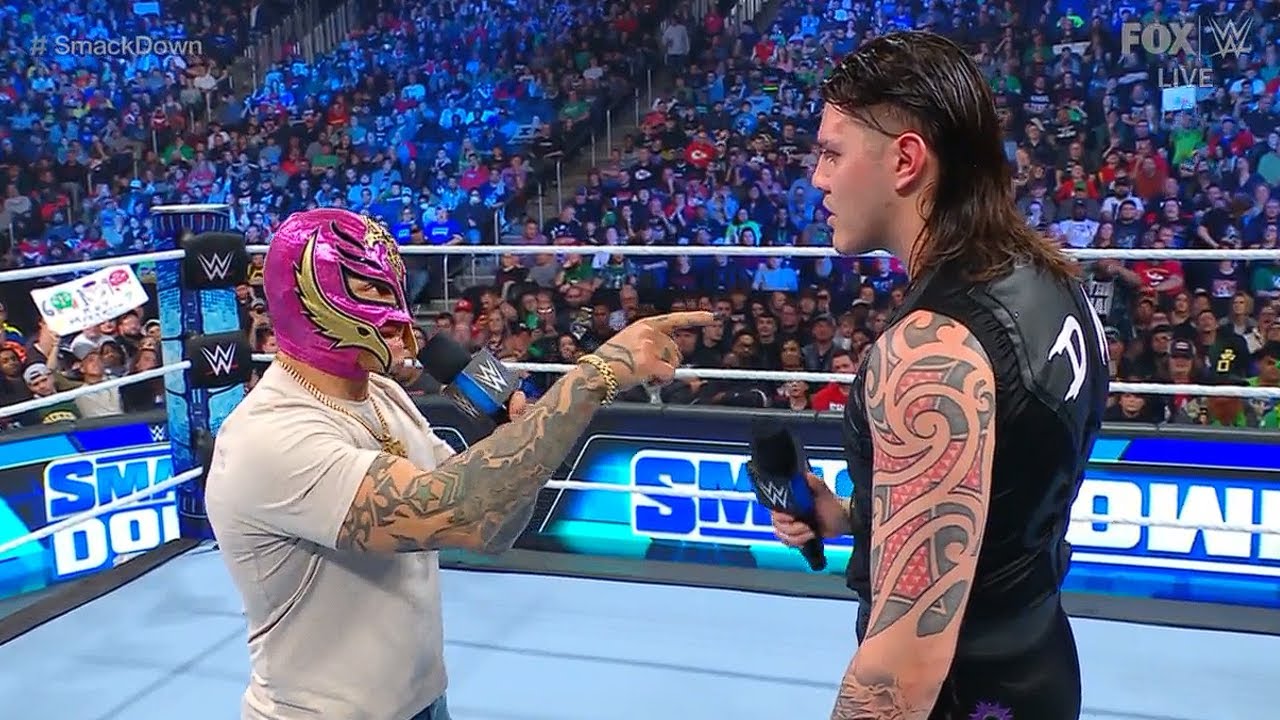 Chris King is here with what WWE should do with Dominik Mysterio at WrestleMania in his long-awaited match against his father Rey Mysterio Jr. 
On this week's episode of Friday Night SmackDown, Rey Mysterio finally snapped and beat some sense into his disrespectful punk-ass kid Dominik. The member of the Judgement Day came out to push his father again for a match on the Grandest Stage of Them All, this time with his mother and sister at ringside. The ungrateful punk told his mom to "Shut Up," as a father even I wanted to jump through the screen and whoop his ass.
Back in October of last year, Mysterio made the emotional decision to possibly quit the company but, instead, Triple H persuaded the Lucha libre superstar to move over to SmackDown to avoid his son. This came after Dominik shockingly turned on his father at Clash at the Castle. Mysterio did everything he could to refuse his despicable son's challenge for Mania but, a man can only be pushed so far. Mysterio will be inducted into the 2023 WWE Hall of Fame and I expect Dominik to embarrass his father during his speech to further this personal feud.
Yes, the WWE Universe hates Dominik and wants to see him get the ever-loving crap kicked out of him but, this feud is missing a special ingredient to capitalize on the biggest heat possible. Throughout this feud, Dominik has made mention of the legendary Eddie Guerrero on several occasions going back to the "iconic" 2005 feud.
I know WWE might not want to go this route but, Dominik MUST come out to Eddie Guerrero's theme at Mania. The disrespectful punk needs to come out in a lowrider to garner nuclear heat. It doesn't matter if The Judgement Day comes out and causes interference for Dominik to get the win, all that matters is that both superstars get the biggest payoff of this nearly year-long feud. Just imagine the Roman Reigns heat after he defeated The Undertaker and multiply that by ten. Dominik portrays the perfect heel and he truly is the missing ingredient that The Judgement Day needed to grow and evolve into a top faction.